By Joanne Jeffries. Last updated 12th July 2021. Welcome to our guide on swimming pool accident claims and swimming pool injury claims. Have you suffered some sort of accident at a swimming pool that has led to you suffering injuries? If so, and the accident was not your fault, you may be able to claim compensation for your swimming pool injury. Whether you:
Suffered lacerations from broken tiles that hadn't been fixed
Sustained a head injury at the swimming pool from a slip, trip or fall that could have been avoided if the area had been made safe
Became injured in the swimming pool due to poorly kept or maintained facilities
Whatever the circumstances, if the swimming pool owner or operator could be held liable, you could look to receive a settlement to cover the pain and the suffering that you endured as well as any costs you have faced as a result of your swimming pool accident.
This swimming pool accident claims guide aims to give you lots of information about swimming pool safety requirements. This includes what to do if you are injured at a swimming pool because of a lack of care by the owner or operator of the pool and the safety of staff or those using the facilities. We'll also offer an insight into how we could help you make swimming pool injury claims without you having to pay anything upfront.
For more information on swimming pool accident claims, simply call 0800 073 8801.
Select A Section
A Guide To Claiming Compensation For An Accident At A Swimming Pool
Whether you have visited a swimming pool for lessons, to enjoy yourself or to work there, you should expect that using the facilities there would be safe. If, however, due care and attention are not given towards your health and safety and you suffer injuries in an accident at a swimming pool, you could suffer injuries ranging from cuts and lacerations to serious life-changing injuries.
Whatever the reason you've suffered a swimming pool injury, if it was someone else's fault and they could be seen as being liable for your injuries, grounds could be established for swimming pool injury claims.
This guide explains more about what pool operators/owners should do to protect your safety, how claims could be made and the compensation settlements you could be awarded for your swimming pool injury claims.
What Is An Accident At A Swimming Pool?
Essentially, anything that happens at a swimming pool that causes you an injury whether as a worker or visitor to the pool could be considered to be an accident at a swimming pool. And these could open the door for potential swimming pool accident claims. A pool owner/operator has a duty of care to workers at the pool and visitors to the pool to protect their safety, and they should have public liability insurance/employer's liability insurance that could be used to pay out claims of this type if they were found to be liable for an accident at a swimming pool.
Statistics Highlighting Accidents At Swimming Pools In The UK
The National Water Safety Forum revealed that in 2020, there were 632 fatal incidents involving water. You can see the causes below.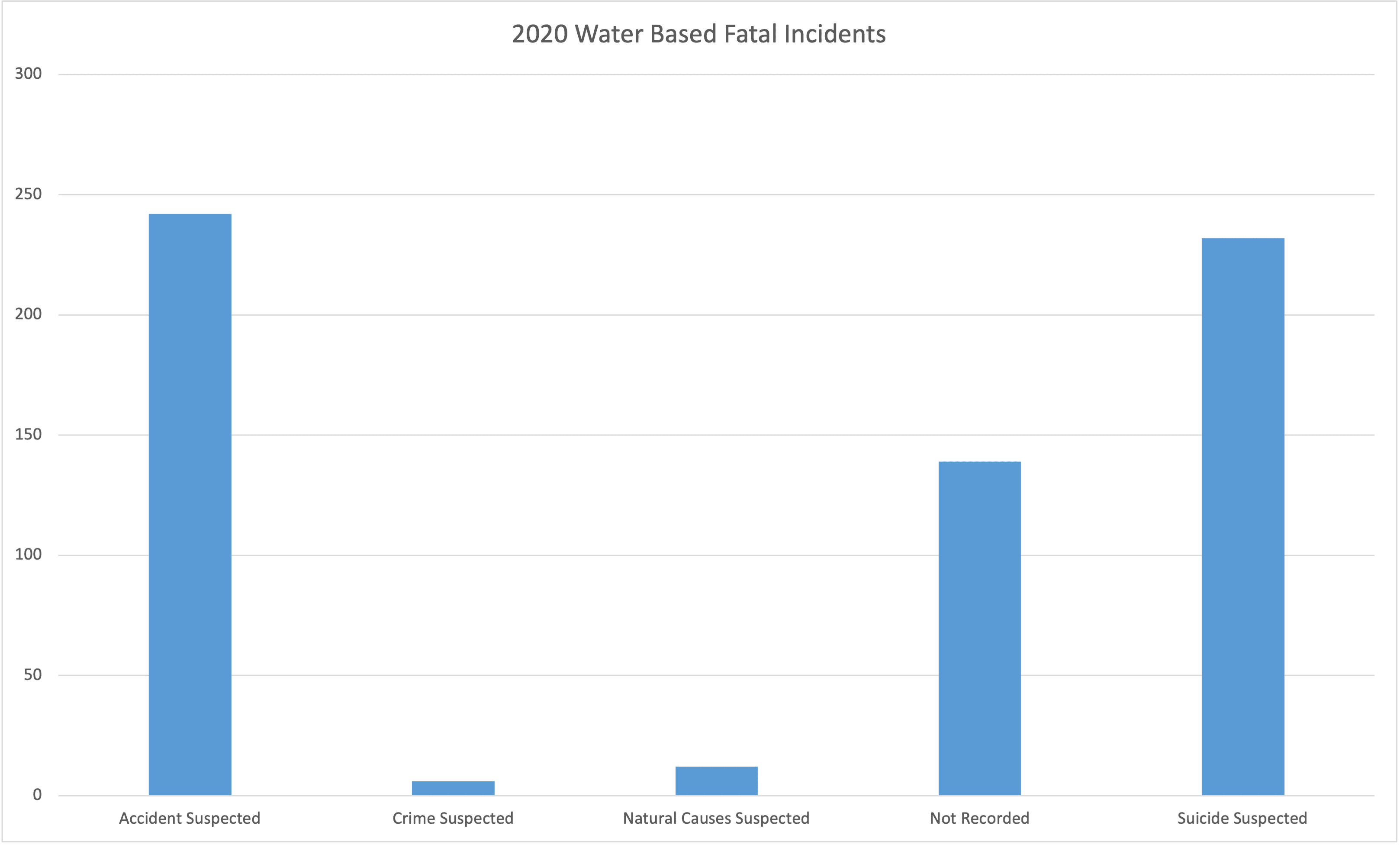 Whilst only four of these fatalities was in a swimming pool, in 2017, the number was much higher, with 6 fatalities in swimming pools in the UK.
According to another source, in 2012/13 and 2014, there were 167 hospital admissions to children because of drowning, with 38 of these leading to fatality. It was discovered that pools, ponds and baths presented the highest risk to 0-5-year-olds. While we do not have information concerning who was at fault for any of these incidences, it does show that accidents and injuries could occur at swimming pools, which is why pool safety is so important.
Health And Safety For Swimming Pools
The HSE has produced guidance for those who own and operate swimming pools both as an employer and as a responsible party for the public. As well as complying with the Health and Safety At Work Etc Act 1974, which requires an employer to risk assess and work to lower risks as much as reasonably possible, they should also take steps to reduce risks to the public.
While it is not written in law what safety protocols should be taken, the HSE's guidance document about managing health and safety in swimming pools should mean they are complying with the law. If a pool operator is not seen as assessing and reducing risks where it would be reasonable of them to do so, grounds for swimming pool accident claims could be established by victims.
How Are Accidents And Injuries At Swimming Pools Caused?
There could be a variety of ways that an accident at a swimming pool could happen. It could be caused by poor maintenance and repair of the area, a lack of safety signage, a faulty drainage system, such as a drain suction malfunction, unsafe management of chemicals in the water, damaged tiles, and poor filtration.
Whether you have suffered an accident at a local swimming pool or a holiday pool accident abroad because your safety at the swimming pool was not protected by the owner or operator, it could be possible for you to launch a compensation claim for your swimming pool injury or illness with the help of a personal injury solicitor that we could provide to you. Why not speak to us about your injury or illness claim.
Slip, Trip And Fall Accidents At A Swimming Pool
While you would be expected to take care around a swimming pool, there are certain things that a pool owner/operator could do to help lower the risks of slip, trip and fall accidents at a swimming pool. Floors around swimming pools should have a good grip and sufficient drainage to ensure that water from the pool does not cause dangerous slip hazards.
As well as this, lifeguards should take care to stop people running around the pool, and there should also be signage to this effect. In addition, the lighting around a swimming pool should be sufficient so that you can clearly see where you are going. If the floor is not made as safe as could be considered reasonable, and you suffer a slip and fall injury at a swimming pool, then you may be eligible for compensation via swimming pool accident claims.
Head, Neck And Spinal Cord Swimming Pool Injuries
Pool depth warnings are required to protect those using the facilities from attempting to dive in where the water is not at a safe level for them to do so. If there are no warning signs which detail how deep or shallow the water is, or no warnings not to dive into the water, a person could mistakenly think the water levels were safe for diving, and this could lead to a head or neck injury at a swimming pool, for example.
Neck injuries could be quite serious, as if the damage extends to the spine, it could potentially be life-changing. Suffering a spinal injury in a swimming pool accident could leave a person paralysed and in need of care for the rest of their life. If the swimming pool owner/operator was found liable for such an accident at a swimming pool, the costs of this care may be included as part of swimming pool injury claims, but this could never truly compensate for the changes to a person's quality of life.
Lacerations And Contusion Injuries At A Swimming Pool
Some of the more common types of injuries could include cuts and bruises from broken swimming pool tiles. While these could be considered quite mild injuries, if contaminated water is also involved, then an infection could make a swimming pool injury of this nature harder to recover from. If you feel poor maintenance caused you to have an accident at a swimming pool, and you've been injured, you could look into making a claim for compensation.
Chemical Burns, Poisoning Or Other Illnesses Caused By A Swimming Pool
There are a lot of chemicals that are used in swimming pools to keep the water hygienic, but some of these chemicals, if handled incorrectly or unsafely, could lead to injuries or illnesses. A miscalculation of chemicals or spillage could cause workers or visitors to the swimming pool to be exposed to high levels of chemicals that could cause them harm. Those in swimming pool chlorine accidents could potentially suffer chlorine poisoning, which could lead to very unpleasant symptoms. Or, a chemical burn could cause scarring.
If you have fallen ill or been injured at a swimming pool because of lack of safety regarding chemicals, then you could be eligible to claim compensation.
Drowning And Other Fatal Swimming Pool Accidents
Unfortunately, if something goes badly wrong in a swimming pool accident, this could lead to a fatality. Whether it was death through drowning or a fatal spinal injury in the swimming pool, it could be that you are left bereaved after an accident at a swimming pool.
If you have lost a loved one in this manner, though it would never be enough to truly compensate you for such a loss, compensation could help to cover the funeral costs of a loved one and could include a bereavement award that could help you move forward after such a devastating event. We could help you, and, knowing how devastating these types of claims could be, we would handle your swimming pool injury claims with the sensitivity they deserve.
Swimming Pool Accident Claims On Behalf Of A Child
Did you know that you could make swimming pool accident claims for an accident at a swimming pool on behalf of a child? By applying to be a litigation friend to your child, you could make decisions pertaining to a swimming pool accident claim in which they have suffered injuries. Any compensation awarded could be held in trust for the child in question until such time as they turn 18. However, if your child has suffered a serious injury, such as a spinal cord injury in a swimming pool, for example, and requires money releasing from this trust to pay for specialist care, then you may be able to apply to the trust for some of the compensation to be released for these purposes.
We should also advise that you also have the option to wait until your child turns 18 and allow them to claim for themselves. However, it may be slightly easier to claim sooner after the accident than later, as it may be easier to find evidence such as witness details etc straight after the accident.
Swimming Pool Employee Injuries
All employers have a certain duty of care, by law, to take care of the health and safety of their employees. If they fail to take this duty of care seriously and are negligent in protecting the health and safety of staff, and an employee is injured at a swimming pool while working there, the employer could be liable for the employee's injury.
There are several ways in which an employer could help swimming pool workers from suffering an injury at work. These could include, but are not limited to:
Ensuring PPE is worn when handling pool chemicals to avoid a swimming pool chemical accident
Ensuring they are trained on slip prevention
Ensuring the pool area is safe for them to work in and hazards are reduced as much as could be considered reasonable
Ensuring they are fully trained on how to respond to a pool emergency
Ensuring they have the tools they need to carry out jobs like emptying/cleaning drains etc, to avoid a swimming pool drain accident
Ensuring they have manual handling training if they are required to lift heavy objects
And more…..
If you feel that your employer's negligence has led to an accident at a swimming pool in which you've been injured, you could be eligible to make a compensation claim for your injuries.
Accident At A Swimming Pool Injury Claims Calculator – Updated July 2021
If you would like to know an approximation of the amount of compensation that could be paid out for certain injuries that could be sustained in an accident at a swimming pool, then you may have noticed that we have not included a personal injury claims calculator on this page. What we have done instead is given a quick look at potential payout brackets for certain injuries that we feel relate to a swimming pool accident claim. Please do note that, although these are taken from the Judicial College's figures, they are guideline amounts only, and no claim could be valued until such time as all the evidence has been properly assessed.

| Injury | Bracket for Payout | Notes |
| --- | --- | --- |
| Minor head or Brain Injury | £2,070 to £11,980 | Minimal brain damage will have occurred. Cases would be assessed on the severity of the injury initial, how long it took to recover, whether there were continuing symptoms and whether headaches occurred. |
| Harm resulting from injuries that were non-traumatic (E.g. food poisoning) | £8,950 to £18,020 | Short lived but serious bouts of food poisoning, with vomiting/diarrhoea easing between 2-4 weeks. However, some impact would be made to the bowel function, enjoyment of food and sex life for a few years. |
| Severe Arm Injuries | £90,250 to £122,860 | A serious brachial plexus injury could be included within this bracket, and the injured person could be left only a little better off than if the arm were to be completely lost. |
| Arm injuries that lead to permanent disability (substantial) | £36,770 to £56,180 | Where there are serious fractures to either one of the forearms, or both, and there is cosmetic or finctional disability that is deemed to be substatial. |
| Hand injuries | £27,220 to £58,100 | There would be around 50% of the hand capacity still available. Cases where there is amputation of several of the fingers but then rejoined, could also be included in this category. |
| Hand injuries (moderate) | £5,260 to £12,460 | Where there are crush injuries, soft tissue or penetrating wounds, with permanent effects. |
| Leg injuries | £16,860 to £26,050 | Serious damage to soft tissues or fractures that did not resolve completely could be included here. |
| Knee injuries | £48,920 to £65,440 | Fractures to the leg that extend into the joint of the knee which cause permanent or constant pain that limits the claimant's movements/agility. The claimant in such cases could be rendered prone to developing osteoarthritis and they may require an arthoplasty |
| Neck injuries | In the region of £139,210 | Where there is paraplegia (incomplete) or injuries have resulted in spastic quadriparesis that is permanent. Cases where an injured party has regained little to no movement despite wearing a collar for a period of years could be included here. |
If your injury isn't in the above table, it doesn't mean you cannot claim for it. If you'd like to know an approximate amount for a specific injury, then we could explain this to you over the phone if you call us with details of what injuries you've sustained in your swimming pool accident.
Special Damages You Could Claim If Injured At A Swimming Pool
If you are curious about what amounts besides the compensation for your injuries themselves could be included within your claim for an accident at a swimming pool, this section should help. Costs and/or losses you've experienced directly because of your swimming pool injury or swimming pool illness could be classed as special damages and could be included as part of your claim. It could be a good idea for you to keep receipts/bank statements etc that show these costs and losses. Special damages could include some or all of the following:
Care costs – Have you needed help with day to day activities such as washing, getting dressed etc, or have you had to put your children in childcare because you were unable to look after them? Care costs might be considered as special damages within a personal injury claim.
Medical costs – Have you needed private psychiatric treatment, or needed physiotherapy or chiropractic treatment? Even if you have had to pay prescription fees because of your injuries, you could claim for these under special damages.
Travel costs – Whether you have needed to pay to travel to work when you would normally have driven, or had to pay for travel to medical appointments, these could be claimed as special damages.
Loss of Wages – If you needed time off work for recovery from your injuries, or you've been told that you will have to have surgery in the future and will need to take time off work afterwards, you may be facing earning losses. Whether current or predicted, these wage losses could be included as part of your compensation claim.
Funeral costs – If a loved one has suffered a swimming pool death, whether, via drowning, a swimming pool suction injury or another injury at a swimming pool that proved fatal, you may be able to claim the funeral costs
Should there be another cost that you've incurred as a direct result of an accident at a swimming pool, you could call our advisors to check whether it could be included within your claim.
No Win No Fee Claims For An Accident At A Swimming Pool
For those considering making swimming pool accident claims, the idea of paying a personal injury lawyer before you receive any compensation may be off-putting? If you are, then let us put your mind at rest by explaining that we could help you make claims with a personal injury solicitor without requiring any payment upfront. These are often referred to as no win no fee claims and the way in which they work is as follows:
Your claim would be assessed and the personal injury lawyer would advise whether they felt they could take your claim on.
You would be sent a no win no fee agreement to sign – this document lays out the conditions that should be met for your lawyer to get paid at the end of your claim. No funds would be required upfront but signing this document means you would be promising to pay a percentage (not more than 25%) of your total settlement as a success fee to your lawyer once compensation was paid out.
Your solicitor, once receiving this document back, would begin working on your swimming pool injury claim.
If your solicitor was not successful in gaining compensation for you for a valid swimming pool accident claim, you wouldn't need to pay them. If they were successful, then their percentage would be deducted, with the rest of the payout being used to benefit you.
It might be useful to note that it would be unlikely that your lawyer would take on a case that they did not feel had a strong chance of ending in a compensation settlement. Sometimes, a lawyer may instruct you on the benefits of taking out insurance against an unsuccessful claim, but this is something that could be assessed on a case-by-case basis.
If you'd like to discuss these payment terms in more detail, then please don't wait to get in touch – we would be happy to help explain whatever it is you'd like to know.
How Our Team Could Help After An Accident At A Swimming Pool
Do you still have questions about making a swimming pool injury claim or would you be interested in starting swimming pool injury claims? Whatever your current position, we're ready to talk to you about your options when it comes to making a compensation claim.
Getting in touch with us allows us to get some details about what has happened to you so that we could make an assessment on whether we think you could have a strong case for compensation. We offer this assessment completely free and we would not hold you under any obligation to use our services, or even take the advice we offer. If we don't think you'd be able to claim compensation, we will be completely transparent about this, and we will advise you of the reasons we believe this is the case. However, if we do feel you could be eligible, we could then take you through your options. We could also provide a personal injury lawyer to help you make a claim for compensation.
We pride ourselves on offering a service that caters to the needs of claimants who have found themselves injured due to the fault of someone else. We have many satisfied clients that attest to our fantastic service, and we would be delighted to provide this same service to in order to help take the stress of claiming for an accident at a swimming pool off your shoulders. We're here to help.
Start Your Claim For An Accident At A Swimming Pool
There are various ways in which you could get in touch with one of our friendly, professional advisors. You could simply call our helpline on 0800 073 8801, or you could look at emailing us at office@accidentclaims.co.uk. If you'd prefer us to get in touch with you, you could use the contact form, or you could even opt to use the live chat feature if you like.
However you'd like to get in touch with us, we will always do our best to offer you the most appropriate help for any swimming pool accident claims.
Essential Resources
Gym Accident Claims – To find out about being injured in a gym, you might find this guide useful.
Accident At Work Claims – If you were injured at work at a swimming pool, this in-depth guide could offer you some useful information.
Local Authority Claims – Did the council own the swimming pool you were injured in? If so, this guide could offer some information that you might find useful.
Health And Safety Resources
ROSPA Swimming Safety – This page shows some advice on being safe when swimming.
HSE Swimming Pool Safety – The HSE gives some useful information on swimming pool health and safety.
Royal Life Saving Society – The RLSS offer advice on swimming pool and water safety.
Swimming Pool Accident Claims FAQs
Here are some frequently asked questions regarding swimming pool accident claims to end our guide on.
How are injury claims calculated?
Personal injury claims use the extent of the claimant's suffering to determine how much compensation they're awarded. Therefore, there is no average settlement as each claim is different.
What is fair compensation for pain and suffering?
As mentioned above, there is no average settlement for personal injury claims as each case is different. However, the extent of the claimant's pain and suffering can be determined through an independent medical assessment. This way, the true impacts of the accident can be evaluated in a professional setting, evidencing the case for compensation.
Who is liable if someone drowns in your pool?
Those who own the pool no matter what type of swimming pool it is, hold liability if someone drowns, assuming that the victim was invited there and with the owner not keeping the pool itself safe.
What are some common injuries at a pool?
These include falling, lacerations, infections, breaking bones and drowning.
What diseases can you get from a swimming pool?
These include rashes, diarrhoea, respiratory infections and also swimmer's ear.
Can swimming pools cause urinary tract infections?
Yes, UTIs could happen due to bacteria travelling into the bladder via urine while the swimmer is in the pool.
How do swimmers take care of their skin?
They can drink a bottle of water regularly during swims and have a complete shower afterwards to remove any chlorine.
How long can I make a claim after an accident?
You could make a claim anytime up to three years after the accident takes place.
Should I accept the first offer of compensation?
Sometimes, if a liable party admits fault for an accident or injury, they might make an initial offer of compensation. You do not have to accept this. In fact, you might want to consider seeking legal advice on whether this could be considered a fair offer. Sometimes, personal injury lawyers could fight for more compensation than initially offered.
Would my personal injury claim go to court?
It might surprise you to learn that not many claims are heard in courts. In many cases, your lawyer could negotiate a settlement with the liable party without the courts needing to get involved. However, if the liable party disputed your claim, or claimed your injuries were not as bad as described, or they said you were partially responsible, it may become necessary for your solicitor to file paperwork with the court to take the matter further. Should your case be heard in court, your solicitor would be there to support you, so that you could get the appropriate compensation for your injury claim.
Why might the swimming pool owner refuse my claim?
There are lots of reasons that a swimming pool operator or owner might refuse your claim. They may believe you were responsible for your injury, or they might feel that they were not at fault for another reason. They may also cast doubt on the severity of your illness or injury. While this could be frustrating, if you have evidence that the incident was not your fault, you could take action with the help of your lawyer.
Thank you for reading our swimming pool injury claims guide. We hope you have learned a lot about swimming pool accident claims.
Article by Jo
Checked by Jay