By Joanne Jeffries. Last Updated 4th November 2021. Welcome to our case study relating to personal injury claims payouts for severe burns.
Accident Claims UK are a personal injury claims solicitor and can deal with compensation claims for all personal injuries involving laser hair removal burns.
This case study we researched involves a lady who visited her usual beauty salon for laser treatment to remove hair from her arms. She'd undergone the treatment previously and in the same salon with complete success but on this occasion, she was left with in pain with laser hair removal burns, blistering and itching.
On the day of the injury she did explain to the salon staff that the laser felt hotter than when she'd received the treatment previously, but they told her not to worry as the laser had recently been serviced. After the treatment the client was left with second degree burns on both arms, blistering and large rectangular stripes. As well as the pain that the claimant suffered there were other issues linked to the laser hair removal burns including anxiety and negative moods: the claimant felt very uneasy about being seen publicly and this affected her work as she felt she was unable to meet with clients.
The claimant decided to seek compensation for her laser hair removal burns by using a personal injury solicitor. The solicitor represented her in negotiations and following a very low offer of compensation they eventually secured £13,400 on her behalf as compensation for the pain, suffering, anxiety and stress caused by the laser hair removal burns.
If you have received laser hair removal burns and want to use our no win no fee service to seek compensation, then call now on 0800 073 8801.
If you'd like to know more then read on, this guide will explain the claims process, what laser hair removal burns can lead to and how we can help with your no win no fee claim.
Laser Hair Removal Burn Statistics
The Health and Safety Executive doesn't currently record statistics on the beauty industry that record laser hair removal burns so it's difficult to provide an exact number of burns statistics each year, but it is becoming a fairly regular personal injury claim from our experience. Some common reasons for laser hair removal burns include:
Poorly maintained equipment: If the laser equipment isn't serviced regularly it can lead to too much or too little pulsed light which can lead to burning
Poorly trained staff: Training for staff using laser treatments is essential to avoid laser hair removal burns.
Distractions: Staff using lasers should be able to concentrate on their clients fully when administering laser hair removal treatments.
If the laser hair removal burns that you received is due to negligence by salon staff or the management of the salon then you could be entitled to compensation for your laser treatment injury.
This guide from the NHS is a useful guide to laser hair removal and what can go wrong.
Second Degree Laser Hair Removal Burns
The victim in this case suffered blistering, marking and second-degree burns on both arms following her laser hair removal treatment. A second-degree burn is one that causes blistering of the skin but will not permanent scarring.
If you suffer any laser hair removal burns, then remove any clothing or jewellery from the affected area and then follow the NHS treatment advice which is to run luke-warm water over the injury for 20 minutes as soon as possible after the incident (this will help stop the burning). Don't use ice cold water or any product that is oily as this will prevent the burning from stopping. Once the water treatment has finished place a clean piece of cling-film over the burn and take paracetamol for the pain.
With continued pain or burning it is best to seek medical advice from the NHS 111 service, your GP or the A&E department of your local hospital. Laser hair removal burns don't always look like the worst injury but left untreated they can lead to more serious complications.
You may be wondering how to get rid of laser hair removal burns and the answer is to follow the advice from the NHS and, in time, they will clear up. Second degree burns should leave no permanent scarring or blistering.
What Solicitors Did To Help The Claimant
The personal injury solicitors took the case on for their client and mounted a case against the salon accusing it of negligence because they didn't have necessary checks or procedures in place to prevent the laser hair removal burns from occurring.
They also supported the client by referring her to a specialist plastic surgeon to obtain quotes to remove the marks from the laser hair removal burns and to a psychiatrist to help with the negative moods and anxiety she suffered due to the injury.
As with all personal injury cases, not just laser hair removal burns, the solicitor will try to work out the cost of putting right what has gone wrong so that when you make a claim against another party you're not going to end up with a compensation amount that doesn't fully reflect your losses.
Evidence in cases involving laser hair removal burns can be essential for compensation claims. If you have photographic evidence or visited a medical professional then this will always help with a claim.
How Much Compensation Was Awarded For The Severe Laser Hair Removal Burns?
Initially the salon offered just £3,500 to settle the laser hair removal burns compensation claim but the solicitor recommended that their client rejected the offer as it was insufficient to cover all of her costs, pain and suffering.
Following the first offer the solicitor lodged court proceedings so that a judge could decide on the appropriate compensation for the laser hair removal burns but in the end the salon settled out of court with an amount of £13,400.
This demonstrates how a personal injury solicitor can help with making a laser hair removal burns compensation claim. The fact that they understand the claims process and are able to advise clients that what initially seems like a lot of money is not actually a fair amount when taking all of the aspects of the case into account.
It is fairly common, in our experience, for personal injury claims to settle before getting to court but we will always use it as an option if we believe our client is not going to receive fair compensation without it.
No Win No Fee Compensation Payouts For Laser Hair Removal
One problem facing those with laser hair removal burns, laser burn marks or even small blisters following laser hair removal is that the cost of making a claim against the salon or individual can be very high if you have to pay a solicitor an hourly rate. What makes that scenario even worse is that if they don't actually win you any compensation for your injuries then you could have paid all of that money for nothing.
At Accident Claims UK we understand that most people can't afford or don't want to risk paying solicitors fees up front which is why, when we take on laser hair removal burns claims, we do so on a no win no fee basis.
We don't charge any fees up front, no hourly rates going forward and if we don't win you any compensation then we don't charge you a penny.
When we speak to you about your laser hair removal burns we'll let you know what our fees will be if we do win and that amount will remain unchanged. We think this is the fairest way to work with our clients.
Contact us About Personal Injury Claims Payouts For Severe Burns
This case study has hopefully shown you how a personal injury solicitor can ensure you get the correct amount of compensation if you've suffered from laser hair removal burns and that our no win, no fee service means your claim will be risk free if you use Accident Claims UK as your personal injury solicitor.
If you're now ready to make your claim, then you can contact us using any of these methods:
If you're unsure if your laser hair removal burns are likely to be suitable for a compensation claim then give us a call, we offer a free consultation where we'll be able to understand your claim better.
What other accidents could lead to personal injury claims payouts for severe burns?
There are a variety of other accidents that could lead to severe burns. If you could prove that accident was not your fault and someone else could be held liable for your injuries, you could be eligible to claim compensation for an accident at work, or a road traffic accident, for example. You could even claim medical negligence compensation payouts if you have received negligent treatment or advice for severe burns that has led to your condition becoming worse.
Could I receive personal injury claims payouts for severe burns leading to a death?
Unfortunately, some severe burns could lead to a person losing their life. If, for example, a loved one of yours has passed away due to severe burn injuries in an accident at work wasn't their fault, you could claim. You would need to be able to evidence that the employer in question had been negligent as to the health and safety of your loved one while they were working for them. They may not have adequately trained your loved one in how to handle chemicals safely, for example or they may have not kept the workplace safe from hazards. These are just a few examples. Should you be able to prove that an employer was at fault for your loved one's death, you could receive a bereavement award, compensation for the pain and suffering your loved one encountered before their death, and help towards funeral expenses, for example.
How common are severe burns leading to a death at work?
While we cannot tell you how many severe burn fatal injuries there have been at workplaces in the UK, we can bring you some statistics for fatal accidents in the workplace for 2020- 2021 from the Health and Safety Executive. You can see the industries in which people have suffered fatal injuries at work below.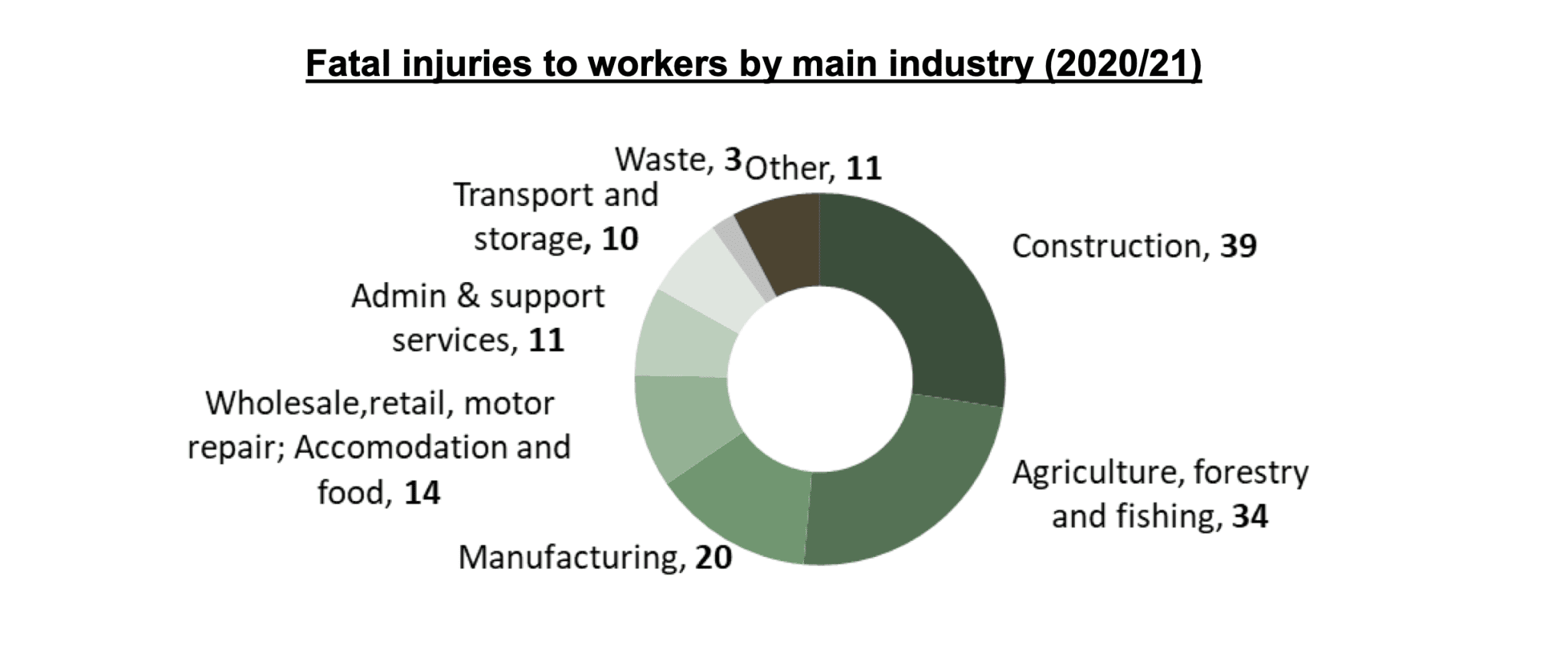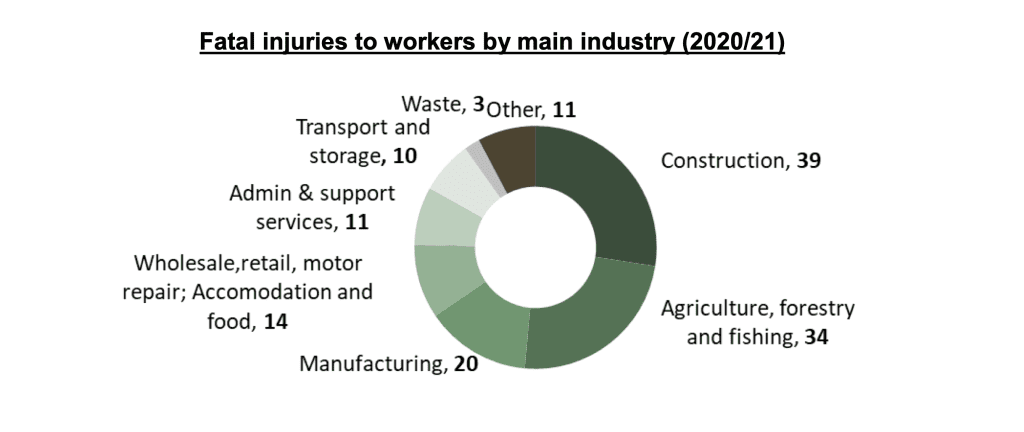 What type of damages make up personal injury claims out payouts for severe burns?
You could receive both general damages and special damages as part of compensation payouts in the UK. General damages payouts are meant to compensate you for the pain and suffering you've experienced, and the loss of amenity. You could also claim special damages, which are the costs and losses you have experienced as part of your injury and accident. This could include the costs of care, if you have needed somebody to come and look after you while you recover, and any loss of earnings you may have encountered because you've needed time off work. You could also receive travel expenses and medical expenses. In some cases come out if severe burns have led you to not be able to return to work, you could even receive future loss of earnings payouts. If you would like to find out what damages you could claim for your specific case, please contact our team. We will be only too happy to talk you through the claims process and how much compensation you could achieve for burns settlements in the UK. If you would like to go ahead with a claim, we could provide you with a solicitor working on a no win no fee basis who could help you.
Useful Links Relating To Personal Injury Claims Payouts For Severe Burns
Here are some useful links related to laser hair removal burns and claiming compensation for injuries caused by someone else:
Beauty Treatment Compensation – This is our guide to beauty treatment compensation claims, with compensation calculator, not just related to laser hair removal burns.
NHS Burns and Scalds Treatment guide – A guide for any type of burn or scald including laser hair removal burns.
Health and Safety Executive – A guide strategy, from the HSE, on how the beauty sector can avoid injuries such as laser hair removal burns.
Thank you for reading this case study relating to personal injury claims payouts for severe burns.Whether you're looking to make burn injury compensation claims because you've suffered a burn at work due to hot liquids, or you've lost layers of skin and financial loss as the result of your injuries in a road traffic accident causing burns, we could help.