By Joanne Jeffries. Last Updated 5th May 2022. Welcome to our guide to ankle injury claims and ankle injury compensation. In it, we explore what damages you could claim, and discuss the average compensation for an ankle injury claim, by looking at ankle injury settlement amounts in the UK. We also explain why asking 'what is the average payout for a sprained ankle?' might not be the best idea when it comes to your own claim. Further to this, we examine the question 'Can an ankle injury compensation calculator help me?'
What could affect ankle injury settlement amounts in the UK?
The ankle is a complex joint and an extremely important one. If it is injured, it can keep us off our feet for a time, which can be incredibly frustrating. It can also be extremely painful and could require medical treatment, which could bring medical bills. Should you have suffered an ankle injury, chances are you will be, at best, inconvenienced for a few days, but if it is a serious injury, you could suffer with it for a long time to come. In such cases, you may wish to make an ankle injury compensation claim. Your ankle injury may require physiotherapy, or you could be required to use crutches for a time. You may never regain full use of the joint in some extreme cases. Whatever the severity of an ankle injury, if it happened due to someone else's doing, you should certainly look into making a compensation claim within the relevant time limits.
Get the ankle injury compensation you deserve
Here at Accident Claims, we can certainly help with sprained ankle claims as well as other types of
No Win No Fee
ankle injury claim. If you'd like to learn more, then either read the guide below, which aims to answer the most frequently asked questions about claims of this nature, or call
0800 073 8801
, where we will be happy to listen to your injury story and advise you on the best course of action, including average compensation for these kinds of claims absolutely free and with no obligation to let us help you further.
Select a Section
A guide to ankle injury compensation claims
Whether you are very active or not, an ankle injury can cause discomfort, pain, frustration and can lead to time off work even if it is only a minor soft tissue injury. In serious cases, for those people who are on their feet a lot, it can lead to loss of enjoyment in the things they once enjoyed, particularly sport, and especially if the prognosis for recovery is bleak. Even if you have been off your feet for a short time, the road to recovery can be long for some people, and constant physio appointments and assessments can have an effect on even the most positive of people. No matter how serious it is, if you've suffered an ankle injury and it was not your fault, then you may well be entitled to file ankle injury claims for compensation.
What is the average payout for a sprained ankle? – Your questions answered
This guide was created to help with information for those seeking ankle injury compensation, whether for an ankle sprain claim, or a broken ankle compensation payout In the guide, we'll cover average settlements for sprained ankle claims, the common causes of ankle injuries, including workplace ankle injuries, and we will attempt to give you all the data you'll need to decide on whether you should take a workers compensation claim forward. All you have to do is pick a section below and you'll be directed to the right part of the guide.
Ankle sprain and injury statistics
Ankle sprains and injuries can happen almost anywhere. According to the British Medical Journal, a study of the West Midlands incidence rates for ankle injuries, taken over four months, showed a staggering 5,761 cases of ankle sprains seen at Accident and Emergency departments in 4 hospitals. It is not indicated what injury requires surgery and what is just a soft tissue injury.
There is also a marked difference in how different sexes suffer these injuries by age. In the graph below, you'll be able to see the age ranges and sexes of these statistics. They do make for interesting viewing, with more men than women seen in the younger years, but a higher prevalence of women suffering the same injury as they get older.


Accidents at work can, and do cause injuries to the ankle. The graph below is based on Health and Safety Executive (HSE) data on how many injuries to the ankle were reported to RIDDOR between 2019/20. As you can see, ankle injuries reported in this time were the most injured specified site on the leg.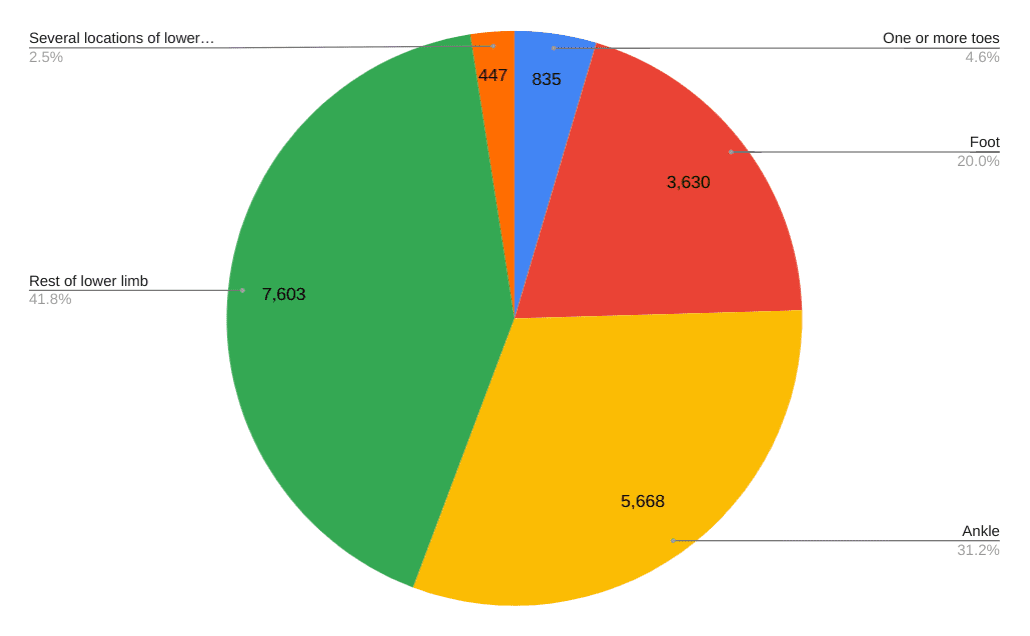 Whatever type of ankle injury you have suffered, we can assist with advice and we can help begin your claim for you by providing an experienced solicitor to take on your case. If you have any questions about ankle injury claims, please don't hesitate to get in touch with us and we can help.
Common accidents and ankle injuries
Whilst the number of ankle injuries is almost immeasurable, there are specific types of ankle injuries that often lead to a claim. It is important to understand, however, that whilst we list the most common, we can also deal with the most uncommon! We have solicitors that we can provide that have worked on ankle injury compensation claims regarding complex injuries as well as simple ones and can certainly help you with yours.
Dislocation of the ankle – When a certain amount of force is applied to the ankle, sometimes the ankle flexes more than it should be able to. This can cause dislocation. There are three main types of dislocation, posterior, superior or anterior, and all tend to present with immediate severe pain and visible deformities as well as broken bones. The prognosis for such an injury can vary, but usually requires reduction of the injury, as well as splinting and sometimes surgery.
Fracture of the ankle – Sometimes because of dislocation and usually the result of blunt trauma, an ankle fracture can cause problems for a long time. In some cases, plates and pins have to be inserted in order to shore up the ankle, and this can cause long term pain in some cases.
Ankle Sprains – There are two main types of sprain that can happen to the ankle; Eversion and Inversion. The first is where the foot is twisted inwards. Usually, symptoms are pain and discomfort, a feeling of weakness and the inability to bear weight. This can lead to time off work or sports for active people, which may be frustrated. In most cases, sprains resolve themselves over time, but sometimes physio may be required. An Inversion is the same as this, but the ankle and not the foot twists inwards. Sprained ankle compensation amounts can vary according to severity.
How do we assess ankle injuries?
The assessment of ankle injuries (and sprained ankle injury compensation) is not very easy, especially if there is no visible deformity when it presents. Usually, a professional will need to see the injury site and examine it by palpating the area, but x rays may be required to fully understand the extent of the injury. It is important to assess the injury fully as this will determine not only the best course of treatment for the injury but also to see whether it is likely to lead to problems with the joint long-term. This would have an effect on the ankle injury payout you would likely receive.
If you'd like to know more about what ankle injury claims can cover, please read on.
What my ankle injury compensation claim includes
Depending on who you are, what you do, how severe your injury is and how mobile you are, your compensation will vary so there's no definitive answer to 'what is the average payout for a sprained ankle?' or 'what's the average compensation for an ankle injury with fracture?'. It is essential therefore that your solicitor understands all of the restrictions your injury has caused you, as well as the nature of the injury and its prognosis. Some of the types of damages you can expect to receive from the at fault party's insurance company are as follows:
Medical Costs – Whether you have had to have equipment to help you get around, such as a wheelchair or a pair of crutches, or have had to pay for physio or painkillers, then you should see these medical costs recouped as part of a successful claim. Medical costs you have already incurred as well as those you are likely to incur in the future should be covered.
Wage Loss – Being off work for any time and not being paid your usual wage can put a lot of pressure on your household. Thankfully, as far as successful claims are concerned, loss of earnings  both now and expected should be compensated for.
Suffering/Pain – Also known as general damages, you are likely to see an award based on how much you are deemed to have suffered.
Carers Costs – Anyone who has had to provide care for you, either part-time or full-time to help with day to day activities should be able to put in a carer's cost claim.
Travel Costs – In addition, travel costs incurred directly as a result of your injuries such as train tickets or petrol.
If you have incurred other costs than those mentioned, then call us and we will be able to ascertain whether these can be included in your ankle injury compensation.
What to do after suffering an ankle injury
You should always seek medical attention after you have been the victim of an ankle injury whether you've had an accident at work or suffered an injury in a public place. As they can be complex in nature immediately assessment is best if you are to stand a good chance of recovering fully. However, there are other steps it would be prudent of you to take should you be considering putting forward a claim for ankle injury compensation.
Immediately after the accident, it is important you begin gathering proof of what has happened. This can be in the form of photos, both of the scene and your injuries as well as notes about the accident itself while it is still clear and not clouded over time.
It would also be prudent to take down contact numbers and names for anyone who may have been witness to the accident that caused your injury.
You should also call our team for further guidance on whether you are likely to have a claim as well as getting no-obligation advice on your possible claim. We will then provide a solicitor with experience in ankle injury claims should you be happy for us to do so.
When you can and cannot make a claim for ankle injury compensation
You may have had an accident causing an injury, but how do you know whether you would be in a position to claim ankle injury compensation for it? Here, we offer an explanation, but would urge you to call us for guidance specific to your case:
You can claim if:
You suffer a trip, fall or slip in a place that is public, such as a shop, shopping centre, pavement, restaurant or park, should there be negligence that causes the accident
You are injured in a road accident, one that was not caused by you
You suffer an injury in a sporting event due to dangerous behaviour or negligence by someone else
Negligence (Medical) – Injury caused by misdiagnosis, incorrect treatment or otherwise
You cannot claim if
You suffer a slip, trip or fall via a simple accident where no one was at fault
You suffer an injury because of your own fault
For clarification on whether an accident was or was not your fault, then speak to our team. We have expert knowledge in this area and can certainly help ascertain the validity of your claim.
Workplace ankle injury claims
There are a number of different situations that can cause ankle injuries at work leading to claims. While many involved falls, slips or trip, others can involve machinery. You can see the top causes of work-related injury from the Health and Safety Executive's 2020-21 statistics below.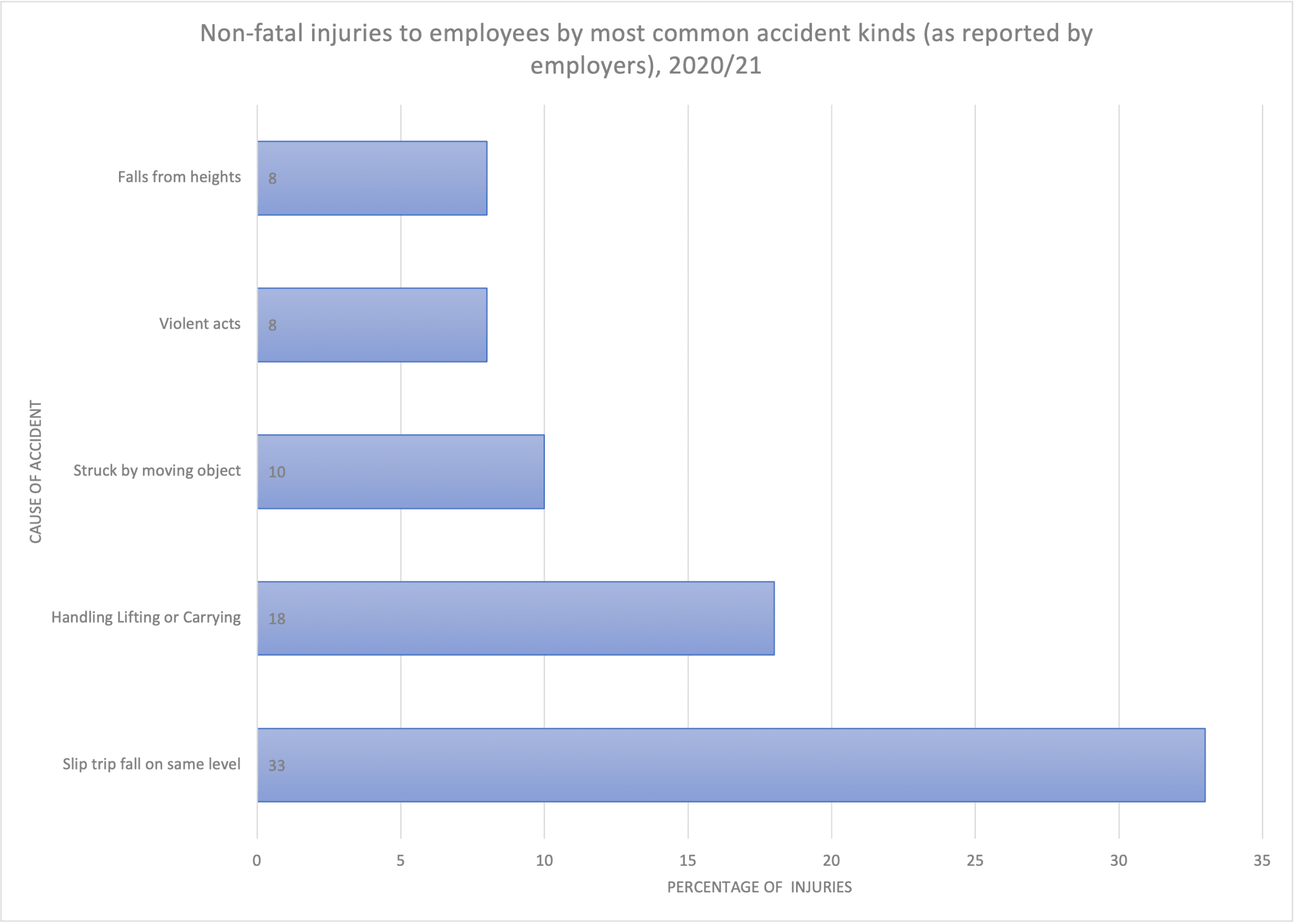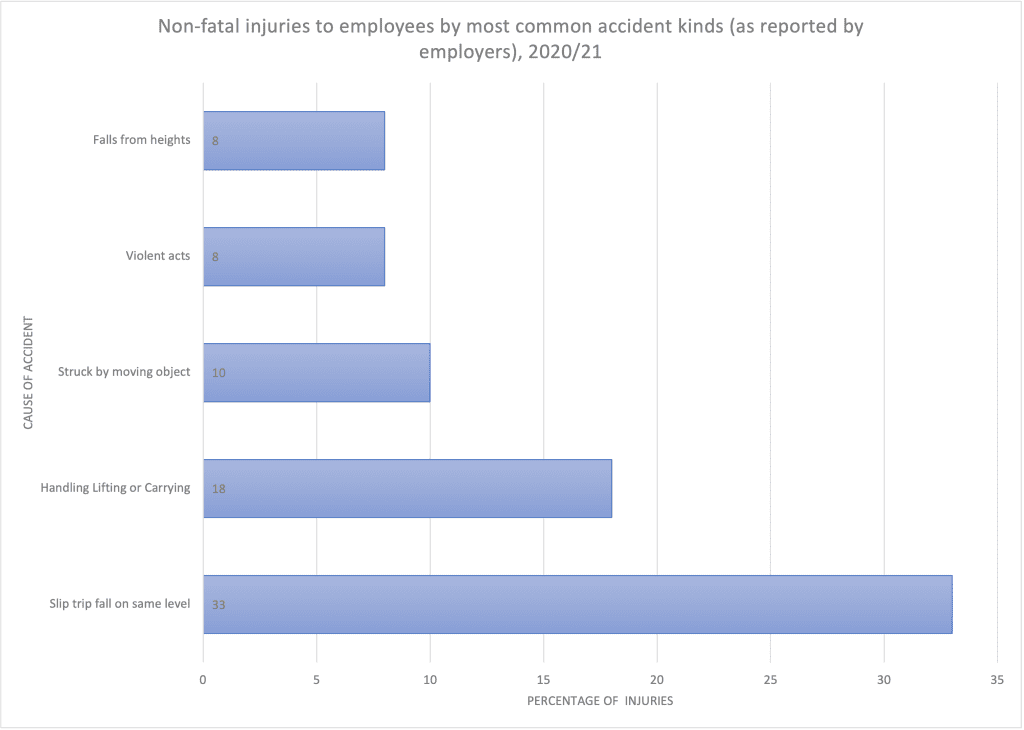 Should your employer not have acted to protect your safety by keeping walkways clear of debris, or not training you correctly to use machinery in a safe manner, then you could have a claim that we can help you claim compensation for.
Claims for ankle injuries caused by a car accident
Road traffic accidents happen often on UK roads, perhaps more than you realise. According to the DfT, there were many people who were injured on UK roads in the year ending June 2021, despite there being less traffic during this period as people were still working from home. You can see the severities below: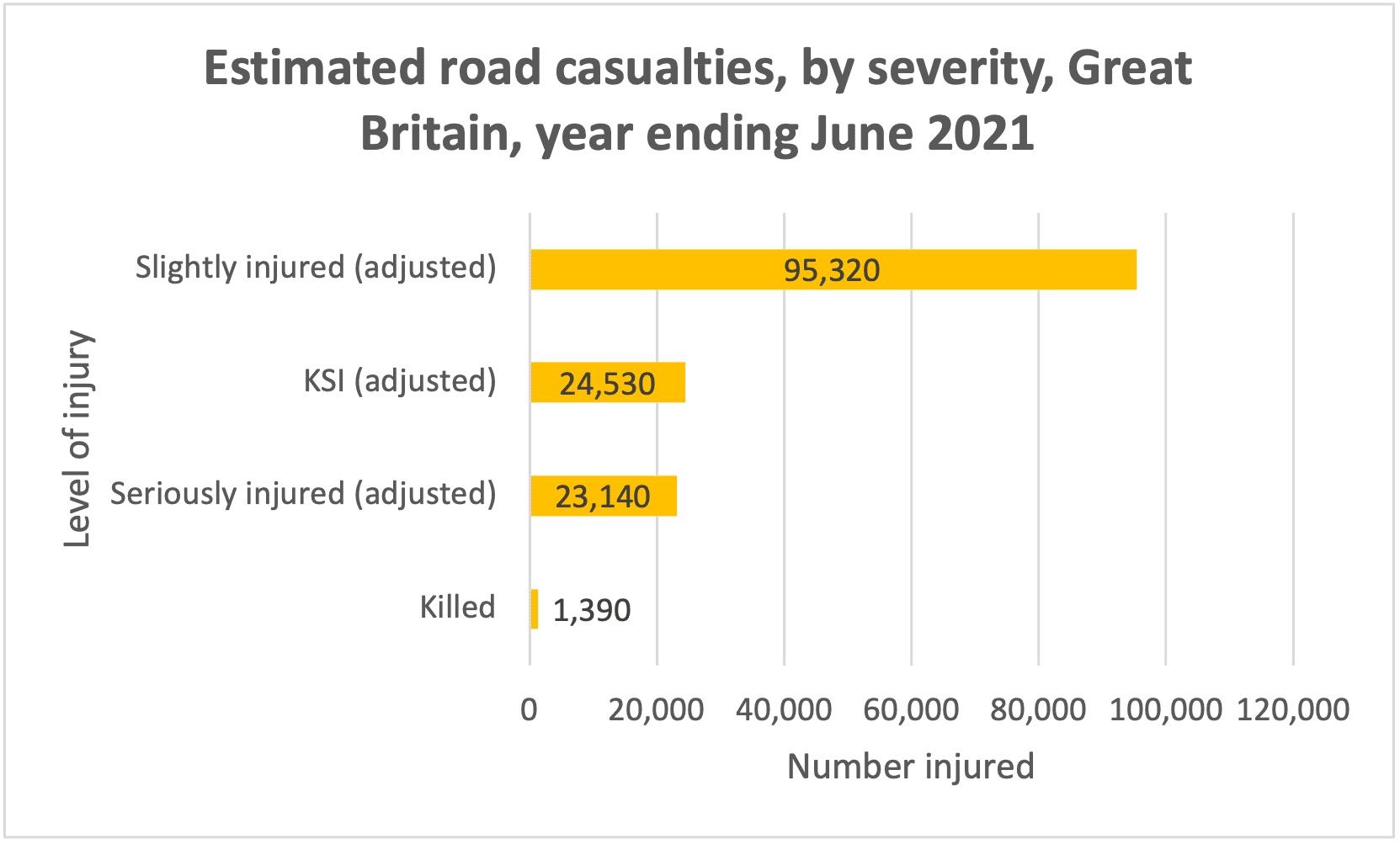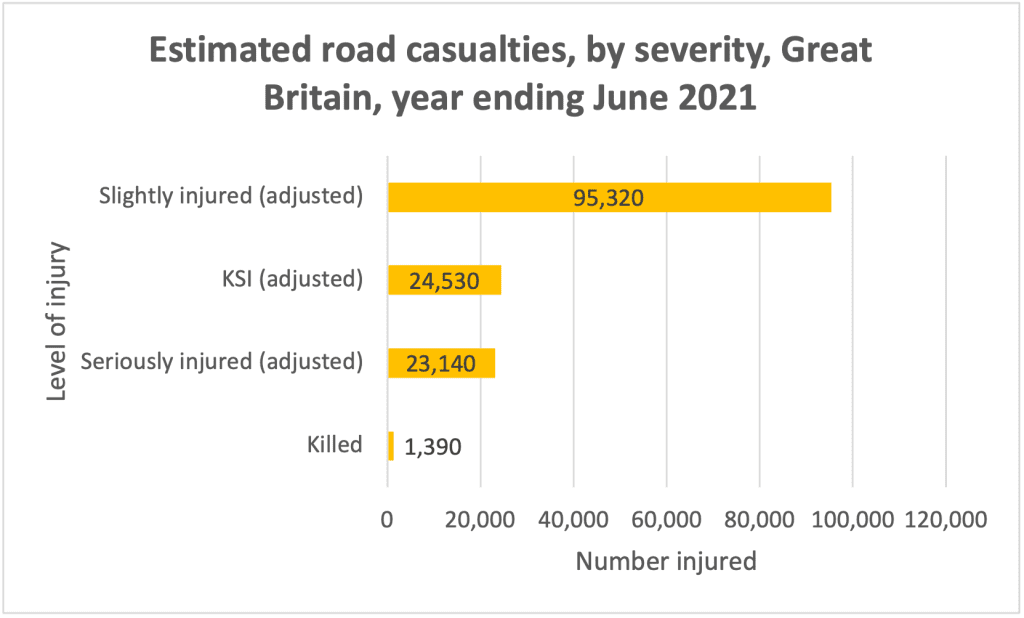 Making an ankle injury compensation claim after a car accident is common. Ankles are one of the most commonly injured parts of the body and whether you were on a motorbike, in a car, or on public transport, or even walking down the road, if you are involved in an RTA (road traffic accident) and it was not your fault, then you should consider claiming compensation.
Ankle injuries caused by slips, trip, and falls
Slips and trips, as previously mentioned, are a common cause of an ankle injury, and if it can be proven that someone is at fault, then you are likely to have a claim. Slips and falls are common in public places such as bars, restaurants, hotels, hospitals, leisure centres and parks and playgrounds. Simply put, if walkways are not made safe and reasonable precautions are not taken to protect you from slipping and falling then it is likely you will be able to take a claim forward for ankle injury compensation. We can help you with this.
If you'd like to know more about how much compensation can be awarded for ankle injury claims, then our next section will be of use to you.
Ankle injury compensation calculator – how much is the average compensation for an ankle injury?
When you consider how complicated the ankle, as a joint is, you will realise that no two claims are the same, but you would be in the majority if you wanted to know approximately how much ankle injury settlement amounts you'd receive. This can be very difficult to work out, but we can take a guide amount from the compensation calculator table below to give you some clue as to the kind of payout you'd be looking at.

| Injury/ies | How Severe? | Typical Bracket | Further information |
| --- | --- | --- | --- |
| Injury/ies to the ankle | Very severe | £50,060 to £69,700 | Can cause extreme amounts of pain to the person affected. The likelihood is a lot of treatment and this may not lead to full recovery. You may experience loss of ankle function. |
| Injury/ies to the ankle | Severe | £31,310 to £50,060 | A large amount of pain and often requires a surgery or multiple surgeries to correct. |
| Injury/ies to the ankle | Moderate | £13,740 to £26,590 | Whilst this injury may not affect you forever, it is likely to have caused a moderate level of pain and may cause issues. |
| Injury/ies to the ankle | Modest | Up to £13,740 | Could be very painful initially but usually resolve within a short space of time. |
| Psychiatric damage | Severe | £54,830 to £115,730 | Injuries of this severity will lead the injured person to have marked problems relating to life, work, education and relationships, with a poor prognosis for recovery |
| Psychiatric damage | Moderately severe | £19,070 to £54,830 | Injuries of this severity will lead the injured person to have significant problems relating to life, work, education and relationships, but there will be a more optimistic prognosis than in more serious cases |
| Psychiatric damage | Moderate | £5,860 to £19,070 | Injuries of this severity may lead the injured person to have some problems relating to life, work, education and relationships, but there will have been marked improvement and a good prognosis for recovery |
| Psychiatric damage | Less severe | £1,540 to £5,860 | Awards in this bracket will be determined based on the extent to which the injuries affected the injured person's daily life and sleep. |
| Minor injuries | Moderate | Injuries where there is a complete recovery within three months. | £1,370 to £2,450 |
| Minor injuries | Minor | Injuries where there is a complete recovery within 28 days. | £690 to £1,370 |
| Minor injuries | Minor | Injuries where there is a complete recovery within seven days. | A few hundred pounds to £690 |
Of course, the nature and complexity of your ankle injuries are likely to affect your payout. Consider if you have an extremely active job that you could not return to after your accident and were seeking compensation for ankle ligament damage. Consider also the mental and emotional effects this could have on you. It is important to remember that no case is the same as the next and one broken ankle compensation payout can vary from another. However, if you call us, we may be able to give you more of an idea as to how much you'd be looking for in ankle injury compensation.
How to start an ankle injury compensation claim
Beginning an ankle injury does not have to be difficult when you call on the experts at Accident claims. When you initially get in touch with our team, we will speak to you at length about what happened to cause your ankle injury. You will likely be asked a number of questions concerning the accident, and we will assess the validity of your ankle compensation case. Upon deciding whether your case is likely to stand up, we will offer actionable advice, which includes an explanation of how we work on cases. We will also at this point give you answers to any pressing questions you have about claiming, such as how much for a fractured ankle, or can I claim for ligament damage compensation.
We can provide you with a solicitor to deal with ankle compensation claims, and in some cases, we can connect you as part of the same call. The solicitors we choose to provide you with are experienced and knowledgeable about this part of the law and will be able to fight for the compensation you should be awarded.
No win no fee ankle injury claims
If you've reduced your earnings due to the ankle injury you sustained, but wish to make a claim, you may be worried about how to fund it. This is not a concern should you use our service. It is entirely possible to make no win no fee ankle injury compensation claims with us, and the way in which this works is by using a percentage of the overall award you're given to fund the case. You may be wondering, however, what happens if your case isn't finalised with an award. If that is the case, then you need not worry, you will not be pursued for legal fees from your solicitor in this case.
Why make an ankle injury claim with us
Without knowledge of the personal injury areas of the law, you are sure to be confused by the number of claims services out there, who all seem to be offering the same, or similar things. We feel we set ourselves apart, however, and this is due to one thing – we put YOU first. At all times. Whether you're calling because you're not able to ascertain if you've got a claim, want more advice on how much compensation for sprained ankle injury claims you could be looking at, or want to know how no win no fee works, we will only offer you honest advice because we are putting your first. We may have to tell you that you would not likely have a claim, we may have to explain why your injuries would not be classed as 'severe', but we will be sympathetic and sincere at all times because we care about what you have gone through and what we can do to help. Our previous clients have certainly said our service is a caring one, and we hope that you get the chance to experience that sort of service yourself by choosing us to help you with your claim.
If you're ready to speak to us about your claim or just want to ask some more questions about ankle injury compensation, then phoning 0800 073 8801 would direct you to a member of the team here at Accident Claims. We'd urge you to speak to us to see if we're the right fit for your claims – we'll work hard to make sure we deliver on what we promise.
Useful Links Relating to Ankle Injury Claims
Guidance from the NHS about this type of ankle injury. You may find it useful to read if you've encountered this sort of ankle problem.
Ankle fractures can be extremely painful and complex too – find out more about them here.
If your ankle injury happened in the workplace this guide will show you your rights to claim ankle injury compensation from an employer.
If your accident took place in a public space or area, find out how to make sprained ankle injury claims against the party responsible for maintaining this space.
Other Personal Injury Claim Guides
Ankle Injury claims FAQs
How much is an ankle injury claim worth?
Sprained ankle injury claims and ankle injury compensation, in general, is awarded based on the nature and the severity of your ankle injury. As you can see from our compensation table, the more seriously that you were injured, the more compensation you may be awarded. Because your compensation settlement is based on your individual injury, the above table is only an assessment of what may be claimed.
What can be included in an ankle injury claim?
Your compensation for your ankle injury will be made up of general damages and special damages. General damages will compensate you for the pain and suffering that you've experienced, whereas special damages will cover you for any financial loss you've experienced, like payment for travel or medical expenses.
What kinds of accident might lead to an ankle injury compensation claim?
Ankle injuries leading to compensation claims can take many forms, including accidents in a public place, workplace accidents, car accidents and instances of medical negligence.
How do you know if an ankle injury is serious?
The NHS recommends that if you suspect that your ankle is sprained, dislocated, fractured or broken you should seek immediate medical attention to correctly diagnose your injury and to get any necessary treatment. The NHS guide above has further information on what to do. If you suspect that you have suffered an ankle injury please consult a medical professional.
How long does it take for an ankle injury to heal?
How long an ankle injury may take to heal will depend on the injury suffered, the severity and the treatment received. Sprained ankle injuries could be expected to heal within a few weeks. More severe injuries could be expected to take longer to heal and to recover from.
Do I need a solicitor to make a claim for an ankle injury?
Strictly speaking, it isn't necessary for you to enlist the services of a solicitor to make a personal injury compensation claim; however, you will find that the experience and expertise that personal injury solicitors offer will make the claims process run much more quickly and smoothly.
Will it cost me anything to make a claim for ankle injury compensation?
If you choose to have a solicitor represent you in your personal injury claim, then you may find that with paying their hourly fees the process can become quite expensive. However, choosing representation on a No Win No Fee basis means that you won't pay anything until you receive your compensation.
How can I maximise my compensation for my ankle injury?
In order to get the full compensation you're entitled to, you should collect as much evidence as possible relating to your injuries. This can include photographs, witness statements and medical records.
Could I claim compensation if my ankle injury is the result of an assault?
If you suffer an ankle injury because someone has attacked you, you could make ankle injury claims against the perpetrator in some cases. In other cases, you might be able to make a claim against your employer, if they failed to protect you from an attack at work. However, sometimes it isn't possible to claim against the perpetrator or your employer. Where there are no other routes to compensation, you may be able to claim compensation through the CICA (or the Criminal Injuries Compensation Authority).
Would I be able to make ankle injury claims if I was running from police?
The CICA usually only compensate blameless victims of a violent crime for criminal injuries. You would not be able to claim compensation if you had an accident running from the police.
How do I make a CICA claim?
We could help you make an application to the CICA for compensation. You would need to have make a police report regarding the assault you suffered your injury in. You would also need to co-operate with police while they investigated the crime. You would usually have just 2 years to make a CICA claim and you would need to have medical evidence of your injuries. While the compensation amounts would differ from personal injury claims, as the CICA has its own compensation tariff, we could assist you in getting the compensation you deserve as a victim of crime who has suffered an ankle injury.
Could I claim ankle injury compensation on behalf of a child?
If your child suffers an ankle injury in an accident that was not their fault, they could not make their own claim while they are under 18. This is because in the eyes of the law, they would not have the capacity to do so. Instead, you could make a claim for them, by acting as their litigation friend. You'd then be able to decide on certain aspects of their case for them. Once their compensation settlement was decided, it would be paid into a trust in most cases. Alternatively, you could wait until they're 18 so they could claim for themselves. However, if you wait a long time, it could be difficult to obtain the evidence you might need. If you're struggling with this decision, please don't hesitate to contact us. We would be happy to give you the information you need to make a decision on what could be appropriate for your child's case.
Do I need a local lawyer to make ankle injury claims?
Claiming compensation can be complex, and it's important to get a lawyer that gives you peace of mind that someone is handling your claim professionally. However, you're not restricted to the local area when making a choice of what law firm or lawyer to use, which is great news. When researching lawyers, we would urge you to check out their past reviews and ask them questions about their success rate and whether they offer you assistance on a No Win No Fee basis.
Why shouldn't I rely on the average compensation for an ankle injury to show me how much I could get?
When you make an ankle injury compensation claim, the answer to questions such as 'what is the average payout for a sprained ankle?' can be difficult to answer with a definitive figure. This is because every case is different and ankle injury settlement amounts in the UK can vary significantly.
You would need to have your case assessed in accordance with its own unique facts. There is a lot to consider when calculating ankle injury settlement amounts in the UK. Factors to consider could include:
How severe was the initial injury?
Did you need surgery?
Was there a long recovery?
Is there any permanent damage?
What costs have you sustained as a result?
If you would like our help finding out what the average compensation for an ankle injury like yours could be, please call us. We would be glad to help you.
Could you help me get more than the average compensation for my ankle injury?
Our solicitors have experience handling various types of claims and could help you claim the compensation you're owed. Using all their knowledge and experience, our No Win No Fee lawyers could help you put together a strong case to ensure you're awarded an appropriate compensation settlement.
If you are offered ankle injury settlement amounts in the UK that you do not feel reflects your injury, you don't have to take the first offer. Instead, your solicitor can negotiate your settlement.
Can an ankle injury compensation calculator help me?
As we have mentioned, an ankle injury compensation calculator could only give you a rough guide as to how much you could claim. We would advise you to call our team for free legal advice.
We could answer your questions about making an ankle injury claim, as well as assess your eligibility to make a claim. If we determine you have a valid claim for compensation, we could discuss ankle injury settlement amounts in the UK with you. Additionally, you could receive a free valuation of your claim to get a more accurate estimate of what your claim is worth. 
How long would I have to make an ankle injury claim if I've just discovered it was caused by negligence?
The personal injury claims time limit for most personal injury claims is three years from the incident date or the date you became aware that your injuries were connected with negligence.
Please call our team to see whether you could make an ankle injury claim and how long you could have to do so as there are some exceptions. 
What affects ankle injury settlement amounts in the UK?
There are several factors that could affect ankle injury settlement amounts in the UK. They could include:
Whether you contributed to the accident that caused your injury 

How bad your injury was and the pain and suffering you endured because of it

Whether you need future treatment 

If you've lost income or incurred expenses because of your injury

Whether you've been affected psychologically
If you would like to discuss compensation settlements and what they could include for your own ankle injury claim, please call our team.
Thank you for reading our guide to ankle injury claims. We hope to have shown you how much sprained ankle injury compensation you could be able to claim and how we could help you fight for more than the average compensation for an ankle injury if your case warrants it. If you would like to learn more about ankle injury settlement amounts in the UK, or want to seek ankle injury compensation with our help, we're here to assist you.