By Joanne Jeffries. Last Updated 9th May 2022. Welcome to this case study surrounding personal injury claims payouts for a broken leg at work. In it, we look at broken leg compensation payouts for UK claims. We also look at how to calculate a compensation payout for a broken leg at work. We explain how broken bone compensation amounts could be arrived at, what could be included in a broken leg insurance payout, and answer questions such as 'who would cover the insurance payout for a broken leg?' and 'How much could I get in broken tibia and fibula compensation.
Broken bone compensation amounts explained
Getting a broken leg at work might not seem like a common situation, but in fact, it happens more often than you would think. Accidents happen all the time, and since we spend a lot of time at work, it is common sense to assume that many accidents happen in the workplace. The difference between a broken leg at work that attracts compensation and one that doesn't depends on who is seen as being at fault for the accident. If it is the employer, as per the case study we're talking about, then it paves the way for a compensation claim.
A successful compensation payout for a broken leg at work
In this situation, a gentleman on a building site was awarded £325,000 in broken leg compensation payouts when he suffered this type of injury at work. The man in question was following procedures for PPE and was wearing the required clothing and protective gear when a pile of scaffolding poles that had been nearby collapsed, rolling on top of the victim and causing him to suffer severe injuries, including several broken bones in his legs.
Broken leg compensation payouts for UK claims – We can help
This claim, researched by Accident Claims, goes a long way towards illustrating the kinds of claims for broken tibia and fibula compensation we help clients seek when they have suffered a broken leg at work. Below, we explain more about this case study for compensation for a broken leg, along with more about a broken leg at work injury, including how long does it take to recover from a broken leg, broken leg compensation payouts information, how we could provide an alternative to a compensation calculator and a personal injury solicitor and more.
Statistics for Construction and Building Site Injuries
Being on a construction site is not without risk, and in fact it is one of the most dangerous occupations in the world. In terms of work-related injury, the HSE reveal that in 2020/21 there were a shocking 39 fatalities due to injury on construction sites in the UK, while a further 61,000 injuries that are non-fatal occurred on UK construction sites. The major fatal injuries that occurred were from falls from a height (50%).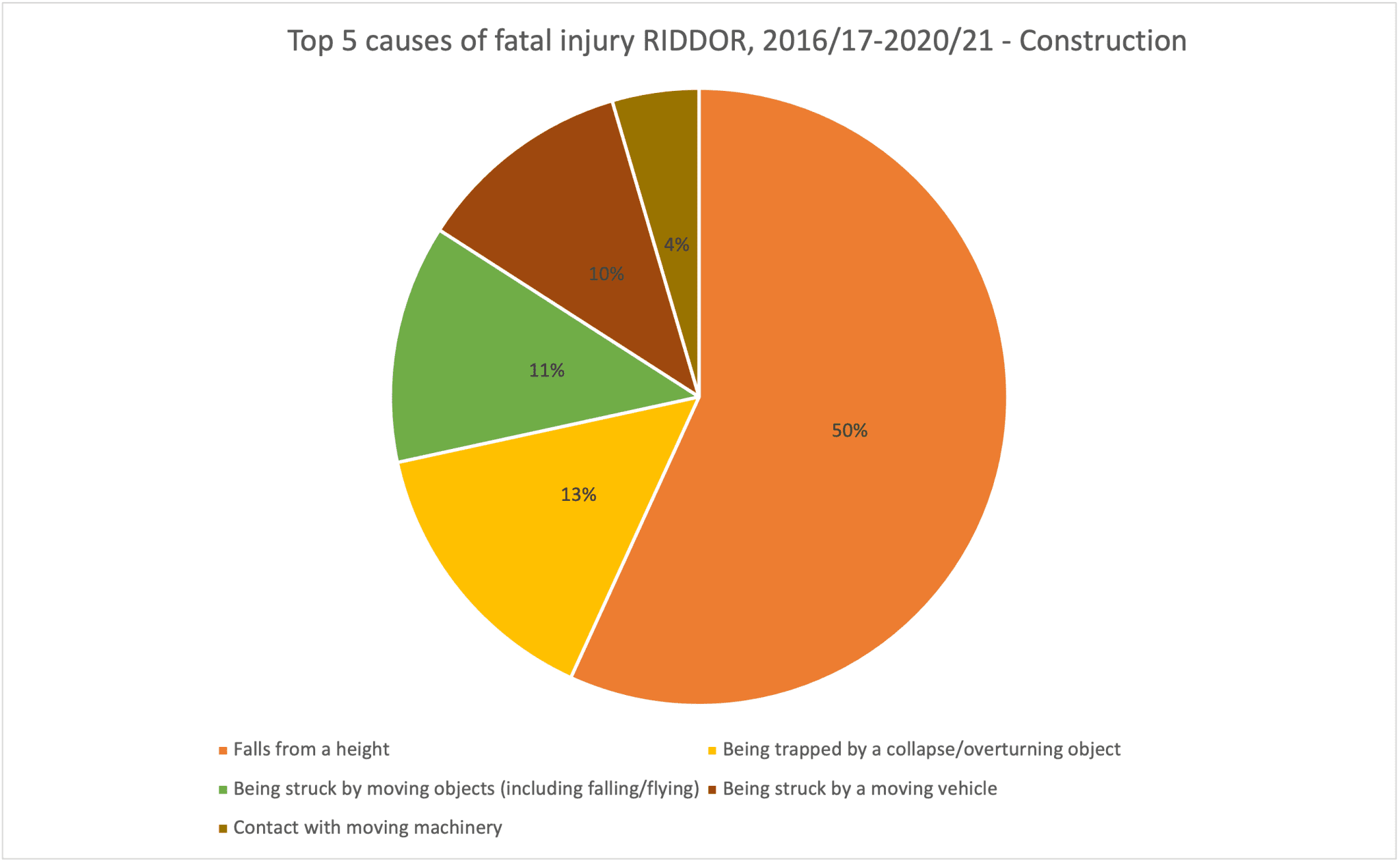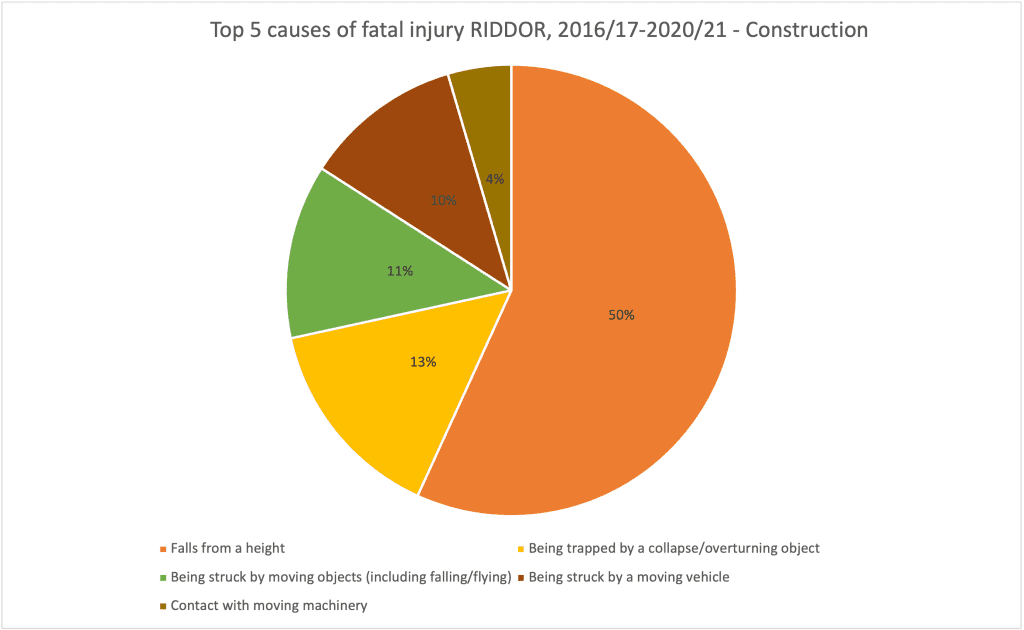 In terms of non-fatal injuries, the falls, trips and slips are still the highest at 26%, but instead of being at height, these are slips and trip on the one level. Handling injuries are next, with 19 percent of the whole number, while falls from height and being struck by objects make up the rest.
Whether you have suffered a broken leg at work, or a lifting and handling injury, and it was someone else's doing that led to the injury, it is essential to remember that you can make a claim, and that we can help you do so.
What Injuries Did This Claimant Suffer That Led To His Broken Leg Compensation Payouts for his UK claim?
The victim in this case suffered a broken leg at work as well as other injuries. He was assessed by both an orthopaedic specialist as well as a psychiatrist, as it was not only physical injuries that were suffered. With regards to his physical injuries, there were multiple fractures to his feet, the ankles and the lower parts of the leg. Crush injuries to the lower limbs can be intensely painful and complex to correct.
The victim in this case had to go through several surgeries in order to correct the damage, some of which involved metalwork having to be inserted into the legs. His rehabilitation was complex, and involved Pilates, gym workouts, swimming, podiatry care, as well as physiotherapy. The claimant could not work for quite some time due mostly to the ongoing discomfort and pain. He required at home care with daily tasks, which was given by his partner. When the claimant did return to work, he had to return on reduced hours, mainly due to the fact that his rehabilitation requirements were so complex and required so many appointments.
A compensation payout for more than the broken leg at work
Another aspect of the victim's injuries were those which related to PTSD. The claimant was said to have been suffering from post-traumatic stress disorder, and he received CBT treatment (cognitive behavioural therapy) for this. PTSD can range in severity, and just like physical injuries can last for a long time.
Part of the victim's compensation in this case was for the psychological injuries as well as the physical, which are just as significant. A broken leg at work claim that comes with PTSD or anxiety on top can be more complex than a straightforward broken leg claim, so it is essential that the right solicitor is sought who can look at the whole picture, not just the physical injury.
How Was This Case Carried Out?
This case was a little complex, as there were actually 3 different defendants that were involved. Initially, the case was brought against the owner of the site, but after a letter was issued to the owner, another 2 liable parties were also identified. Both the site controller and the scaffolding controller were said to be liable and additional claims were brought against them. After some negotiation, all three parties admitted full liability and they were each in agreement to fund a third of the claimant's compensation payout.
What Payout Was Awarded to The Claimant?
In this particular incident, the claimant received a total of £325,000 for his injuries and loss of earnings and costs. During the process, he was in receipt of interim payments, totalling £25,000 which helped the claimant with ongoing costs of living and treatment while the claim was still being negotiated. This is something that can sometimes be negotiated so that the victim does not have to delay any treatment for their injuries, or to help them cover their costs of living.
Could I get broken leg compensation payouts for a UK claim like this?
If this is something you feel might apply to your broken leg at work claim, then it is something we can discuss on the phone, so don't hesitate to call.
No Win No Fee Compensation Payouts
Imagine being able to go forth with a claim without having to risk any of your own finances? Sounds too good to be real? It really isn't. A huge number of claims are put forth as no win no fee, which necessitates absolutely no funds to be put up by you for the legal fees upfront. If you're wondering how this can be possible, let us explain. Instead of giving you a bill straightaway once you engage their services, a solicitor working like this doesn't take anything upfront, instead having their fees settled as a percentage of a successful claim's payout.
Should you be in the relatively rare position of not having a successful payout, then the legal bill would not have to be settled by you. It is risk-free, and the vast number of cases handled in this country for personal injury claims, for a broken leg at work, or other injuries are settled in this way.
Talk to Accident Claims UK About Your Case And Personal Injury Claims Payouts For A Broken Leg At Work
If you have obtained a broken leg at work and are worrying about how you'll manage going forward, especially if you've lost out on some of your income then seeking broken leg compensation might allay some of your worries. We have a member of staff that has been fully trained to answer each and every call we receive with understanding, discretion and lots of support for you. They can offer advice if you call 0800 073 8801 – advice that you can depend on, but that you are not obligated to follow.
We don't push our clients into taking action, but we will illustrate to you what you could receive in terms of compensation, as well as explaining no win no fee, and other legal terms and practices that you have questions about. Our team can also easily and quickly connect you to solicitors that have much experience in personal injury law, and that can push for the biggest amount of compensation possible for your specific injuries.
We do invite you to learn more about us and our services before you make the decision on whether to go ahead with our services. The testimonials on our site will give you some information but we can give you so much more over the phone.
FAQs About Broken Leg Compensation Payouts For UK Claims
I suffered a broken leg at work as a temporary worker – could I claim?
As a temporary worker, you may wonder how claims for broken leg compensation payouts in the UK work. If you are employed as a temporary worker, you might worry that you could not claim.
However, as long as you could prove your employer had a duty of care towards you, breached that duty and caused you to sustain an injury, you could claim.
Would broken leg compensation payouts for UK claims be possible if I was partially at fault?
If you are in an accident where you share partial liability with someone else, you may still be able to achieve a compensation payout.
In these cases, the term 'contributory negligence' may apply. Someone else may have been responsible for the accident but you may have contributed to your injuries.
For instance, if you were involved in a car accident as a passenger but didn't wear your seatbelt, you may have contributed to the injuries you sustained.
In these cases, you could still receive a payout but it may be reduced.
I was assaulted, where could broken leg compensation payouts for UK claims come from?
If your employer failed to uphold the duty of care they owed you at work, and you suffered injuries in an assault as a result, you could make a claim against them.
If someone else assaulted you at work, such as a customer and your employer wasn't liable, you could claim through the Criminal Injuries Compensation Authority. We could help you with such claims. Please call our team for guidance and support.
Could I receive personal injury claims payouts for a broken leg at work in a car accident?
If you are injured in the course of your workplace duties, for example you suffer a broken leg at work due to your employer's lack of health and safety provision, you could make a claim against your employer. However, if you drive as part of your work and you are injured in a road traffic accident which causes you to suffer a broken leg, you would usually be claiming against the at fault road user's insurance company. If you're wondering how common road traffic accident injuries all in the UK, we could provide you with the below statistics.
Who could make broken leg compensation payouts for UK road traffic accident claims?
In 2020, according to provisional figures from the Department for Transport, there were a number of different types of road users that suffered injuries on the roads of the UK. This was despite the four months' worth of lockdowns that the UK faced due to the coronavirus pandemic during this time. You can see more from the graph below.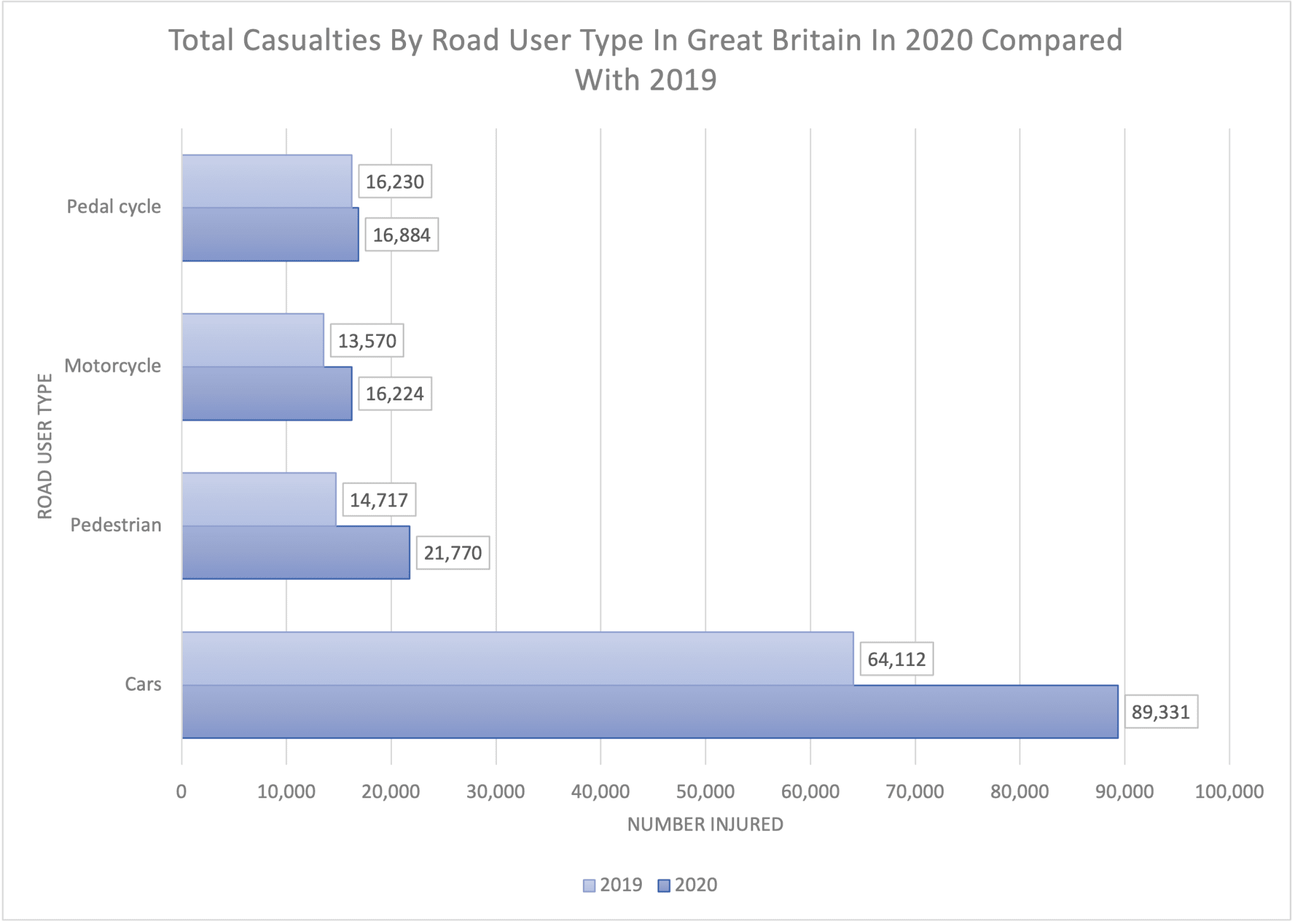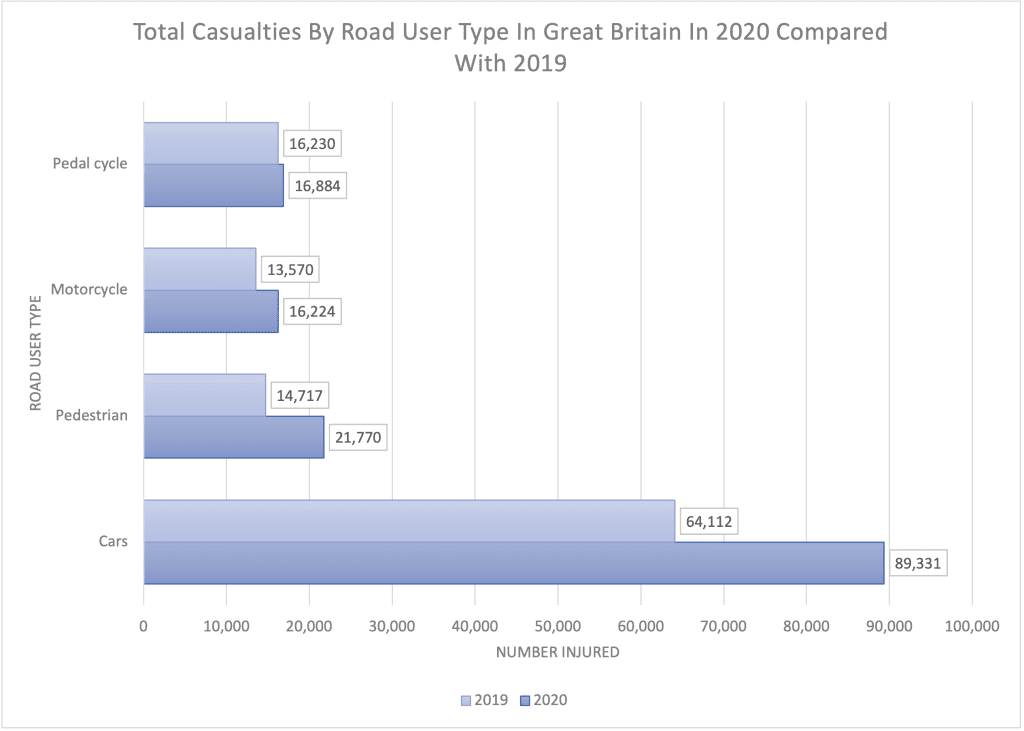 If you would like to make a road traffic accident claim, we would be delighted to help you. We also handle medical negligence claims and criminal injury claims as well as accident at work claims, slip, trip and fall claims and claims for accidents in public places. If you would like us to assess your case to see if you could have a strong claim, and if one of our no win no fee solicitors could help you, please call our team today.
How do I go about maximising personal injury claims payouts for a broken leg at work?
When you have an accident in the workplace in which you are injured, the first thing we would advise you to do would be to seek medical attention. Obviously, if you suffer a broken leg at work, you will need to receive medical advice and treatment in managing your injury. However, there are also some other things that you could do at the scene of such an accident to maximise your chances of a successful claim and to maximise your compensation payout.
Some advice we would give you would include taking photographs of the scene of the accident and your injuries, if possible. If you cannot do this yourself, you could ask a work colleague to do this for you.
Other tips to claiming a broken leg insurance payout
We would also advise you to obtain contact details of anyone who has witnessed your accident and injuries. In addition, you could also keep an injury diary detailing how you have suffered, including any medical appointments and any costs or losses you sustain as a result of your accident. To maximise your claim for special damages as well as general damages, it would be wise to keep hold of any receipts, pay slips and bank statements for the times that you have lost out on income or you have incurred costs.
If you would like to learn more about how to maximise your compensation payout, or you would like us to provide you with an injury lawyer to help you with up to 30 years of experience, please contact our team today.
How are broken leg compensation payouts for UK claims calculated?
Broken leg compensation payouts for UK claims are calculated by assessing all the facts of the case. Some of the factors that could be taken into account when determining broken bone compensation amounts could include:
How severe the injury is

Whether surgery is needed

The effects on the claimant's ability to work and enjoy life

Financial expenses associated with the injury

How the injury could affect them in the future
These are just a few examples. If you would like to discuss broken tibia and fibula compensation, or other broken bone compensation amounts with our team, call on the number above.
Who could claim a broken leg insurance payout?
A person who can prove that their broken leg was caused by the breach of another person's duty of care towards them could be eligible to claim a broken leg insurance payout.
Could I claim an insurance payout for a broken leg if the motorist wasn't insured?
If you were hit by an uninsured driver, or one that could not be traced, it might not be possible for you to claim an insurance payout for a broken leg in the traditional way. Instead, your claim could be made to the Motor Insurers' Bureau. 
Call our team to find out more about what this means.
Useful Links Relating To Personal Injury Claims Payouts For A Broken Leg At Work
Many different resources exist to help you with making claims and we have put together a list of some we think might help.
HSE Construction Stats – The HSE statistics we mentioned above in the guide can be found in full here. This details a lot of different statistics surrounding the construction injury, injuries within it and illnesses as well.
PTSD – NHS – The NHS' page on PTSD explains how it is diagnosed and what treatment options are available. This is a common after effect of trauma, such as the accident mentioned above.
Self Employed and Making a Claim – Many construction workers are self-employed. If you are, then this guide is for you.
Injured on a construction site? – If, like the claimant above, you've been injured on site, this guide can help you make sense of what to do.
Thank you for reading this case study on personal injury claims payouts for a broken leg at work. Whether you've suffered leg fractures or a leg amputation, or even ankle injuries, we could help you claim accident at work compensation.