By Jo Anderson. Last updated 25th July 2023. When we go to the hospital, especially for something as stressful as giving birth, we expect to receive a decent standard of care. That means the safe delivery of the child and no harm inflicted upon the mother.
However, things don't always go to plan. Mistakes can be made, sometimes due to negligence. These errors can lead to injuries and it's in these cases that you could take legal action to get the compensation you deserve.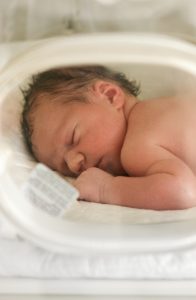 Below, we talk about birth injury claims in detail. We explore the types of injuries that you could claim compensation for. And we also provide examples of payouts for birth injuries and discuss the eligibility to make a claim.
If you need the support of a medical negligence solicitor, we can help. Our specialist team of clinical negligence lawyers have recovered millions of pounds for their clients. They have the experience and knowledge to guide you through the birth injury claims process.
You can speak to us now by calling 0800 073 8801. The advice we provide is free of charge and carries no obligation to use our services.
Could I Make A Birth Injury Claim?
Healthcare professionals, like doctors, nurses and midwives, all owe their patients a duty of care when under their supervision. If that duty is breached, a patient may suffer harm that may otherwise have been avoided.
If you're interested in making a birth injury claim, there are some criteria that you need to meet:
You must show the healthcare professionals looking after you owed you a duty of care. This is usually straightforward to prove.
It's necessary to prove, with the help of evidence, that they breached that duty of care.
And, as a result of that breach, you suffered harm
Proving a breach in the duty of care can be tricky. It requires evidence which can be difficult to obtain, but that's something we can help you with if you chose to make a birth injury claim with us. Examples of evidence that could help include:
Letters or emails from the hospital in relation to the suspected incident of negligence
Your medical records, though we can obtain these as part of the claims process for you
The details of anyone who witnessed the negligent birth, like your partner, a family member or a friend
If you'd like to check if you're eligible to make a birth injury claim, call us today. We offer a free consultation to everyone who contacts us. As well as advising on eligibility, we can tell you about potential compensation payouts and can connect you with a solicitor who'll get to work on your case that same day.
Time Limits For Claiming Medical Negligence Compensation
If you meet the eligibility criteria to make a birth injury compensation claim, you will need to keep in mind the time limit for making such claims.
Under the Limitation Act 1980, you will have three years to make a medical negligence claim from the date you were harmed or the date you first connected the harm with negligence. This is known as the date of knowledge.
However, some exceptions may apply to this time limit. For example, the time limit is frozen for those under the age of 18. From their 18th birthday, they will have three years to start a claim. However, prior to this date, a court-appointed litigation friend could act on their behalf. This should be someone who will act in the claimant's best interest, such as a parent, guardian or solicitor for example.
This exception may be applicable if you were under the age of 18 when you gave birth and suffered a birth injury, or if you are looking to may a birth injury claim on behalf of your child.
To learn more about the other exceptions that may apply to the medical negligence claim's time limit, you can contact our team of advisors.
What Injuries Can You Claim Compensation For?
There is a range of different birth injuries that you could claim compensation for. Let's take a look at them:
Brain injuries caused by the likes of oxygen deprivation (hypoxia)
Erb's palsy (also known as brachial palsy)
Fractures
Nerve injuries, such as facial paralysis
Spinal cold injuries
This isn't a comprehensive list, so if you don't see your circumstances described above, please get in touch anyway. Chances are, we can help you.
Placenta Left In Uterus – Can I Claim?
You could potentially make a medical negligence claim if your placenta was left in your uterus after birth. However, you will need to prove that the harm you suffered was caused by the medical professional breaching their duty of care. You could suffer various symptoms due to a retained placenta. According to the NHS, if your placenta has been left in you after birth, some of the symptoms you could look out for include:
Delayed and heavy bleeding.
Flu-like symptoms
Blood clots.
Stomach or abdomen pains
Vaginal discharge with a bad odour.
If you experience such symptoms, the NHS states you must inform your midwife or GP.
Additionally, some symptoms of a retained placenta could be more severe. If your placenta has not been delivered, it could result in an infection later on. If you experience any symptoms of a retained placenta, you should seek medical attention as soon as possible.
Contact our advisors today if you have any questions about making a medical negligence claim for a retained placenta. They could also offer you free legal advice regarding your specific claim.
How Much Compensation Could You Get For Different Birth Injuries?
Compensation payouts can vary in birth injury claims. This is because the harm suffered differs case to case. However, to help give you a clearer idea of the figures that could be awarded, we've compiled the table below.
Injury
Notes On The Injury
Amount
Brain damage - very severe
Very severe cases of brain damage will see the injured person left unable to respond to their environment, with little or no language function. There will also be a need for full-time nursing care.

Cases involving Cerebral Palsy may fall under this category.
£282,010 to £403,990
Brain damage - moderately severe
This severity level relates to cases involving seriously disabling injuries. There may be substantial dependence on others, either physically or cognitively. If life expectancy has been greatly reduced.
£219,070 to £282,010
Female reproductive system
Infertility with severe depression and sexual dysfunction among other medical complications.
£114,900 to £170,280
Back injury - severe (i)
Severe damage to the spinal cord and nerve roots leading to serious consequences such as severe pain and incomplete paralysis.
£91,090 to £160,980
Pelvis and hip injury - severe (i)
Extensive pelvis fractures with the lower back joint being dislocated and the bladder ruptured.
£78,400 to £130,930
Pelvis and hip injury - moderate (i)
A significant hip or pelvis injury that doesn't result in a permanent disability with no major risks.
£26,590 to £39,170
Shoulder injury - serious
A dislocated shoulder with damage to the lower part of the brachial plexus causing neck and shoulder pain within other sensory symptoms.
£12,770 to £19,200
Arm injury
Simple forearm fracture
£6,610 to £19,200
These figures come from the guidelines of the Judicial College. This publication details compensation payouts made by the courts in previous cases. Solicitors use it to guide them when valuing your case.
However, receiving compensation for your or your child's injuries is only one part of the claim. It's also possible to recover any financial costs, both past and future. Let's look at this in more detail.
What Else Can Birth Injury Payouts Include?
Another 'head of claim' that can be included in a birth injury payout is called special damages. It relates to the financial implications of the injuries and can include:
Past loss of earnings – if you had to take extra time off work to recover and lost out on pay, you can claim this back.
Care costs – in some birth injury claims, the child may suffer from a permanent disability. This may mean they need specialist care for the rest of their life. As part of the claim, your solicitor can calculate the cost of this care. If successful, you'll receive annual payments for as long as you need them.
Home adaptation costs – if you or your child has suffered a disabling injury that may require the use of a wheelchair, for example, it's possible to claim for the cost of changing your home to make it accessible.
Medication costs – if you had to buy antibiotics or painkillers because of the injuries, you can claim back these fees.
This list isn't an exhaustive one. Please get in touch to discuss other financial impacts you may have experienced as a result of a birth injury.
Birth Injury Solicitors
Given the complex nature of birth injury claims, it's always recommended to seek the services of a solicitor. Let's explain why.
As part of the process of claiming compensation, you will be required to supply specialist medical evidence that proves the injuries were caused by the negligent birth. Sometimes this evidence can cost thousands of pounds—a fee a solicitor can cover for you.
The defendant may also present some difficult arguments in its defence, which may require a robust response. Having someone on your side who knows the law and can present arguments, supported with evidence, can make a monumental difference to your chances of success.
If you're looking for the help of a birth injury solicitor, get in touch with us. Our medical negligence department is made up of some of the finest solicitors in the country, some of whom have won multi-million-pound cases.
Better still, we can help you on a No Win No Fee basis. Let's tell you a bit more about how that works.
Birth Injury Claims And No Win No Fee Agreements
The phrase 'No Win No Fee' refers to a type of contractual arrangement between you and your solicitor. Under its terms, you don't pay your solicitor a fee at the beginning of the claim and nothing as the case progresses. If the claim does not win, you don't have to pay your lawyer any fees.
Only if the case is successful do you pay your solicitor a fee. This comes in the form of a percentage of the compensation you receive. The percentage charged is capped by law at a low level to ensure you walk away with the vast majority of your payout.
If you'd like to enquire about making a birth injury claim on a No Win No Fee basis, get in touch with us at 0800 073 8801.
Learn More About Birth Injury Claims
Below, you can discover more about birth injury claims in our related guides: