By Max Murdoch. Last Updated 28th June 2022. Welcome to our guide to dental negligence compensation claims, in which we discuss using a dental negligence claim calculator and answer common FAQs about what is classed as dental negligence, and 'can I sue a dentist for negligence?' We also discuss what compensation for dental negligence could include, as well as giving you information on dental negligence cases that could lead to claims. 
What Is Classed As Dental Negligence?
 A commonly used definition of dental negligence is when a patient receives substandard care during dental treatment. Some common examples of negligent treatment leading to dental negligence claims can include:
Mistakes which are made during treatment.
The provision or prescription of the wrong treatment and/ or medication.
Misdiagnosing a condition, which then becomes worse over time due to not being correctly treated.
Can I sue a dentist for negligence?
If a patient is injured, made ill or has their existing dental condition worsened due to the way care is provided, they have a legal right to claim compensation. If you have suffered an injury or had an existing injury or condition worsened because of a dental procedure that went wrong, don't miss your opportunity to claim any compensation that you are entitled to. Trust Accident Claims UK to handle your claim. Wherever you live in the country, you can trust us to provide you with the best solicitor to handle your claim.
Use Our Dental Negligence Claim Calculator And Get Advice On Your Dental Negligence Claim
Use our compensation calculator in this guide to see how much compensation you could claim for different forms of dental injury. Alternatively, start your dental negligence claim today by calling our team to receive your free legal consultation. One of our friendly advisors will assess whether or not you have a legitimate case to claim compensation. If you do, they will estimate the amount of money you could receive and will find the best solicitor to handle your No Win No Fee compensation claim, who will start working on your case as soon as possible.
Select A Section:
A Guide To Claiming Compensation For Dental Negligence
Dental practitioners have a legal and moral duty of care towards their patients. Most of the time patients receive excellent treatment from dental practitioners including dentists, dental nurses, oral hygienists, and orthodontists. However, there are times when dental practitioners act negligently on purpose or through human error and cause patients to become harmed.
Whether you experienced
negligent care through the NHS
or through a private dental practice, if the treatment you received caused you to become injured, ill, or if it has worsened an existing medical condition you can and should sue for compensation. As well as getting compensated for the harm directly caused and any financial losses (such as having needed to pay for additional treatment), making a claim will also hold the practitioner in question accountable for their error.
How this guide could help with suing a dentist for negligence
In this guide, we are going to look at the different forms of malpractice or clinical negligence which can occur, and advise you on what to do if you experience any of them. We will also look at the process of finding a solicitor with the necessary experience to help you, and give you the option to see how much compensation you may be eligible to claim, in our dental negligence claim calculator.
If you have experienced negligent treatment in the NHS or a private practice, don't delay. Call us today for your free legal consultation and if you have legitimate grounds for making a claim, we will begin working on your case right away.
What Is Dental Negligence?
Dental negligence or malpractice is a form of medical negligence. The simplest definition for this is an injury that is caused by a dentist (or a fellow member of staff, such as a nurse or anaesthetist) which could have been avoided if the practitioner had taken the appropriate level of care. If you have been harmed during your treatment because your dentist or other practitioner has acted negligently, poorly, or otherwise in an inappropriate way, and if this resulted in your being harmed, you could have grounds to make a claim.
Is it a commonly occurring issue?
The answer is, in general, no. Up and down the country, dentistry procedures are carried out every day. However, in some cases it could be difficult getting an NHS appoinment, as per this NHS statistical release.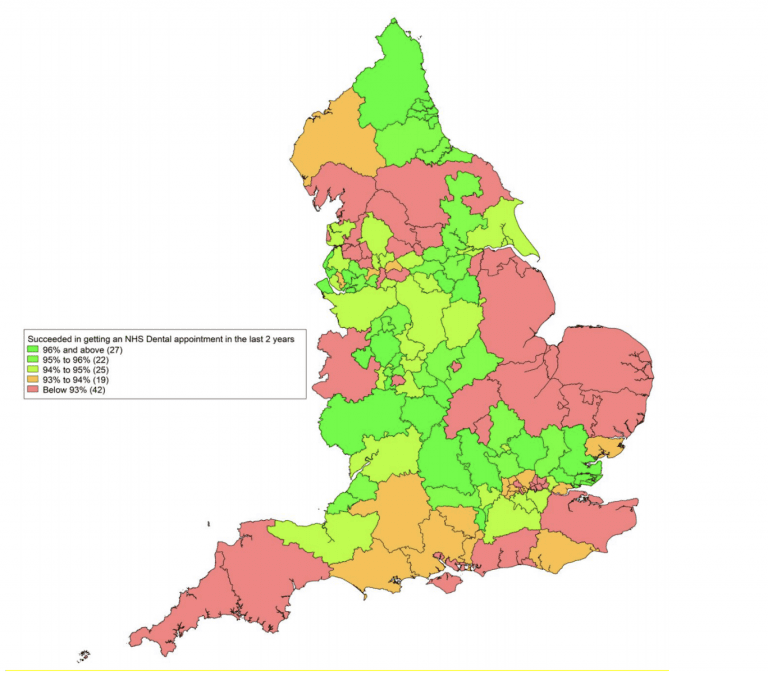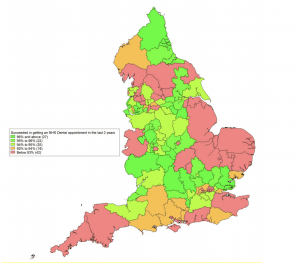 Out of these, there are cases of people being harmed each year.  According to NHS statistics, 24,684 dentists performed NHS activity in 2019-2020. That's more than the previous year.
Plus, Dentistry Online says interest in cosmetic dentistry has increased during the Covid-19 pandemic. Cosmetic dental surgery is often invasive and requires the bones, teeth, jaw or gums to be reconstructed, meaning that patients undergoing cosmetic dentistry are more vulnerable to accidents than patients experiencing medically corrective or preventive procedures.
Source: https://dentistry.co.uk/2020/09/18/zoom-covid-boosted-interest-cosmetic/
Calculating Compensation
We are often asked if there are different kinds of medical negligence claims. The answer is yes. There are many different kinds of claims for malpractice or negligence that can be made after poor treatment by a dentist. Below are some examples of types which we have helped clients to claim compensation for.
Contributory negligence: Contributory negligence means that the claimant is judged as primarily responsible for the accident that caused their injuries. In most cases involving contributory negligence, compensation will not be awarded to the claimant seeking damages.
Comparative negligence: Comparative negligence cases are the hardest claims to pursue, the reason being that the dentist themselves and the claimant or patient are both in some way or another to blame for their injuries. Deciding how liability for the injuries can be properly apportioned can involve a lengthy legal investigation. This may lead to a court case.
Vicarious liability: Cases of vicarious liability involve a third party to which blame is apportioned. This could mean that the company the dental practitioner was employed by had not met their statutory duty under the applicable regulations, or a company supplied the dentist with faulty equipment that caused the patient to suffer an injury.
Gross negligence: Gross negligence is the least common but most serious cause of dental negligence. In cases of gross negligence, the dental practitioner has deliberately disregarded their patients well being. This can happen when the dentist is intoxicated by drugs or alcohol for example. In these cases, the dental practitioner would be held fully liable for the patient's injuries.
The type of way in which you were harmed and the injuries involved in the case will influence how much compensation that you (victim) is entitled to be awarded.
What Are The Most Common Causes Of Negligent Dental Treatment?
Our team have heard plenty of different stories about how or clients experience have suffered an avoidable injury. Below, we look at four of the most common causes we have seen in patients we have helped in the past.
Inadequate patient care: Harm can occur when a patient receives inadequate dental care during a procedure or inadequate aftercare during their recovery. If you have experienced substandard care during a dental procedure which led to you becoming injured or worsened the existing condition that you were already suffering from, then you could be entitled to claim thousands of pounds in compensation.
Misdiagnosis of a dental condition: If a dentist misdiagnoses a dental condition and applies the wrong treatment they can potentially worsen the condition or cause further damage because of their misdiagnosis. What's more, if the dentist misdiagnosed the dental condition and fails to act, this can also cause further damage over time. If your condition was misdiagnosed, and if this led to you becoming injured or made your condition worse, then you could be eligible to make a personal injury claim with one of our no win no fee solicitors.
Badly executed surgical procedures: From filling a cavity to fitting a full set of implants, if a dentist performs a surgical procedure on a patient and an error occurs which cause the patient to become injured, the injured party has the right to claim compensation.
Mis-managed anaesthesia: Anesthetic is a potentially dangerous and toxic substance if not applied to correctly to the patient. Potential injuries can include damage to the nervous system. If you have been injured due to the misapplication of anaesthetic, you can make a dental negligence personal injury claim.
Clients are often curious about how much dental negligence compensation claims may be worth. The type of injuries you sustained will be taken into consideration when calculating how much you will be awarded if successful. The extent of your injuries, how long it may take for you to recover from said injuries, and any expenses you incurred as a result of the harm caused may also be taken into account.
What Should You Do If You Experience Negligence By A Dental Practitioner?
If you have been a victim of dental negligence, there are various steps that you can take to collect evidence that will support your No Win No Fee claim. This evidence should help to support your case.
Obtain a medical report: It goes without saying that if you have suffered an avoidable injury, you should go to see your GP, visit an alternative dentist, or visit an Accident and Emergency department at a hospital to be treated in urgent situations. After you have been treated you can obtain a medical report. This will document how you were harmed, the severity of your injuries and in the opinion of the doctor an assessment of what treatment you will need and what length of time it will take for your injuries to heal.
Gather Important Information: After your accident, take time to collect all the relevant information you can about the circumstances of your accident. This can include the details of the medical company running the dental practice where you were treated. Or if you experienced dental negligence in an NHS clinic, the name of the NHS trust that ran the practice. If you can, record the names and contact details of the dental staff who assisted the dentist or other practitioners when the negligence happened. If there are any other witnesses to the accident, please collect their names and contact details.
Record your expenses: If your injury has contributed to any sort of financial loss, please be sure to keep a record of these expenses as you should be able to claim this back in special damages. This can include keeping receipts of any medical expenses, transport expenses or care expenses you endure as a result. What's more, if your injuries caused you to take time off work, keep a record of the time you took off, and the amount of income and future income your injuries caused you to lose.
Finally, contact Accident Claims UK to find a personal injury lawyer to represent you in your case.
How To Start Your Dental Malpractice Compensation Claim
Are you are ready to start your claim with a personal injury lawyers? If so, you can take the first step today by calling Accident Claims UK. We will begin by talking to you about your injury during a free legal consultation. Whatever your particular story, our understanding advisors will be happy to listen and advise on how best the claim damages that you are entitled to.
When you contact us, our team will start to assess whether or not you have legitimate grounds to make a claim for the harm you sustained. We will then estimate how much compensation your injuries could be worth. This estimate will be more accurate than our more general compensation calculator (included below) as it will take your individual circumstances into consideration.
Finally, we will match you to the best personal injury solicitor to handle your claim available. What's more, we will offer you the option to make a No Win No Fee claim, which is the more affordable option for many of our clients.
Don't delay, call us today to start your unique compensation claim.  Whether you want to claim for the loss of teeth, damaged gums, or for a cosmetic dentistry procedure that went wrong, trust Accident Claims UK to help you today.
What Is Included In Your Dental Negligence Compensation Calculation?
Dental negligence compensation claims are made up of several sums. These are awarded for the actual injury sustained, as well as their wider impact on you. For example, if you required further treatment to correct the harm caused and have had to pay for this, you can claim the costs of doing so.
First of all, victims of an accident or injury which was not their fault can claim general damages: The general damages part of a personal injury claim is the compensation that is directly awarded for the injury itself, and the resulting medical problems, as well as pain and suffering and the loss of amenity that it causes.
Victims of medical negligence can also claim special damages. The special damages part of a personal injury claim is compensation paid out for non-physical things that were lost as a result of the injury. For example, if the victim has to cancel a longed-for holiday which they have already booked and paid for as a result of their injuries, they can claim back the cost as part of their awarded special damages. Special damages are also often paid to compensate the victim for any expenses they endured as a result of their injuries.
Examples of special damages in dental negligence cases
Here are some examples of special damages that are often awarded:
Medical expenses: Victims are compensated for out of pocket expenses towards immediate and ongoing medical treatment and medicines, their injury has caused them to need.
Travel costs: Victims can claim compensation for travel costs caused by their injury. This can include travel to and from doctor's or out patient's appointments, or appointments to see their solicitor.
Care costs: This can cover the cost of at-home care you may have had to receive as a result of your injury, or compensating a friend or relative who had to take time off to care for you at home whilst you were injured.
Loss of both your current and anticipated future earnings: You can claim compensation for loss of earnings if your injury caused you to take time off work without pay or at a reduced rate of pay. Additionally, if your injuries have caused you to lose future income (for example payment into a pension fund) then you can also claim for these expenses.
Dental Negligence Payouts in the UK
You may want more information about the potential compensation amount you could receive from suing a dentist. To receive anything from a claim, you need to prove that your injury was the result of negligence.
Your dental compensation can be based on many factors. For example, there are two potential heads of claim that could be included in your case. General damages compensation relates to the injury itself, whether it's physical or psychological. Factors that can determine the compensation figure includes:
Whether multiple injuries were caused by the same act of negligence.
The extent of your injury.
Whether permanent symptoms or health issues are caused by the injury.
The Judicial College Guidelines can provide you with a better idea of what you could receive. By analysing previous successful personal injury payouts from court cases in Wales and England, they have made compensation brackets, like the ones you can see below. The figures you can see below have been taken from the latest guidelines, published in 2022.
Nature and severity of injury
Award settlement
Further notes
Minor to severe tooth injuries
Up to £38,130
Injuries could range from damage to a single tooth, or to several teeth. Injuries may be short through to long term. And they may or may not be fully recoverable from.
Minor to severe Jaw injuries
Up to £45,540
Injuries will range from a simple fracture right through to breaks which can not be recovered from. They could include surgical negligence.
Minor to severe cheekbone Injuries
Up to £15,780
Minor to severe injuries to the cheekbones. They can include simpler fractures to irreparable breaks and bone damage.
Loss of taste and smell
In the region of
£39,170

Total
Loss of taste and smell
£32,900 to £39,170
Total loss of smell and significant loss of taste
Loss of smell
£24,990 to £32,900
Loss of taste
£19,200 to £24,990
Minor injuries
£1,370 to £2,450
Completely recovered in 3 months
Minor injuries
£690 to £1,370
Completely recovered in 28 days
Please remember that these figures are just for guidance purposes as every claim is unique. As such, they are far from guarantees.
To learn more, please contact our advisors for free using the above details. They can inform you on what you could do should you experience dental negligence in the NHS or a private healthcare provider.
Claiming Dental Negligence Compensation From The NHS
If you have experienced negligent treatment or malpractice at the hands of an NHS dentist or dental practitioner, then there are also some further steps you should take. Firstly you should use the NHS complaints procedure to complain to your local Healthwatch and NHS England, or NHS Scotland. This will also serve as evidence when pursuing your compensation claim. You should also make your concerns known to the Care Quality Commission, or CQC and report your dentist or dental practitioner directly to their regulatory body.
The most important part of making dental negligence compensation claims against the NHS is to seek legal representation for your claim. Finding the right personal injury lawyer to handle your claim will make a big difference to whether or not you win your claim and whether or not you are awarded the maximum amount of compensation you can be owed.
No Win, No Fee Dental Negligence Compensation Claims
If you have experienced medical negligence whilst undergoing medical dental treatment, orthodontics, or cosmetic dentistry, which led to you becoming injured, you could be owed tens of thousands of pounds in compensation. However, many claimants find that paying an upfront fee makes claiming compensation an unaffordable option. That's why Accident Claims UK offers you the opportunity to make a No Win No Fee claim. This means that there are no upfront or ongoing fees to pay, instead, you will only pay your solicitor's success fees if you win your claim. For many clients, this is a more affordable option. What's more, there is no financial risk to you, as you will only pay your fee if you win. Call Accident Claims UK today to enquire about making dental negligence compensation claims today.
Why Choose Accident Claims UK for Dental Negligence  Compensation Claims?
Accident Claims UK are a national claims service with an experienced team of personal injury solicitors and lawyers well versed in all aspects of personal injury law, including that relating to cases of medical negligence. If you have experienced negligence care that caused you harm in a private or NHS dental practice that has led you to become injured, our specialist solicitors and lawyers can handle your claim. Some of the solicitors that we work with have as much as three decades of experience helping claimants like you win the compensation that they are entitled to. Remember, we will fight relentlessly to win you the maximum amount of compensation that you are owed.
Dental negligence compensation claims – how a solicitor could help
Taking on dental negligence compensation claims can be a tricky business. The first thing you'll need to do is to prove that the dentist failed to uphold their duty of care. Then you will need to show that their negligence left you suffering because the wrong tooth was treated, gum disease was missed or other types of clinical negligence resulted in you suffering.  Even after all that has been done, you'll need to ensure the compensation you request is set at the correct level. As you can see, there is a lot to do and it all needs to be done right.
We believe that you'll have a better chance of winning dental negligence compensation claims with a specialist legal representative on your side. Furthermore, by working with one of our solicitors, we believe that you could receive a higher amount of compensation.
Making dental negligence cases less stressful
During the claims process, your solicitor will act as a barrier between you and the dentist's lawyers. They'll do everything for you ranging from booking an independent medical assessment to countering any objections that are raised.  On top of that, they will make sure you are updated regularly about any progress in your case. Importantly, our solicitors always try to make sure that any compensation paid is at the highest level possible.
If you wish to discuss dental negligence compensation claims, call us today on 0800 073 8801. One of our friendly advisors will assess whether or not you have a legitimate claim. If you are entitled to claim compensation we will proceed with your claim right away. We're looking forward to hearing from you.
Useful Links Based On Dental Negligence Compensation Claims:
An NHS guide to complaining about negligent dental treatment: NHS Dental Negligence
A Guide to Birth Injury Negligence Claims: Were you injured when you gave birth? Was your baby? Have a read of our guide. 
Facial Scar Disfigurement Compensation Amounts Calculator: Teeth can be damaged when the face is. If your face was scarred because of someone else, we could help.
Care Home Negligence/Injury Claims: Did a loved one (or you) suffer under negligent hands in a care home? Take a look at our guide. 
Can I Claim for GP/Doctor Negligence Compensation?: You could claim for doctor negligence if you were injured unfairly. See our guide for more information.
Dental Negligence Compensation FAQs
How much compensation do you get for dental negligence?
How much compensation you get for dental negligence is determined by how badly you suffered both mentally and physically as a result of the incident. You could also claim for financial losses, which increases the amount of compensation you could be entitled to.
Can I sue my dentist for negligence?
You could sue your dentist for negligence if they harmed you, providing you didn't know the risks and they were negligent. Speak to our team of advisors for free legal advice and to find out if you could make a claim. 
How long does a dental negligence claim take?
Dental negligence claims can take a number of months or longer. It depends on a number of factors, including your individual circumstances surrounding the case. Our advisors can give you a better timescale if they understand your situation.
Would I be able to make negligence claims on behalf of my child?
If your child has received negligent dental treatment, and you wish to make a compensation claim on their behalf, you may be a little bit confused as to how to go about it. Our specialist solicitors, who are all authorised and regulated by the Solicitors Regulation Authority could assist with such claims. We would be happy to talk to you about any aspect of making a claim on behalf of a child. Our no win no fee solicitors have handled claims on behalf of children before, and we could talk you through the process in detail, giving you all the information you need to make a claim.
Waiting to claim dental negligence compensation
Of course, you could decide to leave off making a claim until your child turns 18 years old and can claim on their own. Doing so might throw up a few complexities, however. For example, it might be a little bit more difficult to gather evidence from something that happened some time ago. It is a very personal decision for a parent to make as to whether they should claim on behalf of their children. However, we could give you all the insight you need to make an informed decision.
How do I prove my injuries when making such claims?
As mentioned, you would need to submit medical evidence of the dental negligence injuries you'd suffered. Doing so would require you to have an appointment with somebody that is a medical professional who is independent from your case.
They could examine you and ask questions about what has happened to you. Based on the results of their assessment, they would then complete the medical report, which could be used by your solicitor and the courts to come to an appropriate level of compensation for you.
How common is dental negligence?
If you're wondering how common claims for dental negligence compensation, we do not have these statistics to hand. However, we could give you information on how much the NHS has paid out in terms of negligence claims. This NHS report could be useful to you. You can see below the costs of claims for 2020/21 below.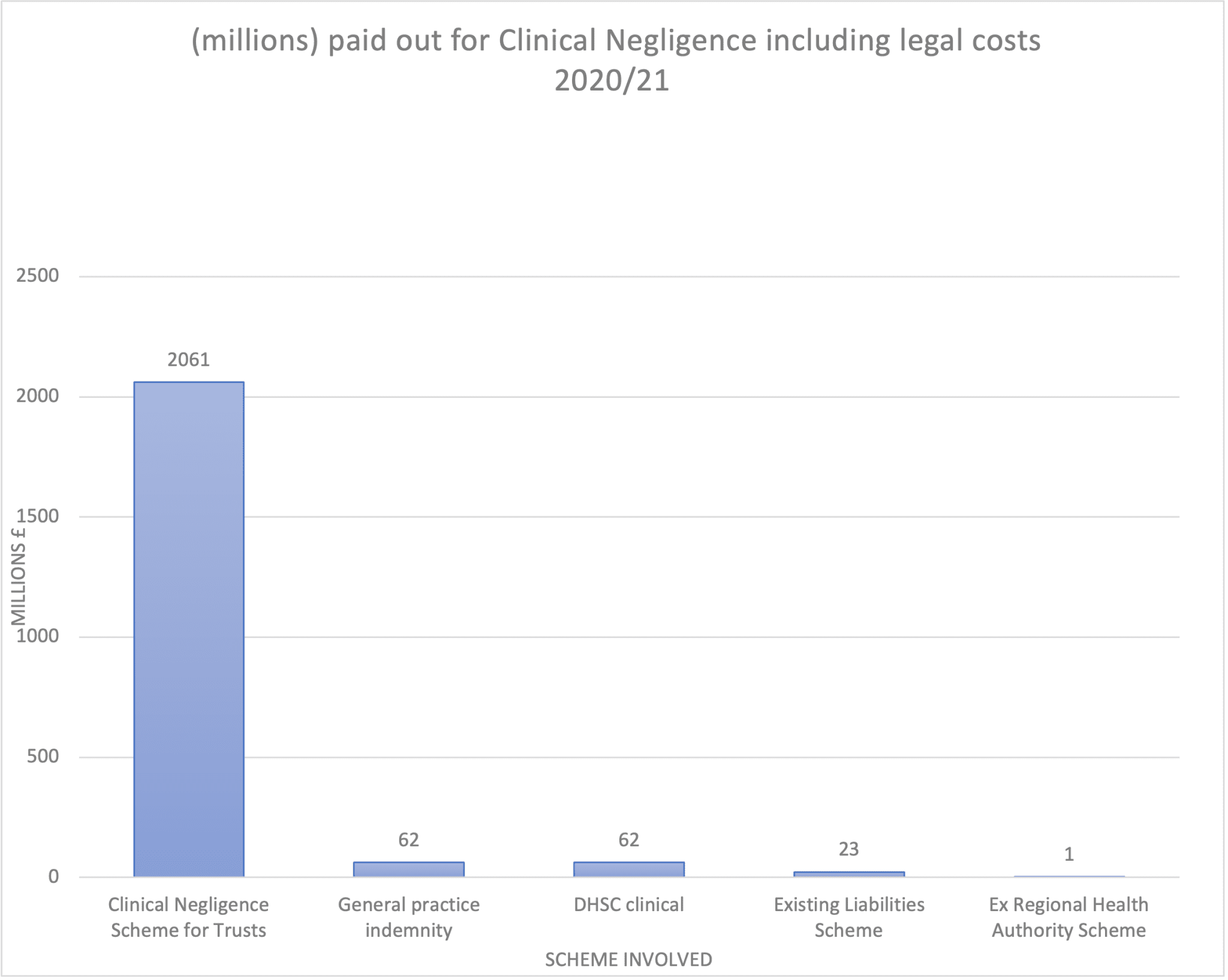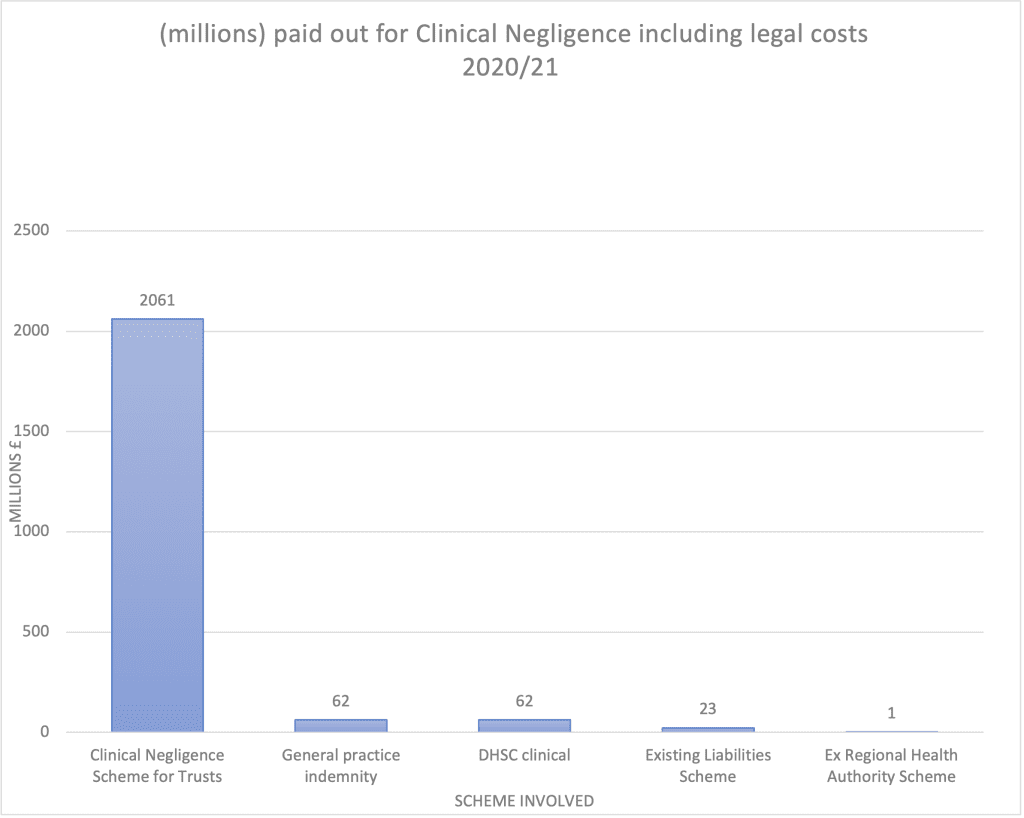 Could I make dental negligence compensation claims for cosmetic dentistry gone wrong?
You don't just have the right to claim compensation for NHS negligence. If you've been treated negligently by a cosmetic dentist, this could lead to a claim against a cosmetic dentist or dental practice. They should offer you a safe standard of care. If they do not, they could be held liable for your injuries.
Could I claim for psychological injuries?
Our smiles and the look of our teeth could be significantly important to our self image. If we suffer damage to our smile because of dental negligence, it could affect us psychologically, particularly if the negligence leads to damage that cannot be fixed. If you're considering making claims for psychological injury because of an episode of negligence by a dentists, we could help with this.
We could assess your case to see if you could make a claim on a No Win No Fee basis, and we could then help you fight for compensation. Whether the case settles out of court or you need to take the case to court, we could support you throughout to help you fight for the maximum compensation for your claim.
How long does a dental negligence claim take?
How long a dental negligence claim takes depends on the case. For instance, if the defendant admits liability, it may take less time for your case to settle.
Whereas in other cases, the defendant may not admit liability and further evidence may be required to support your case.
What is classed as dental negligence?
Dental negligence is classed as a dentist providing someone with the incorrect standard of care causing them to sustain further or avoidable harm. If you would like to know whether you could claim for dental negligence, we'd be happy to assess your case for you.
Can I sue a dentist for negligence?
You could sue a dentist for negligence if you proved their breach of their duty of care towards you, if the breach caused you to suffer undue harm. If you're not sure whether you could sue, why not call our team for a free case check. We could ascertain whether you would have a favourable chance of receiving compensation.
Could I make a child injury claim from dental negligence?
If someone is under the age of 18, someone could apply to act as a litigation friend to claim on their behalf. Alternatively, you could wait until you're 18 and make your own claim.
Do I need to use a local solicitor when claiming compensation for dental negligence?
You don't have to use a local solicitor when claiming compensation for dental negligence. Much of your claim could be handled between you and your chosen solicitor by phone, email and letter. There would be no need to meet in person if you did not want to. Therefore, they could be based anywhere in England and Wales. If you did want to meet face to face, they could travel to meet you, or you could go to see them. 
If you're looking for a solicitor to help you sue a dentist for negligence, why not call our team today? We would be happy to provide eligible claimants with a No Win No Fee solicitor to help them with their case. 
Where do the figures provided by a dental negligence claim calculator come from?
The figures provided by a dental negligence claim calculator table come from the Judicial College Guidelines (16th edition). These were published in April 2022. Should you wish to discuss what compensation could be achievable in dental negligence cases, we would be happy to talk to you. 
Have you handled dental negligence cases before?
Our solicitors have years of experience with many types of claims including dental negligence cases. If you call our team, we will be happy to answer any questions you might have about claiming compensation for dental negligence and what types of claims we've assisted with before.
Thank you for reading our guide to dental negligence compensation claims. Now you'll know how to make dental negligence claims.