By Joanne Jeffries. Last Updated 25th Spetember 2021. Welcome to our guide to cosmetic surgery compensation and negligent cosmetic surgery claims.
It isn't just private cosmetic surgery clinics where negligence takes place. It can also occur at facilities run by the National Health Service (NHS). This guide relates to both NHS and private negligent cosmetic surgery. Within it we will look at some of the most common kinds of cosmetic surgery negligence, and why you may be eligible to make a claim yourself.
If you have any questions about the contents of this guide or the process of making a personal injury claim, please call our claims team on 0800 073 8801. One of our claims experts will answer all of your questions, and explain how the service we offer can provide you with a solicitor who will process your no win no fee claim for you.
Select A Section:
A Guide To Claims For Negligent Cosmetic Surgery
This free online guide to cosmetic surgery negligence, will attempt to answer questions such as, 'Who regulates doctors in the UK?', 'How do I report a doctor to the GMC (General Medical Council)?' and others. It should tell you everything you need to know about making a claim for surgical negligence, so you can approach your own claim from a position of understanding. We begin this guide with a top-level primer on what negligent cosmetic surgery is, as well as provide some key statistics related to negligent cosmetic procedures. We then move on to look at some of the common causes of surgical negligence, and also the different categories of negligent cosmetic surgery.
The next part of this guide looks at some specific aspects related to the claims process itself. We list some steps you can take to prepare for making a claim, and also look at whether it is possible to make a claim on behalf of somebody else. The final section of this part of the guide discusses the claim time limit.
The last part of this guide covers some of the financial aspects of the claim. Although we have not added an online personal injury claims calculator to this page, we have provided a table that shows the possible range of cosmetic surgery compensation you might receive for a number of different types of injuries. Finally, we look at how a No Win No Fee personal injury lawyer can process your claim for you, whilst minimising many of the financial risks involved in doing so. If you have any questions at all about the claims process or your own claim, our claims team will be happy to help. A claims advisor will go over your claim with you, and explain how we can be of further assistance.

What Is Negligent Cosmetic Surgery?
The term negligence, when applied to cosmetic surgery, would indicate any surgical procedure that has gone wrong, or has not achieved the expected results due to a mistake of some kind being made. All valid cosmetic surgery negligence cases have these three things in common:
A medical professional had a duty of care towards the patient undergoing a cosmetic procedure, to not cause unnecessary harm.
Do to mistake, oversight or omissions, the medical professional failed in their duty of care, and caused harm to the patient.
Had alternative action been taken by the medical professional, the patient would have avoided harm.
However, even if all of these three statements hold true in your own case, before you can claim compensation for cosmetic surgery negligence, you will need to prove that negligence took place. The onus is on you to provide evidence to prove negligence occurred, and then a complaint must be made. A panel of the medical professional's peers will then evaluate the complaint, and decide whether negligence took place or not. If the panel says that negligence did not occur, you will need to instigate legal proceedings to have this decision challenged.
This is a pivotal part of the claims process, as unless negligence can be proven, you would not receive any cosmetic surgery compensation. As you can see, the negligent cosmetic surgery claims process is far from simple. However, we can provide you with an experienced clinical negligence solicitor to handle your claim for you. Speak to a member of our no win no fee claims team to learn more.

Negligent And Botched Cosmetic Surgery Statistics
According to information published by the BBC in April 2019, 24% of respondents to an online survey who'd had a cosmetic procedure felt less attractive than before. 
Being an option for remedying negligent surgery, the NHS's concern about botched surgery abroad is clear in their guidance on getting cosmetic procedures abroad.
If you have been harmed at the hands of a cosmetic surgeon, either at an NHS facility of a private clinic, we could provide you with a personal injury solicitor that is experienced in cosmetic surgery negligence claims to help you make your claim
Source: https://www.bbc.co.uk/news/health-47967968
Common Causes Of Negligent, Botched And Harmful Cosmetic Surgery
Some kinds of cosmetic surgery negligence appear to be more common, but this is likely because these kinds of cases are publicised more often, for example, the popular press publishing articles about breast implant negligence, simply because they make a better story. In reality, the causes of harm to a patient who has undergone a cosmetic procedure, tend to be driven by a baseline set of mistakes, such as:
Complications during surgery – such as the surgeon cutting in the wrong place, or slipping with a scalpel and cutting the patient.
Errors made by the anaesthetist – such as administering too much anaesthetic, causing harm or even death to the patient.
Ineffective pre-op examination – with the examining doctor missing the diagnosis of a medical condition that then leads to complications with the surgical procedure itself.
Lax post-op care – such as the patient contracting an infection due to not being given adequate treatment and care after the operation.
Giving the wrong advice – such as advising a patient to undergo a specific procedure that is very obviously not suitable for them.
All of these are issues that can ultimately lead to a patient coming to harm. Not in every case, not all mistakes turn out to be harmful. However, when they do result in harm to the patient, then the injured party may have the basis for a compensation claim. Our claims team can help you to find out if you are eligible to make negligent cosmetic surgery claims in your own case.

Categories Of Negligent Cosmetic Surgery Claims
When it comes to making plastic surgery negligence claims, there are a number of different categories of negligence. Each category encapsulates a specific kind of negligence, and these are:
Gross negligence – The fault lays entirely with the medical professional involved. They will have clearly made a mistake that resulted in a patient coming to harm. If the claimant can prove gross negligence took place, a claim could be possible.
Vicarious liability – Where the healthcare provider is held to be responsible, and this can be either the NHS or a private cosmetic clinic. In this case, it would be the healthcare provider that is pursued for damages.
Contributory negligence – The victim will have contributed to the harm they have suffered in some way. For example, the harm was exacerbated because the patient failed to follow the instructions giving to them related to taking care of the area that had been operated on at home.
In the first three categories, the patient could have the ability to make a cosmetic surgery compensation claim if negligence can be proven. If you need to find out which category your own claim falls into, speak to a member of our claims team today.

What Steps Should I Take If My Plastic Or Cosmetic Surgery Has Gone Wrong?
In this section, we give some steps you can follow to ensure you are well prepared for your claim. Before we continue with this, we need to answer the question, how do you file a complaint against a doctor? You would need to make a complaint to the General Medical Council (GMC).
Gather photographic evidence. Especially before and after photos of how you looked before the botched surgical procedure, and how you looked after it.
Get a second opinion. Have yourself examined by another doctor. The report they write could be submitted to support your claim.
Begin to document the pain and suffering you go through.
Keep all receipts, bills and invoices for expenses you incurred due to your injuries.
Make a complaint about the doctor that was negligent.
Steps such as these are good preparation for making a claim. The next step would be to talk to us, and find out how we can help with your claim. You can do this by calling our claims team.

Could I Claim On Behalf Of Another Person Harmed By Negligent Cosmetic Surgery?
If the injured party is unable to manage their own claim, it can be possible for a family member or friend to handle the claim for them, as what is known as a litigation friend. This is also the case for victims who are under the age of 18 and cannot legally pursue a claim themselves.
If you believe you need to act as the litigation friend for a victim, please speak to our claims team about negligent cosmetic surgery claims today. They will explain how we can provide you with a team of cosmetic surgery negligence solicitors to process the claim for you.

How Much Time Do I Have To Claim For Negligent Cosmetic Surgery?
There is a personal injury claims time limit in place, that you must make your cosmetic surgery medical negligence claim by. The time limit that applies depends on the circumstances of the claim, and can include:
3-years from the date of knowledge of the injuries.
3-years from the date that a medical condition caused by prior negligence was first diagnosed.
In the cases of young people under the age of 18, 3-years from the date of their 18th.
All medical negligence claims are complex, due to the seriousness of the accusations against a medical professional, and the impact that being found guilty of negligence could have on their career. Therefore, it is unlikely that a claim will be completed rapidly. In general, it takes around 8 months for a claim to reach its resolution. You can talk to our claims team to find out if you have a valid claim or not, and what the time limit would be in your own case.
Negligent Cosmetic Surgery Personal Injury Claims Calculator – Updated September 2021
It is very hard to give an average figure for cosmetic surgery compensation. Each claim has its own unique aspects that have an effect on the overall settlement a person is offered. However, this table below is based on the actual judicial guidelines used by the UK legal system to value injuries. It shows possible compensation ranges.
| Scar Type | Severity | Notes | Compensation |
| --- | --- | --- | --- |
| Facial scarring | Trivial | In cases where scarring is slight and barely noticeable. | Up to £3,310 |
| | Less significant | Where a single scar exists that can be hidden, or multiple slights scars that result in the marring of appearance, without being disfiguring. | £3,710 to £12,900 |
| | Significant | Where scarring has been corrected using surgery and has been much reduced, or where scarring has diminished over time, to now seem minor. | £8,550 to £28,240 |
| | Less Severe | Where there is substantial disfigurement, that has had a psychological effect on the victim. | £16,860 to £45,440 |
| | Very Severe | Where people under the age of 30 have suffered severe disfigurement with a serious psychological effect on the victim. | £27,940 to £91,350 |
| Body scarring | Single/multiple | Lower compensation goes to superficial scarring, and will be higher if scarring is noticeable and multiple. | £2,220 to £21,330 |
| | Loss of hair | Permanent damage to the hair. This could be loss of hair, change in colour or body. Or where conditions such as eczema have caused damage to the scalp, and the hair to become brittle or fall out. This would lead to psychological effects for the victim. | £3,710 to £10,340 |
| Mental Trauma | Fear of losing one's life | Fear of impending death | £4,380 |
| Minor injuries | Recoverable within 3 months | Recoverable within 3 months | £1,290 to £2,300 |
If you would like a more accurate estimate of how much compensation you might be able to claim, please speak to our claims team today. One of our claim advisors will arrange for a medical negligence solicitor to value your claim for you.

Special Damages Which May Be Claimed In Negligent Cosmetic Surgery Compensation Cases
When personal injury claims are successful, whether an out of court settlement is reached, or the courts have awarded a settlement, the overall level of compensation the claimant receives will be made up of a number of different types of damages. For example:
To compensate for physical pain and suffering (general damages):

For the initial pain at the time of the accident, or whilst receiving emergency treatment.
For the shock and trauma of being involved in an accident.
If you have developed a psychological condition such as post-traumatic stress disorder, anxiety or depression due to the accident and your injuries, you may be compensated for this.
If you had to undergo repeated, painful, traumatic treatment during your recovery, you could be compensated for it.
If the prognosis for a full recovery is unlikely, and you will be left with some form of disability.

To compensate for financial and other losses (special damages):

To reimburse you for out of pocket travel expenses.
To cover the cost of having to hire a nurse to care for you at home.
To pay for the cost of any private medical treatment you needed, that was not available for free on the NHS.
If you were forced to take time away from work and lost out on your salary/wages, you may be able to claim this back.
If in the future, your ability to work will be negatively affected by your medical condition, or you cannot work at all, you could be compensated for this.
These are some of the most commonly claimed types of damages for any negligent cosmetic surgery claims. If you would like to know which kinds of damages you could claim for in your own case, please speak to a member of our claims team.

No Win No Fee Claims For Negligent Cosmetic Surgery
Have you considered engaging a No Win No Fee solicitor to help make your claim? Under this kind of fee agreement, the financial risks of making a claim are limited, if not entirely mitigated. You will not be expected to pay your solicitor to start working on your claim for you, or during the time they are processing it, even if this takes many months. You also don't pay anything if the claim is unsuccessful, and you receive no cosmetic surgery compensation at all. The only time you will need to pay your solicitors fees, is when they have received a compensation payment on your behalf. When this happens, the fee is automatically deducted from this money. You will be given what is left over.
If you have any questions about the way that a No Win No Fee progresses or the fee structure, then please do reach out to our claims team. A claim advisor will answer your questions, and provide you with any additional information you may need.

How Our Medical Negligence Solicitors Could Help You With Cosmetic Surgery Compensation Claims
If you have been the victim of medical negligence during plastic surgery, we could be able to help you procure any compensation you may be eligible for. One of our team of expert accident and injury solicitors can process your cosmetic surgery claim for you.  The solicitor will use simple English without needless legal jargon, to explain exactly what they are doing on your behalf.
The negligent cosmetic surgery claims process
If your claim for negligent cosmetic surgery is accepted, your solicitor will begin work right away. They'll start by booking a medical assessment locally so both the psychological and physical impact of your injuries can be determined. Then they'll prepare your claim in a concise and professional manner before filing it with the defendant.
An important part of our service is that your solicitor will deal with everything when it comes to communicating with the defendant's insurers. That means you won't have to struggle with complex legal or medical discussions. They'll use additional evidence where needed to help counter any objections.  As the case continues, you'll be able to ask questions and you'll be provided with regular updates.
The main role of your solicitor will be to work effortlessly to try and make sure you receive the correct level of compensation for your injuries.
If you have any questions about the service that we offer, please talk to a member of our claims team today. They will answer them for you.

Start Your Claim For Negligent Cosmetic Surgery
We could be of help in most plastic surgery negligence cases, providing the victim with a vehicle for having their claim processed in a way that mitigates most of the financial risks of doing so. Please contact our claim steam on 0800 073 8801. A claims advisor will talk you through our new claims process, and help you get your negligent cosmetic surgery claims moving as soon as possible.

Essential Resources For Cosmetic Surgery Compensation Claims
These external web pages could contain information that may be of use to you:
General Medical Council Ethical Guidance For Doctors
How To Complain About A Doctor
The NHS Health And Safety Policy
It may also be of use to read these other guides:
Claiming For A Death Due To Negligence
Negligent Beauty Treatment Claims
Claiming For Hospital Negligence
Cosmetic Surgery Compensation and Negligent Cosmetic Surgery Claims FAQs
Can you sue for cosmetic surgery?
You could make a claim for negligent cosmetic surgery providing the surgeon performed the operation to a sub-par standard resulting in malpractice. Cosmetic surgery can sometimes leave patients dissatisfied with results, but this alone doesn't constitute grounds for a claim.
What is the average payout for medical negligence?
Payouts for medical negligence in the UK vary. The average payout may not be applicable to your case because compensation covers the psychological and financial effects of the injury as well as physical. Your payout is likely to be unique to you.
Should I accept the first offer of compensation?
When it comes to cosmetic surgery compensation, we would advise you to only accept your first offer if your solicitor advises to and if it is based on medical evidence. If you haven't yet had an independent medical assessment, try to avoid settling beforehand.
How does cosmetic surgery affect mental health?
Cosmetic surgery may have resulted in your injuries, but it could also impact your psychological wellbeing. If you're feeling anxious or depressed, get in touch with a professional who could help. If you choose to claim, be sure to tell your solicitor so that they can seek compensation for psychological damage too. 
Can you get a refund on plastic surgery?
No, because there is no way to return your appearance to the exact form that it was prior to surgery, so refunds aren't possible.
What percentage of plastic surgery goes wrong?
It's estimated that less than 1% of plastic surgeries go badly wrong.
Can a plastic surgeon keep your deposits?
A surgeon only keeps your deposit if you cancel your surgery too close to the planned date.
What is the most dangerous cosmetic procedure?
The Brazilian butt lift is considered to be the most dangerous cosmetic surgery to undergo.
What are the most common procedures for cosmetic surgeries in the UK?
According to the British Association of Aesthetic Plastic Surgeons, the most common procedures carried out for women were breast augmentations, along with breast reduction and eyelid surgery. You can see further statistics from their 2019 audit below.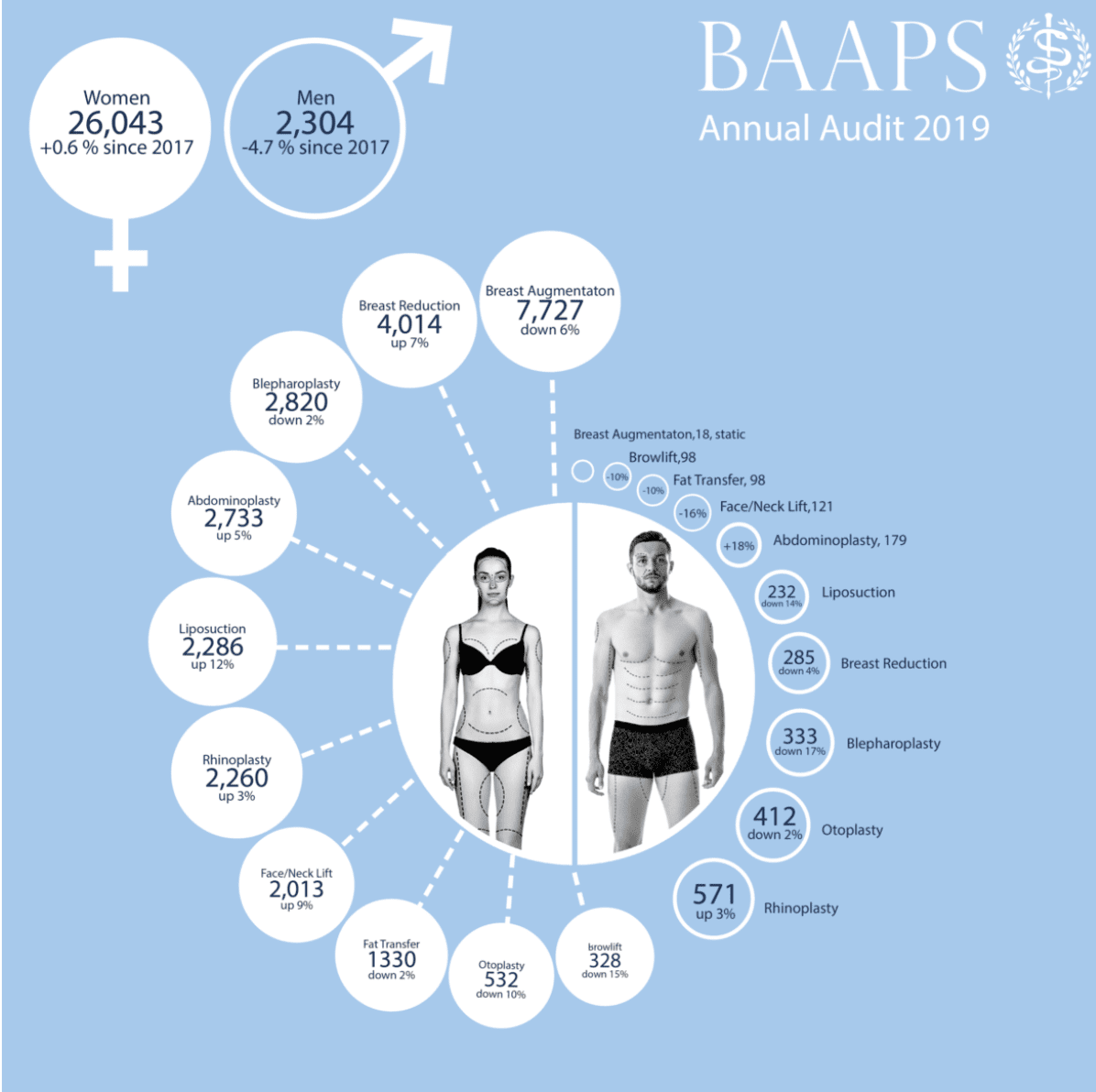 How do I prove cosmetic surgery compensation claims?
It would not be sufficient for you to simply provide your medical notes when making a claim for cosmetic surgery negligence. You would also have to attend a medical appointment with an independent professional from the medical field. This professional would need to assess your injuries, speak to you about your experience, and how it has affected you, and they may even need to order some further tests as well as reviewing your medical notes. They would do all this so they could get a bigger picture of your injury, in order to produce an independent medical report that could be used as evidence. Courts and lawyers could use this alongside the Judicial College Guidelines to arrive at an appropriate compensation level for your claim. If are unsure as to how to gather such evidence one of our specialist solicitors, authorised and regulated by the Solicitors Regulation Authority, would be happy to help you with this as part of a no win no fee claim.
Could I claim for psychological injuries?
Aside from the physical suffering and pain you have borne as the result of negligent cosmetic surgery, you could also claim for the psychological impact it has had on you on your life. For example, you may have suffered anxiety, depression or even PTSD as the result of negligence. Our solicitors would help you fight for the maximum compensation possible for your claim. Please don't hesitate to call us in complete confidence about your case.
Thank you for reading our guide to cosmetic surgery compensation and negligent cosmetic surgery claims.
Article by Mac