By Joanne Jeffries. Last Updated 24th September 2021. In this comprehensive guide, we are going to take a look at factory accident claims in greater length. In doing so, we are going to provide free legal advice and discuss the claims process for factory workers in detail.
No Win, No Fee Factory Accident Compensation Claims
Working in an industrial, manufacturing or another type of factory environment can be stressful and at times, even dangerous if the correct safety procedures and equipment are not in place. If you have been injured as a result of a factory accident and need to claim compensation due to your employers failing in their duty of care towards you, the team at Accident Claims UK can provide you with highly rated and experienced workplace accident solicitors who can handle your claim.
If you suffer an injury in the workplace caused by an accident that was not your fault, you could be able to make a compensation claim for your damages. Speak to our specialist solicitors for further information.
Your Rights
No matter whether you are a full-time, or part-time employee, contractor, or simply someone visiting a factory, you are entitled to be kept safe and free from injury. In the UK, the law expects and requires that all employers meet specific standards with regards to the health and safety of their employees and anyone else on their property. If your employer is in the manufacturing or industrial sectors, there may be additional regulations and procedures that need to be followed to keep people safe. If these have been breached, you could be entitled to make an industrial accident claim for any injuries caused. You can find out more about health and safety in the UK's manufacturing sector in this guide from the Health and Safety Executive.
If you have suffered a factory accident and need to claim an accident in the workplace, contact the specialist team at Accident Claims UK today on 0800 073 8801. To find out more about making this type of No Win No Fee claim, read the rest of our guide below.
Select A Section
A Guide To Making A Claim For A Factory Accident
No matter what type of factory you work in, if the right health and safety procedures are not followed, or equipment used, a factory could be hazardous for the people working in it. Accidents in a factory can be severe and are some of the most serious claims we see for workplace accidents.
If you have suffered a factory accident, you may need to take time off work and lose income as a result. And this could open the door towards filing factory accident claims for loss of earnings.
Today factories often make use of sophisticated equipment and highly automated processes. This is often done to make sure that they have quicker production runs. Whilst this often increases efficiency, malfunctions can lead to serious injuries if such a process does break down or fail.
This is why your employer must follow all the right health and safety regulations. Such regulations are constantly put in place and updated to protect staff members and cut down, or eliminate the risk of there being an accident and injury. However, this does not mean that factory accidents do not happen.
Making a factory accident at work compensation claim does not have to be a complicated or stressful process. Through the rest of this guide, we will look at the circumstances leading to injuries in a factory that may lead you to make an industrial accident claim, and how to do so. We have also included a personal injury claims calculator so that you can see how much you may be entitled to for different types and severities of injury.
After reading the rest of our guide, please use the number above, or the contact form on this page to get in touch with our specialist team and start your claim for a factory accident in the workplace.
Manufacturing Accident Statistics
Workplace accidents happen all of the time, and a variety of reasons causes them.  Thankfully, there are multiple measures an employer can introduce to help combat workplace accidents. For instance, an employer could:
Despite the measures previously listed, workplace accidents can still occur. For instance, in the Health and Safety Executive (HSE) provided some critical statistics on workplace accidents in 2019/20, The HSE stated that:
111 workers died in 2019/20.
65,427 non-fatal injuries occurred.
5.6 billion was spent on annual costs.
1.6 million workers suffered from a work-related injury or illness.
12,000 workers suffered from lung disease deaths due to previous exposures.
You can see causes of injuries at work below.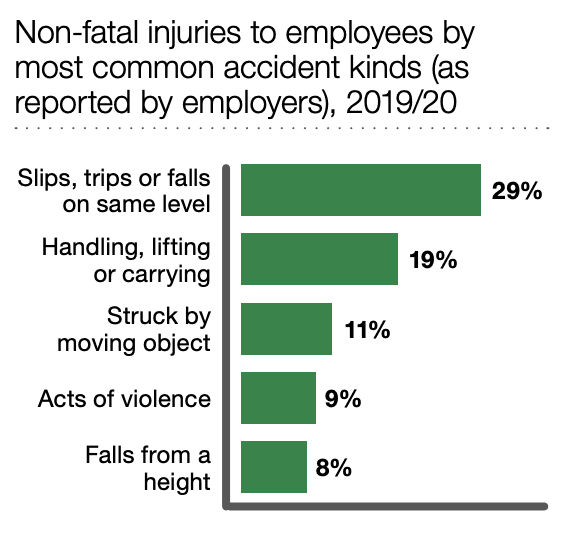 If you believe that your factory accident was caused by negligence, please contact our team today.
Common Causes Of Factory Accidents And Injuries
In the UK, people working in manufacturing jobs suffer 20% of all fatal accidents in the workplace. As such, you can see from these statistics collated by the Health and Safety Executive how dangerous factory work can be.
Factories will often make use of various vehicles, such as HGV's or pallet trucks in the working environment, as well as heavy machinery to speed up their production rate. As with many workplaces (and even out of the workplace), one of the most common forms of an accident are slips, trips, and falls. With a hazardous and often very busy environment, these can occur in a variety of ways. Other common causes of factory accidents include manual handling accidents and those caused by handling substances hazardous to health. How you are injured, and the type of factory accident you suffer will often depend upon the type of factory you work in.
As well as the accidents listed above, other causes might include fire hazards. Depending upon the nature of your factory, there can be a risk of fires breaking out. As well as burns from the heat and flames, fires can also cause other injuries such as long-term damage to the respiratory system, such as scars to the lungs.
Hazardous materials and chemicals can be used in many different factory settings. These types of accidents can lead to a chemical burn and could even be as fatal as injuries suffered in a fire. Depending upon the type of chemical you were exposed to, there can also be a variety of different long-term consequences after being exposed to various chemical elements. In many cases, the effects of exposure to a hazardous or toxic substance might not present for many years. But this could allow you to make factory accident claims as a result.
Common Injuries Sustained In A Factory Accident
Having looked at some of the most frequent causes of factory accidents, we will turn to the injuries sustained in them. Looking at information from the Health and Safety Executive and the Labour Force Survey, we can look at some of the most common types of injuries from a factory accident.
Injuries suffered from accidents in a factory might include (but are not limited to) the following types of damage.
Burn injuries: these are some of the most common types of damage suffered in a factory accident. While most of these will be minor burns, they can also be very serious and even fatal in some cases.
Broken and fractured bones: suffering a broken arm or leg can be a frequent type of injury resulting from accidents in a factory. Such injuries can have a wide variety of various causes.
Back injuries: no matter the workplace or job role, back pain can be one of the most common forms of injury. In a factory, they could be caused by manual handling accidents.
Injuries to the lungs or respiratory system: these will generally be caused by caustic or toxic chemicals, or through smoke inhalation.
Hearing loss: according to the health and safety guidelines, those working in a noisy environment should be issued with equipment to protect your hearing. If you have suffered permanent damage to your hearing, you could still make a personal injury compensation claim. Damage from repeated exposure to high volumes can cause permanent damage to your ears and healing.
Damage to your eyesight, or blindness: this could be caused by something penetrating your eye, or fire or smoke damage, or spills or chemicals.
Poisoning if you work with harmful substances, you could suffer serious injuries in a single, small exposure, or over time with less hazardous materials.
Amputation and severed limbs: amputation injuries are the most severe type of injury caused by factory accidents. They will often be caused by trapping a limb or body part in machinery.
This list includes the types of factory accidents which most frequently happen. However, it should be noted that there are many other causes.
Common Reasons For Factory Accident Claims
Whilst it might not seem this way, there is always a reason why a factory accident happens. As such, there are many different types of health and safety legislation in place to help mitigate these circumstances.
Accidents in the workplace, such as factory accidents, can happen for a variety of reasons. Some of the most common include the following.
Not following or complying with relevant health and safety regulations or legislation. This is the single biggest reason for accidents in a factory.
Being exposed to risks because health and safety guidelines were not designed to take all eventualities into account, increasing the chances of you having an accident.
Equipment, facilities, or property is in a poor state of repair or not being adequately maintained. Cutting corners like this
Inadequate or improper training staff members. It should be noted that any health and safety protocols are only ever as good as the people carrying them out. Failing to follow protocols properly can vastly increase the chances of you being injured.
The four reasons listed above are the most common reasons for factory accidents happening and industrial accident claims being made.
Is Your Employer Always Liable For The Causes Of Factory Accidents?
When you make any type of claim for accidents in the workplace, you need to clearly show that your employer is liable for your injuries, i.e., that they caused the circumstances which led to your accident and injury.
In most factory accident claims, your workplace accident solicitors will be able to clearly show that your employer breached guidelines for health and safety, or that their negligence led to your accident and injuries.
They will also be able to show if anyone else, such as another employee, contributed to your accident. An example of this could be an accident in which machinery or property which is owned or maintained by a third party was, to some degree, liable for your injuries. In this case, liability may be shared between the parties.
How To Claim Compensation For A Factory Accident
In order to make a successful compensation claim, you need to have a competent and professional personal injury solicitor who can help and guide you through the claims process. This is where Accident Claims UK can help you.
At Accident Claims UK we can offer clients a free, no-obligation consultation. During this, we will discuss the circumstances of how your factory accident happened and whether or not you can make a factory accident compensation claim.
At this point, we will then be able to tell you what steps you should take next, and if our team would be able to provide you with a personal injury lawyer.
If you do decide to work with a solicitor, we may be able to provide you with a no-win, no fee solicitor. We will look further into what this means for you as a claimant below.
What Can You Claim Compensation For After An Accident In A Factory?
There are several different components that can make up factory accident claims. These include, but may not be limited to:
General damages compensation. This is the part of your settlement that is awarded for your actual injuries, whether for physical or psychological injuries.
Special damages. This is awarded for other losses you have experienced as a direct result of your accident and injury. For example, after an accident at work, you may have had to cancel a holiday, losing your money. You could claim back any financial losses associated with this.
Specialist care or help around the home. After your initial treatment, you may require specialist care, a stay at a private medical centre, or Home help. The cost of this can add up quickly, and as such you could be advanced funds towards these costs.
Medical expenses and costs. You could have had to make upfront payments for different medical treatments, therapies, or medications.
Travel expenses. Getting around to medical treatments or specialist care, especially if in a different part of the country can add up. You can include such costs in your claim.
Along with compensation for lost income, the types of compensation listed above are some of the most common forms of compensation awarded for an accident in the workplace.
Factory Accident Claims Personal Injury Calculator – Updated September 2021
The first thing that should be highlighted is that there is no average amount of compensation awarded for a factory accident. As such, when answering the question of how much compensation for a factory accident, you could be awarded, we can give you examples of settlements for different injury types and severities.
The specifics of your injury or illness or its level of severity will play a large role in how much the settlement we can secure you will be.
In the table below, we look at some of the common injuries people may claim for in a factory accident claim, as well as the settlement bands for these injuries.
| Nature of injury | Seriousness | Compensation |
| --- | --- | --- |
| Brain Damage | Very Severe Brain Damage | £264,650 to £379,100 |
| Brain Damage | Moderate | £140,870 to £205,580 |
| Brain Damage | Less Severe | £14,380 to £40,410 |
| Psychiatric Damage Generally | Severe | £51,460 to £108,620 |
| Psychiatric Damage Generally | Moderately Severe | £17,900 to £51,460 |
| Psychiatric Damage Generally | Moderate | £17,900 to £51,460 |
| Post-Traumatic Stress Disorder | Severe | £56,180 to £94,470 |
| Post-Traumatic Stress Disorder | Less Severe | £3,710 to £7,680 |
| Neck Injuries | Severe | In the region of £139,210 |
| Neck Injuries | Moderate | £23,460 to £36,120 |
| Back Injuries | Severe | £85,470 to £151,070 |
| Back Injuries | Moderate | £26,050 to £36,390 |
| Shoulder Injuries | Severe | £18,020 to £45,070 |
| Shoulder Injuries | Moderate | £7,410 to £11,980 |
Please remember, the final amount of compensation you will receive will be awarded for your specific injuries and circumstances. Your final award may also contain compensation for special damages and other financial hardships you have faced as a result of your workplace accident.
For a personal injury claim estimate about how much compensation you could receive for factory accident claims, talk to our specialist team today.
No Win, No Fee Compensation Claims For A Factory Accident
Before the advent of no win, no fee claims, people would often have had to make large upfront payments for a solicitors services, as well as having to make further payments whilst your claim is being conducted. These costs could be prohibitively high for many people, preventing them from making a claim they would be entitled to do.
In order to make it easier, or for some people possible, to make a compensation claim, we are happy to offer no win, no fee agreements to remove the bar of legal costs.
We could be able to provide you with a personal injury lawyer able to offer their services without asking for any payments until you have been given a settlement. As such, you won't have to make any payments until you have the money to do so. If the solicitor we provide you with can not win your factory accident claims, you will have nothing to pay.
Why Claim For Factory Accident Compensation With Accident Claims UK?
At Accident Claims UK we have helped many people from across the country claim the compensation they deserve after an accident at work, such as in a factory. Our team has the expertise and knowledge necessary to support you through a claim, enabling you to make a successful claim for a factory accident, such as a manual handling accident.
At Accident Claims UK, we will always treat each person we help with the understanding and respect they deserve. We know that the legal process can often seem intimidating to many people and that this can also make people hesitant to make a compensation claim. However, our team and the personal injury solicitors they can provide you with will demystify the process, helping you claim the compensation you deserve. They will always explain what is happening to you in a clear and simple way, so you understand exactly what is going on.
Why use a personal injury solicitor for factory accident claims
If you injure yourself in a factory through no fault of your own, you may be entitled to claim compensation. While your employer might seem supportive of your claim, it won't be them that deals with it. Instead, they'll pass the details on to their insurance company. If you've ever dealt with insurers before, you may know that they can be tricky to deal with. Essentially, they won't pay compensation unless you can provide evidence that shows how your accident took place, why your employer was liable and the extent of your injuries.
This is why we suggest taking on a specialist solicitor to support you. Their main role will be to try and ensure you are paid the maximum amount of compensation possible. They'll do this by presenting evidence such as medical reports and CCTV footage in a clear and concise manner. They'll also deal with all enquiries or objections raised by the insurer and try to counter them.
If you would like to know how we can help with factory accident claims, why not call our team of specialists today?
Personal injury claims time limits
In the UK, you generally have a three year period in which to bring your claim. This three year period can begin when you are first injured, or it can begin when you discover your injury or illness, if this is later than the date of exposure or of the accident.
Contact Us Today And Start Your Factory Accident Claims
When you are ready, you can start the process of making your factory accident or injury claim by contacting our specialist team. They will guide you through the initial steps, leaving you confident in the knowledge that you have the legal support you need.
You can start your claim today by calling us on the number supplied above and talk to our specialist advisors. You can also get in touch with us by using the contact form on this page to provide us with your details and allow us to call you back. We will then organise your initial, free consultation and call back at a time of your convenience. The number to the call is
0800 073 8801.
Talk to us today to start the process of making your factory accident claims and getting the help you deserve.
Useful Links And Additional Resources For Factory Accident Claims
Accident At Work Claims
Find out further information on making an accident at work with our comprehensive guide to these types of claim.
How Much Compensation Can Be Awarded For Stress at Work 
Have you suffered from stress at work? Why not take a look at our guide to learn whether you could make a compensation claim with a personal injury solicitor.
Self Employed Accident at Work
If you are self-employed and have been injured by someone else's fault, you may question whether you could make a claim. Why not take a look at our guide to learn more.
What Are Your Legal Rights After A Workplace Accident?
Understandably, you may question what your rights are after an accident? Why not take a look at our guide to learn more about your legal rights.
Other Useful Compensation Guides
Factory accident claims FAQs
What is a factory accident?
A factory accident may also be referred to as an industrial accident, and they can have a detrimental effect on the health and well-being of employees. Factory accidents can be caused by a variety of circumstances, such as:
Faulty machinery.
Slippery flooring.
Machinery malfunctions.
Road traffic accidents
Industrial diseases and illnesses.
What are the 3 factors that cause accidents?
There are various factors that could cause an accident in a factory, such as:
Human factor/personnel errors.
Hazardous environments, such as weather.
Malfunction or failures.
How long can I make a claim after an accident?
You have a window of three years in which to make any claim.
How do I claim for an accident at work?
You can make this happen by specifically filing a work accident claim.
Should I call my insurance company after a minor accident?
It's important that you contact your insurance company after any accident, regardless of severity.
Can I claim for personal injury if the accident was my fault?
If you're solely to blame, then you can't make a claim. But if liability is shared, then you could make a 50-50 claim.
Can I make a personal injury claim myself?
It's wise for you to work with a personal injury lawyer rather than achieving this on your own.
Should I file a claim if I'm at fault?
Again, it's important to recognise whether anybody else is also at fault, otherwise it isn't worth filing a claim if you're solely responsible.
How do I prove my injury for such claims?
If you were intending on making a claim for an accident at work in a factory, you might wish to know how you would be able to prove your injuries exist. It would not be a simple case of going to the GP or local hospital, although we would advise you to do this as soon as possible after the accident so that you could receive the correct advice and treatment for your injuries. As part of your claim, you would also have to go and see an independent medical practitioner, who would be able to assess your injuries and provide an independent medical report. This is an important piece of evidence. It would be used by your solicitor and the courts to determine what level of compensation could be appropriate for your claim. When you attend such an appointment, you may be asked some questions and the medical practitioner may examine you. They could request some of your past medical notes, and in some cases, they may need to order further tests. This is nothing to worry about, it is just so that they can get a bigger picture of your injury comma so the medical report would be accurate.
Could I make a claim for an accident in a factory as a visitor?
If you are injured in an accident in a factory when you are just visiting, you could still be eligible for compensation. It does not matter that you may not have been there in a work capacity, if you were there for valid reasons, and the condition of the factory was such that you suffered injury, you could be eligible to make a claim under the Occupiers Liability Act 1957. If you would like to learn more about this, we would be happy to speak to you about making a claim.
Thank you for taking the time to read our guide on factory accident claims.