By Joanne Jeffries. Last Updated 21st October 2021. Welcome to our guide on gym accident claims, where we'll look at the process of claiming gym accident compensation. Most of us aspire to stay fit and healthy, and we are more likely to do so with regular exercise. There have been a wealth of new gyms springing up across the UK in recent years, and whether gym users follow a cardio programme, take gym classes or prefer lifting weights, going to the gym can be something to really enjoy. However, if gym accidents happen, they could put your fitness at risk.
Gym Accidents – Could You Claim?
However, for a small proportion of the population, their enjoyment of the gym has been curtailed due to injury. Worse still, some have been caused by an accident that need not have occurred.
Whether they have suffered muscle damage from a poorly designed personal training plan or suffered injury from poorly maintained gym equipment, gym accidents claims can help get those people back on their feet after an accident at the gym, allowing them to move forward with their life, whether they choose to return to the gym or not.
Gym Accidents And Injuries Advice
Here, our guide aims to explain the process that compensation claims for accidents in a gym take, alongside approximate calculations for payout amounts in a gym injury compensation calculator table and how to get help if you need it.
If you have any more questions after reading this guide, or if you would like to start a No Win No Fee claim, you can call us on 0800 073 8801.
Choose a Section
A guide to gym accident claims
Whether you prefer CrossFit, Zumba, weightlifting or the treadmill, there are always advantages to pursuing good health and fitness. But what happens if our visits to the local gym leave us with more than just endorphins after a workout?
Our guide to gym accident claims covers all you need to know about you can be injured at gym classes or while using the gym, who is responsible for your safety while in the gym, as well as covering common gym accidents that lead to claims. We have also created a table that illustrates the typical amounts that have been awarded in gym accident compensation claims for those specific injuries.
By reading this guide, you should be better equipped to know what to do in the event that you are injured in the gym, or to advise someone you know that has suffered this type of accident.
Gym industry statistics
According to Leisure DB, in a report released in May 2019, 1 in seven UK citizens visits the gym. This equates to more than 9.7 million members. For most of these people, their fitness programme, whatever their goals, is an enjoyable experience, but for a small percentage, an accident in the gym has blighted their fitness progress, and in some cases, halted it altogether.
Whilst there are no specific gym accidents statistics relating to gym use only, as It is a very niche type of sporting activity, it is clear that sporting injuries play a big part in making up the numbers of people having to visit Accident and Emergency departments in the UK.
In fact, according to this Royal Society of Medicine study from 2019 which focused on two hospitals in Oxford, 1.9% of A and E attendances in 2014-15 were from sporting injuries, and sports-related attendances made up 7.7% of injury-related attendances.
If you'd like to know more about who's responsible for your safety while in a gym or fitness centre, then please read on. If you'd prefer to discuss gym accident claims with a friendly and knowledgeable member of our team then don't hesitate to give us a call.
Who bears responsibility for your safety in the gym?
Gyms, just like other commercial businesses, have a duty to care for those persons on their premises, whether these are customers or staff. Whether you have been injured from faulty equipment or suffered a slip or trip whilst carrying out work at the gym, if the business has been negligent in making all reasonable arrangements to keep you safe, then they may be liable and may have to pay compensation to you for your injuries. This applies whether the gym is a small or large operation.
Many personal trainers at reputable gyms abide by the Exercise and Fitness Code of Ethics. The Register of Exercise Professionals has produced a code of ethics document that aims to ensure that all fitness professionals keep their clients as safe as is reasonably practical. This involves informing clients of how to use any equipment safely, amongst other factors.
If a personal trainer has not correctly informed you of how to safely use the gym equipment, and it was their responsibility to do so, then you may have a case for filing an accident at gym lawsuit if you have suffered a gym accident because of this.
Our next section will take a closer look at determining who was liable for an accident that took place, which is a crucial step in all gym accident claims. Read on for more information, or call us today to start your claim for gym accident compensation.
How to tell if the gym is at fault for your injury
When it comes to defining liability, it is important that you take advice on gym negligence cases from professionals. Many people sign waivers when visiting the gym, and some of these waivers attempt to avoid liability. However, if your gym has acted negligently insofar as to be contrary to health and safety law, you may still have a case for compensation.
It is for this reason that we would urge anyone who has been subject to a gym accident to get in touch with our expert advisors, who will be able to more clearly explain whether you have a potential claim to launch. With many years' worth of experience in personal injury, including gym accident compensation claims, our team will be able to, after asking you a few questions, clarify if you are in a position to begin a claim.
Accident at a gym – Here's what you should do
Of course, the first thing to do if you've been injured in the gym, whether due to a complete accident or one that may have been avoided, is to seek medical attention. Even if you feel that your injury may go away on its own, it is always best to get checked out. The human body is a very complex thing, and even a small injury may be exacerbated if it is not examined by a professional who gives advice on how to treat it. However, there are other prudent activities you should consider, whether or not you are likely to make a claim in the future.
Take photos – If your claim is due to faulty equipment, it is a wise idea to take photographs of the equipment and your injuries as well as the general scene of the accident.
Take details – Writing down what's happened, and taking details of any persons that may have witnessed the accident will also help. You may need to call on someone that has witnessed the accident to provide evidence at a later date, and also writing the details of the accident down immediately will ensure they stay clear in your mind going forward.
Call us. We don't just help begin gym accident claims; we also give free advice that comes with no obligation to use our service. Our team are ready to advise you on your position and the next steps you can take.
I signed a disclaimer or waiver – can I still claim?
As previously mentioned, many gyms ask new members to sign waivers or disclaimers relating to the possible occurrence of any injuries. This can mean that people are immediately under the assumption that there is nothing that they can do should they suffer any injury on the premises, even if the gym were negligent in their duty of care to the gym-goer. However, this is not necessarily the case.
Under the terms of the Unfair Contract Terms Act, gyms cannot restrict or exclude their liability for death or injury that has occurred due to their negligent behaviour. The best thing for you to do if you have been injured in the gym and signed a waiver is for you to consult with us as to whether it seems the gym is negligent.
To find out more about the kinds of accidents that might leave you eligible for gym accident compensation, read on.
Top gym accidents
One of the most common questions we are asked by people who have been injured in the gym is 'Is my case typical?' The short answer is that no two cases are identical, but there are some situations leading to gym accident claims that are more common than others. The top 10 gym accidents, in terms of type, include the following:
Incorrect use of the weights
Workplace accidents
Faulty Equipment
Incorrect advice/guidance on the training programme
Objects falling from a height
Incorrect advice on how to use equipment leading to injury
Induction negligence – not showing clients how to use equipment leading to injury
Whether your injury was caused by one of the above occurrences, or due to something different, we will be able to tell you if you are likely to be able to lodge a claim for gym compensation. Why not give us a call to find out?
I injured myself on the weights in the gym – can I claim?
An injury caused by weights is fairly common in the gym. However, if you have been injured due to either a malfunction with the weights equipment or due to a personal trainer giving you too heavy a weight to work with, then you might have a claim.
There are various different injuries that can be caused by weights in the gym. Perhaps a weight has not been properly secured on a rack, and it has fallen on you, or maybe the key to ensuring your weight limits are kept to is missing. Whatever way you have been injured in the gym due to someone else's fault, then you might be able to make a claim for gym accident compensation.
I tripped in the gym – can I claim?
Just like in any other commercial business, any trip, slip or fall hazards should be minimised in order to provide a safe environment. If this is not the case, and you have slipped on a wet floor that has not been clearly marked or mopped up, or tripped over a trailing wire from one of the gym's machines, it could be that you have a claim.
Accident at work in the gym – do I have a claim?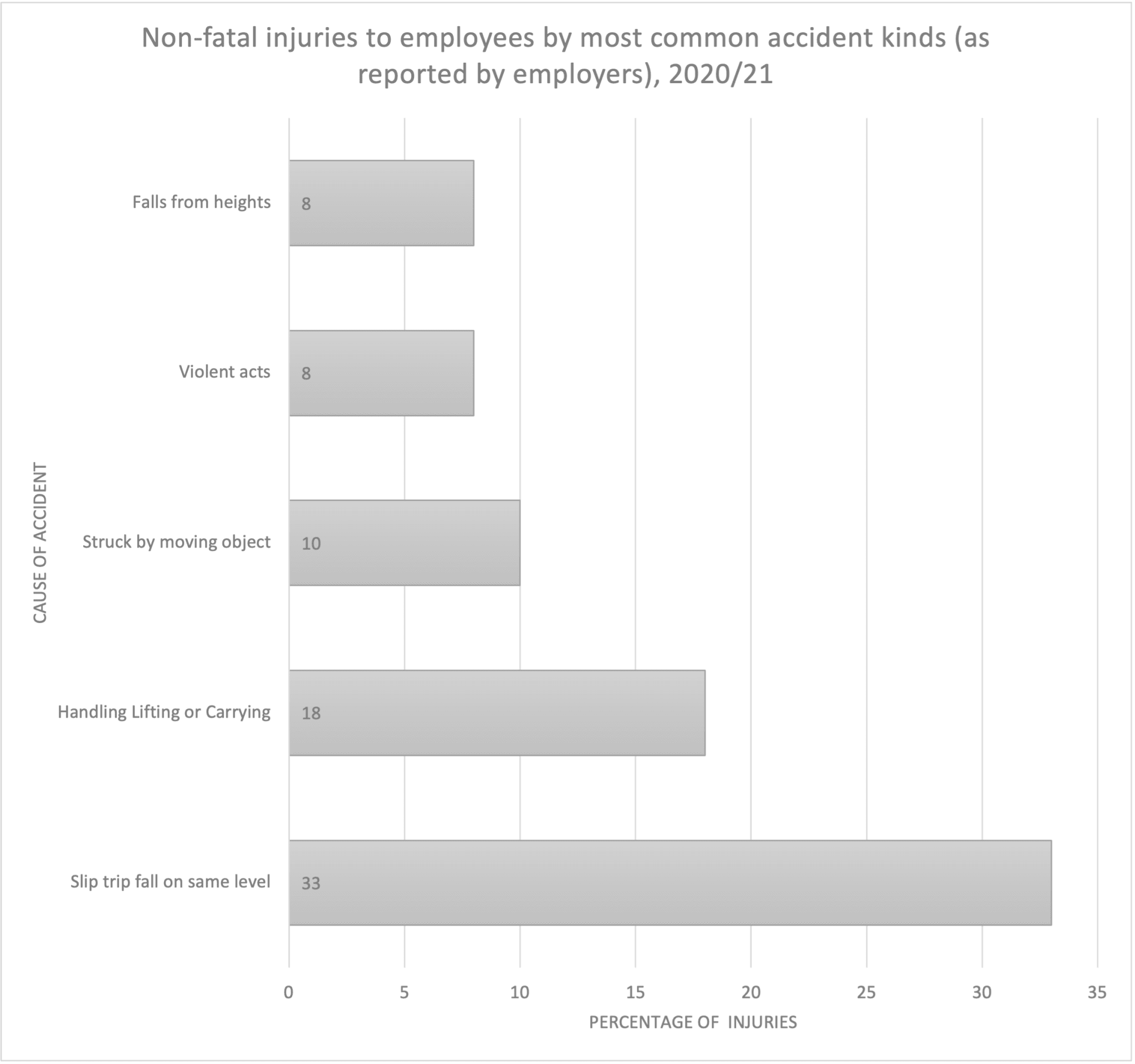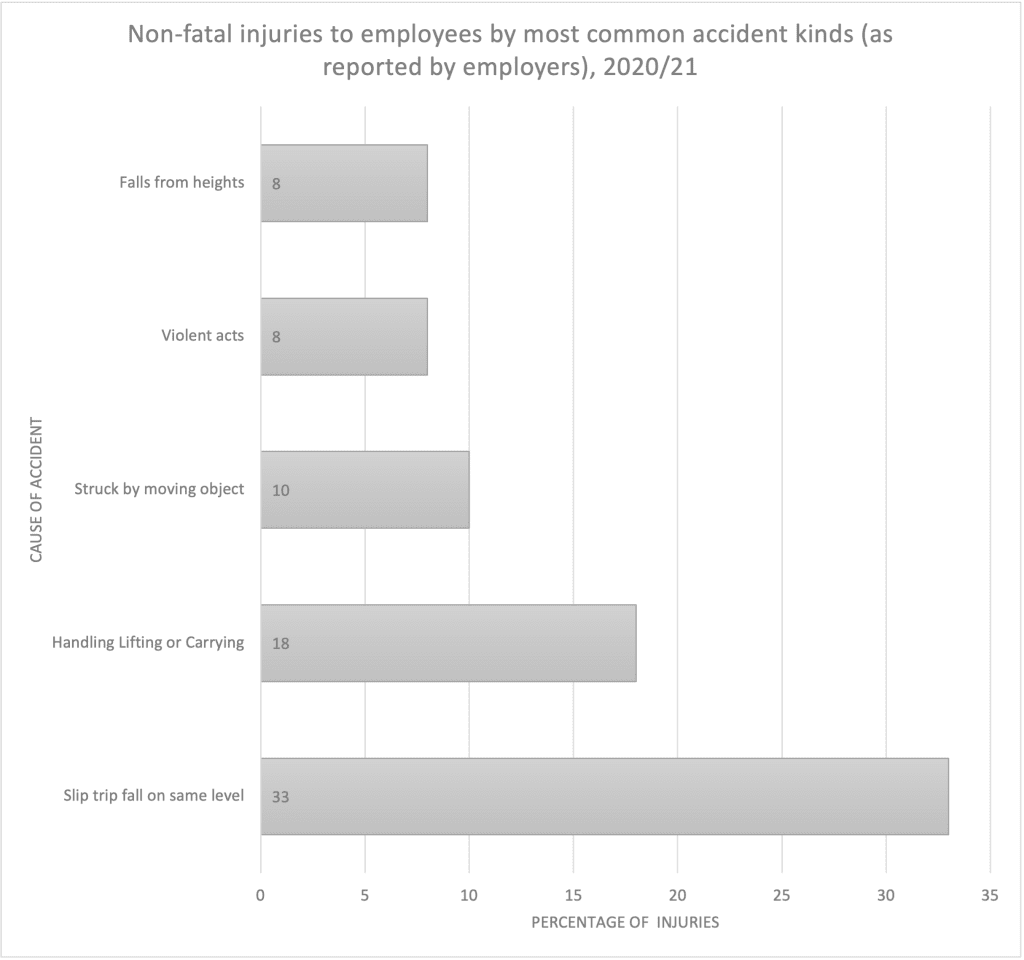 Just as gym-goers have a right to be able to train in a gym that is well maintained and properly set up, so too do the people who work there. There are many ways a person can be injured while they are at work, as depicted by the statistics above.
Any employer has a duty to provide their staff with a safe working environment, the proper equipment to do their job correctly and the training too. If you have fallen victim to an accident at work at a gym, and your employer was found to have been negligent, then you can certainly pursue a claim for gym accident compensation.
Your employer will almost certainly have insurance to cover the cost of your claim, so please do not worry about putting them out of business. We would urge that people work together to ensure safe working practices for all workplaces and highlighting any issues as part of a compensation claim can actually help prevent similar accidents occurring, as most responsible employers will take remedial action after a claim.
In addition, you should not be worried that your employer will treat you in any way differently than they did before you made a claim. There is legislation in place to help avoid this happening. However, we understand you may still feel awkward about making such a claim and can give you further advice on how making a claim against your employer works.
Our next section will take a closer look at your employer's responsibilities to you, the neglect of which could lead to gym accident claims.
Health and Safety at work- your employer's responsibilities.
Your employer's responsibility to keep you safe while at work is outlined in the Health and Safety at Work etc. Act 1974. This piece of legislation lets you and your employer know what steps should be taken to ensure your safety while at work.
It's impossible for your employer to predict everything that might happen in the workplace which could lead to an accident. But the Health and Safety at Work Etc Act says that they need to take reasonable steps to ensure your safety while at work.
These steps should include carrying out regular risk assessments. In these assessments, any risks to you or your colleagues posed by the workplace or the job you do will be identified or removed. If the risk can't reasonably be removed then it should be minimised.
It's also your employer's job to make sure that your working environment is safe. This includes things like making sure that all floors are safe to walk on, and that any risks like leaks from water fountains are dealt with as soon as possible. It should also include good housekeeping, such as making sure that walkways are free of obstructions.
If you're working at a gym, you may find that using gym equipment is an important part of doing your job. And if you're injured while doing so, because the equipment was poorly maintained or faulty, then you may be able to make a gym accident compensation claim. This is because it's an employers responsibility as per the Health and Safety at Work Act to make sure that all equipment that you need to do your job is safe for your use.
Bad advice from gym staff led to injury – can I make a claim?
When you have a member of staff show you around the gym, they should make sure to educate you on how to use the equipment safely, so you do not injure yourself. Similarly, if you have a personal training session, the trainer should have access to all the relevant information to help devise a safe workout programme for you. If they have advised you to perform exercises that are too tough or do not take into account any mitigating factors regarding your general health and you have suffered as a result, then you may be entitled to make a claim.
Can you sue the gym for injuries caused by faulty equipment?
Gym owners have a responsibility to ensure that any equipment they own and allow you to use is in good working order. There are many different types of equipment in the gym, including free weights, weight machines and cardio machines such as step machines and treadmills, rowing machines and cross-trainers.
These machines should be regularly checked for safety, and if any issues are reported, they should not be used until such times as they have been fixed. So when it comes to the question can you sue a gym for faulty equipment, the answer is, most probably.
It is also the gym owner's responsibility to clearly mark any machines that are not working as 'out of order'. If you were to ignore such a warning sign and use the machine/equipment anyway and injure yourself, it would almost certainly not lead to a successful claim. However, if the sign was not clearly visible, you may well have a case.
Read on to find out more about what can be included in gym accident claims, or call us today for free legal advice around claiming gym accident compensation.
What can I claim for following accident causing injury in a gym?
Claiming gym compensation doesn't just include claiming for the wages you've lost as a consequence of your accident. There are a few major categories in which you may be able to claim.
Care – In some cases, injured parties may require help around the home or with basic things like getting dressed/cleaning etc. If someone has had to care for you after injury, there is a distinct possibility for them to lodge a care claim.
Medical – Expenses such as physiotherapy, braces, crutches, a wheelchair, prescription costs and more
General – This type of award is meant to compensate you for any pain as well as suffering due to the accident. This is usually a large part of the final award.
Travel – You will more than likely have had to pay for some form of travel for appointments relating to your injury. This part of the claim should compensate you for this,
Wages – Any time off work that has not resulted in you being paid a full wage might attract a loss of earnings award. In addition, if you are expected to have more time off – this can be put into the award also.
If you are at all unclear on what type of claim your injuries may attract, then we can help make it clearer for you. Why not give us a call to discuss your gym accident compensation claim in greater detail?
Typical gym injury compensation and gym accident compensation awards?
We have mentioned before in this guide that each and every case is unique to that person and that situation and this is why it would be entirely impossible for us to give you a figure that will be completely accurate for your compensation award.
Some people suffer injuries to their extremities in gym accidents, and death can even occur in others. However, as we have much reference material at our disposal, we can provide the table below, which details average compensation brackets for specific injuries and situations.
We have included some of the most relevant injuries here, but we can also provide guide amounts to you if you call our team. If your injury is not listed below, simply call to find out more.

| Injury | How Severe? | Typical Award Bracket | Injury notes |
| --- | --- | --- | --- |
| Back Injury | Minor | Up to £11,730 | This bracket will include strains, sprains, soft tissue injuries and fractures which don't need surgical intervention. In this bracket, recovery will take place within a period of three months to two to five years. |
| Back Injury | Moderate | £11,730 to £36,390 | Injuries within this bracket will include ones that disturb the muscles or ligaments, as well as soft tissue injuries which accelerate or exacerbate a pre-existing condition. Injuries to the top of this bracket will include, for example, crush or compression fractures of the lumbar vertebrae resulting in continuous pain and discomfort. |
| Back Injury | Severe | £36,390 to £151,070 | Injuries in this bracket can range from disc lesions or fractures and soft tissue injuries resulting in disability despite treatment, to damage of the spinal cord and nerve roots leading to severe pain and disability with impaired bowel, bladder and sexual function as well as incomplete paralysis. |
| Leg Injury | Less serious | Up to £26,050 | Injuries in this bracket will include fractures and soft tissue injuries. At the top of the bracket will be fractures from which an incomplete recovery is made, and to the bottom of the bracket will be injuries with a complete recovery, or where there are minor ongoing symptoms. |
| Leg Injury | Moderate | £26,050 to £36,790 | This bracket will include complicated or multiple fractures or crushing injuries to a single limb. The level of award will depend on the extent of treatment needed, the risk of future surgery being required, scarring and an increased vulnerability to future damage. |
| Leg Injury | Severe | £36,790 to £127,530 | Injuries in this bracket will range from serious fractures or joint injuries which require prolonged treatment and a lengthy period of non-weight-bearing on the injured leg. Injuries at the top of this bracket will leave the leg little better off than if it had been amputated, such as extensive degloving and gross shortening of the leg. |
| Leg Injury | Very severe | £91,950 to £264,650 | Injuries where amputation is required of either one or both legs above or below the knee. |
| Head Injury | Minor | £2,070 to £11,980 | Injuries in this bracket will result in minimal brain damage, if any at all. |
| Head Injury | Moderate | £40,410 to £205,580 | The award in this bracket will depend on the extent to which concentration and memory are affected and whether there has been an intellectual deficit or a change in personality. The risk of epilepsy will also be taken into consideration. |
| Head Injury | Very Severe | £264,650 to £379,100 | Cases in this bracket will include little, if any, evidence of meaningful response to environment, little or no language function, double incontinence and the need for full-time nursing care. |
| Neck Injury | Minor | Up to £7,410 | Payments in this bracket will be appropriate for soft tissue injuries. This bracket will be appropriate where there's been a full recovery within three months to one to two years. |
| Neck Injury | Moderate | £7,410 to £36,120 | Injuries in this bracket will range from moderate soft tissue injuries where there has been a protracted recovery period resulting in increased vulnerability, to soft tissue or wrenching injuries resulting in serious limitation of movement, to injuries such as fractures or dislocations which might need spinal fusion. |
| Neck Injury | Severe | £42,680 to £139,210 | Injuries ranging from fractures or dislocations or severe damage to soft tissues and/or ruptured tendons that lead to chronic conditions and significant disability of a permanent nature to injuries associated with incomplete paraplegia or resulting in permanent spastic quadriparesis, where the injured person has little or no movement in the neck despite wearing a collar 24 hours a day for a period of years. |
| Hand Injury | Minor | Up to £4,461 | This bracket will include fractures which recover within 6 months, as well as scarring and tenderness. |
| Hand Injury | Moderate | £5,260 to £12,460 | This bracket will include things like crush injuries, deep lacerations and penetrating wounds. The top end of this bracket will be appropriate where surgery has been performed but permanent disability remains. At the bottom of the bracket there will be symptoms which are permanent but non-intrusive. |
| Hand Injury | Severe | £132,040 to £189,110 | Where both hands have been injured to the point where they're rendered little more than useless. |
| Foot injury | Modest | Up to £12,900 | Injuries in this bracket will consist of simple fractures, ruptured ligaments and puncture wounds etc. Awards to the top end of the bracket will be appropriate where there are continuing symptoms. |
| Foot injury | Moderate | £12,900 to £23,460 | Injuries of this level will include displaced metatarsal fractures resulting in permanent deformity and continuing symptoms where there may be a risk of long-term osteoarthritis and future surgery. |
| Foot injury | Severe | £23,460 to £65,710 | Injuries in this bracket will include fractures to both feet or heels leading to a substantial restriction in movement or considerable and permanent pain. |
| Paralysing injury | Complete | £304,630 to £379,100 | Awards within this bracket will depend on life expectancy, age, levels of pain and presence of respiratory issues and depression. |
| Paralysing injury | Partial | £205,580 to £266,740 | Awards within this bracket will take into consideration the degree of independence, presence of depression, the extent of pain and impact on sexual function. |
If you'd like to know more about No Win No Fee gym accident claims, then our next section will be of interest to you; read on to find out all you need to know. Alternatively, you can get in touch with our team today to discuss the claim process in greater detail.
Making No win no fee accident in the gym claims
Often, when people have to take time away from work to recover from an injury, their finances suffer. This is why after gym accidents, people don't feel they have the necessary funds to lodge a gym compensation claim. However, it is entirely possible to pursue a claim without putting any funds in initially, or even at all.
There is such a thing as a no win no fee gym accident compensation claims model, which is something we offer here at Accident Claims. This involves a Conditional Fee Agreement that if your case was not successful and did not win you compensation, you would not be required to pay any solicitors fees.
However, if your claim was seen as valid and a compensation award was granted, you would pay for the services you've received ( your lawyer's success fees) from the compensation awards, meaning you were never out of pocket. We'd be happy to explain this in more detail – you might be surprised at how easy it is to get started with a gym accident compensation claim.
Why choose Accident claims for your gym injury compensation claim?
We have helped many people just like you to claim gym injury compensation, and we believe our successes in these cases may well lead to more stringent guidelines for gym operators to abide by. Simply put, by helping people pursue these claims, we feel that we are helping make going to the gym a safer experience for everyone.
How we can help claimants with compensation for gym accidents
Our solicitors aim to achieve the highest amount of compensation for all cases they take on. At the start of the claims process, your solicitor will talk through your case with you so that they fully understand how you've been affected. They will then collate all of the evidence needed to back up your allegations. So that your injuries are fully understood, you'll be asked to attend an independent medical assessment (held locally).
Your solicitor will handle as much of the claims process as possible and deal with any queries raised by the defendant's insurers for you. You will be given regular updates and you'll have the opportunity to ask any questions that arise.
It is not just our experience and good customer care that we pride ourselves on here at Accident Claims. We are also proud to say that we are dedicated to providing the most up to date advice on gym accident claims and other personal injury claims possible. Whether you have been injured on the treadmill or on the free weights, we are dedicated to ensuring your case is taken gravely, and you are afforded good advice that you can depend on.
Need to know more? Or ready to start a gym injury claim for gym accident compensation?
Upon reading this informative guide, you may still have some questions such as 'can I sue my gym for injury', or 'How long do I have to claim?'. This is completely normal. As we have mentioned, no two cases are completely alike, and there may still be some confusion over whether you are likely to have a valid claim.
If this is the case, then why not call our team on 0800 073 8801. We offer free advice and can be counted on to listen to you carefully before giving advice that is based on years of experience in the industry.
If you feel more well-informed about gym accident compensation claims and feel that your gym has a case to answer, then again, we are here to help. With a great reputation and a passion for delivering just what our clients need, Accident Claims could be the perfect partner to help get you the compensation for gym accident claims you deserve.
Helpful Links Relating To Gym Accident Compensation
As previously mentioned in this guide, the Unfair Contract Act details how a gym can still be liable for negligence, even if the client has signed a waiver.
NHS advice on how to treat common sporting injuries.
The Basics of Leisure Health and Safety
This takes you to the basic HSE guide to Leisure health and safety.
Gym Accidents – Internal Guides
Claiming for an accident in a public place
This guide will talk you through claiming compensation for an accident that happened in public.
How much compensation for a leg injury?
A guide to claiming compensation following an injury to your leg.
Claiming compensation for a shoulder injury that wasn't your fault.
Gym accident claims and gym accident compensation- FAQs
What should I do if I injure myself at the gym?
The most important thing to do if you've injured yourself while exercising at a gym is to stop your workout and seek medical attention for your injuries. Not only will this ensure that you get the treatment you need, but it will also provide a solid basis for a personal injury claim as your injuries will be on record.
Can I claim after being injured in a gym changing room?
If the accident that caused your injury was caused by negligence on the part of the gym owner or staff, for example, if you slipped and fell on some water that wasn't cleaned up or signposted, then you may be able to make a claim for the injuries sustained.
Can I claim after being injured in a gym if I used a machine that was out of order?
If the signs stating that the machine was out of order were missing or hidden, then you may have grounds to make a claim if you injured yourself on faulty machinery. However, if you were aware that the machine was out of order and used it anyway, this wouldn't constitute negligence on the part of the gym staff and you wouldn't be able to claim.
How much can I receive in gym accident compensation?
This depends on a number of factors. The severity of your injuries will impact the amount you receive in general damages, and your special damages will be based on the value of any financial losses you've experienced because of your accident.
Do I still get paid if I'm a gym employee who was injured at work?
As an employee, you may be eligible for Statutory Sick Pay while you're unable to work. You can check whether you are eligible on the gov.uk website.
How long do I have to make a gym injury compensation claim?
The personal injury claims time limit is three years from the date your accident took place.
How long will a compensation claim for a gym injury take to settle?
There are a number of factors that will influence the length of time it takes for your claim to be settled, including the severity of your injuries, the complexity of the claim and whether there is any dispute over liability.
Is the compensation claim process for gym injuries and gym accidents expensive?
With Accident Claims, it doesn't need to be. Our No Win No Fee agreement means that, unlike with some personal injury solicitors who will charge legal fees by the hour, we won't ask for you to cover the solicitors' costs until you receive your compensation.
Could I claim gym accident compensation for a fatal accident at work?
Unfortunately, between 2020-2021, the HSE revealed that 142 people suffered fatal injuries in a work related accident. You can see the industries that were affected by fatalities at work in the graphic below. This doesn't say whether any of these were gym accidents.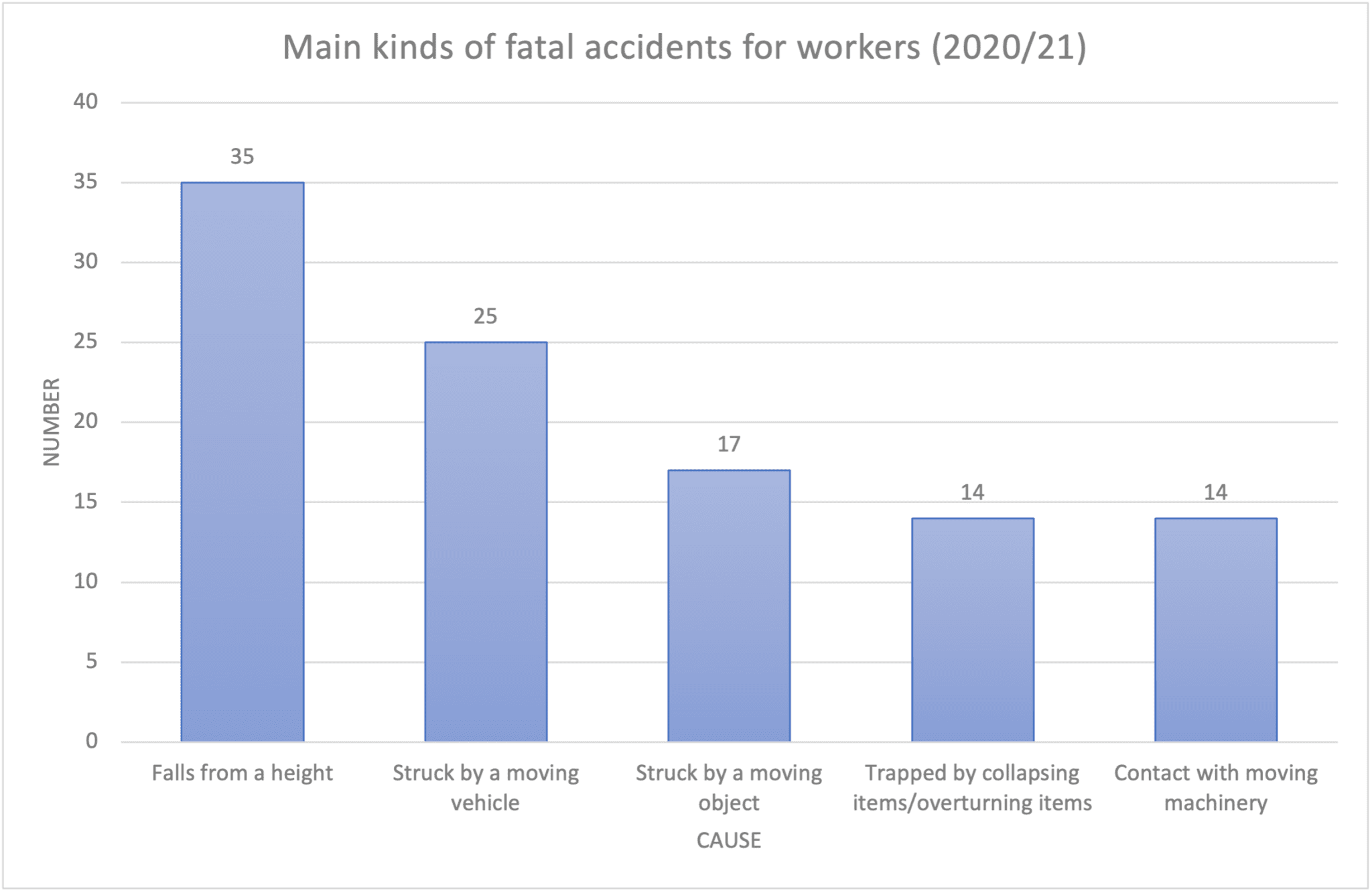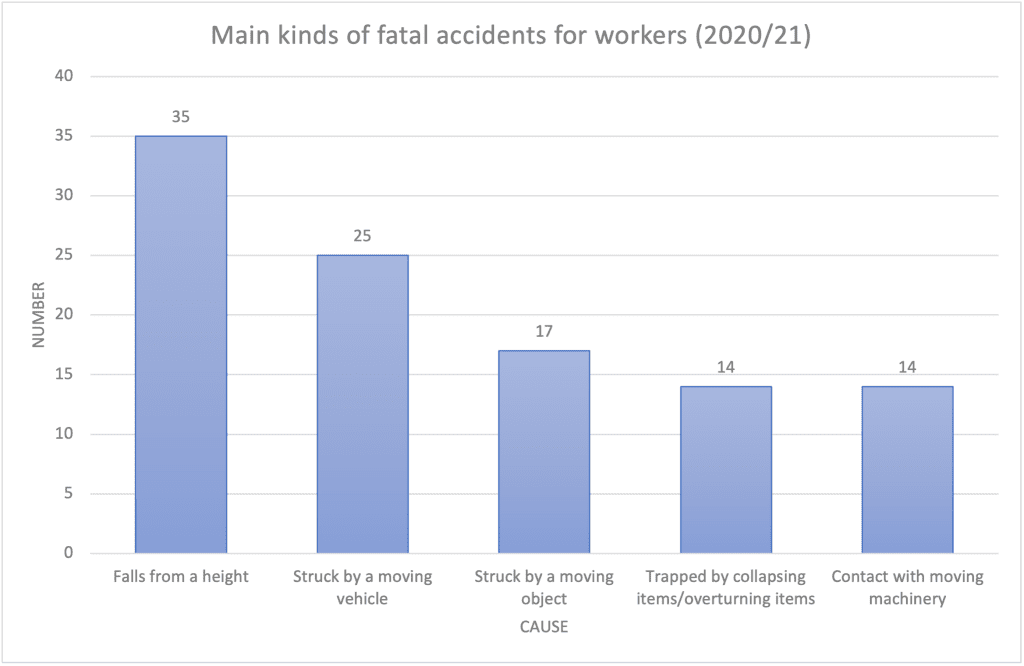 If you are relative of a person who is passed away due to a wrongful death or fatal accident at work that was not their fault, you may be able to make a claim for compensation. You could receive compensation for their pain and suffering, as well as bereavement award for yourself. In some cases, funeral expenses could also be compensated for, as could a loss of financial support if you are a dependant of the person who passed away. We understand only too well how it could be difficult for you to consider making a compensation plane after losing a loved one. However, while it would never be able to compensate fully for the loss of someone you loved, it could help you recover expenses caused by their death. It would also help to make sure the same thing does not happen to someone else in the future.
Do I need to use local solicitors to make gym accident compensation claims?
It could be considered a common misconception that people believe they have to use a lawyer based close to where they live. Due to the fact that technology has moved forward, most claims could be handled primarily by fax, email, video chats and letter. Therefore, you may not ever have to meet your lawyer face to face. However, this could be arranged for you if you wanted to meet with them. Any solicitor, authorised and regulated by the Solicitors Regulation Authority and registered in England and Wales could handle your claim.
What sort of gym accidents at work could I claim for?
You could claim as a gym employee who has suffered injuries due to an employer's breach of their duty of care towards an employee. Causes of such claims could include lack of training or failure to provide PPE when there was a recognised need for it. Other causes could include slips, trips or falls due to an unsafe or poorly maintained workplace.
What gym injuries could I claim for?
You could claim for any injuries you suffer from a breach of the gym owner/operator's duty of care towards you. For example, if you went to the gym, a broken leg caused by faulty gym equipment could be claimed for.
Could I claim for gym accidents from broken equipment?
Gym accidents from broken equipment could lead to claims. However, if you knew the gym equipment was broken as there was a sign on it and used it anyway, this could be considered at least partially your fault.
This could make your claim more difficult. In some cases, you could still receive a reduced proportion of compensation. In others, it might lead to your claim being rejected.
How long do I have to claim for gym accidents?
Usually 3 years from the accident date. However, if you were under 18 when you suffered the gym injuries, but are now an adult, you could launch your claim before you turn 21. Alternatively, an adult could claim on your behalf before you turn 18.
Thank you for reading our guide on gym accident claims. We hope to have answered any questions you have regarding claiming gym accident compensation for gym accidents.