By Jo Anderson. Last Updated 13th November 2023. Welcome to our guide on foot injury claims. Here, you'll find a detailed guide to making foot injury compensation claims. This guide is aimed at anyone who has suffered a foot accident that was caused by negligence.
Below, we talk about foot injury compensation payouts in the UK. Plus, we explain how much for a foot injury you could claim.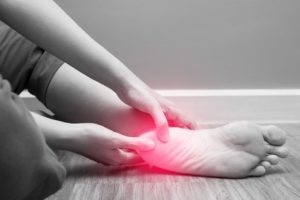 Whether you've suffered a crushed foot injury or are looking for guidance on fractured foot settlements, we could help.
You can call Accident Claims UK on 0800 073 8801 with any questions you have, and advise you on the best way to make personal injury claims for a foot injury.
Select A Section:
What Is A Foot Injury And Can I Claim Compensation?
If you believe you may have a claim for personal injury compensation, you may wish to check your eligibility. To make a foot injury claim, you would need to prove that somebody breached a duty of care that they owed you. Their breach must have caused your foot injury.
There are various types of parties that owe you a duty of care in certain situations. These include:
Road users- Every road user has a duty of care towards other road users. They must use the roads in a manner that does not cause avoidable harm to others on the road and themselves. They must also adhere to the Road Traffic Act 1988 and follow the rules and guidance in the Highway Code.
Occupiers of public places – Those in charge of public places are known as occupiers. Under the Occupiers' Liability Act 1957, they owe members of the public a duty of care to ensure their reasonable safety when they are using the premises for their intended purpose.
Employers – Your employer owes you a duty of care while you are working and in the workplace. Per the Health and Safety at Work etc. Act 1974 (HASAWA), they must take reasonable steps to reduce risks of harm within the workplace to help ensure your safety.
If any relevant third party breaches a duty of care they owe you, and you are injured as a result, you could be eligible to make a personal injury claim.
To check the eligibility of your case, you can contact a member of our team. Our advisors could also provide insight into foot injury compensation payouts.
How Long Do You Have To Make A Foot Injury Claim?
If you are eligible to make a foot injury claim, you will need to ensure that you start proceedings within the correct time limit. The Limitation Act 1980 states that the time limit to start a personal injury claim is 3 years. This runs from the date of the accident that injured you.
There are some exceptions to this time limit. For example, the time limit is paused for those under the age of 18. From their 18th birthday, they will have three years to start a claim. However, a litigation friend could start a claim on the injured party's behalf before this date.
To find out if you are within the time limit to start a claim, or for more information about the other exceptions, please get in touch with our advisors.
Foot Injuries Caused By Slips, Trips, And Falls
Slips, trips and falls are a very common cause of foot injuries, both foot injuries at work and foot injuries that happen to members of the public. If negligence can be proven to have been the cause of the injury, then a personal injury lawyer will be able to make a compensation claim on your behalf. Common accidents which lead to a foot injury, and subsequent foot injury compensation claims, include:
Slips – either on a wet or dirty floor that should have been cleaned, and that had not been signposted as a hazard to avoid.
Falls – such as falling down a staircase due to the handrail being faulty, or there being insufficient lighting in the stairwell.
Trips – on damaged floor coverings, torn carpets, or outside over broken curbstones or badly laid paving slabs.
If you have suffered a slip, trip or fall, and it has injured your foot, call Accident Claims UK on the number at the top of this page they can inform you about foot injury compensation payouts in the UK.
What Evidence Could You Need?
Gathering evidence would form an essential part of the process of personal injury claims. The onus would be on you not to only prove that a duty of care that was owed to you was breached but also caused you to suffer avoidable harm.
Here we listed the types of evidence that could be used to support a personal injury claim for all types of foot injuries:
Evidence of the accident taking place and who was liable. This could be a police report, a report in a workplace accident book, CCTV footage or photographic evidence, for example.
Medical evidence. Your medical notes and any record of appointments you've attended could be useful here. Also, as part of the personal injury claim process, it may be necessary for you to have an independent medical assessment. The resulting report could strengthen your claim for foot injury compensation.
As well as medical evidence, you could also take images of any visible injuries. Keeping a diary of symptoms and treatments is a good way to also prove how you suffered.
Witness contact details in case a statement is needed later on.
Financial evidence. In some claims, you may be awarded compensation for out-of-pocket expenses caused by the accident and your injury. You would have to supply evidence to prove such expenses. Pay slips and bank statements could be helpful in this regard.
To get further insight into what evidence could help your personal injury claim or to find out how much compensation could be awarded in foot injury claims such as fractured foot settlements, please call the helpline. An advisor would be able to answer your questions about what could strengthen your claim. They would also be able to help you begin a claim if you're eligible to do so.
Average Settlement For A Foot Injury
Whilst you may be wondering what the average payout for a broken foot in the UK is, it is difficult to provide an average because several factors are considered when valuing settlements. For example, when calculating compensation payouts the severity of an injury, how badly it's impacted your quality of life, the recovery period, future prognosis and financial impact an injury has had may be taken into account. As such, payouts can differ depending on the unique circumstances of each case.
Generally, though, successful claims could result in a settlement comprising general damages and special damages being awarded. General damages is the head of claim that compensates you for the pain and suffering of your injuries. When calculating general damages, solicitors could look at a publication known as the Judicial College Guidelines (JCG), which provides guideline compensation brackets for a variety of injuries.
The table below contains figures from the current edition of the JCG. However, this should only be used as a guide.
| Injury | Severity | Notes | Compensation |
| --- | --- | --- | --- |
| Multiple severe injuries with special damages | Severe | Multiple injuries that are severe, including both physical and mental injuries, with special damages. | Up to £1,000,000+ |
| Foot | Amputation of Both Feet (a) | Total amputation of both feet with the ankle joints lost. | £169,400 to £201,490 |
| Foot | Amputation of One Foot (b) | Total amputation of one foot. | £83,960 to £109,650 |
| Foot | Very Severe (c) | Injuries could include the amputation of the forefoot which is traumatic and causes severe pain and a permanent disability. | £83,960 to £109,650 |
| Foot | Severe (d) | Fractures to both feet or heels that cause permanent pain and restricted mobility. | £41,970 to £70,030 |
| Foot | Serious (e) | A less severe foot injury but still suffers from continuing pain due to traumatic arthritis. | £24,990 to £39,200 |
| Foot | Moderate (f) | Continuing symptoms and a permanent deformity caused by displaced metatarsal fractures. | £13,740 to £24,990 |
| Foot | Modest (g) | Puncture wounds, simple metatarsal fractures or ruptured ligaments that cause continuing pain with a permanent limp. | Up to £13,740 |
| Toe | Amputation of all toes (a) | How much is awarded will depend on whether the amputation was traumatic or not. | £36,520 to £56,080 |
| Toe | Serious (d) | Toe or more toes have been fractured or the great toe has been crushed which causes pain and discomfort. | £9,600 to £13,740 |
Another head of claim that could be included in a settlement is special damages. This compensates you for out-of-pocket expenses caused by your injuries. You will need to provide evidence of these costs and losses, such as receipts, wage slips and bank statements. This could help show the following expenses:
Care costs
Loss of earnings
Medical expenses
Travel costs
To get estimate of how much you could receive in compensation following a successful foot injury claim, please contact an advisor.
No Win No Fee Foot Injury Compensation Solicitors
If you are eligible to make a claim for your foot injury, you may wish to do so with the support of a No Win No Fee solicitor. They may provide their services under a Conditional Fee Agreement (CFA).
If claiming for a foot injury with the support of a No Win No Fee solicitor, you usually won't be charged a solicitor's fee upfront. When claims are successful, a success fee will be taken from the foot injury compensation payouts. The law limits the amount that can be taken out of your award. If your foot injury compensation claim is not successful, your solicitor usually won't ask you to pay for their services.
Our advisors can assess your foot injury claim for free. If it seems like your compensation claim for a foot injury is valid, you could be connected to our solicitors. To speak to us:
Helpful Resources And Links Relating To Foot Injury Claims
If you have any further questions about foot injury compensation payouts in the UK, get in touch with our advisors.