By Jo Jeffries. Last Updated 20th July 2022. Welcome to our guide on broken rib claims and rib injury compensation claims. Here, we answer questions on rib injury claims such as 'Can I make a bruised ribs injury claim?', 'What are the long term effects of broken ribs?' and 'I broke a rib, can I claim compensation?' We even look at broken rib NHS advice on treatment and management of such an injury. Plus, we answer questions such as "What happens if you leave a broken rib untreated?" How do I claim for personal injury with fractured ribs?", and "How much compensation for broken ribs car accident settlement could be achievable?"
Could I Make A Broken Or Bruised Ribs Injury Claim?
If you have been involved in any type of accident that was not your fault, and you have suffered an injury to your ribs, you could have grounds for a personal injury claim. This does not only include claims for broken ribs pain and suffering, but it includes all types of rib injuries, as well as those that come with other injuries to the body too.
Here at Accident Claims UK, we have years of experience in helping thousands of personal injury victims to get the compensation that they deserve, and this includes rib injury compensation. We have the experience and the know-how to give you a completely honest assessment of your case and secure you the maximum amount of compensation that is available.
You can call our number, at any time of the day or night, on 0800 073 8801, and we will provide you with free legal advice regarding your claim. But first, read on to discover everything you need to know about No Win No Fee rib injury compensation claims.
Select A Section
A Guide To Rib Injury Compensation Claims
No matter whether you are looking to secure compensation for broken ribs or you have suffered a different type of rib injury at work, in a public place, or elsewhere, you will find this guide as a useful resource. We will provide you with full details regarding making rib injury claims and broken rib claims. This includes details on claims in different types of environments, from rib injuries for children at school to workplace incidents.
You will also find details regarding the most common rib injuries, how to go about claiming, and the amount of compensation you may receive. If you still have any queries by the time you have finished reading this guide, please do not hesitate to get in touch with our personal injury solicitors for more information.
What Are The Most Common Rib Injuries?
A rib injury is any type of injury that causes bruising, tissue damage, fractures, or a break to the ribs or the structures that support the rib cage, such as cartilage and ligaments. Rib injuries tend to be very painful, especially as you consider the fact that every time you breathe your ribs flex. Some of the most common types of rib injuries include the following:
Rib injuries that have happened due to a physical assault. If you have been kicked in the chest or knocked to the floor because someone else has attacked you, you will certainly be able to claim.
Falling from a height. Individuals especially at risk of this include people that work from a height on a daily basis as part of their job, including scaffolding and other high-level construction roles, and window cleaners.
Sporting accidents. The risk of a rib injury is higher for those who are involved in contact sports, for example, football and rugby.
Being crushed. This is a very common type of accident for those in industrial work environments. Those working in warehouses, as well as operators of heavy equipment and machinery, can often suffer crush injuries to their ribs.
Road traffic accidents. Last but certainly not least, road traffic accidents cause the most rib injuries in the United Kingdom every year.
Of course, it does not matter whether you sustained an injury that has been mentioned or a different type of injury, you will still be able to claim so long as you can prove someone else's negligence.
I Suffered A Rib Injury At Work, Can I Claim Compensation?
We have helped many people to secure compensation for workplace accidents, including those who have suffered a broken rib at work, for financial losses as part of general damages and special damages (including loss of earnings). As per law, all employers have a legal responsibility to ensure that every working environment is as safe and healthy as possible.
If your employer has failed to do this, for example, he or she has not provided the right equipment or training, or they have not carried out the necessary risk assessments, you could be able to make rib injury claims. Please note that you could also be able to claim for any income you have lost as a consequence of the accident too in broken rib claims.
Rib Injuries Caused By Slips, Trips, And Falls
There is no denying that slips, trips and falls are some of the most common rib injury compensation claims we handle. In fact, they are the most common of all types of accidents in the United Kingdom. There are so many different ways a rib injury can occur in this manner. For example, you may have fallen and cracked your ribs due to uneven paving slabs. Or, did you slip on a wet floor in a supermarket that had not been marked properly? No matter what has happened, you should call us today to get started.
A lot of people do not know whom they should be claiming against in such a situation, but we can handle that. It will be whoever is responsible for the area, be it a business or the local council.
Rib Injuries Caused By A Car Accident – Can I Make A Broken Or Bruised Ribs Injury Claim?
Even though there were 4 months of lockdowns in 2020, there were still 115,584 people injured on UK roads during this period. You can see the type of road users in the below graph.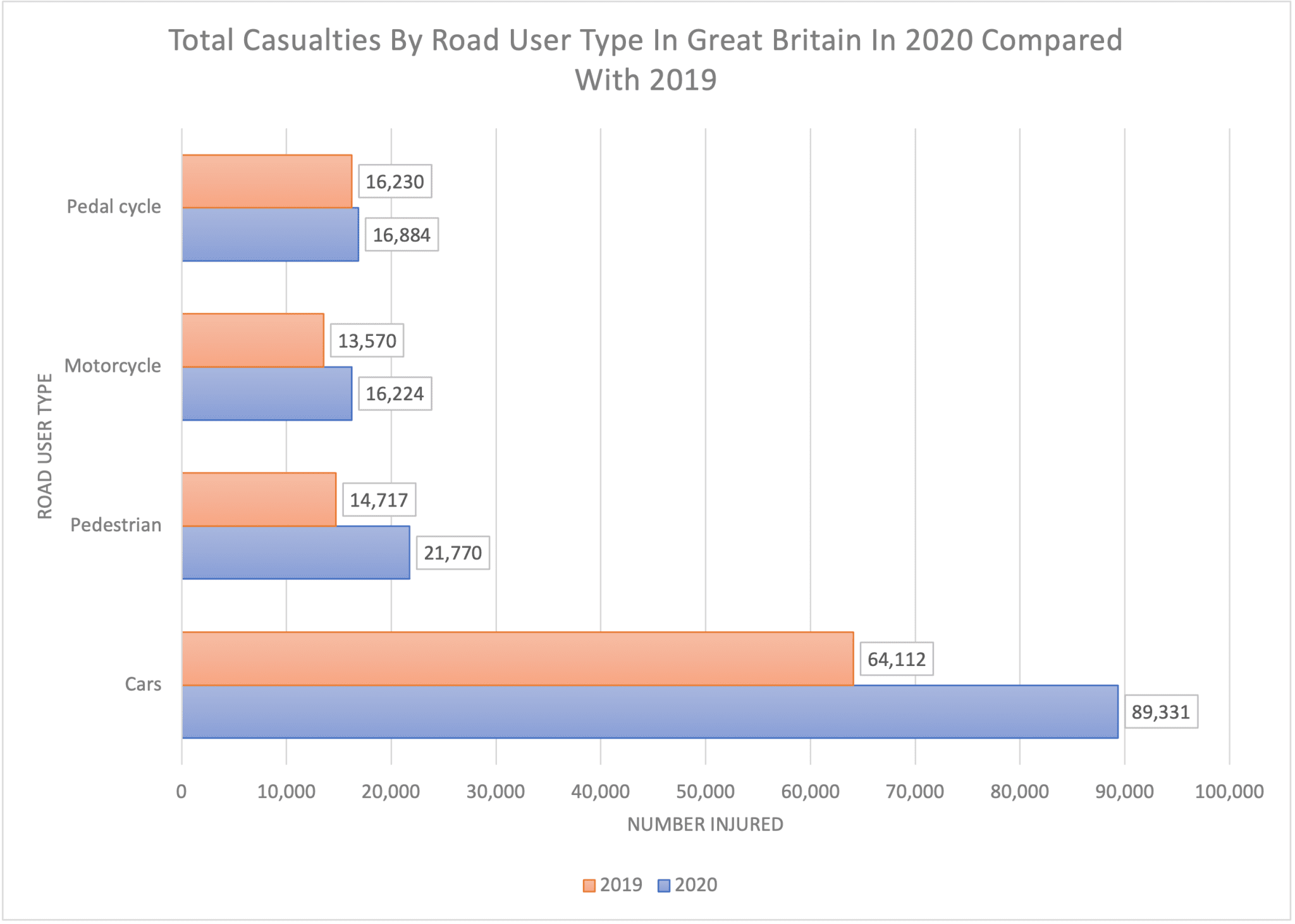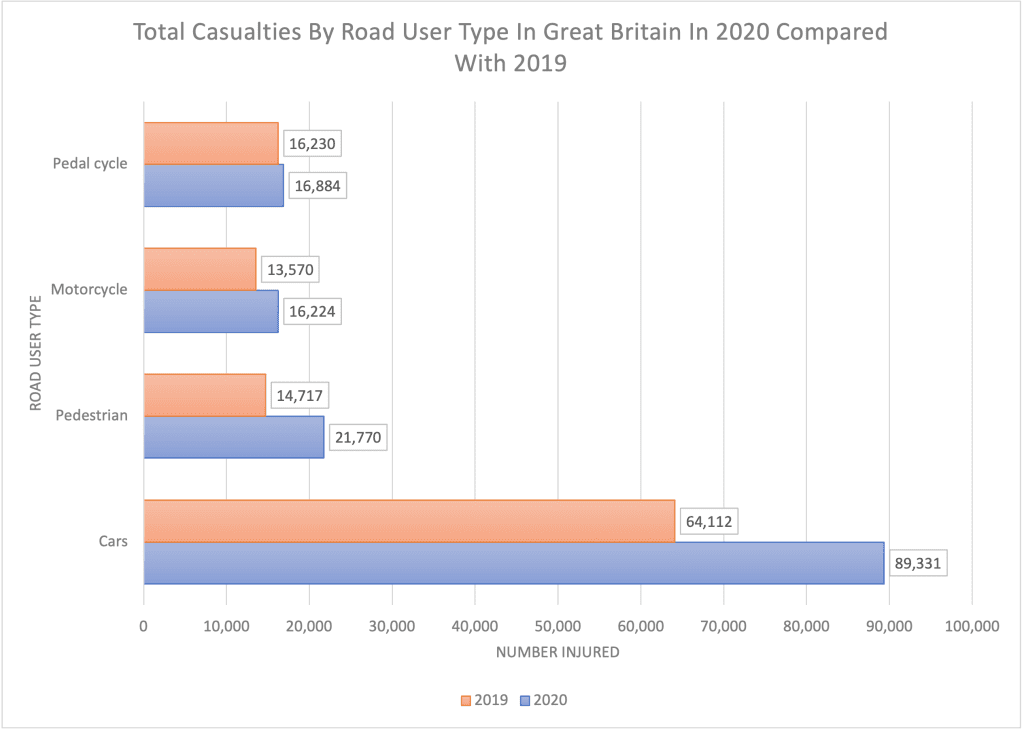 When it comes to serious injuries, car accidents are right up there. This probably does not come as much as a surprise when you consider that the steering wheel of a vehicle pretty much perfectly aligns with an individual's chest, and so it is easy to see how rib damage can occur.
If you want to make broken rib claims for a car accident, you will need to show that someone else is to blame. They could have been speeding or drinking under the influence, for example. Call us for more information on rib injuries and broken rib car accident claims.
How Severe Can A Rib Injury Be?
When it comes to determining the amount of compensation for broken ribs or any other type of rib injury, the severity of the injury you have suffered is taken into account. With some injuries, a quick recovery is possible, though you could still make rib injury claims.
However, there are a lot of cases that involve serious and long-term effects, which can include damage to the heart and lungs. This highlights why it is so important to get the medical attention you require as quickly as possible.
It is also worth noting that if you have suffered any psychological injuries, you will be able to claim for these as well.
My Child Had A Rib Injury At School, Could I Claim Compensation?
There is nothing more heartbreaking than seeing your child in pain, and you may be wondering if you can make a rib injury claim on his or her behalf. The good news is that you can. As the child's guardian or alternatively as their parent, you will have three years to make rib injury compensation claims on their behalf from the date of the accident your child has had.
If you do not do this, your child will then have the ability to do so from the date of their 18thbirthday. Again, there is a three-year time limit for this. Nevertheless, we do advise that you claim for them now, as it is much easier to claim closer to the event.
What evidence would I need for a broken or bruised ribs injury claim?
When it comes to these types of cases, you need to show that the school staff or operator was negligent and that this resulted in the pain and suffering your child experienced. There are a number of different ways that the school operator could be negligent. This relates to any sort of claim whereby the rib injury happened because the school grounds were not maintained or looked after to the level they should be, for example, the playground facilities had not been checked or maintained to a sufficient level.
In terms of making a claim against the school staff, this relates to incidents whereby school employees have not carried out their duties to the level that is expected of them, and this has resulted in your child being injured.
How Much Compensation For Broken Ribs in 2022?
You may be wanting to know what the average compensation is for broken ribs. Unfortunately, we cannot provide this as every claim is unique. There are many factors that can dictate the amount of compensation you could receive, should your claim be successful.
The primary head of claim is general damages. This amount is to compensate you for the injury itself – how badly it has impacted you and the pain and suffering caused. Legal professionals use the Judicial College guidelines (JCG) to assist them in calculating your claim. Please see some figures below. These have been taken from the most recent guidelines available, published in April 2022.
| Injury Type | Severity | Description | Compensation Bracket |
| --- | --- | --- | --- |
| Chest Injuries | (a) | Total removal of one lung and/or heart damage of a serious nature. | £100,670 to £150,110 |
| Chest Injuries | (b) | Lung(s), chest and/or heart damage as a result of a traumatic injury that leads to permanent damage. | £65,740 to £100,670 |
| Chest Injuries | (c) | Damage to lung(s) and chest that causes a continuous disability. | £31,310 to £54,830 |
| Chest Injuries | (d) | An injury that is relatively simple with no long-term impact on lung function but that still causes permanent tissue damage. | £12,590 to £17,960 |
| Chest Injuries | (e) | Examples include smoke inhalation that leaves some residual damage. | £5,320 to £12,590 |
| Chest Injuries | (f) | Injuries that cause collapsed lungs leading to an uncomplicated and full recovery. | £2,190 to £5,320 |
| Chest Injuries | (g) | Soft tissue injuries or rib fractures that cause serious pain only for several weeks. | Up to £3,950 |
| General Psychiatric Damage | Moderately Severe | Significant problems to the injured person's ability to deal with aspects of life including work and education. Other issues will also be present. | £19,070 to £54,830 |
| PTSD | Moderate | The injured person will have mostly recovered with any ongoing issues not being hugely disabling. | £8,180 to £23,150 |
| PTSD | Less Severe | Virtually full recovery will be made within two years. | £3,950 to £8,180 |
These figures are not guarantees as there are many reasons you could receive more or less than the amounts above.
You can also claim for financial losses caused by the injury. This is referred to as special damages compensation. Losses you could claim for include loss of earnings, travel costs, healthcare expenses and home adjustments required due to the injury. You would need evidence highlighting the value of these losses. Potential evidence that could be used includes bank statements, payslips, invoices and receipts.
If you still have questions about receiving compensation for broken ribs, please contact us for free legal advice using the above details.
How To Begin A Rib Accident And Injury Claim
Are you ready to go ahead and start your rib injury claim? If so, you will probably want to know how to go about it. Luckily, we make the process as simple and straightforward as we can.
Once you get to the end of our guide, you will find all of our contact details, including our telephone number and email address. Simply get in touch with us and we will provide you with a free consultation.
This is a bit of a fact-finding session for us so that we can determine what happened and provide you with the best advice. We will then set about determining the different types of evidence you have at your disposal, as well as advising you on some of the steps you should take now if you have not already.
If your rib injury compensation claims are strong, we will proceed under our No Win, No Fee agreement, which you can find out more about in the next section.
Gathering evidence to support rib injury claims or a bruised ribs injury claim
At the time you are injured, your immediate thought won't be about getting evidence to support your claim. However, it is something you will need to think about if you are going to claim damages. That's because you will have to show how the accident happened, who caused it and how you sustained your injured ribs. Therefore, we've written this section to help you understand what sort of information could help you.
Photographs of the accident scene. If you're able to do so, we'd suggest taking as many pictures as possible before the scene is cleared.
Witness details. Where somebody else saw the accident take place, ask for their details. A witness statement might corroborate your version of events if liability is denied.
Medical evidence. Following your accident, you should have your rib injuries assessed at A&E or by a GP. The medical records created at the time will show what injuries you presented with and the treatment you received.
Photographs of your injuries. While rib fractures and other rib injuries won't be visible, photograph any visible symptoms such as bruising. Do this regularly until you've healed fully.
Report what happened. If you were injured in an accident at work or in a public place such as a shop, report your accident. You are allowed a copy of the accident report which could help to confirm when and where the accident took place and how you were injured.
If you'd like the evidence you have available reviewed for free, please get in touch.
Rib Injury Claims: No Win No Fee
One of the main features regarding our service is No Win, No Fee approach. When you make a claim with us, you can have complete peace of mind because it will always be handled on a No Win, No Fee basis.
You may be wondering what this means. Basically, this is a payment structure whereby the personal injury victim does not pay any legal fees if the case fails in court. If you do not get compensation, you don't have to worry about funding a legal service, as the case has not been a success. Therefore, any financial risk you were worried about has been eradicated.
No Win No Fee and Rib Injury or Broken Rib Claims
The No Win, No Fee payment structure also enables people to claim who are worried they do not have the finances to do so. This is because the payment will be taken from the compensation amount, rather than being provided upfront.
We truly believe that this is the best payment structure for our clients, offering the protection they otherwise would not be afforded. Moreover, it gives them the assurance that their solicitor is working hard for them and that they have a strong case for their rib injury claims.
Also, we would like to point out that while other legal firms claim to be No Win, No Fee yet still implement charges, we are 100 per cent No Win, No Fee.
Why Claimants Choose To Work With Us On Rib Injury Claims
While it is true that there are many legal firms in the UK today that can assist you with broken rib claims, we are confident that you will not find a better company for the job than us. Why is this so? Well, there are a number of reasons…
We have extensive experience in the industry. We have been helping thousands of claimants to get the compensation they deserve for many years now, including individuals that have suffered similar injuries to yours. Our track record in personal injury claim cases speaks for itself, and we will always match you with a specialist solicitor that has up to 30 years of experience.
We put our customers first. We know that this may sound like a cliché, but it is true. There are too many companies out there that only take on claims to take their customers' money. They don't care about the pain they are experiencing or how much stress and sadness they have been through. We do, though. We want to get justice for you, and we do this by ensuring we always seek the maximum broken rib claim amounts. Our No Win, No Fee approach shows that we don't mess our customers around and that we only take on cases that have a good chance of being successful.
Working Hard On Your Bruised Ribs Injury Claim
We are sure that, if you speak to any of our previous clients, you will see that we have always tried to secure a payout for their rib injury compensation claims as quickly and smoothly as possible so that they can focus on their recovery.
Start Your Rib Injury Claims Today – Make Your Broken Or Bruised Ribs Injury Claim With Our Help
Are you ready to make a rib injury claim and get the compensation you deserve? Perhaps you have a few more questions and you would like to speak to an experienced advisor for assistance? No matter what applies, we are here to help, and the best thing is that we provide this legal advice free of charge. Ask as many questions as you like! There is no obligation to use our service, although we are sure you will want to proceed if we tell you that your case is a strong one.
Get in Touch About Broken Rib Claims and Rib Injury Claims
So, what are you waiting for? Give us a call today on 0800 073 8801 to get started. You can call at any time that is convenient for you, as our lines are open 24 hours a day, seven days a week. Whether you want to know your broken rib value or you want details on making a bruised ribs injury claim, we can help.
You can also request a call back if you would prefer. Simply use the box on our homepage, fill in your details, and we will get back to you as quickly as we can.
We also have a live chat feature on our website, which enables you to connect with an advisor instantly, or you can send an email to office@accidentclaims.co.uk and we will aim to respond to you within three hours if you have contacted us on a weekday,
Useful Links Relating To Rib Injury Claims
This link takes you to the NHS page for broken or bruised ribs. You will find information regarding the most common symptoms, when to get medical help, as well as some of the things that you should and should not do to ease the pain.
This link takes you to the UK Government's Health and Safety Executive website. You will find details regarding the reporting of accidents and incidents at work. If you have been injured in the workplace, reporting what has happened is a legal requirement. Find out more about this here.
Internal Guides Related To A Bruised Ribs Injury Claim
Accident at Work Claims Information 
If you have suffered from an accident at work click this link to find out more about claiming.
How to Claim Compensation for a Slip, Trip or Fall on Snow and Ice
Did you injure your ribs after slipping in winter weather? See if your guide can help you decide what to do. 
Concussion Accident Injury Claims
Are you thinking about making a personal injury claim for concussion? Our guide could help. 
Cycling Accident Claims and Advice
If you're a cyclist who's been in an accident that wasn't your fault, read our guide. 
Bruised ribs injury claim FAQ – Rib Injury Claims and Broken Rib Claims FAQs
How much is a fractured rib worth?
A fractured rib is worth different amounts for different cases. The compensation you receive is dependent on whether the fracture involves complication, whether you've suffered psychologically and how much you've lost out on financially.
Is it worth going to the hospital for a broken rib?
If you think your rib is broken, NHS advice is that you might not need full medical intervention. However, call 111 if you're concerned and visit a doctor if your injuries are the result of a serious accident. 
How much can I get for a bruised ribs injury claim from a car accident?
How much you could claim for bruised ribs after a car accident is dependent on how much pain and suffering they caused you. Talk to our advisors for a solid estimation.
Do doctors do anything for broken ribs?
Surgery is usually the treatment that doctors recommended for any victims of this injury.
How long does it take for a broken rib to stop hurting?
This could take up to 6 weeks depending on the severity of the broken rib.
How do you know if your ribs are broken or cracked?
There could be significant pain, swelling around the rib cage and also possible skin bruising.
What helps broken ribs heal faster?
It's advisable to use ice and pain medication for chest injuries, as well as repeatedly taking deep breaths.
What happens if you leave a broken rib untreated?
This could cause severe health complications in the short-term, as well as potentially serious long-term breathing problems.
Can I claim for broken ribs?
If you have suffered a broken rib injury or any other type of rib injury, there are certain criteria you must fulfil to be able to make rib injury claims. Firstly, you would need to evidence that you had suffered a rib injury. You could do this by going to see an independent medical specialist who could complete a medical report for you.
You'd need to see somebody independent of your case, to gather this evidence. You would also need to be able to prove that it was someone else's fault that your ribs were injured and that person would have to have breached a duty of care they had toward you. Finally, you would need to be claiming within the relevant time limit for your case.
Do I need to use a local solicitor when making a bruised ribs injury claim?
You might be somewhat surprised to learn that it does not matter where in the UK your solicitor is based when you make rib injury claims. Whether they are based at the other end of the country, or within your local area, they could handle your claim.
We would advise you, when choosing a solicitor, to think about opting for one that works on a no win no fee basis. We would also advise you to investigate whether they are authorised and regulated by the Solicitors Regulation Authority. Another way you could investigate them would be to look at it reviews that other people have left regarding their services.
Could I make a bruised ribs injury claim?
You could make a bruised ribs injury claim if you could prove someone negligently breached their duty of care towards you and caused your injury.
This could be an employer that failed to protect your health and safety at work or a road user who negligently drove into you, for example. We would be happy to assess your eligibility to claim. Please call our team for a free assessment.
Could I claim for a broken rib from NHS treatment?
You could claim for a broken rib from NHS treatment if it was negligent. If, for example, the NHS misdiagnosed a broken rib as something else, despite clear indications on an X-ray, and your injury worsened as a result, you could claim for the undue harm you suffered.
If you believe you could have a claim for medical negligence, we could assist you. Our team could assess your case and provide you with a solicitor if you have a valid claim.
What are the long-term effects of broken ribs?
The long-term effects of broken ribs, if left untreated, could include deformities of the chest wall. You could also have problems with your lung function and suffer chronic pain.
You may need surgery to correct such issues if they develop, which could lead to you needing a longer recovery time than you would have if this had not happened. If you have suffered long-term effects of broken ribs due to negligence, we could assess your case to see if you could be eligible for compensation.
What happens if you leave a broken rib untreated?
The impact of leaving a broken rib untreated could vary depending on the severity of your initial injury. It could cause both short and long-term effects on your health.
To find out more, you should speak with a medically trained professional.
How much compensation for broken ribs could I receive?
This would depend on how serious the personal injury and fractured ribs were. It would also depend on the financial or psychological impacts of the injuries you've suffered. A settlement for broken ribs from a car accident, for example, could include damages for the physical injuries and psychological injuries and the impact on your quality of life. Such a settlement could also include special damages for the financial expenses caused by your accident and injuries such as medical expenses, travel costs and loss of income.
Would every personal injury with fractured ribs lead to a claim?
Not every fractured rib injury would lead to a personal injury claim. You would need to prove that somebody that has a duty of care towards you, breached that duty of care and caused you to sustain harm. If you would like us to check whether you could be eligible to make a personal injury claim for a fractured rib injury, please call our team. We would be happy to assess your case.
Thank you for reading our guide to rib injury claims and broken rib claims. We hope you have learned a lot about rib injury compensation claims and who could make a bruised ribs injury claim.