By Max Murdoch. Last Updated 28th June 2022. Welcome to our guide to supermarket accident claims. We intend to disclose how you could make supermarket accident compensation claims (also known as supermarket injury claims) if you're entitled to.
Supermarkets are usually large, busy places and the potential for accidents to occur can therefore be prevalent and so safety measures should be in place to reflect this. Unfortunately though, even with the best procedures being put into action, accidents can still occur. If you have sustained a supermarket injury due to an accident that wasn't your fault, then you may want to claim supermarket accident compensation.
If you are an employee or a visitor to the supermarket, you have an equal right to make supermarket compensation claims, although an employee may look into making an accident at work claim rather than a personal injury claim.
To have the best chance of making a successful claim for an injury in a supermarket, it is advisable to seek legal help and representation. Accident Claims UK specialises in compensation claims, and work on a No Win No Fee basis. Our sole objective is to get you the maximum amount of compensation that you deserve for the pain and suffering that you have endured as a result of your injury.
Select a Section
A Guide to supermarket accidents and injuries
In order for your claim to be successful, the supermarket's liability for your injury needs to be proven. We help our clients to gather the correct information required to do just that. We can use our expertise, legal knowledge, and many years of experience, to delve a little deeper in order to obtain that crucial piece of information that can fully support your supermarket accident claims.
This guide has been created to give you an understanding of how the claiming process works and what is involved. Hopefully, it will answer some of your questions, but for a more in-depth view of your personal injury claim, call us at Accident Claims UK for further free help and advice about making supermarket accident compensation claims.
Common types of accidents and injuries in a supermarket
There are many possible accidents that could occur in a supermarket but some appear to be more common than others. Both staff and customers or visitors to the supermarket are at risk of having an accident, although only staff and visiting maintenance contractors will be subjected to possible accidents that may occur in the stock areas of the supermarket.
The most common accidents to occur which result in supermarket injury claims are:
Slip, trip and fall accidents – These are often due to floors being left wet after cleaning, or spillages insufficiently cleared up. Warning signs should be put in place whilst the floor is still wet. Obstructions in walkways and in the stock room are the main cause for someone to trip and fall.
Falling stock – These can occur on the shop floor but are more common in the stock room.f Shelves should be stacked with care to decrease the likelihood of items falling.
Collapsed shelving – Shelves should be checked and maintained regularly.
Cuts and grazes from poorly maintained shelving.
Lifting and handling accidents – Staff are probably more at risk of a back injury at work if they have not received proper lifting and handling training.
Food Poisoning – Many supermarkets have an in-store café and should have their own separate set of health and safety policies and procedures that are appropriate for cooking and serving food and drink.
Stair, escalator and lift accidents.
You could even make claims for road traffic accidents outside a supermarket, although these would not usually be against the supermarket, but rather another driver.
Unfortunately, with an accident, often comes an injury. Some injuries are more common than others and include injuries such as:
Mild to severe bruising.
Cuts, lacerations and grazes.
Fractured or broken bones.
Back, neck and spinal cord injuries.
Muscle injuries.
Food poisoning.
Burns or scalds (predominantly in the café kitchen).
Concussion.
Many of these accidents and injuries could have been prevented if the supermarket had sufficient health and safety policies in place that were being followed correctly, and adequate training was given to staff.
Looking at the graph from a number of years ago below, it is plain to see that among the most common accidents leading to injuries in a supermarket are slips and falls. In 2020, HSE statistics show that the amount of non-fatal workplace accidents caused by slips, trips and falls on the same level remains at 29%. In a supermarket, the shop floor is both a work environment and a place for members of the public. Consequently, these statistics could be relevant to you as a supermarket shopper, even if you're not an employee. 

In terms of the causes of fatal accidents in 2020/21, you can see the causes below.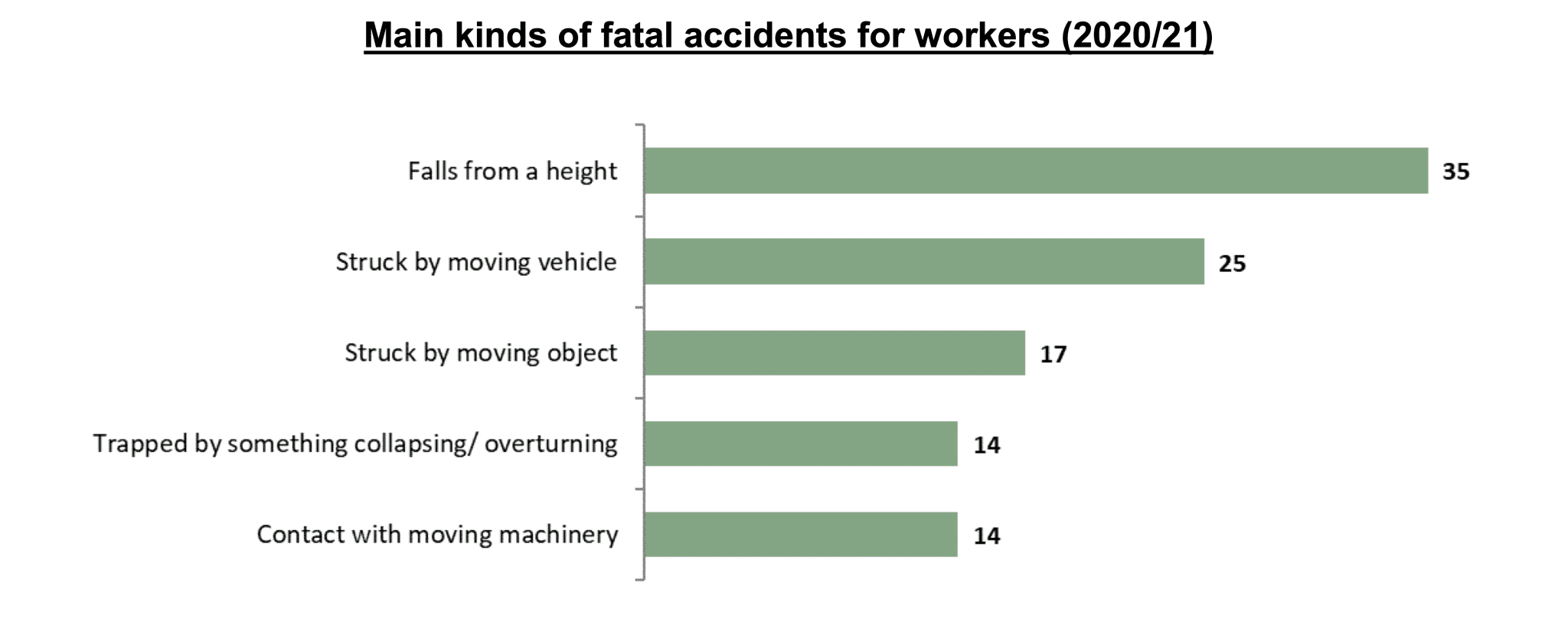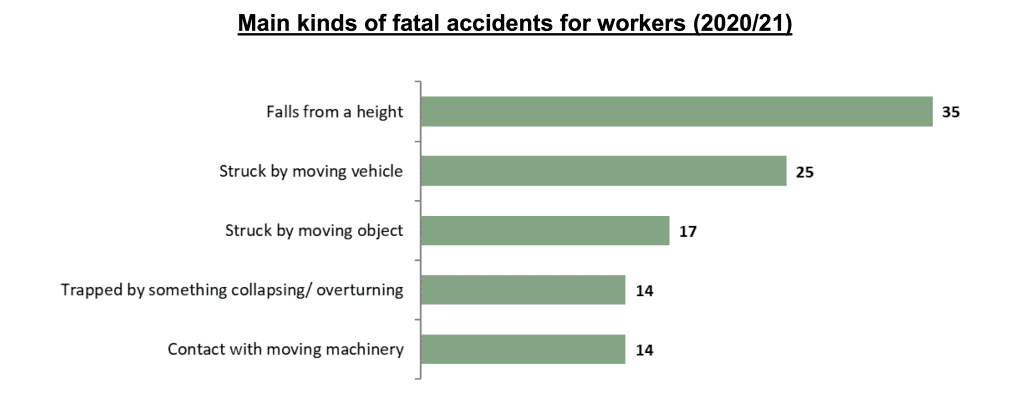 If you have been injured in a supermarket and want to find out more about supermarket accident compensation claims, please read on further through the guide for more information.
Supermarket liabilities and responsibilities
Under the legislation of the Occupiers' Liability Act 1957, supermarkets, like any other type of shop, have a duty of care and legal responsibility to ensure that their premises are a safe environment for anyone who wishes to visit or use their premises for the correct permitted purpose.
Supermarkets also have a duty of care to their staff as written in the Health and Safety at Work etc. Act 1974, to provide a safe working environment and prevent them from coming to any harm. Supermarket employers need to ensure that all of their staff are adequately trained in the health and safety aspects of their job and environment such as lifting and handling techniques, procedures to deal with spillages, and so on.
Failure to comply with Health and Safety legislation could leave the supermarket open to being sued for compensation if someone was to suffer an injury due to negligence and breach of their duty of care.
In order to put health and safety procedures into place, supermarkets should firstly carry out risk assessments to identify any potential problems that could result in someone sustaining an injury, and therefore be able to rectify any hazards before an accident can occur.
The more commonly occurring accidents that are preventable are:
Floors being left wet – wet floors often are due to cleaning, poorly cleared up spillages, weather conditions and leaks.
Falling stock – Training should be given to ensure the correct stacking of shelves.
Walkway obstructions – Walkways should be kept clear to prevent trip hazards.
Common staff accidents that could be prevented also include:
Muscle damage – Correct lifting and handling techniques training should be provided.
Poorly maintained equipment or machinery – These may be roll cages or lifting hoists or trucks. Regular checks and maintenance are paramount here.
Poorly stacked stock causing them to fall – This could be in the stock room or the delivery vehicle.
Supermarkets are very busy places and it is so important that they are proactive in carrying out their health and safety procedures to prevent harm from coming to their staff or members of the public.
If they fail to stop a member of their staff or the public from being injured due to an accident that was preventable, then they can be found to be liable as the defendant for any supermarket accident claims. However, their negligence that has resulted in the accident causing injury needs to be proven by showing that they were to blame. Without proof of their negligence, a compensation claim made against them may be unsuccessful. Also, as a defence, the supermarket may accuse the claimant of contributory negligence. But we can advise on how to navigate the challenges of making supermarket accident compensation claims.
For more information on determining liability after an accident in a supermarket, get in touch with our advisors at any time.
Why should I make a compensation claim against a supermarket?
Supermarkets have a legal obligation and duty of care to make sure that their premises are a safe environment for not just their staff, but for any member of the public that may be visiting their store for the permitted purposes. They have to be compliant with UK law and health and safety regulations and legislation. Failure to comply constitutes negligence which could then directly lead to someone being hurt.
If you have been injured whilst in a supermarket, you shouldn't have to suffer in silence but instead, speak out and make supermarket injury claims for compensation and get justice for the pain and suffering you have endured.
What can I claim for if I have had an injury or accident in a supermarket?
When making supermarket accident claims, you need to look at, not just your injury, but, what effect it has had on your life and the financial impact it has had. Although every claim is different and is unique, in most cases they will be similar in relation to the things you can and should include in your claim. Generally, these are:
General Damages – These refer to the injury, the pain and suffering you have endured and any psychological damage you may have suffered as a result of your accident in a supermarket. They also will cover any physical or psychological damage that may be long lasting.
Special Damages – These cover the financial impact the supermarket injury may have caused such as loss of earnings or future potential earnings. If your injury is severe and you have had to give up work, this will also be taken into account under special damages.
Medical Expenses – Any medical costs that you have incurred as a direct result of your injury in a supermarket, should be included here. So costs such as prescription fees or counselling fees for example will be included.
Travel Expenses – Any extra costs for travel that are due to your accident, such as travelling to hospital appointments etc, should be included in your claim.
By using an experienced personal injury claims firm such as ours, you can be sure that anything that could be included in your supermarket accident compensation claim will be, as we intend to get you the maximum compensation award amount that we possibly can.
What steps should you take if you need to make a claim against a supermarket?
There are various steps you should try to take in order to gather evidence that will support your supermarket accident compensation claims and therefore will increase your chances of being successful. These simple steps are:
Report the accident – Make sure to report the accident and your injury to the supermarket so that it is recorded in their accident book which they are legally required to do, and ask for a copy. Reporting an accident in a shop is proof that the accident and supermarket injury did occur in their supermarket.
Witnesses – If anyone witnessed your accident, try to get their contact details so that a witness statement can be obtained. Witness statements are great for strengthening your case.
Photos – Take photos of the area where the accident occurred and of the reason behind the accident is possible. Also, take photos of your supermarket injury as visual proof of the pain and suffering you have experienced. This will especially help for any supermarket accident claims.
Medical Report – For your own wellbeing, have your injuries looked at by a medical professional to get a diagnosis and receive appropriate treatment. Your supermarket injury will be recorded in your medical record which again will serve as evidence of the supermarket injury you have sustained.
Write it down – Before you have a chance to forget anything, write down exactly what happened leading up to the accident, when the accident actually occurred and the aftermath.
We offer free reviews of supermarket accident compensation claims so why not let us review your evidence today?
How to make a compensation claim against a supermarket
If you have slipped in a supermarket, tripped and fallen, had stock fall onto you or had any other type of accident that has caused you to be injured whilst in a supermarket, then you may want to start a supermarket injury claim. However, if you have never had any experience in claiming against a supermarket, then you may want to seek legal advice and help with making your claim.
When you call us at Accident Claims UK, we will offer you a free, no-obligation consultation session where you are able to ask as many questions as you need to in relation to your case. We will also ask you some questions and for any information you have gathered so that we can assess whether you have a legitimate case for claiming compensation. Once we are satisfied that you are indeed eligible to make a claim, and with your permission, we can then begin to work on your claim on your behalf to build a strong case.
If necessary, we may offer you a free local medical to document your injuries if you haven't already done so. And this could enhance the chances of you winning your supermarket injury claims.
Our specialist personal injury claims solicitors work on a No Win No Fee agreement which is explained further later in the guide.
Supermarket accident or injury compensation claims calculator
You may ask 'How much compensation for a fall in a supermarket?' or 'How much compensation for slipping on a wet floor?' These are answers we cannot give at this stage. Every accident and the effects of the accident are different and have many variables that can affect the overall total compensation amount awarded. At most, only a rough estimate might be given as a guide but the actual amount given in the end could be very different to that amount that was estimated.
Examples of compensation payouts in supermarket accident claims
To try to give you some idea of what may be possible, we have included a table that shows the average amounts that have been awarded for various injuries in the past. These amounts are taken from the 16th edition of the Judicial College Guidelines, published in 2022.
| Injury | Severity | Amount | Notes |
| --- | --- | --- | --- |
| Neck | Severe (i) | Around £148,330 | This bracket might include injuries to the neck that are associated with incomplete paraplegia. |
| Leg | Moderate | £27,760 to £39,200 | Generally to a single limb, injuries could include complicated fractures or severe crush injuries. |
| Achilles Tendon | Most Serious | In the region of £38,430 | Cases where th peroneus longus muscle and tendon are severed, causing restricted movement, swelling and cramp. |
| Hand | (F) | Up to £36,740 | Severe finger fractures that may lead to partial amputation and cause other issues. |
| Back | Moderate (ii) | £12,510 to £27,760 | Such injuries in this bracket are frequently encountered, such as soft tissue injuries, ligament and muscle disturbance, or prolapsed discs. |
| Knee | Moderate (i) | £14,840 to £26,190 | This bracket includes injuries that involve dislocation and those that accelerate symptoms from a pre-existing condition. |
| Shoulder | Serious | £12,770 to £19,200 | This bracket might include a dislocated shoulder with brachial plexus damage. |
| Arm | (D) | £6,610 to £19,200 | A forearm fracture that is simple. |
| Toe | Serious | £9,600 to £13,740 | Serious injuries to the great toe or multiple crush fractures affecting two or more toes. |
| Brain Damage | Minor | £2,210 to £12,770 | Brain damage, if present, will be minimal. |
Again, we must stress that these are just average amounts and your individual case may result in a much greater or lesser amount. Contact us at Accident Claims UK for more help and guidance on making supermarket accident compensation claims.
No Win No Fee claims for an accident or injury in a supermarket
By adopting a No Win No Fee policy, or Conditional Fee Agreement as it is also known, we are able to offer those who are less financially able, the chance to make supermarket accident compensation claims for the pain and suffering they have or are still experiencing due to an accident that wasn't their fault.
No Win No Fee means, as it suggests, that if we are unsuccessful and do not win your case for you, then you are not required to pay us a penny, no win, means no legal fees for you to pay. If the supermarket accident claims are successful though, we will require some payment of our legal fees but this we take as a small percentage of your awarded amount and so you do not need to make any upfront payments or any payments during the claiming process.
With No Win No Fee, there is no financial loss or gamble whatsoever, but only the chance to gain.
Why make your Supermarket Accident Claims with Accident Claims UK?
Accident Claims UK has been dealing with compensation claims for a number of years and has built up a fantastic track record of successful personal injury claims. They have a lot of experience and expertise in the field.
Our personal injury solicitors will work tirelessly to build you a successful case and make sure that they have as much information and evidence as they can that will support your claim. With their legal knowledge and experience, they know exactly what needs to be included in your claim to ensure you have a good chance of being awarded the maximum amount possible.
Our team works as quickly and as efficiently as possible, keeping you informed every step of the way. We understand that you are going through a tough time and want to get you the compensation you deserve as quickly as we can via your supermarket injury claims. We are honest, straightforward, reliable and hardworking and we won't let you down with your supermarket accident compensation claims.
How your solicitor will help you claim for a supermarket injury
As we have demonstrated throughout this guide, a lot of work is needed when making supermarket accident compensation claims. If you don't file a claim with enough information and evidence, the supermarket's insurers could refuse to payout. Even if they admit liability for your accident, they might argue over the extent of your injuries. This could have a detrimental effect on the amount of compensation you'll be paid.
Don't worry though, if you let us represent you in your compensation claim for a supermarket injury, we'll appoint a specialist personal injury solicitor if your case is taken on. They'll take on all of the hard work for you so that you can sit back and wait for us to update you.
Your solicitor will begin by reviewing your supermarket injury claim to try and fully understand how you have suffered. They'll then gather the evidence to support the claim and arrange for you to have a medical assessment.  Once everything is in place, they will file your claim with the supermarket after you have reviewed it.
So that you don't need to discuss the case with the supermarket directly, your solicitor will field all questions and objections raised by their insurer.  Importantly, the solicitor will try to ensure that the highest amount of compensation possible is paid to cover your injuries. If you'd like to discuss how we can help with supermarket accident compensation claims, please call our team today.
Talk to us today About Supermarket Accident Claims
If you would like Accident Claims UK to represent you when making a supermarket accident compensation claim, or would simply just like some help and advice, call us on Freephone 0800 073 8801. A member of our team will gladly help you as best as they can.
Useful Links Relating To Supermarket Accident Claims
This leads to the HSE (Health and Safety Executive) site regarding Health and Safety in the retail sector.
This is for the HSE site and gives information on what to do if you have a slip, trip or fall as an employee or member of the public.
Permanent Scar Injury Claims Guide
Were you left with physical scars after your accident? Find out how you could make supermarket accident claims.
How to Claim Compensation for an Accident in a Shop
If you were injured in a shop rather than a supermarket, you could still claim. Read our guide to see how. 
How to Claim Compensation for an Accident in a Public Place
Our guide to accidents in a public place may make for informative further reading for you.
Supermarket Injury Claims FAQs
What to do if you fall in a supermarket?
If you fall in a supermarket, you should tell an employee. Be sure that your accident is logged in the logbook and that you agree with anything they note. You could also consider making a personal injury claim if the accident wasn't your fault.
How do I get money from an accident claim?
Compensation is given for physical and mental suffering you've endured as well as financial losses. The money is given after a successful case, which means you must provide, at the very least, medical evidence.
Is a store liable for a supermarket injury?
A retailer is liable for supermarket injury in the UK if the injuries the customer received could have been prevented by the store. 
What to do if you get injured at a store?
You should receive health and safety treatment first, then collect all available evidence, consult a doctor and then contact a solicitor.
How much should I ask for a Personal Injury Settlement?
It's recommended to ask for around 75% of what you hope to receive when making your initial request.
Should I accept the first offer of compensation?
No, because the first offer is always lower than what the defendant is willing to settle for.
How can I prove my pain and suffering?
This requires accurate medical records, strong witness testimonies and pictures of the injuries (perhaps X-rays).
How long does it take to receive an offer of compensation?
The victim generally receives their compensation payment within 28 days following the agreement of a settlement. For a case which goes to a trial, this is the general time limit for the defendant to pay compensation.
Could I make supermarket accident claims on behalf of my child?
Many people take their children to supermarkets when they go shopping, and while it is their responsibility to ensure that their children do not act dangerously within a supermarket, sometimes children can become injured due to the supermarket owner or operators' negligence. If your child suffers an injury due to a broken shelf, a slip hazard that was not cleared up or signposted, or any other breach of duty of care, you could potentially make a claim for compensation on their behalf. By doing so you would need to apply to be their litigation friend. When you do this you will be able to make some decisions on your child's compensation case and settlement. If you would like our help with making a supermarket accident claim on behalf of a child, we'd be delighted to help you. You could have up until your child's 18th birthday to make a claim for them. Alternatively, they could claim for themselves once they turn 18.
Is it vital to use a local solicitor to make supermarket accident claims?
You don't have to use a local solicitor to make supermarket accident claims. In fact, you could choose any solicitor based across the UK that is authorised and regulated by the Solicitors Regulation Authority and is registered to practise law in England and Wales. We could help connect you with an appropriate solicitor working on a no win no fee basis to help you claim the maximum compensation possible for your supermarket injury.
What are My Rights After An Accident In A Supermarket Car Park – Can I Claim?
When discussing an accident in a supermarket, you can only claim for injuries that occur in the building itself. However, this isn't necessarily the case. You could also claim for any injuries that occur in the car park if you could prove that they were caused by another's negligence.
A supermarket accident in a car park could involve various types of negligence. For example, if you're involved in a head-on collision with another vehicle, if the accident was caused by the other driver's negligence, you could claim through their insurer.
However, if, for instance, you suffered an injury because of a malfunction with the car park barriers, you would have the right to claim against the specific company that owns the car park. This could be the supermarket.
If you're claiming for an accident in a supermarket, it's important that you have sufficient evidence to prove that your injury was caused by negligence. To learn how to claim or if you want to know what evidence you need, please contact our team for free legal advice.
Thank you for reading our guide to supermarket accident claims. We hope you're now able to understand supermarket accident compensation claims, also known as supermarket injury claims.