By Joanne Jeffries. Last Updated 14th April 2022. Welcome to our guide on pavement accident compensation claims. In this guide, we explain how those who have an accident on a pavement could make pavement accident claims if they could prove someone else was at fault for them having tripped on uneven pavement. We discuss falling on uneven pavements, and answer questions such as 'Can I claim for falling in the street?'  'How do I make a claim for pavement tripping?' and talk about the types of uneven pavement injury someone could experience.
I tripped on uneven pavement – could I claim?
Pavements are a common sight from villages to towns and cities. A pedestrian walkway should be safe for us to use. This means whoever is responsible for the pavement needs to keep it in good condition. But this, along with other issues, doesn't always happen, which can lead to a trip on a pavement. If this has happened to you, the assumption you have made may be that there is no one to blame for the accident.
This may not be the case. Most pavements are for public use and maintained by local government, a town council or your local authority. They may do this themselves, using their employees, or contract this work to a private maintenance company.
As the body responsible for maintaining pavements, they have a duty of care to the public that they will be in a fit state to use, free from defects and hazards.
How to Claim Pavement Accident Compensation – The ultimate guide
Ask yourself this question – what caused you to trip and fall on the pavement? Were there piles of rubbish that had not been cleared away obscuring your view? Was the pavement uneven, and clearly in need of remedial work and upgrade? If so, you could look at suing the council for uneven pavement if they have failed to carry out an uneven pavement repair or corrected uneven paving slabs. Were there other obstructions and hazards that caused you to trip?
Depending on the circumstances of your pavement accident, you may be able to claim compensation for the injuries that you suffered from whichever body – the local council, for example – who is responsible for their maintenance.
Falling On Uneven Pavements – Is It Someone Else's Fault?
It is easy to think that there is 'no one to blame' or 'it is just one of those things'. Read on to find out more about claiming for tripping on a pavement and learn what the process of suing compensation entails. And with Accident Claim's no win, no fee service, you can be confident that you will not take a financial gamble.
Select a section
Your No-Fuss Comprehensive Guide to Personal Injury Compensation Claims for Pavement Accidents
Like most things in life, the more research and information you gather beforehand, the more likely you are to be successful in your end goal – and the same is true when it comes to claiming compensation after tripping on a pavement.
This guide has been written with this in mind. It ensures that you know everything about the process, including how to start a claim, who the claim will be against and the evidence or information you will be asked to provide.
Pavement accident compensation claims – what's the process?
The process starts the same, whether for personal injury after a car accident or for someone who has been hurt after tripping on pavement, with our free consultation.
This process is a chance to assess your potential claim, look at what happened, how you were hurt and the circumstances that led to your trip. But it is also a chance for you to talk to us, ask us questions about your claim, and discuss any issues or concerns you may have.
Free Advice On Falling On Uneven Pavements Claims
This free consultation can be done over the phone. We take our time, so you get a chance to discuss everything you need to. We'll ask you questions about what happened, how you were hurt so that we start to build a clear picture of what happened. We must get all the facts because it is this information that we pass on to a personal injury solicitor if you decide to go ahead with your claim.
You may also be required to undergo an independent medical assessment as part of your claim, not something that should worry you at all. This appointment is often arranged locally, to minimise travel and disruption to your rehabilitation.
You'll find with Accident Claims that we always put our client first. Our service will revolve around you and your claim. By the end of the consultation process, we'll let you know what options are open to you, including whether you have a claim for personal injury compensation.
Pavement Accident Compensation Claims – What Are They?
When a pavement or another surface is badly maintained, people may trip. Someone can make a pavement accident compensation claim after they have slipped, tripped or fallen on a pavement, car park or another kind of walkway.
Tripping and falling can result in injury, and it is these claims that we deal with regularly. Some accidents can result in minor injuries, although still painful and unpleasant. But for other people, a trip on an uneven pavement has led to serious injuries such as broken bones, concussion and back injuries.
There are cases of people suffering long-term injuries too, such as paralysis, although these cases are thankfully rare.
Causes of an accident on the pavement
The causes of trips on pavements are many and varied. These are just a few hazards that we have come across that have contributed to pavement accident claims;
Weather – inclement weather, from lashing rain to ice and snow, impact on the pavement materials. This leads to potholes and uneven ground that can contribute to someone falling. This may lead to compensation for falling down a pothole. Likewise, we also work with people to make pavement accident claims

after slippery on icy pavements too, a situation that has led to many people suffering injuries such as broken bones.

Poorly lit areas – it is also possible that poor lighting led to your trip. In some areas, lighting is essential, especially if you felt you had no other course of action but to take that route. Stumbling about in the darkness on an uneven pavement that led to a trip and injuries could be the basis of a pavement accident compensation claim. Councils and businesses responsible for maintenance on their own land must ensure that it is safe to use, including providing there is adequate light for when it is dark.
Poor maintenance – a local authority, council or private business has a duty of care to ensure that pavements and car parks etc., are well maintained and safe for the public. There are cases that due to budgetary constraints, maintenance work was not carried out. However, if there was no action taken to alert you of the hazards and risk, and you fell, hurting yourself, you could have a compensation claim. A dwindling maintenance budget is no defence!
Insecure pavement slabs, damage from rain or ice and so on, are all issues that local council maintenance teams and private landowners are expected to deal with promptly. Understandably, getting around to fixing the problem can take time, but they are expected to take action in the meantime. This could be in the shape of roping the area off or placing warning signs that are prominent or even shutting a part of the pavement until repairs are made.
If you'd like to talk about pavement accident claims with a specialist, please call our team today.
Slip, Trip and Fall Statistics
As outlined by the Health and Safety Executive (HSE), most slips occur when floors become wet, contaminated, or poorly looked after. As a result, accidents of this nature can have a devastating impact, resulting in various degrees of physical and psychological trauma.
The HSE also state that slips and trips are most common at work and account for over a third of all major injuries. We work with people who have tripped on pavements and who have been hurt. As a company specialising in personal injury compensation claims, we make sure that our panel of No Win No Fee solicitors have the expertise and experience to deal with these kinds of cases.
It isn't always easy to prove negligence, but that doesn't mean you 'shouldn't bother trying to make a claim'. If you want to know how to sue the council for negligence, contact our team and talk through your pavement accident – don't forget, this is a completely free process, for which you won't be billed.
What Makes Up a Pavement Accident Claim?
What you can claim for as part of your trip on a pavement accident claim depends on the circumstances surrounding your accident. Every tripping on pavement case is different, but six broad categories are taken into account when deciding on the final compensation amount:
General damages – this covers the pain, hardship, mental anguish and other general damages. In effect, this covers everything that makes up your physical injury, including any loss due to property damage.
Care costs – if you were hurt and needed help or assistance around the home because of your injuries from falling on uneven pavements, this is covered by this section of the compensation settlement. For example, you may have paid for personal care, or a family member had to take time off work to look after you for a few days.
Medical expenses – the NHS is free at the point of contact, but you may have had other therapies and treatment that you had to pay for. This would include prescription charges in England too.
Travel expenses – these costs may have been incurred as you travelled to and from hospital appointments and so on. It covers travel expenses that relate directly to your injuries and your pavement accident.
Loss of earnings – if you are unable to work after your accident, you can claim income loss.
Loss of future earnings – if it can be proven that there will be long-term financial effects relating to your injuries from falling on uneven pavements, it is possible to claim future earnings loss.
To learn more about what can be included in pavement accident claims, please call our team today.
What Reasons Underlie a Compensation Claim for a Successful Pavement Tripping Accident?
The local town council, local authority, or a private business are just a few examples of the organisations responsible for the maintenance of pavements, car parks, bridleways, footpaths and so on.
To make a successful compensation claim for injuries after falling on uneven pavements, it needs to be proven that whoever was responsible for maintaining the pavement etc., that they had failed in doing so. In other words, they were negligent, and their duty of care to footpath users had been breached.
Examples of incidents where
 falling on uneven pavements could lead to claims
A few examples of when successful claims had been made include;
Damaged, insecure, poorly or incorrectly laid paving stones, kerb edges, manhole covers and other street furniture.
Falling on uneven pavements due to subsidence.
Potholes
Cables or pipes protruding from the pathway that was not clearly marked as a hazard.
Obstacles blocking the pavement, leading to a trip or fall.
A failure by the council, maintenance teams or business in providing hazard warning signs or failing to provide barriers around damaged or unsafe areas of pavements.
Private companies and retailers – e.g. supermarkets, shopping centres and so on – also have a legal duty to maintain all pavements, pathways, and car parks used by the public to be hazard-free and safe to use. But this isn't always the case as previous cases have shown;
Spillages in the car park may result in a shopper slipping.
Recently cleaned, slippery floors can also lead to slips and trips, more so when there are no clear hazard signs alerting people to the danger.
Defects in floor coverings, including pavement materials, have led to trips and slips.
Essentially, many of these cases for pavement accident claims could have been avoided if there were adequate hazard signs alerting people to the dangers and risks posed.
Start Your Personal Injury Compensation Claim for a Tripping on Pavement Accident
You are recovering from an accident and nursing some unpleasant injuries. The last thing on your mind may be to start legal proceedings for pavement accident claims. But even if you are expected to fully recover from your accident in a matter of days or weeks, there is still the mental distresses and the disruption to your life.
Talking to a solicitor about your accident will bring back unpleasant memories of what happened. Still, with our many years of experience helping people claim compensation, we understand the need to make this process as stress-free as possible.
To be in with a chance of making a successful compensation claim for a pavement accident, you need high-quality legal advice from the right people. You also need to gather together some necessary information in order to receive pavement accident compensation.
Questions to answer about an accident on the pavement
The best way of doing this is to answer these critical questions;
Where, when and how was the accident caused? In other words, why did this incident occur? Was it because there were a hazard and no warning signs? Was the pavement poorly maintained? What about lighting?
What were you doing leading up to the incident? What happened after you tripped on the pavement?
Were you alone? Were there any witnesses? Did anyone come to help?
Who do you think was responsible for the accident? Could you have taken a different course of action or a different route?
Did the council or landowner do anything? Did they fail to do something which could be deemed as a contributing factor to what happened?
Were you injured as a result of the accident? What are your injuries and how severe are they?
How has the accident and your injuries affected you, your life, work and income? Have your injuries restricted you in any way?
Have you needed help due to your injuries, e.g. a family member having to look after you or carers?
What is the longer-term outlook – are you expected to recover from your injuries caused by the pavement accident entirely?
Evidence to support pavement accident compensation claims
When seeking damages in any type of claim, evidence will be required that shows who was liable for the accident, how it happened and what injuries you sustained. The same is true in pavement accident claims. Evidence is important because most businesses or local authorities will simply pass your claim to an insurer. Their job is to minimise how much they pay (if they pay at all).
Tripped on uneven pavement – what evidence do I need?
Therefore, to help support your claim, we'd suggest taking the following steps if you fall because of a pavement defect:
Report the accident. By doing so, you'll be able to request a copy of the accident report that could be used to prove the date, time and location of when you suffered injuries from falling on uneven pavements.
Ask witnesses to provide their contact details in case your solicitor requires a statement at a later date.
Attend A&E to have your injuries treated. Your medical records could then help to prove the extent of your suffering.
Take photographs of the pavement defect. Ideally use a tape measure or ruler in the photo to quantify its height.
See if the area was covered by CCTV. If so, request a copy of any footage.
Photograph any visible injuries and continue to do so throughout your recovery.
Armed with this type of evidence, you will find the pavement accident claims process is much easier. Please call today if you'd like us to review your evidence for you.
The Benefit of No Win No Fee Pavement Accident Compensation Claims
No Win No Fee means that there is no financial risk to you as you claim compensation.
Making pavement accident claims can be a lengthy process, taking many hours of research and legal argument to secure the financial settlement that you deserve. Some cases are not contested, as such, with the local council or private company admitting they were negligent in the maintenance and upkeep of the pavement or area where you tripped. But this isn't always the case. And when this happens, we would need to pursue your case vigorously. This legal work can cost thousands of pounds.
Tripped on uneven pavement? – we won't ask for fees upfront
At Accident Claims, we don't charge an upfront fee, another important piece of information. And our no win, no fee service is genuinely that. If we lose your case, you don't owe us anything. And don't forget there is the free consultation process right at the start. With all the facts and information before us, we can better understand whether claiming compensation is something that has the potential to be successful.
We don't think that anybody who has been hurt through no fault of their own should be the person who foots a financially risky legal process to claim the compensation they are entitled to. Thus, we always stick to the no win, no fee, and no upfront costs to work.
How Much Compensation Could You Receive as a Result of Being Injured After a Pavement Accident?
It is important to understand that the figures provided below as a guide to council compensation payment are not fixed amounts, but a guide to what you could be entitled to for your pavement accident claims. How much compensation for a fall differs wildly depends on several factors, including the nature of your injury or injuries, their severity, how they affect you now and their possible effect on you in the future. This is why if you're looking at suing the council for damages, you should contact the professionals first.

| Injury | Compensation | Comments |
| --- | --- | --- |
| Shoulder Injuries | £18,020 to £45,070 | Severe |
| Shoulder Injuries | £7,410 to £11,980 | Moderate |
| Back Injuries | £85,470 to £151,070 | Severe |
| Back Injuries | £26,050 to £36,390 | Moderate |
| Post-Traumatic Stress Disorder | £56,180 to £94,470 | Severe |
| Post-Traumatic Stress Disorder | £3,710 to £7,680 | Less Severe |
| Wrist injury | £44,690 to £56,180 | Severe |
| Hand Injury | £132,040 to £189,110 | Loss of both hands |
Collecting medical evidence for an accident on the pavement
When you claim injury compensation, you need to provide independent medical evidence. You would not just be able to see your own doctor or go to the local hospital to collect all this evidence, even though it is important to do so to get the right advice and treatment. It would be necessary for you to go and see an independent medic as well. They would examine your injuries and ask you about the accident. Based on your assessment, they would produce an independent medical report. This could be used to work out how much compensation you could get.
Don't forget, there is also pavement accident compensation relating to the loss of earnings, any care costs, travel costs and other expenses that can be attributed to the pavement accident. These are known as special damages.
Why Choose Accident Claims for Your Pavement Claim?
Frankly, it would be best if you had a team that is experienced and skilled, and one that you can trust to have your best interests at the centre of the case at all times. Accident Claims boast one of the best track records in helping people claim compensation for personal injuries due to a pavement trip, car accident or any accident that was not their fault.
Tripped on uneven pavement – you're our priority
But we know that the main reason for our stellar success is that we always place our client at the centre of everything we do – and always will. We are with you every step of the way, no matter how long the process takes. We will talk you through every step, keep you informed of how your case is progressing and ensure that you get the best service throughout.
And on top of all this, you have our word that our services are offered on a genuine no win, no fee service.
Call us Today for Free Advice and to Start Your Pavement Accident Claim For Falling On Uneven Pavements
Have you tripped on a pavement? Have you been hurt due to a slip or a trip, or by falling on land owned by a council or local authority? Did this happen to you on privately owned land, such as a supermarket car park or walkway? If so, you could claim trip or fall compensation.
If you have, and you were hurt, you may have a compensation claim. But you won't know until you call our team. With just a few necessary information, they can put you in touch with our team who can go through the free consultation process with you.
At the end of this conversation, you will know if you are in a position to claim personal injury compensation after tripping on a pavement or slipping in a car park – or wherever you were hurt.
Call us for advice if you've tripped on uneven pavement
It easy to assume that it was 'just an accident' but it may not have been. It might have been an accident that was avoidable if the company or body responsible for the car park or pavement had maintained it to a safe standard. And there is no financial cost to finding out more about making a claim, especially as the initial consultation is free and with our no win, no fee service. Our fees are capped at 25%, as per legal requirements so that means you would keep, as a minimum 75% of your compensation settlement.
With our customer focus driving our business forward, our customer service standards are exceptional and, unlike anything you will experience elsewhere.
Contact us today on our 24 hours, 7 days a week helpline 0800 073 8801 to find out more or to start pavement accident claims with nothing to lose.
Helpful Links relating to an accident from falling on uneven pavements
Slip Trip Accident Compensation Claim Amounts
Find out how much you could claim for a slip trip or fall.
What to do in the event of a fall
If you have fallen, wherever it may be, it is important to know what to do. This NHS guide should help.
Treating a broken bone may be tricky. Read about first aid for broken bones in case you think you may have sustained one.
Useful information regarding trips at work
HSE provide good guidance on trips at work. If you have tripped on a pavement at work, this may be useful information.
Internal Guides Relating To Falling On Uneven Pavements and having tripped on uneven pavement
If you have slipped and fallen or tripped on uneven pavement, you may have suffered a knee injury. If that is the case, why not take a look at our guide to learn how a solicitor could be of assistance.
Elbow injuries can have a detrimental impact on your health, and when a negligent party is at fault, you may consider taking legal action. If that is the case, then take a look at our guide.
If you have tripped on uneven pavement and endured a concussion, please look at our guide to learn more.
How Much Compensation For A Claim Against The Council Or Local Authority
If you have been injured due to the council or your local authority, such as having tripped on uneven pavement contact us today to see if you have a claim.
Pavement Accident Compensation Claims – Falling on uneven pavements FAQs
What is a slip trip and fall?
A slip, trip and fall are where there is a loss of balance that causes you to fall. For instance, if the floor is icy or a broken pavement goes unnoticed, it can cause you to trip and fall. If you've tripped on uneven pavement, please call us for advice.
What are the risks of slips trips and falls?
The risks associated with a slip and trip can often result in fractures, broken bones, head injuries, and much more.
What are the main control measures for slips trips and falls?
To prevent a slip, trip or fall, some measures can be carried out, such as:
Cleaning spillage immediately.
Acknowledging and marking spills.
Removing obstacles from walkways.
Sweeping debris.
What is an uneven pavement for those who've tripped on uneven pavement?
This is where a pavement has varying heights because of poorly laid slaps, erosion or surface cracks.
Can you make pavement accident claims against the council for falling on uneven pavements?
You can do this as long as you can prove that the council were negligent in allowing the pavement to remain uneven.
What are the two types of injury claims?
These are punitive and compensatory.
What height is considered a trip hazard if I tripped on uneven pavement?
The typical trip hazard height is a minimum of 1 inch or 2.5 cm.
What are the 3 types of damages in claims for falling on uneven pavements?
These are punitive damages, economic damages and also non-economic damages.
Can you make pavement accident compensation claims if a car mounts the pavement and injures you?
If a car mounts the pavement and hits you, you could be eligible to make a compensation claim for such an accident on a pavement. You could claim against the driver of the vehicle that hit you in some cases. However, what would you do if the car fled the scene of the accident? If this happens to you, you could make a claim for compensation from the Motor Insurers' Bureau. We could help you if this is the type of claim you're considering making.
How common are pavement accidents and injuries related to car accidents?
Unfortunately, we don't have statistics relating to how many pavement accidents happen due to cars mounting the pavement. However, we can provide you with statistics that relate to how many casualties there have been on UK roads relating to the road user type injured. Below, you can see how many car occupants, pedestrians and other road users were injured in the year ending June 2021. These figures are taken from the government's website.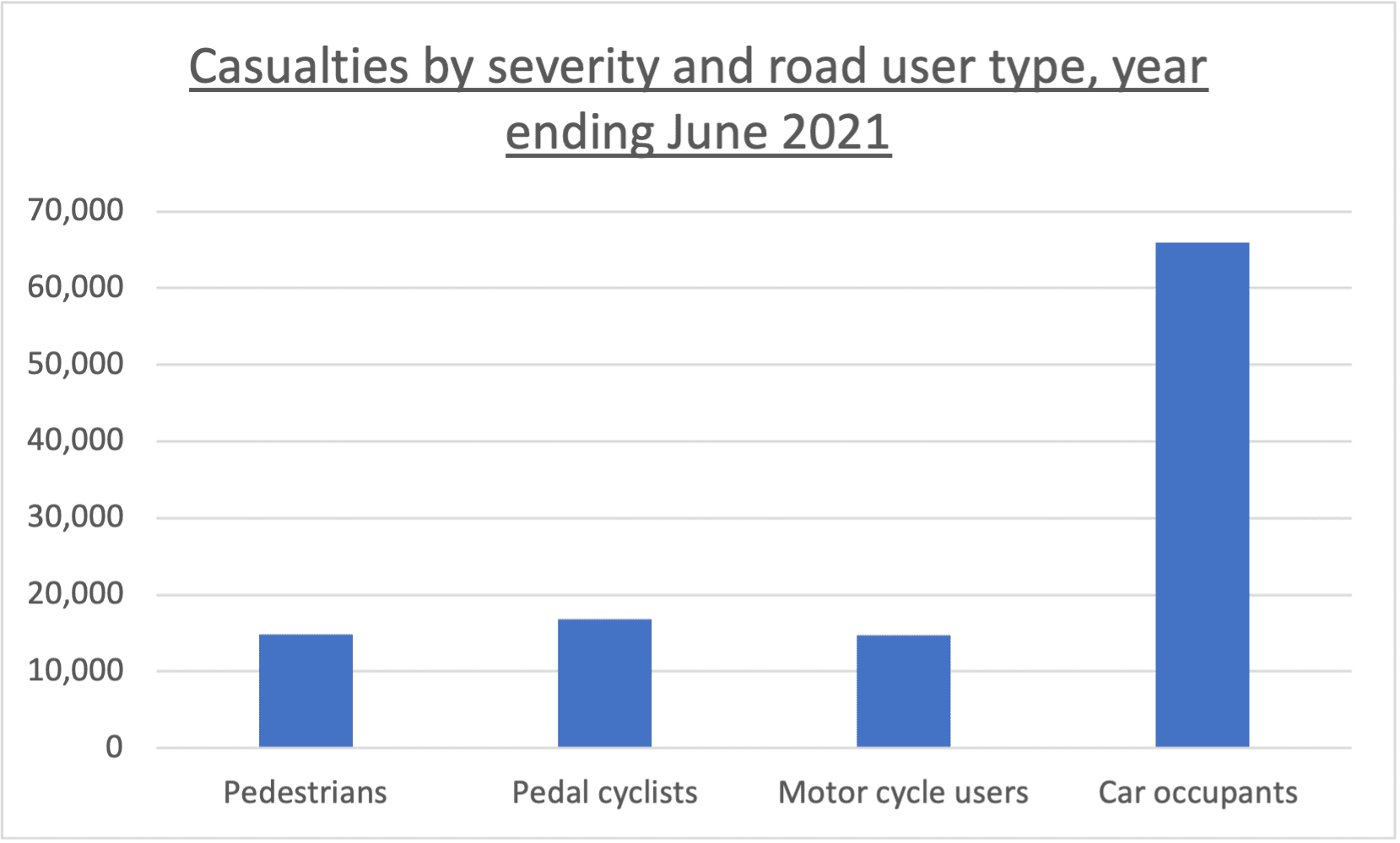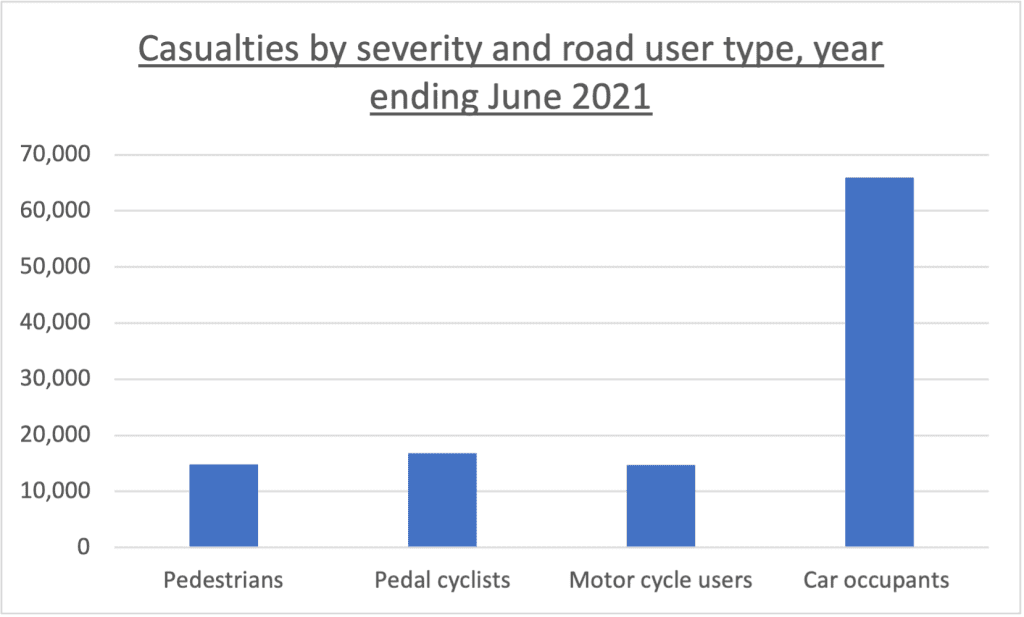 Can people always sue the council for falling on uneven pavements?
Not everyone who is injured from falling on uneven pavements could sue the council. To have a valid claim for compensation, the council would have to have negligently breached its duty of care towards you, causing you injury.
If you're unsure as to whether you could have a claim from having tripped on uneven pavement, please call our team. We could assess your eligibility to claim and provide you with advice and support.
I tripped on uneven pavement, but there were no witnesses, could I claim?
If you tripped on uneven pavement and were injured, yet there were no witnesses, you may be under the impression that you would not be able to claim. However, if you could prove by other means that the council had negligently breached its duty of care to you, causing you injury from falling on uneven pavement, you could still have a claim. In some cases, you or your solicitor may be able to obtain CCTV footage of the incident, for example. 
Can I claim for falling in the street when drunk?
If you were injured from falling in the street when drunk, it would be unlikely to lead to a claim unless there was an incident involved where another party breached its duty of care towards you. However, your compensation might be reduced accordingly- this is referred to as a "split liability" claim.  
How do I make a claim for pavement tripping injuries?
If you believe the council breached its duty of care towards you and you suffered pavement tripping injuries as a result, please call our team. We could talk to you about your uneven pavement injury. If we believe you could have a strong claim for compensation, we could provide you with a No Win No Fee solicitor to assist you with your claim.
Final words for those who've tripped on uneven pavement
We want to thank you for taking the time to read our guide on tripping on pavement accident claims. And we hope you have learned a lot about pavement accident compensation and whether you could claim for falling on uneven pavements.