By Fern Mitchell. Last Updated 12th February 2021. Welcome to our guide on murder victims compensation claims, where we'll look at the process of claiming compensation for the murder of a loved one. If a close family member is murdered, then it almost always devastates a family and those close to the victim. Coping with an unexpected loss of someone close to you is always extremely painful, but if their life has been taken by someone else, it can be a harrowing thing to go through. Whether a loved one has been the victim of a premeditated murder or manslaughter, you are bound to feel lost, confused as to why it has happened, and angry.
Grief is a powerful emotion and can last for a long time to come, but it is not the only long-lasting effect that someone you love passing away can cause. If the person who has been taken from you contributed financially to the household, then this is yet another loss you may feel you have to bear completely on your own. However, this is not the case. Murder victims' families can put forward murder compensation claims to help ease the financial burden after the loss of a loved one. While we are aware that this won't relieve the feelings of grief and loss, it may go some part towards securing financial futures for those left behind, along with assisting with funeral costs for your lost loved one.
Here at Accident Claims, we have dealt with murder compensation claims before, and have spoken to a number of clients about what steps to take to go about making a claim. We handle all claims as sensitively as you would expect from an experienced team, and will listen to you with sympathy and professionalism at all times. We can provide a murder compensation claims solicitor who has experience in pursuing this sort of claim and knows only too well how to pursue the maximum amount of compensation for a murdered relative that is possible, allowing you to concentrate on the grief process, and rebuilding your life after this devastating incident.
Should you be ready to speak to us about making a claim, 0800 073 8801 is the number to call. However, we have covered most of the common questions you may have about murder victims compensation claims in the guide you see below. All you have to do is click each section you would like to look at, or scroll through to read all you need to know about how making a claim works.
Select a section
A guide to murder compensation claims
Should you be in the devastating position to have lost a loved person by someone else's hand, either via manslaughter or murder, you will likely initially be in shock. Once you have come to terms with what has happened, then the practicalities, as well as grief can take over, leading to a very overwhelming time.
Whether you are thinking of making a murder claim for compensation straight away to help with costs of the funeral, or you just want to know more about how you could possibly ease the financial burden after the loss of a loved one that contributed financially to your household, then you may find lots of information on the internet, but seldom all on the same page. This is why we at Accident Claims have pulled together this complete guide to making murder victims compensation claims. It should give you all the relevant information you'll need to make a claim.
What is the legal definition of murder?
Murder, in essence, is the action of taking another person's life that was pre-meditated. According to the CPS, to be convicted of murder, a perpetrator has to be sane, has not killed in a 'justified' way, i.e., by way of defending themselves, and has had intent to grievously harm or kill the victim. It can also be referred to as a homicide. Murder is slightly different from manslaughter by definition, but both results in the victim's life being taken.
Manslaughter can be deemed to have happened in one of three ways. Firstly, if they have killed a person but there is some form of deference, such as diminished responsibility, as part of a pact for suicide, or momentary loss of control. Another description of manslaughter is the killing of another person that was down to gross negligence, and finally, as part of an illegal act which posed a danger to another and resulted in their death.
The first scenario we described is classed as voluntary manslaughter, while the others are said to be involuntary.
Whichever way in which a loved one's life is taken, it is important to understand that you will more than likely be able to claim for compensation after manslaughter or murder.
Murder statistics and facts for the UK
Worryingly, the murder statistics for the UK are higher than most people think. According to the most recent ONS (Office of National Statistics) data, in the year ending March 2019, there were 671 homicides in England and Wales, which is a figure that has fallen from previous years. Males accounted for 64% of these murder victims, with the age range between 25-34 being the most common age range of victims. Shockingly, 30 of the victims that were classed as homicides in this time period were under 1 year old. No matter how old the victim or the way in which they were murdered, you should be able to seek compensation for the traumatic loss of your loved one. While it will not bring them back to you, it may help pay for counselling costs to come to terms with the loss, amongst other things that may help you try and live your life after this devastating loss.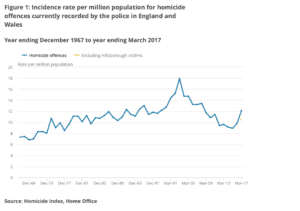 The role of the 1995 Criminal Injuries Compensation Act
CICA, also known by its proper name, the Criminal Injuries Compensation Authority, has been created as a part of the government in the UK. As one of the government's executive agencies, it works to administer payments of criminal damage compensation to victims of violent criminal activities in Scotland, England and Wales. The English Ministry of Justice pays for CICA for English and Welsh cases, while the Justice Directorate Fund does so for Scotland.
Put together in 2006, CICA works to administrate the requirements of the Criminal Injuries Compensation Act. Designed to establish a victim compensation scheme of sorts for injuries caused by criminal activity, the act gives information on how CICA should work with regards to this. The act can be read in full via this link and offers guidance on the way in which payouts are calculated, as well as how reviews and appeals work, and more information about the criminal injuries compensation scheme 2008 amongst other factors.
What to do if your partner or another family member is murdered
Whilst it may be hard to think of when a loved one has been taken from you, it is vital you try and keep hold of any paperwork relating to the crime, as well as keeping financial records that prove not only your loved ones contribution to the family and any dependents, but also any costs you may have had to incur as a result, such as any travel costs, medical bills for counselling, etc.
Whatever extra evidence you can gather up such as photographs or witness contact details may be relevant, as well as copies of police reports, although the police will have a lot of this kind of evidence already. You should also get good legal advice on whether you have a claim. Here at Accident Claims, we are here to guide you, so if you require expert advice on murder victims compensation claims, we can speak to you about it, with no obligation for you to use our services.
How to start a claim for murder victim compensation
In order to start the process of making a claim, you will need to get a solicitor. While you might have a family solicitor you use for wills etc., it is unlikely that they will have extensive experience in the pursuit of criminal compensation, and this is why our service exists. One call to our team and a conversation with one of our experts will allow us to garner the basic facts pertaining to your loved one's murder, and we will then be able to offer guidance on whether you would be the beneficiary of such a claim. This initial call is a free no-obligation consultation, and while you may find some of the questions a little hard to answer, particularly given the grief you will likely be experiencing, we understand only too well and are happy to take a break if you feel you need a little time before continuing the conversation.
Once we have ascertained that you do indeed have a case, we can provide you with an experienced solicitor in this field that will have the knowledge and experience necessary to put your case forward for compensation. These solicitors we provide do not take payment for their work upfront. In fact, the only time you will pay them is as a percentage of your compensation payment, at a pre-agreed level. We feel this is only right since your financial situation has already been affected by your loved one's loss of life. To find out what can be included in murder victims compensation claims, read on. 
What can you claim for after a murder?
After someone you love has been the victim of murder or manslaughter, then you may find your compensation payout includes the following types of compensation.
General – This is meant to compensate for suffering/pain your loved one went through, as well as familial income loss.
Adverse effects – Long Term – As well as financial losses, the loss of care and protection or future inheritance can be compensated for.
Emotional pain/mental suffering – This compensates for the torment that those left behind experience
Funeral Costs – This is likely to include the cost of caskets, cremations, ministers, the wake, and transport. It may also include the cost of flowers.
Medical Costs – Your loved one may have incurred costs for medical treatments before they succumbed to their injuries. This type of cost can be compensated for.
Bereavement – An award that is supposed to be compensation for suffering/pain of the family of the victim
Loss of Earnings – Whether pension payments, disability payments or wages are lost because of the loved one's murder.
Future Loss of Earnings – Takes into account the potential income the loved one would have contributed to the family and includes considerations regarding pay rises that may have occurred should they not have been taken from you.
If you are unsure as to whether any specific costs would be included in murder victims compensation claims, then our experts would be glad to talk this over with you and clarify the situation. No matter what the question, we are always here to help.
Time limits to make a claim after a murder
Making a compensation claim after a loved one is murdered is hardly likely to be the first thing on your mind, but it is essential to understand the time limits that restrict cases like yours in order that you do not miss out on the compensation for manslaughter or murder you are entitled to.
Although most personal injury limits are 3yrs from the time that the incident happened, claims to CICA have a time limit of just 2 years from the murder date. However, if you are over the 2 years' time limit, do not hesitate to get in touch with us, as in some cases, special circumstances exist that will allow you to make a claim after this 2-year limit has passed.
Murder victim compensation claim calculator
As we have previously mentioned, the amount compensated is never going to bring back or relieve the loss of your loved one in such awful circumstances. However, the question of how much compensation for the death of a loved one is a question you should be asking. It is important to have a general idea of what kind of compensation payout you and your family could be awarded as part of a murder compensation claim. To help with this, we have researched and pulled together some of the typical brackets within which claims are likely to be.

| The reason given for the compensation | Average Payout/ Payout Bracket | Further information (if applicable) |
| --- | --- | --- |
| Murder (A single relative claim) | Standard £11,000 | Should one person be claiming for murder for the person who has been murdered, this is the standard ballpark amount that they will likely see. In the vast majority of claims, the beneficiary will be either spouse or partner to the victim. |
| Murder (Where a number of relatives claim) | Usually £5,500 for each claimant | Should more than one loved one be claiming murder compensation on behalf of their loved one the payout would usually be reduced down to £5,500 for each applicant. In the vast majority of claims, this would relate to a situation whereby children and parents claim. |
| Loss of care, companionship, and protection, | Between £2,000 and £100,000 | This is worked out by consideration of the number of claimants as well as the ascertained level of the loss experienced by the claimant/s. It is possible in some cases for the maximum to be increased, depending on the specifics of the case. |
| Anticipated earnings losses | Between £10,000 and £400,000 | If it is to be expected that you will be away form work for the future due to the murder, a claim for any loss of your anticipated income could be awarded. The calculations that are made in this respect take into account the level of pay you currently receive as well as any anticipated increases. It goes without saying that for high earners, the maximum award could be increased. |
| Costs for funeral expenses | Between £3,000 and £10,000 | Whilst this is the typical bracket for funeral costs, there are instances whereby higher payout amounts have been awarded. |
Whilst we provide this victim support compensation calculator information for your reference, it is essential that we remind you that this should serve only as a guide, and it is not necessarily the amount of money you will see. Every single case is different, and every facet of the information you give us is used to determine the eventual payout you receive. If you require more clarification on this subject, we will be able to speak to you about this when you call us.
No Win No Fee compensation claims for the family of a murder victim
We briefly touched upon this subject earlier on in the guide, but to give you more of an idea of how it works, we draw the following example:
Mrs A lost her husband via a violent crime (homicide). Facing heavy bills going forward as he was the only breadwinner, Mrs A knows her best course of action is to make a compensation claim but does not have any money in the bank to do so. Putting in a call to Accident Claims allows her to be informed that they will provide her with an experienced solicitor that works on a no win no fee claim agreement. What this means is that Mrs will not only be able to begin her claim straight away without paying any legal bills, in the highly unlikely event that there is no compensation payout, she will not receive bills for legal fees that she has to pay.
This is how the system, also known as a conditional fee arrangement, works. If you would like to know more about the percentage of the compensation that is set aside for legal bills, then you will be glad to know that we will provide you with all the information you need to know.
Why choose us to make your claim??
As well as our ability to provide experienced and knowledgeable solicitors working on the no fees upfront basis, we are also knowledgeable and experienced in listening to and talking to people who are going through horrific and traumatic circumstances. We are highly sensitive to our clients' needs, which is why our previous clients have recommended us to others – a compliment we take great pride in.
We are here to listen to what has happened to your loved one with a compassionate ear, as well as being able to offer expert guidance and a helping hand towards getting the compensation you deserve, and most likely need, to move forward. Simply put, we have years of experience dealing with claims such as these, but we recognise that you are unique and your case is too – and we will never treat you like just another customer, we really do care for our clients, which is why we have been glad to be in the position to help those that have been in somewhat similar situations to yours before, and we hope to go on doing so long into the future.
Contact us today
However raw or painful the details may be, we are here to listen and advise you on your rights to claim compensation for the murder of someone you love. Do not hesitate to tell us what has happened; sometimes it does help to talk about it. We will treat your enquiry as completely confidential, and we will do all that we can to make the advice as easy to understand as possible so that you are fully informed of the process of claiming and what we will do to make that happen.
You can get in contact with us in a number of different ways. Dialling 0800 073 8801 at any time of the day or night will take you through to a member of our expert team of advisors, whilst emailing office@accidentclaims.co.uk will get you a swift answer – our target during office hours is just 3 hours for a response. Alternatively, filling in the contact form online will also allow us to call or message you back as you choose.
We are here to help when you need us, so do not hesitate to call or email with any query, or to start your claim for the murder compensation you are entitled to.
Murder victims compensation claims- FAQs 
What's the average amount of compensation paid for murder? 
It's impossible for us to put a value on the average compensation that you might receive when claiming for a loved ones' murder. This is because each claim will be looked at individually, and a decision will be made based on your personal circumstances.
For example, the CICA tariff sets out the amount that can be paid as a bereavement payment, but this amount will change depending on whether it's one person claiming, or there are multiple people who are owed compensation.
You also might be entitled to other payments as part of CICA, including a financial dependency compensation if you were dependant on the victim financially. You can also make a carer dependency claim for if you depended on them for things like food preparation, eating, going to the toilet and bathing.
If you'd like to speak to someone today to discuss your claim, please don't hesitate to get in touch with us.
It's been more than two years since the incident, am I still able to claim?
As we've already mentioned, there's a two-year time limit to making a claim with CICA but this can be extended under some circumstances. If you're able to show that you weren't able to make a claim sooner due to exceptional circumstances, your claim may still be considered. However, if you do apply outside of the two-year limit, the evidence that you give in support of your claim should be substantial enough that it doesn't need to be extensively investigated by a claims officer.
Helpful links
Government advice for claiming criminal compensation
Death by dangerous driving- a guide to claiming 
Making a medical negligence compensation claim 
Guide to claiming for brain damage 
Thank you for reading our guide on murder victims compensation claims.