By Joanne Jeffries. Last Updated 16th November 2021. Welcome to this case study surrounding personal injury claims payouts for a jaw fracture.
When you're a passenger in the car of a friend or family member or even work colleague, the worst thing you expect to happen is that they play music on the radio you just can't stand. However, this isn't always the worst thing that can happen. The claimant in this case study we came across while we were looking into other cases was an 11-year-old girl who was a passenger in the back seat of a car. The accident suffered by the claimant was a road traffic accident involving the collision at the speed of two vehicles. The claimant suffered a broken jaw and dislocation of her jaw as well as severe pain in her head, jaw and neck.
Now, the injury was very severe and even despite a number of medical and surgical interventions, the claimant continues to suffer pain and will need to undergo further surgery throughout her life to manage her condition. Due to the severity of her injury and the extent of her pain and suffering, the claimant brought a compensation case, following which she was awarded £154,185 in an out of court settlement.
If you have suffered a similar injury, you may also be eligible to receive a payout for a jaw bone fracture. If would like to claim compensation for the losses you have suffered and the pain and suffering you have experienced them please contact Accident Claims today on 0800 073 8801, and one of our highly experienced members of staff will be able to advise and help you. More information about this particular researched case can be found below.
About the accident/ statistics/ information
The case study in question involves a settlement that was awarded to a 20 year old woman who had suffered a broken jaw earlier in life which was caused by a road traffic accident that resulted in a head injury. The female was age 11 when the accident occurred. She was in the back of a car when a collision with another vehicle took place at speed. From the moment the accident occurred, she had pain in her head, neck and jaw after being jolted forward as a result of the impact. Even though the claimant was wearing a seatbelt at the time of impact, her jaw was badly dislocated.
Statistics show that the most vulnerable users of the road are aged 16 and under. This includes both passengers of vehicles and pedestrians. Children aged 12 have more recorded casualties than children of any other age group. The statistics show that whilst children are a particularly vulnerable group when it comes to car accidents, accidents involving car users have actually seen a 46% drop since 2005. Child casualties experienced whilst a child is travelling in a car account for just 14% of all child casualties. Accidents causing injury to children most commonly occur when the child is a pedestrian before and after school. Whilst most of these accidents are caused due to a lack of pedestrian awareness and care, many are the result of reckless driving and failure to pay due care and attention to the road, or drivers who are going too fast because they are in a hurry.
Details Of The Fractured Jaw Injury
Following the claimant's jaw dislocation, she experienced severe and ongoing discomfort. The injuries were so severe it meant that she could not chew food or open her mouth fully. She needed help to clean her teeth and wash herself. Over time her symptoms became worse and the claimant would experience a locking and swelling of her jaw. She experienced continuous pain whilst talking, eating and trying to sleep. Her school life was affected and she would often take time off or have to leave early as a result of her pain and discomfort, which negatively impacted upon her academic development. She received a number of treatments but each treatment only worked for a short period of time and was invasive. The claimant was given a number of scans and on balance it was agreed by the medical team that she would need surgery to replace the joint. As the claimant was still so young the team did not want to carry out the surgery immediately. The team agreed that she would however require the surgery within a decade of the accident but would then require a further replacement within the following 20 years and then every 25 years after that. Sadly she was told that her condition would probably worsen in between each operation and she would also continue to need the invasive treatment that she was already receiving. As a result of the ongoing pain and discomfort, the claimant developed depression which further affected her learning.
Jaw fractures or breaks are the tenth most frequent break in the human body. They are usually caused by trauma to the mandible or jaw bone. Road traffic accidents are one of the most common causes of broken jaws. Sufferers will experience pain, a feeling that their teeth don't fit together properly, and inability to open the mouth completely, problems with speaking or swelling of the area. They may also experience numbness or tingling. The claimant experienced most of these symptoms. It is a fact that jaw fractures or breaks, if left untreated, can make it difficult to eat and drink and will alter the manner in which your mouth moves. Jaw fractures often require the insertion of screws into the jaw to hold it in place. The procedure to fix a broken jaw is called an 'Open reduction and internal fixation' operation. Following a procedure such as this, it will normally take about 6 weeks for the jaw to heal completely. It may be uncomfortable for some time. This was not the experience of the claimant, whose injury was so severe that she continued to suffer pain and discomfort for years following the accident and subsequent procedures.
How Was The Jaw Bone Fracture Claim Conducted
After bringing the claim for compensation, the claimant's case was settled out of court following a lengthy process of negotiation between both parties.
Broken Jaw Settlements
In this case, the claimant was awarded a £154,185 payout for a jaw bone fracture. £28,000 of this was to compensate her for general damages relating to the pain and suffering she experienced, and £62,270 was awarded to cover medical expenses that the claimant was likely to incur in the future.
No Win No Fee Fractured Or Broken Jaw Compensation
Accident Claims panel solicitors offer no win no fee agreements, and these are also known as conditional fee agreements. This means that their fee is conditional on you winning your case. They therefore only take on cases that they believe they have an excellent chance of winning. We have many years of experience and can recognise at an early stage whether or not a case is likely to be successful. You can therefore feel confident that if we tell you you have a good chance of winning your case, then we're telling the truth. No win no fee agreements mean that you will not be asked to pay anything upfront and there are no hidden fees. When you have successfully received your compensation, the legal fee will be taken out of your final payout. We believe that this no win no fee arrangement reduces the stress of clients as they have no financial burden to worry about, in addition to the pain and suffering they have already experienced.
Talk To Our Team Today About Personal Injury Claims Payouts for a Jaw Fracture
If you believe that you meet may be eligible to make a claim then we strongly suggest that you speak to us here at Accident Claims. It can sometimes feel daunting to know which personal injury solicitor to contact if you are seeking a payout for a jaw bone fracture. Whilst many personal injury lawyers offer a similar service, here at Accident Claims, we go the extra mile to connect you with a panel solicitor we know will work hard on your behalf. We genuinely care about the wellbeing of our clients and do everything we can to reduce the burden of stress on them. The solicitor will take on as much of the work relating to the case as they can, making the process as smooth and easy as they can for our clients. In addition to being a caring firm, we are also a highly experienced team comprising of legally trained advisory staff. We specialise in personal injury claims and can help you to seek your jaw injury compensation. Please contact us today to find out more and we can answer any questions you may have. You can call us on 0800 073 8801. Alternatively you may email us at office@accidentclaims.co.uk or contact us via our web page and we will get back to you.
What type of damages could make up personal injury claims payouts for a jaw fracture?
As you can see from the case study above, the woman's injuries were complex, and caused her much pain and suffering. When you claim personal injury compensation, payouts could include compensation not only for that suffering and pain and loss of amenity, but it could also include psychological injury compensation. Not only could a road traffic accident cause significant physical injuries, but it could also leave victims with trauma or anxiety. If this happens, personal injury solicitors with years of experience could help you claim compensation for both the physical and mental effects of your accident. As well as this, they could help you claim for special damages, which relate to financial costs associated with your injury.
What special damages could be included in personal injury claims payouts for a jaw fracture?
When it comes to claiming for the financial costs of an injury an accident, you would be able to claim for care costs, if you have required care at home due to you not being able to perform daily tasks because of your injuries. Not only this, but you could also make a claim for loss of earnings. Loss of earnings could include any regular overtime and bonuses you would have received if you had been able to work. In some cases, future loss of earnings compensation could be achievable. As well as this, compensation settlements in the UK could include special damages related to medical expenses and travel expenses. If you would like to learn more about how compensation settlements in the UK are calculated, please do not hesitate to contact our team.
Could my choice of personal injury solicitor affect my personal injury claims payouts for a jaw fracture?
When it comes to negotiating for the maximum compensation possible for your claim, your choice of solicitor could have an impact. A solicitor with up to 30 years experience could us all of that knowledge and experience to negotiate for the highest compensation possible for your claim. They could also take the legal legwork out of making a claim for you. This could allow you to concentrate fully on recovering from your injuries. If your claim was disputed or refused by the liable party, it may be necessary for your case to be heard in court. If this happens, an experienced personal injury solicitor could support you throughout.
How common are road traffic accident injuries?
According to the Department for Transport, even though there were four months in which the UK was in national lockdowns, in 2020 there were still a significant number of people injured in road traffic accidents. You can see the breakdown in the graphic below.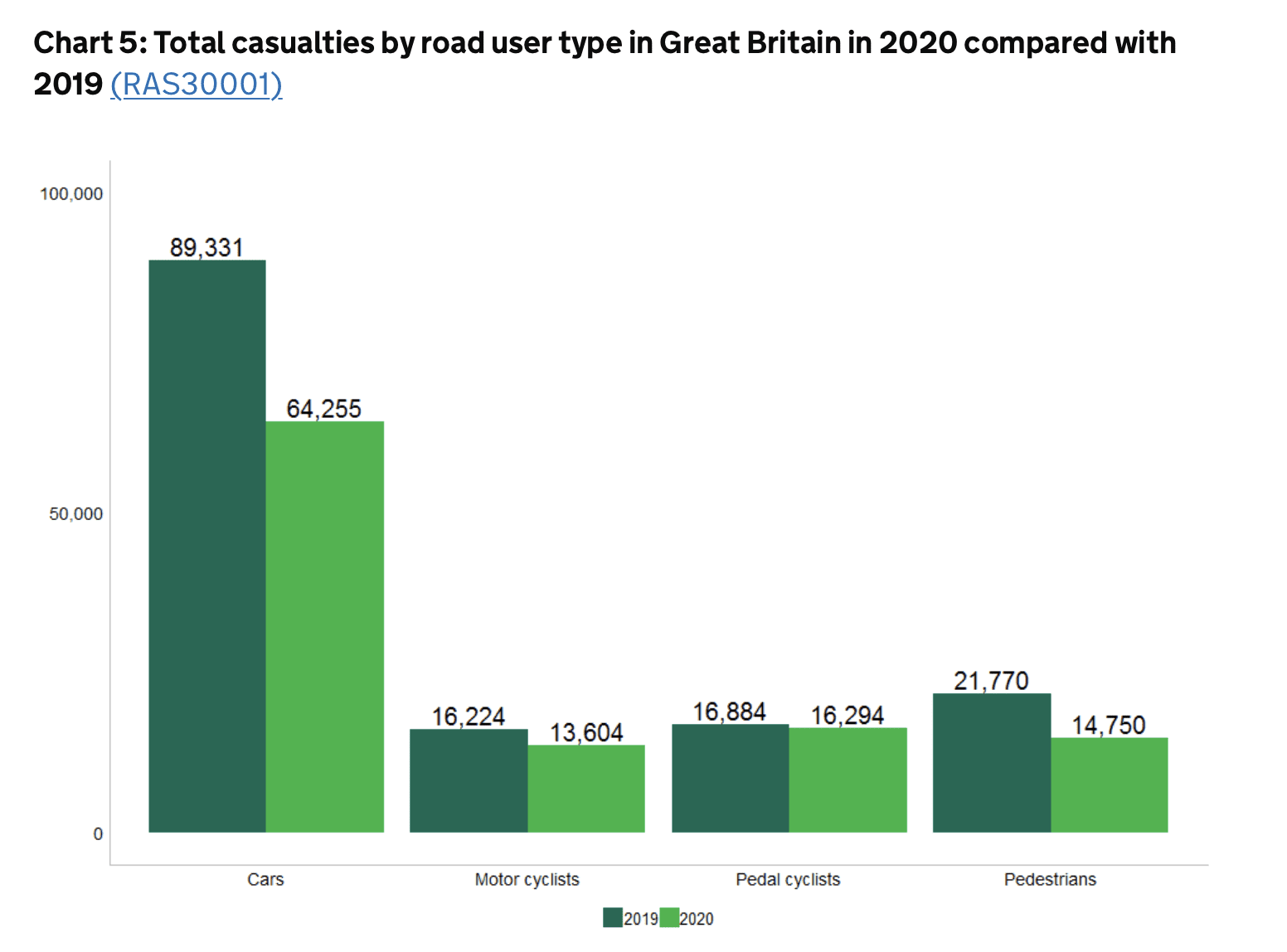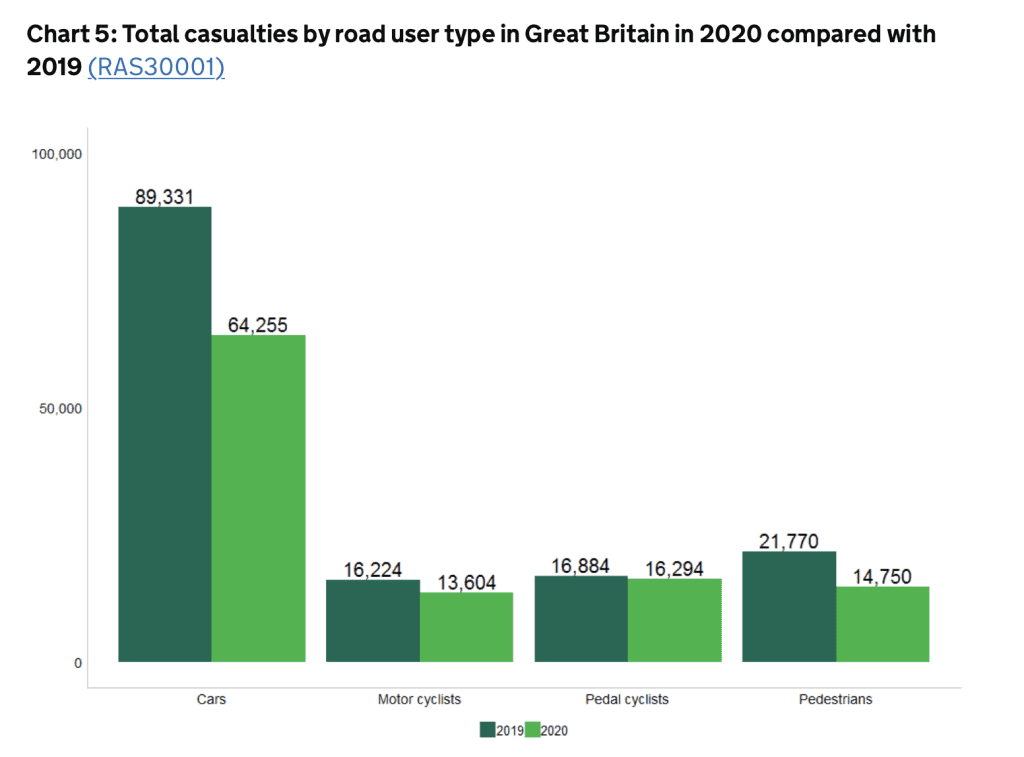 No matter what type of road user you are, if you were injured on UK roads due to somebody else's fault, we could help you fight for the compensation settlement you deserve. Please do not hesitate to call our team to get started with your claim.
Helpful Resources Relating to Personal Injury Claims Payouts for a Jaw Fracture
For more information, you can get in touch by any of the methods above, but if you'd like to do a little more research yourself, then we have provided some good links for you.
Mandible fracture information – This is a page from the NHS about mandible fracture
Lower Jaw Fractures – More information from the NHS about jaw fractures.
Car crash compensation – Guide to claiming car crash compensation
Received a head injury? – If you have a head injury because of a car accident then this might be interesting to look at
Thank you for reading this case study relating to personal injury claims payouts for a jaw fracture. If you're looking for a law firm registered in England and Wales to help you maximise the amount of compensation you could expect to receive for a broken jaw injury, we could help. We are experienced in helping claimants with personal injury cases relating to multiple fractures and a variety of other long-term injuries. We could help you claim for any type of injury sustained as a result of someone else's negligence or breach of duty of care.