By Joanne Jeffries. Last Updated 21st October 2021. Welcome to our guide on how to claim compensation for a slip or trip or fall on snow and ice. There is no denying that the wintery weather conditions in the UK can be dangerous. When the snow starts to fall and ice forms, there is a severe risk of slips, trips and falls. Business owners and the local authorities are expected to take reasonable steps with regards to avoiding slips trips and falls on ice, including using a risk assessment for snow and ice. If you have been injured in such an accident and it was not your fault, you may be entitled to compensation for a slip and trip. This is something we can help you to secure with the help of No Win No Fee personal injury solicitors. Read on to discover more. You can also call us on 0800 073 8801 if you have any questions.
Select a section
A guide to claims for ice and snow slips accidents and injuries
Slipping on the ice and snow can be very dangerous. Such accidents can result in a vast array of injuries, ranging from the minor to the severe. Can you claim for slipping on ice? Yes, as there are many accidents whereby the blame can be attributed to another individual, rather than simply being because you have been unlucky. For example, if your council has not gritted part of the road that they are meant to, they could be responsible for the accident you have been involved in. With that in mind, in this guide, we will reveal everything you need to know about claiming compensation for a slip trip accident that has happened on the ice or snow.
Not only will you find out whether you are eligible for compensation, but you will also discover the typical slip and fall compensation amounts for such claims, slipping on ice injuries statistics, and the steps to take if you have slipped on an icy pavement. We will also provide you with details on launching specific claims, for example, claims for an accident at work, in shopping areas, and in public places. So, let's get started…
Where do slip and fall on ice injuries commonly happen?
There are many different places whereby such an injury can happen that could lead to short term or long term injuries. This includes the likes of:
A train or bus station
A retail park
In a shopping centre
At your place of work
In a public car park
In a commercial or retail car park
In a supermarket car park
At a private property
Within school grounds
Within hospital grounds
While walking on a public path
Where the accident has happened is important because it will determine whom you are making a claim against. If you are unsure regarding who is in control of the area where you slipped, don't worry. We can help you to determine this. Just give us a call.
What you should do after slipping on snow to start your claim
The first thing you need to do is make sure you get the medical attention you require for the injuries you have sustained. This is a necessity even if your injuries are minor because the medical report is the most critical piece of evidence in any type of claim.
Make a written record of everything that occurred at the earliest chance so that nothing slips your memory.
Get photographs of the accident spot on your smartphone, as well as any visible injuries you have.
Keep track of any expenses you have been subject to because of your injuries, for example, loss of income and travel costs. You can make a claim for these but you are going to need to proof.
Take note of the contact details of anyone that witnessed what happened.
Report the incident. If the accident happened at work, you need to inform your employer. If it happened in a public place, call your local council. If it happened at a business, make sure you call and make an official report.
Contact Accident Claims UK. We will start the process of claiming compensation for a slip trip or fall and make sure you get the payout you deserve.
Compensation for a slip trip or fall on ice at work
Workplace injuries could be considered commonplace, and sadly, some could lead to fatal injuries as you can see from the 2020/21 statistics below.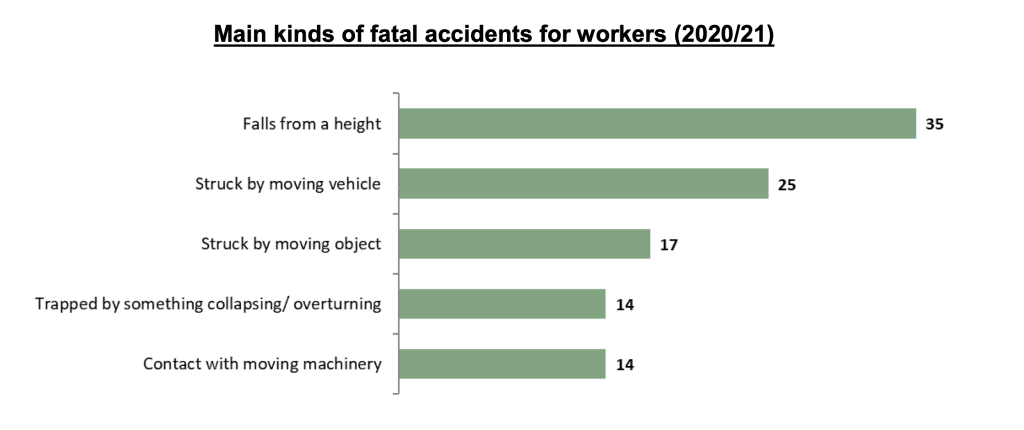 You can make a claim for compensation if you suffered a slip or fall on ice at work and you believe your employer is to blame. Your employer could be responsible if they have not taken reasonable steps to ensure the health and safety of all workers. This includes failing to grit the area or a lack of signage regarding the risks. In addition to this, employers are expected to make sure that there is an alternate path when the current route is too slippery for safe use. After all, as per the law, all employers have a legal responsibility to provide a safe and healthy workplace. While they cannot stop the snow from falling or ice from developing, they can take steps to make sure this does not result in a workplace accident. If they have failed to do this, they are deemed responsible for your accident. You do not need to worry that you may lose your job if you make a claim. A lot of people fear this, but employers have insurance in place to cover such incidents and you would only have grounds for unfair dismissal if they did take any drastic action. Call us for more information on health and safety for snow at work and how your employer could be liable to pay compensation for a slip trip accident.
Claiming compensation for slipping or falling on ice in a public place
Can I sue the council for slipping on the ice? Yes, if you have experienced a fall, slip or trip on the ice in a public place, you may be able to secure a payout if it is deemed that the local authority for the area has not taken the reasonable steps to lower the risk of such an accident. At the end of this guide, you can find a link that will tell you what roads your local council should grit, so this can help you to determine whether they should have gritted the area where you fell.
Slips, trips, and falls on ice and snow in shopping areas
If you have slipped in a retail space, whether this is in the car park or another area, you will be able to launch a claim. The person in charge of the business here will be responsible for this space, and they need to make sure that all shoppers are safe while attending their premises. If they haven't done this, you will have the basis for a claim.
Eligibility to make a personal injury claim
Establishing who is to blame for the accident you were involved in is the most important factor when determining whether you are legible for compensation or not. If you are to blame for the fall because you were careless, you will not have the basis for a claim. However, if the road or area was not maintained properly, you will have grounds for a claim. You basically need to show that someone else caused your suffering. If you believe you were partly responsible but not fully responsible, you may still be able to make a claim. Nevertheless, the compensation you receive will be significantly lower to reflect the fact that you were involved. In addition to this, the accident must have happened within the past three years, and you must have seen a medical professional for your injuries too.
The most common slip and fall on ice injuries
There are numerous different types of injuries that can happen due to a slip, trip or fall on the ice. Some of the most common injuries are as follows:
Head injuries
Elbow fracture or dislocation
Hip pain and fractures
Ankle sprains or strains
Wrist sprains
Back injuries
Neck injuries
Whether or not your injury is listed above, you can claim so long as the accident was not your fault.
What can I include in my slip or fall on ice claim?
It is important to recognise that the compensation for a slip trip or fall on snow and ice you receive will be broken up into general damages and special damages. What are these? General damages refer to the amount of money you will be awarded to indemnify you due to the suffering and pain you have been through. This not only includes the physical pain, but also any physiological suffering you have experienced too. A medical record that has been put together by your doctor will help towards determining the payout you will be awarded. And, what about special damages? This is the payout you will get to cover any costs you have had to fund because of the slip, trip or fall you experienced. This includes loss of income, as well as childcare costs, medical expenses, travel costs, and such like. You will need to have proof of these expenses, so make sure you keep a hold of receipts, payment slips and such like.
To learn more about claiming compensation for a slip or trip, please get in touch with our personal injury claims team.
Slip, Trip, or Fall On Ice and Snow Compensation Calculator – Updated October 2021
We often get phone calls regarding slip and fall on ice settlement amounts, which we are only too happy to assist with. Regarding this matter, it is vital to know that all cases are handled on an individual basis. This is because slip and fall on ice injuries differ dramatically. Plus, there are other circumstances involved, including the physiological impact and any time spent off work. As such, giving an accurate compensation figure is never possible. What we can do, though, is enlighten you to the typical payout amounts for some of the most common injuries that are suffered when someone has fallen, tripped or slipped on an icy pavement.

| The type of injury sustained due to a slip trip or fall on snow and ice | Extra information about the injury | Typical payout amount |
| --- | --- | --- |
| Leg injury | Less serious leg injuries. Less debilitating leg injuries, for example, a simple fracture with a quick recovery in a few months. | £16,860 to £26,050 |
| Leg injury | Severe leg injuries. This award is for those that just fall short of amputation. | £90,320 to £127,530 |
| Wrist fracture | uncomplicated types of colles' fractures. | around £6,970 |
| Clavicle fracture | How permanent the injury is and any symptoms will be considered when determining the award. | £4,830 to £11,490 |
| Moderate neck injuries | Moderate (iii). The impact the injury is having on your life, as well as any pain medication that is needed, are taken into account. | £7,410 to £12,900 |
| Moderate neck injuries | Moderate (ii). This includes injuries that have been made worse due to the fall, as well as dislocations and fractures. | £12,900 to £23,460 |
| Severe neck injuries | This could be anything from a severe fracture or soft tissue injury to spastic quadriparesis or incomplete paraplegia. | This could be anything from £42,680 - £139,210 |
| Injuries and fractures to the rib | Although there is severe disability and pain, a full recovery should be made within a matter of weeks. | Up to £3,710 |
| Injuries to the pelvis and hips | Moderate (i) where there isn't permanent disability and risks for the future aren't great | £24,950 to £36,770 |
| Elbow injuries | (A) Severely disabling | £36,770 to £51,460 |
If you are worried because you cannot find your slip and fall ice injuries in the table above, don't be. The table merely contains a handful of examples. You can claim for any type of injury you have sustained. For more information about the payout you could get, just give our team a call.
No win no fee compensation for a slip trip or fall on snow or ice
We are incredibly proud of our 100% No Win, No fee service here at Accident Claims UK. If you have experienced any type of slip and fall on ice at work or in a public place, we can help you to get the compensation we deserve while promising you that you will never be out of pocket through claiming. This is because you are only going to pay legal fees if your case is successful, in which case you will have the compensation available to cover the cost. With this payment approach, you and your solicitor will agree on a percentage of the compensation that will be given to the solicitor as legal fees if the case is a success.
If compensation for a slip trip or fall on snow and ice. is not awarded, you will not have to pay legal fees, and so you are given financial protection with this option, which is not offered when you choose a solicitor that charges on an hourly basis. You also need to consider the knock-on benefits associated with this service. This includes the fact that we will never waste your time and you can have the peace of mind that your case is being prioritised and that your solicitor is doing everything that he or she can to ensure a successful outcome.
Why conduct your claim for compensation for a slip trip or fall on snow and ice through Accident Claims UK
There are lots of legal firms in the UK that will claim to offer an excellent legal service for personal injury victims, but we truly believe that our service is a step ahead of the rest. This is not something we simply expect you to take our word for. There are a number of reasons why we believe this is the case. This includes the following:
We genuinely care about our clients. If you have had a slip trip or fall on snow and ice, we want you to focus on your recovery while we concentrate on getting you the payout you deserve.
We are dedicated to securing the highest slip and fall compensation amounts, and our record shows this.
We have years of experience in the industry and we will provide you with a specialist solicitor that has up to 30 years of experience, including experience with claiming for slip and fall on ice injuries.
We have an outstanding reputation in the industry. You can read the comments that have been left by past clients to see that this is the case.
We handle all cases on a No Win, No Fee basis, which was explained in the former paragraph.
We provide legal advice free of charge, and our helpline is available 24 hours per day.
Talk to us today about compensation for a slip trip or fall on snow and ice
Hopefully, you now have all of the information you need regarding making a claim for a slip trip or fall on snow and ice. However, if you have any further queries, including queries regarding slipping on ice injuries statistics and slip and fall on ice settlement amounts, you will be pleased to know that we have a legal helpline that is available 24 hours a day, seven days per week. The number you need is 0800 073 8801.
You will speak to a friendly and dedicated member of staff who will happily answer all of your questions. Please note that the legal advice we provide is 100 per cent free of charge at all times and there is no obligation to continue with our service. You can also get in touch with us via other methods. This includes requesting a call back via the box on our homepage, as well as using our live chat feature.
You can also send an email to office@accidentclaims.co.uk and we will aim to get back to you within three hours if you sent the message on a weekday.
Thank you for reading our guide on how to claim compensation for a slip trip or fall on ice.
Useful links Relating to compensation for a slip trip or fall on snow and ice
Accident at Work Claims Find out more
If you have had a slip trip accident at work contact us today for free legal advice.
Council And Local Authority Claims
Find out how to to make a snow or ice slip or fall accident claim against the local council and whether you claim comes under the Highways Act 1980.
An Accident in public place compensation claims – Find out if you are eligible to claim
If you have had a slip trip or fall in a public place contact us today to find out if you can claim compensation.
Slips and trips in adverse weather – HSE
This link takes you to the UK Government Health and Safety Executive website where you will find HSE snow and ice information regarding winter weather and icy conditions. This includes advice regarding gritting, ice, frost, snow, rainwater, wet and decaying leaves, and lighting.
You can use this link to find out which roads your council will grit. Simply enter your postcode and you will see the pavements and roads that councils are supposed to grit when the conditions get snowy or icy. This service is available for England and Wales only.
NHS story on preventing slips in winter
This article provided by NHS Blackpool not only contains advice on doing a snow and ice risk assessment and being safe during the winter months, but it also provides details on what you should do if you have suffered a mild or moderate sprain due to falling on the ice.
FAQs compensation for a slip trip on snow or ice
Can you claim for slipping on ice?
Ice and snow are acts of nature and in general, you can see that they can present slipping hazards. However, whether in a workplace, public place or other space, occupiers of premises have a duty of care to ensure that people on their property are kept free from harm. If the responsible party has breached this duty of care, you may be able to claim compensation.
Can you sue the council for slipping on ice?
Local councils have a duty of care to ensure that employees, people on their premise using their facilities are kept safe and free from harm. Slips and trips on the pavement are some of the most common types of accident claims. If a council has been negligent in their duty of care to ensure that pavements are kept safe, you could be able to sue the council for any injuries sustained.
What to do if you slip on ice?
If you have slipped on ice or snow there are several steps which we recommend people take if you intend to claim compensation for a slip trip or fall on snow or ice. These are
Ensure that you get the right medical attention.
Ensure that you collect any evidence pertaining to your accident claim. This may include witness statements or reports from the hospital or doctor about your injury.
Ensure that you record your accident. This could include taking photos of the scene of the accident and your injury or requesting any CCTV footage.
Ensure that you report the slip, trip or fall incident to the relevant party such as an employer, a shop or the local council. If the accident happened at work, make sure to fill in the accident report log.
Contact a solicitor to check if you could make an injury claim.
How much is pain and suffering in a slip, trip and fall?
There isn't any set amount for pain and suffering from a slip or fall. All claims are different and the facts and evidence to back up your pain and suffering would help determine how much compensation you could receive. To assess how much compensation could be appropriate for your slip and fall injury, you would have to undergo a medical assessment. This is separate from seeking medical attention after your initial injury. The medical expert who would be an independent professional would need to get all the facts about your medical condition. They may request your past medical notes, and they could review these before you go and see them. When you attend the assessment, the independent expert would ask questions about your injury, and they could examine you too and order tests if they need to. All this would help them get a better picture of your injury. Once the assessment was complete, the expert would write a medical report in order to document their findings.  Courts and solicitors would look at this vital piece of evidence to work out how severe your injuries are or were. They would also look at how the injury is likely to impact you in the future. All this would be taken into consideration when determining how much your claim could be worth.
Can I claim compensation for care costs?
If you needed care at home while recovering from your injury, you could include care costs in your claim. These could be compensated for as special damages.
Can I claim compensation for a slip trip or fall on snow and ice on behalf of somebody else?
Our solicitors, who are authorised and regulated by the Solicitors Regulation Authority, could help you with a claim for compensation for a slip a trip or fall on snow and ice on behalf of someone else in a number of circumstances. They could assist you with making a claim for a child's injury. This would involve you applying to be their litigation friend. Doing so would allow you to make decisions on their claim for them, with their best interests at heart. You could have open till their 18th birthday to launch your claim, or, they could wait until they are 18 years old and claim for themselves. It could be difficult for you to make a decision on whether to claim or whether to wait. Our expert advisers could give you all the information you need to make an informed decision. If you decide to go ahead with the claim, we could provide you with a solicitor that works on a no win no fee basis.
Do I need a local solicitor to assist with claiming compensation for a slip trip or fall of snow and ice?
It could be considered a common misconception that you'd need to use a local solicitor for your claim. Many people opt for the services of a solicitor that is not based in their local area. This is because many claims can be handled primarily by post, email or video call, and there is usually no need for lawyers and clients to meet face to face these days. However, if you would like to meet with your lawyer, this could be arranged, no matter where in the country they were.
Thank you for reading our guide on claiming compensation for a slip trip or fall on snow and ice.