By Jo Jeffries. Last updated 19th July 2022. Welcome to this guide which explains car accident victims' rights in detail. In the sections below, we answer common questions about your rights after a car accident  and explain what to do after a car accident, such as 'Should I go to hospital after a car accident?' and  'What can you claim for after a car crash?' If you're thinking 'I had an accident, should I get someone legal to assist with a car accident claim?' or 'How much compensation could I receive?' this guide could help.
If you're involved in a traffic accident, not only can your vehicle end up with a lot of damage, you could suffer serious, and sometimes life-changing, injuries. We think the claims process can seem quite daunting which is why we've written this guide to explain your legal rights following a car accident.
Car Accident Victims' Rights – Could You Claim?
Within the guide, we provide information on how to prove who's to blame for an accident, what to do following an accident, and how much compensation might be awarded for specific injuries in a valid claim. We'll also try to answer the question, "We had a car accident, what should we do?"
Accident Claims UK are specialists in making personal injury claims. Our team of advisers can help you by providing free advice. Also, they'll assess your claim on a no obligation basis, and advise you on your chances of successfully filing a personal injury claim. If they establish your claim to be strong enough, they could introduce you to one of our No Win No Fee solicitors. Please continue reading to find out more about your rights after a car accident.
Alternatively, if you're ready to begin your claim right away, please call us on 0800 073 8801 today.
Select A Section
A Guide To Understanding Your Rights If Injured In A Car Accident
"What are my rights following a car accident?" This is a common question we hear when new clients contact us. The answer really depends on who was to blame for the accident. In cases where it can be shown that another road user's negligence caused the accident that left you injured, you have a number of rights, including the right to claim compensation from them.
Throughout this guide, we're going to look at what types of accident could happen, when somebody else could be liable, and your legal rights after a car accident. In general terms, a solicitor will usually want evidence that proves negligence caused your injuries before they'll consider taking on your claim. Therefore, we'll also look at what evidence you can use to substantiate your claim.
Also, and just as important as evidence, is the fact you must claim within the personal injury claims time limit. In normal circumstances, this is 3-years from the date of your accident. However, this could be extended if your injuries weren't diagnosed until a later date, or you were under the age of 18 when the car accident occurred.
Car Accident Victims' Rights Explained
As we progress through this guide, we'll look at what your rights are following a car accident. We'll look at your rights to:
Another driver's personal information
Their insurance details
Claiming when the driver has no insurance
Compensation for any injuries sustained
Other compensation
Then we'll look at when you need to report the accident to the police, and who else you might need to inform.
After reading this guide, if you'd like to discuss your eligibility to begin a claim, please call an adviser. There's no pressure on you, and you'd be under no obligation to proceed. Any advice provided by our team is free.

What Are Car Accidents And Crashes?
Unfortunately, car crashes and accidents happen in the UK frequently, causing a variety of injuries. You can see the Department for Transport's figures from the year ending June 2021 below.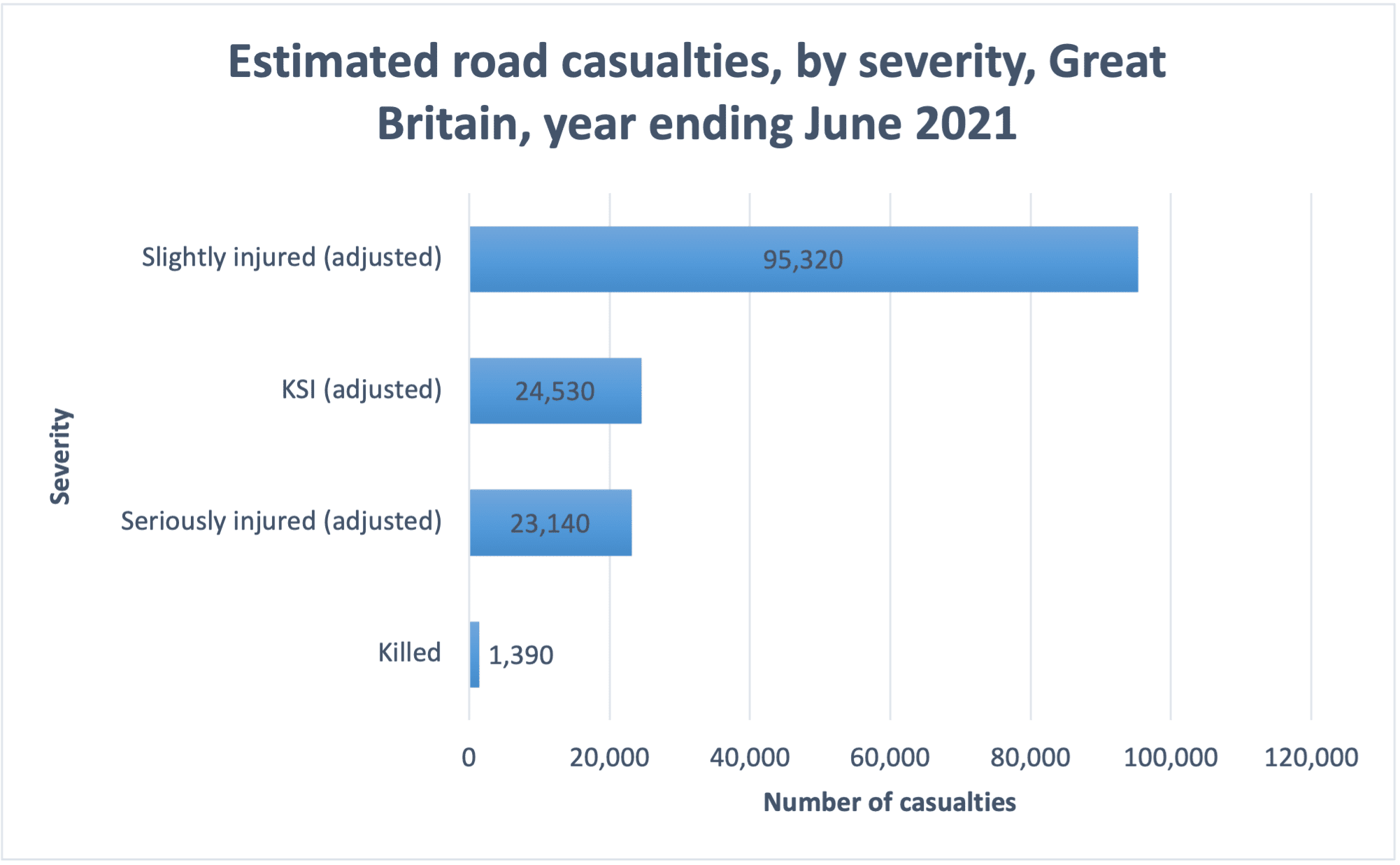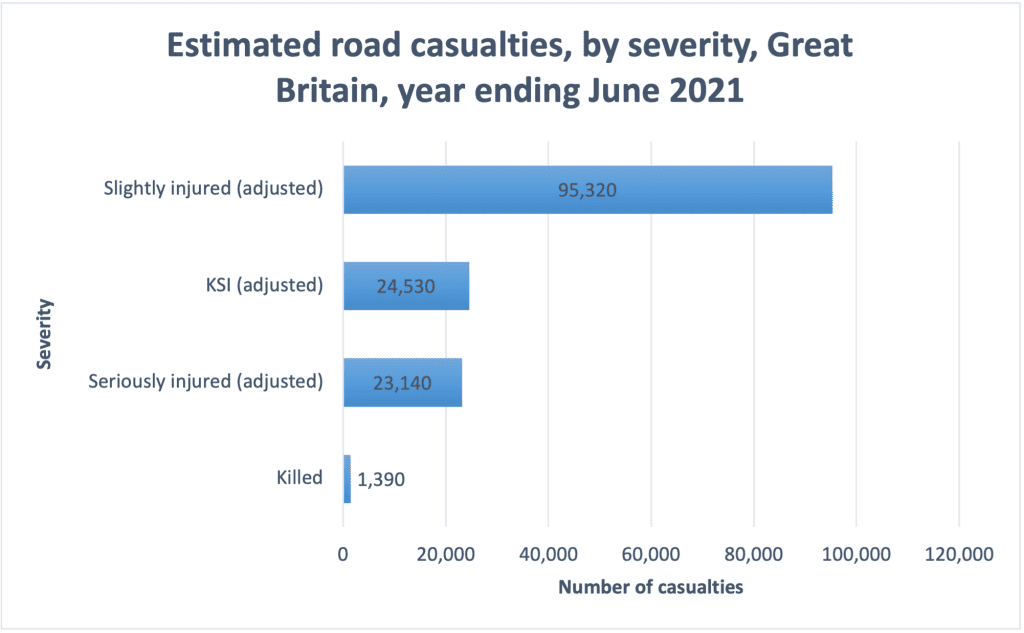 When we talk about a car accident in this guide, we're talking about one in which you were driving (or you were a passenger), and the accident that occurred was caused by another road user's negligence. To be eligible to make a personal injury claim, you'll need to have suffered some form of injury.
Some common forms of negligence which could make the other driver liable for an accident include:
Driving at excessive speed (speeding)
Dangerous driving, which could include drink or drug driving
Careless driving
Pulling out at a T-junction in front of you when there wasn't enough time
Crashes caused by dangerous over-taking manoeuvres
In some cases, if you were partly responsible for the accident, a claim could still be possible. Once you'd agreed what percentage of the blame was yours, the compensation would be reduced accordingly. Please speak with an adviser for further advice on this.

What Steps Should I Take If Involved In A Car Accident?
When an accident occurs, there are a number of steps you should take. These include:
Stopping at the scene of the accident – not doing so could lead to a prosecution
Turn on your hazard lights and switch off the engine
Check for injuries. Call for an ambulance if required
Contact the police to report the accident. Use 999 for emergencies or 101 for non-emergency situations. You must report a car accident to police within 24-hours. Otherwise, you could be penalised
Provide your details to anybody else involved in the crash
Obtain the details of the other driver, their passengers and any witnesses
Photograph the scene of the accident
Get in touch with your insurer
Do I Have Rights To The Other Drivers Information?
Under the Road Traffic Act 1988, anybody involved in a car crash can ask the other party (or parties) for their details. Therefore, you should ask for, or make a note of, the following:
The drivers name and address
Details of the vehicle's owner if it's not the driver
What Other Information May I Have A Right To After A Car Accident?
As well as the information from the previous section, one of your car crash rights, is to ask to see a certificate of insurance if you have 'reasonable grounds' to ask for this. You must also provide your insurance documents if the other driver requests them. Generally, reasonable grounds for asking for these documents would be because somebody was injured in the accident.
If the other driver doesn't have their insurance documents with them, they may be asked to produce them at a nominated police station after the accident has been reported. This will need to be done within 7-days of the accident.

Is There Any Other Information Which May Help My Claim?
When thinking about personal injury claims, evidence is vital. Therefore, as well as the information the victim of a car accident has rights to, here are some more steps you should take as proof of what happened:
Record the registration numbers of each vehicle involved
Asked witnesses for their details
Take photographs or film the scene of the accident on your phone
Obtain any dashcam footage that's available
Photograph any visible injuries
Write down what's happened. Include dates, times, locations and road conditions. Also record the damage caused and injuries sustained
You should visit a doctor or hospital, medical records are essential and can be used to substantiate what injuries you received and what treatment was performed
The more evidence you have, the easier it will be for your solicitor to build your case against a negligent third party. Remember, they need to prove what happened, who was to blame, what injuries were sustained and how they affected you. Therefore, the more evidence you can supply, the better their chances of winning your case.

Your Legal Rights To Compensation After A Car Accident
One of your legal rights following a car accident, is the right to claim compensation for any injuries you sustained which is used to pay for pain and suffering caused by your injuries. It's also used to cover any financial losses caused by your injuries.
Of course, you won't just receive compensation following a car accident. You'll have to prove that somebody else was liable, and negotiate how much compensation you could be entitled to. This is where the services of a specialist solicitor could be really helpful. They have the experience and understanding of legislation to ensure the right evidence is provided. This is important because, without it, you could end up receiving less compensation than you deserve. You could also go on to win no compensation at all.

Do I Have To Report The Car Accident To The Police?
As mentioned early, if you're involved in a car accident, the law states that you must tell a police officer within 24-hours. In emergency situations, where an injury has happened, you'll probably need to report it straight away by dialling 999. In non-urgent crashes, you can report the accident by calling 101.  Some police forces also provide online reporting tools.
Reasons to call the police immediately include:
If you believe the accident was caused by drink or drugs
If the driver has left the scene without stopping (hit and run)
When you suspect a crash-for-cash crime has been committed
If you're blocking the highway
When you've caused any form of damage to street furniture (lampposts, walls, benches etc), you should also inform the police via 101.

Your Right To Compensation If Injured By An Uninsured Driver
It's quite worrying to think there are people driving around Britain with no insurance to cover their vehicle. You might think that if you're hit by an uninsured driver, you'd have no choice but to claim against your own policy. Some of the problems with taking that route include:
You might have to pay a policy excess
The price of your policy might increase in future
You may lose your no claims bonus
So, what else can you do? Well, the insurance company has set up an organisation known as the Motor Insurers Bureau (MIB) and they are able to compensate you when the other driver wasn't insured, or if the other driver can't be identified (hit and run).
Who Pays For Your Claim?
The MIB scheme is paid for by drivers who do take out insurance policies. A premium is taken from your insurance payment which is used to contribute to the scheme. Some estimates say that each insured driver contributes £30 into the scheme.
To make a claim using the MIB, you'll need to be able to provide details of the other vehicle and driver involved in the accident. Then, the MIB would need to investigate the circumstances of the accident, and review the evidence provided by your solicitor.
According to the MIB website, they aim to make a decision on low-value claims within 6 weeks. For higher value claims, the time frame is 6 months.

Car Accident Compensation Payouts For 2022
If you are making a car accident claim, you could potentially claim under two heads of damages.
This section will focus on the general damages portion of car accident compensation payouts. The figure is calculated in line with the level of pain and suffering that's been caused by your injuries. The length of your recovery period and how severe your injuries are will both be considered when calculating general damages.
Legal professionals will use all relevant evidence you provide to help with this calculation, including medical reports and images of any injuries. In addition to this, there is also a publication called the Judicial College Guidelines (JCG). Updated in 2022, the JCG contains a range of monetary figures alongside a variety of possible injuries.
The amounts listed are used as guidelines when arriving at a suitable amount for a general damages payment. We've included a few select entries from the latest edition of the JCG in the table below. However, as every claim is assessed individually, you may not receive similar to these figures in your own claim.
| Injury Type | Severity | Range | Comments |
| --- | --- | --- | --- |
| Arms | Loss of one | £109,650 to £130,930 | An above the elbow amputation which makes the use of a prosthetic limb difficult. |
| Arms | Moderate | Up to £12,590 | Elbow fractures, simple fractures of the arm and lacerations could all fit into this bracket. |
| Legs | Severe | £96,250 to £135,920 | When the leg doesn't need to be amputated but the symptoms are so severe that the outcome is practically the same. |
| Neck | Severe | £65,740 to £130,930 | Serious fractures or damge to the discs in the cervical spine. Will result in considerably severe disablities such as loss of function in one or more limbs. |
| Neck | Moderate | £13,740 to £24,990 | Includes soft tissue damage, wrenching type injuries and disc lesions which result in permanent or recurring pain. |
| Pelvis | Moderate | Up to £39,170 | Injuries that result in a permanent but minor disability. |
| Back | Moderate | £27,760 to £38,780 | Includes compression or crush fractures. |
| Foot | Modest | Up to £13,740 | Injuries such as ruptured ligaments, fractured metatarsals and puncture wounds. |
| Back | Minor | Up to £12,510 | Where no surgery is required and the injury is fully healed between 3-months and 2-years. |
| Shoulder | Moderate | £7,890 to £12,770 | Injuries such as frozen shoulder which leads to limitation of movment and discomfort for around 2-years. |
| Wrist | Fracture | Up to £10,350 | Fractures which take a long time to heal but complete recovery does occur. |
How does a solicitor help?
A key role for your solicitor is to demonstrate exactly what injuries were suffered. Also, they need to show the initial effect on you, and any future impact. By doing this, they can try to ensure you receive the correct level of compensation. As an example, our solicitors use independent doctors to assess you.
These assessments are carried out locally to you, so you don't have to travel too far. They provide a report which shows the types of injuries you sustained, the treatment you had to undergo and whether you've recovered fully yet. This information is then used to work out what compensation amount will be requested.

Compensation You Could Have The Right To Claim After A Car Accident
In the previous section of the guide, the table showed compensation that could be awarded for the injuries you sustained which are awarded as general damages. However, there are a number of other things that could be claimed for which are awarded as special damages. These include:
Hire car costs
If you had to pay for a hire car while yours was being repaired, you could claim back these costs
Replacement car
Also, if your car was damaged so much that it couldn't be repaired, you might incur the cost of replacing it. Therefore, you could claim this loss back too
Other travel arrangements and costs
If you're unable to drive while you're recovering from your injuries, you might have to pay for alternative travel arrangement such as public transport. Therefore, any extra costs could be included in your claim. Also, if you incur fuel costs or parking costs associated with medical visits linked to your accident, you could claim these back
Other types of special damages
Lost earnings
When you need to take time off from work for medical appointment or while you recover, you could end up out of pocket. Therefore, any loss of earnings could be claimed back. In longer-term cases, if your injuries have an impact on your working ability, you could claim for future lost income too
Care Costs
Should you require support while you're recovering, you could claim back the cost of a carer. This could be the fees of a professional or the time of a loved one
Medical Expenses
Finally, you could include the cost of any prescriptions, over the counter medicines or other treatments within your claim
Please remember to retain any receipts linked to these expenses. Doing so will help your solicitor make a successful claim. Also, it can be useful to keep a record of spending.

No Win No Fee Car Accident Injury Claims
One thing some people see as a stumbling block when it comes to making a claim, is the cost of hiring a personal injury solicitor. However, when you use Accident Claims UK, our solicitors reduce the financial risk by offering a No Win No Fee service for claims they take on.
When you contact us, the first thing to happen will be that your claim will be reviewed. If the solicitor believes you've got a strong enough chance of being compensated, they could offer you a Conditional Fee Agreement (CFA). This document acts as your contract. It's really good to have this available as it confirms there are no legal fees to pay if the case is lost. It also outlines the success fee that you'll pay if the claim is won.
What are success fees?
Success fees are used to pay the solicitor's fees. They're expressed as a fixed percentage of your compensation. To save you paying the solicitor from your own bank account, they simply deduct the success fee from your compensation before it's sent to you.
We believe that everybody has the right to claim compensation if they're made to suffer because of somebody else's negligence. That's why we offer a No Win No Fee service.

Why Claim With Accident Claims UK?
Hopefully, now that we've provide information about your legal rights following a car accident, you now know how Accident Claims UK could help you. If you need more information, here are some reasons we think you should choose us to help you make a claim:
We have a team of specialists able to offer free advice about your rights after a car accident
Also, we offer a no obligation assessment of your claim
Our claims line is open all day, every day so you can call when it's convenient
Our solicitors work on a No Win No Fee basis for any claim they handle
They work as efficiently as possible to prevent your claim dragging on
We've received lots of positive feedback from previous customers
Finally, our solicitors always try to ensure you receive the correct level of compensation for your injuries
If you'd like more information about how we could help you claim, please call and speak to an adviser today.

Begin A Car Accident Claim
You've now come to the end of this guide about your legal rights following a car accident. We hope you've found the information useful. We also hope that you'd now like to begin your claim with Accident Claims UK. If so, here's how you can contact us:
For all personal injury claims, we'll follow the same process. First of all, our advisers will assess your claim and the evidence you have to support it. Then they'll provide you with free advice about making a claim. Finally, if the claim is strong enough, they could introduce you to one of our personal injury lawyers. Every claim they agree to take on will be on a No Win No Fee basis.

Rights After A Car Accident – FAQs
We had a car accident, what should we do?
In the first instance, you should check to see if anybody is injured. If they are, call for an ambulance if necessary. After that, you should begin to gather details from anybody else who was involved or saw what happened. Where possible, photograph the scene of the accident before any vehicles are moved away. Importantly, you should not admit liability for the accident or sign anything at the side of the road. Simply swap details with anybody else who was involved.
Can I claim compensation following a car accident?
As well as making an insurance claim for any damage to your vehicle, you could seek compensation for any injuries you have sustained if the accident was somebody else's fault. Additionally, claims for financial losses linked to your injuries could also be claimed.
What are the time limits for car accident claims?
In the UK, claims for injuries sustained in car accidents have a 3-year time limit. Mostly, the limitation period will begin on the date of the accident. However, where a child is injured, the 3-year time period will not apply (until they turn 18-years old).
Do I need a personal injury solicitor to make a car accident claim?
Using a solicitor to help with a claim could improve the chances of winning your claim. It could also mean you receive a higher compensation figure.
If you would like to discuss your case with a member of our team, please get in touch today.
Are everyone's rights after a car accident the same?
Everyone's rights after a car accident aren't the same. If a person causes a car accident themselves, they would not have the right to claim compensation. If you are confused about who's fault an accident was, and believe someone else could be to blame, even if you were partly to blame, we could help. We could assess whether you could have a valid claim for compensation. 
What can you claim for after a crash?
What you can claim for after a crash depends on the situation. In general terms, if you've suffered injury in an accident that was caused by another motorist's negligent driving, you could receive compensation for:
The pain and suffering you've endured, as well as the loss of amenity

Financial expenses caused by the accident and your injuries. 
Please call our team for further insight into what you could claim for, according to the specifics of your case.
Should I go to hospital after a car accident?
You should go to hospital after a car accident that has caused you serious injuries. You could, in some cases, be taken there from the scene of the accident if paramedics are called.But what if you don't know what to do after a car accident because you're not sure if you need hospital treatment for less severe injuries?  If you suspect you have broken bones or other injuries that require medical attention, you could call 111 to find out the best treatment options for you.
Should I have someone legally assist with my car accident claim?
A common question people have when they're injured in a car crash is, "do I legally need a lawyer after I had an accident?" It is not a legal requirement to have a solicitor to make a claim. However, there are lots of reasons that most people seek legal advice when making a claim. A solicitor could tell you what to do after a car accident in the UK to maximise your chances of receiving compensation. They could also put your claim together, leaving you with less paperwork and stress. Further to this, they could advise you on whether an offer of compensation could be considered fair for a car crash injury. 
Getting legal advice from Accident Claims UK over the phone is easy and free. When you call our team and say 'I had a car accident, can I claim?' we'll ask some questions about the car crash. When we have the information we need, we'll tell you whether you could claim. Then, if we determine that your claim is valid, we could offer you the services of a No Win No Fee solicitor. They could take your claim on without you needing to pay anything upfront in legal fees. 
How do I know whose fault a car crash was?
After a car accident in the UK, you may be wondering who is at fault. You should call our team to find out more about determining liability in your car crash claim.
Essential References Related To Your Rights After A Car Accident
Thanks for reading our guide which aimed to answer the question, "What are my rights after a car accident?". To assist you further, we've provided links to some of our other guides as well as some external links and resources that we hope you'll find useful.
Road Traffic Accident Claims – This guide explains when you could make a personal injury claim following a car crash caused by another driver.
Passenger Injury Claims – A guide which explains your car accident legal rights if you were a passenger.
Fatal Car Accident Claims – Information on claiming compensation if loved one suffers fatal car accident injuries.
The Motor Insurers Bureau – This website explains your rights after a car accident where the other driver was uninsured.
Brake Road Safety – Brake are a charity who aim to improve road safety.
The Highway Code – Information from the UK Government on the rules of the road for car drivers and other road users.
We hope that this guide has answered the question, "We had a car accident, what should we do?"
Article by BH (Brett)
Editor Honey