By Joanne Jeffries. Last Updated 8th November 2021. Welcome to this case study covering personal injury claims payouts for a fractured neck.
In this case study, we take a look at how a personal injury lawyer, was successfully able to claim compensation for a fractured neck. The claimant, in this case, was a-older woman in her 70's. She was hit by a vehicle while crossing the road, and suffered a fractured neck.
Immediately after the accident, she was taken to the hospital and underwent a number of tests, which included an X-ray of her neck. The doctor dealing with her case, did not see anything wrong with the neck X-ray. They did find that her shoulder had been dislocated though, and she was treated for this and then sent home.
A couple of days later, the woman lost all feeling in her legs and feet. She was taken back to the hospital, and a underwent a CT scan. The results of this test showed that she was suffering from a broken neck, with severe damage to her spinal column. She underwent surgery to try and deal with some of the damage, but it was unsuccessful, and she was left completely paralysed from the chest downwards. This would be a permanent condition she was told.
She contacted a solicitor, and instructed them to process a compensation claim on her behalf. The health trust did not deny liability, and an out of court settlement of £100,000 was negotiated on behalf of the claimant by her solicitor.
In this case study, we will take a look at how the misdiagnosis took place, and why it is possible to claim for clinical negligence. We also look at how the claim was processed, and the settlement that was negotiated; why and for what.
Medical Misdiagnosis And Fracture Injuries
Misdiagnosis of a medical condition is a form of clinical negligence. In some cases, misdiagnoses can put the patient at serious risk. For example, if a cancer victim is misdiagnosed, it could delay their treatment, and lessen their chance of survival. In this case, the misdiagnosis caused the claimant to damage her spinal column further. If she had been treated two days earlier, she would not have been paralysed from the chest down for the rest of her life.
Every medical professional has a duty of care towards their patients. When they fail in this duty of care, such as misdiagnosing a medical condition and it causes harm to a patient, then clinical negligence will have occurred. A solicitor should be able to make a claim for clinical negligence compensation when this occurs.
Neck Fracture Injuries
A broken neck is a very serious injury, one that should never be left untreated as it was in this case. For most people who suffer a fractured neck, diagnosis is very simple, as they will be in severe pain; the injury will be obvious. An X-ray should show even a hairline fracture of the neck quite clearly.
Broken neck treatment in cases where the spinal column is not damage, consists of applying a neck brace. For more severe breaks, a much stronger brace may be used, and the patient made immobile. When the spinal column is damaged, there are few options, as the spinal chord does not heal on its own, and there are no surgical procedures to repair it. In this case, had the claimant been diagnosed on her first visit to the hospital, she would have been fitted with a neck brace, and ultimately recovered. As she was not diagnosed or treated, her spinal column became damaged, and this is why she attempted to claim personal injury compensation for clinical negligence.
How Did The Personal Injury Solicitor Assist The Claimant?
The victim engaged a personal injury solicitor to make a claim for her. She was in a dire situation, both physically and financially. After spending a year in broken neck recovery, she was still paralysed from the chest downwards. She, of course, required care round the clock, and also began to suffer from dementia, which it is believe was triggered by the shock of the accident and injury.
Her solicitor pursued the NHS trust that the doctor worked for, to seek a compensation settlement. The defendant admitted full liability, and offered a £100,000 out of court settlement, which the claimant accepted.
What Was The Final Compensation Payout?
The solicitor that the claimant engaged to process a claim for neck injury compensation, managed to negotiate an out of court settlement for a neck injury to the tune of £100,000.
This compensation payment included damages for a number of issues, and these included.
Pain and suffering – for the two days the claimant was in severe pain after being sent home without her broken neck being treated.
Loss of life quality – as she would now be permanently disabled from the chest down for the rest of her life. However, it should be noted that as the claimant was already 77 years old at the time of the accident, the compensation paid for this was a low amount. This reflects the fact that the claimant's life expectancy was just a few more years.
Ongoing care costs – to cover for her 24/7 care in the home.
This claim is a good example of how a medical negligence claim should proceed. It was clear that clinical negligence took place, through the obvious misdiagnosis of the claimant's broken neck. The health trust responsible for the medical professional who made the wrong diagnosis, fully admitted liability. Therefore, the defendant offered a fair out of court settlement, rather than risk a much higher compensation amount being awarded in court. The claimant's solicitor simply had to follow the correct legal process, and in many ways, had a very easy task in winning compensation for the victim.
Accident Claims UK is an experienced clinical negligence solicitor. We can assist anyone in the UK who has been the victim of medical negligence, and help them to make a compensation claim.
No Win No Fee Payout For A Fractured Neck
Accident Claims UK can offer you a way to have a clinical negligence claim processed with no financial risk. We operate a national No Win No Fee claims service across the entire UK. This means that we would become your No Win No Fee solicitors, and we would process a compensation claim on your behalf.
The Conditional Fee Agreement (CFA) that our claims service is based on, is very easy to understand. Initially, when you engage us to handle your claim, you pay nothing. As we are processing your claim, and this can take months in some cases, we charge no ongoing fees. If we fail to win you a compensation settlement, then we don't charge anything, not a penny. When we do win compensation for you though, then we will take our fee directly out of the payment we receive on your behalf. We will then pass the money that is left over to you.
As you can see, this means that there is no financial risk to you at all, as you don't pay a thing unless you have actually won your claim. If you have any questions about how our claims service works, call us on the number below, and we will answer them for you.
Speak To Our Experts Today About Personal Injury Claims Payouts For A Fractured Neck
Accident Claims UK can help you to make a personal injury claim for broken neck compensation. We offer our national claims service to every resident of the UK, as a simple and effective way to have your claim processed. If you believe you have a valid reason to make a claim, and are ready to move forward with it, call Accident Claims UK today on 0800 073 8801. One of our team will be ready to talk you through the process of starting a claim with us, and answer any questions you may have. Call us today, so we can start getting you the compensation that you are entitled to today. You really have nothing to lose and everything to gain.
What Other Reasons Could I Receive Personal Injury Claims Payouts For A Fractured Neck?
As well as the medical negligence compensation case study we've included above, you could also receive personal injury claims payouts for a fractured neck from road traffic accidents, accidents at work and accidents in public places for example. A specialist solicitor who is authorised and regulated by the Solicitors Regulation Authority could assist with any number of personal injury claims. You would simply need to be able to prove that somebody else was at fault for your accident and they had a duty of care towards you. For example, employers have a duty of care towards their employees to protect their health and safety in the workplace. If they fail to do so, for example by failing to train people in how to work safely, or by failing to remove hazards from the workplace, they could be held liable for injuries at work because of this. When it comes to road traffic accidents, you would need to be able to prove that another motorist was at fault for your injuries. Whether you have been hit from behind in a rear end shunt, or somebody is merged into your lane and crashed into you, we could help you claim compensation for a road traffic accident in which you suffered a fractured neck.
How common are clinical negligence claims against the NHS?
While we do not have figures pertaining to the number of personal injury claims payouts for a fractured neck  the NHS has had to pay, we can provide you with some insights into how much compensation the NHS paid out in clinical negligence claims. According to NHS Resolution, in 2020- 2021 there was a staggering amount of compensation paid out by various trusts. You can see the figures in the table below.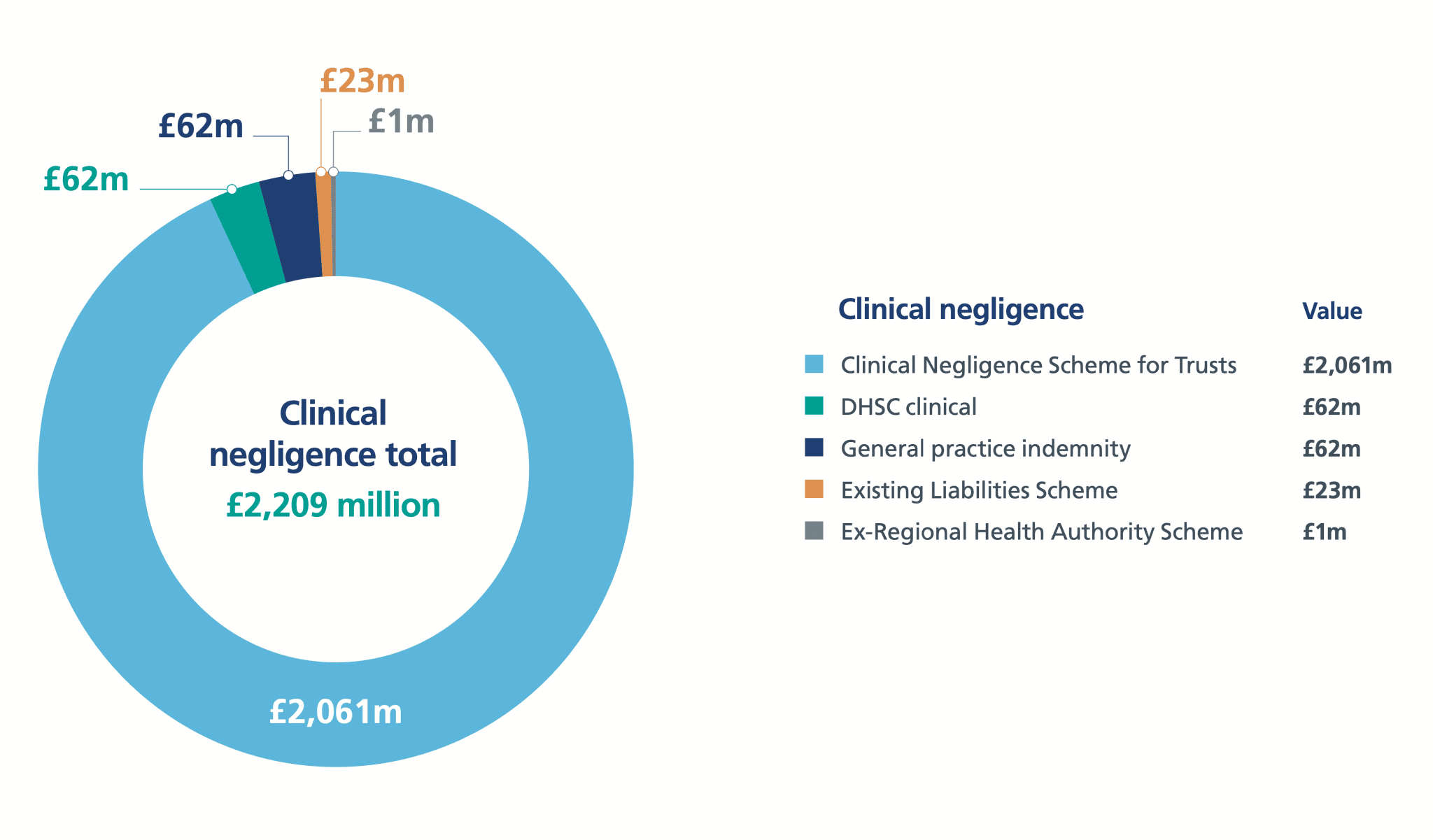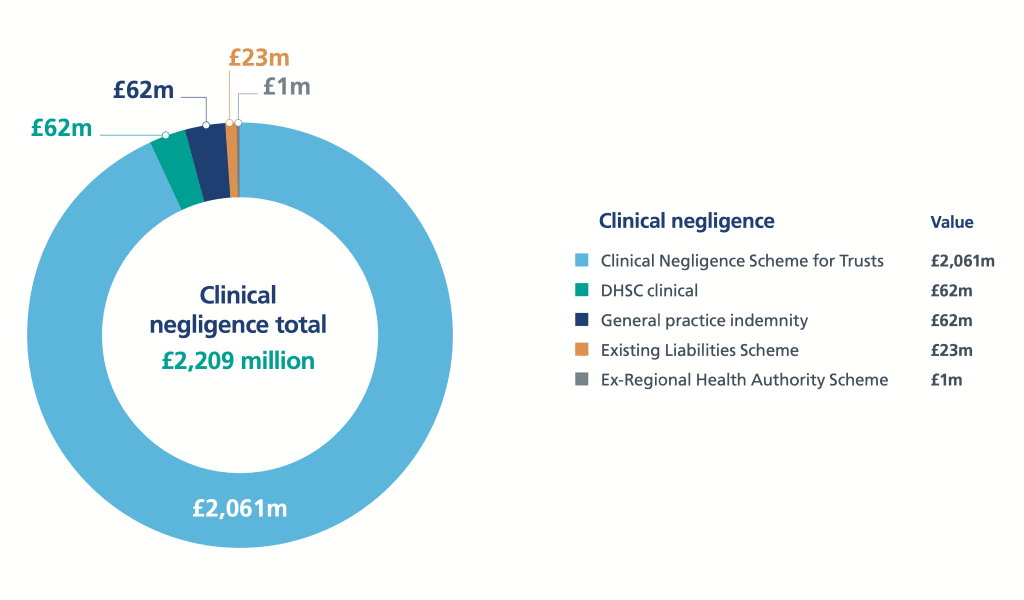 How can I maximise personal injury claims payouts for a fractured neck?
When it comes to getting the maximum compensation payouts possible for your claim, there are various things you can do to ensure you have all you need to claim the maximum settlement for personal injury claims in the UK possible. First of all,  we would advise you to use a specialist solicitor when making such claims. That way you can have a legal professional on your side who has the experience and knowledge to put together a strong case. Your solicitor could also use all of their knowledge and experience to fight for the maximum compensation payout for your claim.
When it comes to medical negligence, it is vital that you have strong medical evidence to prove that the negligence caused your injury to become worse, harder to treat or to heal improperly. Doing so could require significant amount of l medical evidence. You would need to attend an appointment with an independent medical expert as part of your claim. They would have to document the nature and severity of your injuries, and their professional opinion on your prognosis. Strong medical evidence could lead to a higher compensation payout for your claim. If you would like help with arranging this, and would like free legal advice from a friendly solicitor on whether you could claim medical negligence compensation, please do not hesitate to get in touch. You can call us at the number listed in the contact us section above.
Useful Links Relating To Personal Injury Claims Payouts For A Fractured Neck
At the link below, you will find a detailed guide to making a compensation claim for a spinal injury:
A guide to making a spinal injury claim
At the link below, you will find a detailed guide to making a compensation claim for an accident that caused spinal injury:
A guide to making an accident that spinal injury claim
The NHS has published full annual statistics, including those related to medical negligence and misdiagnosis, at this link:
NHS medical negligence statistics
We hope this personal injury claims payouts for a fractured neck case study has been useful.