By Joanne Jeffries. Last Updated 5th July 2021. Welcome to our guide to beauty treatment negligence claims, where we'll explain how you could secure the beauty treatment negligence compensation that you deserve for your suffering.
Suffering a beauty treatment injury can leave you feeling low and if the incident occurred through no fault of your own, you could be entitled to claim compensation. Filing a claim with our help ensures you are awarded the correct amount to suit your injury.
An injury caused by a beauty treatment can seriously impact your self-esteem leaving you withdrawn and unwilling to interact with people. If you have sustained an injury at a hair salon, beauty salon, spa or another beauty establishment due to a negligent beauty treatment, you could be entitled to claim compensation because salon owners, managers, and beauty professionals have a duty of care to ensure you are safe whilst being treated. Beauty salon negligence can result in slight to very severe injuries and you could be awarded damages for your suffering.
Injuries can occur whilst you are having your hair styled or when you use a tanning booth. An injury can be caused by laser treatments when you undergo body piercing or nail enhancements. There is also a risk when undergoing a Botox treatment. When things go wrong due to negligence or incompetence on the part of a professional technician, it can result in a chemical or skin burn, an allergic reaction or an infection that leads to a serious blood-borne disease. In short, it leads to people filing beauty treatment claims.
Whether you are an employee or a client and you suffered an injury as a result of beauty salon negligence, we can help you through the process of filing a personal injury claim. We can assess your case and make sure that you are awarded the right level of compensation for the beauty injury you sustained through no fault of your own.
Please continue reading our beauty treatment negligence claims guide to learn more.
Select a section
A guide to beauty treatment accidents and injuries
Welcome to our beauty treatment negligence claims guide.
Business owners and managers have a duty of care to ensure that customers/clients are kept safe and protected from injury whilst being treated in their establishments. The Health and Safety at Work etc. Act 1974 clearly mandates this and all beauty business owners, managers, and professionals must adhere to the law.
On top of this, the Sales of Goods and Services Act 1982 clearly states that customers/clients who enter into a contract with a Seller of Goods and/or Suppliers of Services must be kept safe and protected from situations that put them at risk of being injured.
Beauty establishments that fail to protect customers/clients while in their care by not adhering to the regulations could be held responsible should a client be injured. Business owners, beauty technicians and other professionals could be found "guilty" of negligence and could be required to pay compensation. The amount awarded would be reflected in the severity of an injury providing you can prove the incident occurred because of negligent beauty treatment.
Both women and men can suffer a beauty treatment injury through no fault of their own. In short, this type of injury is not exclusive to any particular gender. Having a professional legal adviser help you file a claim, establishes whether your case is strong, increasing your chance of success.
Our guide includes all the information needed to start a compensation claim which includes beauty and hair salon injuries as well as damages sustained in other beauty establishments without the need for an upfront payment. The guide explains the type of injuries typically covered and details how much compensation you may be awarded. It makes filing a beauty treatment injury compensation claim much easier.
To speak to one of our expert personal injury compensation advisers who would talk you through the process of making beauty treatment negligence claims, please see the contact details found at the end of this page in the Contact section.
Beauty treatment accident and injury statistics
The beauty industry covers a variety of activities and treatments which includes the following:
Spray tanning
Tanning
Nail bars
Hairdressing
Spas
Laser skin treatments
Micro-dermabrasion
Botox
Body art and skin piercing
Minor cosmetic procedures
Below are details, facts and statistics relating to an injury caused by beauty treatment procedures that could result in beauty treatment negligence claims being made:
The highest industry qualification beauticians/technicians can achieve is Level 4, but

to be a fully qualified professional you need a basic Level 2 Diploma in Beauty Therapy or the equivalent.

Claims are filed for beauty treatment injuries and embarrassment by people who suffer an injury through no fault of their own due to negligence or incompetence on the part of beauty treatment professionals/staff.
Some ingredients in cleaning/beauty products can cause dermatitis which includes solvents in nail varnish removers.

It is estimated that, in 2019, dermatologists reported 875 new cases of patients having

dermatitis

related to work.

Some ingredients cause asthma which includes powders and liquids found in acrylic systems used in artificial nails. Dust from filings can cause chest tightness and wheezing.

HSE statistics

report 2020 says that, in 2019, chest physicians saw 174 cases of occupational asthma. These cases are believed to be increasing.

Acrylic fumes can cause dizziness, headaches and nausea.
Direct contact with blood and body tissue residue when tattooing or body piercing, can cause an infection and blood-borne disease.
There are numerous hazardous substances used in hair salons which include aerosols, hair dye, shampoos and conditioners, hairspray, henna products, disinfectants and cleaning chemicals.
You can see some statistics relating to this below: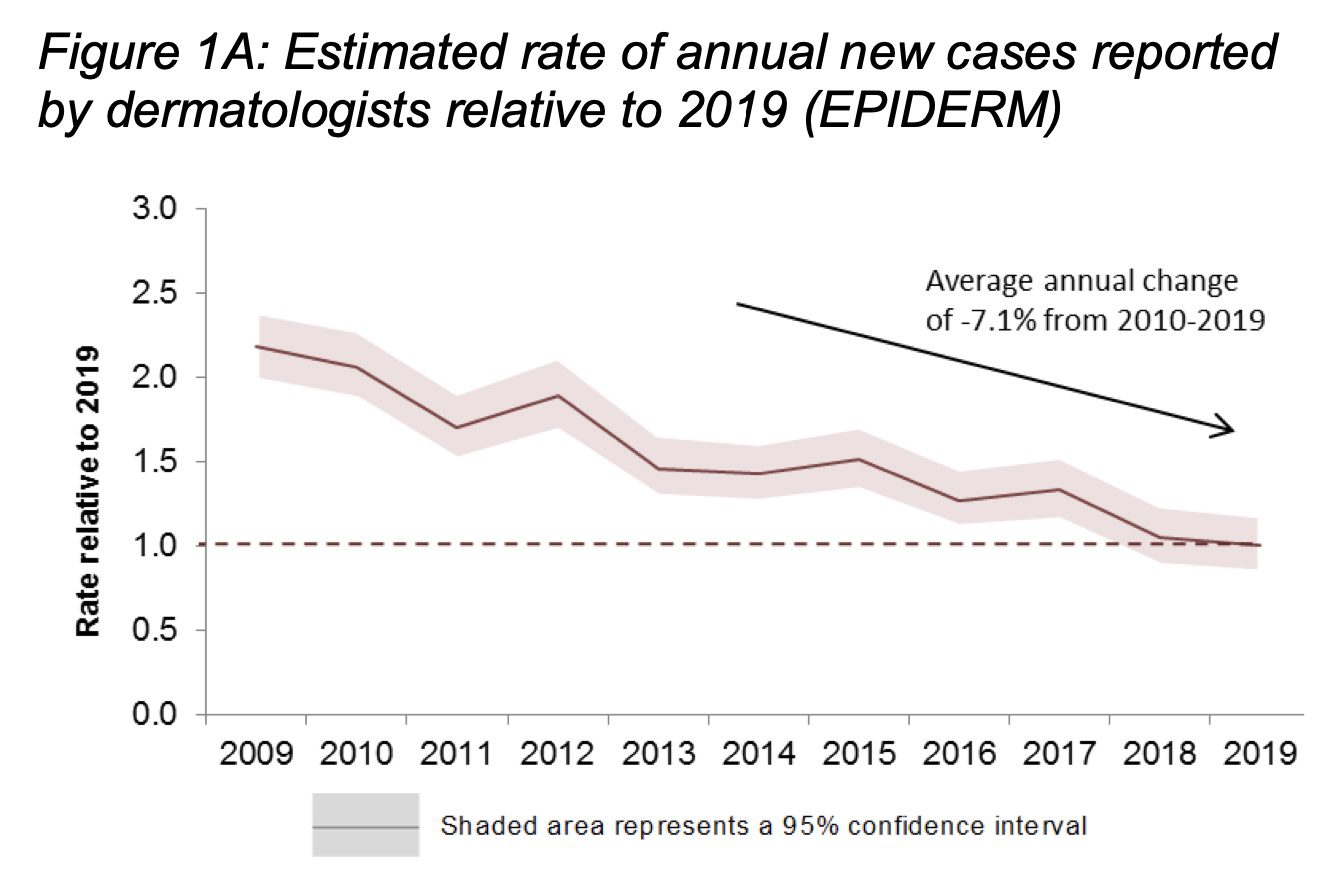 Source:HSE Statistics
Both workers and the public can suffer from some sort of beauty related injury which includes the following:
Asthma and dermatitis
Skin disorders/disease
Customers/clients are at risk of suffering from the following injuries:
Skin burns
Facial and beauty treatment injuries to the skin
Chemical burns
Allergic reactions
Potential for suffering a blood-borne, post-procedural infection
What are beauty treatment injuries?
Before we look at beauty treatment negligence claims, let's first take a look through what types of injuries could be sustained in the beauty industry.
There are many types of injuries you can sustain through no fault of your own when undergoing a treatment or procedure. This includes beauty and hair salon injuries. The damage may have been due to human error or it may have happened due to equipment failure. You may have suffered an allergic reaction or developed an infection because you were exposed to certain beauty products or because you came into contact with harmful chemicals found in beauty products.
You may have sustained an injury whilst working in a salon. Hairdressers, nail technicians and other professionals are constantly exposed to potentially harmful chemicals. If you are a beauty professional and have suffered an injury or developed a health issue as a direct result of carrying out your daily duties, you may be entitled to file a claim for compensation.
Some beauty injuries include the following:
Discolouration of the skin
Infections
Burns
Scarring
Hair loss
Allergic reactions
Facial and beauty treatment injuries to the skin
Poorly drawn tattooing
Eye infections
Bruising
Cuts
Serious and embarrassing cosmetic problems
Some health issues beauty technicians/professionals develop include the following:
Dermatitis
Asthma
Blood-borne infections
Musculoskeletal disease (MSD)
Common causes of beauty treatment injuries
There are numerous ways you can sustain a beauty treatment injury and many people ask us "can you sue a beauty salon?" when an incident happens. Simply put, yes, you could be able to make beauty treatment negligence claims, with some examples involving the following:
Procedures that are non-invasive: This type of beauty treatment includes Botox procedures. A slight mistake by a beauty therapist could result in you suffering a disfigurement leading to embarrassment and low self-esteem.
A slip and fall: Spills are a common occurrence in beauty salons which could result in a slip and fall. Beauty salons have a duty of care to ensure floors are kept clean and to place "warning" signs when floors are slippery as a warning of the danger.
Faulty and/or damaged equipment: Beauty salons/establishments use specialist equipment that is needed to carry out specific procedures. The equipment generates heat and is powered by electricity which puts clients/customers at greater risk of suffering a burn or an electric shock. A beauty salon must assess the risks and ensure that all equipment is correctly maintained. Should you suffer an injury as a result of having been treated with damaged or faulty equipment, you would be entitled to file a burn injury claim or another type of injury and be awarded the right level of compensation.
Negligence or incompetence: Beauty technicians/professionals are required by law to receive the correct amount of training before carrying out any treatments on clients. If a professional is not fully trained and you suffer an injury, you would have a strong case to file a compensation claim. For example, they may fail to carry out the mandatory patch test 48 hours before your skin comes into contact with a potentially harmful chemical during the actual procedure.
Defective products: You may sustain an injury due to a defective product. It is worth noting that manufacturers may be held solely responsible for your injury, but in certain cases, a beauty salon/establishment or retailer who sold the product may be held partly responsible.
Skin treatment injuries and accidents
Since there is a risk of developing an allergic reaction to chemicals used in many beauty products and treatments once applied to your skin, they could give rise to beauty treatment negligence claims.
Your skin is the largest organ of your body. It is the most "visible" and is sensitive too. When the smallest area is exposed to a caustic chemical, a slight reaction can sometimes turn into something a lot more serious.
It is a beauty technician's responsibility to read all manufacturer's guidelines and instructions before using a beauty product or treatment on clients. They are obliged to carry out a "test patch" before using a chemical peel. This "test patch" must be done on an area of skin that is not "visible" and the treatment should only continue once technicians are satisfied there is no allergic reaction.
Failure to carry out a "test patch" on you and not carrying out a full assessment of the risks involved when applying a product to your skin, could result in an injury. This is where we can help you understand what suing a beautician entails.
Chemical burns and other injuries caused by beauty treatments
As mentioned, a lot of beauty treatments contain potentially harmful chemicals. When handled by people who are not correctly trained, you could suffer a chemical burn and make beauty treatment negligence claims for your suffering. The most common causes of these incidents are as follows:
Hair treatments containing caustic chemicals
Suntan products containing sodium hydroxide
Depilatories containing sodium hydroxide
Hair products containing hydrogen peroxide
Products containing ammonia
There are laws set out by the Department of Health that govern how treatments containing chemicals are used and applied. The legislation states that treatments containing potentially harmful caustic chemicals must only be carried out by correctly trained beauty professionals/technicians.
Professionals who follow these guidelines ensure you are less likely to suffer a chemical burn. Technicians/professionals who are not correctly trained or who do not follow the guidelines put you at much greater risk of suffering a chemical burn and could even cause you to suffer severe skin damage. People often ask, "Can you sue a beauty salon"? The answer is yes, providing you can prove your case against an establishment. We can help by providing assistance with our burn compensation calculator.
Wax treatment injuries
A lot of people ask us "can you sue for waxing burns?" when discussing beauty treatment negligence claims.
Wax treatments are popular beauty treatments that both men and women undergo. Should you suffer a wax burn during treatment, you are entitled to file a claim due to negligence on the part of the technician carrying out your treatment. Under the Control of Substances Hazardous to Health Regulations 2002, a beauty technician must set in place preventive measures to avoid accidents from occurring when applying wax in the course of treatment.
Treatments that can lead to wax burns when not correctly applied include the following:
Leg waxing
Facial waxing
Eyebrow waxing
Nostril waxing
Earlobe waxing
Lip and chin waxing
Sides of face waxing
Hairline waxing
Hollywood waxing and Brazilian waxing
Upper body waxing
Lower body waxing
A beauty technician is obliged to carry out a "test patch" on your skin before continuing with a wax treatment. The wax has to be at the right temperature and not too hot and it must be applied to your skin correctly so that you do not sustain a wax burn. All tools used in wax treatments must be sterilised before being used on other clients to avoid the spread of blood-borne diseases and infection.
Beauty treatment negligence claims
Should a beauty technician fail to abide by the safety regulations and you are wondering can you sue for waxing burns, the answer is yes because the person carrying out the treatment could be held responsible and found guilty of negligence. The next question we are often asked is "How much compensation will I get for a burn?" and this depends on the severity of your injury.
Beauty treatment injury claims by employees
If you are injured while working as a technician in a beauty establishment, you could be entitled to make beauty treatment negligence claims against your employer.
Health and Safety Executive statistics show that up to 70% of hairdressers suffer from dermatitis and other skin issues because they handle beauty products that contain chemicals.
Nail technicians are at risk of suffering from asthma, allergies, lung disease and other health issues because they are exposed to chemicals contained in nail products and acrylics they constantly handle.
Employers have a duty of care to ensure that you, as an employee, are protected from all health hazards when carrying out your duties. Failure to keep you safe could entitle you to sue the employer for negligence because they omitted to set in place reasonable safeguards and, as a result, you were put in harm's way.
Common beauty salon activities include
There are numerous beauty treatments that salons undertake on clients, which include the following:
Hairdressing/styling – this includes hair cutting, hair dyeing, applying hair extensions and perming
Tanning – this includes tanning under lamps, applying tanning sprays and lotions
Micro-dermabrasion – a treatment where tiny exfoliating crystals are sprayed onto your skin to remove dull, dead skin
Laser skin treatments – a treatment that uses lasers to reduce wrinkles and other skin irregularities like acne scars and blemishes
Body art and skin piercing – tools and equipment must be correctly sterilised to avoid infection and blood-borne diseases being spread from client to client
Botox – a treatment that uses botulinum toxins to reduce wrinkles and fine lines by paralysing muscles found under the skin
Lip fillers – a treatment that uses hyaluronic acid to enhance the shape of a person's lips
Minor cosmetic procedures – these include Botox treatments, lip filler treatments and other minor cosmetic procedures
Spa treatments – this includes massages, acupressure massage, salt glows, body wraps, aromatherapy and body polish
Nail treatments – this includes manicures, pedicures and nail enhancements
How severe are beauty salon injuries?
The amount of compensation you could get by making beauty treatment negligence claims depends on the extent of your suffering. Therefore, should you suffer an injury following a beauty treatment, your case would need to be fully assessed before you can file a claim. Your injuries would need to be evaluated to establish if you have a strong case for compensation.
Injuries sustained during a beauty treatment are evaluated as being from minor to severe. A minor injury you suffer through no fault of your own could include a first-degree burn, a bruise or a cut. More severe injuries sustained during a beauty treatment could be hard to treat and this includes hair loss, head injuries, second or third-degree burns as well as injuries that require surgery.
Beauty treatment accident compensation and beauty treatment negligence compensation
When discussing beauty treatment negligence claims, one question people often ask us is "how much compensation will I get for a burn?".
The amount you could be awarded depends on whether you suffered a minor or severe burn injury or another type of beauty injury. A higher level of compensation is awarded for severe injuries. However, before an injury can be classed as minor or severe, you must be examined by a medical professional who would write an official report on your injury.
The long-term effects associated with beauty treatment injuries are numerous with embarrassment being high on the list. Social alienation is another thing you may have to suffer as a result of a beauty treatment injury.
You may also suffer kidney or liver damage caused by an infection due to having been treated with dirty, unsterilised instruments. What's more, burn injuries caused by caustic chemicals can cause mild to more chronic health issues.
The amount you may be awarded would depend on the severity of a beauty treatment injury you suffered. This together with other factors that include loss of earnings and income potential as well as how your standard of living has been negatively impacted, would be taken into account when filing a beauty injury compensation claim.
What to do after a beauty treatment injury
A beauty technician would naturally defend themselves against a compensation claim which makes the process much harder. However, arming yourself with as much evidence as possible to back up your case, you improve your chances of being awarded the correct level of compensation for the injuries you sustained.
There are specific steps you should follow when filing beauty treatment negligence claims, including:
Take photos of your injuries and where the incident occurred: Taking photos of your injury and where the accident happened will strengthen the chances of filing a successful claim and being awarded compensation
Keep relevant receipts and paperwork: Contracts, receipts and any other relevant paperwork relating to your injury provides the proof needed that you sustained your injuries in a specific location and who was responsible for the incident
Report the incident to the management: It is essential that you lodge a formal complaint with the management of the beauty establishment and that they note the incident in the "accident book" which they must do under the Health and Safety regulations
Seek medical attention straight away: It is very important to seek medical attention at the first opportunity. A medical report on your injury will strengthen your claim and establish if it is a minor or more severe injury you sustained
Keep evidence of any treatments received and relevant expenses: It is essential that you hold on to all your expenses and the cost of any treatment you had to undergo as a direct result of having suffered an injury during a beauty treatment
Seek the advice of a beauty treatment accident claims expert: Personal injury compensation claims are notoriously complicated and it is crucial to have the correct legal advice right from the word go before filing a compensation claim against a beauty salon or other establishments. By following expert legal advice, you increase your chances of being awarded the right level of compensation for any injuries you sustained
All beauty treatment claims are unique and assessed as such. Our team of legal experts would walk you through the process, offering a free consultation and advising you on whether you have a strong case and how much you may be awarded. A lot of people ask the question "What to do if you are injured at a spa or beauty salon". The answer is that you should follow the steps as detailed above.
What can you include in a beauty treatment injury claim?
If you have sustained an injury while having a beauty treatment, there are two categories of damages that you could be compensated for as part of beauty treatment negligence claims, which are as follows:
General Damages: This covers all physical aspects of an injury which includes pain and suffering together with any ongoing health problems and psychological stress directly associated with the injury
Special Damages: Awarded for financial losses incurred which include loss of earnings or projected earnings, expenses related to recuperation, medical and surgical expenses, reversal procedures, the cost of medical equipment needed, assisted care, prescriptions and rehabilitation expenses. Funeral expenses are also covered under Special Damages should a victim die as a direct result of their injuries
Beauty treatment compensation calculator – updated July 2021
Because beauty treatment negligence claims are unique, we cannot provide a precise amount you may be awarded in compensation. We would assess your case by going over the facts before offering an estimated amount you may be award based on existing judicial guidelines together with claims we have worked on for clients who filed successful beauty treatment claims with us.
Below, we've included a personal injury compensation calculator table to give you some examples of how much money certain injuries could entitle you to in compensation:
| | | |
| --- | --- | --- |
| Facial scars remain following corrective surgery | Extremely severe | £27,940 to £91,350 |
| Facial Scars leaving permanent visible disfigurement | Less severe | £16,860 to £45,440 |
| Facial Scars visible when facing someone | Moderate | £8,550 to £28,240 |
| Facial Scars noticeable when closely inspected | Not quite as significant | £3,710 to £12,900 |
| Facial Scars barely noticeable | Minimal | Up to £3,310 |
| Damaged hair from waxing, tinting, dyeing | Severe | £6,890 to £10,340 |
| Bald patch from hair being pulled out | | £3,710 to £6,890 |
| Scarring to other parts of the body | | £7,350 to £21,330 |
| Minor cosmetic defect | | £2,220 to £7,350 |
| Non-facial burns to 40% or more of the body | Very severe | Likely to exceed £98,380 |
| Dermatitis | On one or both hands, settling with some treatment/wearing gloves but continuing for some time | £8,110 to £10,710 |
For a more accurate estimate for a beauty treatment injury, please contact one of our legal experts using the Contact Us details at the bottom of the page.
No win no fee injury claims for beauty treatments
If you have suffered a beauty treatment injury as a result of someone else's fault, you could be entitled to make beauty treatment negligence claims. However, the cost of seeking legal advice is often too expensive for many people and it puts them off filing a claim.
A No Win, No Fee structure was introduced as a way of solving the problem. The structure allows everyone who suffers an injury the chance to seek compensation. Many solicitors are willing to take up a case on a No Win No Fee basis. In short, solicitors take on the risk and in return, you only pay when your claim is successful. If unsuccessful, you would not pay the solicitor anything.
Costs are recovered by a solicitor directly from the amount you receive which is typically agreed in advance. A document called a Condition Fee Agreement (CFA) is drawn up at the outset detailing the percentages. The agreement is a legally binding document between you and your solicitor of choice.
Why choose us to make your compensation claim?
We make it easier for you to be awarded the right level of compensation with our No Win No Fee beauty treatment injury claim structure.
We advise you on what to do if you are injured at a spa or beauty salon.
We operate a 24-hour claim service and are open for business 7 days a week, 365 days a year.
We are nationally recognised and regulated by the Solicitors Regulation Authority (SRA) as well as The Law Society.
Our UK-based claims team provides an unrivalled level of service when it comes to beauty treatment injury claims.
Trust and Transparency being of paramount importance to us from the start of your beauty treatment injury claim right through to when you receive the level of compensation you rightly deserve having suffered a beauty treatment injury through no fault of your own.
You can expect a super-fast, stress-free service from us when we take up your case on a No Win No Fee basis.
Beauty Treatment Negligence Claims In The News
If you're wondering how common beauty treatment negligence claims could be, according to reports there are a few examples of upcoming court cases against Botox producers.
One report described how some people seeking Botox treatments, who were either looking to get rid of wrinkles or had been referred for Botox for health reasons, had allegedly been left with injuries. The report declared that there were 24 claimants aiming to sue manufacturers of the product for various long-term health costs, which included brain and organ function alteration. According to one commentator, Dr Anna Hristova, further research into the harmful effects of Botox is required, and it could be misdiagnosed.
The report also highlighted that while there have been no UK lawsuits pertaining to Botox injuries, one man in the US was reported to have received around £166 million when he suffered brain damage after having Botox to treat hand tremors.
Source: https://www.express.co.uk/life-style/life/1005323/Injured-by-Botox-and-fighting-in-court
Lack Of Training
In addition to this, a BBC documentary in April 2021 shocked a nurse, when she went undercover to attend a course in giving non-surgical facelifts. Shockingly, in a procedure that involves inserting a needle into the skin and pulling a thread upwards through it, the training field was not sterile and the students were given just 5 hours of online training and a day course to learn the procedure.
Source: https://www.bbc.co.uk/bbcthree/article/9b43dfd1-4d5a-41c1-86b7-064d315348a5
Should you have suffered any kind of injury pertaining to a beauty treatment you believe was negligent, we'd be happy to talk to you about your case. We could assess your eligibility to make a claim, and provide you with a solicitor to help you
Beauty treatment negligence claims FAQs
Can you sue a beautician?
If a beautician has caused you harm (psychological injuries or physical injuries) then you could make a personal injury claim. 
How do I sue a salon?
If you're sure that the salon's negligence led to your injuries, you can get in touch with our team for free legal advice with no obligation to proceed with our services. 
How long can you claim for after an accident?
In most cases, you can start a claim up to three years after the accident or the knowledge of your injuries. (Ask our team about exceptions.)
Can you claim on behalf of someone else?
Yes, providing they can't claim for themselves, you could act as a litigation friend. For example:
For your child, if they've yet to reach their 18th birthday
For a loved one if they're mentally incapacitated
Do I need a solicitor?
It's not a legal requirement in order to make a claim but it's useful to have a solicitor handle your case. They can make the claims process significantly easier for you and help ensure you get the maximum compensation you deserve.
Where can I find a solicitor?
At Accident Claims, we work with a panel of personal injury solicitors that can handle your case on a No Win No Fee basis.
What does it mean to claim on a No Win No Fee basis?
Simply put, you won't have to pay your solicitor unless they win your claim for you. Therefore there isn't the usual financial risk of making a claim as you don't have to pay out of pocket.
How can I get in touch with Accident Claims?
Please see the next section for contact details.
Contact Us
For the quickest response to enquiries about beauty treatment negligence claims, we recommend you call us directly free of charge. You can also email us if more convenient.
Call us on 0800 073 8801, our accident claims advice line is open 24-hours a day, 7-days a week. To request a "call back" please fill out the callback request form
Email us at office@accidentclaims.co.uk – we always endeavour to answer all emails we receive within 3 hours, Mon-Fri.
Useful links
Thank you for reading our guide to beauty treatment negligence claims leading to beauty treatment negligence compensation and beauty treatment accident compensation.