This guide explores what steps you could take in the event that social services sent a letter to the wrong address. Learn about data breaches and what you could claim for should your personal information be exposed. 
We examine the key legislation that helps protect your personal data in this country. Also, we explore what circumstances need to be met in order for you to make a claim.
We explore selected statistics looking at how often letters end up sent to the wrong address. In addition, we look at what information a letter could contain. We also look at what personal data is given extra protection. 
We look at the two potential heads of your claim that your data breach compensation could consist. Furthermore, this guide will explain the evidence you can use in support of a claim. 
To conclude this guide, we look at No Win No Fee arrangements and how they can help should you wish to take legal action. Hiring a solicitor could ensure your claim is filed in full. 
Our advisors are available to discuss whether you have a valid data breach claim. 
To get in touch:
Select A Section
How Could Social Services Have Sent A Letter To The Wrong Address?
The UK General Data Protection Regulation (GDPR) and the Data Protection Act 2018 are the key pieces of legislation that protect personal data in the UK. If a letter has been sent to the wrong address, this could be an example of a data breach. A data breach is a security incident. It impacts the confidentiality, availability or integrity of your personal data. 
You might ask, 'is sending a letter to the wrong address a GDPR breach?'. If social services have your correct address on file and still send it to the wrong address, this might be considered a data breach. 
You can only claim for a breach of your personal data. Personal data is any information that has been processed and that can be used in isolation or when put together with other information to identify you.
Article 82 of the UK GDPR entitles data subjects whose personal information was leaked to make a claim. The data subject is the person the data relates to. 
Data controllers and processors both have a responsibility to protect personal data. A data controller decides how and why personal data is processed, and a data processor can be used to process data on behalf of a data controller.
Social services are in place to provide help and support to certain individuals, such as children, the elderly and vulnerable adults. They may sometimes work alongside other organisations such as child protection agencies.
Contact our advisors if social services sent a letter to the wrong address to see what steps you could take.
How Often Are Letters Sent To The Wrong Person?
The Information Commissioner's Office (ICO) monitors data security incident trends. This includes data posted or faxed to the wrong recipient during the last financial quarter of 2021/22. The ICO is an independent body set up to protect information rights in the UK.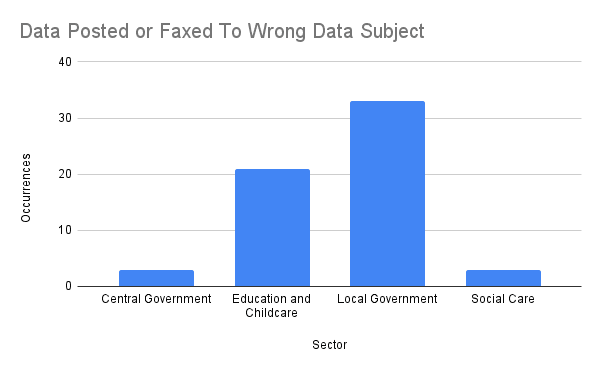 Free legal advice on data breach claims is available from our advisors. 
What Personal Information Could Social Services Letters Contain?
Data protection laws exist to protect your personal information. More protections are granted to sensitive data due to its nature. This is known as special category data. You may be concerned that your private data will fall into the wrong hands. 
A social services letter may contain:
Name

Address

Date of birth

Email address

Phone number
It may also contain special category information. This is a sub-category of personal data that is more sensitive and requires additional protection. It can include personal data relating to your:
Racial or ethnic origin

Political leanings

Religious or philosophical beliefs

Trade union membership

Genetic information

Biometric information

Medical data

Sex life details

Sexual orientation
Our advisors can speak to you about concerns you may have if social services sent a letter to the wrong address. 
Can I Get Compensation For A Letter Being Sent To The Wrong Person?
As mentioned already, you might be entitled to compensation if social services sent your personal data to the wrong address. Certain criteria must be met, however, in order to make a claim. 
Firstly, you need to prove that social services had your correct address on file. This is because you need to prove that the data controller failed to comply with data protection legislation. 

You must also be able to prove that your personal data was involved in the data breach. 

Lastly, you must prove that you experienced harm due to this breach. This could be financial harm and/or emotional

distress

. We will explore both in the next section. 
Our advisors can discuss what evidence could support your claim. 
What Could I Claim If Social Services Sent A Letter To The Wrong Address?
Data breach compensation has two potential heads. These are material damages and non-material damages. You do not need to experience material damages to claim for non-material damages. We explore both in further detail below. 
A precedent was set with the Vidal-Hall and others v. Google Inc. (2015) Court of Appeal ruling. Prior to this ruling, you needed to have suffered financial losses in order to claim for a psychological injury. Now, however, you can claim GDPR data breach compensation for mental health injuries alone. 
Material damages
If you experience financial harm due to a letter sent to the wrong address, you could recover the money lost. A credit card could be taken out in your name, for example. Bank statements could provide evidence of your financial losses. 
Alternatively, you may need to move after a data breach has exposed your personal data in a way that threatens your safety. You could claim back any costs associated with moving home or changing school.
Non-material damages
You might find a letter being sent to the wrong address to be very upsetting. Non-material damages seek to reimburse you for mental distress. You could experience post-traumatic stress disorder (PTSD), for example. 
The claiming process may include a requirement to attend an independent medical exam. This allows for a more accurate view of your mental distress and what impact it could have on your life and future. 
To help assign value to personal injury claims, legal professionals use the Judicial College Guidelines (JCG). Inside this document is a list of injuries alongside their compensation brackets. Data breach solicitors can also use the JCG to help assign value to your emotional distress. This is because the JCG contains a list of mental injuries too. 
The table below contains examples from the 16th edition of these guidelines, released in April 2022. 
| Injury | Potential Compensation | Notes |
| --- | --- | --- |
| Severe Mental Harm (a) | £54,830 to £115,730 | The claimant's ability to cope with life and relationships is severely impacted. The prognosis is very poor. |
| Moderately Severe Mental Harm (b) | £19,070 to £54,830 | The claimant will experience significant problems coping with life and relationships. The prognosis, however, is optimistic. |
| Moderate Mental Harm (c) | £5,860 to £19,070 | There's problems with life and relationships, but there are improvements in the claimant's mental state with a good prognosis. |
| Less Severe Mental Harm (d) | £1,540 to £5,860 | A period of disability causing problems carrying out daily activities and sleeping occurs. |
| Severe Psychiatric Disorder (Reactive) (a) | £59,860 to £100,670 | A bad and permanent impact on all areas of life from symptoms that cause an inability to function at pre-trauma levels. |
| Moderately Severe Psychiatric Disorder (Reactive) (b) | £23,150 to £59,860 | The claimant will experience some recovery with professional help, however, the symptoms cause significant disability for the foreseeable future. |
| Moderate Psychiatric Disorder (Reactive) (c) | £8,180 to £23,150 | A recovery has largely taken place, but the claimant may continue to experience non-grossly disabling symptoms. |
| Less Severe Psychiatric Disorder (Reactive) (d) | £3,950 to £8,180 | The claimant has experienced virtually a full recovery, however there might be some minor symptoms lasting past 1-2 years. |
Get Help Making A Claim
If you are thinking of hiring a data breach solicitor, why not use a No Win No Fee solicitor? They could provide their services with a Conditional Fee Agreement (CFA). What this means for you is that you can have legal representation without paying a high upfront solicitors fee. They will, however, take a success fee from the awards of successful claims. Legal caps apply. If your claim isn't successful, however, you will not pay a success fee. 
Our advisors could help you understand your legal options if social services sent a letter to the wrong address. Contact them 24 hours a day, seven days a week for free legal advice. If your claim is eligible, you could be passed on to our solicitors. However, you are under no obligation to use our services. 
To get in touch:
Data Breach Claims If Social Services Sent A Letter To The Wrong Address
The following links might be helpful:
And more guides:
Get in touch with us to find out what to do if social services sent a letter to the wrong address.
Guide by DB
Edited by FS