By Joanne Jeffries. Last Updated August 19th 2021. Welcome to our guide, which answers the question, "can I sue my employer?" Everyone who works for an employer is entitled to have their employer ensure their health and safety by taking all reasonable steps to make the workplace as safe an environment as possible. If you suffer a workplace injury because your employer failed to uphold proper health and safety standards, then you could be entitled to compensation for personal injury. You can seek compensation through your employer's insurance company. Accident Claims UK can help you make a personal injury claim by providing you with a personal injury lawyer and expert advice.
You might be wondering, "can I sue my employer while still employed?" You might be worried that by potentially souring your relationship with your employer, you could be punished by them in some way or even sacked. This guide seeks to assure you that suing your employer by law cannot impact your employment.
Please read through it if you have been hurt at work through no fault of your own and have been considering taking legal action against your employer. If, after reading it, you do want to start an accident at work claim, then you can begin by calling us on the contact details provided at the bottom of this article. Don't worry if you are still unsure after you have read through it. Our team will be more than happy to answer questions if you call up for advice.
Select A Section
A Guide On Whether You Can Sue Your Employer While Still Employed
If you're wondering "can I sue my employer?", this guide can help you get a better understanding of your rights.
Being injured at work through the negligence of your employer may be difficult to deal with. You may wonder whether its worth suing your employer and may be worried about employers in the UK treating you wrongly. Suing them for the harm they have caused may seem like a daunting prospect. You may be concerned that if you attempt to sue your employer for not providing a safe working environment that you could be leaving yourself open to being disciplined, given unfair treatment, sacked or even facing constructive dismissal or an employment tribunal. This guide intends to assuage those concerns; you cannot be sacked on the grounds of making a compensation claim against your employer. The law protects you from this.
However, there may be other concerns and questions you may have, which this guide also sets out to answer. Such as what circumstances could justify making a compensation claim against your employer, what time you have to make a claim, how to maximise your chances of making a successful claim and how compensation claims are calculated. We also want to explain the benefits of making a claim using the solicitors and experts provided to you by Accident Claims UK.
Circumstances In Which You Could Sue Your Employer For An Accident Or Injury
So, you're asking, "can I sue my employer?"
You could potentially have grounds to sue your employer whenever you suffer an injury in an accident at work that should have been prevented had your employer fully met their obligations by following health and safety regulations and doing all they could to prevent accidents.
There is no shortage of potential different ways in which you could get hurt at work and subsequently have a basis for making a personal injury claim against your employer. Some of the ways that an employer might breach their duty of care and become liable for making a personal injury claim include:
Failing to provide you with the appropriate tools or equipment for your tasks.
Failing to provide you with safe and working equipment for your tasks, such as unstable or broken ladders or scaffolding.
Failing to provide you with training on how to perform your job safely.
Failing to provide you with training on how to use certain equipment properly.
Failing to prevent or address health and safety hazards in the workplace, such as toxic materials, noise hazards or slip, trip and fall hazards.
Failing to address complaints of sexual harassment, bullying, overwork and stress.
Failing to provide adequate security measures to prevent members of staff from suffering assault or other criminal violence.
Accident At Work Statistics
The Health and Safety Executive (HSE) has some eye-opening figures regarding workplace accidents that may lead to you suing your employer. So, for starters, during 2019/20, around 700,000 workers suffered a workplace injury. However, only 65,427 of these (less than 10% of the aforementioned total) were officially reported in a logbook. And this doesn't include approximately 800,000 cases of employees going off work with stress or anxiety. You can see some of these statistics in the graph below.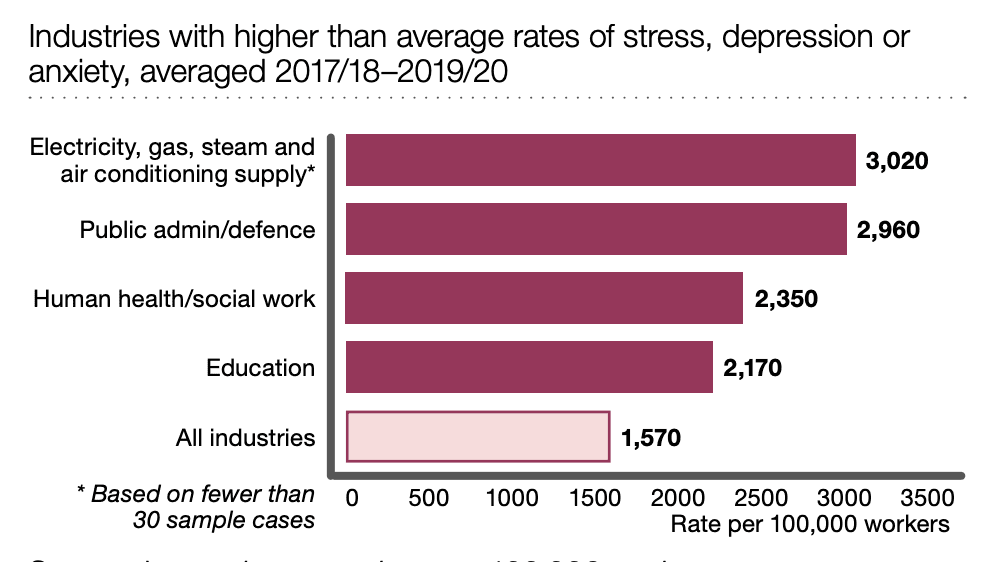 Add to that 111 on-site fatalities due to workplace accidents, and you can see that accidents and injuries are very common. This should reassure you about potentially suing your employer, as there is a precedent for situations resulting in claims.
Please read on for more answers to the question of "can I sue my employer?" or get in touch today to see how one of our employment lawyers can help.
How Long Do You Have To Sue Your Current Employer?
In UK personal injury claim law, there is a time limit of three years to make a personal injury claim. This three year time period begins either from the date on which the accident occurred or from the date you were diagnosed with the injury or illness resulting from the negligence. In cases of long term illnesses that may not become apparent until some amount of time has passed, the 3 years will not begin until the date of diagnosis. Because of this time limit, it is best to contact a personal injury solicitor or advisor as early as possible. In some special circumstances, a court may allow an extension of the personal injury claim time limit.
What To Know If You Sue Your Employer While Still Employed
Before going into an accident claim against your employer, having already asked, "can I sue my employer",  there are some things that could prove useful or important to know. These things can include:
Knowing about the complaints and grievances procedure at your place of work. If you aren't sure about them, you can find out from speaking to your HR manager or a trade union representative.
Remembering to record information about your accident: Make notes about what happened in as much detail as possible right after the incident while your memory is still fresh and clear. Take photos if possible. Remember, it could come down to your word against your employers'. Make sure you document what happened as clearly as possible.
Report the incident to your employer through the proper channels. All employers, by law, are required to have a process to allow all employees to be able to report an accident officially.
Could I Be Dismissed By An Employer If I Sue Them?
You may be wondering, "Can I sue my employer and remain employed?"  Some people may assume that attempting to seek compensation from their employer would effectively mark the end of their employment. However, it is important to remember that you have a legal right not be sacked or otherwise in any way punished by your employer for making a personal injury claim against them if you have a valid claim. If you have grounds for making a claim, then you are entitled to make one. Your employer does not have the right to attempt to discourage you by threatening disciplinary action.
If you would like further information about your rights as an employee, you can call our team. We especially recommend calling us for advice if you feel you are being threatened with dismissal for your decision to make an accident claim against them.
How To Make A Workplace Accident Claim Against Your Current Employer
The successful outcome of your claim could depend on the kind of evidence there is to support your claim and what course of action you take in the early stage soon after the accident occurs. If you're wondering "can I sue my employer?", you could greatly improve your odds of successfully claiming compensation by taking the following steps:
Get medical attention: Getting your injuries assessed and treated by professionals should be your priority in any case, but it will also serve to establish a medical record of your injuries.
Take photos: If possible, take photographs of the place where the accident happened and what caused it, or get one of your colleagues to do so. Do this as soon as you can, as some employers may attempt to clear away any signs of the accident occurring before you get the chance to do so.
Ask your colleagues to give witness statements: If you don't have your colleagues details, get them. Ask them if they would be willing to testify in your favour to support your claim. The same goes for anyone else who witnessed it.
Report the accident: Every workplace must have an accident book. This is a document in which all workplace accidents and health and safety incidents must be written down. Please make sure the details of your accident are in it.
Talk to a solicitor. You will likely benefit from the advice of an expert. Talk to one of our solicitors using the contact details at the bottom of the page.
How To Find A Solicitor To Handle Your Claim
When looking for an accident solicitor to take on your claim, you will not find any shortage of solicitors or solicitors firms ready and willing to take on your case. Out of all your options, however, we recommend working with Accident Claims UK. We can provide you with free advice and no win no fee claims with our panel of solicitors, which could save you a lot of money. But claiming with solicitors who don't charge exorbitant fees doesn't mean receiving less high-quality legal support and representation.
Our solicitors are highly qualified, knowledgeable, experienced expert professionals. They have handled many accident claims for workplace injuries and are well suited to working to claim the maximum amount of compensation that you deserve. They will handle most of the responsibilities that go into making a legal claim so that you can focus your energies on recovering from your illness or injury. However, you will still have plenty of opportunities to get in touch with them while they are readying your claim to receive updates on how your case is progressing so you will not be left out of the loop.
To learn more about the question of "can I sue my employer?", please continue reading.
Calculating Claims Against Your Employer While Still Employed – Updated August 2021
You're probably curious how much you may be awarded when suing your employer for injuries caused through negligence. We cannot give you a clear or accurate picture at this time as there are numerous factors to consider when calculating a claimant's compensation. However, we can explain how compensation is worked out. The first part of calculating a claimant's compensation is working out their entitlement in general damages. General damages refer to the amount of money that can be awarded for the injury itself.
The more significant an injury is, the larger the amount of money the claimant will receive for it. The amounts of money awarded to claimants are not set in stone, but estimates of what can be awarded are set down in Judicial College Guidelines. You can see what these guidelines recommend in the personal injury claims calculator in this section. The injuries listed in it are examples of the kind of severe injuries and health problems you might expect to be inflicted by a negligent workplace accident. All of this helps when wondering, "can I sue my employer?".
| | | |
| --- | --- | --- |
| Injury | Notes | Compensation |
| Total Blindness | Loss of all sight | In the region of £252,180 |
| Loss of sight in one eye with reduced sight in the other | Loss of sight in one eye with reduced sight in the other | £90,100 to £168,730 |
| Total loss of one eye (d) | Loss of one eye with no damage to the other | £51,460 to £61,690 |
| Complete loss of one eye (e) | Loss of one eye with risk of of sympathetic ophthalmia | £46,240 to £51,460 |
| Total deafness | Loss of all hearing | £85,170 to £102,890 |
| Total loss of hearing in one ear | Deafness in one ear | £29,380 to £42,730 |
| Partial hearing loss or tinnitus | Severe tinnitus and NIHL. - Hearing damage caused by prolonged exposure to load working environment. | £27,890 to £42,730 |
| Lung disease (a) | A young person with significant disability and chance of premature death. | £94,470 to £127,530 |
| Lung disease (b) | Lung cancer - (typically in an older person) causing severe pain and impairment both of function and of quality of life. | £65,710 to £91,350 |
| Lung disease (c) | Emphysema - causing significant and worsening lung function and impairment of breathing, prolonged and frequent coughing, sleep disturbance, and restriction of physical activity and employment. | £51,420 to £65,710 |
Expenses, Lost Income And Costs You Could Claim For
What must also be calculated as a part of your compensation is the financial effect of the injury. Having an injury or an illness can cost a lot of money in medical bills, care costs and its impact on your ability to work. Compensation would not be fair if it did not match the financial losses that a claimant has suffered due to their work injury. Here is a list of just some of the things that you may be awarded for in a successful claim.
Loss of wages or salary: You can lose money through an injury by being forced to take sick leave or a leave of absence which results in you receiving less income than you would have if you were fit or by having to leave your current occupation and find a new one that pays less, or by becoming permanently disabled and unable to work. A temporarily or permanently reduced income or a loss of ability to earn an income entirely can be compensated with a successful claim.
Medical fees: Most of the treatment you need to recover should be available on the NHS. However, if there is any treatment that you need for your recovery that you are required to pay for yourself, such as physiotherapy or over the counter medication, then the cost can be claimed back in compensation.
Care fees: A particularly severe injury could leave you either temporarily dependent on others for your basic needs, such as eating, washing and dressing, as well as day to day tasks such as cleaning your home and shopping and so on. Any expenses taken on about this care and support, such as caring assistant fees, could be claimed back in compensation. As can expenses relating to home adaption, i.e. installing facilities for wheelchair access such as ramps and stairlifts.
Travel expenses: Receiving treatment for an injury can cause someone to incur expenses by travelling to and from their appointments regularly on public transport. Although such expenses may appear small compared to other losses you might have suffered, you could still be entitled to claim them back as a part of your compensation.
Loss of enjoyment of plans: If an injury prevents you from being able to fulfil any plans that had been arranged and already paid for (such as a holiday or a concert), then you could feel like you have wasted a good amount of your money. These types of expenses could potentially be claimed back in compensation.
Loss or damage to your property or belongings: Perhaps not the first thing on your mind depending on how serious your injury was, you could still claim compensation for any items of yours that were damaged or lost as a result of the accident.
If you're wondering "can I sue my employer for financial losses?", you will need to have proof to document the fact that you lost money and how much. To make sure you can get back all the money you deserve, make sure you keep records of all your expenses, things like tickets, receipts, paperwork, wage slips and contracts, so that you and your personal injury solicitor can use them to back up your claim. If there is anything you are unsure about regarding your right to claim special damages on certain expenses, ask one of our accident claims team.
No Win No Fee Workplace Accident Claims When Still Employed
Making a personal injury claim against your employer may seem like a big financial risk, something that you don't wish to contend with at the same time as dealing with a major injury. However, you don't have to worry about whether you claim with a solicitor provided by Accident Claims UK. A no win no fee claim means that you won't have to pay your solicitors bills if the claim does not award you compensation.
Success fees under a no win no fee claim agreement are paid out of the claimant's compensation if or when it is awarded. You won't be made to pass over more than 25% of your compensation, as that is the legal maximum a solicitor can charge, and you are free to negotiate an amount that you prefer with your solicitor before starting the claim. So, when you're asking, "can I sue my employer", and then if there is anything else you want explaining about how no win no fee claims work, call our team and ask.
Begin A Claim Against Your Employer
Starting a claim against your employer with Accident Claims UK is simple. All you have to do is:
Call 0800 073 8801
Fill in this contact form and arrange a call with our team.
You may also use these contact details to get in touch and ask questions if you want free legal advice or to have something clarified about how personal injury claims work.
Learn More About Suing An Employer
Can I Sue My Employer FAQs
Is there a set cost for suing an employer?
A compensation claim with a solicitor involves legal costs that vary depending on your legal representation and the nature of the claim. Taking the case to a high court costs more than a county court, for instance. Note that working with a No Win No Fee solicitor means you are only paying their legal fees if your case wins.
Can I sue my employer for stress and anxiety?
Emotional distress is something that you could sue an employer about. But you must have sufficient evidence to prove the employer and/or the organisation has brought about stress and anxiety. It may also help your cause if you have evidence of the employer not acting towards preventing or reducing your emotional distress.
Could I sue my employer for unfair dismissal?
Yes. If you feel that your contract has been wrongly terminated with clear evidence of such a decision, then you could file a claim. Gathering as much supporting evidence as possible, including witness testimonials, may greatly help here.
Might an employer settle out of court?
In the vast majority of cases, employers do provide settlements without the need to go to trial. This is to save legal costs and bring an end to the situation as soon as possible with minimal fuss. Such a situation is commonplace amongst well-known organisations that wish to avoid media coverage of trials.
Does my employer owe me a duty of care?
Yes, all employers have a legal duty of care to do as much as reasonably possible to try and ensure their employees' wellbeing. If they fail to do so and one of their employees suffers as a result, they may be able to be held liable as part of a compensation claim.
How can I establish negligence?
Typically, negligence can be established using the following 3 criteria:
Your employer owed you a duty of care
Which they failed to uphold
And you subsequently suffered
How much compensation could I get?
As compensation payouts are calculated based on the severity of damage experienced by each claimant, it's impossible to give you an estimated figure without looking into your case in more detail. Please get in touch today to receive your free consultation.
How can I get in touch with Accident Claims?
For an instant response, simply use the chat feature on your screen now to reach one of our specialist advisors. For some alternative options, scroll up to our contact section.
Can I sue my employer if they breach my personal data?
If your employer does not protect your personal data, and a breach of your data protection causes you harm in some way, either non-materially or materially, you could be eligible for data breach compensation. Your employer could be held liable for financial expense and psychological injuries caused by a data breach if they:
Send your information unlawfully or without authorisation to another party
Fail to adequately protect it from cyber threats by installing security software
Disclose your health information to a colleague that isn't authorised to be given it
These are just a few examples.
Can I sue my employer if they breach my data but I don't suffer harm?
You would not be able to claim compensation if you have not suffered harm due to a data breach. However, you could claim compensation if you are not financially impacted but suffer distress or psychological injuries due to the breach.
Where can I find out more about data breach compensation?
If you're wondering whether you could be eligible for breach of data compensation, our team would be only too happy to help you. Not only could we provide assistance with personal injury claims for accidents at work. We could also provide help with making a claim against an employer that breached your data. Our expert advisors could talk to you about how GDPR and the Data Protection Act protects your personal data, and how under these laws, you could have a legal right to compensation.
Thank you for reading our guide to the question of "can I sue my employer?".