By Joanne Jeffries. Last Updated 15th November 2021. Welcome to this case study surrounding personal injury claims payouts for an eye injury.
As per law, all employers have a requirement to ensure the workplace is as safe and healthy as possible. This is harder to achieve in some industries than others. However, all employers are legally obliged to follow the numerous rules and regulations that are in place, and most do so. Nevertheless, there have been incidents whereby accidents have happened because of negligence on the behalf of the employer. This was certainly the case in one incident involving a man who suffered a serious eye injury while working at a recycling plant. This individual was struck in the eye with a sharp piece of plastic when he was at work, causing serious consequences.
Solicitors successfully argued his case and he was awarded £50,000 in eye injury compensation. In this eye injury compensation case study we've researched, we will reveal more about this specific case, as well as providing you with details regarding what you should do if you have been involved in a workplace accident. We could help you claim workers compensation for completely lost vision, permanent damage or temporary loss of vision in one eye, if you suffered an eye injury that was someone else's fault, such as your employer's for not providing you with eye protection. Whether your injuries lead to long term damage, large medical bills or require ongoing medical attention, we could help you file a claim for compensation.
Health And Safety In The Recycling Industry
As mentioned in the introduction, there are numerous rules and regulations that are in place for employers to follow. This includes general health and safety laws, as well as regulations that are specific for the industry in question. You can click here to view the health and safety laws for the recycling industry in full. You will see that there are specific rules based on the tasks that are being carried out and the environment. There are guides to follow for collection, processing, disposal, energy waste, and much more.
What Eye Injuries Did The Claimant Sustain
There is no denying that an eye injury at work can be very worrying, and in this case, the claimant suffered very serious injuries. This happened while he was unloading waste material while acting as a banksman. Because of this, the ma had to undergo surgery on the eye as well as posturing, which meant he had to sit for hours on end face downwards so that the retina could be reattached. Although some improvements were made through the surgery, his vision is never going to be the same again.
Some common type of eye injury are as follows:
Radiation exposure
Chemical burns
Cutting or penetrating injuries
Foreign bodies
Abrasions and scratches
Blows to the eye
How Was The Case Conducted?
In this case, it was proven that the employer was to blame for the injuries that the claimant suffered. This was because he had not been given appropriate goggles for the task at hand. Moreover, the system that was being used to carry out the work had not been thought through properly. If these two mistakes had not been made, the claimant would not have suffered the injuries he experienced.
What Compensation Payment Did The Claimant Receive?
How much compensation for eye injury at work? In this case, the individual was awarded £50,000 in compensation. This was to help him have the financial security he needs in the future should his problems get worse or persist. At present, he has been able to return to work. However, he needs specialist eye care for the rest of his life, hence the high level of payout.
A lot of people do not realise is that personal injury compensation is split into two parts. Firstly you have general damages. This is the money you receive for the injuries you have suffered. This figure is calculated based on your suffering and the impact the injury is having on your everyday life. However, you also have special damages as well.
What are special damages? Special damages are essentially out of pocket expenses. They relate to any costs you have encountered because of the injury you have suffered. For example, let's say you have been involved in a car crash and you have been unable to work for a week. If you are self-employed and not covered by sick pay, you will have experienced a loss of income. Loss of earnings counts as a special damage.
What are some of the main examples of special damages?
Loss of income – As mentioned, if you are unable to work and this has resulted in a loss of income, you will be able to claim for this.
Accommodation expenses – If you have had to sort out alternative accommodation or alterations to your own property because of your injury you will get compensation for this.
Travel costs – Travel costs can relate to anything from travelling to the hospital to having to sort alternative travel until you are able to drive again.
Medical fees – From prescriptions to treatments, it is likely that you will incur some medical expenses during the recovery process.
Childcare costs – Have you had to sort out childcare whilst you recover? If so, you will also be able to claim for this.
No Win No Fee Serious Eye Injury Compensation Claims
When making a claim you have the choice of a traditional service or one that works on a No Win, No Fee basis. The latter option is undoubtedly the best one to go for, and here are the reasons why…
First and foremost, you will not require any money to begin your claim if you go for a No Win, No Fee solicitor. Traditionally, personal injury victims face huge outlays if they were to begin the claim process. This means that a lot of people cannot afford to make a claim in the first place. Yet, No Win, No Fee claims eliminate this issue.
This is not the only financial benefit. If you were to go for the traditional solicitor service you would likely be worried about the monetary implications that could arise if you were to lose your claim. This is again something that you do not have to fret about when using a No Win, No Fee service.
These two points work to ensure that you benefit from a much better level of service. After all, the personal injury solicitor in question is going to be more impacted by the outcome of your case. This also ensures that they will only take on your case if they genuinely believe you have a good chance of getting eye injury payouts. They will not waste your time or theirs.
At Accident Claims UK, we are pleased to announce that all of our provided solicitors work on a No Win, No Fee basis. If you have experienced an injury that was not your fault all you need to do is get in touch. You will speak to one of our polite and efficient advisers. They will answer your questions and match you to the best personal injury lawyer for your case specifically.
Contact Us About Personal Injury Claims Payouts for an Eye Injury
No matter what type of injury you have sustained or how unique the situation may be, Accident Claims UK can help you to get the compensation you deserve. There is no one better for personal injury claims.
Why? Well, our chosen solicitors are the best of the best. They all work on a No Win, No Fee basis. This means that you do not need any money to begin your claim and you can be sure we will only take on your case if we believe you have a genuine chance of getting compensation. Financial risk is also eliminated since the payment structure is entirely different. This also ensures that you benefit from a much better level of quality.
There are several other reasons why we are the best choice. We are extremely experienced. We have helped thousands and thousands of personal injury victims when it comes to getting the full amount of compensation they are eligible for. We also have an impeccable reputation. Simply read the reviews that have been left by previous clients on our website and you will soon see that this is the case.
So, what are you waiting for? Give us a call today on our legal helpline. This is available seven days per week, 24 hours per day, via 0800 073 8801. You will speak to one of our polite and seasoned professionals who will happily answer all of your queries for you. They will give you a realistic assessment of your case and then match you to the best solicitor for your needs specifically.
As well as personal injury claims payouts for an eye injury, what else could I claim for?
If you are injured in an accident at work that was not your fault, you could claim for almost any type of injury you could receive. As long as you could prove that your employer was at fault for the accident that caused your injury, you could make a claim. There are a number of different ways in which your employer could breach their duty of care towards you by not protecting your health and Safety at Work. This could include:
Not training you in how to do your job safely, such as giving you manual handling training
Failing to provide personal protective equipment he reduced the risk of harm from your job
Failing to remove or signpost hazards in the workplace
Whatever the reason you have suffered your workplace injury, whether from a slip, trip or fall, being struck by an object or being caught in machinery for example, if you could prove your employer was at fault, you could make a claim for compensation with our help. We could provide you with specialist solicitors, authorised and regulated by the Solicitors Regulation Authority with years of experience.
Could I receive personal injury claims payouts for an eye injury that has led to a loved one's death?
Due to its proximity to the brain, any type of penetrating eye injury could cause extremely serious injuries, some resulting in a fatality. If a loved one has suffered a fatal accident at work whether it was related to an eye injury or not, you could make a claim on their behalf. You could claim for their pain and suffering prior to their death, as well as receiving compensation payouts for financial expenses such as funeral costs, and even in some cases a bereavement award. We know that you may feel like a fatal accident at work would be a very rare occurrence, and this is partially true, such injuries do happen year on year in the UK. Below, you can see the main industries affected by fatalities in the workplace in 2020 – 2021.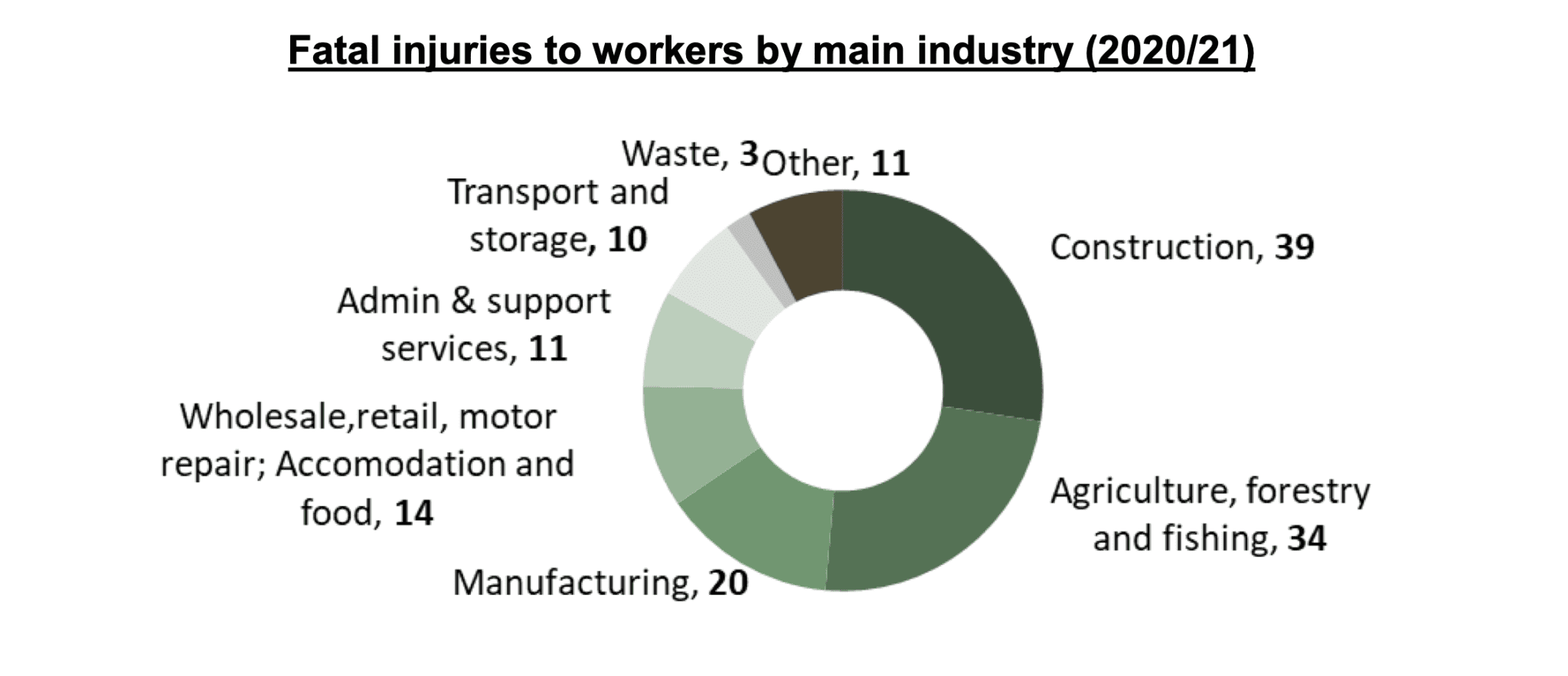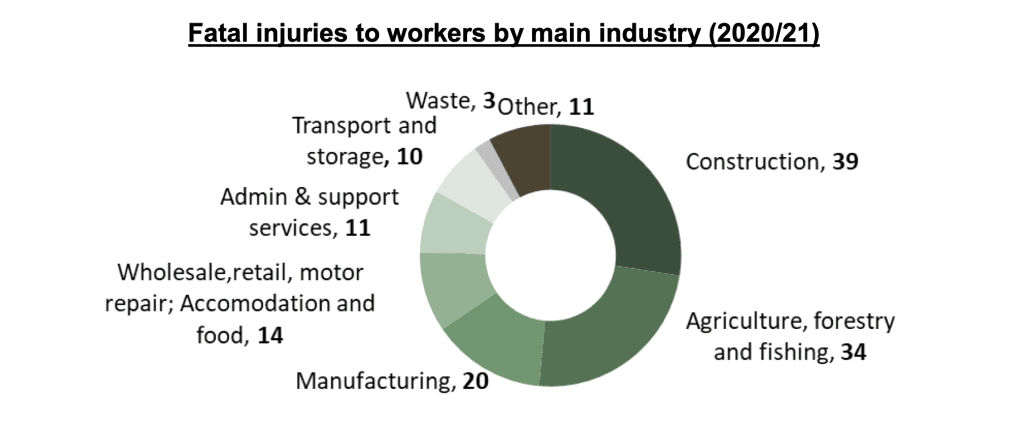 We completely understand that you may feel that compensation would not help you after the loss of a loved one. However, a compensation award could assist you with paying for your loved one's funeral, and the resulting investigation may help an employer put processes and systems in place to avoid the same thing happening to someone else. We understand however, that going over your loved one's death may feel traumatic. Our expert team would be happy to help you and would take on all the stress of making such claims.
Do I need to use a local solicitor when looking to receive personal injury claims payouts for an eye injury?
The locality of your solicitor could have no bearing on your case. It could be entirely possible for you to claim compensation with a lawyer based the other end of the country. Choosing a lawyer that is most appropriate your claim could benefit not only your chances of success, but the settlement amounts for your injury. Using a solicitor with many years of experience could mean they could negotiate for the maximum amount of compensation for your claim.
Useful Links Relating To Personal Injury Claims Payouts for an Eye Injury
We hope that you have found this guide useful on your quest to seek more information about claiming compensation for serious eye injuries at work. However, if you need more information, the links below may assist. The first link takes you to our thorough guide on eye injury compensation claims, including payout information and the steps to take. The second link takes you to the NHS website where you will find more information on eye injuries. This includes details on preventing and treating the most common types of eye injuries.
More on eye injury compensation – How and why you should claim compensation for an eye injury you've suffered in any situation – not just in the workplace.
Types of eye injuries and treatments

–

NHS pages covering eye injuries, treatments and symptoms can be seen here, if you are interested in learning more.
Thank you for reading this case study relating to personal injury claims payouts for an eye injury.