Railway stations are often very busy places with numerous people rushing about. At rush hour numbers can swell and with people focused on getting to or from their train, it is easy for an accident to happen. In some of the most recently available figures, covering the 2016/17 period, there were a total of 1,731 million passenger journeys on the UK's railway network, the highest number of journeys since 1950 when records began. Combined with the number of staff working at stations, this is a recipe for errors and accidents happening. With so many people using the rail network, it is hardly surprising that train station accidents are not uncommon.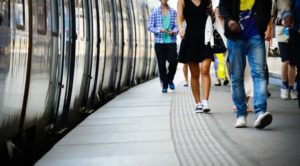 With a combination of lifts, escalators, steps, shops and retail outlets and other public spaces, as well as trains, accidents in train stations can happen in many different ways. According to statistics produced by the Office of Rail and Road (which monitors health and safety on the UK's rail network), as many as 1,600 rail passengers are victims to either a train accident or train station accident each year. Figures show that almost 7,000 passengers suffered an injury in a train station due to slips, trips, or falls between 2009 and 2014. Accidents frequently happen as a result of people slipping and falling whilst disembarking or entering their train, tripping over on uneven flooring, or being struck by an object falling on them.
Whether in a large or small train station, the injuries which can happen are a result of these accidents can range from the very mild to the very serious. In some cases, those involved in an accident in a train station are entitled to make a train accident compensation claim.
We have produced our guide to provide people with all the information that they may need after suffering an accident in a train station, such as how to make a successful claim and how to find the best solicitor to work with.
Select a section
A Guide To Train Station Accident Claims
In this guide, we will look at everything you need to know if you have been the victim of an accident in a train station or on the grounds of a train station, such as exterior spaces and car parks. In this guide, we will take you through the different types of accidents and injuries which can happen. We will also look at how the severity of your injuries are assessed and how important it is to get the right diagnosis. We will also take a look at the different amounts of compensation which you could be eligible to claim, based on your individual injuries. You can use our compensation calculator table below to estimate how much you could be awarded.
Additionally, we will also discuss and look at the advantages of using a professional solicitor, including the benefits of using a no win, no fee agreement. Please read on for more information or call us today on 0800 073 8801 to discuss how we can help you.
Statistics For Train Station Accidents In The UK
By learning about the different types of statistics and facts about train station accidents we can get a better picture of how common they are. In turn, this can help you to better understand how common your own train accident compensation claim is. Headline statistics for accidents and injuries on the UK's railways and stations in the 2015/16 period are as follows;
There were 4,069 reported injuries on the London Underground.
No workforce fatalities happened during this period. This was the first year since records began in which there were no fatalities.
Three fatalities happened at level crossings over this period.
As can be seen in the latest statistics from the Office of Road and Rail (the body which monitors health and safety on the UK's rail network) accident and injuries do happen in stations and on station property. If you have suffered an injury in a train station, contact our team today to find out if you are eligible to make a compensation claim.
Common Types Of Train Station Accidents
In the sections below we will look at some of the most common types of train stations accidents which result in an injury, either to a member of the public or a staff member. In addition to the sections below (which we will look at in closer detail), these are some of the most common forms of injury leading to a train accident compensation claim. These include,
Injuries caused by defective doors which trap clothing or other items, or defective doors which close on passengers.
Damage to seats or damage to tracks which could cause accident or injury.
Accidents at level crossings which are part of a station.
Sharp edges on a variety of surfaces.
No matter what caused your accident or injuries, if they were caused by the negligent actions of someone else, or were the result of a poor procedure carried out by the station operator, you could be entitled to claim compensation.
Slips, Trips, And Falls At A Train Station
No matter where you are walking, slips, trips, and falls are one of the most common types of accidents leading to injuries in the UK, including on station platforms and concourses. A slip, trip, or fall accident in a train station can have many different causes. Some of the most common causes include:
Spills which have not been cleaned up.
Platforms which are wet or slippery. This could be caused by the weather.
Trips and falls caused by passenger baggage or items left by staff.
These types of accidents in a train station commonly result in injuries. It should be noted that the owner or operator of a railway station has a duty of care to ensure that their staff and customers or passengers are kept safe from any harm whilst in the station or on station property. This liability derives from the Occupiers Liability Act of 1957. As such, the owner or operator is liable for any accident and resulting injury happening in the station.
As such, if you have been injured as a result of an accident, you have a right to claim compensation for your injuries suffered.
Train Station Accidents Involving An Escalator, Stair, Or Lift
Whilst lifts are generally very safe, stair and escalators can be a frequent source of accidents in a train station. These are often caused by factors such as overcrowding on the platform, or the stairs/ escalators themselves. Train station accident claims involving stairs and escalators may also be caused by broken or slippery stairs or cases where there is a fault with the escalator itself. Any of these factors can lead to an accident and resulting injury.
As with other train station claims, the part liable will usually be the operator of the station or the provider of maintenance services, if the escalator has not been properly maintained. These parties are responsible and liable for ensuring that escalators are maintained in the proper working order and are safe for use.
You could be eligible to make a compensation claim if you were injured on the escalator or stairs at a station. How much compensation you will be eligible to claim will vary depending on the nature, cause, and severity of the injuries you have suffered. Talk to our friendly and professional team today to find out more about making a claim with Accident Claims UK.
Workplace Train Station Accident Compensation Claims
If you are an employee of the train station operator, or if you work inside the train station as a contractor, accidents which lead to an injury will probably lead to your making a compensation against your employer. The Employers' Liability Act 1969 states that every employer owes their staff a duty of care. This means that they must provide them with a safe working environment. If this has not been the case, as an employee you could have the right to seek compensation for any injury or illness suffered.
This duty of care also means that your employer should provide you with the correct equipment to carry out your duties in a safe way, should have provided you with the correct health and safety training, and that they should also follow a number of other steps to ensure that you are safeguarded from harm or injury. If your employer has been negligent and breached any expected safety processes, you could be able to make a train station accident claim against them. To give yourself the best chance of making a successful claim, contact a specialist solicitor to conduct your case for you.
Accidents At A Station Involving The Public
As we looked at in the previous section, the operator of a train station is required to maintain a safe environment for their staff and customers/ passengers. As such, as a member of the public and a customer, if you have suffered a train station accident, you are within your rights to seek compensation from the operator of the station. The accident and injury may have happened due to a mistake, or due to negligent or even incompetent actions on the part of those operating the station.
No matter what the circumstances of your accident and injury, you can make a claim against the stations' management as a member of the public. However, in certain cases, the complexities of the case could make it difficult to pursue. If you are finding it difficult to pursue your claim alone, working with our experienced team could make your claim run much smoother.
How Serious Are Train Station Accidents And Injuries?
When assessing the severity of a train station injury claim for an accident which has happened at a station or on station grounds, it is important to note that this severity will impact on the amount of compensation that you could be eligible to claim. Generally, the more severe the assessment of your personal injury in a train station claim, the higher the total amount of compensation you will be able to claim. This is why it is important to properly diagnose the severity of your injuries.
To fully assess the severity of your injuries and determine the value of your railway compensation claim, it is important to seek a professional and independent medical opinion. They will conduct a full examination to ascertain the exact nature and extent of your injury, as well as the future prognosis for recovery. Our team and the solicitors which we provide can work with you to organise an independent medical examination to support your overall claim, and to help make sure that we are seeking the right level of damages from the operator of the station, such as Network Rail.
What are the long-term effects of a train station injury ?
As with any other type of accident or injury, a personal injury in a train station can range from being quite mild through to being very severe. Some people may find that they recover within a few weeks or months, whilst others will take much longer to recover from their injuries. In addition to the physical injuries and pain or suffering that were caused by an accident in a train station, victims may also experience and claim for emotional or psychological trauma which has been suffered.
When assessing the long-term impact of a train station injury, the medical practitioner will look at many different factors. These exams will assess your overall quality of life and the impact your injuries have had on your current or future life. Your personal injury claim will be adjusted to account for these factors. The long-term effects of accidents or injuries in a station could include:
Your inability to continue working after an accident.
Reduced income or benefits caused by your accident.
Not being able to continue with your career.
The overall effect on your mental health and well being.
If you are now at a higher risk of developing other medical complications or conditions in the future.
How severe your injuries were will determine the long-term effects on you as a victim. This will be taken into account with your train accident compensation claim. If you have had an accident in a station and want to find out how much train accident compensation you could be entitled to, talk to our specialist team today.
What Should I Do If I am Injured In A Train Station?
One question we are commonly asked by victims of different types of personal injury is similar to "what should I do if I am injured in a train station?". No matter whether you had an accident in a station or elsewhere, the first thing which we always advise people to do after being involved in any accident or suffering an injury is to get any immediate medical attention they need. Your health should always be your number one priority. Once you have sought the medical attention you need, there are several steps which we recommend you undertake.
Collect as much evidence as you can. If you can, take photographs of your injuries as well as the scene of the accident. If your injury was caused by a spillage or uneven floor, take a picture in case the floor is fixed or to show the spill was there. Gather any other relevant information, such as details of any witnesses.
Record any financial losses or costs which you have sustained. These could be lost income or benefits or the cost of any medical treatment as well as the cost of transport to medical or legal meetings.
Try to carry out these steps before starting your train accident compensation claim and bringing your claim to a personal injury claim solicitor.
Train Station Accident Compensation Calculator
The process of assessing how much train accident compensation you could be entitled to will depend on several factors. These may include both general damages and special damages. General damages are part of a compensation claim which is awarded for suffering and pain. It takes into account physical and psychological harm suffered as a result of the injury. Special damages can include medical and travel expenses. You can also claim compensation for any property damage, such as a broken phone or other item.
Trying to workout the full value of your train injury compensation claim before we know the full extent of your injuries and what caused them is difficult. There will also be unique circumstances related to your claim and case. However, in the table below we have provided information on the potential value of some injury claims which commonly come up in these circumstances.
| Type of injury or effects | Compensation amounts | Notes |
| --- | --- | --- |
| Serere toe Injuries | £7,300 - £10,450 | Could be caused by an accident such as a slip, trip, or fall. May result in loss of function or loss of toe. |
| Moderate toe injuries | Up to £7,300 | Some loss of function which may be temporary. |
| Amputation of a toe | £27,750- £42,600 | Full amputation of a toe. |
| Minor foot injury | Up to £10,450 | Minor or mild damage to the toe. |
| Moderate foot injury | £10,4500 - £19,000 | Moderate injury but with serious pain in the toe. |
| Serious foot injury | £19,000 - £29,800 | Loss of ability to use the foot fuly/ loss of function. |
| Severe foot injury | £31,900 - £53,200 | More serious than the above category, but with more pain as well, |
| Amputation of a foot | £63,825 - £83,325 | Amputation of the foot. |
It is important to note that there are many other types of physical or psychological injuries which you may have suffered and need to include in your train station injury claim.
How To Start Your Railway Compensation Claim
When thinking about making a train station accident or personal injury claim it can often seem daunting and you may not know quite where to start. This is why we always offer people a no obligation and free assessment of their claim. During this we will ask you questions, as well as answering any which you may have. We will look at whether you have a claim which will be accepted and will (after assessing your injury and how it happened) be able to give you an initial estimate of how much compensation you could be entitled to claim for your personal injury in a train station. Our knowledge and experience means that we can offer you clear and insightful advice.
After this consultation you can choose to work with one of the experienced solicitors we can provide. They will then handle the process of making your claim and getting you the damages and compensation you are entitled to.
No Win No Fee Compensation Claims For A Train Station Accident
One of the biggest reasons people are often hesitant to start a compensation claim is the potential costs. Understandably, people are often worried about having to pay large legal fees and bills at a time when their finances could already be strained. People also often wonder how to pay these in circumstances where they lose their case. This is where a no win, no fee personal injury solicitor comes in.
A no win, no fee agreement is one in which the solicitor will provide agreed legal services to the claimant without any upfront or ongoing charges. They will not ask for any remuneration unless and until the case is successfully resolved and you are awarded a settlement. Your legal fees can then be deducted from this. If your case is not won, you will not have a penny to pay.
Why Use Accident Claims UK As Your Claims Management Service
Getting the right legal help and advice is a crucial step in making your claim. At Accident Claims UK we have the knowledge and expertise needed to maximise the amount of compensation which you will receive. At the same time, our team will always put you and your needs first. All of this together means that you can relax whilst we handle getting your the compensation you deserve. With a free consultation and no win, no fee service, what have you got to loose?
Talk To Our Team Today
When you are ready to start your train station accident claim, contact the personal injury claims specialists at Accident Claims UK. You can contact us on 0800 073 8801 or use our online contact form on this page to request a call back.
Useful Links
Transport For London Incident Support Service
If you have been injured on any services operated by Transport For London, such as trains, buses or the London Underground, you can fnd help and advice here.