By Daniel Sisko. Last Updated 6th June 2022. Welcome to this guide including information relating to personal injury claims payouts for a broken elbow.
Accident Claims UK have dealt with claims for compensation for a elbow injuries at work on numerous occasions. Here we're researching the case of a man who was compensated £100,000 for a broken elbow at work injury.
This case study is a good example of how claiming compensation for a broken elbow at work can be successful and how Accident Claims UK can be of help to you if you're considering claiming for compensation for a broken elbow.
The injuries sustained in the accident included a fractured elbow and a soft tissue injury on the right arm. When the employer began to pay statutory sick pay to the claimant he decided he had to claim compensation for his broken elbow injury to cover his financial losses. You'll see later in this case study that his broken elbow led to considerable pain, financial loss and stress for the man involved.
What Accident Did The Claimant Experience?
The claimant in this case was working in a factory, preparing equipment for servicing when he sustained his injuries which led to him beginning a claim for compensation for a broken elbow at work.
A very large valve needed to be removed to be serviced. To aid the removal a large plate was attached to the valve but as it was being fitted it swung towards the claimant and crushed his arm against a concrete wall. The man was taken to hospital, treated for his broken elbow and was in recovery for a long period of time.
The case against the employer centered around the fact that the employer hadn't provided a safe place to work for the claimant, safe equipment or safe systems of work. All of which, had they done so, would've prevented the accident and subsequent compensation for a broken elbow at work claim from having to be made.
Although the scenario in this case was fairly rare (not many people are asked to prepare a 20-tonne valve to be serviced) the accident, crushing of the elbow, is not that rare in the workplace and can lead to compensation claims being made.
Details Of The Claimants Broken Elbow Injury
A common injury is a fractured radial head in the elbow which is very difficult to treat and results in the arm being in pain with a broken elbow recovery time being up to 6 weeks. The claimant in this case, who successfully claimed compensation for a broken elbow at work, had to take 8 months off of work to recover from the pain and had to undergo medical operations to try to recover the full use of his arm. This pain and time off work was one of the key arguments in the compensation claim that his personal injury solicitors successfully made.
The NHS suggest that broken elbow symptoms include: swelling, pain, deformity and you may of actually heard the bone snap or crack at the time of the accident. If this is the case, then you may be able to claim compensation for a broken elbow at work. If you experienced other symptoms in your accident at work then it may still be possible to make a claim so give us a call to discuss your options.
Similarly, if you've had an accident at work and you've injured your ankle then the symptoms are very similar, but you may find it hard to put weight on the foot or there may be bleeding where the bone has pierced the skin of the ankle.
Conducting The Case: What Allegation Was Made, And How Did Solicitors Establish The Defendant's Liability?
The claimant decided that he should make a claim for compensation for his broken elbow at work and instructed a personal injury solicitor to do this on his behalf. It is imperative that you choose the right solicitor when making a personal injury claim to prevent being offered a low compensation amount from the other party involved in the accident.
The legal argument that his solicitor put forward was that, because of his broken elbow, the claimant needed to make a compensation for a broken elbow at work claim because he was disadvantaged in the work market, i.e. he was going to struggle to find work as he was still struggling with heavy lifting, using power tools and he struggled to with fine manual work. After returning to work he had to change the way he worked because of his injuries and this subsequently slowed his work rate down.
The employer's solicitor, defending against the compensation for a broken elbow at work claim, would not accept this argument and even appointed a private detective to prove that the complainant was exaggerating his injuries to increase his compensation payout.
The personal injury solicitor, making the claim for compensation for a broken elbow at work, collected medical evidence and also interviewed witnesses of the accident to prove the injuries were as severe as claimed and also the impact on the complainant was as harsh as was being suggested.
How Much Compensation For A Broken Elbow Was The Claimant Awarded?
When the case for broken elbow compensation claim got to court, the employer's solicitor offered £20,000 in full settlement but the personal injury solicitor refused. Arguing that the employer hadn't provided a safe working environment and could have done more to prevent the compensation claim from being made, the claimants legal team turned down an increased offer of £55,000 and eventually the employer settled at £100,000 in full settlement of the compensation for the broken elbow at work claim.
This goes to show how important it is to have the right personal injury solicitor on your side. The solicitor or insurer for the defendant is always going to try and minimise their financial losses so if the claimant in this case had just taken the first compensation offer for his broken elbow at work claim it would've only been one fifth of the amount his solicitor managed to get in the long run.
Broken Elbow Compensation Amounts For 2022
Broken elbow compensation can sometimes consist of two main figures. In this section, we'll discuss what they are awarded for as well as how they can be calculated.
General Damages
When you claim for a broken elbow, the level of pain and suffering you endure will affect your compensation amount. Your compensation may also be based on the severity and length of your recovery period – amongst other factors. The figure that's arrived at is known as general damages.
When legal professionals are calculating the value of your general damages payment, they have a number of helpful resources to turn to. For instance, they will look at the medical evidence regarding your injuries. Additionally, they will also use the Judicial College Guidelines (JCG).
The JCG is a publication that was last updated in 2022. We've included some entries in the table for you below. As you can see, each injury comes with a description and some bracketed figures that relate to how much this portion of your broken elbow compensation could be worth. However, it is important to remember that the JCG figures are not set amounts for your claim as each case is assessed individually.
| Injury | Description | Amount |
| --- | --- | --- |
| Elbow | (a) An injury that disables severely. | £39,170 to £54,830 |
| Elbow | (b) Less severe – Impaired function but major surgery not required, no significant disability. | £15,650 to £32,010 |
| Elbow | (c) Moderate/minor – The extent of your recovery and the time taken to recover are taken into account. | Up to £12,590 |
| Arm | (b) Serious fracture to one or both forearms that result in a substantial and permanent disablement – this may be cosmetic or functional. | £39,170 to £59,860 |
| Arm | (d) A forearm fracture that is simple. | £6,610 to £19,200 |
| General psychological damage | (a) Severe, very poor prognosis. | £54,830 to £115,730 |
| Post-traumatic stress disorder | (a) Severe – Effects are permanent and causes lasting damage to factors such as the person's ability to work. | £59,860 to £100,670 |
Special Damages
A claim for a broken elbow may also include special damages. This is calculated in line with the level of financial loss experienced due to your injuries. Here are some examples:
Loss of earnings – Your elbow injury may mean you need to take time off work. If so, this could affect your income. The amount you would have earned during your recovery can be reimbursed to you.
Medical costs – Private healthcare and prescription costs are both good examples of this.
Adaptations to your home – Your injury may require certain areas of your home to be adapted for accessibility reasons.
For all special damages amounts, you will need to present evidence. For instance, you could acquire receipts and payslips. Get in touch with our advisors for additional information.
No Win No Fee Broken Elbow Personal Injury Claims
This case of compensation for a broken elbow at work highlights how important a good legal team is, but we know that you may be put off from claiming because of the legal expenses involved.
That's why Accident Claims UK offer a no win, no fee service for any compensation claim for a work accident claim that we take on for our clients. This means that, unlike some solicitors, we don't charge any up-front fees and we don't charge you a penny if we don't win you the compensation for your injury that you deserve. If we agree to take your case on, then we don't take any advance payment when making a compensation claim which means it is risk free for you to proceed using Accident Claims UK.
Our experts have worked on compensation claims for a broken elbow for many clients and know how to proceed to get the quickest and fairest settlement for you.
Make Your Elbow Injury Claim Today And Receive Personal Injury Claims Payouts For A Broken Elbow
Now that you know how important a good legal team is when claiming compensation for a broken elbow at work or elsewhere is and that Accident Claims UK will operate on a no win no fee basis then hopefully you're ready to proceed with your case today.
If so, call us for free on 0800 073 8801, use our live chat facility, or email us on office@accidentclaims.co.uk and will get back to you as soon as possible regarding your broken elbow claim.
When we make contact we'll review you claim for compensation for a broken elbow in a free, no obligation, consultation. Our team are ready to help you make your claim today and to get you the right amount of compensation for your injury, pain and financial losses.
How can I maximise personal injury claims payouts for a broken elbow?
If you are looking to make sure that you get the maximum personal injury claim settlement for your broken elbow, there are a few things that you may need to know. First of all, getting the right solicitor could significantly impact your personal injury compensation payout. A good solicitor with years of experience who is authorised and regulated by the Solicitors Regulation Authority could give you a good chance of achieving the maximum compensation payout for your claim. This is why you need to choose your solicitor with great careful stop some of the ways in which you could ascertain whether a solicitor is right for you could include checking reviews on independent websites, asking family and friends for recommendations, or speaking to the solicitor to find out how many years of experience they have and what their success rate is. This way you can have peace of mind that you have done as much research as possible into the solicitor you're using for your claim.
Could the medical evidence I submit affect personal injury claims payouts for a broken elbow?
When it comes to maximising compensation settlements in the UK, you may find that the medical evidence you submit significant impact on your claim. It is not enough for you to have visited your GP or hospital to obtain medical advice and medical treatment. You would also need to submit an independent medical report which detailed the level of severity and nature of injuries as well as your prognosis. When you go and see an independent medical expert, they could review some of your past medical notes if they are relevant. They could also ask you questions and examine your injuries carefully. Once they have all the information they may need, they could put together a detailed report which could be used by courts and lawyers to value your personal injury claim.
How common are road traffic accidents leading to a broken elbow?
When it comes to statistics for road traffic accident casualties in the UK, we can draw upon the Department for Transport figures for 2020. While these do not indicate how many people suffered an elbow injury in a road traffic accident, they can tell you what types of road users were injured on UK roads in 2020, even though there were four months in which the UK was in national lockdowns due to the covid 19 pandemic.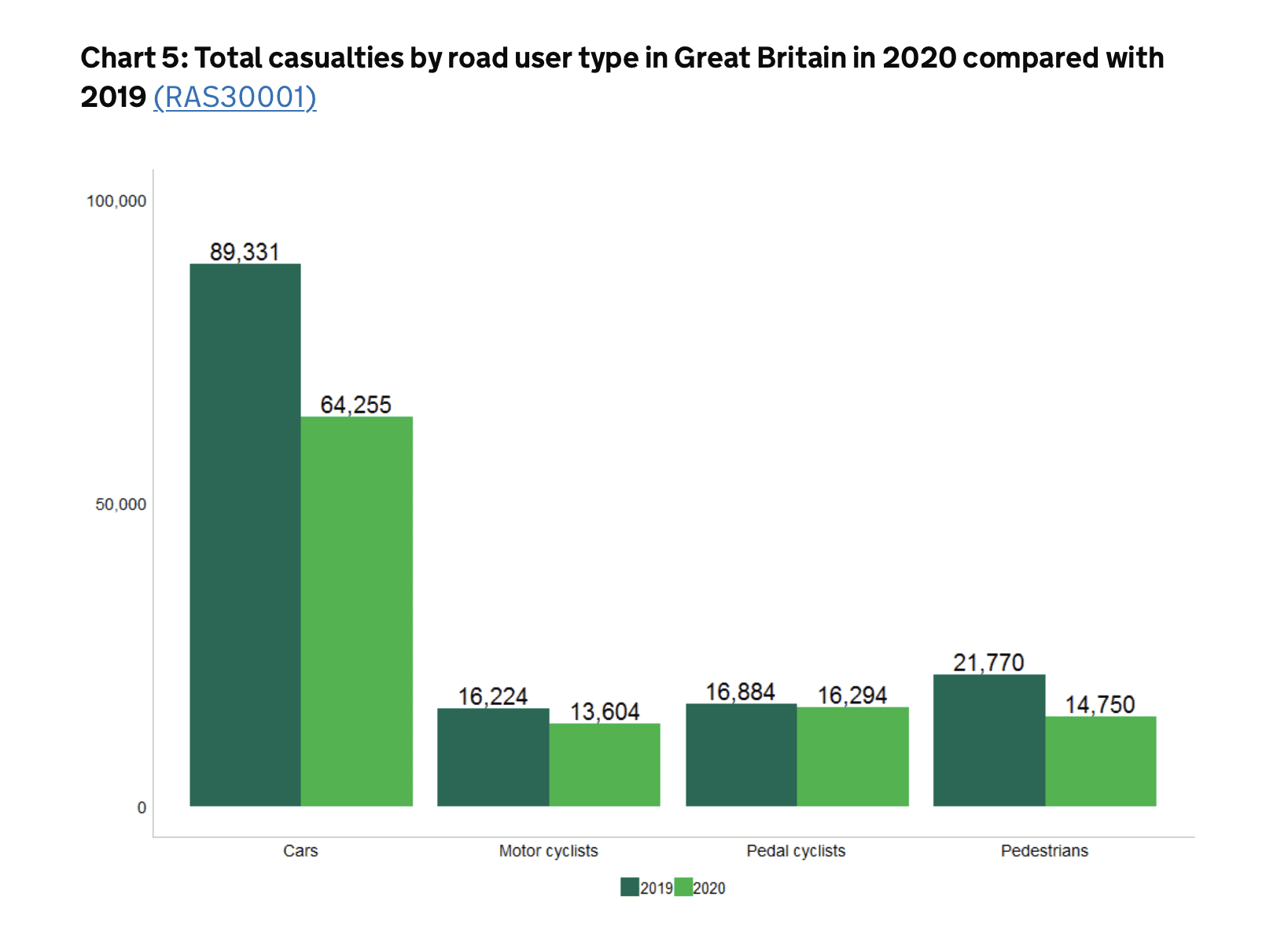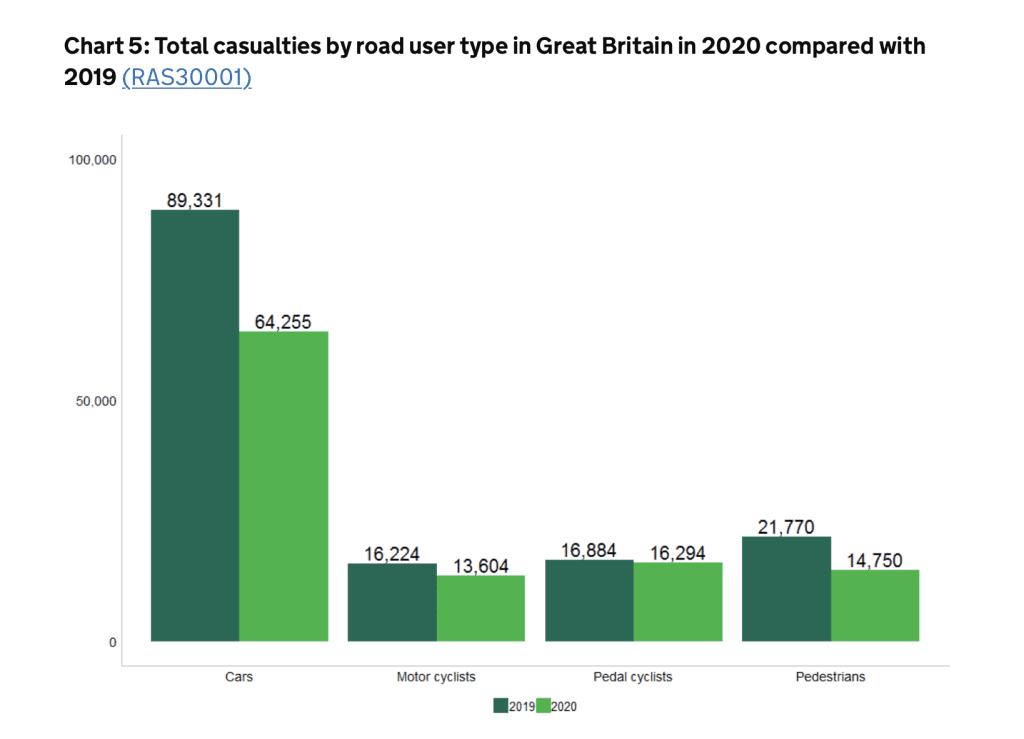 You might be surprised to learn that not only could you make a claim for compensation for injuries you suffer as a motorist. You could also claim if you are injured as a pedestrian, a cyclist or motorcyclist or other road user.
Can I receive personal injury claims payouts for a broken elbow in a hit and run?
If the person that caused your road traffic accident has fled the scene, you might be worried that you could not claim compensation. However, we could help you make a claim through the Motor Insurers' Bureau so that you can get the compensation you deserve. Please contact us to find out more about this.
Useful Links Relating To Personal Injury Claims Payouts For A Broken Elbow
These links may be of some use to you when preparing to make a compensation for a broken elbow at work claim:
NHS Symptoms – A guide to broken bone symptoms from the NHS.
Broken Bone Compensation – Not specifically relating to compensation for a broken elbow at work claim but helpful advice about compensation claims and amounts for broken bones.
Treating Elbow Injuries – An NHS document on how you could care for your injuries.
Other Useful Compensation Guides
Thank you for reading this personal injury claims payouts for a broken elbow case study. To find out whether you could claim for common elbow injuries such as repetitive strain injury affecting the elbow joint, those from a slip trip or fall, or any general damages for pain and suffering caused by any type of injury to the elbow, call our team. We could help whether you suffer a long-term or short term injury.