By Jo Jeffries. Last Updated 22nd February 2023. Welcome to our guide, which discusses road traffic accident compensation claims and RTA compensation calculator tools. If you have been unfortunate enough to have been caught up in a road traffic accident and suffered an injury due to the fault of another driver, then you could be able to launch an RTA injury claim; one of the many personal injury claims that are started in the UK every week. Here, we show you how to make an Uber passenger accident claim, as well as how to make taxi accident claims, uber accident claims, passenger accident claims and other types of RTA claim. We detail what needs to be considered when using a car accident claim calculator to get an idea of compensation for a car accident passenger claim.
Plus, we answer questions such as 'I was in a side impact collision. Who is at fault in the UK?' and 'I want to claim compensation for an RTA. Would a calculator help?' We even provide details of car crash compensation payouts in the UK. If you're thinking of claiming compensation for a road traffic accident, our RTA accident claims guide could be useful.
How to make an Uber passenger accident claim or another road traffic accident claim
Here, we take you through some key facts surrounding road traffic accident compensation claims, giving you all the information you need to know before deciding whether you should claim compensation.
Reading this guide is just the start. We hope that after reading it, you'll want to approach us for more information and to have a chat about starting a claim. To do that, you can call 0800 073 8801, or send an email to office@accidentclaims.co.uk or use our websites callback form.
Choose a Section
Our Guide to road traffic accident claims
Sadly, there are road traffic accidents that occur in the UK daily. Whether you have been caught up in a road traffic accident as a driver or a passenger and sustained an injury, you will likely be very shocked that it has happened to you and worried about treatment ahead or how it will affect you long term – especially if you have had to be off work while you recover. Of course, the financial implications of an accident can vary from case to case. Still, the reason many people launch road­ traffic accident compensation claims is to recoup the costs they have incurred as a result of the injury or injuries they have sustained.
In this guide, we take a look at road traffic accident claim payouts, the traffic accident claims process itself, as well as giving you information on many of the common queries on road traffic accident law that we receive when people call our free advice line.
What constitutes a road traffic accident?
A road traffic accident is any accident that happens as a result of traffic on the road such as cars, bikes, vans, motorcycles or lorries. Whether you have been caught up in traffic accidents involving motorcycles or been in the passenger seat of a car and been injured, if the incident that occurred was not due to you, then you will likely be able to claim for car crash compensation payouts. Speak to us for further guidance on road traffic accident compensation claims.
What To Do If You Are Hurt In A Road Traffic Accident
If you suffer injuries in a road traffic accident, you may wish to make a road traffic accident (RTA) claim. There are several steps you can take after sustaining harm in an accident on the road, such as:
Seek medical attention for your injuries

Take photographs of the scene of the incident plus your injuries, if possible.

If anyone has witnessed the accident, ask for their contact details. 

See if there is any CCTV camera in the area that could have captured the incident.

Take the driver's details.

Report the accident to the police, if applicable.

Seek legal advice about seeking RTA compensation.
For free legal advice on making a compensation claim for a road traffic accident injury, Accident Claims UK is here to help. Our advisors could check whether you'd have the right to claim compensation. Additionally, they can discuss car crash compensation payouts in the UK.
What evidence do I need in road traffic accident claims?
To make strong road traffic accident compensation claims, it is a good idea to get the details (phone number, full name and address) of those persons who have been witness to what happened. On top of this, it is handy to keep receipts for any costs you have been subjected to because of the RTA. Costs such as:
Transport to medical appointments
Treatment costs
Care costs
Loss of amenities, i.e. money that you have already spent on plans such as holidays that you have had to cancel as a result of the accident
Repairs and replacements to your property that was damaged in the accident.
Keeping records of these expenses can help to strengthen your case as well as potentially improving the amount of compensation you could receive.
How to go about starting a road traffic accident claim
Whether it is whiplash claims or claims for other injuries sustained within a road traffic accident, the process is fairly similar. If you call Accident Claims, one of our expert team will take you through a few questions to determine the main facts of the RTA. Once we have all the information we need, we will match you to the best personal injury claim solicitors for your case, who will be able to take your case forward on a no win no fee agreement basis.
Many of the questions we receive involving road traffic accident compensation boil down to "how long does it take?". Sadly, we cannot give a definitive answer that fits all cases as each, and each one is different. The most straightforward cases can be finalised in just a few months, whereas other, more complex and complicated claims can last over a year. However, our Accident Claims telephone advisors will advise more on this should you choose to give us a call.
Fatal road traffic accident compensation claims
Fatal accidents are tragic, and whether you are a dependent of the deceased person or a family member that has suffered hardship due to their death, we know you must be going through a traumatic time. If the fatal accident you lost your loved one in was in no way their fault, there might be some way to redress the financial burden this accident has left you with. Amongst other types of damages, you can claim in these cases are loss of earnings (both actual and future) as well as funeral costs, punitive damages and general damages.
Making a road traffic accident at work claim
Road traffic accident compensation claims are not just launched for leisure drivers and their passengers. If you were travelling in a commercial vehicle to work, for example, and you were injured as a result of an RTA that was not due to you, then you could be able to claim for compensation for your injuries. In these cases, it will be necessary to prove that your employer is liable. This could be for many different reasons, including:
Commercial vehicle not properly maintained
Poor/inadequate/no training
No risk assessment
If you are at all nervous about claiming for an accident that happened at work, then do not be concerned about the safety of your job. There is legislation to protect you from being treated differently because of your claim – and you should also be aware that your employer should have insurance to cover the costs of your case.
What should you do after a road traffic accident in the UK?
We touched upon what needs to be done after an RTA, but here we give you more detail. Whether you are making a claim or not, it is wise to do the following:
Ensure everyone is okay and get medical attention – if required, you should phone an ambulance for immediate treatment or get an appointment at a walk-in/GPs office if you feel it can wait.
Get in touch with the police – while this does not always apply, there has been a fatality, serious injury, a crime has been committed or poses a risk to other road users. You need to call the police at the earliest opportunity.
Make a note of the events – Writing things down early saves your memory from getting jumbled.
Take details of bystanders – If someone has witnessed the RTA, it is a good idea to note their details in case they are needed later on.
What if a road traffic accident is your fault?
If you are at fault in an RTA, you more than likely will be unable to make road traffic accident compensation claims. However, if it is not clear who is responsible, or there is a fault by more than one person, yourself included, it may be worth calling us to see whether you are likely to pursue a split liability claim. If you were partly to blame, any compensation payout for a vehicle accident claim you make would likely be lower than if you were not at fault.
What to do about children involved in a road traffic accident – can I make road traffic accident claims on their behalf?
If a child has been injured in an RTA, then it can be very worrying. Children seem so tiny and weak compared to adults, and their condition can deteriorate quickly, so the sooner you get them medical attention, the better. When it comes to road traffic accidents, child accident claims can be made by a parent or legal guardian within three years of the accident. However, if the parent or guardian decides not to launch a claim, the child may be able to do so when they turn 18. The child then has three years from the date they turn 18 to claim RTA child accident compensation.
What sort of compensation can I claim for in a road traffic accident that caused Injury?
RTA compensation amounts paid out tend to cover some or all of the following:
General payouts for injuries received
This is calculated based on the level of injury you have suffered based on the medical report that will be compiled.
Special payouts for other factors
This includes the type of expenses you may have had to bear due to the accident. This can cover any loss of earnings, both now and for the future, childcare expenses, care claims, any changes to your home that have to be made due to your injuries, as well as travel and counselling costs. You must keep any proof of expenses such as receipts to claim.
If you are unsure whether a cost you have incurred will likely be taken into account as part of road traffic accident compensation claims, then it is a good idea to call our team – we should be able to advise you.
Road traffic accident hit and run – can I still make road traffic accident claims?
Whilst the vast majority of car operators are honest and responsible, there are still a small number of road users that are not. If you have been the victim of a hit and run, you may feel that the situation could not possibly result in a compensation payout. However, this could not be further from the truth. If the driver has fled the scene of an RTA, and you have been left with injuries, then it is still possible to claim an organisation often referred to as the MIB. The MIB (Motor Insurance Bureau) exists for this purpose, to settle claims from those injured by uninsured or untraceable drivers.
We will be happy to give you more information on what this entails should you have been in the unfortunate situation that the driver in the RTA you were involved in has not been traced. Find out more about road traffic accident compensation claims by speaking with one of our advisors today.
Road traffic accident statistics UK
According to government statistics, the number of vehicle accidents and the number of fatalities resulting from them are on a downward trend and have been for several decades. Up to June 2020, there were 131,220 injuries in road accidents reported to the police. The total number of injuries in car accidents represents a 16% drop since last year, partly due to Coronavirus-enforced restrictions. In total, 1,580 people were killed in traffic accidents during this period, representing a 14% drop from 2019. You can see more of these figures and how they are collated in this government report. We have included some statistics below to show you the types of road users injured on UK roads in 2020.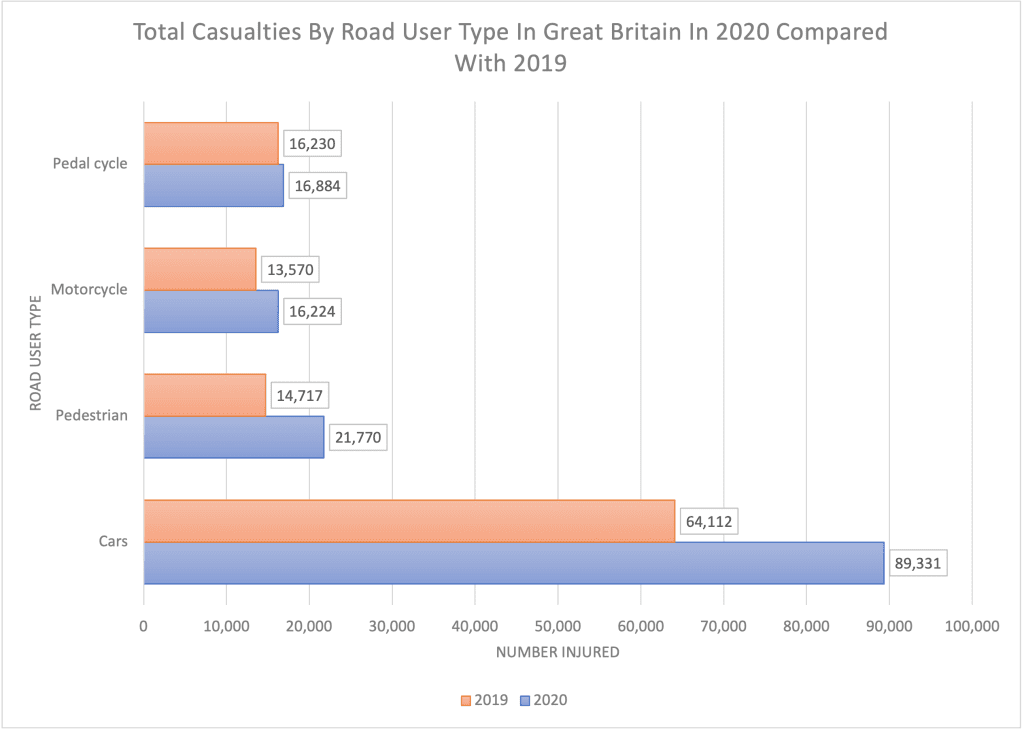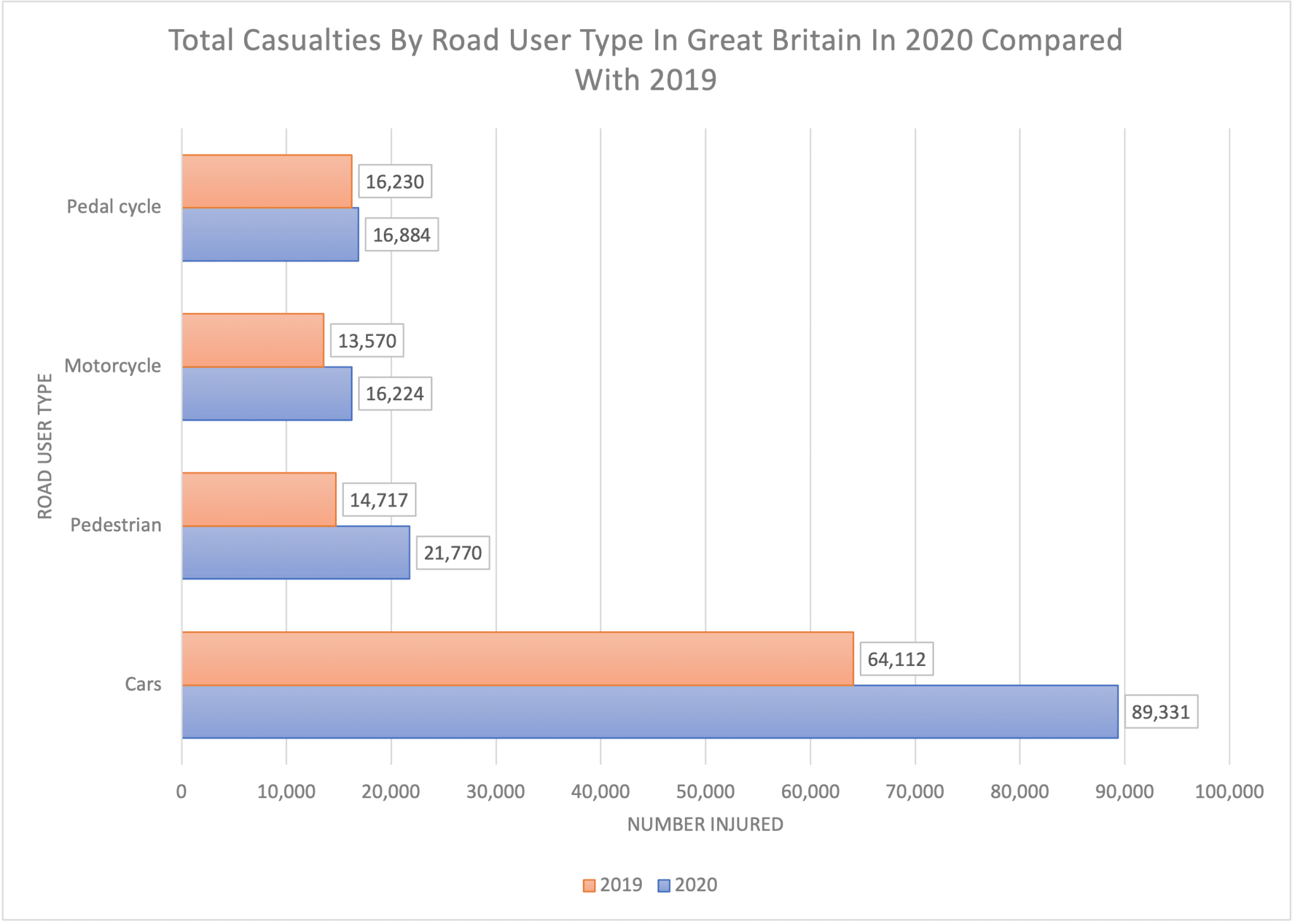 The Most Common Types of road traffic accident injuries claimed for in road traffic accident claims.
Injuries sustained as a result of RTAs can be many and varied. However, we can list some of the most common injuries that often occur in RTAs (and subsequent road traffic accident compensation claims) here:
Internal damage – The impact of an RTA can be severe and can cause damage you can't see from the outside. Injuries to the spleen, kidneys, liver, heart and lungs can occur, and the legacy of these injuries can be far-reaching
Back injuries – Injuries to the back can be painful and depending on how severe they are, they can leave lasting effects that impact your daily life.
Facial injuries – Shattered windscreens as well as the impact can cause facial injuries. This can have both physical and psychological effects.
Psychological damage – This sort of injury can have severe effects, just like any physical injury and can be quite common after a crash.
Neck injuries – From whiplash to fractures and dislocation, neck injuries can be painful and debilitating.
Spine Injuries – This can be extremely serious, and some patients are unable to walk or do the things they normally did after a severe spinal injury.
Head and brain damage – Whether as a result of the head hitting something with force or a violent shaking of the skull, brain and head injuries can be extremely serious and life-threatening in some cases.
Of course, broken bones, dislocations and a variety of other injuries can occur as a result of road traffic accidents. If your injury is not listed above, it is still likely to be covered in a claim.
Compensation For A Road Traffic Accident
If you successfully claim compensation for a road traffic accident (RTA), your payout could include two types of damages. One of these is general damages. This is how you are compensated for the pain and suffering of your injuries caused by an RTA accident. 
You may wish to use an online car accident compensation calculator to get an estimate of your claim. However, these may not take all aspects of your case into account, such as special damages. Special damages is compensation for any financial loss you experience as a result of your injuries. This could include:
Loss of earnings
Travel expenses
Medical costs
Try Our Compensation Calculator For Car Accident Claims
Every RTA claim is different, and therefore your payout for a successful car accident compensation claim would be unique to the facts and circumstances of your case. Compensation for a successful claim could include damages for the physical pain and suffering you've sustained, as well as the psychological impact of your injuries and out-of-pocket expenses you've suffered.
Calculating the amount of compensation you could receive for the pain and suffering of your injuries is not an exact science. Legal professionals would need to consider not only your short and long term pain and suffering but also the short and long-term impact of the injuries on your quality of life. 
We have mentioned that you could use a road traffic accident compensation calculator to get a rough idea of how much your injuries are worth. However, the alternative to a compensation calculator for a car accident claim could also be useful.
In the table below are figures from the 2022 edition of the Judicial College Guidelines (JCG). Legal professionals calculating general damages for claims in England and Wales could refer to this when seeking a fair settlement. This could give you a rough idea of what certain injuries could bring in compensation. 
Compensation Table
| Injury | Compensation |
| --- | --- |
| Very severe brain damage | £282,010 to £403,990 |
| Minor brain damage | £2,210 to £12,770 |
| Severe psychiatric damage | £54,830 to £115,730 |
| Minor psychiatric damage | £1,540 to £5,860 |
| Severe neck injury | In the region of £148,330 |
| Moderate neck injury | £24,990 to £38,490 |
| Minor neck injury | £4,350 to £7,890 |
| Severe pelvis or hip injury | £78,400 to £130,930 |
| Minor pelvis or hip injury | £3,950 to £12,590 |
| Moderate back injury | Up to £38,780 |
We should reiterate, however, that these are very rough guidelines. Furthermore, they do not include figures for the special damages that might be claimable. If you would like to get a more accurate estimate for your compensation claim, please get in touch.
Is it possible to make No Win No Fee road traffic accident compensation claims?
Many people may worry about how much it would cost them to use a solicitor's service when making a claim. There are many benefits associated with using a legal professional to help you fight for compensation. Benefits could include:
Having someone on your side who knows the law and could build a strong case for you
A solicitor could use all of their expertise and knowledge to fight for the maximum compensation possible for your claim
Less stressful legal legwork for you to complete
Someone to support you if your case needs to go to court
If you recognise all these benefits but are still worried about the costs of using a solicitor, we have good news for you. It could be possible for you to make a No Win No Fee claim for compensation. Such claims require no upfront payment to the lawyer. Instead, you would pay them out of your compensation at the end of your claim.
How do No Win No Fee road traffic accident claims work?
To begin with, your solicitor would send you out a document called a Conditional Fee Agreement. Within the text of this document would be a success fee. This is what you would pay your solicitor in the event of a successful claim. Usually, this fee is legally capped and represents only a small proportion of your compensation payout. In addition to this, you would only pay it if your claim is successful.
Once you have signed the agreement and sent it back to your solicitor, they could work on your claim. They would build a case against the liable party, and would negotiate compensation on your behalf. If it became necessary for your case to go to court, they would support you through the process. Once your compensation paid out, they would deduct their success fees, leaving the rest of the compensation for your benefit.
Accident Claims – Why choose us for your road traffic accident claims?
As accident specialists, the team at Accident Claims really care about the clients they speak to. You will find us approachable, honest and full of good actionable advice, even if you decide not to go ahead and pursue a claim with us. This is why our customers rate us as the best personal injury accident claim company they have spoken to.
Whether you have lost a loved one in a fatal car accident or are asking, 'How do I know a road accident claim is not my fault', we are on hand to provide the answers. We would never dream of putting you under any duress to decide whether you want to pursue a claim. This, and our years of experience in helping clients win the maximum amount of payout for their injuries, is what makes us a great company to speak to no matter what type of RTA you've been involved in.
Ready to make road traffic accident claims? Here's how
If, after reading all the above information, you feel ready to take a claim forward, then we are on the other end of the phone, ready and waiting to help you. Just call 0800 073 8801, and our team will guide you through the first steps towards making road traffic accident compensation claims for RTA injuries. Why not call today?
Helpful links Relating To RTA Compensation
If you have been in a car accident as a driver or passenger and, as a result, have injuries, for example, whiplash, contact us today to find out if you can claim compensation.
This page allows you to read about how you can claim after being in a cycling accident on the road.
Meanwhile, this page covers any scenarios where a taxi causes the accident that you're involved in.
Here, you'll find advice from the UK government about what you should do if you've been in an RTA.
The Government's resource for statistics about RTAs.
The Road Traffic Act can be found here, as well as resources that may interest you should you have been involved in an accident on the road.
Other Useful Compensation Guides
Road Traffic Accident Compensation Claims FAQs
How much compensation will I get for a road traffic accident?
The amount of compensation you could be awarded for a road traffic accident will depend on several factors, including:
• The severity of your injuries
• How much property damage you have experienced
•Whether the injury has affected your life
• How much your injuries have affected you financially
You can check out our road traffic accident compensation calculator and speak to our advisors to determine how much compensation you could be entitled to.
Could I claim compensation for a road traffic accident that was my fault?
If the accident was partly your fault, you could be entitled to claim compensation if someone else was partly to blame as well. If the accident were entirely your own fault, you would not be likely to be able to claim.
Can I claim for anxiety after a car accident?
If you have experienced anxiety, trauma, PTSD or any of the other mental and emotional side effects of being in a road traffic accident, then those would be some of the issues for which you could be entitled to claim compensation.
What is a suitable settlement offer?
An appropriate first settlement offer is one that finds a suitable balance between the claimant's expectations and the defendant's financial position. That way, there is room for negotiation on either side to find a suitable final settlement agreement.
Do you pay tax on accident compensation?
No, you shouldn't have to pay tax on any accident compensation.
Is compensation considered income?
When determining your gross income for a tax form, compensation should be included amongst the income amount that you provide.
What are the four types of compensation?
These are hourly, salary, commission and also bonuses.
What is an example of direct compensation?
This could be a typical annual salary or the average hourly wage for an employee.
What makes up an RTA compensation settlement?
Certain factors could determine what makes up an RTA settlement. In some cases, the settlement could include general damages, which account for suffering, pain and loss of amenities.
You could also claim special damages, which are the financial costs of the accident and injury. If you are wondering what could make up your specific RTA injury claim, please call our team. We'd be happy to offer you advice specific to your case.
Can you claim compensation for a road accident?
You could claim compensation for a road accident that was caused by negligence of another road user. Road users have a duty of care towards other users. A breach of that duty of care towards another road user that causes harm could mean you're eligible to seek compensation.
How does a road accident claim work?
A road traffic accident claim may work differently if you're claiming for a low-value road traffic accident. In such cases, where injuries are valued at less than £5,000, your claim would be submitted via a government portal.
This only applies to certain road users though, including passengers and drivers of vehicles over the age of 18. In other cases, your claim won't need to go through the government portal. For more information, call our team on the number above.
How does a road traffic accident claim work if it goes to court?
If a road traffic accident claim goes to court, your solicitor would be there to support you throughout the process.
Could I make a passenger accident claim against Uber?
As well as claiming compensation claims for accidents in vehicles you may have been operating, you could also make passenger accident claims. For example, you could make taxi accident claims against a private taxi firm or the insurance of a self-employed taxi driver. 
Are you wondering 'If I am involved in a taxi accident do I make accident claims against Uber?'. If so, please get in touch with our team using the number above.
How to make a passenger accident claim – steps to take
To make a passenger accident claim following a private taxi accident, you'd have to prove that the driver had breached their duty of care to you, and this had caused your injury. Examples of taxi accident claims could include:
Where the driver runs a red light and crashes into another vehicle in which you were a passenger causing you to sustain severe injuries

If a driver is speeding and causes an accident in which you suffered multiple injuries of a minor nature
Useful steps to take if you intend to make a claim or other taxi accident claims could include:
Getting medical attention

Taking the details of the driver and witnesses

Photographing the scene

Calling Accident Claims UK for advice
How serious could injuries be in a road traffic accident?
If we look at the latest statistics from the Department for Transport for the year ending June 2021, we can see the spread of injury severities. As you can see, most injuries are considered mild. However, there are still significant numbers of serious injuries and fatalities. Whatever severity of injury you've suffered, we could advise you on whether you could have a claim and the process you could take to do so.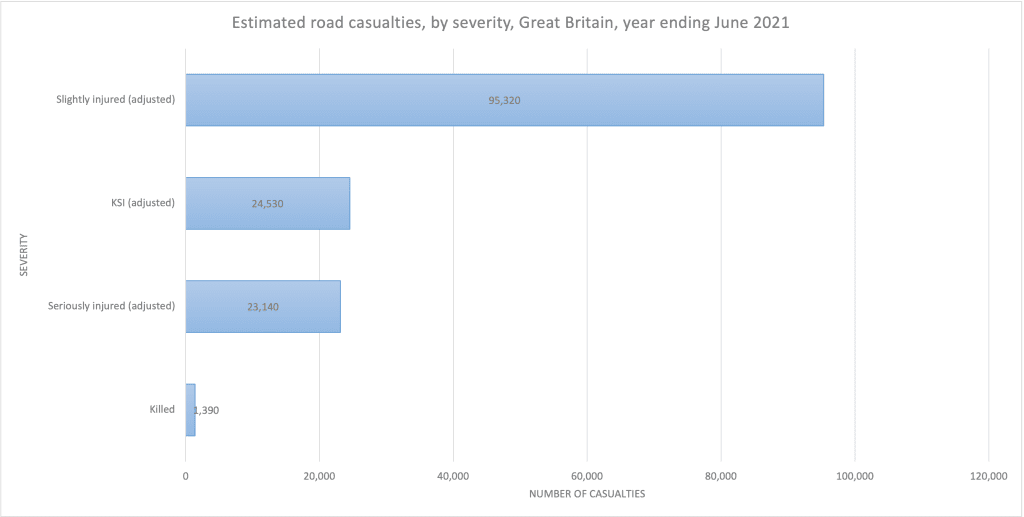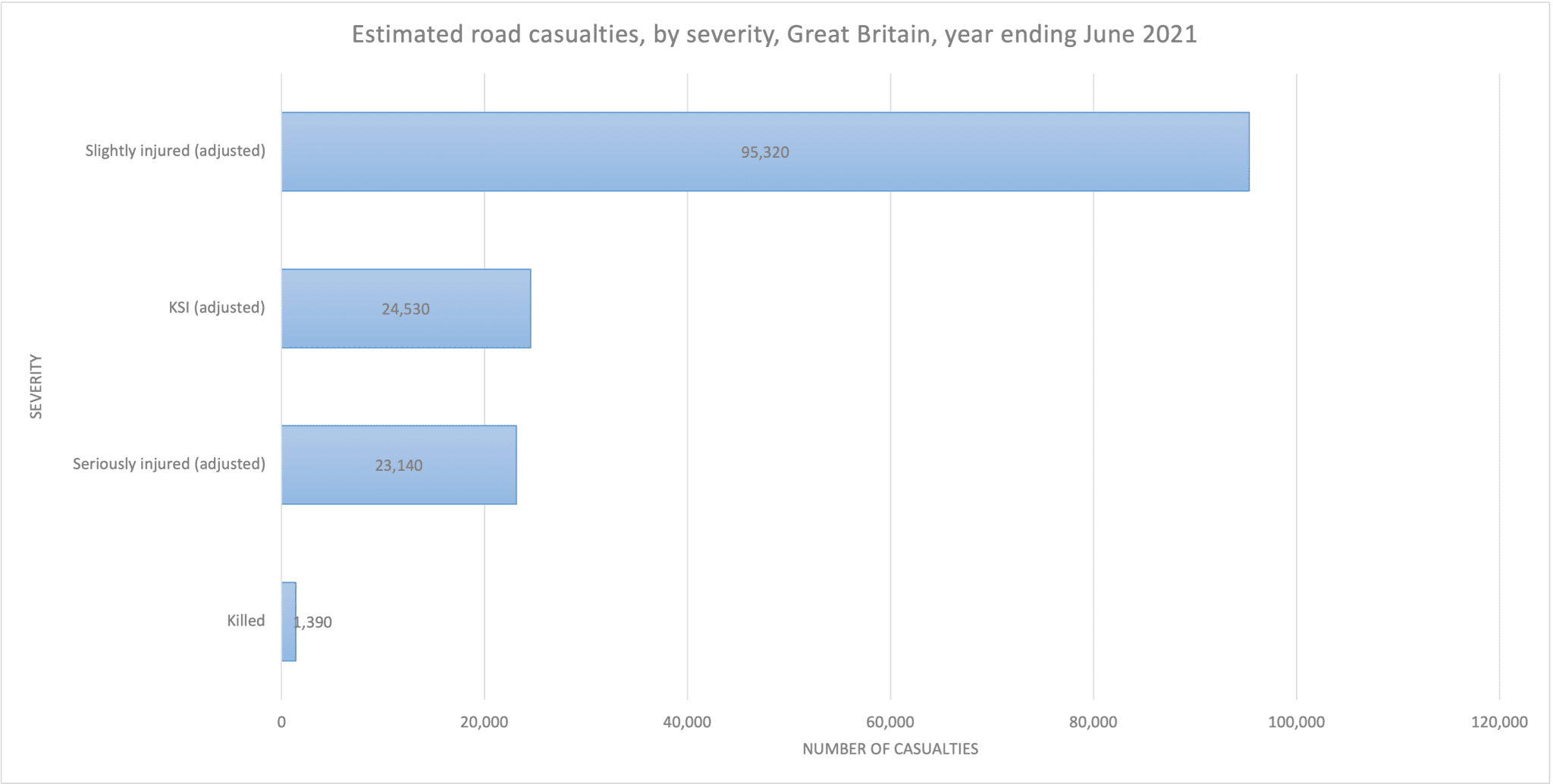 Top tips for making a car accident passenger claim
If you're considering making a car accident passenger claim, top tips could include:
Gathering photographic evidence – If you're able, take photographs of the scene and/or your injuries. If you're unable, you could ask someone else to take them.

Report the incident. If someone is injured in a road traffic accident, you should report it to the police.

Gather witness contact information. This could help your case as your solicitor could ask for a statement from them.

Get medical attention for your injuries

Call us to talk about your case. We could provide free legal advice.
In a side impact collision, who's at fault in the UK?
In a side impact collision, who's at fault in the UK would depend on the situation. However, if you would like to talk to us about liability in car accident claims, we would be happy to give you case-specific advice over the phone. This could help you understand whether you're eligible to claim.
Thank you for reading our guide about road traffic accident compensation claims.