By Cat Troi. Last Updated 10th June 2022. Welcome to this case study which looks at medical negligence payouts for a hip replacement. If you're seeking payouts for hip replacements gone wrong, this hip replacement compensation payouts guide could prove useful. 
Was your hip replacement surgery handled negligently? Were you made to suffer by substandard care delivered to you by a healthcare practitioner? If so, you may be entitled to a significant amount of compensation for hip replacement surgery. At Accident Claims UK, we provide a nationwide service to those searching for advice and guidance in pursuing a personal injury claim.
Throughout this guide will be useful information regarding hip replacement negligence, examples of what could be considered valid grounds for a compensation claim, and essential references to external sources which can provide you with additional support. Our panel of experts have up to thirty years of experience in personal injury and medical negligence, which also includes cases of hip replacement malpractice settlement claims.
Get Help With Payouts For Hip Replacements Gone Wrong
If at any point while reading this guide that you feel that you were affected by negligence or your condition was made to worsen because of this, then call our team today. Our friendly No Win No Fee advisors can assess the circumstances of your unique case under a free, no-obligation consultation. If they feel that your claim is valid, they could begin work right away. For more information, call us on 0800 073 8801 or consider the additional contact methods at the bottom of this guide.
Select A Section
Hip Replacement Surgery
What Is Hip Replacement Surgery? 
A hip replacement is a common surgical procedure that replaces a damaged hip joint with an artificial joint or 'implant' as it is otherwise referred to. This type of surgery is predominantly seen in adults between the ages of 60 and 80, though an adult of any age could be recommended for it if required.
Aside from replacing the damaged joint, a modern artificial hip joint is used to significantly reduce pain and improve movement range for the individual. Once fitted, an artificial hip joint can last at least 15 years, according to the NHS. However, these types of operations are only offered for people who have tried other treatments which failed to reduce symptoms of pain, such as physiotherapy or steroid injections. There are several different symptoms for which a person could be offered surgery to alleviate pain, such as:
Swelling, stiffness, pain, and reduced mobility
Symptoms that interfere with your sleep, or your quality of life
Day-to-day tasks are significantly hindered, including shopping, work, socialising, etc.
You are made to suffer psychologically as a result (i.e. depression)
But when exactly does a person need hip replacement surgery? A surgery of this nature is usually necessary when the joint becomes so worn that mobility is notably reduced and pain is still suffered while resting or in cases of osteoarthritis. In addition to this, hip replacement surgery can be offered for those suffering from:
Unusual bone growth, such as bone dysplasias
All surgeries should be performed with the correct standard of care. However, there are circumstances in which clinical negligence could cause serious injury. Although a settlement amount cannot undo the harm you were put through, compensation for hip replacement surgery could cover any surprise medical bills from your recovery period.
What Is The Procedure Of Hip Replacement Surgery?
Before the surgery begins, you will be given general anaesthetic or spinal anaesthetic to relieve the pain of the procedure while in theatre. Where general anaesthetic is used to put people to sleep while they are operated on, a spinal anaesthetic is used to eradicate any feeling from the waist down while the doctors perform surgery. In some cases, an epidural can be administered too.
Once anaesthetic is administered, the surgeon handling the operation will make a small incision (cut) in the hip to remove the hip joint and implant an artificial joint in its place. This procedure can take anywhere between 1 and 2 hours to complete. You can find more information about a hip replacement procedure through the NHS.
To learn more about hip replacement compensation, contact our team of expert advisors today. They can offer free legal advice, and more information surrounding hip claims.
Surgical Negligence Statistics
According to the annual report published by NHS Resolution, the NHS received 12,629 new clinical negligence claims and reported incidents, showing an increase of 7.5% from the year before. Of the 10,816 new clinical negligence claims made by specialty in 2020/21, 12% of new claims were made in the category of orthopedic surgery.
These statistics reflect the repercussions of a number of different factors, some of which could include medical malpractice. If you have suffered from a hip replacement negligence case, you could be entitled to compensation. Even if this case occurred a number of years ago, your hip claims may still be valid.
In settlement claims for personal injury, the personal injury claims time limit is typically 3 years. However, there are some exceptions to this rule, including for:
Those under the age of 18: The time limit is suspended for those under 18, and begins on their 18th birthday. If you are under 18 and would like to claim hip replacement compensation,

someone else can claim on your behalf by applying to act as your

litigation friend.
Those lacking the mental capacity to claim: The time limit is also frozen for those lacking the mental capacity to claim. If recovery is possible, the time limit will begin when the appropriate capacities are regained. Otherwise, someone else can claim on your behalf by applying to the courts to act as your litigation friend.
You can discuss the time limit for making hip claims, along with what circumstances may waiver its restrictions, with our expert advisors.
Case Study – Negligent Hip Replacement
When a negligent hip replacement occurs, the consequences could be detrimental for a person's physical and psychological well-being. There are various complications of a hip replacement, all of which range in severity and will impact daily life in different ways.
Some of these complications include:
Hip dislocation
Blood vessels/nerve damage
Deep vein thrombosis (DVT)
Fracture to bone around the hip
Differences in leg length
While these are some of the most common complications associated with hip replacement surgery, this list is not exhaustive. It is possible for additional repercussions to arise.
In 2016, a former semi-professional football player was offered hip replacement surgery in order to improve his quality of life. A year after receiving the operation, the claimant began to notice that something was wrong with his hip, something he described as a 'creaking sound' that felt incredibly painful whenever pressure was put on it. The claimant's life began to suffer as a result of this pain, and as a result, he was unable to return to his job in the building industry.
An x-ray of his injuries revealed that the initial surgery hadn't been performed correctly and in order to fix the problem, the claimant needed to undergo further surgery in order to replace the hip again 15-months after the original surgery. Two years on, he is left walking with a limp and serious discomfort as one leg is now shorter than the other.
https://www.liverpoolecho.co.uk/special-features/former-semi-pro-footballer-left-17106764
Hip Injury Compensation Amounts For 2022
If you have suffered harm as a result of medical negligence, you may be wondering how much you could receive in hip replacement compensation amounts should you make a successful claim.
Hip replacement malpractice settlements can depend on a variety of factors, including how severe your injury is, how the harm has affected your mental wellbeing, and how it will affect the rest of your life. For example, if you were to file a lawsuit for a hip replacement, nerve damage, mobility, and employability might all be considered when calculating your award.
The 2022 edition of the Judicial College Guidelines (JCG) can help you get an idea of potential hip replacement compensation amounts, as illustrated in the table below.
| Injury | Severity | Amount | Information |
| --- | --- | --- | --- |
| Pelvis And Hip | Severe (i) | £78,400 to £130,930 | Any form of extensive fracture to the pelvis area. For example, this could include spondylolisthesis or dislocation of a lower back joint, either of which result in intolerable pain and necessitating spinal fusion. As a result, the individual will sustain residual disabilities, e.g. complicated arthrodesis, sexual dysfunction, lack of bladder/bowel control, or hip deformity. |
| | Severe (ii) | £61,910 to £78,400 | This bracket will include injuries that are only slightly less severe than those listed in the above row. Though particular distinguishing features lift them from the above bracket, i.e. fracture/dislocation of the pelvis involving both ischial and public rami, traumatic myositis ossificans around the hip with formation of ectopic bone, etc. |
| | Moderate (i) | £26,590 to £39,170 | If significant injury to the pelvis or hip is sustained, but major disability is not a risk to current or future prognosis, then the claimant will fall under this bracket. |
| | Lesser injuries (i) | £3,950 to £12,590 | In spite of significant injury, there is no prospect of little disability; if not none at all. A full recovery is likely to occur within two years. |
| Other pain disorders | Severe | £42,130 to £62,990 | Despite treatment, significant symptoms of the injury will persist, alongside adverse impact on daily life. The victim will require some care/assistance. As an example, many cases of Fibromyalgia with severe persisting symptoms will fall within this description. |
| | Moderate | £21,070 to £38,490 | The top end of this bracket will look to cases of ongoing severe symptoms, albeit those of a lesser degree than those mentioned above. These symptoms will impact the individual's ability to function in daily life, though not to complete disadvantage. The bottom of this bracket, however, includes cases of almost-full recovery, or near complete recovery, whereby the claimant is vulnerable to the development of a pain disorder within a few years. |
| Severe leg injuries | Serious (iii) | £39,200 to £54,830 | The most serious of leg injuries, short of amputation, in which courts have awarded similar levels to that of amputation because of the impact they have. An example of this is extensive degloving of the leg whereby there is gross shortening of the length or fractures fail to properly unite. As a result, extensive bone grafting is required. |
| | Very serious (ii) | £54,830 to £87,890 | An injury of this type will cause permanent problems to mobility. Therefore, crutches or mobility aids will be required for the remainder of the claimant's life. This may also include injuries which take years and extensive treatment in order to heal, but still bare serious deformities and limitations to movement. |
| | Most Serious (i) | £96,250 to £135,920 | Instability to joints and ligaments, a lengthy period of non-weight-bearing and near certainty of arthritis in the future will all be repercussions of a leg injury in this bracket. There may also be issues with extensive scarring. |
However, while the JCG is often used to help value personal injury claims, these figures are only guidelines based on past court cases. The actual amount of compensation you may receive could differ from the brackets shown above. Contact our team of advisors today for a free estimation of what your claim could be worth, or to get more information surrounding medical negligence in hip replacement cases.
What Is Involved In Making A Hip Replacement Negligence Claim?
A personal injury claim for medical negligence in a hip replacement surgery will involve a number of different factors. The initial step in beginning a claim for surgical negligence will be proving that the injury sustained was the result of negligence on the part of a medical professional. This means that your claim must meet the following criteria:
A medical professional owed you a duty of care
They breached this duty of care
You suffered harm as a result
The General Medical Council (GMC) and NHS Constitution both outline the standard of care expected of medical professionals. If the care that you receive falls below this expected standard, and you suffer harm as a result, you may be entitled to hip replacement compensation.
Next, you can begin to gather evidence to strengthen your claim. If you choose to hire a No Win No Fee solicitor, they can help you with this. If your case goes to court, it may be put against the Bolam test. This means the actions of your doctor will be reviewed by a group of professionals in their field to determine if their behaviour was negligent or not.
Examples of evidence you might use to strengthen your claim can include:
Medical records
Prescriptions
Patient notes or charts
Photographs of the injury site
A symptoms diary documenting any symptoms that may worsen as a result of suspected negligence
To learn more about how one of our expert medical negligence solicitors could help you collect evidence, contact our team of advisors. They can tell you more about valid hip claims and hip replacement compensation.
How Long Do Hip Replacement Claims Take?
Each case can vary significantly in time, depending on the circumstances in question. This is why it is difficult to answer the question "How much compensation will I get for a hip replacement?" In a car accident claim, the process may be resolved in a couple of weeks, whereas a complicated case of surgical negligence could take remarkably longer.
How Long Does It Take To Receive Payouts For Hip Replacements On Average?
As previously stated, each case is unique, which is why it's important not to compare your own to that of another's. A claim could take longer if it's unclear who was responsible for your injury/illness or if the defence denies liability entirely. Generally speaking, a medical negligence claim could take up to three years to process. However, this is just a rough estimate as, again, each case is completely unique.
What Could You Claim For Hip Replacement Negligence?
As we mentioned before, the payouts for hip replacements are calculated on two basic categories: 'General damages' and 'special damages'. These two heads of claim may come together to form your final sum.
General Damages: In this category, the areas which cannot be quantified are given a lump sum to compensate any harm or suffering endured from the date they were either sustained or diagnosed. This could include both physical and psychological harm which resulted from third-party negligence. These types of damages are seen as the defence's wrongful doing. Some examples of this include:
Physical pain/suffering
Disfigurement
Impairment
Lowered life quality
Psychological trauma (e.g. depression, loss of confidence, etc.)
Special Damages: Anything in your recovery period that can be quantified will be included in this category, regardless of whether they are minor or major. This means that surprise medical costs or even travel expenses can be claimed back at the end of your personal injury claim. In addition to this, a person can also claim for:
Property repair/replacement
Irreplaceable items lost
Past and future medical expenses
Short/long-term medical costs
Loss to earning capacity
If your life has been subject to a botch hip replacement operation and you have found the above areas to suffer the repercussions, or you're unsure of what can be claimed back in an injury claim, call us today.
No Win No Fee Claims For Negligent Hip Replacement Surgery
If you decide to pursue a claim for compensation for hip replacement surgery, your claim will be handled under a No Win No Fee agreement. Also known as a Conditional Fee Agreement (CFA), this is an arrangement held between a personal injury solicitor and a claimant. The conditions of which state that the solicitor's legal fees are settled with what is known as a 'success fee', which is a pre-agreed percentage of the final settlement amount. This fee is legally capped at 25% by government regulations.
No Fees Until Payouts For Hip Replacements Come Through
Under this agreement, you will not be required to pay upfront fees or surprise costs to your No Win No Fee solicitor throughout the personal injury claims process. However, if your case for hip replacement negligence is unsuccessful in securing a compensation amount, then you will not be held accountable for your solicitor's fees. This means that the financial risks of pursuing are reduced for the claimant and they will not have to face any hidden bills incurred during the process itself.
Our expert advisors can explain the hip claims process to you further and provide explanations to any questions you may have regarding hip replacement compensation. Call us today for more information.
Why Choose Us To Handle Your Negligent Hip Replacement Claim?
There are several reasons why you could use our nationwide services. Regardless of where you are based across the country, we can help you pursue a claim for negligent hip replacement even though we may not be based in your local area. With so many modern forms of communication, it's easy for our panel of experts to stay in contact with you throughout the process. We can contact you via email, telephone or post to inform you of any important updates regarding your case.
In addition to this, while it is possible for you to conduct a claim on your accord, the law surrounding these cases is incredibly complex. You may be faced with some difficult scenarios at various points of the process, which could be easily resolved with the assistance of a legal expert. For example, during your hip replacement negligence claim, the defence may give you a pre-medical offer to compensate for your injuries. It may seem tempting to take this offer to avoid the 'hassle' of a personal injury claim, however without this medical assessment you may never find out the true nature of your injuries or the exact sum of how much you could be entitled to.
Start Your Negligent Hip Replacement Claim And Receive Medical Negligence Payouts For A Hip Replacement
You can begin your claim today by following a few simple steps. If you contact an advisor from our expert team, they will assess the validity of your claim under a free, no-obligation consultation. Once this has been completed, you could begin your claim straight away. Contact us today by:
Payouts For Hip Replacements FAQ
Could You Help Me Achieve Higher Payouts For Hip Replacements Gone Wrong?
When it comes to claiming hip replacement compensation, whether you are claiming against the NHS or against a private medical practitioner, having a solicitor on your side could be beneficial. Solicitors could use all of their expertise and knowledge to fight for the maximum compensation possible for hip replacement claims.
Medical negligence and clinical negligence claims could be complex, as you would need to prove that but for their medical negligence that occurred, you would not have suffered the harm you did. Therefore, having someone on your side who has handled such claims before, could help you have the best chance possible of getting hip replacement compensation payouts.
What Could Payouts For Hip Replacements Include?
If you claim hip replacement compensation, your payouts could include general damages for the payment suffering that you've experienced, as well as any loss of amenity. They could also include special damages including loss of earnings, as well as care costs, travel, and medical expenses. You would, however, need to evidence your pain and suffering, by way of an independent medical report. You would also need to be able to evidence any costs or losses you had sustained as a result of your hip replacement gone wrong.
How Can I Find The Best Solicitor For Medical Negligence Claims?
There are plenty of law firms and lawyers across the UK that could help you with your claim. Finding a solicitor who could help you achieve the maximum hip replacement compensation payouts could be tricky. After all, most solicitors and law firms claim to be very good at what they do. We would urge you to check into the reviews left by previous claimants of any law firm you're looking at, as well as call the solicitors you are looking to use to see what experience they have. We would be delighted to show you how we could help you with such claims.
Could I Receive Medical Negligence Payouts For A Hip Replacement That My Child Had?
Hip replacement surgeries for children are not common, however, if your child has suffered an injury during a hip replacement or other hip surgery, you could make a claim on their behalf for medical negligence compensation. You would need to be able to prove that the medical negligence that your child suffered had led them to suffer undue harm. Making a claim on behalf of a child could be something you're considering doing because your child is only young.
Whether you are considering making a claim on behalf of a child as their litigation friend, or are considering waiting until your child turns 18 so that they can claim, we could help. If you would like free legal advice from a friendly solicitor as to whether you should claim or whether to wait, we would be glad to assist. We could give you all of the information that you require to make an informed decision about your child's claim. Please note, however, that if you do make a claim on behalf of your child, the compensation would not come to you. It would be held in a trust for your child.
Could My Choice Of Solicitor Impact Medical Negligence Payouts For A Hip Replacement?
In order to maximise your compensation settlement amount in the UK, you would have to provide strong evidence. The evidence you would need to submit as part of your claim could include medical evidence for general damages, and documentary evidence relating to special damages, which are the financial expenses caused by your injuries. While these both could impact the amount of compensation you could receive, so could your choice of personal injury solicitor. After all, they could use all of their knowledge and legal expertise to fight for the maximum compensation possible for your claim.
If you're wondering whether you have to choose a local solicitor, you may be surprised to learn that you don't have to. Instead, you could choose any law firm or solicitor in the UK for your case. This means you could get the most appropriate solicitor for your claim no matter where in the UK you are based. If you would like us to help connect you with such a solicitor, we would be delighted to help you.
How common are clinical negligence payouts for a hip replacement on the NHS?
While we cannot give you accurate figures relating to the number of hip replacement claims that have been made, we can give you insight into how much the NHS has paid out in clinical negligence in 2020- 2021. You can see this below.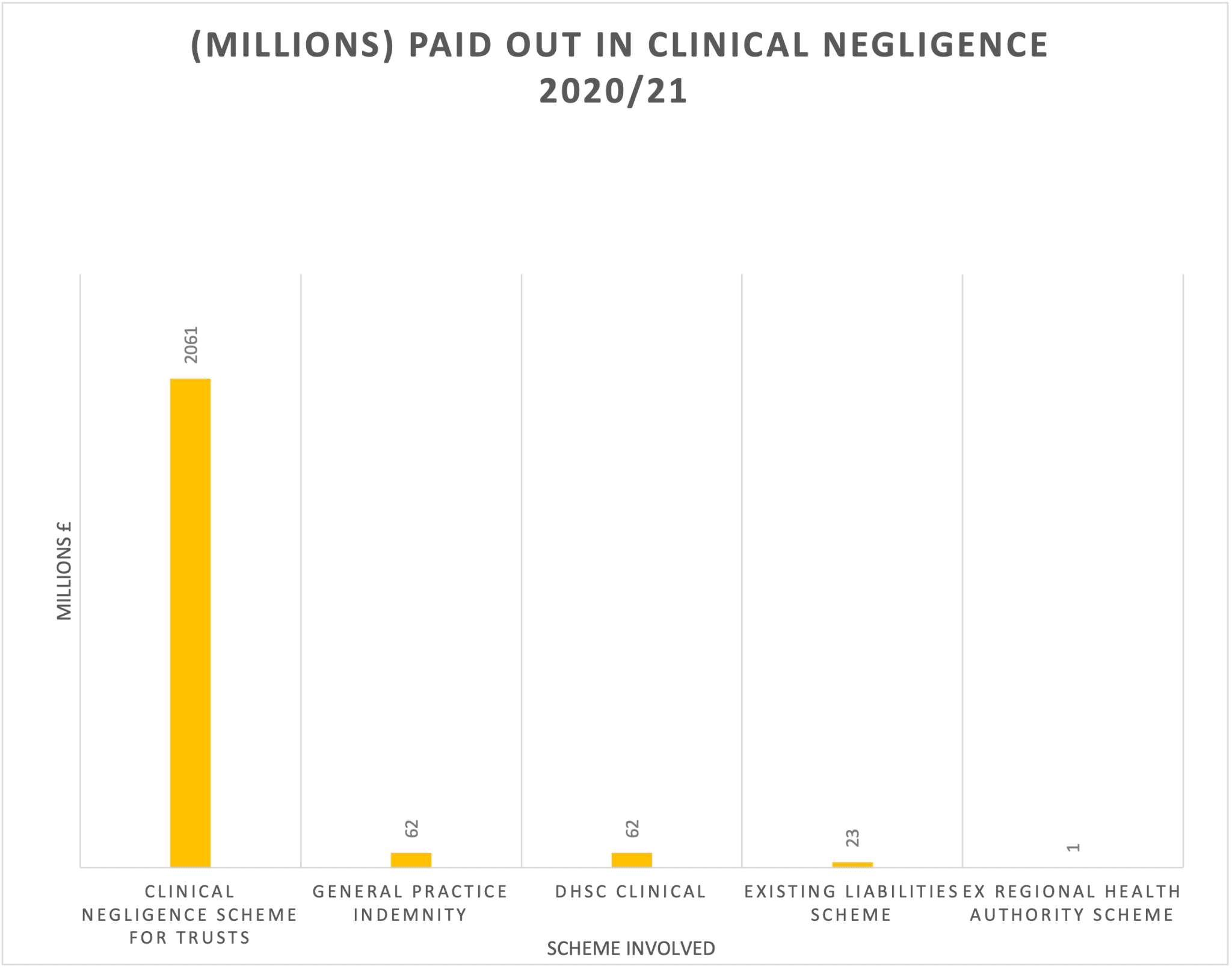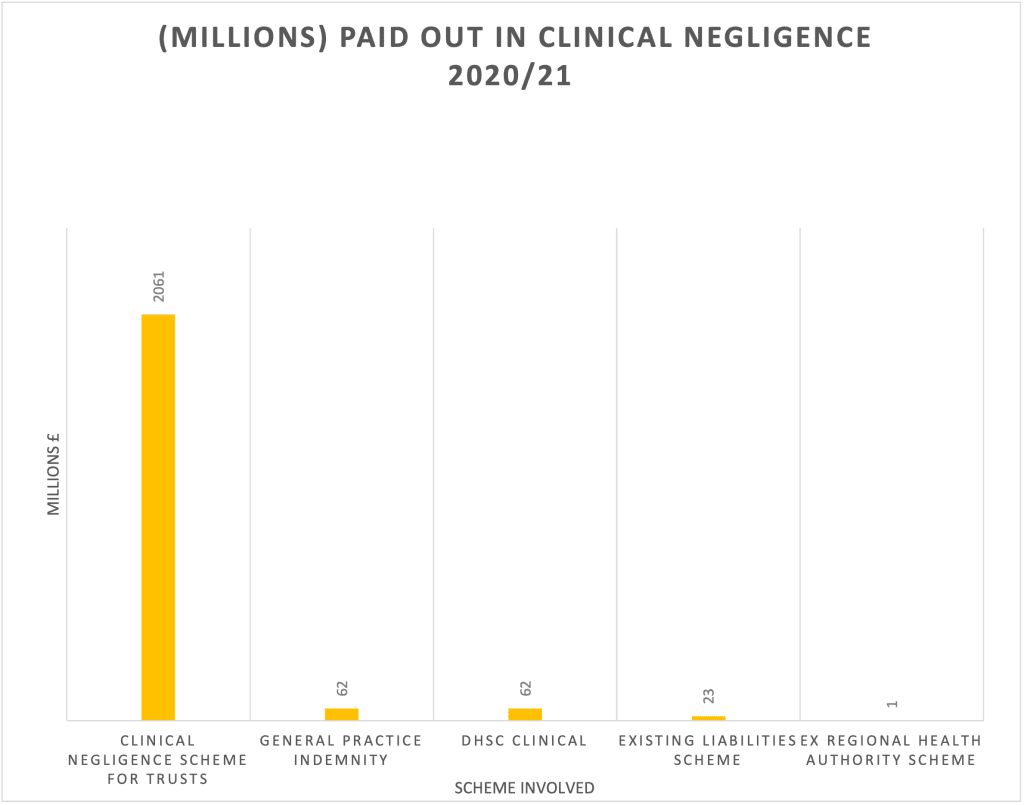 Is Hip Replacement A Disability In The UK?
Depending on the severity of your injury, your hip replacement may come with some level of disability. If you suffered undue harm as a result of your hip replacement, contact our advisors today to find out if you could claim.
Essential References Relating To Medical Negligence Payouts For A Hip Replacement
Below are some additional references which can provide you with extra information during your claim.
CQC
Make a complaint to a service or care provider
SSP
Government information on Statutory Sick Pay
NMC
Nursing & Midwifery Council
Clinical Medical Negligence Claims
How to claim for various forms of medical negligence
Hospital Claims
How to make a hospital claim for negligence
Misdiagnosis Claims
Our detailed guide to claiming compensation for a misdiagnosis
Other Helpful Guides:
Thank you for reading this case study on medical negligence payouts for a hip replacement. We could also help you if you want to make road traffic accident claims, cycling accidents claims, or for hip injury due to surgery negligence. Our personal injury solicitors and medical negligence solicitors are here to help, whether you've suffered an injury that has required a total hip replacement or has had a long-term impact on your life. Payouts for hip replacements gone wrong could help you financially after such an incident.