Welcome to our guide on making an optician negligence claim. Whether you have had issues with your sight for some time, and visit the optician regularly, or you're going for your first eye test, you will be likely not too concerned about your appointment. The standard eye care check-up isn't painful, and most of us leave the opticians with either a clean bill of eye health, or a prescription for corrective lenses, be they for spectacles or contact lenses.
However, for some people, due to an optician's negligence, they leave with worse eye health than they arrived with, and if this is something that you have encountered, you may be feeling extremely angry, upset or bewildered about how this happened.
Our sight is perhaps one of the most important of our senses, and any deterioration in sight can lead to not only a change in what we are able to do or not able to do, but also a loss of confidence, leaving psychological injuries that can last result in long-term damage.
Could I Make An Optician Negligence Claim?
Whatever the type of negligence you have suffered from an optician, you should be able to seek redress, in the form of compensation if it can be proved they were negligent. While we will not be able to reverse any damage caused, we can help you seek optician negligence compensation so that you are able to pay for any remedial treatment if it is available, or help cover some of the costs you may have had to pay out as a result of this negligence.
We are Accident Claims, and we take optician negligence seriously. We can provide you a solicitor who is experienced in this type of case, and who can lead the fight for the maximum level of compensation you could be entitled to. Simply call 0800 073 8801 to begin a claim, or read the ultimate guide to claiming optician negligence compensation, which includes a personal injury claims compensation table below to find out more.
Select A Section
A Guide to Making an Optician Negligence Compensation Claim
Millions of people suffer with poor eye health, and it is no wonder that there are several big companies that make their money by providing optician services across the company, taking patients on the NHS, or privately, offering check-ups, spectacles, and contact lenses, as well as advising on good eye health care. For the most part, these opticians provide a fantastic service, taking care of any concerns and providing good customer care.
However, as with anything, there can be problems that occur when an optician is negligent, and this could cause far reaching consequences that may even be permanent. Whether you had a missed diagnosis of something that should have been treated, suffered optician medical negligence and it has caused you problems with your eyes, or you have been misdiagnosed, leading to worsening of the eye issue because the treatment you received was incorrect. Even if you have suffered eye injury due to laser eye surgery, the results can be frightening.
Why Make An Optician Negligence Claim?
If your optician was negligent, and you sustained an injury, making an optician negligence compensation claim could be something you should consider, whether to help recoup a loss of earnings, or ensure this does not happen to someone else.
Here, we have compiled a guide full of useful information about this type of personal injury claim, including approximate compensation payout amounts, the types of clinical negligence that can happen, as well as how to make personal injury claims without spending any money out upfront.
Optician Negligence Explained – Could You Make An Optician Negligence Claim?
There are several different ways in which an optician could be negligent. In basic terms, it is important to understand that an optician can be liable to pay optician compensation for medical negligence by failing in their duty of care to look after you properly. This can include a variety of different scenarios, which we will explain further below.
Whether they have failed to diagnose an eye problem that should really have been spotted, or they have caused you an eye injury in examination, or a laser eye surgery treatment left you worse off than before the treatment, it is important that the negligence is highlighted so that it does not happen to someone else, as well as you being compensated for any suffering, pain and financial losses caused by the negligence and the eye injury caused to you.
How Frequent Are Injuries from Negligent Treatment by An Optician?
When it comes to complaints and claims against opticians, it may be useful to look at the table below which shows the complaints made to the GOC between 2005-2009. It is interesting to note that the highest incident of complaints relates to prescriptions for spectacles. If you were to wear the wrong prescription for some time, this could lead to headaches, blurred vision and even damage to sight.
Optician negligence manslaughter could be caused by a missed chance to spot a tumour behind the eye, while optician negligence blindness could be caused by missing a debilitating eye condition that could be treated if it were spotted sooner.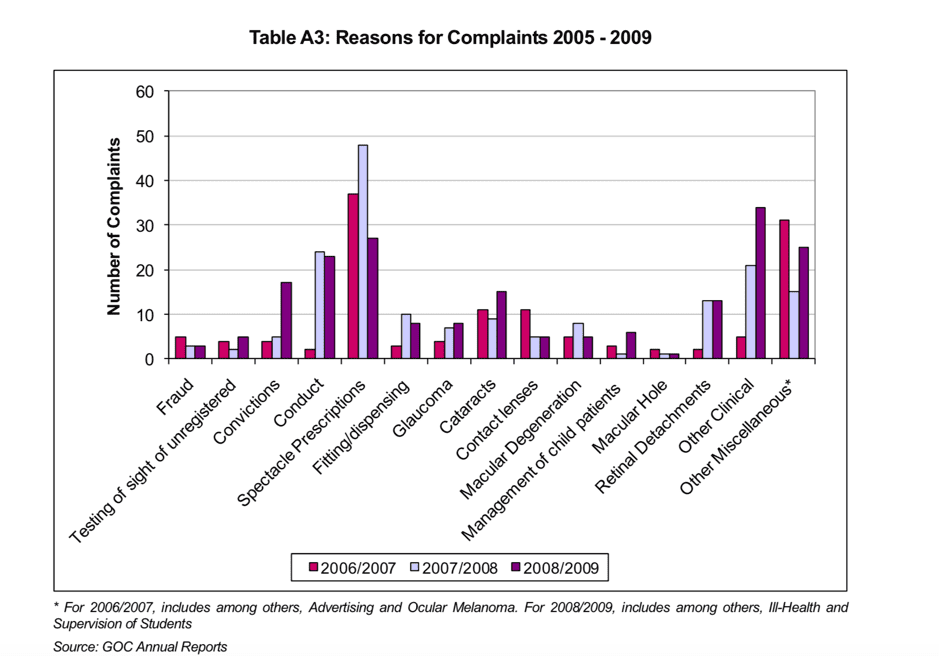 As far as other statistics are concerned, according to other reports, medical negligence claims, which include optician negligence are sharply on the rise, with a 20% increase in the number of cases from 2008-2013. This is largely because more people are aware of the fact that they can make a compensation claim if a medical professional, including an optician, has been negligent.
In terms of how much compensation could be paid out by NHS trusts for optician negligence, we could take a look at NHS Resolution's website. It documents the cost of clinical negligence claims against the NHS. The figure below that you see may be quite shocking, but please bear in mind that this does not relate only two optical negligence claims, but to all forms of clinical negligence claims against the NHS. Please note that you could take legal action for optician negligence against the NHS or against a private provider. We could help you with both types of claim.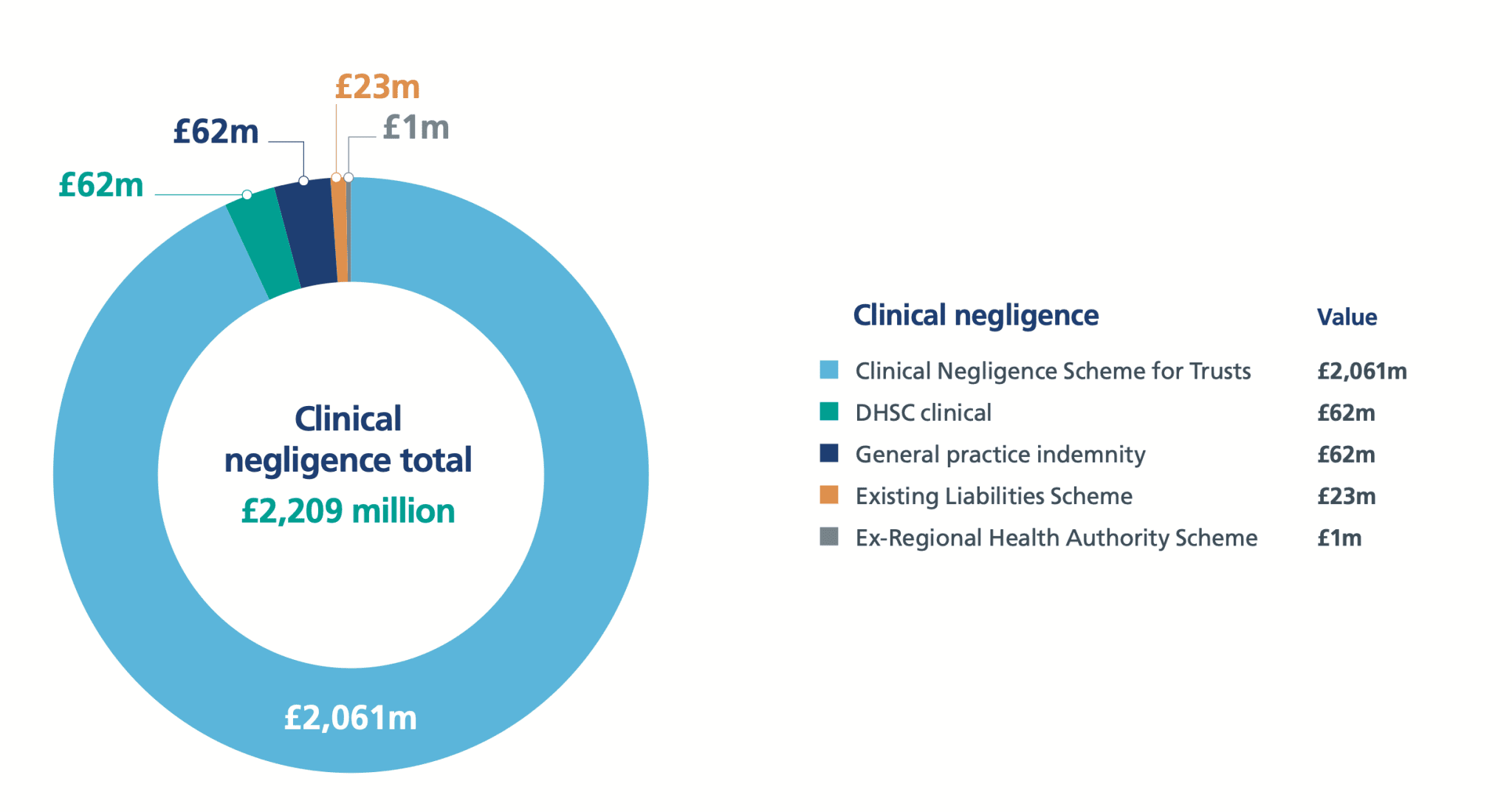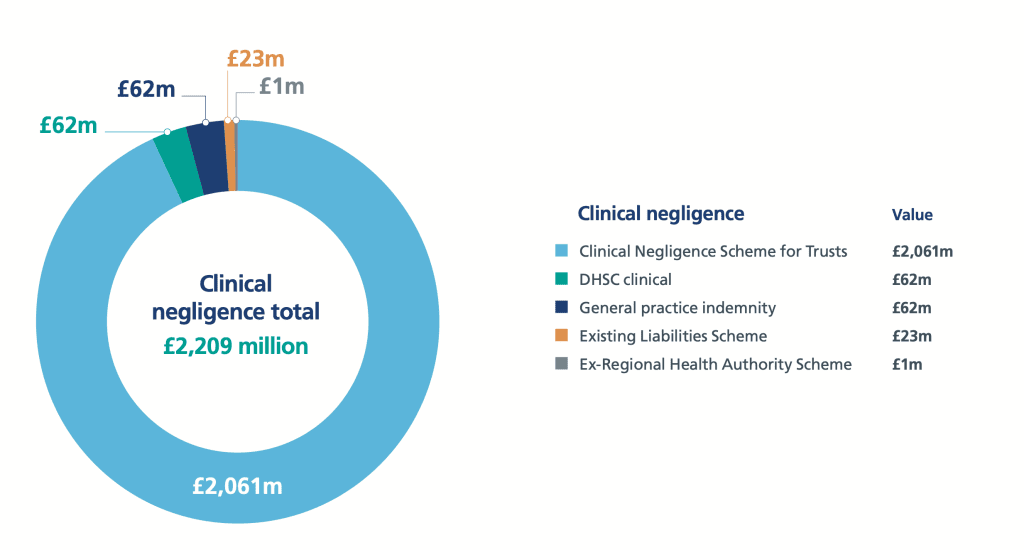 How does it happen?
There are a variety of ways in which optician negligence injury can be classed. In terms of the broader categories, these are:
Wrong diagnosis / misdiagnosis – if the incorrect treatment, whether in terms of prescription, drops or other treatments are advised, then this can go on to cause health issues in the individual that may not only affect their eye health.
Missed diagnosis – if an eye problem should have been spotted during routine checks and isn't, then this can progress further, without the patient being aware, and this may make it harder, if not impossible to treat. It could lead to optician negligence loss of sight claims.
Injury in laser eye surgery – although this seems on the face of it to be a very safe type of treatment, sometimes, if it is not properly carried out, there can be serious health problems for the victim. This could lead to optician negligence loss of vision claims.
Delay in treatment – if an eye condition is not treated promptly enough and it deteriorates, then this may be classed as negligence too.
If you have suffered issues due to optician negligence, but you're not sure that you have a claim, then Accident Claims staff can advise you on whether it is likely you'd have a claim.
Different types of claim
Optician negligence claims can be complex, and there are a few different types of liability that should be explained in order for you to be aware of the action you're taking and why it is appropriate:
The first is Optician Gross Negligence. The harshest category, it exists when the practitioner has blatantly disregarded something that has led to injury. It may lead to the optician being struck off from being able to practice.
The next is Vicarious Liability. When the company employing the optician is negligent. This could be through improper training or poor practices in the workplace.
After this comes comparative negligence. This shares the responsibility for the issue between both the practitioner and the injured party. It still may lead to compensation payments, but they are likely to be a little lower than previous categories.
Finally, there is contributory negligence, which occurs if the patient has not followed the treatment plan. There is less of a chance of compensation being awarded here.
If you are not sure which section your claims fits in, please do call us and we'll explain after we've taken some details of what has happened.
Claiming Compensation for Negligent Optical Treatment in the NHS
It may be possible for you to claim against the NHS if the damage to your eye health was seen to have been done due to an NHS treatment. When claiming against the NHS, the procedure is slightly different than against private practices, but it is still possible for your to claim.
We'd be happy to talk to you about the ins and outs of this, in order for you to be fully informed about what action is best for you to take. Often, private practices are covered by insurance. Payout for loss of eye claims via the NHS are slightly different.
What Are the Physical Effects of Negligence by An Optician?
The eye is complex, and any damage can have an effect on how well we can see, as well as other physical symptom. Physical effects can include, but are certainly not limited in any way to the following:
Blurring of the vision
Inability to read properly
Double vision
Headaches
Eye strain
Shoulder pain
Neck pain
Migraines
Eyesight loss – either partial or full loss of sight
Loss of night vision clarity
Should you be experiencing any of the above, or any other symptoms, then it is wise to keep a diary of your symptoms and see a professional to get these checked out.
What Are the Psychological Effects of Negligence by An Optician?
Negligence by opticians can have other effects other than simply the physical, as we touched on before. A huge loss of confidence can occur with the loss of someone's sight, or by an eye injury that looks unsightly, and this can lead to feelings of inadequacy, depression, anxiety and panic. These feelings can have a profound effect on a person's quality of life and should be taken equally as seriously as the physical effects of such an injury. To put this point into perspective, it has been found that there has been a rise in depression rates by those with sight loss, from 38% in 2012 to 44% in 2015, according to the RNIB.
What Can I Include in My Personal Injury Claim for Negligence by An Optician?
Included in your optician negligence claim are several different types of damages. These can be:
Damages – General – The amount you are awarded from the physical and mental suffering and pain you have had to experience due to the problems that have occurred.
Damages – Carer's claim – The loss of one's sight, even temporarily can mean we cannot do things we once used to, and we may need to have someone care for us. The carer themselves will be able to put forward a care claim to cover their costs.
Damages – Earning Losses – Both for future wages and actual losses in terms of your pay packet.
Damages. – Expenses – Both travel and medical costs incurred specifically because of what has happened. Things like prescriptions, medical aids, travel costs for attending appointments relating to the injury etc.
Of course, you may have incurred other costs such as having adaptations made to your home to help you. These may also be able to be included as part of the claim. Simply let us know what costs you've incurred, and we'll tell you whether they're covered before asking if you'd like us to pass you on to an optician negligence solicitor to help you make that claim.
Optician Negligence Compensation claims calculator
Eye injuries are complex, and there is no one way to determine how much compensation you would receive without fully assessing the case down to the finest detail. After all, how much compensation for eye injury causing minor damage payouts are likely to be less than how much compensation for loss of sight in one eye.
Things that will be taken into account when a compensation amount is proposed include how long the symptoms will last, whether they will improve over time, and how they will affect you physically, mentally and career wise going forward. For this reason, we have provided a guide of sorts in the form of a table to common eye injury payout brackets, but these will not likely be exactly the amount you'd get as per the reasons above. They do work to offer somewhat of a guide though.

| Type of Eye Issues | Notes | Common Bracket for Compensation |
| --- | --- | --- |
| Complete Blind and Deafness | This should be classed as a most devastating injury | Around £354,260 |
| Complete Blindness | | Around £235,630 |
| Sight loss of one eye and reduced sight in the other | If the other eye is expected to deteriorate | £84,160 - £157,600 |
| Sight loss of one eye and reduced sight in the other | Including issues like double vision | From £56,070 - £92,960 |
| Eye Loss (one eye) | The assessment will be made on how much of a cosmetic effect there is, how much it has affected psychological health, the age of the patient etc | £48,080 - £57,590 |
| Sight Loss (one eye) | The higher end of the bracket concerns cases where there is scarring, but not significant enough to apply to another award | £43,200 - £48,080 |
| Constant Double Vision | Requiring the use of darkened glasses, with sensitivity to light | £20,760 - £34,460 |
| Permanent minor impairment of the sight in either one or both eyes | This can also include those that will be permanents sensitive to light | £7,990 - £18,390 |
| Eye injury/Ies – Minor | Being struck or splashed with liquids is part of this bracket. It is likely to cause pain, and some temporary sight interference | £3,460 - £7,650 |
If you don't find your specific issue in the below optician negligence compensation claims calculator, then don't hesitate – simply call the team and we'll try and give you more of an idea.
How to Start Your Optician Medical Negligence Eye Claim
Whether you're considering starting a claim, or you have already made the decision to do so, it may be wise to know what is likely to happen when you take that first step. Initially, by calling Accident Claims UK, you will be connected to one of our legally trained advisers, who will take you through a series of questions about what has occurred and why you're calling us.
Whether you're simply looking for advice at this point, or are ready to claim, we will offer free advice that has no obligation for you to use the service we provide. Once we have ascertained the details, we will tell you if we feel your claim is valid. If it is, then we shall offer to provide you with a personal injury solicitor that best fits your needs.
If you agree, we will then put you in touch with them, sometimes as part of the same call. The No win No Fee optician negligence entails will be explained to you clearly so that you know what to expect. Your solicitor will also more than likely ask you to visit a medical professional of their choosing, an independent one, who will assess what has happened to you from a medical standpoint and write a report that will likely be used as part of the case.
Often, these appointments can be made local to you, so you should not have to travel too far. Once the medical report is back, then your personal injury lawyer will be able to begin the complex process of putting together a claim, while all you will have to do is let them fight for you for your compensation.
No Win No Fee Eye Injury Negligence Claims
If you are now considering making an optician negligence claim, you might be wondering whether you could benefit from the help of a legal professional. However, you may be worried about how much this would cost. When it comes to paying for the cost of a lawyer, you may be able to take advantage of claiming on a No Win No Fee basis. This would enable you to make a claim without having to fund your legal bills upfront. Instead, a small percentage of your compensation payout would go to your lawyer at the end of your claim as a success fee.
To make a claim under these terms, you would need to first sign a Conditional Fee Agreement. In this document would be details of the percentage you'd pay them out of your settlement in the event of a successful claim. Should your claim not to be successful, you would not have to pay this fee. Nor would you have to cover the costs incurred by your solicitor when they were pursuing your claim. If you would like to speak to us further about how you could benefit from our No Win No Fee service , we would be delighted to talk to you.
How We Can Help You Claim Compensation from An Optician
Should you be looking for an eye injury negligence claims service to help you, you'd be likely to want to know you'd chosen one that would work hard to help push your claim forward. With Accident Claims, you can be assured that we will. We work very hard to ensure that we listen and take down all the relevant details pertaining to your case before putting you in touch with the solicitor we feel is most capable of bringing your case to the best solution.
We offer free advice too, so there is no need to make any decision straight away. In terms of getting to grips with this area of the law, we can help furnish answers to even the most complex of questions, such is our level of expertise, and we can do so in a way that even someone completely unfamiliar with the law will be able to understand. Our years of experience have helped us know exactly what you, the injured party, are going through and how to help you in the best way possible. Why not test us out for yourself?
Speak to Our Team Today About Your Optician Negligence Claim
Whichever reason you're seeking help, whether for legal advice or beginning a claim, or wanting to know about the personal injury claims time limit, 0800 073 8801 is the number to reach us on.
Our legally trained advisers have a wealth of knowledge to impart and can deal with most enquiries quickly and on the same phone call. Should you wish to contact us via another method, you can visit this page for all the details you'll need to get in touch.
Useful Links Related To Making An Optician Negligence Claim
Want further information about eye injury, eye health and more about making claims? Then we have you covered. Here are some links you may find useful regarding eye injury.
Some eye conditions are seen here, and you can find more information on diagnosis and/or treatment.
If you want to learn more about medical negligence, and claiming compensation, then this link might help.
Taken from the government's website, this is a report covering NHS optical practice.
Other Useful Guides
Thank you for reading this guide to making an optician negligence claim.