By Joanne Jeffries. Last Updated 2nd November 2021. Welcome to this guide including information relating to personal injury claims payouts for a fractured toe.
Here at Accident Claims UK, we've dealt with many personal injury claims and claimed compensation successfully for many clients including accidents at work at work. In this case study we researched we'll look at a fractured toe at work case that we have researched to illustrate what types of accidents typically end up with a fractured toe at work, what causes these accidents, compensation amounts for broken toes and why you should consider using Accident Claims UK to make your claim if you're injured in an accident.
This accident at work claims case involved a shop worker moving a trolley, which had been overloaded, down to a basement storage area when it toppled over. An item from the trolley landed on the claimant's foot leading to a fractured big toe. The case study explains how employers have a duty of care to prevent such accidents at work from happening and to protect employees from being injured by offering full training and ensuring equipment, such as trolley's are correctly operated and maintained.
In this case the personal injury compensation for the fractured toe at work amounted to £11,000.
How Should Roll Cages Be Used Correctly?
To prevent fractured toe at work claims from happening an employee should ensure they use roll cages and trolleys correctly and safely. A roll cage is common in warehouse and retail stores as they can be used to store items in transit and then transfer goods directly to the company, but as our case study shows they can lead to fractured toe at work claims if not operated correctly.
Essentially a roll cage is a cage on 4 wheels. They come in various sizes and will have different weight restrictions and load lines.
To ensure an accident doesn't happen it is suggested that:
All trolleys are loaded no higher than the load line to prevent it from toppling over.
In general, trolleys should be pushed and not pulled to prevent muscle strains and tears.
If going up or down a slope, you should seek help to prevent the trolley toppling over.
Avoid the trolley rolling over your foot as this is a common cause of a fractured toe at work claim.
If going over uneven flooring, seek help from a colleague before moving the trolley.
In this case the trolley was overloaded leading to it toppling and an item falling on to the foot. This led to a fractured toe at work claim that could've been avoided if the trolley was loaded to the load line. It is always safer to make two trips than to try and cram too much into the trolley.
Work injury claims can be avoided if the guidelines above, from the Health & Safety Executive (HSE) are followed every time a trolley is used. Staff involved in an accident at work could claim against their employer if training was never provided on how to use the trolley safely or if the trolley was in a poor state of repair.
What Happened To The Claimant?
When the incident happened leading to the fractured toe injury the claimant was moving a trolley, which had been overloaded, down to the basement storage area. As she tried to move the trolley from the lift into the basement the trolley toppled over, and one item landed on her foot. This led to a broken big toe and subsequently she filed a fractured toe at work claim.
Some problems that can be caused by a fractured toe at work are:
Pain and suffering.
Lack of mobility.
Time off because of the fractured toe at work.
Ongoing issues with mobility if the toe isn't set correctly after the break.
According to the NHS, if you suffer a fractured toe at work it is best to seek advice from your GP or the A&E department at your local hospital especially if the toe is cold, numb or tingling or if the skin turns blue or grey. If a fractured toe makes the toe look deformed, then it is another reason to attend A&E as soon as possible.
All medical records from a hospital or GP surgery can be used by your solicitor as evidence of your injury and the effect that it had upon you at the time of the accident. A medical report can be used to prove that you needed time off from work if applicable or are unable to conduct some activities that you previously enjoyed.
Conducting The Case: The Allegation And Establishing The Defendant's Liability
In a case like this one, for a fractured toe at work, the claimant's personal injury solicitor will have gathered medical evidence from the hospital or GP surgery where any treatment took place as proof of the extent of the injury. Witness statements from staff or members of the public who witnessed the fractured toe at work accident happen would have also been collected. Finally, the personal injury solicitor would ascertain how the defendant was liable for the injury (possible inadequate equipment or training) and how the fractured toe at work accident had affected the claimant. In this case the legal team argued that there was pain and suffering and that their client struggled to walk while the injury healed.
All of this happened before the claim for compensation got filed. A good personal injury solicitor will always gather all of the facts before proceeding to the claim stage to ensure the best possible outcome for their client who has suffered a fractured toe at work.
What Payout Was Awarded To The Claimant?
The claimant who had suffered the fractured toe at work in this case was offered, and accepted, a payment of £11,000 for their compensation claim. Without using a personal injury solicitor this amount may have been considerably lower or they may not have received compensation at all.
Every fractured toe at work claim is different so there's no guarantee of how much each claim might be worth. Once we've spoken with a client who's suffered a fractured toe injury because of negligence then we may be able to give a clearer indication of how much the claim is worth.
No Win No Fee Fractured Toe Injury At Work Claims
If you want to claim for a fractured toe at work and you're worried about the cost of filing a legal claim, then don't worry as all claims that Accident Claims UK take on are done so on a no win, now fee basis.
When we've assessed your fractured toe at work accident we'll let you know what we think the chances of success are and if we think your case is suitable then we'll progress it with no up front fee to pay and no fee to pay at all unless we win compensation for your fractured toe at work claim.
Some solicitors might charge by the hour for fractured toe at work claims, regardless of whether they win or lose, which means you can end up with a huge legal bill even if you lose. Accident Claims UK will only ever charge legal fees if we are successful in winning the compensation for you. The amount will be explained up front, before we begin your claim, which means there will be no shocks or surprises for you later on in the process.
How To Find The Right Solicitor To Get Personal Injury Claims Payouts For A Fractured Toe
At Accident Claims UK we've got many customers who can testify to our suitability to represent you in your fractured toe at work claim. We've got many years' experience in personal injury claims, we're very understanding that not everyone is a legal expert and so we won't try to confuse you with legal jargon. We're a very straightforward and honest team of professionals who will take your fractured toe at work claim forward on a no win no fee basis following a free consultation.
If you're ready to begin your claim, then you can:
Get in touch with us today and we'll assess your fractured toe at work claim during a free consultation straight away.
What can I do to maximise personal injury claims payouts for a fractured toe?
There are various things that you can do to make sure you have the best chance of getting the maximum personal injury compensation payout for your claim. The first would be to choose a good quality solicitor with years of experience that is authorised and regulated by the Solicitors Regulation Authority. You might be under the misapprehension that this would have to be a local lawyer, but this is simply not the case. You could choose your lawyer based on their experience and their past reviews left by claimants that have used their services, not by location. Since much of the claims process could be dealt with via letter, email or telephone call, there is no need to let a solicitor's location restrict your search.
Another valuable thing to know that could help maximise your personal injury compensation payout could be the medical evidence you submit as part of your claim. During your case, you would need to go and see a medical specialist that was independent of your case. They would examine you and perhaps review your past medical notes as well as asking you questions about your injuries. They could then write up a detailed report which gave evidence of the severity and nature of your injuries and your prognosis. Courts and lawyers could use this to help value your claim alongside the Judicial College Guidelines.
Could I get personal injury claims payouts for a fractured toe that my child suffered?
It is important to recognise that when you make a claim for compensation on behalf of a child, you would not receive the compensation. It would normally be held in a trust for your child to access once they turn 18 years old. When you make a personal injury claim on behalf of the child you are doing so for their benefit. You would need to apply to be a litigation friend for them, in order to make decisions on their claim. Alternatively, you could opt to wait until they turn 18 themselves, whereupon they could make their own claim. However, you might find it more difficult to gather evidence as time passes, so it might be a good idea to consider making a claim as early as possible. If you'd like any more information on claiming on behalf of a child, we would be delighted to help you.
Could I get personal injury claims payouts for a fractured toe from a car accident?
Road traffic accidents could cause a great deal of different injuries. Some of these could include injuries to the toe, which could include fractures. While we do not have details of the types of injuries suffered on UK roads in 2020, we do have the Department for Transport figures pertaining to the types of road user injured. You should keep in mind when looking at these figures that during 2020 there were four months in which there were national lockdowns, which may have affected these figures significantly.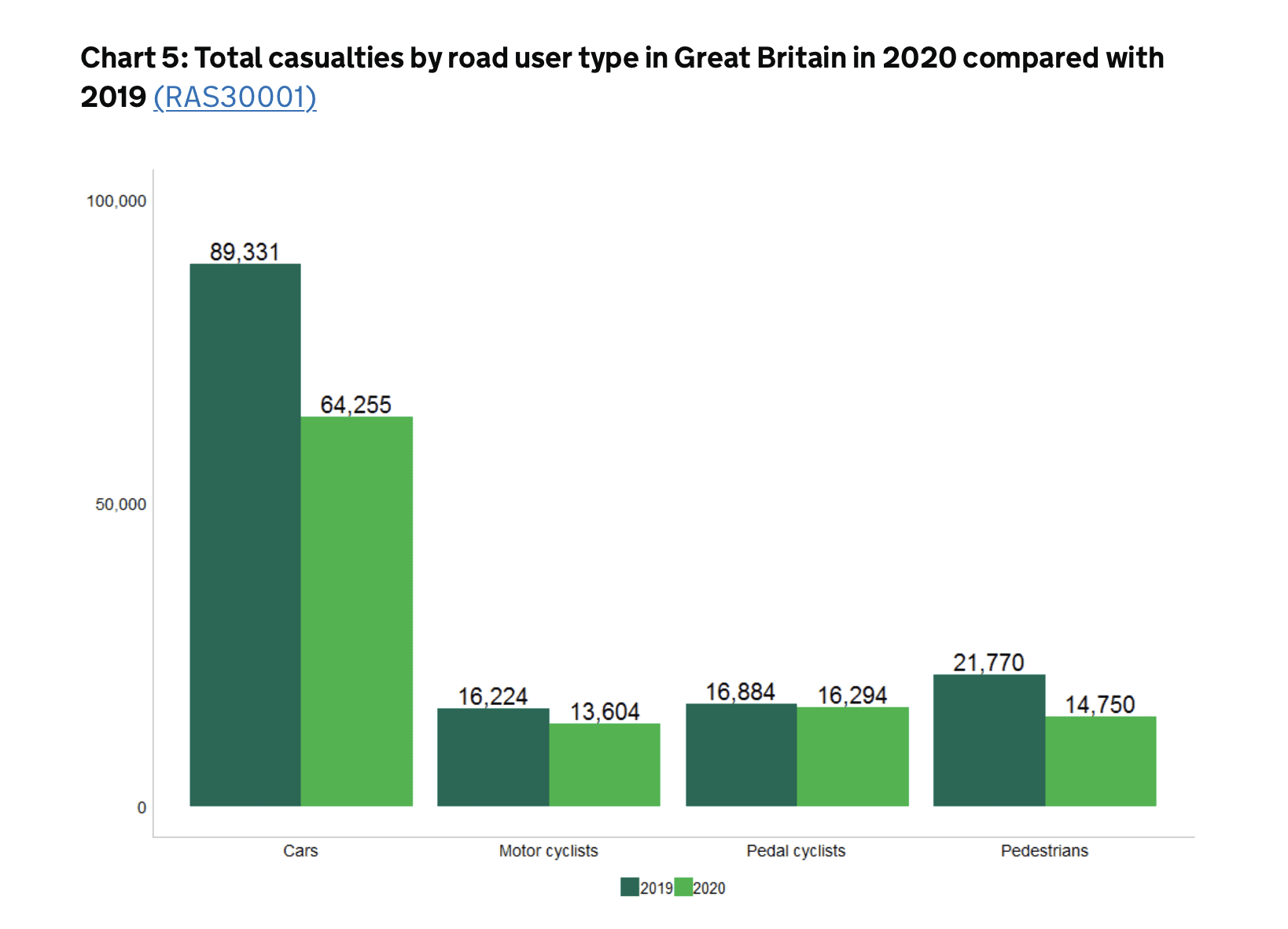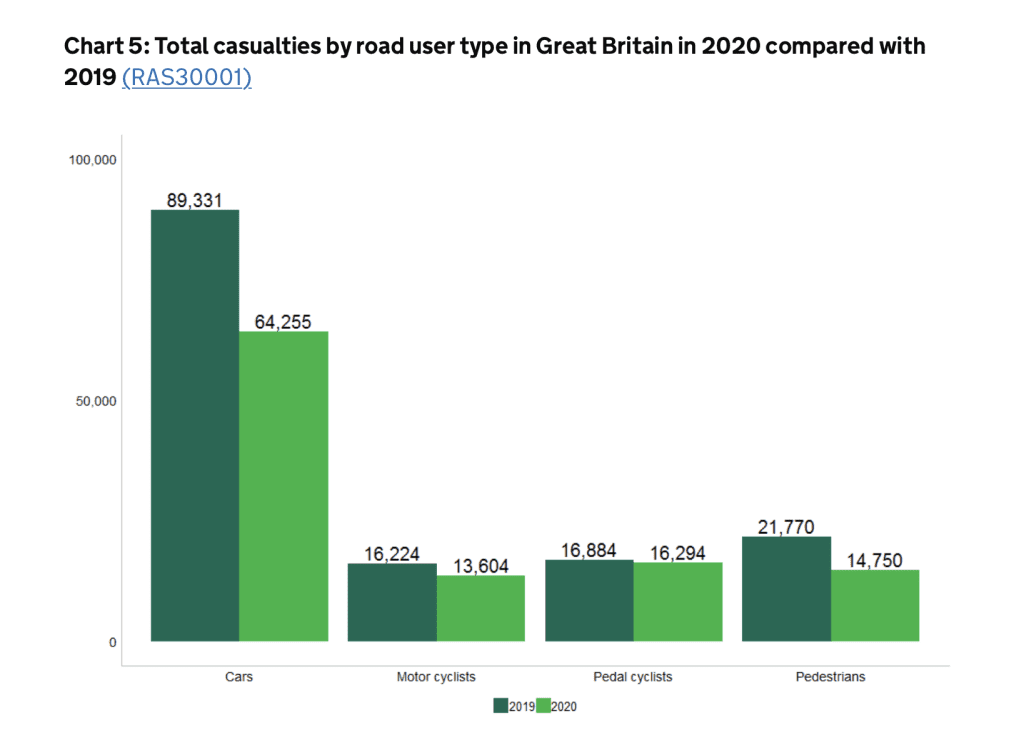 Useful Resources Relating To Personal Injury Claims Payouts For A Fractured Toe
Here are a few pages that may help you further when deciding how to proceed with your fractured toe at work claim.
HSE Roll Cages Guide – not linked directly to fracture toe at work claims but a useful guide for employers and staff working with roll cages.
NHS Broken Toe information – A guide on when to treat your fractured toe at work injury yourself or when you should visit your GP or hospital.
Accident At Work Compensation – This our full guide to accident at work compensation claims.
Other Useful Compensation Guides
Thank you for reading this personal injury claims payouts for a fractured toe case study. If you have suffered a toe injury such as soft tissue injury, toe fractures, a crushed toe or other crushing injuries or broken toe injuries, you could get free legal advice from a friendly solicitor.