By Joanne Jeffries. Last Updated 10th November 2021. Welcome to this case study which looks at medical negligence payouts for cauda equina syndrome.
In this Cauda Equina Syndrome case study we have researched a case where the claimant suffered medical negligence on the part of both her GP and the hospital she was initially sent to. Due to this clinical negligence, the claimant was awarded a payout for Cauda Equina Syndrome of £2.75 million. This was to reflect the severity of her disability and the fact that she would not be able to work again.
The claimant suffered permanent disabilities due to an unreasonable delay in getting treatment from her GP and a referral to the hospital, as well as heavily delayed and negligent treatment in the hospital. These combined to push her out of the conditions treatment window.
At Accident Claims UK we are one of the UK's best resources for advice and information on how to make a successful personal injury claim. We also have excellent resources on different types of no win no fee personal injury claim which you can make with our team. To get in contact with us, scroll to the bottom of this article and find out how to contact us.
What Is Cauda Equina Syndrome?
In this case we are looking at someone who needed to seek a payout for cauda equina syndrome. Cauda Equina Syndrome is a very serious medical emergency and to be successfully treated requires surgical intervention within 48 hours of it happening. The symptoms of Cauda Equina Syndrome include:
Sciatica at either side of your body.

A progressive feeling of numbness or weakness in your legs.

Loss of feeling or numbness in your genital and anal area(s).

Difficulty urinating, or controlling your urination, or changes in your usual urination.

Not noticing when you need to release your bowels, or being able to control this.
If not treated within this window people can suffer permanent effects of it can be;
Lower body paralysis,

Impaired function in the bladder and/ or bowels.

Neurological issues affecting walking and other movement.

Permanent nerve damage in rare cases.
The onset of Cauda Equina can either be acute and quite sudden, developing within 24 hours. Or it can also develop progressively over several weeks or even months. However the symptoms develop it is important that the condition is addressed as quickly as possible in order to ensure the fullest possible recovery.
What Injury Did The Claimant Experience?
The claimant suffered from Cauda Equina Syndrome which became permanent due to delays in the provision of her treatment. The claimant suffered from lower back pain one morning which became much worse the next day. By the second day she was in a significant amount of pain and sought medical help from her GP. She told her GP receptionist that she was in considerable back pain, a message which was relayed to her GP for further advice. She did not have a response from the GP or GP surgery and had to make several calls to get a response to her initial enquiry. At this point her condition had become much worse and she found it difficult to urinate. She was told by the doctor they would prepare a prescription for pain medication that afternoon. The claimant took the medication but continued to deteriorate. She contacted her out of hours doctor during the night and was found to have lost feeling through the lower part of her back as well as the perineum. She had not been able to urinate for several hours and was admitted to hospital as an emergency patient.
The claimant arrived at hospital in the evening, having tried to get the necessary help from her GP through the day. A surgeon specialising in orthopaedics examined her and though they noted her severe pain, inability to pass urine, and the loss of feeling she was experiencing, thought that she did not have Cauda Equina Syndrome. The claimant was given a spinal X-Ray. Doctors determined that she may need to have a follow up MRI scan the next day. During the case it was alleged that this should have been administered straight away.
The next morning the claimant still have difficulty passing urine and she was taken for an immediate MRI. At this point doctors thought her condition could be due to Cauda Equina Syndrome. However, whilst it was known the claimants injury could be very serious, and that there would only be a limited window in which treatment could be provided if the condition was Cauda Equina, the MRI was not provided nearly quickly enough. The MRI Scan showed that the claimant had a large spinal abscess. The claimant was then transferred to a hospital with a specialist unit for spinal surgery. Upon transfer to the specialist centre, the claimant had lost any feeling in the lower part of her spine, as well as down through her legs and her feet. During surgery it was found that the abscess was providing pressure on the nerves at the base of the spine. This was why she demonstrated all the symptoms of this condition. The surgery drained the abscess, and antibiotics were provided to the claimant. However, at this point it was too late to be able to rectify the damage to her nerves. As such the claimant would be left with permanent disabilities. These included pain, and problems in her bladder, bowel as well as permanent sexual dysfunction.
How Was The
Cauda Equina Compensation
Case Conducted?
The claimant reached out to a personal injury lawyer to help her with her personal injury claim. The solicitor alleged that Cauda Equina Syndrome negligence was caused by the hospital and the GP who provided treatment to the claimant. It was alleged that the errors on the part of both had caused an unreasonable delay in her treatment. As Cauda Equina Syndrome is a 'time bound' condition – with a 24 – 48 hour surgical window to be able to successfully fix the problem, these delays pushed the surgery out of it. If the surgery had taken place in this window the claimant could have recovered fully. As it was not carried out quickly enough the symptoms became permanent. This case was argued successfully and the claimant was awarded a settlement as detailed below.
What Was The Cauda Equina Compensation Payout For This Case?
Due to the serious and debilitating nature of the injuries suffered by the claimant in this case, including the fact that the claimant would have disabilities as well as suffering from pain, and have issues with her bladder, bowel and sexual function, the payout for Cauda Equina Syndrome was quite high.
The personal injury lawyer acting on behalf of the claimant negotiated a total settlement of £2.75 million in personal injury compensation. The settlement was set at this level to help her manage with both her disabilities and the financial impact of them on her. To find out what compensation you could claim for negligence on the part of a hospital or GP, read our guide.
No Win No Fee
Compensation Claims For Cauda Equina
If you have had some form of accident or injury, or if you have suffered from negligent medical treatment through your GP, hospital, or other part of the health service, you could be able to make a personal injury claim using a no win no fee solicitor. But, what does the term no win no fee actually mean? No win no fee is a term which is commonly used to describe conditional fee agreements. These are used in claims made with a personal injury solicitor under which the solicitor or lawyer will provide their services to the claimant without any payments being made at the start of the claim or whilst it is being conducted.
The basic idea of this type of agreement is that it will allow the claimant to make a claim for what they may be eligible to, without out there being any risk to them in doing so. As a high percentage of people who are entitled to claim compensation do not, the advent of no win no fee solicitors has been important to helping to encourage people to do so.
Before agreeing to provide their services through a no win no fee agreement, a solicitor will assess your claim thoroughly to make sure that you have a valid claim which they believe that they can successfully pursue for you. Remember, with this type of contract you will only ever have legal fees to pay if your personal injury claim is awarded a settlement. If you are unsuccessful in your claim, you will not have any legal costs to pay. To find out more about making a no win no fee claim and how much a payout for Cauda Equina syndrome could be, get in touch with Accident Claims UK using the contact methods below.
Contact Us About Medical Negligence Payouts For Cauda Equina Syndrome
At Accident Claims UK we have specialist personal injury solicitors and lawyers with years or even decades of experience in helping people such as you who have been the victim of medical negligence in cases such as Cauda Equina Syndrome. We have helped claimants across the country to claim thousands of pounds in compensation. When you make a Cauda Equina Syndrome compensation claim, or indeed any other type of personal injury claim with our team there are several things we promise.
We promise that we will provide you with a free initial consultation.

We promise that you will not have to pay any upfront fees.

We promise that our fees are transparent.

You will not face any financial risks or costs.

We will always do everything we can to get your the highest possible level of compensation.
Get in contact with out specialist no win no fee personal injury solicitors to book your free consultation and find out how much your payout for Cauda Equina Syndrome could be.
Tel: 0800 073 8801
Email: office@accidentclaims.co.uk
Contact form: www.accidentclaims.co.uk/contact-us
Do I need a local lawyer to receive medical negligence payouts for Cauda Equina syndrome?
It is a common misconception of many people that to claim for compensation you would need to use a lawyer that is based local to you. This is simply not the case. You could have the choice of any law firm or solicitor in the UK, so long as they are registered in England and Wales to practise law, and they are authorised and regulated by the Solicitors Regulation Authority. While this gives you much more choice when it comes to selecting the lawyer for your case, it does present you with a dilemma. How do you tell what lawyer could be appropriate for your claim, and who would fight for the maximum compensation settlement possible? There are many ways in which you can decide on which solicitor could be appropriate for your claim. You could check their reviews on independent sites websites, for example. You could also call them to ask about their success rate and cases they have handled in the past. If you would like us to take the stress out of finding a lawyer that could be appropriate for your claim and that would fight for the maximum settlement possible for you, we would be delighted to help you. We could give you information about any of the no win no fee solicitors we could provide you with. We have experienced lawyers, some with up to 30 years experience in the industry, that could use all their knowledge and expertise to fight for the maximum compensation payout possible for you.
Could I receive medical negligence payouts for Cauda Equina syndrome without using a lawyer?
Medical negligence and clinical negligence claims can be complex. We would strongly advise you to consider using a personal injury lawyer with experience of pursuing medical negligence claims. This is because to prove your claim, you would need to demonstrate that but for the negligence you had suffered, your condition would not have been as bad as it is. This could be difficult to do if you do not have the knowledge or experience of fighting such claims. For free legal advice from a friendly solicitor, please call our team. We would be happy to assess your case for free, and if we believe you have a strong case, we could help you get started by providing you with a lawyer to help you.
How can I maximise medical negligence payouts for Cauda Equina syndrome?
The strength of your evidence can significantly impact your medical negligence claims payouts. For example, you would need an independent medical report, completed by a medical expert that is independent of your case. They would need to examine you and take a look at your injuries, as well as speaking to you about how your injuries have affected you. They may also need to review any relevant past medical notes, and they may even need to order further tests. Once they have a full picture of your medical condition, they will write a report that could be used to evidence your injuries. This could significantly impact the compensation settlement you'd receive for general damages.
How common is clinical negligence on the NHS?
Figures from 2020 – 2021 from NHS Resolution show a significant sum was paid out in clinical negligence claims during this period. You can see the breakdown in the graphic below.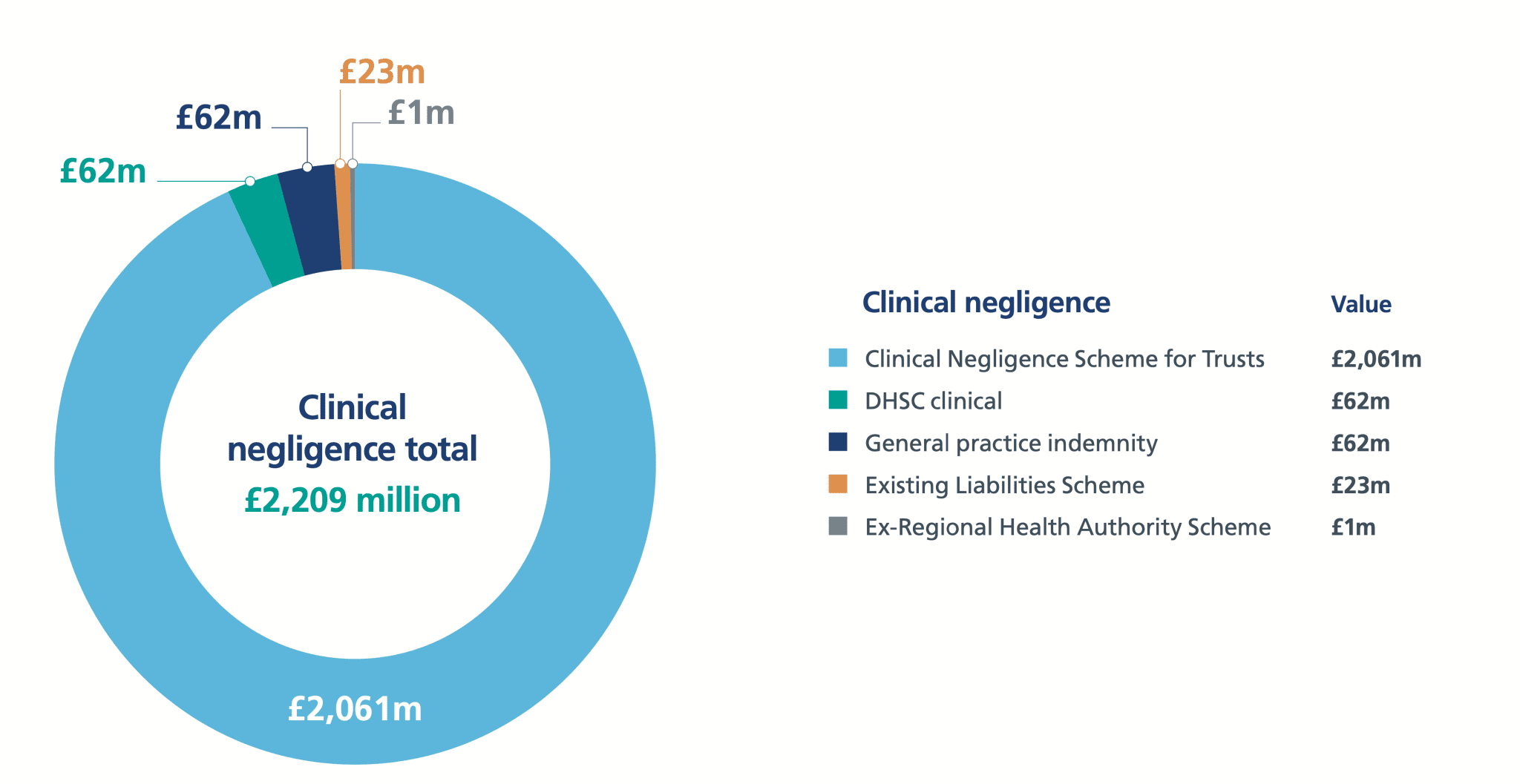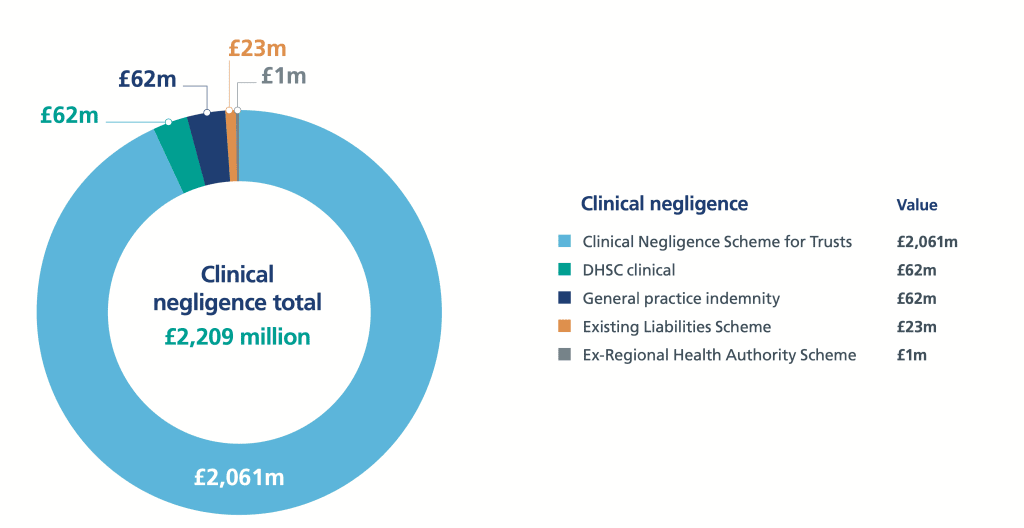 Useful Links Relating To 
Medical Negligence Payouts For Cauda Equina Syndrome
If you still have any questions with regards to making a compensation claim for Cauda Equina Syndrome, or any other condition caused by medical negligence, find further information at these links.
Medical Negligence To Death
Medical negligence can have extremely serious consequences for the person affected. If someone you know has suffered a fatal injury or accident as a result of medical negligence, find out how to claim compensation in this guide.
Medical Misdiagnosis Claims
Getting the right diagnosis is crucial to being able to get the treatment you require and for having a full recovery. Find out more about misdiagnosis personal injury compensation in this guide.
Cauda Equina Syndrome
Learn more about this condition with this NHS link.
Thank you for reading this case study relating to medical negligence payouts for cauda equina syndrome. If you would like to make cauda equina syndrome claims because someone has missed red flag symptoms and you have suffered long term spinal cord damage as a result, please contact our medical negligence solicitors for advice and support.