By Joanne Jeffries. Last Updated 7th October 2021. Welcome to our guide on how to claim wrongful death or accidental death compensation. This fatal accident compensation could help you discover how to begin your claim.
Death is never a pleasant thing to think about, and it can be challenging to get on with your life after someone you love has died. While a fatal accident compensation claim might not be the ideal solution, they can often help hold liable parties accountable.
Losing someone suddenly and in circumstances that may have been perhaps avoidable can bring up a slew of emotions, such as anger as well as grief. Whether someone has been involved in an accident at work or on-premises owned by another person, if a third party is at fault, then a fatal accident compensation claim could be a viable course of action.
Although an awarded settlement cannot take away the loss and grief that has occurred, it may be used to help the family members left behind rebuild a life after the death of their loved one. Throughout this wrongful death compensation claims guide, we aim to provide useful information regarding fatal accident compensation claims. In doing so, we will outline how unfortunate cases of this nature could be the fault of a third party, and how a personal injury solicitor could offer to handle the wrongful death compensation claim.
Choose a Section
Our guide to Fatal Accident Claims for Compensation
Welcome to our wrongful death compensation claims guide.
Here at Accident Claims, we work hard to offer a robust and friendly service. Thankfully our claims team are well versed in personal injury law, which means they can offer free legal advice to those whose loved ones have passed away due to the negligent actions of a third party. Death is always an unexpected and life-changing experience, and it is for that reason why we will never rush you into taking action before you are ready. Instead, we are here to listen, advise and help you.
In most cases, after the initial consultation, your accidental death compensation claim will be taken on, with no fees due unless your case is successful. This is called 'No Win No Fee' and allows you to forgo any further financial burden while you pursue your case, as well as having experienced professional people in your corner who will take on all the hard work for you. Read on to find the answers to questions you are likely to have about the process and how to begin a fatal accident or wrongful death claim.
What is a fatal accident compensation situation?
Fatal accidents usually come about due to an accident caused by someone else, and there are various examples where a third party could be at fault. For example, wrongful death could be caused by:
A negligent employer.
Violent crime.
After a road traffic accident.
Due to the negligent actions of a business owner, landowner, or the city council.
The accident's fault does not lie with the deceased person, but with the third party that is at fault. If a loved one has passed away due to the fault of another, then you could have grounds to make a fatal accident compensation claim.
What is a wrongful death compensation situation?
Before looking at how to make wrongful death compensation claims, let's first look at what wrongful deaths are.
The wrongful death definition is as follows. Wrongful death compensation claims usually happen as a result of another person/s being negligent, either in the duty of care to a person or by their dangerous actions, again, with the deceased being not to blame for the incident that caused their death. The difference between wrongful death and fatal accident claims is only small but significant. In wrongful death, the blame for the accident happening is clear as well as the reason behind the accident. Some examples of wrongful death cases include those that cover medical negligence, and those accidents at work, leading to death where equipment has been provided to the deceased that was not up to safety standards.
What does making No Win No Fee Fatal Accident claims involve?
When perhaps the primary breadwinner in a family has passed away in tragic circumstances, the last thing a family needs is a legal bill. However, this financial situation should not preclude anyone who has a valid claim for wrongful death from launching that claim. This is why, at Accident Claims UK, we work on a No Win No Fee structure that means the only time a legal bill will be due is as part of the compensation awarded to that client.
If the case, for whatever reason, does not reach a satisfactory conclusion (wrongful death compensation), then there will be no legal fees for the person/s lodging the claim to pay. You may have heard the term before, but this can also be called a CFA, or Conditional Fee Agreement. We will be happy to talk you through what this involved in more detail should you have more questions about this. We are always transparent about our fee structure to offer our clients the best quality service.
Who is allowed to make a wrongful death/ fatal accident claim?
Many people believe that only spouses of deceased persons can make wrongful death/ fatal accident claims but this is not the case. There are three categories of claimants, which we outline below:
Fatal Accident Compensation For Family
A deceased person's family will more than likely have endured undue hardship caused by the person's passing. They might not have depended on the deceased financially, but it may be possible for them to pursue a claim for such hardship.
Fatal Accident Compensation For Dependents
This is usually who people consider first when a loved one passes away, spouses, and children of the deceased who have had financial provision from the deceased person will likely be able to make a claim. These are the people who are usually most badly affected by their passing away.
Fatal Accident Compensation For The Estate
This section is a little more complicated but covers situations such as small businesses suffering hardship due to the small business owner's passing away.
How are wrongful deaths caused?
You may not be aware of it, but there are a significant number of circumstances that can warrant an accidental death compensation claim. Some examples are provided below, but it is important to understand that we could not list every circumstance here. If you are wondering whether you may have a valid wrongful death claim, then simply call us,. We will carefully listen to what has happened to determine whether you have cause to take a wrongful death/ fatal accident claim forward.
Fatal Road Accidents and Traffic Incidents that can include:
Cycle accidents leading to the death of a cyclist or a pedestrian
Pedestrian deaths caused by vehicles
Fatal vehicle collisions leading to the death of a passenger or death of a driver
Motorbike accidents causing fatality to pedestrian or rider
If you would like to know how much compensation for a family member's deather or payment for a death in a car accident of someone you depend on financially, then we can provide you with typical award amounts.
Fatal Accidents at work that can include:
Trip or slip or fall accidents leading to death
Machinery operation leading to fatality
Commercial motor vehicle accidents at work leading to death (either death of the driver, pedestrian or a person on commercial premises)
Roofing work accidents/Falls from height leading to death
Asbestos exposure at the workplace leading to cancer or mesothelioma
If you're wondering 'how much compensation for an accident at work resulting in death?' we can help you find out. Keep reading to find our wrongful death compensation table below. Alternatively, you could call our team to find out more about accidental death compensation claims.
Medical negligence causing death which can include:
Botched cosmetic surgery causing death
Misdiagnosis of cancer leading to death
Misdiagnosis of other illnesses causing death
Negligent conduct in an operation which leads to patient death
Negligent conduct in childbirth, leading to the death of child or mother
Negligence in a care home leading to the death of care home resident
If you would like to know how much compensation for death by medical negligence, then our advisors will be able to provide you with examples of typical amounts awarded, or you could take a look at the table further down in this guide.
Public accident deaths, which can include:
Accidents that occur in the street
Accidents that occur in other public spaces
Accidents in retail premises such as shopping centres, supermarkets and shops
Leisure venue accidents, such as theme park deaths, or funfair accidents, as well as accidents in water parks
Holiday park accidents
Camping ground accidents
Leisure centre accidents – these can include gym accidents, swimming pool deaths, golf course fatalities and more.
As mentioned, this is by no means a full list of all the circumstances that could result in an accidental death compensation claim. Call our caring team if you would like more information on whether your loved one's passing could be part of a wrongful death claim.
Wrongful Death Statistics
As we previously outlined, the wrongful death of a loved one could be caused by multiple factors and different third parties, such as employers, drivers, landowners, and even the city council. It is for that reason why we have taken the time to include some critical statistics to outline how a breach in the duty of care could ultimately cause an accident or wrongful death.
Despite the laws and measure that have been set in place to ensure workers are protected from hazards, accidents can still occur. For instance, if an employer were to neglect the duties outlined within the Health and Safety at Work etc Act 1978, it could lead to workplace hazards going unacknowledged. In return, this could ultimately lead to an employee being injured or being fatally wounded.
It was reported by the Health and Safety Executive (HSE) that there were 111 workers killed in 2019/20. However, please note that these statistics do not automatically imply they are caused by a negligent party. Fatal injuries to workers by main industries can be broken down into the following statistics:
11 – Transport and storage.
5 – Waste.
20 – Agriculture, forestry and fishing.
6 – Wholesale, retail, motor repair and food.
6 – Admin and support services.
40 – Construction.
8 – Other.
When looking at workplace injuries and accidents, the HSE also provided in-depth analysis to outline fatal injuries to works by age, which goes as follows:
30 – Aged 60 plus.
80 – Aged 16 – 59.
1 – Age not known.
How do I go about making a wrongful death claim?
Launching a fatal accident claim or a wrongful death compensation action can be a difficult decision to make. Whether you want advice on whether you are likely to have a valid claim, want to know more about wrongful death vs manslaughter, would like to learn more about wrongful death, or, if you are ready to take the first step in pursuing a wrongful death claim, we will deal with your query sensitively and with the utmost care. We know it can be challenging for you, so we work hard to make the process as simple and straightforward as possible.
Initially, when you call Accident claims regarding a wrongful death case, we will be likely to ask you several questions to get to grips with the tragedy that has occurred. We will be asking how the accident occurred, where it happened, who you are concerning the deceased person, and who you think may be at fault for the incident. It is a good idea to have all the details written down before you call, but if you find this difficult do not worry, our fully trained staff will lead you through the questions in a sensitive manner.
Once we have gone through the questions, we need to ask you. We will be in the right place to advise you whether you have a valid claim and will explain what happens next. We will take you through the details of the agreement that means you won't pay legal fees if your case isn't successful and you can ask any other questions you might have.
What costs and expenses are covered, and what will I be compensated for in fatal accident claims?
There is no 'one size fits all' answer to this question. However, how much can you sue for wrongful death compensation is a question we are often asked. Every wrongful death/ fatal accident claim we assist with is different, and it can be challenging to put a figure on a claim without knowing all the ins and outs of the case. However, compensation for wrongful death claims can be broken down into the following awards;
Punitive – This sort of damages award acts as a type of punishment for the responsible party for the incident that caused your loved one's death.
Funeral – Whether cremation or burial is decided upon, the funeral costs should be covered.
Medical – Expenses such as treatment costs that the deceased person incurred due to the incident before they passed away and those relating to family members (such as counselling) result from their loved one's death.
Bereavement compensation award – This should cover suffering and pain the loved one's family. In Wales and England, this is capped at £12,980 currently.
General – Loss of income to the family, both actual and future potential earnings of the deceased, and suffering and pain and adverse effects on the claimant's future life.
Are funeral expenses covered in a fatal accident claim?
Funeral expenses cover a variety of different costs. These can include sending out of funeral invitations before the service, as well as the wake, wreaths and flowers, the hearse and other vehicles that may be required, the undertaker's fees, the purchase of burial plots, coffins and caskets, urns for cremation, crematorium fees, the funeral service, the wake and food served within the funeral.
Please read on for more information about wrongful or accidental death compensation claims.
How much would a fatal accident compensation payout be? – Updated October 2021
If you're wondering about the answer to the question 'how much compensation for an accident at work resulting in death?' this section will reveal the answer.
| Injury type | Compensation bracket | Summary |
| --- | --- | --- |
| Post-Traumatic Stress Disorder (Severe) | £56,180 to £94,470 | Permanent effects of trauma, preventing return to work |
| Post-Traumatic Stress Disorder (Moderatley Severe) | £21,730 to £56,180 | More positive prognosis but recovery requires professional help |
| Post-Traumatic Stress Disorder (Less Severe) | £3,710 to £7,680 | Virtually full recovery within 2 years |
| Psychiatric Damage Generally (Severe) | £51,460 to £108,620 | Marked effects of trauma with poor prognosis |
| Psychiatric Damage Generally (Moderately Severe) | £17,900 to £51,460 | Significant effects of trauma with optimistic prognosis |
| Psychiatric Damage Generally (Moderate) | £17,900 to £51,460 | Cases of work-related stress fall under this category |
| Mental Anguish | £4,380 | Fear of impending death |
| Tetraplegia | £304,630 to £379,100 | No physical pain but full awareness of grossly disabling condition |
| Paraplegia | £205,580 to £266,740 | Increasing paralysis |
As previously mentioned, each award is different and specific to the details of its own case. This is why a fatal accident compensation amount can differ from case to case. However, we can provide somewhat of a wrongful death compensation calculator, which outlines some of the awards you may be expecting to receive. It is vital to remember that these are guide amounts on; however, the amount of compensation awarded will be unique to your case.
Why choose Accident claims for your fatal accident or wrongful death claim?
Beginning a fatal accident compensation claim can be difficult, especially at what is likely an overly emotional time. You are likely to feel anger towards who you believe to be the responsible party, as well as some confusion over where to go for assistance. Here at Accident Claims, we have assisted many clients with wrongful death/ fatal accident compensation claims, with sympathy and tact. We are very careful to ask the right questions to ascertain all the facts surrounding your case to help you quickly and efficiently. However, we will always take the time to explain anything you may not be clear on with regards to the process of making wrongful death UK claims.
We will also strive to ensure you receive the maximum amount of wrongful death compensation possible for your fatal accident compensation claim. We know how much hardship can be caused by a loved one's death, mostly if they were the main financial provider in the home, which is why we ensure your case is dealt with, with no fees payable unless the fatal accident compensation claim is successful.
Using a solicitor in accidental death compensation cases
Our specialist solicitors know how much pain and suffering losing a loved one will cause. Therefore, if you do decide to make an accidental death compensation claim, they will be compassionate, helpful and friendly throughout your case. Also, they'll work at a speed that suits you and won't put any pressure on you.
To establish the facts, your solicitor will listen carefully to what happened and how your spouse, civil partner or family member died. Once they have done this, they'll take the case forward on your behalf so you won't need to be involved too much. Firstly, they'll seek out the evidence needed to support your claim. They'll then arrange for medical records to be obtained. Once they are ready to file, the claim will be sent to the defendant.
So that you don't need to speak to insurers or legal teams, your solicitor will handle all communication for you. They'll deal with any requests or objections that are raised and keep you informed along the way. Ultimately, they will do all they can to obtain the highest amount of compensation possible. While this couldn't possibly cover the loss of a loved one, it could help you cover any financial losses and future bills as well.
To discuss claiming accidental death compensation today, please get in touch.
Fatal accident compensation FAQ
What happens if a person died in an accident caused by negligence?
The loss of a loved one is never an easy experience, especially when a negligent third party is at fault. Under UK law, you could have grounds to hold the liable party accountable and make a claim against them. Here at Accident Claims, we have up to 30 years of experience assisting those in these circumstances, so please contact our team to learn more.
How much accidental death compensation can you claim?
The amount of compensation that could be awarded will take into account the unique circumstances at hand, such as the cause of death, the severity of injuries inflicted, and much more. It is for that reason why estimated figures are hard to provide. However, by speaking to our team, one of our trust advisers could provide an estimated figure after listening to your circumstances.
How is death compensation calculated?
If you're curious about how much compensation you could get for an accident at work resulting in death, such a case would take into account several factors. For instance, the claim will take into account the monthly wage of the individual, earning potential, funeral expenses, medical costs, as well as any other expenses caused by the incident.
Can I claim on behalf of a loved one that has passed?
Yes, providing that they suffered as a result of the negligence of a third party owing them a duty of care, you could be able to claim compensation on their behalf.
Do I need a lawyer to make a claim?
No, there's no legal requirement to have a lawyer handle your claim. However, doing so could help increase your claim's chances of success and see that you get the maximum compensation you deserve.
What does it mean to claim on a No Win No Fee basis?
The main benefit of this type of agreement is that you won't have to pay your lawyer if they don't win your compensation for you. Therefore, you'll never need to pay out of pocket for legal expenses, removing the financial risk from the claims process.
Where can I get a lawyer?
Look no further than our panel of personal injury lawyers to handle your claim. With over 30 years of experience, they can guide you towards winning the maximum compensation you deserve on a No Win No Fee basis.
How can I contact Accident Claims?
Please see the next section for information on how to get in touch.
Do I need a local lawyer to claim fatal accident compensation?
Some people may assume that they would need to use a local lawyer to claim fatal accident compensation. However, this is not the case. When you make a claim for the loss of a loved one, you have law firms and lawyers based all across the UK that could help you. However, knowing you have all these choices could make the decision on who to claim with much more difficult. We would advise you to choose carefully when it comes to your legal representation. You could look at independent reviews, and check they have the experience you need to give you confidence they could handle your case. We'd advise you to consider lawyers that work on a No Win No fee basis too.
How common are fatal road accidents?
In 2020, there were fewer fatalities on UK roads compared to 2019. However this could be down to the number of vehicles off the road during the lockdown periods of the coronavirus COVID-19 pandemic. We have given you some statistics pertaining to fatal road accident statistics for both years below.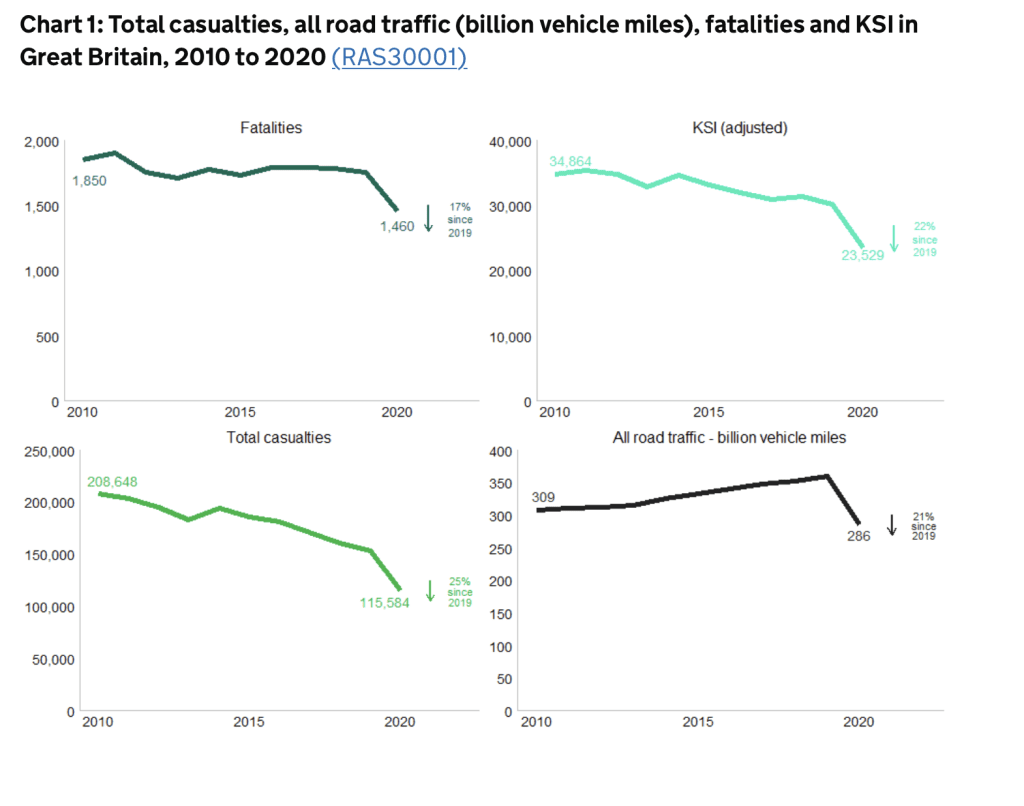 If you've lost a loved one in a fatal road accident, whether it was in 2020 or more recently, we could help you claim compensation for the loss of your loved one and expenses that arise because of their death, such as funeral expenses. We know how traumatic reliving what happened to your loved one. This is why we will take the utmost care to handle your claim with the care and sensitivity it deserves.
Ready to claim for wrongful death/fatal accident? Call today
We know you may have questions regarding this guide and its contents, which is completely understandable. It is for that reason why we offer free, no-obligation advice.
By reaching out and speaking to our team, they will be glad to take your call and answer any issues that may remain after you have been through this guide. Whether you want to know more about death compensation calculation and how it is done, or you want to know how common death by negligence cases are, or want to know more about wrongful death examples we have dealt with and how insurance companies compensate people for wrongful death we will be happy to help.
Alternatively, if you are ready to begin a fatal accident compensation claim today, why not get in touch?
Our trained and experienced team will be on hand to answer your questions. We could give you a free consultation on claiming for medical bills, lost income and bereavement, and how to choose a personal representative to make decisions on the claim. We could also begin the process of making a fatal accident compensation claim for you, minimising stress at what can only be described at a traumatic time for you.
Helpful links
The NHS has produced a page on coping with the loss of someone close to you. This may offer some advice that will help you try and work through your grief.
Cruse is a charity that aims to help people suffering after a bereavement. There is plenty of material on their site that you may find helpful after a bereavement.
The Citizens Advice website shows what might need to be done in practical terms after someone has passed away, whether due to fatal car accidents or medical negligence.
This piece of legislation covers fatal accidents. You may want to familiarise yourself with some of the content if it has been mentioned to you.
This outlines some legislation covering how much can be awarded as a bereavement award, whether awarded as part of the compensation for death by careless driving or any other accident. Don't forget, someone at fault could also be asked to pay punitive damages.
This piece of legislation covers the right of action for wrongful death cases. It may be a useful reading if you would like to find more about the legal side of wrongful death claims.
Thank you for reading our guide on wrongful death, fatal accident and accidental death compensation claims. If you want to claim fatal accident compensation, please get in touch.