By Joanne Jeffries. Last Updated 26th July 2021. In this comprehensive guide, we are going to take a look at housing disrepair claims in length. In doing so, we are going to provide free legal advice to those who intend on seeking compensation for housing disrepair.
What makes a home? Is it the building? The neighbourhood? The people that live within it? Of course, the answer is all of these and more. We all like to feel comfortable and safe at home, but what happens when this comfort and safety is threatened by housing disrepair?
If you are renting a property, the landlord has specific obligations that they must legally meet. If they fail to do so and causes the tenant distress, discomfort, or even ill health, then a reason will exist to claim housing disrepair compensation. However, the situation is somewhat more complex in reality, and legal advice and guidance must make such a claim against your landlord.
Within this guide, we give all of the information and advice you need to begin making such a claim. If you would rather skip over this guide and simply begin your claim, call Accident Claims UK now on 0800 073 8801.
Select a Section:
A Guide To What Housing Disrepair Is
Do you believe that you have a valid reason to make a housing disrepair legal claim? Have you already tried speaking to social housing solicitors to no avail? Has your landlord repeatedly failed to keep your rental property in good condition? If you answered yes to any of these questions, then this guide is for you. You will find information and advice that will help you make a claim for housing disrepair within it. It contains information such as:
Details of the legal obligations and responsibilities of all landlords in the UK. This is the law that we often use as leverage to make a successful compensation for housing disrepair claim

.

Details of tenants' responsibility, concerning what they are expected to maintain, and how they are legally required to care for a rental property.
A step by step description of the things you should do to give you the best chance of making a successful compensation for housing disrepair

claim.

Information on the types of issues could be a viable reason for making a compensation claim for housing disrepair.
An examination of your legal rights if housing disrepair has lead to health problems such as allergies and asthma.
A brief look at how it isn't easy to make a quick estimate of the amount of compensation a person might claim for housing disrepair, including a table with typical claim amounts.
An introduction to the No Win No Fee housing disrepair claims service that Accident Claims UK offers to all UK residents. As well as the reasons why we believe that using this service is the best option for claiming housing disrepair compensation.
Using the kind of information that this guide contains, should educate you sufficiently on the reasons to make a housing disrepair claim and the process for doing so.
If you have any questions about the contents of this guide or require more information, please contact us at the number to be found at the bottom of this page. We will do our very best to assist you and answer any queries you may have about our No Win No Fee national housing disrepair claims service.

What Responsibilities Does My Landlord Have?
Every landlord who rents out a residential property in the UK has stringent responsibilities regarding what they must maintain, and how well.
If the landlord fails to fulfil their legal responsibilities, you will have a reason to claim housing disrepair damages. Compensation for housing disrepair claims against your landlord could bring you between 25% to 50% of the rent of the property, but if personal injury is involved, your compensation payout could be significantly higher.
The things your landlord is obligated to repair are:
Any damage or wear and tear to the external walls of the property, as well as the roof and windows, and all other external fittings.
All drains, and all sanitary appliances such as sinks, baths, toilets, and all plumbing for the freshwater supply that are not the responsibility of the local water board.
If your rental property is provided with central heating, then the landlord is responsible for its maintenance and repair, as well as the hot water heating system.
If your rental property was provided with gas appliances such as heaters or a gas cooker/oven, the landlord is responsible for maintaining and repairing them.
If your rental property has an open fireplace, the landlord is responsible for maintaining the chimney itself, and all flues, pipes and other parts of the ventilation system.
All electrical wiring within the property is the responsibility of the landlord to maintain.
If your home has communal areas, such as a stairway in a block of flats, or a shared entranceway, then your landlord is responsible for the upkeep of these areas.
Your landlord must keep these things in good repair and should shoulder the entire cost of repairs and maintenance themselves, and not ask you to contribute in any way towards the cost. You will need to pay for minor repairs, such as the cost of changing light bulbs, but it is illegal for your landlord to try and get you to pay, even partially, for repairs that are clearly defined by law to be the landlord's sole responsibility.
If you are not sure whether a specific part of your home is the responsibility of your landlord to repair, call Accident Claims UK at the number at the bottom of this page, and we will be able to advise you on making housing disrepair claims.

What Maintenance Responsibilities Do I Have as a Tenant?
If we examine housing disrepair case law, we find that every tenant has a set of legal obligations towards their rented property, similarly to the landlord. It is important to note though, that a rental agreement might contain clauses that supersede these obligations. Certain renters have their own agreements, such as the housing association compensation policy that tenants would need to sign before moving into a property. However, when no other agreement is in place, the law says that the tenant must:
Perform minor maintenance tasks on the property, such as changing any lightbulbs that expire or fuses that blow.
Keeping the property and the garden if there is one, in a clean and presentable state.
To avoid damage to the property at all times and ensure that any visitors do not damage the property.
Make responsible use of all the fixtures and fittings of the property. For example, if you put the wrong kind of garbage into a waste disposal unit and damaging it.
If you believe that your landlord is making you perform repairs and maintenance on your property that you are not obligated to do, then contact Accident Claims UK on the number at the bottom of this page, and we will give some free legal advice on who's responsibility the specific maintenance is. And this could determine what compensation for housing disrepair you could claim for with housing disrepair claims.

What Steps Should I Take If My Landlord Is Not Repairing My Property?
As can be seen from the graph below, there are many rental properties in a disrepair state. This means that compensation claims for housing disrepair are fairly common, and there is a proven process for making them most effectively.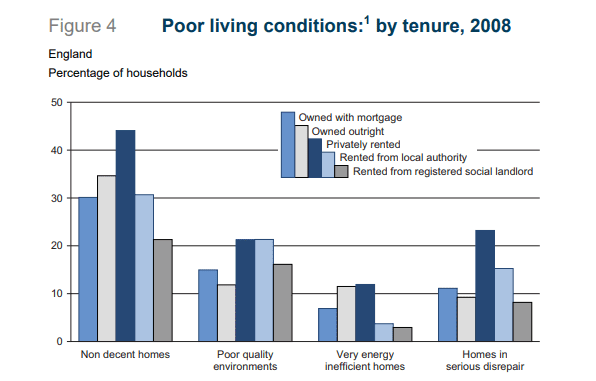 Before diving in and making a housing disrepair compensation claim against your landlord, whether you are a housing association tenant with one of the local authorities, or you're a private tenant, it is advisable to give your landlord a chance to make the required repairs. It could be that there are real extenuating circumstances that are preventing the repair being done. A good approach would be to take the steps below:
Inform your landlord verbally of the required repairs or maintenance and give them a week to two to arrange things.
If the verbal request has not worked, follow up with a written right for the repairs to be made and ask for a date that the repairs will be completed.
If the repairs are urgent, and the fact they have not been carried out is either dangerous or cause a health hazard, you can contact your local council, who have legal leverage over your landlord and can request he has the work carried out.
If nothing else has worked, and you have given your landlord sufficient time to have carried out the repairs or maintenance, then contact Accident Claims UK on the number at the bottom of this page, and we can begin to make a housing disrepair claim on your behalf.
What Issues of Housing Disrepair Can I Claim Compensation For
If you have no other choice but taking court action because of disrepair, you need to be aware of the actual items you can claim compensation for. Typically, the types of items detailed below can be claimed for in a housing disrepair compensation case:
Personal items – if your landlord's failure to carry out maintenance or repairs on time has directly caused damage or destruction of your personal items, you will be able to make housing disrepair claims to get these back. For example, if an electrical fault damages your TV in the building that the landlord has had plenty of time to repair, it can be claimed.
Furnishings and fittings – if your furniture or other fittings such as lamps, paintings and other decorative items are damaged due to your landlords continued failure to perform critical maintenance, you will be able to claim for the damage when you make housing disrepair claims. For example, if a leaking water pipe has gone without repair for some time and damages a valuable painting, this can be claimed.
Clothing and other items – once again, if your landlord has had plenty of time to carry out the required maintenance, and the lack of repair leads to your clothes and other items such as bedding being damaged, then these can be claimed for within housing disrepair claims.
If you are unsure whether you can claim housing disrepair compensation for a specific item, give Accident Claims UK a call, and we will offer you some free legal advice on whether the item is claimable or not.
Housing Statistics
It was reported by the Ministry of Housing, Communities & Local Government within their Housing survey that 66% of social renters were stratified with the repairs their landlord made, and 26% wasn't. It also goes further to outline the common reasons for dissatisfaction, which includes:
33% because the landlord was slow.
24% because the landlord didn't bother.
Can I Claim If Damp Has Led to Me Suffering Asthma or Allergies?
Claiming compensation for asthma, allergies or any other medical condition which has been caused or made worse due to damp in your home, can be claimed as housing disrepair compensation in some housing disrepair claims.
The type and cause of the damp are the driving factors here. The Environmental Health Department at your local council will be able to help you decide whether the specific case of damp is cause for a claim for compensation for housing disrepair.
The council will likely ask you to send them a report, and possibly also photographs. When you do send this information to them, make sure you keep copies of everything, so that it can be used as evidence if you do indeed make a housing disrepair claim.
If you are confused over the whole issue of damp and making housing disrepair claims you can call us here at Accident Claims UK, and we can talk you through the process of discerning whether your situation is due cause to make housing disrepair claims. Contact us at the number at the bottom of this page.

If I Make A Claim, Can My Landlord Take Action Against Me?
When you moved into your rented property, you will have signed a tenancy agreement. As long as your actions have done nothing to break this agreement, your landlord cannot legally do anything in retaliation to your housing disrepair claim.
If your tenancy agreement was signed after the 1st of October 2015, it is illegal for your landlord to try to evict you in a retaliatory action for a disrepair change. However, if you decide to withhold rent payments to force the landlord to make repairs, then they could evict you for non-payment, and we do not advise you try this tactic. Similarly, the landlord cannot retaliate by raising your rent, there are legal limits on how and why a landlord may raise the rent.
This is obviously a legal minefield, and many landlords are unaware of their legal obligations with regard to acting negatively towards tenants who make a claim for housing disrepair. If you feel your landlord is victimising you, contact Accident Claims UK on the number at the bottom of this page so that we can help you with housing disrepair claims.

Housing Disrepair Compensation Calculator – Updated July 2021
You could use an online housing disrepair calculator to get some general idea of how much compensation you might claim. However, these types of housing disrepair claims are all different, and the complexity of the claim makes it very hard to give ballpark figures for the amount of compensation you will receive. There are also other considerations such as the housing disrepair small claims limit, which will affect the overall amount you can claim.
The only way to get a sensible estimate of the amount of damages you can claim for a specific case of housing disrepair is to speak to a legal team and get their evaluation. Accident Claims UK can give you this kind of damages evaluation if you call us at the number that can be found at the bottom of this page.

No Win No Fee Claims for Housing Disrepair
Has your home become uncomfortable, unsafe or unhealthy due to your landlord not carrying out critical repairs and maintenance? Have you tried to get your landlord to take action, with no results? Then it could be time for you to make a housing disrepair compensation claim. But is there such a thing as legal aid when it comes to this? And how do you find a solicitor authorised and regulated by the solicitors regulation authority that will take on your claim with no legal fees required upfront.
Accident Claims UK offers our No Win No Fee house repair compensation claims service as the best way to make such a claim if you're entitled to compensation for a failure of  a landlord to complete repair work. When working with housing disrepair solicitors No Win No Fee means that there is no charge at all to start your claim and that we don't levy any fees while we are pursuing your claim, regardless of how long the claims process takes. And in the unlikely event that we actually fail to win your claim for you, then we won't ask you to pay anything at all. We will only ask you to pay legal fees when we actually win you a housing disrepute compensation payment.
This means that the Accident Claims UK housing disrepair claims services is an entirely financially risk-free way to make a compensation claim against your landlord for housing disrepair. You really do have nothing to lose by letting us make a claim on a No WIn No Fee basis on your behalf.

Why Make Your Claim With Accident Claims UK
Accident Claims UK has over 30-years of experience in claiming compensation for our clients, including housing disrepair claims across a very wide range of claims cases. We operate a simple end-to-end claims process, that you will have no trouble following and understanding. Everything we do, we explain to you in simple English instead of confusing you with legal talk as some unscrupulous legal firms tend to do. We will always do everything to maximise your chances of winning your claim and receive the most compensation possible for your housing disrepair claims.
We have legal teams covering the whole of the UK. This means that if you would rather speak to one of our local representatives, we can set up a home visit for you rather than discuss your housing disrepair claims on the telephone.

Talk to Us Today
Are you ready to make a claim for housing disrepair? Do you believe that your landlord has left you no other route in getting critical repairs and maintenance carried out on your rented property? If so, you should call us here at Accident Claim UK on 0800 073 8801 today. We will spend a little time asking you questions about your claim, and the circumstances leading up to it. Once we know enough about your claim for compensation for housing disrepair, we will offer you some legal advice on what we believe you should do next. In most cases, this advice will be to take advantage of our main service offering, a No Win No Fee hosing disrepair claims service. This is a simple, effective and entirely risk-free way to make a housing disrepair claim for legal costs against your landlord.

Useful Links
UK Government on landlord responsibilities and housing disrepair
At the link above, you will find information that has been published by the UK Government, which explains the legal obligations of landlords with regard to housing disrepair.
Shelter published information on complaining about housing disrepair to the local Environment Health Department.
At the link above, you will find information published by Shelter, the UK non-profit organization, that offers advice and information on how to make a complaint to the Environmental Health Department of your local council, if your landlord has failed to repair unhealthy aspects of your rented accommodation.
UK Office for National Statistics data on housing including disrepair
At the link above, you will find information published by the UK Government and the Office for National Statistics which contains information about the number of homes in the UK that are in disrepair, segmented by usage, such as rental.
Why not take a look at our guide where we discuss elbow injury claims in greater length.
If you have suffered a concussion due to a third party's fault, please take a look at our guide to learn more.
Head injuries can have a detrimental impact on your health. If a negligent third party is the fault of a third party, then you may consider taking legal action.
This legislation regarding fitness for human habitation might be useful to you.
Housing Disrepair Claims FAQs
What is a housing disrepair claim?
If you are a tenant who lives in a rented property that has fallen in disrepair, then it is up to your landlord to fix the issue. However, if your landlord fails to repair the issue and it causes you harm, then you could have grounds to make a personal injury claim.
What's classed as an emergency repair?
When looking at housing disrepair, the following factors could be considered to be an emergency repair:
Burst pipes or major water leaks.
Flooding drains.
No lighting.
No electricity.
The toilet cannot be used.
Leaking pipes (such as the sink or toilet).
What happens if a landlord refuses to do repairs?
If a landlord fails to tackle an important maintenance issue, such as a broken heater, then the tenant may have legal rights to fix the issue themselves.
Can you claim compensation for housing disrepair for mould?
You can do this if a landlord has not fixed any mould problems in a rented home.
How do I sue my landlord for unsafe living conditions?
This relies on you checking that the landlord is not compliant with the terms of the Health and Safety Executive (HSE).
What constitutes unsafe living conditions when claiming compensation for housing disrepair?
Anything which could compromise your health and safety constitutes living conditions that could impact your wellbeing.
What is the housing disrepair protocol?
This represents the guidelines for leaseholders to follow when making any housing disrepair claims.
What makes a property uninhabitable?
This relates to dangerous living conditions including exposed wiring and holes within the floor, along with pests and fleas being prevalent on-site.
Can you withhold rent if your landlord doesn't repair your property?
If you're considering holding your rent payments back because of housing disrepair, you should be aware that if you don't pay your rent on time, no matter the state of the property, your landlord would still have a right to take action against you to recover the rent you have not paid. If you're considering using withheld rent to fix the property you're living in, again, this could be risky. We would strongly advise you to get legal advice before attempting to do this.
Disrepair statistics in private rental properties
In 2017, it was reported by the ONS that 4.5 million households lived in privately rented properties. This is a significant increase from the 2.8 million recorded in 2007. The below char shows the spread of the age groups in such properties.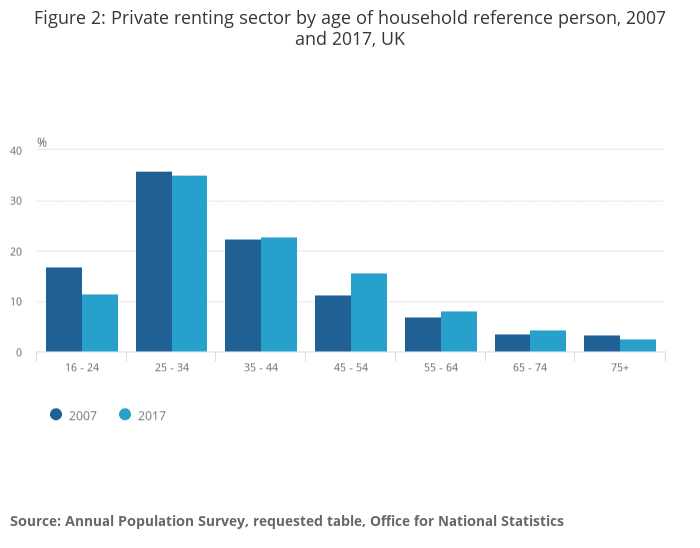 What is the HHSRS?
Within England, properties are examined against a standard known as the Decent Homes Standard. Disrepair and damp are assessed here too. However, the safety of properties is assessed against the HHSRS (The Housing Health and Safety Rating System). This examines electrical safety, the presence of smoke alarms and whether they are working, and whether there are carbon monoxide detectors.
If you believe the property you are living in is in disrepair and is dangerous for you to live in, you should initially inform the landlord. If they do not help you, then you could consider escalating your concerns and taking action against them for the suffering you've experienced due to housing disrepair.
Thank you for taking the time to read our guide on housing disrepair claims. Hopefully, now you'll know more about claiming compensation for housing disrepair.