By Jo Jeffries. Last Updated 30th June 2022. Welcome to our guide on broken glass accident claims. It explains what to do if cut by broken glass, and when you could claim for a broken glass accident that was not your fault. We discuss compensation payouts for an injury caused by broken glass, explaining who could claim for an accident caused by broken glass, and what could be included within their payout. We also discuss liability for injuries caused by broken glass, and explain how long a claim for broken glass accident compensation could take. You'll also see a table giving insight into broken glass injury claim amounts.
Could you receive compensation payouts for an injury caused by broken glass?
Additionally, this guide contains the details of how Accident Claims UK's solicitors can help you make a No Win No Fee claim for being injured by glass, Whether that was at work, in a road traffic accident, while out shopping or while enjoying a meal in a
restaurant.
We hope this article will answer any questions you already have about what to do if cut by broken glass and convince you to claim our expert solicitors. If not, you can always ring up for free advice on making claims on 0800 073 8801.
Select A Section
A Guide To Claiming When Injured By Broken Glass
Glass injuries can range from being minor cuts to being life-threatening and life-changing. This guide will go over some of the different effects of being injured by the glass. We also describe some of the situations in which glass injuries can occur. Plus, we have also included some brief tips on first aid for glass cuts as well. We will talk about who might be liable in cases of people being hurt by glass and how and why they are liable. Furthermore, we show what steps you can take to prove it.
Choosing whether or not to make a claim can be a conundrum for people. This is especially the case if someone doesn't have a lot of money for a solicitor. We will answer that question by explaining how our solicitors offer you the chance to make a legal claim without having to pay any of the costs out of your own pocket. We explain how to do this by making a No Win No Fee claim. If what you need is further information and advice, you can find the contact details of our accident claims team at the bottom of this page. Alternatively, use the phone number in the introductory section of this broken glass accident claims guide.
What Is An Injury From Broken Glass
Broken glass is sharp and can cause painful and serious injuries. Some types of accidents can cause pieces of broken glass to go flying through the air. This can cause bystanders who aren't directly involved in the accident to be in danger. The most vulnerable parts of the body to broken glass injuries are the parts not covered in clothing.  Such injuries usually affect the head and neck and the arms and hands. If you have been injured by a piece (or pieces) of broken glass, then you could be entitled to make a personal injury claim to seek compensation. This could be the case whether you were directly involved in the accident. Or, you could be a bystander who is injured by shards of flying glass.
What Could Cause An Injury From Broken Glass?
There are several different ways you could end up being injured by broken glass. Road traffic accidents are one cause. The impact could cause the windows to shatter, causing both the driver and passengers to be showered in shards.
People could step on or fall onto glass bottles and glasses in places where drinks are served in glasses and bottles, such as pubs, nightclubs and restaurants. Glasses and bottles could be dropped on the floor and break or become a tripping hazard. The managers and staff of these businesses have an obligation to clear up broken glass or bottles that have been left lying around to stop people from getting hurt.  To learn more about injury claims against pubs and bars, click here.
People might fall onto or through a glass surface, causing it to shatter and inflict injuries. To learn more about slip, trip and fall injuries in general, click here. People can also injure themselves by walking into glass panes which they didn't realise were there because they were too clear or unmarked. Glass planes are required to have markings on them so that windows and glass doors can be recognised by passers-by who might otherwise walk into them. These are examples of scenarios where the result could be filing broken glass accident claims.
How Serious Could An Injury From Broken Glass Be?
The seriousness of an injury caused by broken glass depends on the circumstances of the accident. Some glass wounds can be minor, such as a pinprick causing a glass cut on a fingertip. The seriousness of laceration from glass can depend on how deep the wound cuts. A surface-level cut may require cleaning up and stitching up and leave no serious effects after it heals besides scar tissue. However, deep lacerations can cause damage to muscles, nerves, tendons and bones. These can be permanently disfiguring and leave the victim with disabilities. Extreme glass injuries caused by very large pieces of glass travelling at high speeds can even sever limbs altogether. Laceration by the glass can prove fatal if the cut severs arteries, such as if the wound goes across the neck.
Because glass can break up into very small fragments, pieces can be left behind inside the wound. This can lead to infection, continuous pain, delayed healing, and worsening scar tissue. Glass injuries can often lead to the victim requiring tetanus vaccinations.
Glass Cut And Laceration Treatment – What To Do If Cut By Broken Glass
If you or someone you are with suffers a glass injury and the glass is still embedded in them, your first instinct might be to try and pull it out. Don't. Pulling the glass fragment out might cut the victim even further. This could increase the size of the wound. it could possibly worsen the bleeding. Depending on whereabouts the injury is and how deep it is, pulling the glass out might also cut across arteries and nerves. This could drastically increase the severity of the wound. If the glass is still present in the wound, you should also not put pressure on it as you would with other kinds of cutting injuries. You might push the glass further into the body.
Instead, the safest thing to do is to bandage the injury in a way that stabilizes it.  This keeps the glass still while also reducing the bleeding. To do this, you should place bundles on either side of the glass (you can use bandages if you have a first aid kit or improvise using socks if you don't) and then wrap it securely in bandages. Receiving appropriate medical treatment should be an immediate priority before you begin to consider filing broken glass accident claims.
Here is a useful first aid guide page produced by the NHS.
Claiming For a Workplace Injury From Broken Glass
If you have sustained an injury from broken glass while you were at work and it wasn't your fault, then there is a good chance that you could claim compensation for your injuries. Your employer has a legal duty of care to ensure that their employees are safe from any avoidable hazards in the workplace. This means that even if you partly caused the accident at work yourself, then your employer could still be liable because they failed to provide you with the proper training for your role, failed to remove broken glass hazards from the workplace or failed to foresee the problem by performing risk assessments.
What to remember about broken glass claims against employers
Remember that your employer may not be willing to accept responsibility and liability for the accident. Make sure you put the incident down in the accident log, get co-workers who witnessed the incident to agree to make statements in your favour, take photographs of the area where the accident happened, the object that caused the injury and of your injury itself (if practicable). You have the right to view CCTV footage of the incident, although your employer has the right to charge you for doing so. Have your injury seen by a doctor as soon as possible (assuming you weren't taken to hospital after the accident in the first place). All of this is to gather evidence to support your case for when the claim begins. Don't also forget to seek out legal advice if you are thinking about claiming against your employer.
Claim for An Nightclub Injury From Broken Glass
Under the Occupiers Liability Act 1957 the owner of a nightclub is responsible for ensuring that customers in the club are as safe as reasonably possible while in their premises. That means that the nightclub could be liable if any customer suffers an avoidable accident on their premises. The most likely way a person could injure themselves on a piece of glass is on one of the many glasses and glass bottles in which drinks are served. These can often be dropped on tables and the floors, and in crowded spaces like nightclubs, they can be stepped on or fallen onto. This can cause guests to be cut by glass on foot or to suffer laceration injuries to other parts of the body as well. This, of course, isn't helped by the fact that nightclubs often aren't brightly lit, and guests are usually intoxicated.
What should nightclubs and bars be doing to avoid incidents?
Nightclubs and other establishments serving glasses and bottles need to have staff performing regular checks and sweeps to clear up any discarded or broken glasses. They should also meet a certain minimum level of lighting, especially around tripping hazards like stairs, steps, chairs and tables. If the case reveals that these measures had not been met before your accident happened, then the nightclub will be liable for paying you compensation via any broken glass accident claims.
Claiming For A Restaurant Or Pub Injury From Broken Glass
Similarly to nightclubs, pubs and restaurants can pose the risk of guests suffering broken glass injuries. They could leave out glasses that have been left on the floor or dropped and smashed. Broken glasses in public areas pose the risk of people stepping on them and cutting themselves. They also pose the risk of people tripping and falling over onto them. For this reason, restaurants must clear away and dispose of all broken glasses immediately.  They can be found liable for failing to do so if a customer suffers an injury.
Restaurants must be just as diligent in clearing up all broken glasses in staff-only parts of the premises.  This is especially the case when preparing food. If kitchen staff aren't careful not to leave any pieces of broken glass lying around, they might end up in a guest's food. This could result in the guest eating broken glass by mistake. Ingesting glass can cause serious internal injuries.
Claim If You Are Cut By Glass On Your Foot
The most likely way for someone to be cut by glass on their foot is to step on a piece of broken glass. This will be much more likely to cause an injury if they are not wearing shoes. Or, if they are wearing thin-soled shoes. In some public places, being allowed to step on a piece of broken glass could make the owners of that property liable. In any business which is open to the public, the management must make sure that all pieces of broken glass are cleared up immediately. If there is too much of it to clear up at once (i.e. if an entire window frame has been smashed), then the area should be clearly cordoned off until it can be dealt with.
At work, as we have mentioned, glass injuries could be the responsibility of your employer. If you are in a workplace where pieces of broken glass are expected to be common (for example, if you are working on demolishing a building), then the employer should provide reinforced working boots for your protection. If they don't, and you are hurt, then you could look at filing broken glass accident claims.
Claiming If You Are Cut By Glass On Your Hand
As part of their duty of care to their customers and guests, businesses need to ensure that all of their goods are safe to handle. They must also ensure all facilities are safe to use. That means there is never an excuse for a business to allow customers to cut their hands or fingers on glass. One example of how this could happen would be if a bottle or a jar on a shelf in a supermarket got smashed. If pieces of glass were left on the shelf from which customers were picking goods they could get hurt. Failing to make sure all the glass was cleared away would be an unacceptable breach of the business's duty of care. It could make them liable for compensation. If you would like to know more about how supermarkets can be liable for customers injuring themselves, call us.
Liability If Injured By Broken Glass
If someone has liability for something, that means they are responsible for causing or failing to prevent your accident. They are the party that the compensation claim is made against. This could be various people or organisations. it would depend on where and how you came to be injured by glass.
If you were cut by glass in a road traffic accident (RTA), for example, the claim would be made against the driver who caused the accident. If they were liable, they would have to pay the compensation from their insurance. The claim would be made to the Motor Insurance Bureau (MIB) if the driver was uninsured. The MIB could compensate if they left the scene without leaving details or were in a stolen vehicle. You can find out more information about RTAs in general elsewhere on our site.
If you were cut by broken glass in a public place, such as a bar or a café, then the liability would be with the owner of that premises or business as they have a duty of care to make sure that their business is safe for their customers.
If you were cut by broken glass at work, then your employer could be liable for an accident at work claim, as the Health And Safety At Work Act 1974 requires that employers take all steps possible to make their workplace's safe from accidents. You can read more about workplace accidents that could result in broken glass accident claims here.
Compensation Claims Calculator For An Injury From Broken Glass
Each accident produces different types of injury and different severities of injuries.  Compensation is calculated based partially on the degree of the injuries the patient has suffered. So every case is different. It wouldn't be possible to tell you how much compensation you could be entitled to receive until you have begun the claims process. That being said, the obvious rule of thumb is that the worse your injuries are, the greater the amount of compensation you can receive. Look at the table below to see how certain types of injuries associated with being cut by the broken glass can be worth.
| | | |
| --- | --- | --- |
| Injury | Note | Compensation |
| Facial disfigurement (a) very severe scarring | For young claimants for whom the disfiguring and psychological effects are severe. | £29,780 to £97,330 |
| Facial disfigurement (c) significant scarring | Where the disfiguring and its psychological effects can be reduced by cosmetic surgery. | £9,110 to £30,090 |
| Facial disfigurement (e) Trivial scarring | Minor effects of facial scarring | £1,710 to £3,530 |
| Hand injuries (d) | Amputation of either or all of the ring, index and middle fingers. Hand rendered all but useless | £61,910 to £90,750 |
| Hand injuries (m) | Loss of the little finger | £8,640 to £12,240 |
| Hand injuries (n) | Loss of part of the little finger | £3,950 to £5,860 |
| Scarring (severe) | Disfigurement by numerous noticeable laceration scars or by one large scar | £7,830 to £22,730 |
| Scarring (moderate) | A single, or multiple scars with minor cosmetic effects. | £2,370 to £7,830 |
| Toe injuries (b) | Amputation of big toe | In the region of £31,310 |
What to do if you're cut by broken glass and intend to make a claim?
You might be under the misapprehension that seeing your local GP or visiting a local walk-in centre would be sufficient to obtain such evidence. However, making a personal injury claim requires independent medical evidence.
This would involve you going to see a medical professional that is independent of your case. They would need to examine your injuries, and they might want to ask you some questions about what has happened to you and how it is affected you. Based on the answers you give and the results of the examination, the expert would write a report. Courts and lawyers could use this medical evidence alongside guidelines from the Judicial College to come to an appropriate value for your claim.
Additional Damages You Could Claim If Injured By Broken Glass
Damages for injuries and illnesses come in two kinds, special damages and general damages. General damages are the physical costs of the injuries that we dealt with in the previous section. They cover the injury itself and are calculated based on things like; the amount of pain and suffering involved, the degree to which the victim suffers disabilities, the degree of disfigurement and cosmetic injuries and the amount of time it takes them to recover.
Special damages explained
Special damages are to cover the financial costs of an injury. Injuries can cost you a lot of money, both in expenses and losses. You can claim these financial costs as part of your compensation. The expenses which prop up any broken glass accident claims could include:
Medical bills: Any private healthcare insurance bills, medication or prescriptions, therapy or physiotherapy and cosmetic surgery to rectify any disfigurements.
Travel costs: Any travel expenses related to your injury or treatment thereof.
Care costs: Any care, assistance or support you require following your injury. This could mean nursing care or the costs of having someone cook and clean for you due to being unable to perform ordinary tasks.
Loss of earnings: Any money you have lost due to having to take sick leave because of your injury, as well as future earnings you have lost out on due to being unable to work.
No Win No Fee Claims If Injured By Glass
If you've been injured in a broken glass accident, then you may wish to hire a lawyer to assist you in making a claim. If so, we have many experienced legal professionals on our panel who could help. They can offer to handle your claim on a No Win No Fee basis.
This means that you will agree upon a certain percentage before beginning the claim. This percentage relates to what proportion of your settlement will be awarded to your lawyer if your claim is successful. It is legally capped, so the majority of your compensation is protected.
If your claim does not succeed, then you are not required to pay your lawyer anything at all.
How Our Injury Claims Team Could Help You
Our injury claims team has up to thirty years of legal experience. Whatever the nature of your injuries, our solicitors are likely to have the experience and expertise to handle them. These services can be offered to you within a No Win No Fee agreement. This can help save you a lot of money. We can also help you lead up before claiming by providing you with advice and answering any questions you might have. Check the section below for the details on this.
Talk To An Expert About What To Do If Cut By Broken Glass
Accident claims can provide you with a legal expert to talk to for advice. This service is free and does not oblige you to make broken glass accident claims with our solicitors. You can reach them on 0800 073 8801 or have our personal injury solicitors give you a phone call by filling out your details on this page.
Essential References
www.nhs.uk/conditions/cuts-and-grazes/
Medical References
www.nhs.uk/common-health-questions/accidents-first-aid-and-treatments/does-my-cut-need-stitches/
www.nhs.uk/common-health-questions/accidents-first-aid-and-treatments/how-do-i-clean-a-wound/
Other Guides You May Find Useful
Broken Glass Accident Claims FAQs
Could a broken glass accident at work lead to fatalities?
According to the Health and safety Executive's 2021 fatal accident statistics, 142 employees were injured fatally in workplace accidents. While none of these stated the specific reason of being cut by broken glass, it could be the case that if a cut was serious enough it could lead to a fatality. The most commonly injured workers that suffered fatal injuries were construction workers. This was followed by workers in agriculture forestry and fishing. The reasons for such accidents can be found below.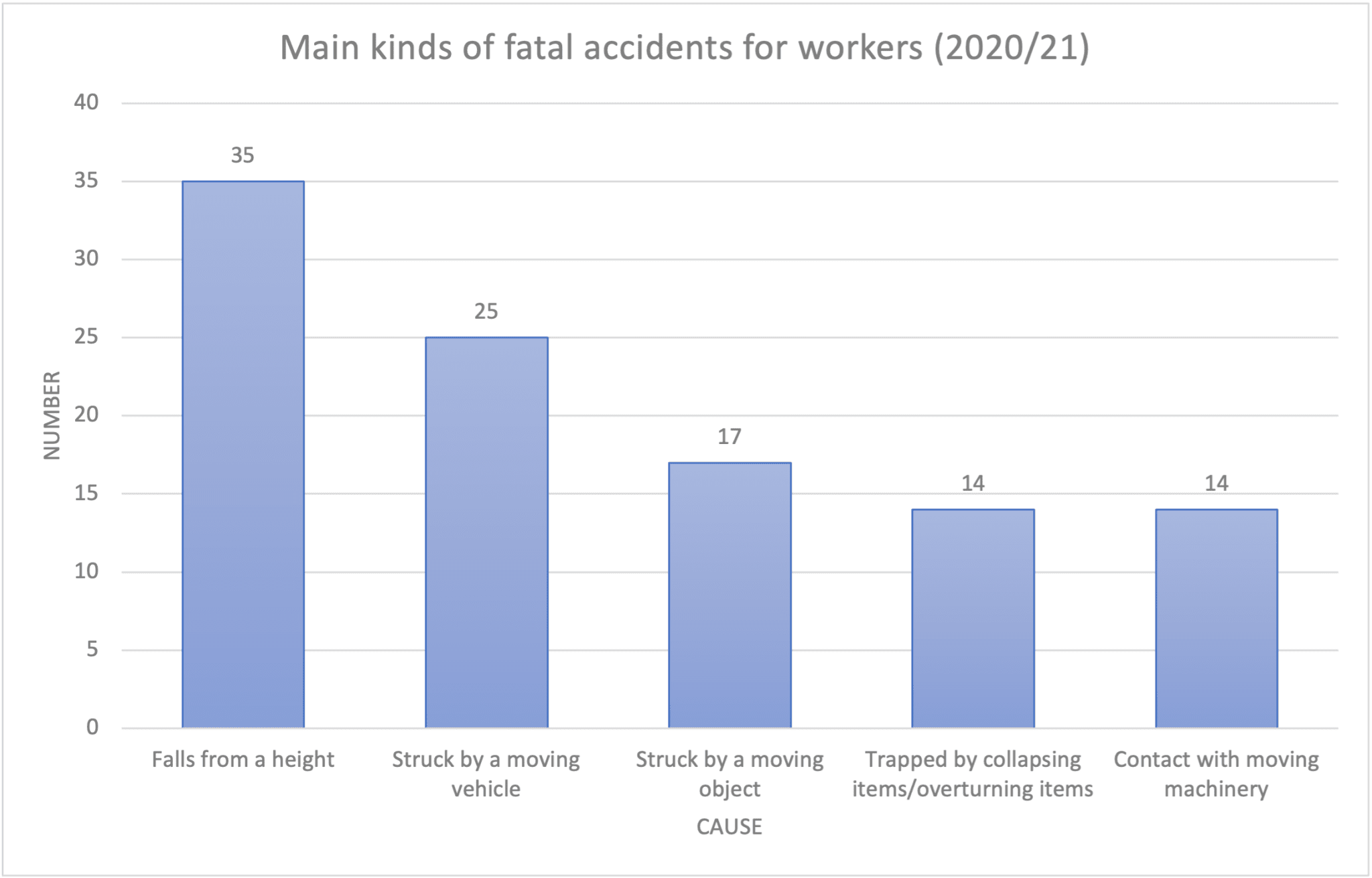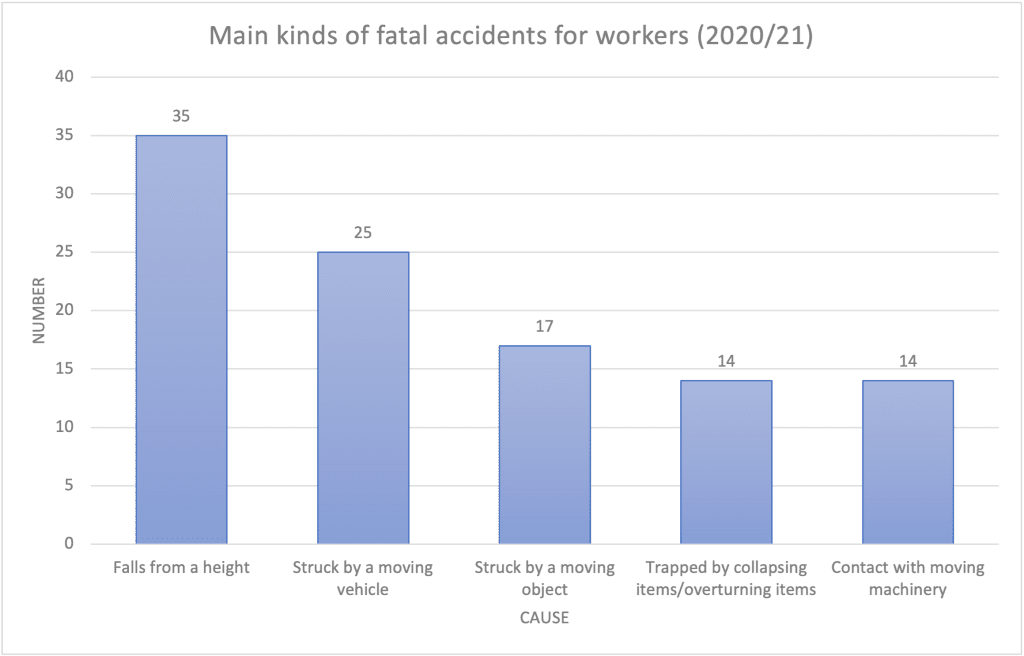 No matter what workplace the accident happened in, if it was due to negligence on the part of the employer, an employee could make a claim for compensation. If they were fatally injured, a family member could make a claim for their death. Here at Accident Claims UK, we have knowledge and experience of making claims for fatal accidents at work. Plus, we help with many other types of personal injury claims. We will be happy to help you take steps to get the compensation you deserve.
How dangerous is broken glass?
Glass could be very dangerous by causing deep level lacerations, cuts and also puncture wounds. And this could cause severe arteries or tendons or even spread infections resulting in amputations.
Can I claim for anxiety after a car accident?
Yes, though you do need clear medical evidence to support the claim that you have anxiety.
What happens if I accidentally swallow a small piece of glass?
If you do this, you should immediately visit the A&E department at your local hospital for the removal of said glass.
Can you get PTSD from a minor car accident?
Yes, it is possible to have PTSD in the aftermath of a minor car accident due to the near-miss of avoiding serious injuries. So, this could comprise your car accident claims.
Does stomach acid dissolve glass?
No, and when it comes to some glass crystals, a very strong acid is necessary for dissolving.
How do I know if I swallowed glass?
Typical symptoms include drooling, vomiting, problems with swallowing and pain in the chest or neck.
Can you sue for glass in food?
Yes, because the provider of the food will have breached their duty of care towards you.
Can small shards of glass kill you?
If you swallow small pieces of glass, the chances of you suffering fatal injuries are very low. But you could certainly still make a claim.
What is a glass-related injury?
If you've been injured by broken glass, the accident can occur in a variety of places. There are a number of scenarios in which this could happen. The severity and cause of the injury may also differ.
To give a few examples:
Workplace injuries – even if you don't work with glass then it is present in our everyday lives. To illustrate, windows and some drinking receptacles are made of glass. Negligence could cause them to be broken and injuries caused.
Road traffic accidents – vehicles will often have glass windows, so cuts and lacerations could occur as a result of a window smashing during a collision.
Public places – those who work in the hospitality sector need to be vigilant regarding stray shards of glass ending up in food or drink. Negligence can cause this to happen, and ingesting glass can have a negative impact on your health.
Could I claim compensation payouts for an injury caused by broken glass due to inadequate PPE?
If you suffer an accident caused by broken glass, and your injuries were a result of inadequate PPE, you could be eligible to claim compensation. As you can see from the HSE study below, PPE was the cause of or contributed to a range of severities of injuries.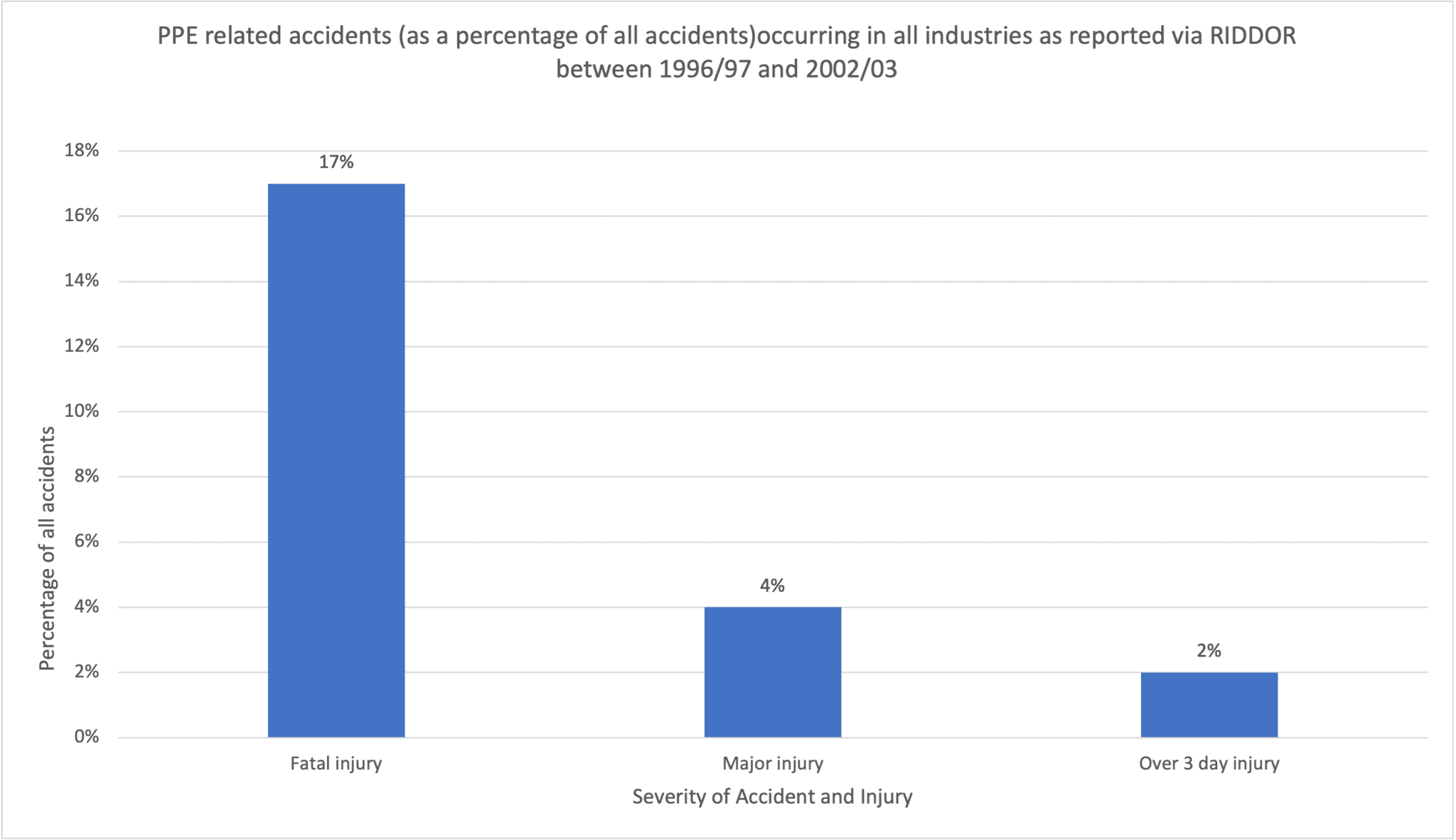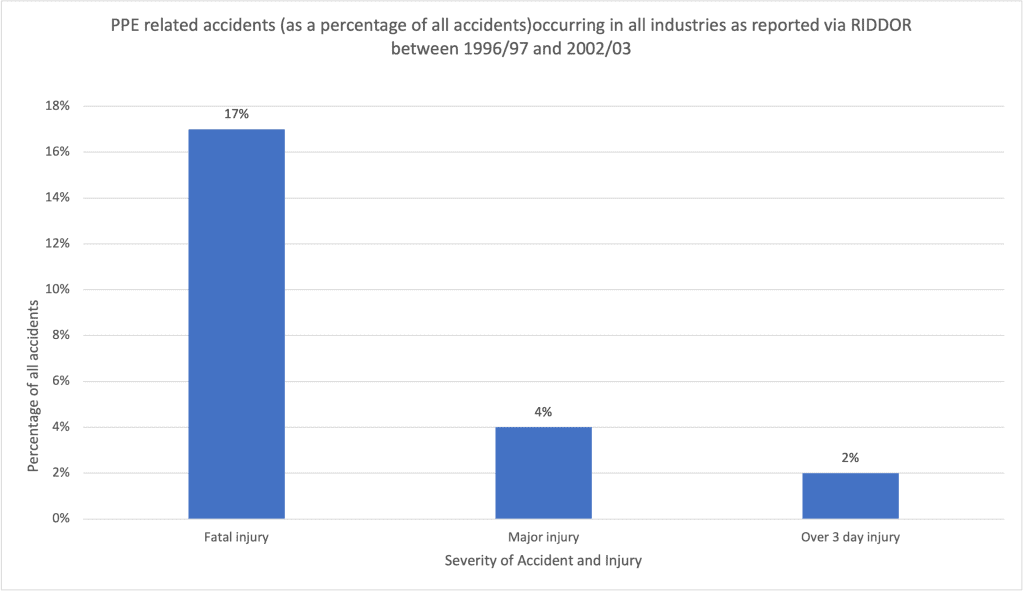 If your employer did not provide you with adequate PPE when there was a clear need for it, and you were injured as a result of an accident caused by broken glass, why not call our team. We could assess your case to see if you could be eligible to make a broken glass accident claim. 
What could be included in compensation payouts for an injury caused by broken glass?
There are two heads of claim that could be included in compensation payouts for an injury caused by broken glass. One covers the pain and suffering of your injury. Further to this, you could claim for the impact of the injury on your enjoyment of your usual daily life (loss of amenity). These would both be covered under general damages. Additionally, you could be eligible to claim damages for the financial impact of your injuries, including loss of earnings, and medical and care costs, to name a few examples. This head of claim is known as special damages.
Where can I get help with claiming for an accident caused by broken glass?
If someone else's negligence has led to an accident caused by broken glass where you suffered injuries, we could potentially help you. If you call our team, we'll be able to assess your eligibility to seek compensation. We'll explain how our No Win No Fee solicitors could support you through the process of claiming.
How long does it take to claim broken glass accident compensation?
How long it takes to claim broken glass accident compensation could vary between cases. For instance, the following factors may be considered:
Liability
The complexity of the case
Whether the evidence provided is sufficient
Call our team to find out more.
Who could be held liable for injuries caused by broken glass?
It's important to note that not everyone who suffers injuries caused by broken glass could claim broken glass accident compensation. To prove a claim, you'd need to demonstrate that someone breached the duty of care they owed you, causing you to suffer injuries. 
Examples could include:
An employer that failed to protect you from reasonably foreseeable harm at work

A road user that was driving negligently or dangerously

The person in control of a public place that failed to take reasonable steps to keep those using the premises safe from harm.
If you would like to check your eligibility to claim, please call our team. We'd be happy to assist you. 
Could I claim for injuries caused by broken glass from an assault?
If you suffered injuries caused by broken glass from an assault, you could be eligible to claim broken glass accident compensation from the Criminal Injuries Compensation Authority. The broken glass injury claim amounts in such cases would be calculated at their tariff rate. We could help with such claims. If you'd like to learn more about this, please call our team.
Thank you for reading our guide on broken glass accident claims. Hopefully, we've now explained what to do if cut by broken glass. Plus we've advised when you could claim for a broken glass accident that was not your fault.