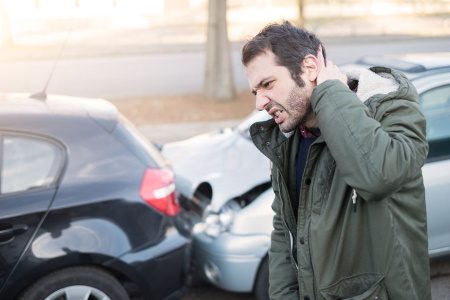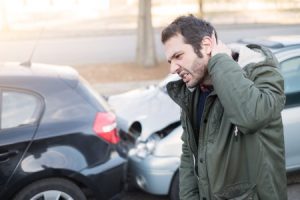 If you suffer a whiplash injury following a road traffic accident that wasn't your fault, we'd recommend that you use a No Win No Fee solicitor to help claim compensation. In this guide we're going to specifically cover whiplash injury claims against Saga insurance. Generally, a Saga car insurance claim will be made because the other driver is insured with them. We'll look at what a whiplash injury is, how much compensation you could be entitled to, and the different ways in which whiplash claims could be settled.
Accident Claims UK have a team of specialists available who offer free legal advice as well as a no obligation assessment of any claim. Also, cases our solicitors agree to take on, will be handled on a No Win No Fee basis. Therefore, if you're ready to begin your claim right away, please call on 0800 073 8801 today.
If you'd prefer to find out more about when you should make a claim for whiplash, please continue reading.
Select A Section
A Guide To Claims For Whiplash Injuries Against Saga
During the course of this guide, we'll talk about whiplash injuries caused by road traffic accidents. While that is probably the most common cause, it's possible to sustain whiplash in a number of ways including falling from height, contact sport injuries, a criminal assault or any form of collision. Therefore, please bear in mind that we could help you claim however your whiplash occurred.
For a solicitor to agree to take on your claim, they'll want evidence that shows you suffered whiplash in an accident that was caused by another driver. The sort of evidence you should provide includes:
Photographs
Witness statements
Medical records/reports
Dashcam footage if available
It's also important to note that there's a 3-year personal injury claims time limit. Please contact us as soon as possible to ensure you have time to claim.
You might think it's easier to make a whiplash insurance claim against your own policy, but we'll explain later in the guide why that's not necessarily the best option. Also, we'll discuss how insurers might try to settle a case early, which again might not be in your best interests if the accident wasn't caused by you.
It's important to remember that we could help you claim for whiplash against any insurer. Even though we're talking mainly about Saga car insurance claims, the advice given could be applied to any other company as well.
After you've read this guide, if you'd like to find out whether a personal injury solicitor could help you with whiplash injury claims against Saga insurance, please call for a free assessment of your case.

What Is A Whiplash Injury Claim?
Whiplash is an injury caused by the sudden movement of the head which is typically caused by some kind of collision. Any form of collision can lead to whiplash, not just those caused by a high-speed car crash.
According to this NHS guide about whiplash, some of the most common symptoms are:
Headaches
Neck pain
Muscle spasms at the top of the arms or in the shoulders
Difficulty moving your head in any direction caused by stiffness
More worrying symptoms include:
Tingling or pins and needles in either side of your body
Difficulty in walking or sitting up
Weakness of the arms or legs
Severe pain
Electric shock type pains in the back or neck area
If you suffer from any of the latter symptoms, the NHS says you should contact your GP or NHS 111 immediately. Otherwise, over the counter medication like paracetamol or ibuprofen can be used to manage any pain caused by whiplash. It's also worth bearing in mind that not all symptoms of whiplash present themselves immediately. It can take between a few hours or a day for them to become obvious.
Although you might want to rest following your accident, the NHS suggests that carrying on with daily tasks, where possible, could help improve recovery times (even though it might be painful to do so). Also, they recommend not wearing a neck brace as they don't really help with whiplash injuries.
You should visit your GP or a hospital if you suffer whiplash to have your injuries assessed as soon as you can. Also, this will help if you go on to make a personal injury claim as the medical records created by the doctor could be requested and used as evidence to support your claim.

What Do I Need To Know About Whiplash Claims Against Insurance Companies?
When making personal injury claims against a car insurance policy, you might not be surprised to hear that the insurer wants to act in their best interests, not yours. According to research by the Financial Conduct Authority, you could get a higher settlement amount if:
You reject the first offer made
You use somebody, like a personal injury lawyer, to make the claim for you
An insurance company is a business, and like any business, they want to maintain their profit margins. This means they want to settle any claim for as little as possible. Therefore, as they know what a typical whiplash injury costs them, they'll probably offer less than that in the first instance or where no medical evidence is presented to substantiate a higher amount.
Therefore, we'd recommend that you use one of our personal injury solicitors to represent you. We always use independent doctors to provide a medical assessment so that we fully understand how your injuries have affected you. Once we have a report from the doctor, we can put together a claim for a fair amount of compensation that reflects the injuries and suffering caused by your accident.
Please speak with our team before agreeing to settle a Saga car insurance accident claim so that we can assess it and explain your options.

Is It Worth Making A Claim Against My Motor Insurance?
If you were not to blame for the road traffic accident which led to your whiplash injuries, we'd never recommend that you claim against your own motor insurance policy. If you do, you might receive a compensation payment from them, but it could have an adverse financial affect on you in the future. Our recommendation is that injury claims against Saga insurance should be made if the driver responsible for the accident was insured by them.
The reason we say this is because when you claim against your own policy, you could:
Lose your no claims bonus
Have to pay higher premiums for many years to come
Have your settlement amount lowered by any policy excess that applies
Not only would we recommend claiming against the other driver's policy, we'd also suggest you use a solicitor to help you claim. As described in the previous section, our solicitors always use medical evidence to support a claim, and have a full understanding of the claims process. They'll always strive to ensure you receive a fair compensation settlement for your injuries and, if they take on your claim, they'll work on a No Win No Fee basis.

Could I Claim For Whiplash If Partially At Fault?
Injury claims against Saga insurance, and any other insurer, could be possible even if you were partly to blame for the accident that led to your injuries. There are 2 different methods of claiming on this basis:
Split liability claims can be made where you agree that you were partly to blame for the accident. You'll agree a percentage of the blame, 30% for instance. Then, the claim will process against the other driver's policy as normal but when the settlement amount is decided, you'll receive 70% of the full value
Knock-for-knock settlements can be made when both parties agree that they were equally to blame for the accident. However, these are not as good as split liability settlements because each insurer will settle the claim on behalf of their client. While the insurer will save money because their legal fees will be lower, you'll end up losing out as described previously because you'll be claiming against your own policy. Therefore, your premiums and no claims bonus might be affected by this type of settlement
To help decide whether you should accept either type of settlement, why not call one of our specialists? They'll assess your claim for free and help you work out whether you were to blame or not.

Should I Take The First Settlement Offer From Saga?
If your claim is successful, and Saga insurance offer you a settlement figure, you might be tempted to just accept the payment so that you're paid quickly. Before you do though, we suggest you consider the following:
There is no obligation to accept any offer
You are under no pressure to settle as you'll usually have up to 3-years to make your claim which is ample time to ensure it's done properly
Any first offer from an insurer is likely to be less than what a court would award or what a personal injury solicitor could achieve
We recommend that you don't settle unless your injuries have been assessed by a doctor. It's impossible to know whether a settlement is fair without knowing the true extent of your injuries
When you receive an offer, it will be a 'full and final' offer. Therefore, if you accept it, you won't be able to request more compensation later on even if your suffering carries on for many months or years
If you are asked to sign any documentation, ensure you know what it is you are signing for
You can choose your own solicitor to represent you, there's no obligation to use one provided by an insurer. You can switch at any time
If you're not sure whether you should accept a first offer from an insurer, please call our specialists. They can take a look at your claim and advise if the offer is fair or not.

Should I Settle My Claim Before Seeing A Doctor?
You might be surprised to know that an insurer can legally offer to settle a claim before any medical assessment is carried out. We'd strongly advise against doing so in all circumstances. Even if you're short of cash and an early settlement would help, it's probably not the best idea.
If you're wondering why an insurer might do this then it's worth remembering what we mentioned earlier – insurers represent their own best interests, not yours. They will be offering a pre-medical settlement to try and tempt you to settle early. This will be to save their legal fees and the compensation amount will probably lower than it would be if you followed the correct claims process.
Even if your tempted by the offer of quickly settling the case, we'd suggest that you don't do so until you've had your injuries assessed professionally. That's because, if you take the early settlement but find out later on that your injuries are going to cause you long-term problems, you can't ask the insurance for more compensation. By accepting their early offer, you are settling in full and the case is closed.
So, our advice would be to turn down any pre-medical settlement and speak with us about claiming. When you do, we'll use an independent doctor to assess your injuries and use the report they provide us with to ask for a fair amount of compensation.

Whiplash Claims Against Saga – Damages Calculator
When we're asked how much compensation is awarded for whiplash injuries, we always have to explain that it's impossible to say because every claim is unique. The injuries sustained will be different and the impact on the claimant will be different.
That said, we can provide the personal injury claims calculator table below. It shows compensation payments that can be paid for different injuries.
| Location of injury | Compensation (With Uplift) | Injury Comments |
| --- | --- | --- |
| Hand Injuries | £140,660 to £201,490 | Total or Effective Loss of Both Hands |
| Hand Injuries | £55,820 to £84,570 | Serious Damage to Both Hands |
| Hand Injuries | £29,000 to £61,910 | Serious Hand Injuries |
| Leg Injuries | £97,980 to £132,990 | The Most Serious |
| Leg Injuries | £54,830 to £87,890 | Very Serious |
| Knee Injuries | £69,730 to £96,210 | Severe |
| Knee Injuries | £14,840 to £26,190 | Moderate |
| Ankle Injuries | £50,060 to £69,700 | Very Severe |
| Ankle Injuries | £13,740 to £26,590 | Moderate |
| Toe Injuries | £13,740 to £21,070 | Severe |
| Toe Injuries | Up to £9,600 | Moderate |
As you can see, the compensation varies depending on the severity of the injury. This is another example of why it's important to use a specialist solicitor who can provide evidence of the extent of your injuries so that the compensation you receive is fair.
The table shows compensation that's paid out for general damages. This part of your claim covers the pain and suffering caused by your injuries. In the following section of the guide, we'll cover what else you could be compensated for as part of the same claim.
If you would like a better understanding of how much compensation you could be entitled to, please call an adviser today. Following an assessment of your claim and the injuries sustained, a solicitor could let you know how much you could expect to receive.

What Else Could I Be Compensated For?
The other part of injury claims against Saga insurance is for 'special damages'. In effect, these are paid to cover financial losses caused by your accident. Your solicitor could ask for a number of different special damages to make sure you don't lose out because of your accident. These include:
Medical Expenses
You might not realise how quickly medical expenses rack up during a claim. Even thought your treatment will probably be free on the NHS, you could incur prescription costs and the costs of over the counter medication. Therefore, you could include these costs in your claim
Travelling Expenses
You could also include fuel and parking costs associated with travelling to and from medical appointments as part of your claim. Furthermore, if you have to make alternative travel arrangements because you're unable to drive, these costs could be claimed too
Care Costs
Should your injuries mean you need professional care to aid your recovery, you could claim the cost back
Damage To Personal Property
Where items such as clothing, jewellery or phones are damaged in the accident, you could ask for the cost of repairing or replacing the item
Lost Income
If you have to take time off from work and you don't receive full sick pay, you could ask any lost income back. Also, where your injuries are long-term, you could ask for future loss of income too
We suggest that you keep a diary of any spending linked to your injuries and also keep hold of receipts to substantiate your claim. If you're unsure whether you'll be able to include an expense in your claim, please check with your solicitor before committing to it.

No Win No Fee Claims Against Saga Motor Insurance
We believe that offering No Win No Fee services means more people can claim compensation. That's because they remove the financial risk from claiming which also reduces a lot of the stress involved.
When you make a claim, the solicitor will need to make sure your case is strong enough. That's because, if they lose the case, they don't get paid. When they're happy that you have a chance of being compensated, they'll offer you a conditional fee agreement (CFA). This is another name for No Win No Fee agreements.
The CFA is a contract between you and your solicitor and it's important because it explains that you only have to pay the solicitor's fees if they go on to win compensation for you.
It also explains the 'success fee' that's paid should the case be won. Any success fee is deducted from your compensation before it's paid to you. This means that you don't actually need to have the funds available to pay the solicitor yourself.The CFA will clearly state what percentage you'll pay so there will be no surprises at the end of your claim. If you lose your case, there would be no success fee to pay.
Injury claims against Saga insurance could be made on a No Win No Fee basis. Please call and speak to an adviser to see if you're eligible to claim on this basis.

Contact Accident Claims UK About Your Claim
If you'd like to proceed with a claim using Accident Claims UK, there are a number of ways to get in touch with us. These are:
Telephone: Call our friendly team of advisors on 0800 073 8801
Live Chat: You can chat with advisors, 24-hours a day, 7 days a week
Email: Send details of your accident to office@accidentclaims.co.uk
Online: If you'd like us to call you back at a convenient time, please complete our online claims form
Resources And Related Guides
Now that you've read this guide about injury claims against Saga insurance, we've decided to add some more useful guide, links and external resources below.
Soft Tissue Damage And Whiplash Claims Reforms – A government consultation about how to reduce the impact of whiplash claims on insurance costs.
Managing Whiplash At Home – This useful leaflet, from the NHS, explains how to manage the symptoms of whiplash.
Health And Safety At Work Act 1974 – The legislation that puts a duty of care on employers to try and keep staff safe while at work.
Slip, Trip And Fall Claims – This guide explains when you could seek compensation for a slip, trip or fall (which could cause whiplash), caused by negligence.
Road Traffic Accident Claims – A more detailed look at car crashes and traffic accidents. Covers all types of possible injuries, not just whiplash.
Criminal Injury Claims – This guide explains when you could claim compensation following an assault and the injuries you could claim for.
Thanks for taking the time to read our guide. If there is any other information you require, please call an adviser on the number at the top of the screen.
Article by BH (Brett)
Editor Honey