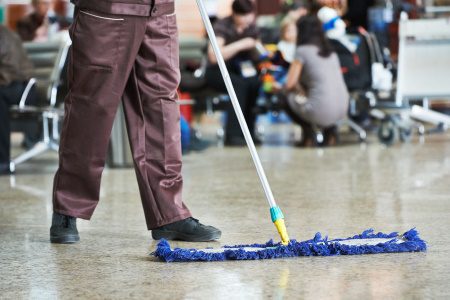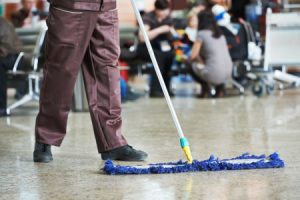 A trip to the supermarket is something a lot of us do every week without thinking about it. We drive along, fill our trolleys, pay for our shopping and leave. As with all public areas supermarkets should be kept free from hazards as much as possible to prevent accident occurring. If you have been unfortunate enough to suffer an injury while in the supermarket shopping you maybe wondering whether you are eligible to make a claim. In this guide, we're going to look at when you could claim if you slipped on a wet floor in Sainsburys. We'll look at their duty of care towards customers (and staff), the types of accident that could potentially happen and the injuries they could potentially cause.
Accident Claims UK can help with claims if you've slipped in Sainsburys (as well as other supermarkets) due to the negligence of the supermarket causing you an injury which could have been prevented had the right health and safety policies been adhered to. Our team of advisors provide free advice about your options. They'll also provide a no obligation assessment of your claim so that you can decide whether to proceed or not. To discuss your claim with them right away, please call 0800 073 8801. They won't put any pressure on you and, if your case is suitable for a claim, they could introduce you to a no win no fee personal injury solicitor.
If you would like to find out more about how the claims process works, what makes a third party liable, how you maybe eligible for damages and what in terms of general damages will your claim be entitled to please continue reading below.
Select A Section
A Guide To Claiming If You Slipped On A Wet Floor In Sainsbury's
Sainsbury's has over 2000 supermarkets and convenience stores across the UK. They employ over 180,000 staff making them one of the largest employers and supermarket brands in the UK. As such a with any company the management in Sainsbury's will have written health and safety policies to try and help prevent accidents at work for employees and accidents in store for customers.
There is all different legislation such as The Health and Safety At Work Act 1974 and also The Occupiers Liability Act 1957, to protect employees at work and also the public visiting business premises to ensure that they are kept safe from foreseeable hazards. If such obligated legislation is not followed and adhered to, then if an accident occurs causing injury the third party maybe liable. To put this in to context if you have slipped in a supermarket because they have failed to carry out appropriate health and safety measures and you have suffered an avoidable injury you may have the basis for a compensation claim.
To be eligible to make a claim, a solicitor will usually ask you to demonstrate that:
You were involved in an accident in a supermarket;
Caused by a breach in the duty of care/negligence of management or staff; and
The accident caused you to suffer an avoidable injury.
Also, you'll need to ensure your claim is made within the personal injury claims time limit. This is normally a 3-year period. It usually starts from the date the accident took place. However, it can also start from the date your injuries were diagnosed if this happens later. There are other exceptions please call our advisors for more information.
A slipping accident could happen in different places within the supermarket for example:
A slipping accident in Sainsbury's car park due to icy on the ground.
Accidents in store caused by slipping on a wet floor.
Or an employee slipping accident in a Sainsbury's warehouse due to debris on the floor.
For any type of accident claim, providing evidence of what happened could really improve your chances of claiming compensation. Therefore, if you're injured you should try to:
Photograph the cause of the accident.
Get witnesses details.
Report the accident to staff and record it in an accident book.
Visit A&E or your GP for treatment.
See if CCTV was covering the area.
What Is "Slipped On A Sainsbury's Floor" Accident?
All businesses that are open to the public and allow members of the public on to their premises owe them a duty of care. Business operators and managers must wherever possible mitigate all foreseeable hazards that may caused an accident which could ultimately lead to an injury.
The types of injuries that could occur if you've slipped can vary from minor injuries where no treatment is required to severe injuries which you might never fully recover from despite multiple surgical attempts to put things right. We'll cover the different injuries that could occur shortly.
Below we have compiled a list of potential hazards that could cause a customer to slip in a supermarket such as Sainsbury's:
Leaks in pipes or the roof of the store.
Customer spillages.
Broken refrigeration units causing leaks.
Adverse weather conditions meaning the entrance to the store becomes slippery.
Slipping in a car park where ice hasn't been cleared.
Warehouse accidents involving spillages and wrappings on the floor.
Leaking air conditioning units during hot weather.
Not all slips and falls regardless of if they cause in an injury which lead to a compensation claim. In order to have grounds to make a claim for monetary damages liability of a third party must be proven.
After you've finished reading this guide, if you're unsure whether you'll be able to make a claim or not, please call and ask an advisor. They have the understanding of injury claims to be able to advise you whether you have a valid claim or not.

Retail Slip Accident Statistics
The Health and Safety Executive (HSE) are a governmental department who govern the heath and safety of workplaces. They provide action plans, guidance and support to try and ensure businesses minimise as much risk as possible. The HSE regulate work places and encourage them to implement health and safety policies to cater for the needs of their workforce.
Some accidents have to be reported to the HSE by law. This then allows them to investigate the cause and take action where necessary. It also means they can provide statistics to show which are the most common accidents. While they don't report on the causes of accidents in supermarkets per say, they do provide statistics for workplace accidents.
In the UK, in 2017/2018, HSE statistics show us that the most common reasons for workplace injuries were:
Slips, trips and falls (on the same level) made up 31% of all accidents.
Carrying objects, lifting and manual handling accounted for 21%.
Being struck by an object caused 10% of all injuries.
Falls from height led to 8% of the injuries.
As you can see, slips, trips and falls were the largest causes of injuries meaning companies need to take extra care to try and prevent them from happening.

Causes Of Slipping On A Floor In A Supermarket
There are different reasons why you could slip and fall in a supermarket. Some could lead to a claim if the supermarket has been found to have caused the accident in some way. If an accident could be deemed to have been foreseeable, then as long as you have been avoidably injured you could be entitled to compensation.
For instance:
If staff are made aware of a spillage or leak but fail to clear it up as a priority.
When it's raining outside but the entrance to the store doesn't have mats or warning signs to highlight the danger to customers.
Where cleaning takes place while the store is open, but warning signs aren't used to let customers know.
Or if it's icy in the car park but the paths and walkways haven't been cleared properly.
In all of these instances, it might be possible to argue that the staff should've acted differently to try and prevent an accident. If that's proven to be the case, then you could be entitled to claim for any injuries sustained during an accident.
Please call an advisor to discuss your claim if you believe it was caused by staff negligence. They'll assess the claim and let you know whether you could be eligible for compensation or not.

Injuries Caused By Wet Floor Accidents
There are probably too many different types of injuries that could happen if you slipped on a wet floor to list here. Rest assured that we could help you claim for any type of injury regardless of whether it's listed in this section or not. So long as the accident that caused the injury was caused by some form of negligence, you could be entitled to make a claim.
Some common injuries sustained following a fall may include:
Fractures or broken bones.
Cuts, bruises and abrasions.
Back injuries.
Head injuries including concussion.
Strains and sprains.
Tendon or ligament damage.
When you make a claim for injuries, as much evidence as possible is required. Therefore, we suggest that you photograph any visible injuries and then again if there are any changes as time goes by. Also, as medical records could be used to support your claim, you could ask for a copy of yours if you visited a GP or A&E department.

What Duty Of Care Does Sainsbury's Owe Customers And Staff?
There a number of pieces of legislation which mean Sainsbury's has a duty of care towards their staff, customers and visitors to their stores. The two main acts are The Health and Safety at Work Act 1974 and the Occupiers Liability Act 1973.
Each piece of legislation means that Sainsbury's has to try and keep staff and customers as safe as possible while on site. To do this, they should carry out regular risk assessments in the store and take steps to remove as many dangers as possible.
The steps they could take to try and increase safety levels are:
Making sure all staff understand the company health and safety procedures. This is probably a part of the company induction.
Ensuring staff are adequately trained in all aspects of their job.
Maintaining all equipment, such as air conditioning units or refrigeration units, according to the manufacturer's guidelines.
Ensuring there are enough cleaners working at busy times to be able to deal with any spillages or leaks.
Providing safety equipment for staff.
Ensuring any spillages or leaks are treated as a priority once identified.
When an accident occurs because one of the above didn't happen, you could potentially be entitled to claim for any injuries. If you're an employee, you're well within your rights to make a claim and you can't be disciplined, by law, for doing so. Please speak with an advisor to discuss whether you're entitled to make a claim or not.

Personal Injury Compensation Calculator
When we're asked about making a Sainsburys personal injury claim, we're often asked how much compensation will be paid. Realistically, it's not possible for us to provide a full estimate until your claim has been assessed properly. For now though, you can use the table below to see how much compensation could be paid for certain injuries.
| Injury Type | Severity | Payment Range | Comments |
| --- | --- | --- | --- |
| Neck | Moderate | £23,460 to £36,120 | This range covers injuries to the neck including dislocations or fractures which could necessitate spinal fusion. |
| Neck | Minor | Up to £2,300 | Soft tissue damage injuries where full recovery occurs within 3 months. |
| Back | Severe | £85,470 to £151,070 | These are the most severe back injuries causing a combination of incomplete paralysis and significant impairment to the bowel, bladder and sexual function. |
| Back | Minor | £2,300 to £7,410 | This range covers back injuries such as strains and sprains, which do result in full recovery and require no surgery, within 3 months and 2 years. |
| Shoulder | Serious | £11,980 to £18,020 | Dislocations and damage to the brachial plexus that result in pain in the neck and shoulder are included in this category. |
| Arms | Severe | £90,250 to £122,860 | These injuries are so severe that even though there's no need for the arm to be amputated, the general outcome is the same. |
| Legs | Serious | £36,790 to £51,460 | This range covers leg injuries such as serious and communuted fractures. |
| Knee | Moderate | £13, 920 to £24,580 | This range covers knee injuries including a torn meniscus, torn cartilage or dislocation which cause a minor disability in the future. |
| Foot | Modest | Up to £12,900 | This range covers injuries to the feet such as puncture wounds, ruptured ligaments and also fracture metatarsals. |
| Toes | Moderate | Up to £9,010 | This range includes straightforward toe fractures as well as lacerations to one of more toes. |
The figures shown come from the latest edition of the Judicial College Guidelines. These are figures used by English courts, solicitors and insurers to ensure consistency. As you can see, each injury is compensated based on the severity. Therefore, it's important that your solicitor can demonstrate, by using medical evidence, exactly how you suffered.
Our solicitors ensure that your injuries are assessed by an independent doctor. This is done locally and the report the doctor provides is used to try and ensure you receive the correct level of compensation.
The figures in the table make up just one part of your claim. As you'll see in the next section, there are many other factors to consider when claiming.

Special Damages Awarded In Injury Claims
When making a claim, a personal injury solicitor can use many different elements to ensure their client is compensated fully. The two main parts of a claim are general damages and special damages.
In the previous section, the personal injury claims calculator table contained examples of general damages. This is the compensation paid to cover pain and suffering.
Special damages, however, are paid for financial losses incurred because of your accident.  They include:
Lost Income – Should your injuries mean you need time off from work, either to recover or for medical appointments, you could claim for any lost earnings. Also, for longer-term injuries that affect your ability to work, you could claim for future lost income too.
Travelling Expenses – When your injuries prevent you from driving while you're recovering, you could claim for any costs caused by alternative travel arrangements. It could also be possible to claim for fuel and parking costs associated with medical appointments.
Medical Costs – If you require lots of prescription or over the counter medicines because of your injuries, the amount of money spent can soon build up. Therefore, these costs could be claimed back.
Care Costs – Where a carer is needed to help you recover from your injuries, their fees could be claimed back. It's also possible to claim for the time of a friend or relative who cares for you during your recovery.
Property Damage – If an item of your personal property is damaged in your accident you could include the cost of repairing it or replacing it. This could include clothing, your mobile phone or jewellery.
To help your solicitor claim for special damages, we recommend you keep hold of receipts and bank statements to show how much money you've spent as a result of your injuries.

No Win No Fee Claims Against Sainsbury's For Slips And Falls
If you've slipped on a wet floor in Sainsbury's, the cost of hiring a legal team might seem off-putting and mean you don't make a compensation claim. That's why our solicitors offer a no win no fee service for any claim they agree to take on.
When your claim has been assessed, if the solicitor is happy that it's a strong case and you're happy to proceed, you'll both sign a conditional fee agreement (CFA). This is the technical name for a no win no fee agreement.
Having a CFA is really handy because it clearly shows that you don't have to pay the solicitor's fees unless they win the case and you receive compensation. Also, it explains the 'success fee' you'll pay if they do win the case.
You shouldn't worry about having the money to pay the solicitor's fees though. That's because it's a fixed percentage of your compensation that's deducted before you're paid the rest. The law says that a success fee can't be any higher than 25% of your compensation.
We believe that by offering a no win no fee service, we're enabling more people to make a claim. Not only does no win no fee reduce the financial risk of claiming, it also reduces the amount of stress involved too.

How We Could Help You To Claim Against Sainsbury's
Hopefully, the advice we've provided so far is enough for you to choose Accident Claims UK to help you make a claim. Here are some more reasons why we think you should use us:
Our friendly advisors offer free legal advice on claims. They also offer a no obligation assessment of your claim.
We have received excellent feedback from previous clients.
Our claims line is open 24-7.
We have a team of solicitors who have up to 30 years' experience handling personal injury claims.
Our solicitors work hard to try and ensure you receive the correct level of compensation for your injuries.
Also, they aim to resolve claims as efficiently as possible, so you're not left waiting unnecessarily.
If you require any more information about how we could help you please call an advisor today. There's no obligation to proceed and we won't put any pressure on you at all.

Start Your Claim If You Slipped In Sainsbury's
Thanks for reading our guide about what to do if you slipped on a wet floor in Sainsbury's. We hope that you've now decided to use Accident Claims UK to represent you. If so, here's how you can contact us:
Remember, you can use our claims line 24-hours a day, 7 days a week. Our advisors will begin by assessing your claim, on a no obligation basis, and then they'll provide free advice about your options. If your claim is shown to be strong enough, they could introduce you to one of our no win no fee personal injury lawyers.

Essential References
Now that you've come to the end of this guide here are some more guides that could help you:
Claims For Accidents At Sainsbury's – This guide explains other accidents that you could claim for if you're injured in Sainsbury's.
Slip, Trip And Fall Claims – A guide that explains when you could make a personal injury claim if you're injured in a fall.
Workplace Back Injury Claims – In this guide, you'll find out when you could claim if you injure your back while working.
Retail Health And Safety
Finally, here are some external resources which you might find useful;
HSE Slips Guidance – Information and advice from the Health and Safety Executive on slips and trips in the workplace.
Head Injuries And Concussion – This guide from the NHS explains when you should visit A&E following a head injury.
The Occupiers Liability Act 1957 – The legislation that places a duty of care on businesses to keep their premises as safe as possible.
Article by BH
Edited by MM.