By Joanne Jeffries. Last Updated 13th January 2022. Welcome to our guide on making a back injury at work from lifting claim. In it, we describe different types of injuries caused by manual handling and discuss in which situations you could claim for an injury from lifting at work.
Have you suffered a back injury at work from lifting that you believe could have been avoided if the proper health and safety measures had been in place? Back injuries could be very painful and could lead to you having to take time off work while you are recovering, which may mean you lose out on income, as well as having to cope with your injury.
Claiming For Different Types Of Injuries Caused By Manual Handling
If your employer has been negligent in taking care of your health and safety at work, and you are injured, did you know you could be in a position to make a workplace injury claim against your employer for compensation for your injury itself and any financial harm it has caused you?
This guide offers some useful information regarding making a claim for a back injury from lifting at work. In the sections below, you will find guidance on the responsibilities that an employer has towards staff health and safety, as well as some useful guidance on making a compensation claim against your employer. If you would like a free, no-obligation eligibility check for your case, we'd be delighted to help you. We could even provide you with a personal injury solicitor from our panel who could help you claim compensation for such a workplace injury. If you'd like to take advantage of this, please do call us on 0800 073 8801.
Select A Section
A Guide To Claiming For A Back Injury At Work From Lifting
Let's delve deeper into making a back injury at work from lifting claim. Whether lifting is part of your day-to-day job, or you are asked to lift workplace items only occasionally, your employer should make sure you know the correct manual handling techniques to avoid suffering a back injury or another musculoskeletal injury at work. If they do not, and you sustain a back injury at work from lifting, you may be entitled to claim compensation for this type of workplace injury.
Your employer has a legal obligation to look after your health and safety at work, and if they fail to do so, this could leave them liable for any avoidable harm that occurs to you because of their negligence. This guide explains more about the type of injury you may have suffered, how it may have occurred, and what action you could take if your employer was negligent in their health and safety responsibilities and it caused you to suffer such an injury.
Also included in the sections below are guideline settlement amounts for a back injury, along with the types of damages you may be able to claim. We also offer guidance on finding a solicitor to help you claim for an injured back from lifting at work.
Could I sue for a back injury due to lifting at work?
Yes, you can. However, you need substantial evidence to support your claim. This could include the environment being hazardous, the item being too heavy for one person, and also a lack of adequate training.
What Is A Back Injury Caused By Lifting At Work?
While back injuries at work could be caused by sitting in the wrong position or performing repetitive movements, a major cause of back injury at work is from lifting. According to the Health and Safety Executive (HSE), 19% of non-fatal injuries at work in 2019/20 were caused by handling, lifting or carrying accidents. According to UNISON, 300,000 people a year suffer from back pain because of accidents sustained during manual handling.
Manual handling tasks are not limited to construction and delivery/warehouse environments. Whether you are working in an office and take delivery of supplies, work in a hospital and have to lift patients, or are loading vehicles for a living, you may be asked to perform a task that involves lifting and handling. You should be trained by your employer in proper manual handling techniques, which should help you avoid injuries. Lifting and handling tasks should be risk-assessed before it is undertaken, and where possible, lifting aids should be used.
The HSE has provided a wealth of information on safe manual handling techniques for those who have to perform manual handling tasks at work.
If you sustain a back injury at work, this could cause you severe pain and could mean you may need physiotherapy or other treatments such as pain relief and rest. In more severe cases, you may require more invasive treatment. We take a further look at the types of back injuries from lifting at work you may have suffered in a later section.
[Source: https://www.unison.org.uk/get-help/knowledge/health-and-safety/manual-handling/]
What Are the Causes Of Back Injuries From Lifting At Work?
There could be a variety of ways you could suffer a back injury at work from lifting. And any of these could lead to you filing a back injury at work from lifting claim. However, some of the common causes of such an injury could include:
Back Injuries Caused By Using Too Much Force
If you try to move a heavier object than your body can take, then this could cause you to suffer a back strain from lifting. Where possible, with heavy loads, lifting aids should be used, and in accordance with the HSE, each lifting job should be risk assessed to see if it could cause injury, and risks of injury should be minimised as much as could be considered reasonable. You can see an example of what such a risk assessment could look like on the HSE website. Also, you can see whether a risk assessment would be required for a manual handling task in this guidance document, which has been produced by the HSE. If your employer fails to reduce the risks of lifting a heavy load reasonably, and you are injured, you could claim compensation for your workplace injury.
Using An Improper Lifting Technique
You should receive manual handling training if you are required to perform such tasks as part of your job, which should show you the proper lifting techniques. If you do not employ these, despite having been shown how to lift correctly, you could sustain an injured back from lifting at work. However, if the improper technique was your own fault, you may not be able to claim compensation.
Lifting Injuries Caused By A Lack Of Training
As we have mentioned, your employer is required by law to provide you with training if you are required to lift items at work. If you do not receive manual handling training and sustain a back injury at work from lifting, this could lead to you being able to make a back injury at work from lifting claim against your employer due to their negligence.
Correct Manual Handling Techniques To Prevent Workplace Back Injuries
According to the HSE, the correct manual handling techniques include:
Risk assessment of lifting jobs
Avoiding lifting jobs where possible
Employing lifting aids where possible
Making loads smaller/easier to hold
Breaking up larger loads into smaller ones
Ensuring carrying distances are reduced where possible
Avoiding twisting movements where possible
Avoiding the necessity to lift above shoulder height or from the floor where appropriate
Some jobs cannot be avoided or aided with lifting machinery. If they cannot, then the following techniques should be followed:
Plan the lifting job carefully.
Get in a stable position.
Make sure you have a good grip – as close as you can to the body.
Sustain good posture – slightly bend the back, knees, hips rather than stooping or squatting.
Do not flex your back while lifting the load.
Keep your load as close as possible to the waist.
Avoid twisting and leaning where possible.
Keep your head up.
Try to move smoothly.
Put the load down before adjusting its position.
What Responsibilities Does Your Employer Have For Your Health And Safety?
Your employer has a duty of care towards you as an employee to protect your safety and your health as much as could be considered reasonable. If they fail to do so, and you suffer a workplace injury, this could lead to you being entitled to pursue a back injury at work from lifting claim against them for the injury itself and any financial costs associated with it.
Some pieces of legislation lay out your employer's responsibilities towards you concerning lifting health and safety. These include:
The Health and Safety At Work Act 1974 – This sets out the responsibilities that employers have for employees' health and safety. It includes risk assessing tasks, ensuring the workplace is as safe as can be considered reasonable, removing hazards where appropriate and providing training where required to ensure you can work safely.
The Manual Handling Operations Regulations 1992 – This piece of legislation concentrates on what responsibilities your employer has towards you in terms of manual handling operations. It includes details of when your employer should perform risk assessments, how they should lower risks, and what training they should provide.
Examples Of Unsafe Lifting Practices Leading To Lifting At Work Injuries
You might be wondering how to prove a back injury at work was caused by employer negligence if you had been trained in manual handling techniques. Training provision may not be enough to absolve an employer of their liability if you suffer a back injury at work from lifting. Risk assessments should also take into account the safety of the work environment. If your employer has given you manual handling training but has forced you to work in a space that was too small to adopt proper lifting techniques, for example, they could still be held liable for a back injury at work from lifting.
In addition to this, they should also ensure that they do not force you to lift more than the basic health and safety guidelines deemed to be safe. In other words, they should not ask you to lift an object weighing more than 25 kgs without lifting equipment or assistance from another worker.
Types Of Injuries At Work Caused By Manual Handling
There are a variety of different types of back injuries at work from lifting you could sustain. Here, we look at some of the most common injuries resulting in a back injury at work from lifting claim.
Back strain – If you have a sore back from lifting at work, it could be caused by a back strain. If you pull and strain the ligaments and muscles in the back this could cause them to strain. The symptoms typically experienced by those with this type of injury could include:
Pain that is worse on movement
Spasms or cramps in the muscles
Difficulty moving comfortably (bending, stretching, twisting etc.)
Depending on the part of the back that was under the most strain, this could cause symptoms in the upper, middle or lower back.
Herniated disc – Sometimes, if you use your back muscles to lift a heavy object instead of using your leg muscles, this could cause a herniated disc. Herniated discs could also be caused by twisting and turning while you are performing a lifting motion. Symptoms of a herniated disc could include:
Leg pain
Arm pain
Tingling
Numbness
Weakness
When a disc herniates (pushes out of a tear in the part of the spine called the annulus), it can press against nerves in the spine. This could cause you to experience symptoms in the arms and legs.
These are just two common back injuries from lifting. Whatever type of back injury you've sustained at work due to lifting, if it has been caused by your employer's negligence, you could be entitled to claim compensation.
Compensation Calculator For A Back Injury At Work
'I hurt my back lifting at work; how much could I receive in compensation?' This is one of the most frequent questions that many claimants may have. While a personal injury claims calculator would not be able to give an accurate sum for your compensation payout, and nor could an advisor, we have come up with a solution that could give you a rough idea of how much your injuries could be worth.
In the table below, you will see figures that we have collected from the Judicial College Guidelines. This publication, updated yearly, offers guideline payout amounts for various injuries. However, we should also mention that your back injury at work from lifting would have to be assessed by an independent doctor to collate evidence relating to your injury, your medical condition and your prognosis. Therefore, the amounts below would only be approximations of how much you could receive for your back injury at work from lifting claim.
| Injury | Notes | Compensation Bracket (Guideline) |
| --- | --- | --- |
| Severe Back Injuries | Where there is severe damage to the spinal cord of the injured party, as well as the nerve roots. This could lead to very serious consequences, which would not usually be associated with a back injury. Incomplete paralysis could be present, as well as significant function impairment of the bowels, bladder and sexual organs. | Up to £151,070 |
| Severe Back Injuries | Cases outside the usual bracket for orthopaedic back injuries, which could include damage to the nerve roots, where there is sensation loss, mobility impairment, unsightly scars or bowel and bladder function impairment, for example. | Up to £82,980 |
| Severe Back Injuries | Where there are fractures or lesions of discs/vertebral bodies, or where there are severe injuries to the soft tissues where disabilities could include agility impairment, pain, change of personality, impaired sexual function, or even the risk of descending into unemployability or alcoholism. There would also be a risk of developing arthritis. | Up to £65,440 |
| Moderate Back Injuries | Where residual disabilities are less severe than above. This bracket could cover a number of different types of injuries such as crush/compression fractures to the vertebrae (lumbar)which cause significant risk of osteoarthritis and constant discomfort/pain. Another example could include a case where there is traumatic spondylolisthesis where the injured party suffers from continuous pain and may need spinal fusion. Prolapsed intervertebral discs that require surgical treatment could also be included here. | Up to £36,390 |
| Moderate Back Injuries | Frequently, injuries to the back could include those in this bracket. Disturbance of muscles and ligaments leading to backache could be included here, as well as those injuries where prolapsed discs lead to laminectomy being required, or causing repeated relapse of the injury. | Up to £26,050 |
| Minor Back Injuries | Less serious sprains, disc prolapses and strains as well as fractures and soft tissue injuries that do not require surgery. The severity of the initial injury would be assessed as well as the effect on the injured party's ability to work and requirement for further treatment, along with other factors. | Up to £7,410 |
If your injury is not included above, or you're unsure as to which category it could fall into, we'd be happy to give you some assistance with this, so feel free to get in touch.
Special Damages Which May Be Claimed For Different Types Of Injuries Caused By Manual Handling
The above section provides information on what kind of general damages you could claim if you have sustained an injury, and your employer could be held liable. These are damages for the loss of amenity, suffering, and pain caused by your injuries. However, there are other damages you could claim for, which are known as special damages. These are designed to compensate you for the financial harm that the injury has caused you. Special damages could include, but are not limited to:
Care costs – If your back injury has meant you've needed help at home with washing/dressing and other daily tasks you would normally have been able to do alone, care costs could be included as part of your claim.
Loss of earnings – If your back injury from lifting at work has led to you having to stay away from work while you recover, you could have lost out on some of your income. Back pain and work absence often go hand in hand, particularly if your job involves lifting regularly. If this is the case, you could include loss of earnings as part of your back injury claim. Should your injury have been so severe that you could not return to work at all, future loss of earnings could also be added to your claim.
Medical/travel costs – Have you incurred prescription costs, parking fees from hospital appointments, public transport fares from seeing your lawyer or other medical or travel costs relating to your injuries? If you have, these could also be included within personal injury claims.
It is absolutely imperative, however, that you can prove these financial costs and losses. Therefore, it would be wise to put receipts, payslips and bank statements relating to these expenses safely. If you cannot provide proof of costs to your lawyer, you may not be able to include them within your back injury at work from lifting claim.
No Win No Fee Claims For A Back Injury At Work From Lifting
If you would like some assistance with a back injury claim from an experienced lawyer, you may be under the assumption that you would have to pay them a retainer to begin working on your claim. However, with lawyers that work on a No Win No Fee basis, you would not have to pay anything upfront or during the process of your claim.
Instead, you would be required to sign a document called a Conditional Fee Agreement, which would promise to pay your lawyer a small percentage (legally capped) upon successful completion of your claim. You would only have to pay this success fee if your solicitor could negotiate a compensation settlement for you. If they did not manage to get you any compensation, you wouldn't have to pay these fees.
We are aware that you might have further questions about claiming in this manner. We'd be happy to answer any concerns if you get in touch with our team.
Why Choose Us To Help You With A Claim For An Injury From Lifting At Work?
Getting some help from a personal injury lawyer could be beneficial when it comes to making a personal injury claim of this type. A solicitor could help put together a legal case for the liable party to answer and fight for the compensation your case deserves. They could also advise you on any offers for settlement that you may receive. You may be wondering whether to accept the first offer of compensation to make the process easier. Still, an experienced lawyer may advise you that an offer would not be appropriate for the type and severity of injuries you've sustained. They could then fight for a higher settlement on your behalf.
Finding a lawyer for different types of injuries caused by manual handling?
Finding such a lawyer could be a stressful process. After all, you may not know where to begin looking or how to find a lawyer that will work to a No Win No Fee agreement. We could help you with this. Not only do our team have the knowledge and experience to answer any questions you may have about claiming a back injury from lifting at work, but they could also assess your eligibility to claim for free. If we feel that you could have a valid claim, we could then connect you with a lawyer with the capabilities to fight your claim for you.
We believe our service is a great option for claimants, as it allows them to benefit from free actionable advice and guidance on claiming a back injury at work from lifting. Our advice and eligibility assessment does not come with any obligation for you to use our service either. We want to help you with your back injury at work from lifting claim.
Evidence to support a back injury at work from lifting claim
You might think that claiming injury at work compensation will be tricky in respect of back injuries caused by lifting. In a lot of cases, you may be right. That's why we suggest letting our specialist solicitors work for you. If your case is accepted, your solicitor will represent you throughout your claim and provide evidence to try and ensure you're compensated correctly. You could help with this by taking action to secure evidence. To do this you could:
Photograph the cause of the accident. For example, if you were lifting heavy weights from above shoulder height, take a picture of the shelving to show this.
Report the back injury to your employer.  In an accident at work claim, report forms can go a long way to confirming that the accident took place, where it happened and what injuries were reported at the time.
Keep copies of any emails or text messages you sent to your employer about your concerns. For instance, messages showing that you requested training, lifting devices or more rest breaks could be helpful.
Get medical treatment. Medical records could be used to help show the extent of your back injuries and the length of treatment required.
Get details of any colleagues who could provide a witness statement detailing working conditions.
We will happily review any evidence you have that could help in a back injury at work from lifting claim. Therefore, please get in touch when you are ready to begin your claim.
Start Your Back Injury At Work Claim
If you are ready to make a claim or have questions about your eligibility or the claims process, why not get in touch with the Accident Claims UK team on 0800 073 8801. If you'd prefer to let us contact you, you could fill out the contact form instead or email office@accidentclaims.co.uk. Alternatively, if you'd prefer to use our live chat service, you could chat with us right away. However you'd prefer to get in touch, our advisors are ready to help you.
Back injury at work from lifting claim- FAQs
I hurt my back at work; what should I do about different types of injuries caused by manual handling?
The first thing you should do if you've suffered a back injury at work is to report it in your work's accident book. This will confirm all the accident details, from when and where it happened to what kind of injuries you've sustained from it. You must fill this out as soon as possible to keep the details of the accident fresh in your mind and ensure that the report is accurate.
As well as reporting the accident in your workplace accident book, you should also seek medical attention as soon as you can following an injury. As well as making sure that you get the medical attention you need, this will ensure that there's a record of your injuries following the accident. This could strengthen your claim down the line.
How much compensation could I be owed for a back injury at work? 
It's difficult to put a value on your back injury at work from lifting claim without knowing more about your individual circumstances. This is because each claim is assessed individually, and the amount you receive will be determined by several factors.
The general damages part of a claim will be paid to you based on the severity of your injuries and how they affect your quality of life. You'll usually be invited to a medical appointment where the prognosis of your injuries can be determined.
Special damages will be paid to you based on any expenses you've incurred because of your injuries. This includes things like loss of earnings through time off work, travel to and from medical appointments and any treatment you've had to pay for yourself.
Can I sue my employer for stress and anxiety as well as different types of injuries caused by manual handling?
You can do this, but please note that you must have the medical evidence to support your claim.
When should I sue my employer?
You could take action right after you are injured, or when you discover your injury is related to your work and employer's negligence. However, we should let you know that there are time limits in place when it comes to making a claim. You may prefer to claim as soon as possible to ensure you do not fall foul of the limitation period so your claim doesn't become time barred.
How long do I have to file a claim?
Usually, you'd have up to three years from the date of knowledge or the date of the accident. However, if you're under 18 at the time of the accident, this could give you up until your 21st birthday, if no one makes a claim for your before you turn 18.
Must I receive legal advice for a claim?
You don't legally need to take advice from a solicitor. However, many claimants reap the benefits of having their case put together professionally. Not only could a lawyer advise you on steps to take, they could also take on all the legal legwork of claiming.
Should I settle out-of-court?
It saves a lot of time and expenditure to settle before a trial, though you may receive larger compensation amounts in court.
How long must I wait to receive my settlement for Different Types Of Injuries Caused By Manual Handling
?
A settlement should be paid within 14-28 days of the agreement being reached between both parties.
Statistics Relating To Workplace Accidents Involving Lifting
When it comes to lifting injuries, you might be interested to know that the HSE statistics from 2020/21 showed that 470,000 people suffered new or longstanding musculoskeletal disorders relating to their work. In terms of the areas of the body affected, 45% suffered with their neck or upper limbs, with 16% suffering lower limb problems and 39% with their back.
You can see how the number of musculoskeletal injuries year on year has changed in the graphic below. The industries where workers suffered most were construction and social and human health work.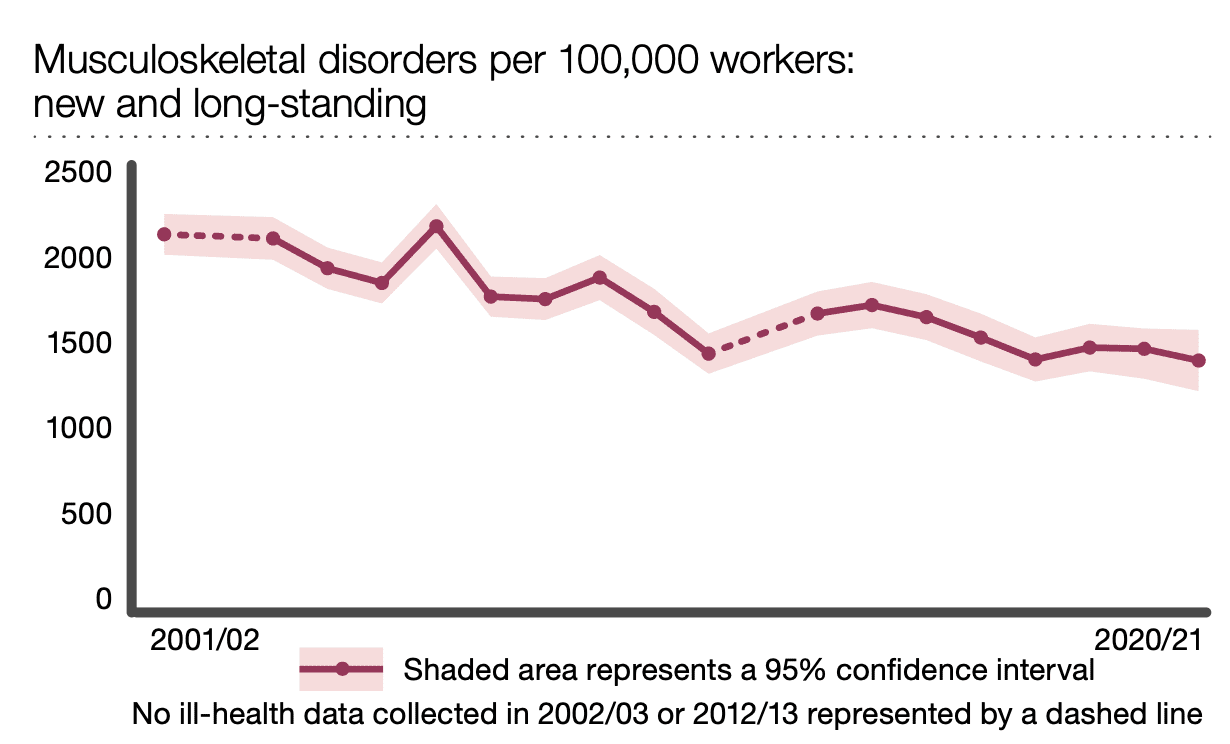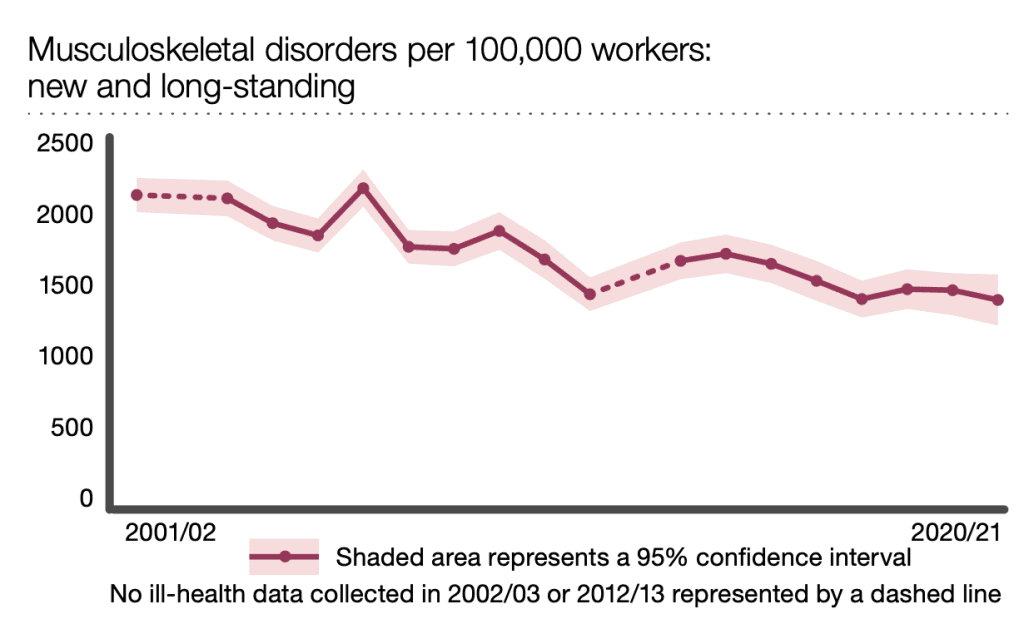 To chat with someone about your claim and see how much compensation you could be owed, don't hesitate to contact our team.
Essential References To Types Of Injuries Caused By Manual Handling
Back Injury Claims Against Employers – Here, we offer general advice about claiming compensation from an employer for a back injury.
Self-Employed Work Accident Claims – If you suffered a back injury at work from lifting and you're self-employed, this guide could offer some useful information.
Injured On A Building Site – Here, we look at making claims for accidents on building sites.
Back Pain – Here, the NHS provides actionable advice on back pain.
Musculoskeletal Injuries At Work – The HSE provides useful information on injuries at work that affect the musculoskeletal system.
How To Avoid Hazardous Manual Handling – More guidance from the HSE on avoiding hazardous manual handling.
Spinal Injury Compensation – Information on claiming compensation following a spinal injury.
My Accident Was Not Recorded In The Accident Book, Can I Still Claim?
Article by JJ
Edited by MM.
Final Words On Claiming For Different Types Of Injuries Caused By Manual Handling
Thank you for reading our guide on making a back injury at work from lifting claim. Now you'll know about different types of  injuries caused by manual handling and understand in which situations you could claim for an injury from lifting at work.