By Joanne Jeffries. Last Updated 7th October 2021. Welcome to our online injured at work negligence guide, where we will be discussing workplace accident claims in length. Throughout this guide, you will find extremely valuable advice and answers to questions such as "could I sue my employer for negligence?" and "Can I sue my employer if I no longer work for the company?".
Suffering an injury at work can be painful, annoying, and it could be costly if it means you have to take time off from work to recover. If your employer's negligence caused the accident, could you claim compensation for your injuries? Well, in some cases, you could. This guide aims to answer the question, "Can I sue my employer for negligence?" by providing examples of the types of negligence that could lead to a claim. Suing for negligence isn't always straightforward, so we'll also show what you should do following an accident to help make claiming easier.
If you'd like to discuss suing your employer for negligence and find out whether we could help you make a No Win No Fee personal injury claim, then please call 0800 073 8801 today.
Our team of specialist advisors offer a free consultation to help you understand your options. They'll provide free legal advice, and if they believe you have a strong case, they could refer you to one of our accident claims solicitors.
If you'd prefer to learn more about the reasons you could sue an employer for negligence before calling, then please continue reading.
Select A Section
A Guide On How To Sue Your Employer For Negligence When Injured
So, you're asking, "could I sue my employer for negligence?" This guide aims to answer whether an employee can sue an employer for injured at work negligence. In some cases, personal injury claims could be possible if it can be shown that:
Your employer breached their duty of care (because they were negligent), which caused an accident to occur.
You sustained injuries or were made ill in that accident.
We'll provide examples of the types of accident that might be caused by negligence, the amounts of compensation you could be awarded and what evidence you'll need to back up your claim.
Because of some cases' complexity, it's a good idea to have a personal injury lawyer on your side when beginning a claim. Their experience could help you win the case or help you achieve the correct level of compensation.
If you consider a claim, you should be aware of the 3-year personal injury claims time limit. This begins from the date of your accident or from when your injuries were diagnosed.
If you've asked any of the questions below recently, then this guide will answer your questions and help you understand whether you can sue an employer for negligence or not:
I want to sue my employer for negligence; what do I need to do?
Can my employer sue me for negligence?
Can I sue using a No Win No Fee solicitor?
If, after reading this guide, you'd like to sue your employer for negligence and would like us to provide free advice on how to begin, then please contact one of our specialists on the number at the top of the screen.
Could you be sacked for an accident at work?
If you suffer harm from an accident at work caused by someone else, the employer cannot legally terminate your contract. Still, if they did, or if you felt their justification was unfair, then you could potentially sue them for negligence.
What Could Count As Employer Negligence?
Before determining whether you can sue for negligence, it's worth looking at some examples of when an employer could be deemed to have failed to meet their duty of care towards you. Here are some examples:
If you've never received health and safety training (which is a legal requirement).
Where the work environment is unsafe, generally, this could include broken tiles, cables trailed across the workspace or slippery flooring.
The machine is not maintained according to the manufacturer's guidelines.
You use machinery or equipment which you've never been trained to.
If you haven't been provided with the necessary safety equipment required to keep you safe.
When a piece of equipment or machine has been reported faulty, the repair was not carried out quickly.
Where you are involved in an accident with a vehicle at work.
Or you've suffered because you've contracted an industrial or workplace disease.
These are just some examples that could allow you to sue work for negligence. There are many more scenarios where an employer might have been negligent, so don't worry if you don't see an example similar to your own experience listed here; we could still help you begin a claim.
If you believe you have a case against your employer for injured at work negligence, please contact our team for free legal advice.
In summary
Injured at work negligence claims might be possible if an employee is injured in an accident because a safe working environment was not provided. As a result, employer negligence could entitle an employee to seek compensation for any suffering that results. There are many different ways that employer negligence can happen.

Employer's Duty Of Care To Safeguard You In The Workplace
Under The Health and Safety at Work Act 1974, all employers have a duty of care to keep you safe and protect your wellbeing while at work. The rules are enforced by the government's health and safety executive (HSE), who provide employers with lots of tools and resources to help them protect their staff.
The duty of care employers has towards staff means they should:
Perform regular risk assessments. When risks are identified, the employer needs to make changes to reduce them.
Provide a safe working environment and maintain safety levels.
Allow regular breaks and provide relaxation areas. This should somewhere away from the normal workplace and quite where possible.
Ensure staff can communicate any concerns. This could either be through supervisors, the HR department or staff reps.
Define the employee's work duties clearly.
Provide training. The training should be adequate and refreshed regularly.
Make sure staff aren't working too many hours.
Consult with employees on health and safety matters. This could be through staff meetings, notice boards or other communication such as emails.
If any of the above doesn't happen, then the employer may be in breach of their duty of care, which means you could sue an employer for negligence if you suffer an injury because of it. Hopefully, this answers the question of "could I sue my employer for negligence?"
We'll cover the type of evidence you'll require to prove your claim later on, but one key piece of advice following a workplace accident is to report it. Ensure that it's recorded in an accident book (a legal requirement). If it isn't, email a supervisor or manager as soon as possible with details of your accident.

Could I Sue An Employer If Their Negligence Led To A Health And Safety Breach?
A health and safety breach is where the HSE, or another investigating party such as the local authority safety inspector, has highlighted a breach in safety guidelines. The HSE enforce several key legislation such as the health and safety at work act, the factories act, the environment and safety act and the offices, shops and railway premises act. If a breach in any of these acts is found, then you could sue an employer for negligence, but only if you've sustained an injury because of it.
Remember, a claim wouldn't be possible just because a problem or breach has occurred; it has to have caused you to suffer an illness or injury to become eligible to make a claim.
If you believe you've suffered an illness or injury because of a safety breach, please call today. One of our expert accident claims advisors will help you decide whether you could claim or not after injured at work negligence.

Has My Employer Been Negligent?
If you're trying to work out, "Can I sue my employer for negligence?" then working out whether they've been negligent will be a key question to answer. In the previous sections of this guide, we've provided some examples of what could constitute negligence. If your own accident was caused by one of the examples, or a similar scenario, then it could be your employer was to blame.
To discuss if you have a valid claim or not, when you've finished reading this guide, call one of our specialist advisors to help work out if you can begin a claim or not.

What Grounds Could I Have To Sue My Employer?
To be able to sue your employer using a personal injury solicitor, you'll need to have sufficient grounds to do so. As mentioned earlier, these grounds require you to demonstrate that they were negligent somehow and that negligence led to a workplace accident in which you were injured.
There are, of course, other reasons to sue your employer, such as wrongful termination, sexual harassment and employment discrimination against a protected class. If you want to sue your employer a lawyer could help you make these types of claims too.
In the coming sections of this guide, we'll explain how you can prove negligence and what evidence you'll need to support your claim. Furthermore, we'll explain what evidence can be used to prove the accident happened and the injuries you sustained. All of this helps as you think, "could I sue my employer for negligence?"

Suing For Negligence Which Caused Emotional Distress
It's not just physical injuries and illnesses that can lead to a compensation claim following an accident at work. You could also be able to claim if injured at work negligence caused you to suffer emotional distress.
If you've suffered emotional distress after being involved in an accident or witnessing a serious accident involving a colleague, you might be able to make a claim. This could be if the emotional stress was caused intentionally (by management or another member of staff) or negligence.
It's sometimes possible to sue an employer for negligence due to emotional distress caused by another employee because it could be argued that the employer should've managed, trained or disciplined the other employee.
To discuss if you could claim for emotional distress, please call today.

Could I Sue If My Employers Negligence Caused Me To Be Assaulted Or Abused?
There is no reason why any worker should be assaulted or abused at work. There could be a criminal investigation launched against the other employee for their actions and a personal injury claim.
If you're assaulted or abused at work, you might ask whether you can sue the employer for negligence or whether it's a claim against the member of staff involved. Obviously, if the business owner has deliberately set out to harm you, there could be a negligence claim.
If the abuse or assault was by a colleague or supervisor, then a claim against the employer may still be possible. This could be the case if it can be shown that the employer knew what the colleague was doing but didn't stop it. It would be a good idea to see if anybody else witnessed what was happening and ask them whether they reported it to management. This statement could be used to show the employer was negligent because of their lack of action.

Evidence Which Your Claim May Need
Maybe you're considering the necessary evidence as you ponder, "could I sue my employer for negligence?" To make any personal injury claim, you'll need evidence to support it. This is the case when you sue an employer for negligence, so we'll cover what evidence you might need here.
Who Was Responsible?
Firstly, you'll need to be able to prove who was responsible for the accident. It could be the employer or a colleague. To help demonstrate responsibility, you should report the accident at work as soon as possible, so it's recorded in their accident book. It would help if you also kept hold of any emails or letters which show that you reported a fault, asked for training or raised concerns about something which caused the accident to happen. Finally, if there were any witnesses to the accident, they could provide evidence to support your claim through a witness statement.
Proof of Injury
Proving that your employer failed in their duty to keep you safe is vital when claiming accident at work compensation. While you may not ending up making a claim, if you are injured at work, we'd suggest that you:
Photograph the place where the accident occurred. Ideally, this should be done before anything has been removed. For instance, if an item has fallen from shelving, try to get a picture of how items are stacked and the item on the floor.
Report the accident as soon as you can. A copy of the accident report could be requested later.
Go to A&E or a GP to have your injuries assessed. Medical reports from your visit may be used to show the injuries you sustained.
Ask for copies of any CCTV footage if the area is covered by it.
Make a note of any witnesses' details.
Armed with as much evidence as possible, your next step could be to call our team. We'll review your injured at work negligence claim with you, provide free legal advice and could also appoint a specialist solicitor to your case has a reasonable chance of success.
Another Employee Caused My Injury, Could I Sue My Employer?
There are times when you can sue an employer for injured at work negligence, even if it was a colleague who caused the accident to happen. This might where a colleague acted deliberately, made a mistake or was not competent in completing the task.
A claim might be possible if it can be shown that the employer was negligent because:
They hadn't trained the colleague on how to complete the task, which led to your injury.
It was known to the employer that the colleague was working negligently, but they turned a blind eye.
The colleague was using faulty or unmaintained equipment, which caused the injury.
How To Claim Compensation For Injuries Caused By An Employers Negligence
If you sue an employer for negligence, you must take steps to resolve the situation directly. This means following the companies own complaints or grievance procedure if there is one. You may need to advise management, HR or occupational health of details about your accident, the cause and what you'd like done about it.
If that's failed, then it's important, as mentioned above, to try and gather evidence to support your claim.
Once you have gathered photographic evidence, witness statements, accident reports and medical records, call Accident Claims UK today. We'll assess your claim for free and without obligation. If you ask, "could I sue my employer for negligence," and we think you have a valid claim, we could help you begin a No Win No Fee compensation claim.

Suing For Negligence From An Employer – Compensation Claims Calculator – Updated October 2021
To demonstrate how much compensation you could receive for different types of injury, we've included the personal injury compensation calculator table below.
| Type | Seriousness | Maxium Amount |
| --- | --- | --- |
| Back injury | Minor | Up to £2,300 |
| Back Injury | Severe | £85,470 to £151,070 |
| Neck injury | Minor | £4,080 to £7,410 |
| Neck injury | Severe | In the region of £139,210 |
| Ankle injury | Modest | Up to £12,900 |
| Ankle injury | Severe | £29,380 to £46,980 |
| Toe injury | Moderate | Up to £9,010 |
| Toe injury | Severe | £12,900 to £29,770 |
| Wrist injury | Severe | £44,690 to £56,180 |
| Arm injury | Serious Damage to Both Hands | £52,310 to £79,360 |
The list of injuries listed here isn't comprehensive. The table is just used to give you an idea of typical amounts of compensation. If you don't see your injury listed, we'll let you know a possible amount when you speak with an advisor.
Each type of injury is assessed based on its severity, and compensation is awarded accordingly. Therefore, it's important that your personal injury solicitor can demonstrate how serious your injury was. This will be done by using any medical evidence that you've collected (doctor's records etc.) and will also require an independent medical assessment.
A doctor will assess you and provide a report showing how serious your injuries were when the accident happened and assess how you could be affected in the future. And this could shape your claim for compensation due to injured at work negligence.

No Win No Fee Claims Against Employers For Negligence Leading To Injury
Some people are put off from suing an employer for negligence because they're worried about the cost of hiring a personal injury lawyer. This is why our accident at work solicitors work exclusively on a No Win No Fee basis when they take on a claim.
Agreements, known as conditional fee agreements (CFA), are drawn up and signed by the solicitor and claimant, which show that:
There are no up-front fees. This means your claim can begin right away.
You don't have to pay anything if the solicitor loses the case. This is a risk for the solicitor but reduces the financial risk of claiming for you.
The solicitor will be paid a success fee if they win. This is limited, legally, to 25% of your compensation. It is deducted straight from your compensation, meaning you don't need to find any money to pay the solicitor yourself.
We believe that No Win No Fee claims reduce the stress involved with a claim and make claims available to more people who've been injured at work.

Talk To An Accident Claims Expert About Can I Sue My Employer
Hopefully, this guide has answered the question, "Can I sue my employer for negligence in the UK?". We'd love to help you begin a claim for compensation today, so why not get in touch? We can be contacted by:
Telephone: Call free on 0800 073 8801 and speak directly to a specialist claims advisor.
Email: Send a message to office@accidentclaims.co.uk
Live Chat: You can use this handy feature 7 days a week and 24 hours per day.
Claim Online: Fill in this easy online form, and we'll call you back when it's convenient.
Remember, we'll provide a free, no-obligation assessment of your claim. You can ask as many questions as you like. We could either provide you with free legal advice about what further evidence you need to prove your claim, or we could refer you to one of our accident claims solicitors. They have up to 30 years of experience handling claims and always strive to ensure clients are awarded the correct compensation level. They work solely on a No Win No Fee basis.

Where To Find More Information About Can I sue my employer?"
You've now reached the end of this injured at work negligence guide, which aimed to answer the question "Can I sue my employer for negligence in the UK?". We hope you've gained the knowledge you need to help you decide whether to make a claim or not. To assist you further, we've linked some additional guides and resources below. These could give you insight into how to file a lawsuit, whether you are protected by your employment contract from employment discrimination and more.
Accident at Work Claims – A guide that explains the types of accidents at work that can happen, how much compensation could be paid and when you could sue your employer for negligence.
Loss of Earnings Claims – As well as claiming for your physical injuries or illnesses, you may need to make a financial claim for any lost income. This guide explains when you could claim and how.
Assault at Work Claims – This guide provides information on what you should do if you are injured in an assault at work and how to find a lawyer if your employer violated their duty of care towards you.
Employers Liability (Compulsory Insurance) Act 1969 – This act means that employers must have insurance to cover them for an accident at work claims.
RIDDOR Reporting – The HSE rules about the Reporting of Injuries, Diseases and Dangerous Occurrences Regulations 2013.
The Factories Act 1961 – Legislation enforced by the HSE regarding employees' health and safety working in factories – this protects employees.
Could I sue my employer for negligence FAQs?
What reasons can you sue your employer?
Naturally, you may question what things you could sue an employer for. You may choose to take legal action if your employer does one of the following:
Wrongfully dismisses you.
Discriminates against you.
Redundancy.
Stress-related illness.
An accident caused by negligence.
Harassment.
Is it worth suing an employer?
Taking legal action against an employer is often a path taken by those affected by negligence. For instance, those affected after a workplace accident that wasn't their fault may pursue legal action and seek compensation for the injuries caused.
Should I begin my claim within a certain timeframe?
To make a successful claim for an accident at work, you must begin your case within 3-years of the accident. Should you fail to begin your claim within 3-years, then your case's eligibility could be affected.
While the personal injury claims time limit is 3-years, please note that there are exceptions to this timeframe. To learn more, please reach out and contact our team. One of our trusty advisers would be more than happy to discuss your potential case in further detail.
What is considered negligence by an employer?
This is any scenario where the employer fails to act responsibly and thus causes potential harm to you and/or others.
How do you prove negligence against your employer?
This requires you to prove that an employer owed you a duty of care which they then breached, leading to you suffering a workplace injury.
Can I sue my employer for a lack of duty of care?
Yes, you could receive worker compensation in this scenario so long as you can conclusively prove that the employer breached their duty of care towards you.
Is negligence a dismissable offence?
By employment law, yes, you could be dismissed for causing gross negligence, even if it's the first time that you've done so.
What are the three levels of negligence?
These are slight negligence, gross negligence and then reckless negligence, with the severity level increasing accordingly.
Can I sue my employer if I'm under 18?
In the eyes of the law, you could not take legal action against your employer for negligence that has caused you injury until you reach 18 years old. However, your parent or another 'litigation friend' could make a claim on your behalf. Your parent or representative could have until your 18th birthday to claim for you. Alternatively, you could wait until you turn 18 and make a claim for yourself. You would usually have 3 years to do so once you turn 18. However, what you might want to consider is whether it would be easier to claim while events were still fresh in people's minds, and whether waiting could make evidence gathering more difficult. If you would like to talk to us about this, we'd be happy to give you free legal advice. That way, you could make an informed decision.
Could someone sue an employer for wrongful death at work?
If someone loses their life in a workplace accident, you might think that this would be a one-off. While such incidents are rare, they happen every year. In fact, in 2020/21, according to the Health and Safety Executive, 142 people in the following industries were killed at work.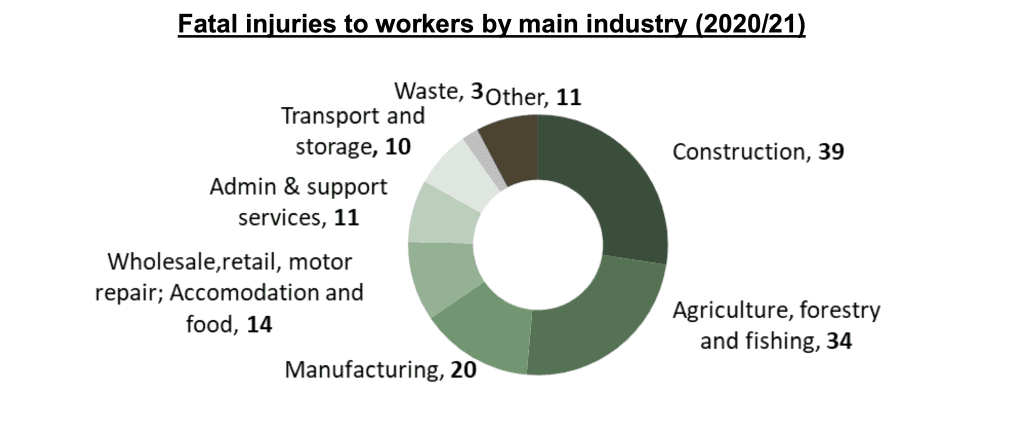 If you want to make a claim for a loved one that has lost their life due to negligence, and you could prove the employer was at fault, you could potentially receive damages to cover funeral expenses. You could also in some cases, be eligible to claim a bereavement award.
Thank you for taking the time to read our "could I sue my employer for negligence" guide. Our team is always standing by and would be more than happy to address any questions you may have about injured at work negligence. We could answer the question 'can I sue my employer for work accidents/illnesses?' for you