By Joanne Jeffries. Last Updated August 17th 2021. Welcome to our guide that answers the question 'will suing my employer create problems?'
Will Suing Your Employer Create Problems At Work?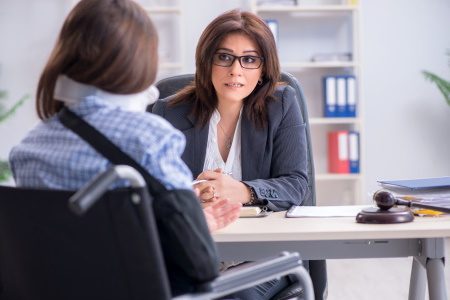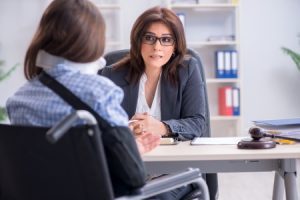 If you've had an accident at work that causes you to sustain injuries, it could be due to a workplace health and safety breach. If it is, then you could consider suing your employer for compensation with this type of claim. One common question claimants in this position ask is whether suing their employer would create problems and whether you'd need to take them to an employment tribunal or through the civil courts. This is a question we answer in detail in this guide.
In the sections below, we look at what your employer's responsibilities are towards you, when it comes to human resources and what happens if there is a health and safety breach at work that causes you an injury.
We answer common questions relating to concerns about how an employer should treat someone taking action against them for an accident at work, and we also look at what compensation you could be eligible for when suing your employer.
In addition to all this, you'll find guidance relating to the claims process, and we also explain how we could help you start a No Win No Fee claim. If you're already in a position where you want to sue your employer, or you'd like to speak to us about anything within this guide, please don't hesitate to dial 0800 073 8801 for assistance.
Choose A Section
A Guide To Whether Suing Your Employer Will Create Problems
We have created this guide to answer common questions those who sustain injuries due to a breach of health and safety at work ask.
'Will suing my employer create problems?' is something that is on the mind of many personal injury claimants, and with good reason. After all, no one wants to create an awkward atmosphere at work, and no one wants to lose their job because they're suing an employer for compensation.
In this guide, we take you through the concerns that some claimants might have about claiming against an employer for personal injury. We answer questions such as:
Can I sue my employer for emotional distress?
Can I sue my employer for stress?
What breaches of health and safety could lead to a claim?
Who at work will learn about my claim?
Could you lose your job by making a claim against your employer?
We also look at the types of compensation you could receive for a workplace accident claim and how we could help you fight for the compensation you deserve. We hope you find this guide useful.
When Could You Sue Your Employer?
If you're wondering when you could sue your employer, there are several answers to this. You could take legal action to get compensation for a breach of health and safety at work that causes you injury. But you could also sue your employer for breach of contract, discrimination, harassment, stress, unfair dismissal or constructive dismissal.
If you're wondering 'Will suing my employer create problems?', the simple answer is that it shouldn't. If your employer tries to make your time at work difficult by discriminating against you for your compensation claim, this would be unlawful.
How To Sue Your Employer In The UK For Personal Injury
To make a claim for personal injury, you would have to evidence that your employer had a duty of care towards protecting your safety and health at work. Any employer has a legal obligation under the Health and Safety At Work etc. Act 1974 to protect you from suffering injury/illness because of your work.
You would also need to evidence that there was a breach of health and safety at work that caused your injury/illness. Examples could include:
Your employer did not give you manual handling training and you sustained a back injury from not lifting correctly when ordered to lift something.
Your employer did not provide you with appropriate PPE which led to a burn injury at work.
The employer did not keep workplace equipment maintained to a safe standard, and you were injured as a result.
Your employer did not signpost or remove hazards from the workplace that caused injuries to you.
If you're not sure whether you could be in a position to sue your employer, we could assess your case to see if you could have a valid claim.
What Do You Need To Know About Suing Your Employer?
As well as wanting to know if suing your employer will create problems there are other things you may need to know about suing your employer. Here, we outline some things you may need to be aware of when considering making a claim.
You have rights at work. You have the right to make a claim if your employer breaches their duty of care towards you and you suffer an injury at work. You'd also have rights when it comes to a limit on how many hours you are made to work. Depending on your employment status, you could also have rights to holiday pay and sick pay, for example. You also have the right not to be discriminated against.
Additionally, you have a right to report an accident in which you are injured and your employer should not treat you differently for doing so. Your employer also has a responsibility to record accidents and injuries at work. In some cases, they must report injuries in the workplace under RIDDOR.
You have a right to make an official complaint if you believe your employer has caused you harm due to a breach of health and safety. You should inform your employer in writing of your complaint, and you should expect to have a response.
Also, you have a right to take legal action against an employer after suffering an injury due to their negligence.
Who Will Be Told You Are Making A Claim?
When it comes to answering the question of whether suing an employer would create problems you may be concerned about who would find out about your claim.
Will My Employer Be Told?
Your employer will need to know about your complaint for them to act on it. As accidents should be reported in the workplace accident book, your employer will likely already be aware of the accident and your injuries. They would also be made aware of your claim through a solicitor if you choose to use one. Their insurance company would also be informed this way.
What Other Parties Need To Be Informed?
As well as the insurance company, there may be other parties that need to be informed of your accident and injures, such as the HSE, if your injury is reportable.
If there are other employees that witness a workplace accident, they may need to give a statement, so they could find out about your claim too. In addition to this, your employer's insurance company may report your claim to the Department of Work and Pensions, as is their obligation.
Who Pays The Compensation If You Sue Your Employer?
When you sue an employer, their insurer would usually pay your compensation. By law, employers should take out an insurance policy to cover them in the event of a claim. Your compensation will, therefore, not come out of the company's profit.
Any reputable employer would recognise that making a claim against them isn't personal. They should recognise the harm that you have suffered and if they are a fair employer, they should want any injured employee not to end up with financial losses due to a breach of health and safety.
Your employer may not have a lot to do with your claim themselves, either. Their insurance company would usually take care of it.
Could You Be Dismissed For Suing Your Employer?
When asking the question 'Will suing my employer create problems?' some claimants might fear for the security of their job.
Your employer cannot legally fire you for making a claim for compensation because there has been a breach of health and safety at work that caused you to suffer. If your employer tries to do this, you could take further action against them.
However, most reputable employers understand why employees are making a claim for compensation and will recognise that it is their failings that led to the claim. Some may even appreciate you highlighting a potential risk to other employees which could lead them to make the workplace/work practices safer.
Other Ways Suing Your Employer Could Affect Relations With Them
If your employer makes your position untenable by treating you differently because of your claim, you may feel you have no other option but to resign from your post. But legally, your employer cannot treat you badly because you are claiming against them. If they do, you could take legal action.
You also have protection as a whistleblower. A whistleblower is a person who reports wrongdoings as a worker. Complaints that class as whistleblowing could include:
Reporting criminal offences such as fraud.
Making a report because someone's health and safety are at risk.
Reporting damage to the environment or risk of damage.
Miscarriage of justice reports.
Reports of a company breaking the law.
Reporting someone that is covering up some type of wrongdoing.
Calculating Compensation When Suing Your Employer –
In order to calculate a compensation payout, courts and lawyers wouldn't use a personal injury claims calculator. They would instead assess all of the evidence, circumstances and facts of your case.
When claiming compensation for personal injuries, whether physical or psychological, claimants should obtain a medical report. They would visit an independent medical expert, where the expert would speak to them and examine their injuries.
They would use their professional knowledge and the information they gain at the assessment to write a medical report. Lawyers could use this report to arrive at an appropriate value for your injuries.
To give you some insight into appropriate values for injuries relating to health and safety breaches at work, we have put together the table below. The figures come from the Judicial College Guidelines, a legal publication that solicitors could use to hone in on a value for injuries.
If you're not sure what bracket would apply to you, or we have not included your injuries below, please don't hesitate to call us. We'd be happy to give you further information over the telephone.
| Injury | Notes | Compensation |
| --- | --- | --- |
| Elbow injuries - Severely disabling | Severely disabling | £36,770 to £51,460 |
| Neck Injuries - Severe | Severe damage to soft tissues, fractures or dislocations that lead to disability that is permanent as well as chronic conditions. | £42,680 to £52,540 |
| Back Injuries - Severe | Causing mobility impairment, bladder function impairment, or impairing bladder function. Nerve root damage and unsightly scarring. | £69,600 to £82,980 |
| Finger Fractures - Severe | Necessitating partial amputation which would impair grip and reduce function. There could also be deformity, and sensation disturbance. | Up to £34,480 |
| Pelvic/Hip Injuries - Moderate | While the initial injury would be significant there wouldn't be a big risk of future damage and no permanent disability. | £24,950 to £36,770 |
| Shoulder Injuries - Moderate | Limited movement from frozen shoulder injuries could feature here. Injuries could last for around 2 years. Soft tissue injures causing symptoms for over 2 years could also feature. | £7,410 to £11,980 |
| Wrist Injury | Some useful movements could remain but there would be permanent significant disability. | £22,990 to £36,770 |
| Head Injury - Minor | Minimal brain damage. | £2,070 to £11,980 |
| Mental Anguish | Fear that the person was about to lose their life. | £4,380 |
What Are Special Damages For Employee Accident Claims?
In the above section, we looked at the general damages that could be appropriate for the suffering, pain and loss of amenity caused by your injuries. However, there are other damages you could claim, known as special damages. These damages compensate claimants for the pecuniary (financial) costs they experience because of their injuries. These could include:
Care Costs: If you sustain injuries so severe that you cannot look after yourself, you may need care at home. You could include the costs of such care in your claim.
Medical Expenses: While many types of medical care are free at the point of access through the NHS, this does not mean that you would not incur other medical expenses. Whether you've had to pay prescription costs, or you've incurred costs for treatments such as physiotherapy or counselling, you could include such costs within a claim.
Travel Costs: If you incur transport costs when going to lawyer's meetings or medical appointments, you could claim for these too.
Loss of Earnings: When you take time off work, particularly in the long-term, you may lose out on some of your income. Your employer may put you on Statutory Sick Pay, per employment law, depending on your contract of employment and this could be significantly less than your usual income. You could claim for loss of earnings within a workplace claim, and you could even include regular overtime and bonuses in some cases. If you are unable to return to work for some time, you could include future loss of earnings when calculating your claim. This could equal the pay you're unable to receive because of your injuries.
Evidence Of Special Damages
When you claim special damages, you will require evidence. If you aren't able to evidence that you've sustained costs or losses, it could prove difficult to claim for them.
Evidence to support your case could include:
Bills
Receipts
Prescriptions
Travel tickets
We would strongly advise you to put documents relating to your costs and losses in a safe place. That way, you could provide them to your personal injury solicitor at the appropriate time to include them within your claim.
Suing Your Employer With A No Win No Fee Solicitor
Now we've answered the question of 'Will suing my employer create problems?', if you are now considering making a workplace claim against your employer, you might be looking for a personal injury lawyer to help you.
However, you may worry about the cost of using a legal professional to make your claim. If you are, you might be pleased to read that you don't have to pay them upfront for their services. No Win No Fee claims require no upfront payment to your lawyer. Instead, you'd pay them a success fee from your eventual payout.
The No Win No Fee claims process generally works as follows:
You receive a document known as a No Win No Fee agreement from your lawyer. They would ask you to read and sign the agreement, which contains details of the success fee we mentioned earlier. This is a fee that is legally capped and represents a small percentage of your total payout. By signing the document, you would agree for the lawyer to take the success fee from your payout if it comes through.
Once your signed agreement has been sent to the lawyer, they would begin to build your case and negotiate compensation on your behalf. In many cases, personal injury claims settle outside of the courtroom. However, in some cases, particularly if the liable party disputes your claim, you may have to go to court. Your lawyer would be there to support you and help you fight for compensation.
Once your payout comes through, the lawyer deducts the agreed success fee, and you benefit from the balance.
What Happens If There's No Compensation?
Should your personal injury claim fail, and not bring you any compensation, you may worry about whether you'd have to pay your lawyer. With a No Win No Fee claim, you would not pay your lawyer the success fee if your claim fails. To read more about making such claims, you can read this detailed guide to No Win No Fee claims. Otherwise, feel free to call us and speak to us about your claim as well as receiving free legal advice about your legal case.
Start Your Claim
Now you know the answer to 'Will suing my employer cause problems?' and know what could be considered unfair treatment, are you now in a position where you'd like to begin a workplace accident claim? Or are you looking for further guidance or an eligibility assessment?
Either way, we'd be delighted to help you. We could speak to you about your case, assess your eligibility and provide you with a lawyer who could help you. All you need to do is get in touch, which you can do by:
Essential References
I Sustained A Back Injury At Work – Can I Claim?: This guide looks at how employees could claim for back injuries they sustain at work.
Accident At Work Claims: Find out more about the claims process for workplace accident claims in this guide.
Stress At Work: Could you claim for stress caused by your work? This guide explains in what situations you could make a claim.
Dismissal – Your Rights: Your rights when it comes to dismissal are explained in this government guide.
Raising Workplace Grievances: Find out about grievance reporting at work on the government website.
Injured Because Of An Accident At Work: Citizens Advice has more information about your rights after a workplace accident.
Employee Accident Statistics
According to the HSE (Health and Safety Executive), 1.6 million cases (long-standing or new) were reported in the Labour Force Survey 2019/20 and 0.7 million workers sustained a workplace injury (non-fatal)
The most common causes of workplace injury were recorded as being:
Same level slips trips or falls – 29%
Carrying, handling or lifting – 19%
Being struck by moving objects – 11%
Violence at work – 9%
Falls from a height – 8%
FAQs On Suing Your Employer
Do I Get Paid If I Get Injured At Work?
Depending on what your employment contract says, you may receive SSP (though not everyone is eligible) or you may receive a certain level of contracted sick pay. If you lose out on income, you could claim compensation for this within a personal injury claim.
What To Do If An Employee Has An Accident At Work?
If someone has an accident at work, the first thing to do is get help with the injury. You should report the accident to your employer and they should record it in the accident book.
They may need to report certain injuries to the HSE. If you're intending on making a claim for personal injury, you could also take photos, get witness contact details, and seek advice from a lawyer.
How Long Do I Have To Claim For A Workplace Accident?
Usually, the personal injury claims time limit is 3 years. However, exceptions could apply in some cases.
What are the most dangerous industries to work in?
As well as wishing to know will suing my employer create problems, you may want to know how dangerous the industry you work in is. To give you some insight into this, we could look at the HSE statistics for injuries by industry.  According to their figures, the industries where there was a higher rate of injuries at workplaces included:
Fishing, forestry and agriculture
Construction
Food services and accommodation
Manufacturing
Retail/Wholesale trade, which includes vehicle repair
If we look at common injuries/accidents in the construction industry as an example, the below graph shows the most common accidents within the industry for 2017/18 – 2019/20. As you can see, falls from a height are the most common accidents on construction sites. Therefore, employers in the industry need to ensure that their staff are trained to work safely at height and that slip, trip and fall hazards are reduced as much as could be considered reasonable.

Will suing my employer create problems if it wasn't recorded in the accident book?
If there is no accident book at your employer's premises, then it would be wise to send your own accident report to your employer so they have a record of it. Should your employer be unaware you have suffered injury and you then make a claim, they could potentially attempt to refuse your claim on the grounds that they were unaware of it. If you have an accident at work, and there is an accident book, you should ensure that your accident is recorded there.
Thank you for reading our guide answering 'Will suing my employer create problems?'