By Aaron Lee. Last Updated 19th February 2021. Hello and welcome to our guide where we will be discussing fatal accident at work claims. Throughout the course of this guide, we are going to discuss fatal accident at work compensation claims, provide free legal advice, and discuss how our team could assist you.
If someone you love has been involved in a fatal accident at work, you will, no doubt, be feeling incredibly emotional and upset about it all. There have been some horrific workplace accidents over the years in the UK, leaving families without loved ones. If you find yourself in this scenario, you will be able to launch a personal injury claim. This is something we can help you to do at Accident Claims UK. We have many years of experience when it comes to fatal accident claims and an exceptional track record for getting people the full amount of compensation they deserve. You can reach us on 0800 073 8801. But before you do, make sure you read our fatal accident claims guide below to discover everything you need to know about these sorts of claims.
Select a section
A guide to claiming for fatal workplace accidents
If someone you love has been involved in a fatal workplace accident, you may be feeling at a bit of a loss when it comes to making a claim. That is why we decided to put this guide together. We will explain everything that is required for securing a fatal accidents act bereavement award, as well as how much compensation you may get. From work accidents videos to medical reports, we will also explain how to build a strong case, as well as discussing the different types of fatal construction accidents and accidents in other industries that can occur. If you need more information, you will find our contact details at the end of the post.
What is a fatal accident at work?
A fatal accident at work relates to any incident that has happened in the workplace and caused someone to lose his or her life as a consequence. The person may have passed away instantly or he/she may have died later in hospital due to their injuries.
What is a dependency claim?
Dependency personal injury claims are launched is designed for individuals who depended on the deceased financially. If your loved one was the breadwinner in the family, you can launch a dependency claim for financial support. These claims are usually launched by the next of kin, for instance, the husband or wife of the person that has passed away and/or their children. It is important to note that civil partnerships are recognised.
There is typically a specific calculation that is used to work out the compensation you receive. The only exceptions relate to incidents whereby the deceased supported his/her dependents in an unusual way or particular pattern prior to their death. If this is not the case, what the person who has passed away would have accumulated for the rest of his or her life, including any pension provisions and future promotions, is taken into account. They will then look at how this money would have been spent on the dependents to figure out a fair compensation amount.
Statistics regarding fatal accidents
The UK Government has released figures regarding workplace deaths in the UK. According to RIDDOR, there were 144 workers killed in the 2017/18 period. The graphs below have been sourced via the HSE Gov UK website: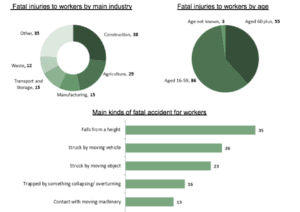 Who can make a claim if someone they love has died in an accident at work?
Those who want to make fatal accident claims personal injury must fall into one of the following categories:
A dependent of the deceased
A non-dependent family member of the deceased
The estate of the deceased
If you are unsure whether or not you qualify for compensation based on your position, please do not hesitate to give us a call for more information and we will be happy to explain further.
The UK's jobs with the most danger
Of course, fatal work falls can happen in any industry, but there are some jobs that are more dangerous than others. This includes the following:
Farming and agriculture
Building and construction
Scaffolding and roofing
HGV drivers
Painting, decorating, and joinery
Vehicle repair workers and mechanics
Plumbers, electricians, and other fitters
Civil engineering
Waste collection
Different scenarios that lead to death in the workplace
There are many different incidents and scenarios that can result in fatal accidents in the workplace. This includes the following:
Being hit by an object
Electrocution
Falls
Exposure
Becoming trapped by an object
Being hit by a vehicle
Claiming when someone has died from an object striking them
In the paragraph above, we explained some of the different situations that can result in someone suffering a fatal incident while at work, and now we are going to expand on a few of them, starting with being struck by an object. If something has been dropped from height, it can easily have fatal consequences. This is something that is more common in larger construction sites and jobs involving manual labour. However, it can still happen in non-manual roles, although the danger is minimal. Most commonly, though, incidents resulting in death are caused on construction sites because of the big number of tools and equipment etc that are used and carried, especially in scaffolding. You also need to factor in the weather and how high the structures may be too.
Claiming when someone has died from electrocution
Electrocution is another common reason for fatal work accidents, especially in practical professions, although such accidents can happen in a number of different roles. In modern buildings today, the electrical power supplies presents an evident risk. Perhaps, unsurprisingly, electricians are most at risk. The employer could be blamed for such a fatal accident if the proper training or tools were not provided to the employee, or if the risks were not explained. In order to launch a successful claim, you need to show that the company the individual worked for is to blame because they failed to adhere to the health and safety regulations in place.
Claiming when someone has died from a fall
Falling over or slipping in the workplace is common, and such incidents can often be fatal if the person has suffered an injury to the head. These incidents are common in both non-manual and manual labour. For instance, a fall could happen in an office building due to a wet floor. A fall could also happen on a construction site if scaffolding has not been erected properly.
Steps to take if someone you love has been involved in a fatal work accident
In order to get bereavement compensation you will need to build a strong case. Read on to discover what evidence will work well…
Medical report– There is only one place to begin and this is with the medical report. The doctor will make a record of your loved one's injuries and what caused their death. This is vital when it comes to making a claim, as it will be used to determine how much money you will get.
Witness statements– It is always a good idea to get the contact details of anyone that witnessed the fatal accident at work. If they provide you with a statement this will really help to strengthen your case.
Photographs– If you have any photographs of your loved one's injuries and/or the damage at the scene, keep a hold of these. Fatal work accidents pictures and industrial accidents videos can help to strengthen your case.
Proof of dependency – You will need to show that you depended on the person that has passed away financially.
Proof of expenses– Last but not least, you will have the possibility to secure damages for any costs you have had to pay during the process, such as loss of income and counselling costs. However, you will need proof of this.
Time limits on fatal accident at work claims
If someone you love has suffered a fatal accident at work, it is likely that you will already have enough on your mind without having to worry about making a compensation claim. You will be grieving and a claim can seem like too much to handle. This is understandable. Nevertheless, you shouldn't wait too long to get in touch with one of the best accident lawyers, and here are the reasons why…
Firstly, there is a three-year time limit on all personal injury cases. This is something a lot of people are not aware of and, unfortunately, they learn the hard way. This three years starts from the date of the accident and court proceedings must be issued within the time frame. Therefore, if you're loved one was involved in a workplace accident on 17thJuly 2016 you will have until 17thJuly 2019 to make your claim. There are some exceptions to this rule and this relates to instances where there is no accident date as such, i.e. the injuries have occurred over time, such as industrial disease. In these instances, you will have three years from the date the person passed away instead.
Aside from the personal injury claims time limit, another reason why you should consider making your claim sooner rather than later is because you will find it much easier to make a strong case. The details are going to be fresh in your mind. Moreover, your solicitor will find it a lot easier to gather crucial evidence, such as witness statements. After a couple of years, the contact details for the witnesses may not be the same, or the witness may not remember the incident very well.
What damages can I claim for when making a fatal accident at work claim?
When making a claim for a fatal accident at work, there are a number of different damages you will be able to secure compensation for. This includes all of the following:
Funeral costs – This includes all of the expenses that are directly related to organising the funeral for the person that has passed away, for example, the cost of the funeral ceremony, the gravestone, and the coffin.
Medical costs – This includes any costs that your loved one encountered medically before passing away, especially any private healthcare.
Special damages – This includes any costs that you have sustained because of what has happened, for example, loss of future income and loss of any property because of the incident.
General damages – This includes emotional suffering and any psychological trauma you have experienced due to losing a loved one. General damages are hard to measure.
How much compensation for death of family member?
We often get phone calls from people asking us how much compensation for death at work? While we are more than happy to explain the sort of compensation you may receive, it is important to recognise that providing a 100 per cent accurate death compensation calculation is not possible. This is because all cases are assessed on an individual basis. What we have done, though, is put together a table below, which states the average payout for most fatal accident at work claims. This should give you an idea regarding the sort of figure you are looking at. If you have used a personal injury claims calculator online elsewhere, please note that this will only ever give you an extremely loose estimate, so please do not pin all of your hopes on the amount presented.

| Injury sustained | Extra notes about the accident | Typical payout awarded |
| --- | --- | --- |
| Injuries resulting in death | Mental Anguish. Fear of impending death. | £4,100 |
| Injuries resulting in death | Immediate Unconsciousness/Death within One Week | £1,200 to £2,450 |
| Injuries resulting in death | Immediate Unconsciousness/Death after Six Weeks | £3,300 to £3,850 |
| Injuries resulting in death | Followed by Unconsciousness | £9,210 to £9,350 |
| Injuries resulting in death | Full Awareness | £11,000 to £20,880 |
Hopefully, you now have a better idea regarding the fatal accident compensation amount you may receive. However, if you would like more information on fatal accident dependency calculations and such like, please do not hesitate to get in touch.
No win, no fee payment structure
Here at Accident Claims UK, all the panel solicitors we offer operate on the often misunderstood No Win, No Fee way. There are many benefits associated with going for a No Win, No Fee solicitor, as you will discover below:
Financial risk is minimised – This is the main reason why so many people are turning towards No Win, No Fee When you go for this service, you will only pay legal fees if your personal injury claim is successful. With other payment terms, there is often in the back of people's minds the chance that you are going to invest enormous sums of money only for the solicitor to lose your case. This is a risk a lot of people cannot afford to take, and luckily you don't have to.
A better service is guaranteed – The solicitor working on your case is going to be impacted by the outcome, as they earn based on their performance, and so you can be sure of a much better service when you go down this route. The solicitor in question is going to do everything in their power to ensure your case is a success.
No huge upfront payment – You won't need to make a large upfront payment to start the claim process, as you would if you went for a solicitor who charged per the hour or via another type of payment structure.
No time wasting – If you were to go for the services of a traditional solicitor there is always the chance that they could be taking on your case just to take the money offered. However, you don't need to fret about this when going down the No Win, No Fee As pay is performance based, you can be confident that a No Win, No Fee solicitor will not waste your time. If they do not think your case is strong enough, they will tell you.
Why choose Accident Claims UK?
When you look into hiring a personal injury solicitor, the only thing you will need to know about is our service, as we cover the whole of the UK. Having been established many years ago, you can be confident that we have all of the experience necessary to provide you with an exceptional service. In fact, it is likely that our team has worked on hundreds of cases that are like yours in many ways time and time again.
One of the things that have let us to achieve a status as one of the best law firms in the country is because all of our team works to a No Win, No Fee payment agreement. This presents you with a whole host of great benefits. The main advantage is, of course, financial protection. This is because you will not need to pay any legal fees if your case is not a success. This leads to knock-on benefits, as you are likely to benefit from a high-quality service, as the solicitor's pay is performance related. Not only this, but you do not need to make a large payment upfront to start the service, and you can be sure enough that we will never waste your time by taking on your case if we do not believe it is strong enough.
Do you still have your doubts? If so, we encourage you to browse our website. You will soon discover that we have a great reputation, and we are sure that this will put your mind at ease. We have received glowing reviews from our past clients. If you have any further questions about working with a personal injury lawyer from our provided team, please do not hesitate to give us a call.
Contact our team today
If you are ready to make a claim for compensation for death of family member, please do not hesitate to get in touch with our team at Accident Claims UK. We have years of experience in the industry, and all of our advisors will make sure you feel at ease throughout the entire process. You can reach us on our 24-hour claims line on 0800 073 8801. Alternatively, we have a live chat feature on our website, and you can see the rest of our contact details by clicking here.
Useful links
We hope that you have found this guide useful on your quest to gather more information about making a claim for a fatal incident at work. However, we recognise that you may need some more details. These links may be of use to you…
Wrongful deaths – Claiming Advice– This brings you directly to our guide on compensation payouts for wrongful death and fatal accident compensation.
How common are fatal injuries and how do they happen– This link takes you to the UK Government Health and Safety Executive website, where you will find statistics on workplace fatal injuries in Great Britain in 2018.
Ankle Injury Claim –  take a look at our guide to learn more about ankle injury cases.
Burn Injury Guide –  have you suffered a burn injury due to the fault of a negligent third party? Why not take a look at our guide to learn more?
Fatal Accident at Work Claims
Can I claim on behalf of a loved one?
If a loved one is fatally injured in a workplace accident that wasn't their fault, you could have grounds to claim on their behalf. Under UK, loved ones such as spouses and parents could potentially handle the claim. For more information on cases of this nature, please contact our team to learn more.
What are the top 3 causes of fatalities to workers?
The three leading causes of workplace fatalities is:
slips, trips and falls
contact with objects and equipment
overexertion and bodily reaction
How much compensation do you get for accidental death?
When making fatal accident at work claims, the amount of compensation will take into account various factors, such as the accidents cause and the damages caused. Factors such a this will then be used to configure a compensation amount.
Thank you for taking the time to read our guide on fatal accident at work claims.