By Joanne Jeffries. Last Updated 13th September 2021. Welcome to this accident claims solicitors covering Cambridge guide. This explains what claims personal injury solicitors covering Cambridge could assist with.
If you have been unfortunate enough to suffer injury or illness or industrial disease due to the fault of someone else, you may be eligible to make an accident compensation claim. Within this page, we aim to provide all the information you could need on accident claims in Cambridge, from determining if you have the basis for a personal injury claim, to help you understand why you don't need accident claims solicitors in Cambridge to start a claim as you can use solicitors from across the country and more. From a cycle accident injury to road traffic crashes and work accidents, we'll take you through common scenarios that might result in you seeking a personal injury solicitor to help you with an accident claim. We will also discuss services provided by our accident claims solicitors, including a free initial consultation as well as what you may want to look for when seeking a no win no fee solicitor for Cambridge accident claims. If you would like to learn more, please contact our team.
Choose a section
What Is An Accident Claims Solicitor Covering Cambridge?
Our accident claims solicitors can cover the Cambridge area even though we are not based in that area as we can conduct personal injury compensation claims via phone and email, in order to put together the required evidence for compensation claims in Cambridge. From road traffic crashes to Cambridge medical negligence claims, specialist solicitors would build your case and put it forward to the liable party, and would handle the paperwork pertaining to your accident claim.
Finding the most appropriate personal injury solicitor or law firms to handle your claim could be tricky if you do not know where to look. What you might want to consider when choosing a personal injury lawyer can be broken down into the following considerations:
Do they work to a conditional fee agreement?
If you have been involved in any type of accident that has resulted in you having to spend time away from work, you might have lost income. Consequently, you may not have the funds to pay legal fees upfront. If your personal injury lawyer works on a no win no fee basis, you would sign an agreement to agree to pay legal fees from your accident compensation and nothing upfront. If your accident claim doesn't result in compensation, there would be no fee to pay your solicitor. It is worth keeping in mind that our panel of accident claims solicitors do work to this payment model.
Do they have the relevant experience to help you?
Pursuing accident claims could be made more difficult if your personal injury solicitor lacks the relevant experience to help you. It might be worth looking into what success rate your potential accident claim solicitor has, as well as how many accident claims they have handled that are similar to your accident claim. We'd also advise you to check they're registered in England and Wales and that they're authorised and regulated by the Solicitors Regulation Authority.
Are they responsive to your needs?
You might also wish to look into how easily contactable they are, how often they provide updates and how responsive they are to any queries you might have. Some accident claim lawyers might not respond quickly if you are asking advice about accident claims. If this is the case, it might give you the impression that they might not be responsive when it comes to the accident claims process itself.
Road Traffic Crashes And Cycling Accident Claims
Road traffic accidents could happen anywhere across the UK for a variety of different reasons. Whether you have suffered whiplash in a head-on collision that was another drivers fault, or you've been injured in a bicycle accidents when another motorist has failed to spot you and driven into you, having solicitors that are experienced in the car accident claims process could make all the difference to the quality of the case built – and this could have an effect on the amount of compensation awarded for your accident claim.
It may be interesting to note that when making a search for an accident claim solicitor to help you, you do not necessarily have to search for car accident solicitors near me. Whether it's head-on collisions in larger vehicles or cycling accident claims you're looking into, choosing a solicitor based on experience and success rate is often better than just choosing a solicitor due to their location.
Accidents Or Injuries In A Public Place
Accidents that are declared as accidents in a public place could happen anywhere from the street you live in to the place you shop in. Whether you've been injured due to a broken pavement that should have been fixed, or because a piece of park equipment has not been installed correctly or fixed when it became damaged, you may well be claiming against the local authority as they are responsible for most public places, or if you are avoidable injured in a shopping centre you maybe claiming against a private owner.
Falls, Trips And Slip Injuries
A slip and fall accident could result in a vast array of injuries. This largely depends on how far you have fallen, your age (older people tend to have more brittle bones that are prone to fractures) and what you might have fallen on or into. You could receive a sprain, a broken bone or cuts and bruises, or, you could suffer major injuries – especially if you have fallen from a great height. Falls and trips could be a common reason for accident claims in Cambridge. A personal injury solicitor could use a personal injury claims calculator to give you some idea of how much compensation your personal injury claim could attract, whether you have received a broken bone, a head injury or a sprain.
Accident At Work Injury Claims
Accident at work injury claims could arise from a number of different scenarios, depending on what you do for work. Whether you are working in an office and trip over a hazard that should have been removed, or you fall from height on a construction site where you were not risk assessed, or you pull your back lifting a heavy load as you have had no training, a personal injury lawyer based anywhere in the country could assist with accident claims in Cambridge. Your employer does have a duty to take care of your safety at work. If they haven't done what they should do to protect you and you are harmed, you could be eligible to claim for an accident at work you were injured in.
Rates Of Reported Workplace Injuries In Cambridge
Here, are statistics relating to injures at work in the Cambridge area.

| Location | Total - non fatal injuries | Total - non fatal injuries per 100,000 workers | Fatal injuries |
| --- | --- | --- | --- |
| Cambridge | 156 | 113 | 0 |
Source; https://www.hse.gov.uk/statistics/
You can see that unfortunately, there are fatal injuries that could occur at work. To see the most common causes of these, we look to the HSE's 2020/21 statistics.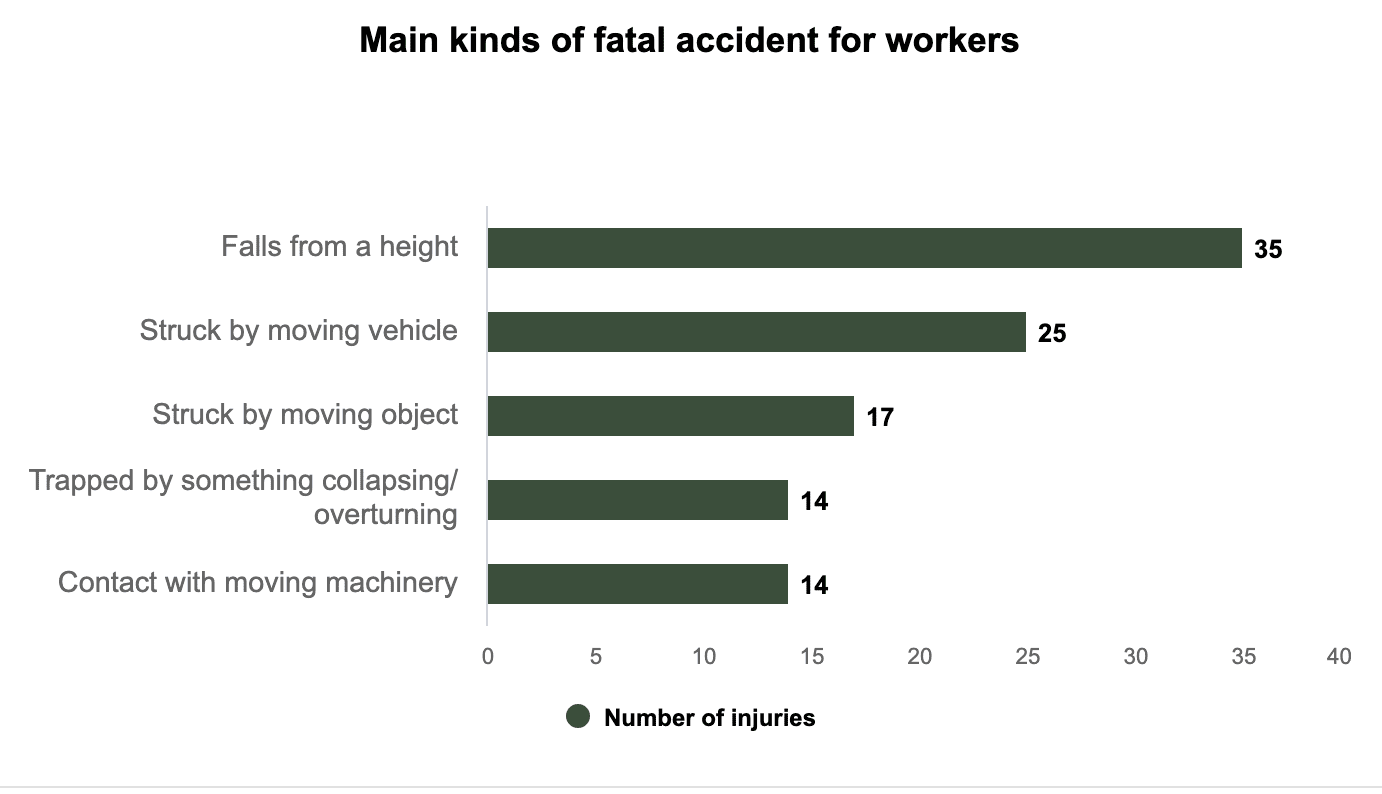 Claims By Victims Of Criminal Injuries
Criminal activities could cause injury in targeted victims, but also those who are not a direct target. If you have been injured because someone has been engaged in criminal activity in some way, then you may be able to make a personal injury claim, which would likely go through CICA. It is worth noting that the accident claims time limit for CICA claims tends to be 2 years, so it might be best to take action quickly if you feel that you may have an accident claim of this nature.
Cambridge Medical Negligence Claims
It may be the case that you have come across this page because you have suffered from negligence by a healthcare professional. If this is the case, and you have either suffered new injuries or illnesses because of it, or your condition has worsened directly as a result of the negligence, you might have cause to pursue this type of neglect claim. Medical negligence could result in a number of different types of claims, including:
Birth injury claims
Surgical negligence claims
GP negligence claims
Hospital negligence claims
Care home negligence claims
Dentist negligence claims
Any medical clinic or establishment, whether NHS or a private healthcare provider has a duty to your safety and care, and if they haven't lived up to required standards of care, and you have obtained a new injury/illness or your current illness or injury has become worse because of this negligence, you could have the basis for a medical negligence claim.
No Win No Fee Accident Claims Solicitors Covering Cambridge
We explained what this was earlier in the guide. To re-iterate, it means that your personal injury solicitor would sign an agreement, as would you, that agreed on a percentage of your compensation that would pay legal fees. Once your claim was successful, that percentage would be paid from the accident claim compensation. If your claim didn't result in compensation, then no fee would be due by you to your solicitor.
There are other benefits other than the obvious financial ones that come with going for a no win no fee agreement. The first is that your personal injury lawyer would likely only take on cases they were confident they could go ahead and win, and secondly, they would want to maximise the amount of accident claim compensation you would receive, as this would increase their final payment. So, they'd be working to get you the most compensation possible for your claim.
What Steps Do I Take Next?
Whether you are now looking for more advice on accident claims in Cambridge, or you feel ready to find a solicitor, there is only one number you really need. 0800 073 8801 connects you to our team, and we could be the only call you need to make to get the ball rolling on your personal injury claim. We are able to offer you expert advice, and we could also provide you with a personal injury solicitor who could take your claim forward for you.
Accident Claim Solicitors – FAQs
How Important is a Solicitor's Location?
The answer to this question is – not very. Many claims are handled solely via email and phone these days, so it is not necessary for people to restrict their search to accident claims solicitors in Cambridge. They could use an accident claim solicitor anywhere in the country. As a nationwide service, we're in a great position to be able to help with claims across the country, as our panel of solicitors could cover claims anywhere in the country.
Does A Doctor Need To Examine My Injuries?
In many cases, a person who has been injured or has obtained an illness that could lead to an accident claim would need to visit a doctor to get treatment. However, it may also be necessary for them to receive another examination from an independent medical expert. This is something that is done as part of the accident claims process as it will provide valid evidence of your injury or illness, your prognosis and the suffering you've experienced. All of this information will be used to work out how much compensation you are entitled to.
Could This Be Done Locally?
While you do not need to use accident claims solicitors in your local area if you do not want to you might wish to see a medical expert locally for your medical assessment. After all, the medical assessment is often something that needs to be done in person, and people may not wish to travel far to do this. You may be pleased to hear that medical assessments could often be carried out close to you. Some of the experts in the Cambridge area include:
Asef Zafar
Vision Park,
Chivers Way,
Histon
Cambridge
CB24 9AD
Sajive Bansal
The Coach House Clinic
Anstey Hall, Maris Lane
Trumpington
Cambridge
CB2 9LG
Could accident claims solicitors covering Cambridge assist with hit and run accident claims?
If you are worried because you have suffered an injury in a hit and run incident, and you don't think you could claim, the below might be of interest to you.
Whether you have suffered injuries as a pedestrian and someone has fled the scene after knocking you over, or someone hit you head-on in a car, sped off and you were injured, we could help. Our personal injury solicitors covering Cambridge could help you make a claim through the MIB. The MIIB, or Motor Insurers' Bureau not only work to reduce the amount of uninsured driving in the UK, but they also could compensate you if you have been injured by someone who was uninsured or cannot be traced. If you would like to make a claim in this manner, we could help you. Solicitors could fight for the maximum compensation possible for your hit and run claim. After all, if an accident was not your fault and someone fled the scene, you should still be able to get the compensation you deserve. To ask us about our legal services and how we could help you claim for a hit and run accident, please call our team today. We could also assist with claims where you were hit by a foreign driver or a foreign vehicle.
Could accident claims solicitors covering Cambridge help me if I was partially at fault for an accident?
When you are involved in an accident, and you believe that it may be even partially your fault, you may be considering the possibility that you would not be able to claim for your injuries. However, in many cases, particularly when it comes to road traffic accidents, for example, you could still claim.
Making a split liability claim could mean you would receive compensation for your injuries but it may be reduced because you were partly to blame for the accident. Having a good lawyer on your side when making such claims could really impact your case. Your solicitor would be able to put together the strongest case for compensation for you, and they could also negotiate for the maximum compensation possible, even if you were partly at fault for the accident. If you are seeking legal advice in this regard, our team would be happy to help you. We could provide legal services to you even if you are partially to blame for an accident, in cases where there was fault on the other side too.
Further Information
Reporting Accidents That Occur In The Workplace
Reporting A Car Accident In Cambridge
Now you know more about accident claims solicitors covering Cambridge, you should hopefully be able to find personal injury solicitors for Cambridge claims.