By Joanne Jeffries. Last Updated September 6th 2021. Here, you will find our guide to accident claims solicitors covering Edinburgh In the sections below we explain why you don't have to use personal injury solicitors covering Edinburgh that are within the local area.
If you have been injured in an accident in Edinburgh, you may be thinking about making a claim for compensation for what you have gone through and any financial costs you may have incurred as a direct result of your accident. However, you may be feeling at a loss regarding where to start. This could be a bit overwhelming, which is why we have put this guide together.
Below, we will reveal everything you might need to know about making accident claims in Edinburgh. From making a workplace accident claim to cycling accident claims; there are many different types of injury claims that could be made in Edinburgh. We will provide you with advice on some of the most common types of claims, as well as providing you with accidents claims advice. We will also take you through the different factors you might need to consider when you are looking for a no win no fee personal injury solicitor to help you to make an accident claim.
If you still have any further questions by the time you finish reading this guide, please do not hesitate to give us a call. You will find our contact information at the end of the page – we will be happy to hear from you if you require any advice.
Choose A Section
What Is An Accident Claims Solicitor Covering Edinburgh?
If you have been involved in an accident in Edinburgh, you could be considering making a claim for compensation. In order to make a personal injury claim, it is advisable to find a good accident claims solicitor to assist you as they will have the knowledge and expertise to see your case succeeds.
This is a legal professional who has many years of experience in personal injury law and the relevant qualifications. They will help you to navigate the difficult claims process, ensuring a strong case is put together in order for you to have the best chance of getting the full amount of compensation you could be entitled to. Your no win no fee solicitor can provide a number of different services to you. This includes evaluating whether or not you have a valid claim and ensuring that you are within the accident claims time limit that is applicable to your case. They will also help you to gather the evidence you might need, as well as estimating how much compensation you may be entitled to if you do go ahead and make a case. They could use a professional personal injury claims calculator to assist with this.
It is important to recognise that when you come to look for an accident claims solicitor you are not limited to those in Edinburgh. Claims could be handled via email and telephone today, which means you could work with a solicitor based in a different location. This means you could have the power to select someone based on their experience and expertise, rather than choosing someone just because of where they are situated.
Numbers Of Accidents Reported In The Workplace In Edinburgh
There are a number of different ways that people could be injured in the workplace in Edinburgh. Scotland work injury claims could range from an accident at work involving manual handling injuries to cases of industrial disease. In the United Kingdom at present, there are 1.6 million individuals that suffer from an illness related to their work. Below, we include a graph showing further 2019/20 statistics.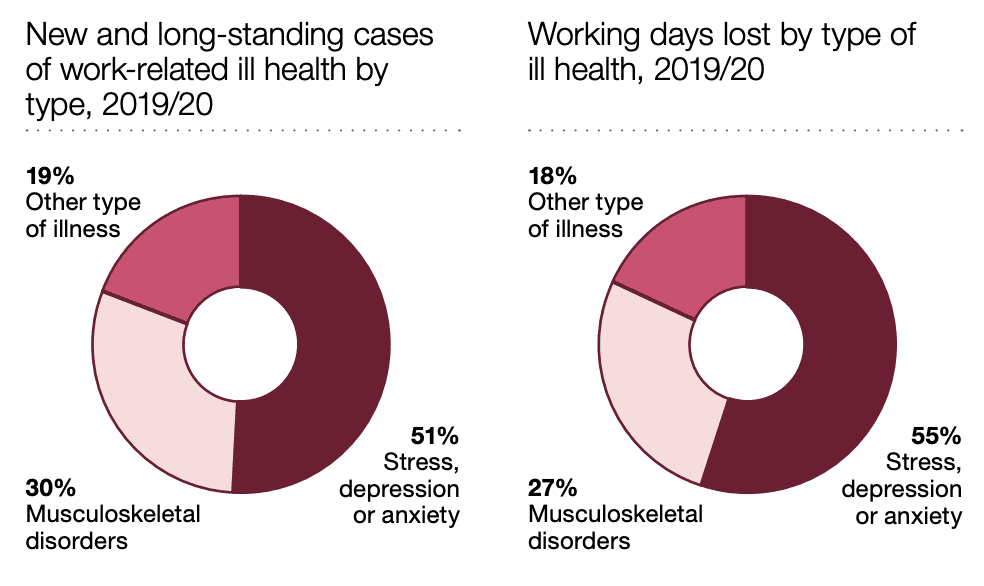 There are additional statistics that can be found on the HSE website. To get a better understanding of the workplace incidents that take place in Edinburgh, please refer to the table below. These stats are in no way a reflection of personal injury claims and do not determine negligence. This table shows statistics regarding the number of non-fatal and fatal workplace injuries in Edinburgh per 100,000 workers.
| Location | Total - non fatal injuries | Total - non fatal injuries per 100,000 workers | Fatal injuries |
| --- | --- | --- | --- |
| Edinburgh | 519 | 150 | 0 |
Source: www.hse.gov.uk/statistics/tables/ridreg.xlsx
Accidents In The Workplace
This section will look at some of the different types of common accident claims in workplaces. No matter your work environment, there are always going to be risks entailed. It does not matter if you work in an office or a construction site, there are always going to be risks. It is your employer's responsibility to ensure that these risks are minimised as much as possible. This is something they are required to do by law. Failure to do this, resulting in an injury, could easily result in a claim for compensation. Accidents that could happen in a work place could include;
Manual handling accident.
Exposure to toxic substance.
Edinburgh Car And Road Accident Claims
You may also be thinking about making a claim if you have experienced a car accident in Edinburgh because of other road users. Our team has a lot of experience with medical claims for a car accident. In terms of the car accident claims process, it is important to try and gather as much evidence as possible. This could involve getting all of the details about the offending driver if possible. Even if the driver has fled the scene of a road traffic accident, you may still be able to make a claim. You might need to also take photographs of the scene if you are able to do so, get witness details, images of any injuries, seek medical attention and so on and so forth.
Trip, Fall And Slip Accidents
According to the HSE, one of the most common types of workplace accidents are those that involve a trip, slip, or fall. This is because these incidents could happen virtually anywhere and they could occur in so many different ways. The place in which the accident has taken place could dictate whom the claim is being made against. For example, if you have tripped because of a pothole on a public walkway, you could be making your claim against the local council in the area. However, if you have slipped because a product has been dropped in a supermarket and it has not been cleaned up as quickly or effectively as it should have been, you could be making the claim against the supermarket.
Assault And Other Criminal Injuries
You may be under the impression that criminal activity by another person that leaves you with an injury would not lead to a claim. In fact, this is not the case. Criminal Injuries Compensation Authority (CICA), the Government's agency that deals with compensating victims of crime maybe able to compensate you for your suffering among other damages. In some cases, however, if you are injured by an assault at work and your employer has not taken steps to ensure you are kept safe from suffering harm in this manner, then it could be that the assault claim might be against your employer. Whatever the assault, whether it was physical or sexual, if you have suffered injuries, you could be in a position to put forward a compensation claim.
Claims For Accidents And Injuries In A Public Place
Have you been injured in a public place while in Edinburgh? Injuries that happen in public places can also include injuries that have occurred on land that is managed by the council. This could be anywhere ranging from a general walkway to a park area. The council has a responsibility to ensure consistent upkeep of these areas, making sure they are safe at all times. If they have failed to do this and you have been injured as a result, there could be a chance that you are going to be able to make a claim. You can call us today if you would like further information about Edinburgh council accident claims. We'd be happy to talk through your options with you.
Medical Malpractice Compensation Claims
The final example that we are going to take a look at is medical malpractice. This could relate to scenarios whereby the action or lack of action on behalf of a medical professional has created an entirely new illness/injury, has caused an existing condition to get worse or had an impact on your future prognosis.
There are different examples of medical negligence. It is important to point out that clinical negligence could relate to both public and private medical centres. To give you an understanding of medical negligence, some examples are as follows…
A dentist extracting the wrong tooth
Care home abuse
Mistakes made during surgery
Birth injuries caused through negligence
Plastic surgery negligence
Misdiagnosis
Late diagnosis
Medication mistakes
Cancer diagnosis errors or treatment negligence
No Win No Fee Accident Claims Solicitors Covering Edinburgh
When you are making a claim, one of the most important things you will need to do is find the most appropriate personal injury solicitor to work on your case. One of the most important factors to consider is how much you are going to pay and when you might need to pay it. Opting for a solicitor who works on a no win no fee basis is usually advised because this means that you will only to need to pay the legal fees for your compensation claim if it is a successful one. If your claim is unsuccessful, then you won't need to pay anything to your legal team for a no win no fee service.
Taking The Next Steps
We hope that you now have a good understanding regarding no win no fee claims. The next step is to give our team a call on 0800 073 8801 for more information and to get insight into the prospects of success. We will be able to give you an honest assessment of the strength of your case. If we believe you have a strong chance of securing compensation, after a free initial consultation we will match you to the most appropriate personal injury lawyer from our panel based on the specifics of what has happened to you.
Accident Claims Process FAQs
Ways Our Claims Team Could Help You
We know that making an accident claim could be very overwhelming if this is something you have never experienced before. It is not as simple as filling in an accident claim form. We have many years of experience in the industry and we are here to assist you. Our advisors are available by phone 24 hours a day so please feel free to call at any time if you have queries about accident claims in Edinburgh or the law firms that could help with them. We could give you a free consultation.
Is It Best To Claim With A Local Solicitor?
A lot of might people assume that their only option is to work with a local personal injury lawyer if they are to make injury claims in Edinburgh. However, this is not the case. You could make a claim with a solicitor based anywhere as most cases can be handled via email and telephone today.
Do All Claimants Need A Medical Assessment Or Examination?
When making a personal injury claim in Edinburgh, collecting evidence could be a critical part of the process. This could sometimes involve gathering evidence to support your claim. It may also mean seeing a medical professional, which is something our panel could assist with.
Where Will My Medical Assessment Be Carried Out?
A medical assessment is something our panel could help to arrange for you. We have connections with a number of reputable doctors in Edinburgh. This includes:
Mohammed Ahmad
Waterside House
19 Hawthornbank Lane
Edinburgh
EH4 3BH
Sumeet Vohra
187 Dalkeith Road
Edinburgh
EH16 5DS
Mark Innes Burgin
Edinburgh Osteopathic Surgery
187 Dalkeith Road,
Edinburgh
EH16 5DS
How do I choose accident claims solicitors covering Edinburgh to help with my case
Many potential claimants may believe that finding a reputable solicitor is one of the most important steps to take when making a personal injury case. Some people may assume that they need to work with someone that is based locally. However, times have changed and services like this can be handled digitally for the most part, so this is not something you would need to worry about. Instead of looking for the closest solicitor, look for personal injury solicitors covering Edinburgh that work for you. This is, after all, the person who could give you the greatest chance of winning your case.
There are a number of different factors to take into account when choosing a solicitor. It would be useful to make sure that your solicitor is registered for practice in England and Wales. In addition to this, they must be authorised and regulated by the Solicitors Regulation Authority. You should also make sure that the solicitor you go for has sufficient experience and that they have worked on cases of a similar nature to yours before. Other considerations might include how communication will take place during the claims process, and enquire about payments too. A No Win No Fee approach could be a good route to go down.
Here at Accident Claims UK, we have an impeccable reputation for the claims service that we provide. To discuss your chances of claiming successfully, please do not hesitate to get in touch.
Would accident claims solicitors covering Edinburgh assist with claims for housing disrepair illnesses?
If you have suffered an illness due to housing disrepair, you may be able to make a claim. Whether you rent from a private landlord or you are in housing association accommodation, you are entitled to safe and healthy living conditions. If this is not provided, some of the illnesses that people can experience include gastrointestinal issues, carbon monoxide poisoning, pneumonia, anxiety, depression, asthma, and more. If you have reported disrepair but nothing has been done, you could suffer any of the above, and your landlord could be liable.
If you have experienced any sort of illness and you can prove that the state of your property is to blame for what has happened to you, you may be able to make a claim. It is important to work with an experienced solicitor to give yourself the best chance of securing compensation. We have helped many people who have experienced illnesses or injuries due to poor living conditions. Simply give us a call today to discuss your situation in further detail and to benefit from free legal advice.
Where You Could Learn More
We hope you found our guide to accident claims solicitors for Edinburgh claims useful. We hope you'll now knoe why you don't have to use personal injury solicitors covering Edinburgh that are based locally.