By Joanne Jeffries. Last Updated 12th July 2022. Welcome to this case study covering medical negligence claims payouts for a misdiagnosis. In the guide, we explain sepsis compensation payouts in the UK for 2022  claims, as well as who could claim NHS negligence payouts. We also answer frequently asked questions such as "How long do I have to claim sepsis payouts in the UK" and "How do I prove a GP misdiagnosis?"
NHS Negligence Payouts Case Study
In this case study, we look at a personal injury compensation claim for a GP misdiagnosis. In this personal injury claim, the victim, a 49-year-old professional woman, ended up in the Intensive Care Unit due to a mistake that was made by her doctor. This was a very serious medical error, that resulted in multiple organ failure. Treatment and recovery kept the victim away from their career for over a year. The solicitor that they chose to use, was able to claim a total compensation payment over £1.2 million.
In this case study, we take a look at some key medical negligence statistics in the UK. We also cover the claim itself; what the medical problem was, and the long-term effects it had on the life of the claimant. We also take a look at how the claim was eventually made, and how a settlement was achieved.
As you will see by the end of this case study, this was a good example of a compensation claim that resulted in more compensation being paid for the long-term effects of the medical condition, than for pain and suffering. We could help you obtain medical negligence claims payouts for such misdiagnoses.
Medical And Clinical Negligence Statistics
If you have suffered at the hands of your GP, then to answer the question, can you sue the NHS for medical negligence? The answer is yes, as long as it can be proven that your GP was in error. If they were, a personal injury lawyer would be able to process a GP negligence claim on your behalf.
Despite the UK Government taking steps to minimise the number of occurrences of medical negligence in the UK, it is still fairly common. In the UK each year, there are on average, around 17,000 clinical negligence claims made, although not all of these are successful. Of these 17,000 claims, only around a third of them are settled in court, with the remainder either being settled out of court, or lost. Overall, only around 60% of clinical negligence claims result in some level of damages being awarded.
What Illness Did The Claimant Develop?
To answer the question, how long does a medical negligence claim take? is that it depends how bad your medical condition is, and how difficult it is for your personal injury solicitor to prove a medical professional was at fault. In this case, the mistake was made by the claimants GP, and the consequences were dire.
The victim visited their GP complaining of chest pains. The GP diagnosed the problem as acute gastritis, and prescribed pain medication. By the morning, the victim's condition had become so bad, that on calling their GP, he immediately arranged for them to go into hospital. The victim was suffering from full Toxic Shock Syndrome, due to severe Sepsis. This caused multiple organ failure, and the victim spent the next three weeks in intensive care.
What Were The Long-Term Consequences
At the time of the incidence of clinical negligence taking place, the victim was 49 years old, and running their own law practice. In many ways, they were in the prime of their life both physically and professionally.
After spending three weeks in the ICU, the claimant then had to spend another 12 months recuperating, and was unable to work at all during this time. This has a catastrophic effect on their legal practice. Furthermore, the general wellness of the claimant was much lower after recuperation, due to the severe stress that the case of sepsis had put on their body.
How Was The Case Handled For The Claimant?
The claim was made, because the claimant had been a victim of medical negligence, caused by a delayed diagnosis of their actual medical condition. Aside from the claim for the pain and suffering the claimant went through, there was a significant claim for loss of earnings, due to not being able to work for a year. Furthermore, a claim was made for loss of future earnings, as the claimant's working and earning capacity was reduced, once they had recovered as much as they were going to.
Was This A Record Settlement?
This case study is a good example of how much compensation for misdiagnosis is available in some specific circumstances. The claimant's solicitor processed a claim for NHS misdiagnosis compensation which included a large provision for loss of current and future earnings.
Eventually, a settlement was reached, and the claimant received £1.2 million in damages, with the largest compensation provision being for the loss of earnings. This was a textbook case, showing how in some situations, it is not the injury or medical condition itself which attracts the most compensation, but the long-term effects it has on the victim's life. At the time, this was a record settlement for such a claim.
No Win No Fee GP Misdiagnosis Compensation Claims
Accident Claims UK can offer victims of misdiagnosis, a risk-free way to attempt to make a compensation claim against the medical professional who is at fault. We can represent you as your No Win No Fee solicitors, and process a clinical negligence claim on your behalf.
The way that our No Win No Fee claims service works, is that when we take your claim on, we won't charge you a single penny to do so. As we process your claim, which in some cases could take months or even years, we still won't charge you anything. If we fail to win you a compensation settlement, then the total cost of processing your cases is zero, we won't charge you anything at all. When we are successful though, and we receive a compensation payment on your behalf, we will take our pre-agreed percentage as our fee, out of the payment we received. We will then give you the rest.
As you can see, this is a financially risk-free way to make a medical negligence claim. Call Accident Claims UK today, to find out more about how our national claims service can help you to get the compensation you are eligible for.
 How Long Do I Have To Claim Sepsis Compensation Payouts In The UK
How long you have to claim sepsis compensation payouts in the UK depends on the situation. Generally, you have three years from the date of the incident. However, it could also start from the date you connected harm with negligence.
There are other exceptions as well. For example, the time limit is suspended for children under the age of 18. Before they turn 18, the courts could appoint a litigation friend to claim on their behalf. If no one makes the claim on their behalf, they will have three years from the date of their 18th birthday to claim themselves.
Similarly, the time limit is suspended for anyone who has a reduced mental capacity to claim. A litigation friend could also be appointed to make the claim on their behalf. Alternatively, if they recover their mental capacity, they will have three years from the recovery date to do so.
For more information on making a GP misdiagnosis claim and seeking sepsis compensation payouts in the UK, call our team.
Begin Your Claim Today And Receive Medical Negligence Claims Payouts for A Misdiagnosis
Accident Claims UK has the experience needed to process successful claims against the NHS for our clients. We are skilled in following the medical negligence claim process, and have proven effective in claiming significant amounts from large organisations such as the NHS in the past. We have helped many victims of clinical negligence, and we can do the same for you. Simply call us on 0800 073 8801 so that we can get started on your no win no fee claim today.
When you call us, one of our team will be ready to talk you through our onboarding process for new claims. Part of this process, is asking you a number of questions designed to tell us what we need to know about both your injuries, and the medical negligence that caused them. These questions could include:
Questions about medical negligence claims payouts
Where and when did the medical negligence take place?
Why do you believe a medical professional was at fault?
Do you have any proof to back up your belief?
Have you been examined by an impartial doctor?
Have you reported the issue to the hospital or clinic that is involved?
What is the prognosis for your long-term recovery?
Have you had to miss time off work due to your medical condition?
Have you suffered any financial losses due to the clinical negligence?
Once we have asked you questions such as these, we will be in a much better position to offer you some informed legal advice on what your next move will be. In many cases, we will offer our No Win No Fee national claims service, as the simplest way for you to make a compensation claim for clinical negligence.
How common are medical negligence payouts for a misdiagnosis on the NHS?
It is important to recognise that for the majority of people, the NHS provides a good standard of care. However, sometimes things do go wrong. According to NHS Resolution, in 2020/2021 trusts paid out a significant amount of compensation. This was for a variety of clinical negligence claims. You can see the figure in the graphic below.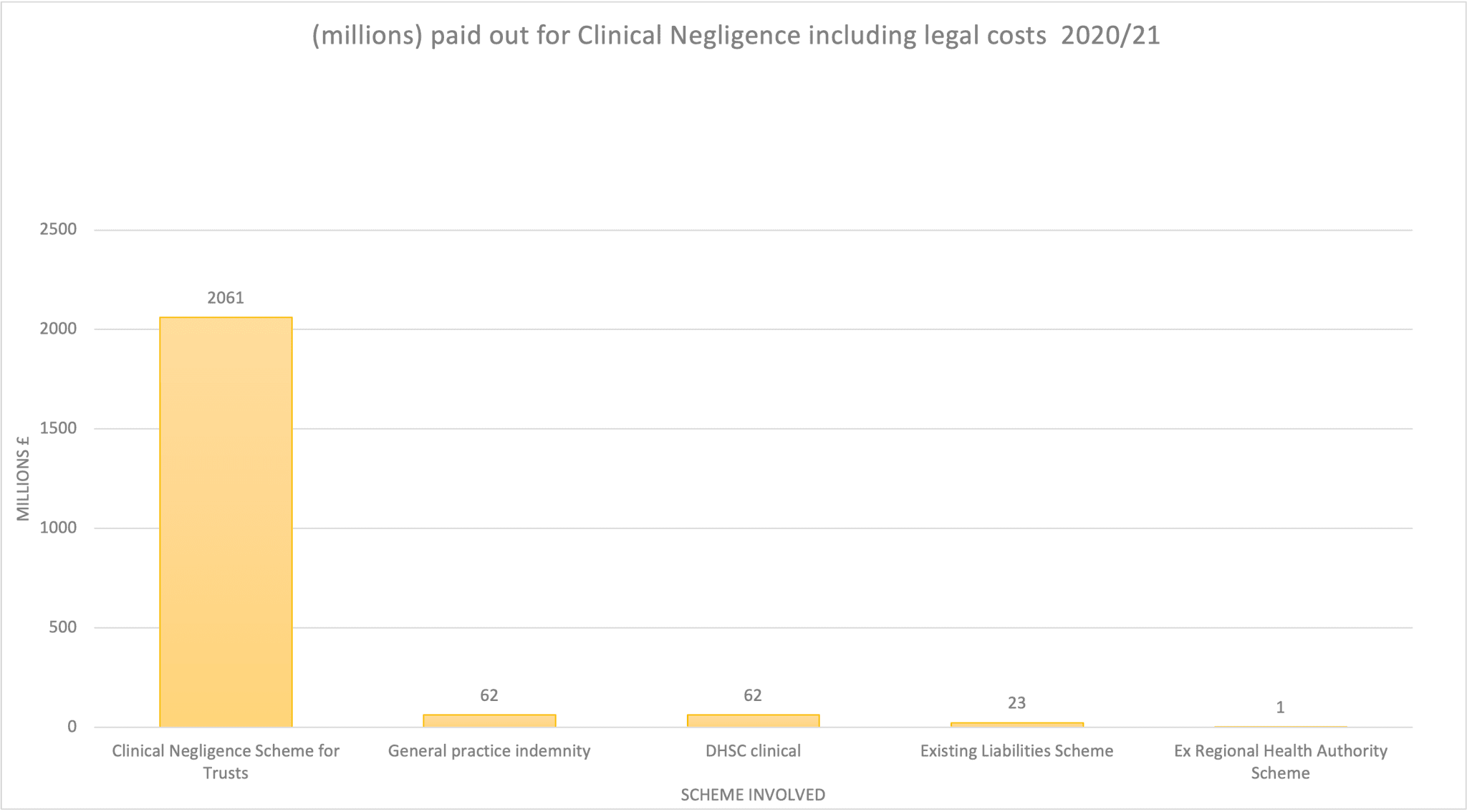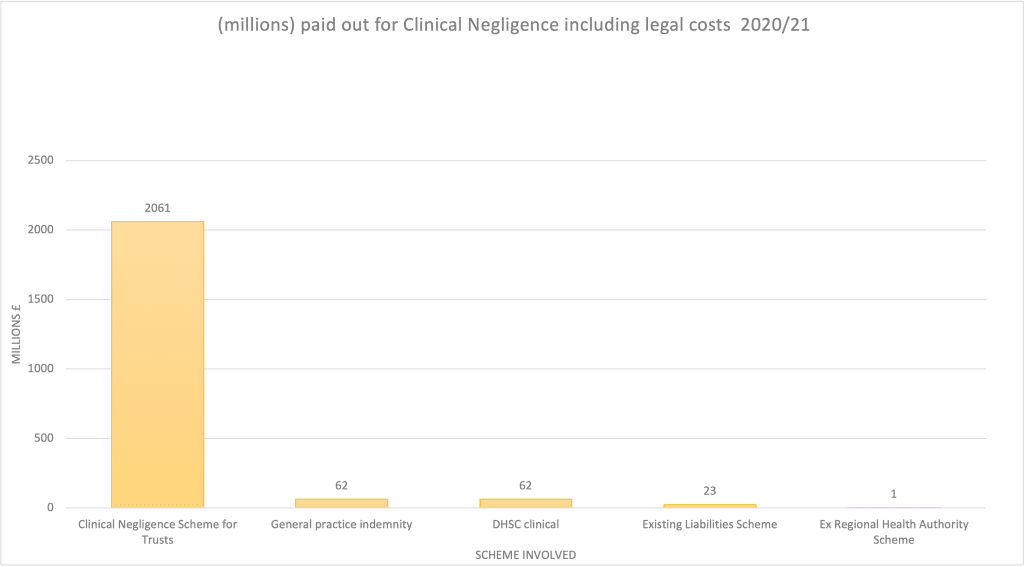 What do I need to prove to receive medical negligence claims payouts for a mixed diagnosis?
In order to have a successful medical negligence compensation claim, you would need to prove a few things. Firstly, you'd need to prove that clinical negligence had led you to suffer undue harm that you would not have suffered had negligence not occurred. You would need to be able to prove that a misdiagnosis directly caused the harm. This could make you eligible for medical negligence claim payouts.