By Joanne Jeffries. Last Updated 29th September 2021. Welcome to our guide on misdiagnosis claims. In this guide, we have compiled a large quantity of factual and relevant information to discuss medical negligence. In doing so, we shall discuss the misdiagnosis compensation claims process, medical negligence, how much compensation for medical negligence, how much compensation for misdiagnosis of cancer, and how our team could assist you.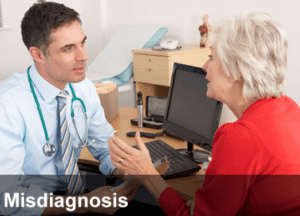 When we put our health in the hands of a medical professional, we expect it to improve. We don't expect our condition to get worse or to suffer a further illness or injury. However, this can happen from time to time. In some cases, there is no rhyme or reason for the deterioration of the situation. Some medical conditions are complex, and there is no way to tell the patient what will happen. In other cases, this happens because of medical negligence, i.e. specific action or inaction that has been taken by the healthcare professional. Be it a GP, doctor, or dentist. If you have been the victim of any medical negligence, you deserve to be compensated for any financial and physical and mental suffering you have experienced.
One of the most common forms of medical negligence is misdiagnosis. This is when your condition has been incorrectly diagnosed by a healthcare professional, which has resulted in it getting worse. Here at Accident Claims, we have many years of experience in medical diagnosis cases, and we can help you get the compensation you deserve. Read on to discover more about such compensation claims, including details on cancer misdiagnosis compensation amounts, how much compensation for medical negligence, and you will also find our contact details at the end of this guide should you require further information or wish to begin the process of making a claim. We hope you will find all the answers to any questions you have about the process within this guide.
Select a section
Our complete guide to misdiagnosis claims
Did you know it could be possible to claim compensation for any undue pain and suffering, disability and suffering you experience because of a misdiagnosis? You could also claim compensation for any expenses resulting from the medical misdiagnosis.
A medical misdiagnosis can have serious consequences. It can result in an existing illness getting worse. It can mean that you receive incorrect treatment, which can cause even more problems. In some cases, such as cancer misdiagnosis, it can be fatal. If you, or someone you love, have been the victim of a late or wrong diagnosis, we can help you to make a claim. Read on to discover everything you need to know about medical misdiagnosis claims, including how to claim, how much compensation you may receive, and NHS misdiagnosis statistics.
What constitutes a misdiagnosis?
Getting the wrong diagnosis is one of the main reasons for claims being made against healthcare professionals and organisations, whether an NHS trust or private practice. What constitutes a misdiagnosis? This is when a medical condition, injury or illness has not been diagnosed correctly, i.e. the health professional has deemed the condition to be something it isn't, or when it has been diagnosed too late. Errors like this can mean that no treatment is carried out, or that delayed or incorrect treatment occurs, which will make the condition a lot worse. In some cases, misdiagnoses can have fatal consequences.
What types of misdiagnosis claims are there?
There are many different types of misdiagnosis claims, yet they can largely be categorised into three categories. These are as follows:
Incorrect diagnosis – This is when the individual has been misdiagnosed with the incorrect illness. This could mean that the person ends up receiving the incorrect treatment, which could be even more harmful. Moreover, you could end up experiencing anxiety because you have been told that you have a serious illness when you do not. Whenever claiming, psychological injuries can also be claimed for.
Late diagnosis – We have handled many late or misdiagnosis compensation claims over the years. This could mean that your recovery time and survival chances are impacted and that you experience your health condition for a longer period than is necessary.
Failure to diagnose – This is when a person's condition has been completely missed altogether, and so they do not get any treatment. This often results in the condition deteriorating. In some cases, an individual can suffer an untimely death because they have been suffering from a condition, and they have been none the wiser, meaning they do not get the treatment they need.
Whether you suffered a commonly misdiagnosed injury or illness, if it led to delays in treatment, worsened your condition or caused you undue pain, we could help you start your claim for compensation.
What is a wrongful diagnosis?
This occurs when the healthcare professional has incorrectly diagnosed the condition you are experiencing. This means that they will prescribe you the wrong treatment, as they start to treat a condition that you are not even suffering from. Depending on what they have incorrectly diagnosed you with, this can make the condition even worse or result in another illness or even brain injuries appearing. Whether or not this happens, there is also the psychological trauma to take into account too. We have handled many misdiagnosis compensation claims, so please do not hesitate to give us a call for more details.
What is a missed diagnosis?
This is when the illness has been missed altogether. In some cases, this can be fatal. Such instances can happen when a medical professional has not carried out the necessary tests to get the root of its symptoms. It can also happen if someone with insufficient experience has carried out tests, meaning they carried out the incorrect tests or did not read the situation properly.
What is a delayed diagnosis?
When it comes to compensation for the misdiagnosis of cancer, most cases come down to delayed diagnosis. If cancer is not diagnosed quickly, it can progress to a later stage, and it can spread to other parts of the body. This can result in the person going through intrusive treatments that would not have been required if the cancer was found promptly. In some cases, it can result in fatal consequences. Either way, we can help to secure the maximum cancer misdiagnosis compensation amounts. Needless to say, cancer is not the only condition that can get worse if it is diagnosed too late.
What causes misdiagnosis?
There are several reasons why a wrong diagnosis may take place. This includes the following:
Test results may not have been interpreted correctly. Examples of such tests include tissue samples, smears, biopsies, X-rays, MRI scans, and CT scans.
A lack of supervision. This could cause junior medical staff to make mistakes. All junior staff members need to be supervised.
Inadequate expertise. If your GP has not been trained to the required level, they may misdiagnose your illness.
Incorrect tests. Your doctor may have performed the wrong tests to get to the bottom of what has happened.
Lack of action. The healthcare professional may not have investigated the symptoms of your illness to a sufficient level.
These are just a handful of examples regarding how getting the wrong diagnosis may occur. When it comes to making a medical negligence claim, you simply need to be able to show that the healthcare professional or organisation was at fault for your condition. So, you will need to show how the misdiagnosis occurred to secure a payout. This is something that your solicitor will be able to assist you with.
Are there any time limits on medical misdiagnosis claims?
As is the case with all compensation cases, there is a time limit on medical misdiagnosis claims. This is three years from the date of the incident. Although you have a lot on your plate right now, it is not ideal to leave claiming until the last minute. If you do this, it will be more difficult to claim. The sooner you claim, the fresher the details will be in your mind. Not only this, but any court proceedings need to be issued within the three-year time frame.
If you have lost a loved one due to medical misdiagnosis, you will be able to claim on their behalf. You can also claim if your child has been the victim of the wrong diagnosis. If you don't, they will have three years to claim the date of their 18th birthday. Nevertheless, again, it is better to claim sooner on your child's behalf. In most cases, this money will be put in trust until your child turns 18-years-old. There may be allowances to take some of the money out for the likes of their education.
Can I claim medical misdiagnosis against the NHS?
Naturally, you may question whether you could make a claim again the NHS for medical misdiagnosis. In short, the answer is yes. However, in order to make a claim, you would be required to supply evidence to support your case. Within this section of the guide, we wanted to take a look at some critical statistics provided by the NHS that outline.
Within the Annual report and accounts 2018/19, the NHS detailed the following information:
11,417 clinical and 4,237 non-clinical claims for compensation were settled in 2018/19.
The number of medications on clinical negligence claims had risen by 119% in a singular year.
The provisions for claims has increased by £6.4 billion to £83.4 billion as of March, 31st 2019.
Can I make a misdiagnosis claim against a private clinic?
The short answer to this question is yes. Medical negligence, including wrong diagnosis, can happen in any type of healthcare environment and by any type of medical practitioner. It does not matter whether they work for the NHS or not; they can still be liable and, therefore, sued for compensation. To secure compensation, the same scenario goes, i.e. you need to prove that the private GP owed you a duty of care, that they breached this, and that this resulted in you sustaining injuries or an illness as a consequence. If you can prove this, then misdiagnosis claims become a real possibility.
Can I claim a private hospital?
While we have helped many people launch misdiagnosis NHS claims, we have also handled many claims made against private hospitals. The process is pretty much the same for private hospitals. After all, these doctors and healthcare professionals still owe you the same duty of care. If they have breached this duty, and you have been injured or suffered an illness as a consequence, you have the right to secure compensation via misdiagnosis compensation claims. You may assume that getting the wrong diagnosis does not frequently happen in private hospitals, as pressures are generally lower because they are not as flooded with patients. However, this does not stop late, incorrect, or missed diagnoses from occurring. If this has happened to you, please do not hesitate to give us a call for further information.
How is a misdiagnosis claim proven?
The law does not hold all medical professionals legally responsible for diagnostic mistakes that have occurred. After all, there could be a legitimate reason for the mistake being made, which does not fall down the negligence. The healthcare professional may have done everything expected of them, and you could just be incredibly unlucky. So, if you are to launch a successful claim, how do you go about proving your case? And how much compensation for misdiagnosis of cancer amongst other situations could you claim?
The first thing you need to do is prove that a doctor-patient relationship existed. This is essential because it shows that the doctor owed you a duty of care.
The next thing you need to do is show that the doctor acted negligently. This means that they did not provide treatment in a competent and reasonably skilful manner.
Finally, you need to prove that this negligence has resulted in your suffering an injury, illness, or condition that has gotten worse because of it.
What kinds of compensation will I receive for misdiagnosis claims? – Updated September 2021
When making a misdiagnosis claim, naturally, you may question how much compensation for medical negligence could be awarded. In order to determine how much compensation for medical negligence, we must first acknowledge how the claims process is broken down.
you can receive both special damages and general damages. Special damages are for the costs you have had to fund as a direct consequence of your injury or illness, for example, loss of earnings or hospital parking tickets. General damages refer to the pain and discomfort you have encountered, and therefore, the payout you receive to compensate for this. Some of the most common damages claimed for when it comes to these cases are as follows:
Treatment costs
Travel expenses
Equipment or medication expenses
Loss of income
Life expectancy reduction
Disability, discomfort and pain caused.
If you have any questions regarding your claim, how much compensation for medical negligence, or whether a solicitor could assist you, please speak to our team member.
| Injury | Severity | Average settlement awarded | Notes: |
| --- | --- | --- | --- |
| Head injuries | Severe | £205,580 to £379,100 | Requiring constant care and with a high degree of a reduced quality of life. |
| Head injuries | Moderate | £14,380 to £205,580 | Permanently disabled after the injury |
| Head injuries | Minor | £2,070 to £11,980 | Resulting in only minor injuries |
| Ear injuries | Serious | £6,580 to £42,730 | May also include tinnitus. |
| Eye injuries | Serious | Up to £252,180 | Loss of sight in one or both eyes |
| Neck injuries | Severe | £42,680 to £139,210 | Loss of function in the neck |
| Neck injuries | Moderate | £7,410 to £36,120 | Restricted function in the neck |
| Neck injuries | Minor | £2,300 to £7,410 | Fully recovered from quickly. |
| Foot injuries | Serious / Severe | £39,390 to £189,110 | Injuries up to amputation. |
| Foot injuries | Moderate | £12,900 to £23,460 | Not as serious as the above category, but may lead to seriously reduced function. |
What amount of compensation will I receive for misdiagnosis claims?
You probably want to know much compensation you are entitled to. It is important to stress that all cases are different. There are numerous types of wrong diagnosis, varying circumstances, and injuries differ considerably. As such, all claims are handled on an individual basis. There is no setlist of wrong diagnosis compensation amounts that can be referred to, and so any solicitor that promises you 'x' amount of money is bending the truth.
You may have come across a misdiagnosis compensation calculator on the Internet, which has worked out how much money you will get. Again, this should only be taken with a pinch of salt. A tool like this can't tell you how much compensation you will get. A misdiagnosis claims calculator will only ever give you a rough estimate.
So, how is compensation calculated? Some of the factors that will be considered are as follows:
How the misdiagnosis has impacted your quality of life
Changes to life expectancy
The suffering and pain caused by improper medical treatment being administered.
The length of recovery time that was added to your existing recovery
The nature of the illness you are experiencing.
Whether you suffered psychological injuries too
These sorts of factors will be taken into account. You can also claim for any income you have missed out on because of the misdiagnosis. In terms of loss of income, you can usually claim anything up to £500,000, although more than this has been secured on some occasions. Are you expected to miss more work in the future? If so, you can claim for this too. You can usually claim anything up to £400,000, although more than this has been secured on some occasions.
No Win No Fee claims for misdiagnosis – what is involved?
When you work with Accident Claims, you can be sure that all medical misdiagnosis cases are handled on a No Win No fee basis. What does this mean? Well, this is officially titled CFA or Conditional Fee Agreement. It means that the payment structure for legal services is as follows: the claimant will pay a percentage of their compensation to the solicitor. This is a 'success fee' so to speak. What does this mean for you? Well, firstly, it means you aren't going to need to pay a large upfront fee to secure legal services for any compensation claims. This enables anyone to claim; no matter how much money they have in the bank at present. It also means that you are only going to pay for legal services if your case is successful.
If your case is not a success, there will be no compensation, meaning any percentage the solicitor is 'owed' will total £0, and you owe nothing. This ensures you never end up out of pocket – you only pay if the solicitor does their job and wins compensation. There are some other benefits worth factoring in as well. After all, your solicitor only gets paid if the case wins, so you know they will be working hard for you. You also know that they will never waste your time. If they believe you do not have a strong case, they are going to tell you so. If you went for solicitors that charge on an hourly basis instead, there is always the risk that they could lead you down the garden path purely to take your cash.
How Accident Claims could help you with misdiagnosis claims
Whether you are seeking private or NHS misdiagnosis compensation, Accident Claims is the company you need. Not only are all of your claims, 100 per cent No Win, No Fee – meaning you pay nothing if you lose – but we also always aim to secure the maximum compensation amount.
When you contact us, you will get advice, free of charge, from a polite and professional legal expert, and there is no obligation to continue with our service. We can tackle numerous questions, such as:
What is the claim?
When should I begin my claim?
How much compensation for medical negligence could be awarded?
Should I supply evidence?
But, if you do, you will benefit from the assistance of specialist solicitors that have up to 30 years of experience in the industry, as well as a good track record to go with it.
Want to start a medical misdiagnosis claim or receive free advice?
No matter whether you want to seek further information on misdiagnosis NHS claims, how much compensation for the misdiagnosis of cancer, or what payout you will get, all you need to do is give us a call for free advice. The phone number you require is 0800 073 8801. We are open seven days per week, 24 hours a day, meaning you can call whenever convenient. If you are ready to begin your claim and get the compensation you deserve, we will happily assist.
There are also several other ways you can get in touch if you would prefer. You can request a call back via our website. You can also send an email to office@accidentclaims.co.uk. We aim to get back to your email within three hours between Monday and Friday. It may take a bit longer over the weekend. We recommend emailing or calling for the quickest response, but you can also write to us if required or if you need to send any documents. Our address is Accident Claims, 130 Bury New Road, Prestwich, Manchester, M25 0AA. We look forward to hearing from you and securing the compensation that you deserve.
Helpful links
This link takes you to the NHS Resolution factsheet with information on claims made during the 2017-17 period.
This is an interesting news article by The Telegraph that reveals how many NHS patients in the UK are misdiagnosed.
This is a journal regarding 'The incidence of diagnostic error in medicine.' It includes details on the methods that are currently being used to identify diagnostic errors in practice.
Have you suffered due to the negligence of a GP? If so, then why not take a look at our guide to learn more.
If you happen to have suffered dental negligence, then please do not suffer in silence. Contact our team today to learn more.
Beauty Treatment Negligence Guide
Has a beauty treatment gone wrong and caused you harm? If so, then the negligent actions of the beautician could mean you have grounds to claim. Contact our team today to learn more.
Misdiagnosis Compensation Claims FAQs
What are some examples of medical negligence?
Here are some examples of medical negligence:
Poor follow-up/aftercare.
Premature discharge.
Improper medication or dosage.
Failing to diagnose an illness or injury.
Unnecessary surgeries.
Surgical errors.
Can you sue the NHS for negligence?
In short, the answer is yes; you could sue the NHS. To sue the NHS, you must be able to provide evidence that clearly outlines how they have acted negligently and caused you unnecessary harm.
On the grounds and a personal injury lawyer could offer to handle your claim and help you seek the compensation you deserve.
How do I make a medical negligence claim?
To make a medical negligence claim, you will be required to supply evidence. After all, the evidence is crucial. Thankfully, there are various forms of evidence you can supply to support your case, such as:
Photographs.
Detailed statements
Gather witness contact information.
Keep documentation for financial evidence.
Keep medical reports and X-rays.
What is the average payout for medical negligence UK?
It is more than understandable to question how much compensation for misdiagnosis of cancer could be awarded. When seeking compensation, it is worth keeping in mind that every claim considers the unique circumstances at hand. For instance, the injury type, severity, and any long-term impact will be taken into account.
Can it be difficult to make a successful claim?
Not necessarily, though you do need concrete evidence to support your case.
Are misdiagnosis compensation cases common?
Such cases can happen more often than you might think, though they are still the exception rather than the rule.
Do I have to wait until I finish receiving treatment for my correctly diagnosed condition?
No. You can make a claim as soon as you discover that you were misdiagnosed.
Do I make a claim against the doctor themselves?
You can do, especially if you can prove another doctor in a similar position doesn't make the same mistake.
How common is Parkinson's Misdiagnosis?
According to a poll conducted by Parkinson's UK, a charity, over a quarter of those with Parkinson's disease had previously been misdiagnosed. The poll was answered by over 2,000 people and 26% of these people were initially diagnosed with something different. 21% of those polled saw their doctor 3+ times before referral was made to a specialist. Shockingly, it was also revealed that of those who were given the wrong diagnosis, 48% received treatment for a misdiagnosed condition, with 6% having surgical procedures and 36% being given medication. 34% of those who received such treatment said their health had worsened as a result of this unnecessary treatment. Misdiagnoses of Parkinson's sufferers were most commonly given to women, and those who were misdiagnosed more often were those between the ages of 51-60, according to the poll.
Source: https://www.theguardian.com/society/2019/dec/30/quarter-of-parkinsons-sufferers-were-wrongly-diagnosed-says-charity
Could I claim for misdiagnosis compensation relating to Parkinson's?
If you were misdiagnosed with something other than Parkinson's and believe the treatment you received as a result made your health worse, please don't hesitate to contact our team. While Parkinson's disease is hard to diagnose, with no definitive test to confirm a diagnosis, we could assess your case to see if you could have a valid claim for compensation. If we believe you could have a claim, we could provide you with a solicitor who could fight for compensation on your behalf. If you're considering claiming on behalf of a family member who cannot make a claim for themselves as their Parkinson's has progressed, we could advise on how you could help them.
How much has the NHS paid in 2020 for medical negligence
The following statistics may be quite shocking to see. We have taken the graph below from the NHS Resolution website and you can see the full report by visiting the NHS Resolution site. As you can see, there was a significant amount of compensation paid out by the NHS for negligence, across a variety of sectors.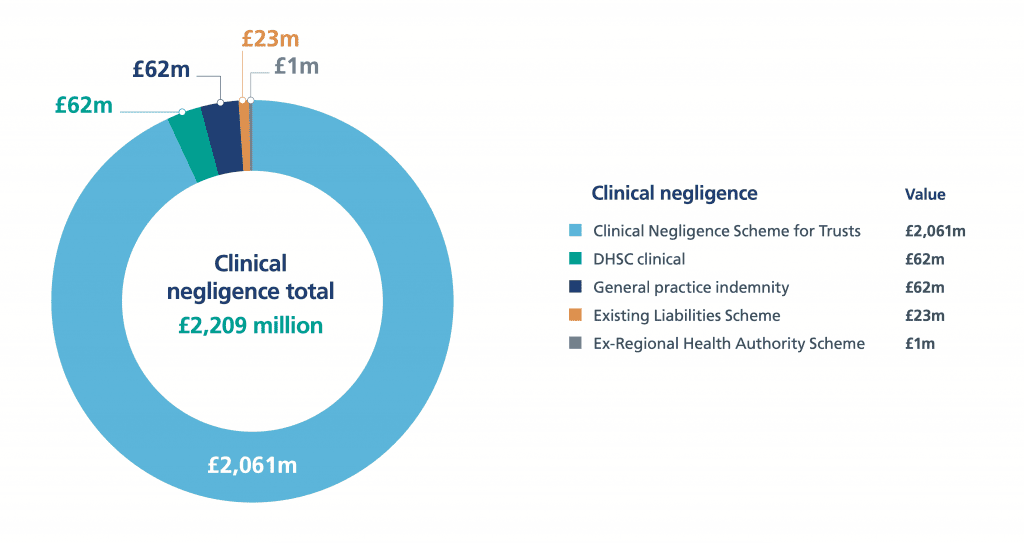 How do I report my doctor?
If you're looking to report a doctor for medical negligence, there are various paths you could take. If it is a GP that has wronged you, you could make a complaint directly to the practice. You should be able to find details of how to do this on their website or by phoning the practice manager. If you are making a complaint, try to be as thorough as possible about what has gone wrong and how it has affected you. You could also include dates of any appointments and who you saw, if you saw more than one GP, for example. If you're not happy with your GP practice's response, you could take a complaint to the Ombudsman. However, if you have suffered negligence and want to get compensation, we could assist you. We could assess your case free of charge, and help check your eligibility to claim. Should we believe you'd have a good chance of receiving compensation, our specialist solicitors who are authorised and regulated by the Solicitors Regulation Authority, could fight for compensation on your behalf on a No Win No Fee basis.
Once again, we'd like to thank you for reading our guide on how much medical negligence compensation could be awarded within misdiagnosis claims to those who have suffered. If you have any questions on misdiagnosis compensation claims, please contact our team.