By Joanne Jeffries. Last Updated 16th November 2021. Welcome to this case study surrounding personal injury claims payouts for a swimming pool accident.
This is a case study that looks at a payout for a swimming pool accident. In the case study we will look at the following;
How the claimant was injured at her swimming pool,

How serious her injuries were,

What responsibility a swimming pool has to employees and customers,

How the actions of the personal injury solicitor helped the claimant to secure a higher level of compensation.
First, we will briefly look at what happened to the claimant in this case. The claimant was a swimmer who suffered a fracture after slipping over on a puddle of water whilst walking from the temporary changing facilities at her leisure facility to the poolside area. This was because the area was not commonly used for this purpose and the floors had not been cleaned or dried whilst in use by swimmers. The solicitors were able to recommend a medical expert and treatment to help the claimant have a better recovery. They were also able to secure the funds with slips, trips and falls compensation for her to do so.
At Accident Claims UK we have helped people across the country to claim compensation for a swimming pool slipping accident, or other similar accidents at leisure facilities, as well as similar types of injury. We have included the best ways to get in contact with our team at the bottom of this case study.
Swimming Pool Safety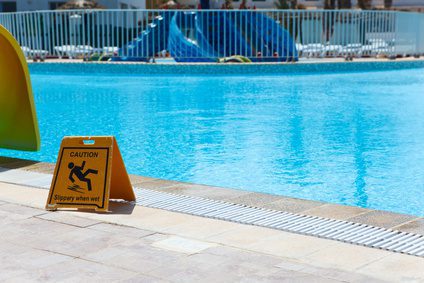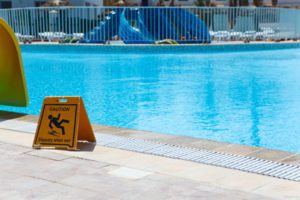 In this case, the claimant sustained her injuries by slipping at a swimming pool. The claimant had visited her local swimming pool to enjoy a leisure swim. The usual changing facilities were not open at the time of her visit. People using the swimming pool had to change at the neighbouring school before walking back to the swimming pool. These changing rooms were accessible through a corridor.
Whilst the claimant was walking through this corridor, the claimant slipped over. Her slip was caused by water on the floor which should have been cleaned up. The floor was wet due to other swimmers walking back and forth between the swimming pool and alternate changing facilities. The swimming pool has been negligent in cleaning and drying this floor. As a result of slipping at the swimming pool, the claimant suffered a significant fracture which would affect how she would be able to walk going forward.
There are various pieces of health and safety legislation, as well as general recommendations in place which set out how leisure centre facilities and swimming pools should follow in order to ensure the safety of anyone using their facilities. Whilst there are not any specific health and safety laws that pertain to swimming pools, those operating them do have to comply with general health and safety practices and do have a duty of care to ensure that they keep both staff and customers safe whilst working at, or using the facilities.
Those operating a swimming pool need to ensure that they have sufficient and up to date risk assessments in place which identify potential risks to staff and customers. This must also show what is being done to address these issues. Whilst our research does not show if an adequate risk assessment for the utilisation of the different changing facilities was in place, we can see that the swimming pool injury was caused by improper cleaning practices, leaving the puddle of water on the floor.
Fractured Bone Injuries
Broken or fractured bones can happen due to accidents such as slips, falls, or when tripping over. In this case study of an accident in public place, the claimant slipped over at her local swimming pool. If you think that you may have suffered a fracture, symptoms which you should look out for include:
Pain in the area, when moving it or not.

A lot of swelling around the area of the suspected fracture. This may be quite severe.

A deformity of the area surrounding where you think that you have a fracture.
In instances where there is not an obvious deformity, or if the bone itself is not displaced from where it would normally be, it can be harder to know whether or not you have fractured or broken the bone in any way. You can find information on how to tell whether or not you have a broken or fractured bone at this NHS guide. We do recommend that if you think that you have broken or fractured any bone, seek medical advice as early as possible after your accident.
How Did A
Personal Injury Solicitor
Help The Claimant?
As a result of her swimming pool accident, the claimant sustained injuries which, whilst they could be treated through the NHS, they could better be treated via private medical treatment in some ways. The personal injury lawyer first referred the claimant to a private medical expert in orthotics. As well as being able to provide expert evidence for the compensation claim itself, this treatment also means that the claimant would be able to have a better recovery.
The claimant did recovery well from the fractured bone injury. However, she was still left in some degree of pain. This pain and discomfort could only be eased through the claimant being fitted with orthotic for both of her shoes. This was supplied through the NHS. Medical evidence showed that the claimant would permanently require these.
For the claimant, one of the main problems with the orthotics supplied by the NHS was that these could not be used whilst wearing sandals. Prior to the swimming pool injury and fractured bone, the claimant had very much liked to wear sandals. As a result of securing a higher personal injury compensation payout, the claimant was able to purchase orthotics from a private supplier. This allowed her to wear her orthotics whilst also wearing sandals.
What Compensation Payout For A Swimming Pool Accident Was Secured?
The total value of the payout for a swimming pool accident which was made to the claimant was £27,000. In many cases, such as this, there can be negotiation between solicitors acting on behalf of the defendant and the claimant. This can even be the case where the defendant has admitted their liability for the accident and injuries caused, but where they dispute the amount which should be paid. Expert medical evidence can often be very useful in determining how much personal injury compensation a person should be awarded. This evidence will set out how serious the injury was, and the likely effect that it will have on the claimant going forward.
In this case a lower settlement figure was initially proposed by by the defendant. However, thanks to the medical evidence supplied, the claimants personal injury lawyer was able to secure additional compensation. This included extra funds to pay for medical treatment, including additional compensation for private medical treatment to remove a metal pins added to the affected bone. The extra compensation awarded allowed the claimant to have the fullest possible recovery from her swimming pool injury.
No Win No Fee
Payouts For Swimming Pool Accidents
No win no fee solicitors typically work with claimants through what are called 'conditional fee agreements'. This is an agreement which is drawn up between solicitors and claimants who are seeking personal injury compensation. In its simplest form, what this means is that if the solicitor who conducted your claim is not able to win your swimming pool accident claim, then you as a claimant, you will not pay any fees. What this typically will mean for a claimant is that any potential risk in making your No Win No Fee claim is assumed by the personal injury solicitor. As a claimant you can have peace of mind and know that you will only need to pay when you have a settlement to do so with. As the solicitor will not be paid unless the claim has a successful outcome, this also means that they will strive to secure the highest possible settlement, such as in this payout for a swimming pool accident.
Speak To Us Today About 
Personal Injury Claims Payouts for A Swimming Pool Accident
Accident Claims UK specialise in helping people who need to make a personal injury claim, no matter the injuries or accident. Our team have years or sometimes even decades of experience in making personal injury claims, whether for accidents at a swimming pool or in other circumstances. When you choose to use our legal services we promise the following things:
We will always be as transparent as possible with our fees and services which we can provide before you sign up with us.

We will always be realistic in our review of your claim.

Our services come with no upfront payments.

Our team will do all we can to secure the highest

payout for a swimming pool accident

we can for you.
You can contact the no win no fee solicitors at Accident Claims UK through the methods listed below.
Tel: 0800 073 8801
Email: office@accidentclaims.co.uk
Contact form: www.accidentclaims.co.uk/contact-us
Could I receive personal injury claims payouts for a swimming pool accident in which my child was injured?
If your child has suffered a swimming pool injury that was not their fault, and you could prove somebody else was liable, you have a few options. One would be to make a claim on your child's behalf. To do so, you would need to apply to be a litigation friend. That way, you could then make some decisions about your child's case for them. This could include deciding on whether to accept a compensation settlement amount or whether to fight on for more. Alternatively, you could await your child's 18th birthday and then allow them to make a claim on their own. However, you might find it more difficult to gather evidence once some years have passed. For example, a witness who was there at the time may have moved away and you may not be able to contact them. If you would like some guidance and support on whether to make a claim on behalf of a child, we would be glad to furnish you with the information you may need to make a decision on which option would be best for you. If you chose to make a claim on behalf of your child, you could have up until their 18th birthday to do so.
What damages could make up personal injury claims payouts for a swimming pool accident?
When you claim compensation for a swimming pool injury, you may be wondering what sort of damages could make up your payouts. Compensation settlement amounts in the UK could be dictated by the level of severity of your injury and your prognosis. This could affect your general damages claim for pain and suffering and loss of amenity. Compensation settlement amounts would also be affected by the costs and losses you have sustained as a result of your injuries. These are what are called special damages, and they could include loss of earnings, medical and travel expenses and even care costs. To find out what damages you could be eligible to claim for, please contact our team. We will be only too happy to help give you the information you need to make a claim with one of our solicitors on a no win no fee basis.
Could I claim for clinical negligence compensation if a swimming pool injury has been misdiagnosed?
You would only be able to claim for clinical medical negligence compensation if you were able to prove that a swimming pool injury was misdiagnosed and that misdiagnosis leads your injury becoming worse or harder to treat. If you are wondering how common clinical negligence claims are, we can take a look at the NHS Resolution graphic below. This shows the amount of clinical negligence compensation paid out by the NHS in 2020- 2021 alone. You might be surprised at how high this figure is. Please note that this relates to a great number of claims, if you would like us to help you with a clinical negligence claim against the NHS or even a private practise for misdiagnosis of a swimming pool injury, we would be happy to help you.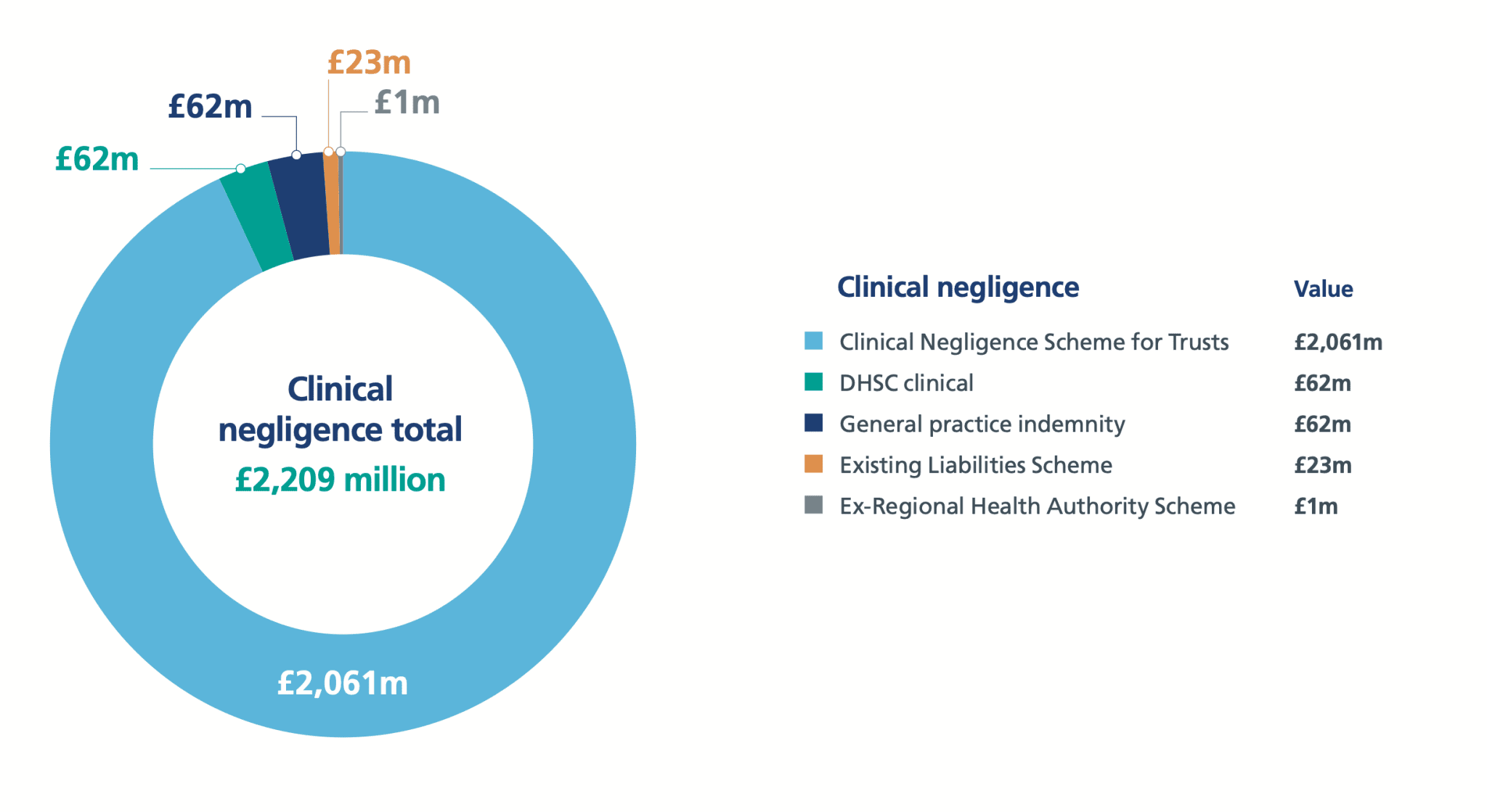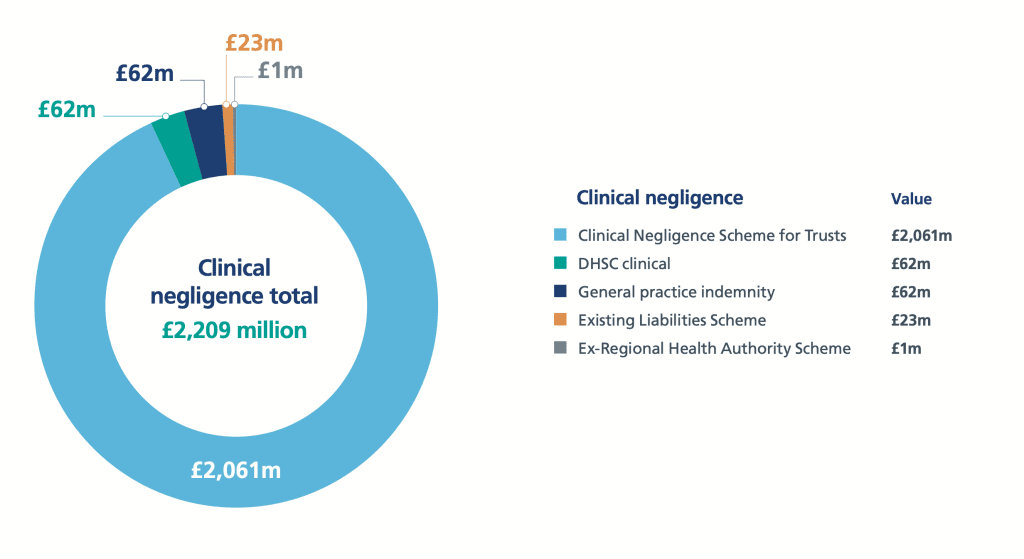 Useful Links Relating To Personal Injury Claims Payouts for A Swimming Pool Accident
Below we have included several resources which can be helpful for people who have been injured at a swimming pool, as well as how to make a successful compensation claim.
Fractured Bone Injuries
If you have suffered a broken or fractured bone, find out how to claim compensation with a personal injury solicitor for your injuries in this guide.
Swimming And Water Safety
Helpful swimming and water safety advice as provided by the ROSPA, or Royal Society for the Prevention of Accidents.
How To Claim Compensation For A Personal Injury On Holiday?
Have you had a accident whilst on holiday? find out if you are eligible to claim compensation.
Thank you for reading this case study on personal injury claims payouts for a swimming pool accident. Whether you have questions about the success fee a solicitor would take, the claims process for injuries or illness caused by swimming pool negligence, or you'd like to know whether a compensation calculator could give you insights on amounts of compensation for a swimming pool injury, we could help. We could also help with accidents and illnesses of other types.