A fractured/broken bone can happen in many different ways. You may have slipped on an unmarked wet floor and fractured your hip. Or, perhaps you feel due to unmarked roadworks, and fractured your ankle? The scenarios differ drastically, as does the severity of the injuries sustained. However, one thing remains a constant, no matter whether you have suffered a fractured pelvis or a fractured coccyx, you will be entitled to compensation if the accident was not your fault. At Accident Claims, we have many years of experience in fractured and broken bone claims, and we have helped thousands of personal injury victims to get the payout they are entitled to.
Choose a section:
An introduction to claims for broken bones and fractures
If you were the victim of an unforeseen incident and fractured or broken a bone as a consequence, you may be wondering whether you can claim compensation. You will be allowed to do so if the incident occurred because of someone else's negligence, be it your employer, the local council, or another individual or organisation. In this guide, we reveal everything about launching these types of claims. This includes how much compensation for a broken arm, fractured wrist, and any other type of injury, as well as eligibility requirements and steps to take when claiming. If you still have questions at the end, please do not hesitate to give us a call for further information.
What is a fracture?
A fracture is a type of broken bone. It can be a complete break or it can be a thin crack. There are many different types of fractures, for example, those that break into many different pieces or those that fracture lengthwise or crosswise. In most cases, this type of injury occurs when the bone is impacted by more pressure or force than it is able to support.
You can see the difference between a compound fracture and a simple fracture in the image below: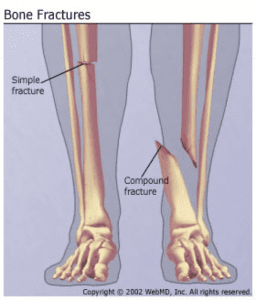 Simple fractures take many different forms, ranging from an impacted fracture to a transverse fracture. A compound fracture, on the other hand, is when the bone breaks through the skin. This is also known as an open fracture. It is not always necessarily visible through the skin, as it often recedes back into the wound.
What should you do if you have sustained a broken or fractured bone?
Irrespective of whether you have suffered a broken arm or you have experienced a fractured elbow, you need to take the steps to gather as much evidence as possible. This will do wonders to ensure you receive above the average compensation for broken wrist injuries or whatever type of injury you have encountered. So, what steps do you need to follow?
Write down everything that happened – As soon as you get the chance, it's a good idea to make some notes so you do not forget anything important.
Take photographs – If there is damage to the scene or you have some visible injuries, such as bruising, it is a good idea to take some photographs.
Witness contact information – If there was anyone that witnessed the accident you were involved in, you should get their contact information so that they can make a statement.
Medical report – No matter how minor your injury may seem, you need to see a doctor because the medical report they put together is the most vital piece of evidence in any claim.
Financial records – Keep a record of all of the costs you have been subject to so that you will be able to claim for these.
Claiming compensation if you've obtained a broken bone or fracture while at work
From a fractured sternum to a fractured humerus, there are many different types of breaks and fractures you can suffer in the workplace. If you have experienced a broken bone or fracture while at work, and you believe that your employer is responsible, you will have grounds for a personal injury claim. This is because all employers have a legal responsibility to provide a healthy and safe work environment. If they have failed to do this, for example, if they have not provided you with adequate training or they have failed to carry out a risk assessment, then you deserve to be compensated. Such injuries can happen in any work environments, but we have helped a lot of people to seek broken leg compensation payouts and a broken ankle compensation payout in the construction sector specifically.
Claiming compensation if you've obtained a broken bone or fracture while in a public place
A lot of people get in touch with us because they have been injured while in a public place. This could be anywhere from a library to a retail store or supermarket. You simply need to prove that whoever is liable for the area has not taken enough care to ensure that accidents do not happen. It's important to determine who you are going to be claiming against. We have helped people to launch many claims, including fractured shoulder claims, against supermarkets because they have slipped on a wet floor that was not marked correctly. You could also find that your claim needs to be made against the council. We have helped people that have experienced a fractured hip due to a pothole, for example. If you are unsure who is liable for your public place, don't worry; we will be able to explain further.
Judging the severity of the broken bone or fracture injury
You may have suffered a minor fractured hand injury while someone else may have experienced a fractured skull that impacts him or her for the rest of his or her life. What we are trying to say is that such injuries differ in severity significantly. Some people will make a full recovery, others won't. The severity of your injury plays a massive role when determining how much money you will receive.
How to start claiming for a broken bone or fracture
You could be wondering how to make a claim for this type of injury. The process is the same for all cases. Irrespective of whether you have suffered a fractured thumb, a broken wrist, or a fractured film, all you need to do is give us a call and we will take it from there. One of our experienced advisors will hold a free, no-obligation consultation with you. This gives us both an opportunity to ask each other questions. We want to know as much as possible about what has happened to you so that we can advise you in the best possible manner. We'll also talk you through the No Win No Fee approach we operate too, and we can ensure you have a local medical if this is something you need.
What will you be able to seek compensation for when you've experienced a broken bone or fracture?
No matter whether you are claiming for a fractured tooth or a fractured scaphoid, you will be able to seek damages for a number of different things. This not only includes the pain and suffering you have underwent because of your injuries, but you will also receive compensation for the long-term expenses associated with an injury, such as care and loss of income, and the expenses you have already been subjected too. In order to claim for such expenses, be it counselling costs or the expenses associated with childcare, you will need to record them and keep proof of them, so please make sure you do this.
How much compensation will you get if you have experienced a broken bone or fracture and it was not your fault?
We often get people who contact us telling us that they have used a back injury compensation calculator or one of the other specialist calculators they have found online, and they have been 'promised' 'x' amount. Back injury compensation payouts, as well as fractured leg compensation payouts, and any other type of claim payouts, are only ever estimated beforehand. It is simply not possible to give you an accurate figure. This is because all claims are handled individually, and there are many factors considered when determining how much money someone will receive.
What we can do, though, is enlighten you to the average payout amounts for common injuries related to broken and fractured bones. This should give you a rough estimate regarding how much compensation for a broken ankle, fractured ribs, and so on. So, let's take a look…

| The reason you are claiming compensation | The typical payout amount for this | Some extra comments |
| --- | --- | --- |
| Claiming for benefits you have lost | £5,000 - £500,000 | A lot of people have to miss work when they are injured. If this applies to you, and you have lost income because of this, you will be able to claim for the money you have lost. Although £500,000 is deemed the maximum amount, there are cases whereby the payout is greater than this, so please keep this in mind. |
| Claiming for earnings you're anticipated to miss out on in the future | £10,000 - £400,000 | If you are likely to miss work in the future while you recover from your injuries, you will be able to make a claim for this. Two factors are considered to determine how much you receive: your current rate of pay and your future earning potential. Although £400,000 is deemed the maximum amount, there are cases whereby the payout is greater than this, so please keep this in mind. |
| Fractured rib | Up to £3,000 | Claimants will have suffered a fractured rib, which will cause serious disability and pain. However, this will only last for a matter of weeks. |
| Neck fracture or fractured spine | £19,000 - £99,500 | The payout you will receive depends on how severe your spinal / neck fracture is. A payout around £19,000 is for a neck fracture that could require spinal fusion and displays instant symptoms. A payout around £99,500 is for a serious fracture in the cervical spine that causes a disability. |
| Fractured vertebrae | £21,100 - £53,000 | A crush or compression fracture of the lumbar vertebrae results in a payout of roughly of £21,100. You may receive a higher payment if your fracture causes disabilities in the future even though you have had treatment. |
| Fractured humerus | £9,700 - £14,600 | The claimant will have experienced restricted shoulder movement because of the fractured humerus they have suffered. |
| Fractured clavicle | £3,900 - £9,300 | This type of fractured shoulder will receive a payout based on a number of factors, for example, whether the union is displaced anatomically, if there is any permanent or temporary residual symptoms, how bad the fracture is, and the level of disability. |
| Fractured pelvis | £29,600 - £99,500 | As you can probably tell by the left-hand column, pelvis fractures differ in severity considerably. Extensive fractures, representing the highest payout, include those that result in a hip injury, ruptured bladder, or a low back joint. |
| Fractured forearm | £5,000 - £14,600 | A simple fracture of the forearm. |
| Fractured wrist | £2,765 - £7,800 | The largest payout is for cases whereby the recovery from the fracture takes longer, yet the person is able to make a complete recovery. |
| Severe fractures to fingers | Up to £27,925 | Partial amputations may be required. This may also result in disturbed sensation, reduced mechanical function, impairment of grip, and/or deformity. |
| Fractured index fingers | £6,925 - £9,300 | Grip will remain impaired yet the fracture will have mended quickly. |
| Serious injury to middle fingers or ring finger | £11,300 - £12,425 | These fractures can result in permanent loss of grip, deformity, or stiffness. |
| Fractured thumb | £9,575 - £12,750 | This payout is typically for fractures that need wires to be inserted. |
| Fractured femur | £6,925 - £10,700 | This is for a simple femur fracture whereby the articular surfaces are not damaged |
| Fractured tibia or fibula | Up to £9,000 | This payout is for a simple fracture. |
| Leg fracture | Up to £103,250 | Of course, leg injuries vary in severity by a considerable degree and this is carefully considered when determining your payout. |
| Fractured knee | £39,625 - £53,000 | This will be a leg fracture that extends into the knee, causing agility to be impaired, movement to become limited, and pain to be experienced. |
| Fractured ankle | Up to £53,000 | Similarly to leg injuries, ankle injuries can differ in severity by a considerable degree. Modest injuries, such as undisplaced fractures, will typically result in a payout up to £10,450. On the other hand, the more severe ankle injuries include the likes of transmalleolar fractures. |
| Fractured foot | Up to £53,200 | Again, up to £10,450 is awarded for straightforward foot fractures. The highest payout is for severe injuries, including fractures of both heels. |
| Fractured toe | Up to £10,450 | A fractured big toe will result in up to £7,300 if it is straightforward, or up to £10,450 if there are multiple fractures. |
| Numerous facial bone fractures | £11,300 - £18,200 | The person will experience a degree of facial deformity of a permanent nature. |
| Frontal facial bones le fort fractures | £18,100 - £27,925 | |
| Fractured nose | £8,100 - £17,575 | Multiple or serious fractures that results in permanent damage and/or requires a number of operations. |
| Simple nose fractures | Anything up to £3,875 | This does depend on the complexity of the fracture and whether surgery is needed. |
| Fractured cheekbone | £1,775 - £12,000 | If a complete recovery is achieve and no surgery is needed, you can expect between £1,775 and £2,275. If you have experience a serious fracture and you needed surgery but will still have lasting consequences, you can expect one of the higher payouts. |
| Fractured jaw | £4,900 - £34,600 | This ranges from a simple fracture to very severe multiple fractures. |
If you have suffered a fractured knuckle, a broken toe, a fractured patella, or any other type of injury that has not been mentioned above, don't fret. Simply get in touch with our team and they will be able to advise you further on this.
Claiming for a broken bone or fracture on a No Win No Fee basis
There are many reasons why we believe our service is the best you will find, and one of these is because we handle all of our cases on a No Win No Fee basis. You may be wondering what this means. This is also known as the conditional fee agreement, and it was designed to make legal aid available to all, no matter their current financial standing. With our No Win No Fee approach, you will not need to make a large upfront payment in order to secure legal services. In fact, you are only going to need to pay legal fees if your case wins. This means that you will have been awarded compensation, which you can use to cover the cost. It makes certain that you will never be out of pocket by launching a claim for your broken or fractured bone. There are a number of other knock-on benefits, which are worth keeping in mind too. For instance, you know that the legal expert you hire is going to be working hard for you. After all, they are impacted by the outcome of the case. This approach makes them accountable. You also know that we only take on cases that have a genuine chance of compensation. We don't waste your time by taking on simply any case.
Why should you choose our legal claim firm for your broken bone or fracture claim?
You may have considered a number of legal claim firms on your quest to find the best one, and we promise that you won't find better than Accident Claims. From a fractured finger to a fractured metatarsal, we have seen it all over the 40+ years we have been in business. We have an abundance of experience in launching successful compensation claims, and it is always our goal to secure the highest accident compensation amounts. Our strong reputation in the industry also means that we have the power to secure faster payouts. You only need to look at the feedback that has been left by our past clients to see that we deliver on our promises. Plus, no matter where you are based in the United Kingdom, we are able to assist you thanks to our expert nationwide service.
Call us today for free, no-obligation advice and to begin your claim
Here at Accident Claims, we are proud to offer free advice, which comes with no obligation to use our service. So, no matter whether you have suffered a fractured toe, a broken leg, a fractured neck of femur, or any other type of injury, all you need to do is call our friendly team for more information and to begin the process of claiming. We will be able to assess your case to determine whether you have grounds for compensation, as well as talking you through the process that is entailed. Don't be afraid to give us a call with your questions on 0800 073 8801. This is a 24-hour claims line. You can also request a call back via our website if you would prefer.
Helpful Links
This link takes you the NHS website, where you will find the answer to the following question: How do I know if I have broken a bone?
If you have a broken arm or wrist, this guide from the NHS will reveal the symptoms associated with it, as well as what to do if your wrist or arm is broken, how to recover, and the treatment that is available.
If you have suffered a broken ankle, this guide from the NHS contains plenty of useful information. This includes how to tell if you have broken your ankle, as well as the recovery, treatment, and what to do if you have broken your ankle.