By Max Murdoch. Last Updated 15th June 2022. Welcome to this case study surrounding personal injury claims payouts for a pavement trip.
Welcome to our guide to pavement accident claims and pavement accident compensation after tripping on pavement. Trips and falls can be common, and when they happen, they can also be embarrassing, not to mention painful for the person who has fallen. Sadly, here in the UK, pavement maintenance is not always kept up with, and if it isn't and you're injured because of it, then you may not be aware that you can go about claiming for a pavement fall.
A pavement trip injury case that we became aware of through extensive research is one of a lady in London who fractured her leg after tripping on a broken p
avement stone. The lady in question required a level of care from her family in order to get about after the pavement trip injury, and with the help of a pavement trip lawyer, was awarded £29,000 in compensation for the incident. The council admitted to being liable for the injury that the claimant had suffered.
Should you have suffered a pavement trip injury, then you're likely to be interested in how the personal injury claim played out. Below, we cover more about this specific case, as well as talking in more general terms about pavement fall compensation and how Accident Claims can assist with obtaining compensation for a pavement trip injury you've had. We can tell you all about how to sue the council for negligence, as well as giving you some idea of what your claim would be likely to attract in terms of compensation for a pavement trip injury.
How Common Are Pavement Falls and Pavement Accident Claims
Claims against the council for personal injury may seem more common than ever before, as people seem to be more aware of their rights and may understand that if an uneven pavement repair hasn't been carried out, even though the council were aware of it, then if they suffer a pavement trip injury, they can claim trip or fall compensation.
In fact, claims against Harrogate Borough Council have been highlighted in a 2021 local article. Claimants have apparently been compensated for more than £400,000 over the last five years. Reasons for compensation included potholes and dangerous paving.
The way in which a pavement trip injury is settled with the help of a personal injury solicitor is by first ensuring that the pavement trip hazard height has been met. The height of the pavement must be an inch either above or below the usual level. This works for both potholes and raised slabs.
Source: https://www.harrogateadvertiser.co.uk/news/politics/council/pothole-and-playground-accidents-included-ps400000-compensation-claims-against-harrogate-borough-council-3093487
Broken Femur Injuries
In the case we mention, the victim's right femur became broken. This can be a very painful and debilitating injury. The femur is a bone that is located in the thigh and whilst most people refer to it as a broken leg, it can also be termed as a broken hip as the upper part of the bone is close to the hip joint. It is a bone in the body that can be difficult to break due to its strength, but if you have tripped on a pavement and landed awkwardly, then it is possible to break your femur in this way.
According to the NHS, the type of treatment you'd receive for this type of injury would be dependent on where and how badly the femur was broken after you tripped on a pavement. Your leg would usually be first put in a splint to make sure it remains immobile and you would likely be offered strong pain relief for the break. You may be given this painkilling treatment as a form of a gas that would be taken in through a mask, or you might be given an injection.
Injuries After Tripping on Pavement
Should your bone have fractured but stayed in its usual position after your pavement trip injury, then the likelihood is that your leg would be put in a plaster case and you'd be provided with crutches. However, if the injury needs reducing, which happens in cases where the bones are not aligned anymore, then you may be given a sedative, or even an anaesthetic so that this could be put back in place. In terms of severely complicated breaks, you might well have to have plates and pins put in place to ensure that the leg heals sufficiently. In any case, you are likely to struggle to perform simple tasks such as walking while it heals and for some time afterwards in some cases.
How Are Claims Against The Council For A Personal Injury Conducted?
In the case study here, the council admitted that they were liable for the injury. As we have previously mentioned in the pavement trip injury study, this would likely mean that the pavement was either raised by 1 inch or lowered by 1 inch from its usual level, and they were aware of this but it hadn't been fixed. By using a no win no fee personal injury lawyer, the claimant would have been able to let the solicitor handle the claim and would likely not have had much, other than attend a medical examination, to do with the case.
What Pavement Accident Settlement Was Received?
With regards to the study we're looking at, the council tried to argue against the amount of help that the lady required after her pavement trip injury, but the amount of personal injury compensation awarded was a £29,000 payment. This would not just have taken into account the amount of suffering and the amount of pain that the claimant had had to go through, but also any costs that she'd incurred as a direct consequence of the pavement trip injury, such as costs for physiotherapy or travel to her medical appointments. In the case we're talking about here, it also included a care element, as the lady had to have her family assist her with certain everyday tasks that she would easily have been able to perform should the injury not have happened.
How Much Compensation For Tripping on Pavement – 2022 Payouts
You may want more information about your potential compensation for tripping on the pavement. It's important to remember that you would only receive compensation if you can show that your injury was due to third-party negligence.
There are two potential heads of losses in any personal injury claim:
General damages – This compensation figure is based on how much suffering was caused by the injury, as well as the prognosis for recovery, and if any permanent side effects have been sustained. Any physical or psychological injury caused by the negligent incident could potentially be claimed for as part of this compensation figure. Furthermore, you could claim for multiple injuries caused by the same act of negligence.
Special damages – This compensation figure relates to losses of a financial nature caused by the injury. Potential losses you could claim for include home adjustments, loss of earnings, travel costs and care costs. You would need evidence, such as receipts and invoices, to show the value of the losses to be able to successfully claim.
Regarding general damages compensation, the Judicial College Guidelines can provide you with more information about what you could receive. The figures below are compensation brackets taken from successful claims in England and Wales. These figures have been taken from the latest guidelines, published in 2022. However, please remember that, as every claim is unique, these figures are not guarantees of what you could receive.
| Type of Injury | Severity | Compensation Bracket | Description |
| --- | --- | --- | --- |
| Leg | (b)(iii) - Serious | £39,200 to £54,830 | Serious comminuted or compound fractures or ligament or joint injuries that cause instability and treatment that is prolonged. |
| Leg | (b)(iv) - Moderate | £27,760 to £39,200 | Severe crush injuries that can be to one limb only or multiple leg fractures. |
| Leg | (c)(i) | £17,960 to £27,760 | Serious soft tissue injuries or fractures where an incomplete recovery is made. |
| Arm | Less Severe | £19,200 to £39,170 | Despite disabilities that are significant in nature, a substantial amount of recovery will be made. |
| Arm | (D) | £6,610 to £19,200 | Forearm fractures that are simple in nature. |
| Elbow | Less Severe | £15,650 to £32,010 | Injuries that cause functional impairment but do not cause significant disability or require major surgery. |
| Foot | Moderate | £13,740 to £24,990 | Metatarsal fractures that are displaced causing continuing symptoms. |
| Knee | Moderate (ii) | Up to £13,740 | Bruising or twisting injuries as well as lacerations. This can cause continuous discomfort or aching. |
| Toe | Moderate | Up to £9,600 | Straightforward fractures or injuries that cause the exacerbation of a degenerative condition that is pre-existing. |
If you have more questions about making a trip and fall claim, or simply want a compensation estimate relating to your injury, please contact us for free using the details above.
No Win No Fee Council Compensation Payouts
We know that during a time where you're in pain or injured, you may have a lot more on your mind than your injury. If you have needed to be away from work, you may be worried about the financial impact on you and your family, or if you have to have family members care for you, then they may be losing out on income because of this. It is essential that you know that if you're in this situation, or even if you're comfortable, financially, that you wouldn't need to start paying out for legal fees to begin a personal injury claim.
No win no fee solicitors are common in cases where a personal injury claim is pursued. The way this works is by taking a percentage of your compensation payment – should your case lead to a payout – as payment of your legal fees at the end of the case.
What if I lose the case? You might ask? Well, should this be the case – and it usually is not, as solicitors won't usually take on these cases if they feel they would not lead to a successful conclusion – then you would not find yourself facing a legal bill at all. Many people fear that there is a catch with this type of agreement, but this is not the case. In fact, even the percentage that lawyers can request is capped.
We'll be happy to chat to you in further detail about this should you require any more reassurance.
Speak To Us About Personal Injury Claims Payouts for A Pavement Trip
With a wealth of experience in helping people just like you with pavement trip injury compensation, we are the go-to people for prospective claimants.
We pride ourselves on our compassionate and understanding service and we are pleased to be able to provide to you some of the best in the business in terms of solicitors.
You only have to read testimonials from previous clients to know that we do what we say we will – we help gain compensation for scores of people who have been injured due to no fault of their own.
We also provide free legal advice to those who have questions on the validity of their claims, be they pavement trip injury claims or road traffic accident claims.
We treat everyone as a person, not just a number and you can be sure of our full attention when you call 0800 073 8801 to speak to us. Why not try asking us a question or starting your claim with us today?
Useful Links Relating To Personal Injury Claims Payouts for A Pavement Trip
We do hope that you now have all that you need to go ahead and make that call to start your claim, but if not, you might want to do a little reading. Below, we have scoured the web to find you some information that might prove relevant to your case.
Local Authority Claims: Claims against the council can be complex. Our guide should assist.
NHS broken leg information: You can find injury information here that might help you.
GOV information on pavement repairs: This page from the government might also help but it is advisable to get information from a lawyer so you get the level of compensation you deserve.
Ankle Injury Compensation Claims Guide: Raised pavements can lead to tripping, which could cause ankle injuries. If your ankle was damaged, read our guide on what you could claim.
How Much Compensation Can I Claim for a Leg Injury?: Leg injuries can mean taking absence from work, but you could claim for this if the accident was down to a third party. 
Back Injury at Work Compensation Claims Guide: Did you fall on poorly maintained paving at work and hurt your back? Take a minute to look into what you could claim.
Pavement Accident Claims, Pavement Accident Compensation and Tripping on Pavement FAQs
Could I get personal injury claims payouts for a pavement trip that led to a death?
If you have lost a loved one due to a pavement trip that was not there fault, whether they were at work, or simply out on the street, you could make a claim for compensation if they have passed away. If, for example, your loved one was working for the council and suffered a pavement trip on council land that led to them falling and suffering fatal injuries, you could make a claim against the council if they have failed to protect your loved one from foreseeable risks due to their work or workplace.
If you're wondering how common fatal accidents at work are, we can inform you that in 2020/21, over 140 people suffered fatal injuries in workplace accidents. The top cause of these fatal accident were falls from a height, as you can see in the chart below.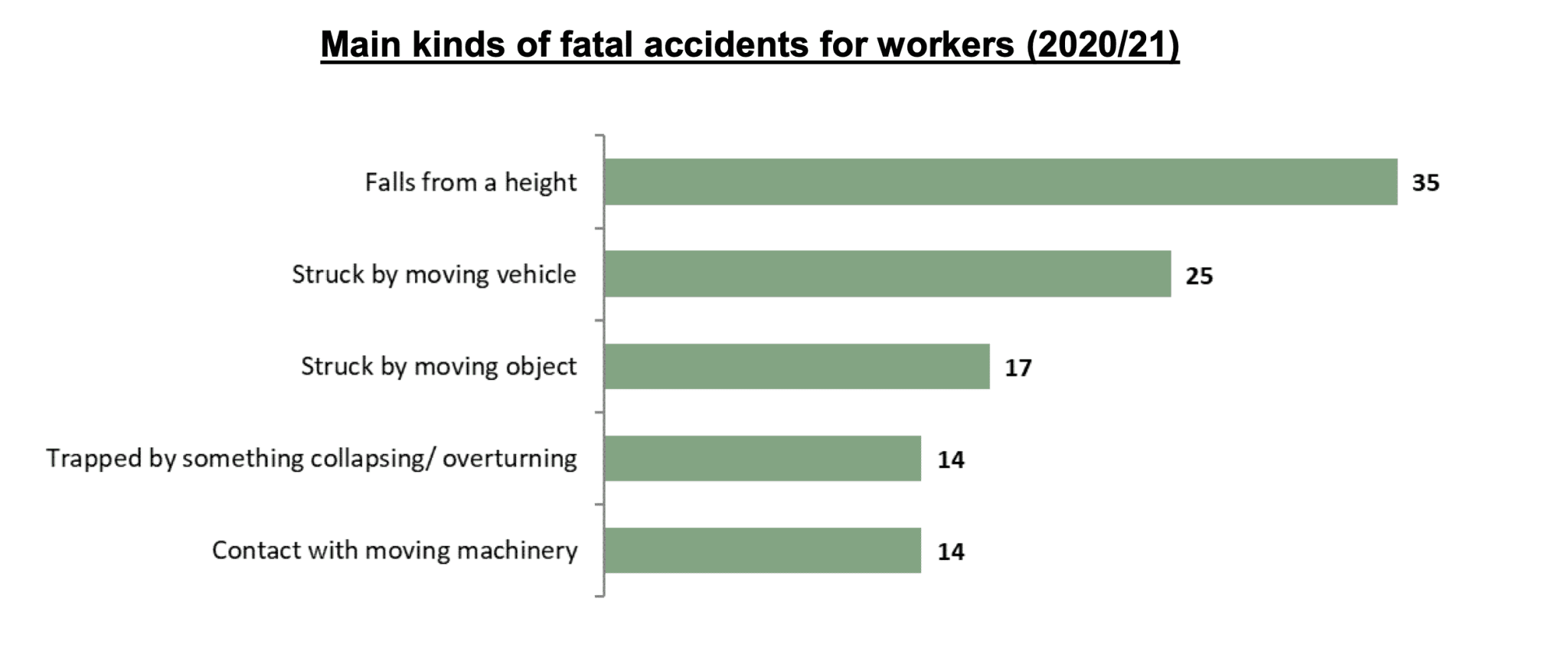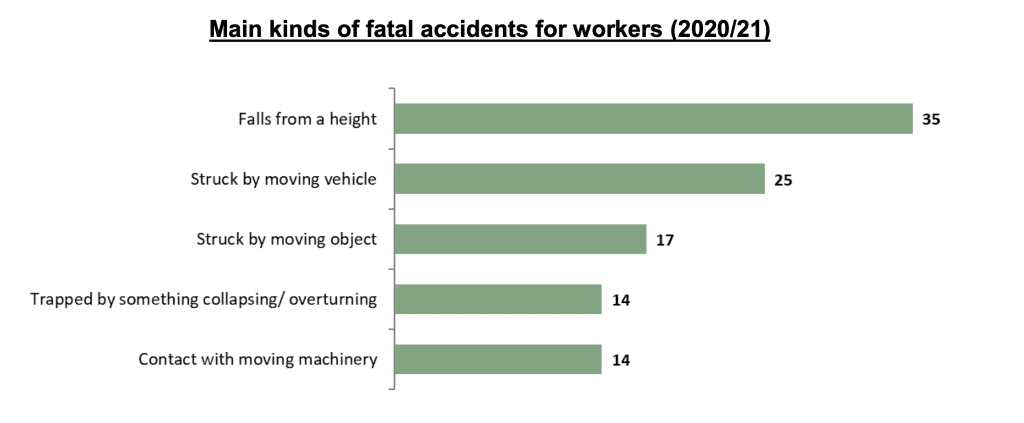 We understand that you may feel traumatised by your loved one's death, and may not want to relive the incident in question. However, by using an experience personal solicitor with up to 30 years of experience, this means you would not have to take on the legal legwork of making a claim, which could make the process easier to bear. Of course, no amount of compensation would truly make up for the loss of a loved one. However, it could ease any financial burdens caused by their passing. For example, compensation for the death of a loved one in a fatal workplace accident could provide funeral expenses and even a bereavement award.
How do I maximise personal injury claims payouts for a pavement trip?
If you want to get the maximum amount of compensation for your pavement trip claim, you would need to provide solid evidence. One important piece of evidence that you would need to provide as part of your claim would be the medical evidence. It would not be enough to simply go and visit your GP or local hospital to gather such evidence. You would need to attend an appointment with an independent medical expert, whereupon they could examine you and complete a detailed medical report specifying the nature and severity of your injuries. This evidence could significantly affect the level of compensation payout you'd receive. Another factor that could affect the amount of compensation you could receive would be the ability of your lawyer to negotiate for the maximum settlement possible for your case. Choosing a lawyer with lots of experience and knowledge of the legal sector could benefit you significantly. They would be able to harness all of their legal knowledge and experience to fight for the maximum settlement amounts for your injuries. They could also make sure that you don't miss out on any of the special damages you could claim for as well as maximising your general damages payout. If you would like us to help you connect with a solicitor that could fight for compensation on your behalf, please do not hesitate to contact us.
Can I sue the council for tripping on pavement?
If you tripped because of your own negligence, it is questionable whether you could make a claim. However, if the council didn't properly take care of paving or potholes and you injured yourself as a consequence of tripping, you could make a personal injury claim. 
How do I make a claim for pavement tripping?
To make a claim, you should first be sure that you're able to make one. Call our team of advisors for free legal advice and to see 
What height constitutes a trip hazard in the UK?
If the pavement fault is at least 1inch (2.5cm), then it could be considered a trip hazard in the UK. 
Thank you for reading our guide to pavement accident claims and pavement accident compensation after tripping on pavement. This case study on personal injury claims payouts for a pavement trip could prove useful if you've suffered such an injury.