By Joanne Jeffries. Last Updated 15th October 2021. Welcome to our guide on leg injury compensation and leg injury claims. If you have suffered a leg injury, you may be entitled to compensation by making a leg injury claim but what leg injury compensation amount could you receive? This guide will aim to answer that question for you.
There are many different ways that a leg injury can happen. This includes accidents in the workplace, car crashes, slips, trips and falls, and much more. No matter what has happened, if you can prove that someone else caused the accident, you will have a very high chance of securing leg injury compensation. The amount you could receive is explained below.
In order to do this, though, you are going to need to align yourself with an experienced personal injury firm. This is exactly what you have with Accident Claims. We have a great reputation in the industry and we always aim to secure the maximum amount of compensation for our clients. You can reach our friendly team on 0800 073 8801 for free legal advice. But first, read on to find out everything you need to know regarding leg injury claims and what affects a leg injury compensation amount.
Select a section
Your guide to leg injury claims
A leg injury can happen in a number of different ways. From slipping on a wet floor to falling from a height at work, we have helped many personal injury victims to secure leg injury compensation for a whole host of different accidents.
We have also secured various types of compensation, including broken tibia and fibula compensation, as well as compensation for soft tissue injuries and more. With that in mind, we decided to put together a comprehensive guide so that you could find everything you need to know about leg injury claims in one place. This includes details on how to make a claim, personal injury compensation levels, what you should do if you have suffered a leg injury, and different types of leg injury claims. So, read on for our compensation guidelines for personal injury claims involving leg injuries to find out what leg injury compensation amount you could claim..
Leg injury statistics
Using the Office for National Statistic's Labour Force Survey and other sources, the Health and Safety Executive's Historical Picture Statistics in Great Britain 2020 gives us an idea of how common work-related injuries are in the UK. Between 2019 and 2020, around 38.8 million working days were lost due to work illness and non-fatal injuries combined. 6.3 million of these days were lost due to workplace injury alone. 
A workplace leg injury is reportable via RIDDOR, depending on severity. If the bone is broken and a medical professional has confirmed this, it is reportable. A broken leg can take weeks to heal, keeping the victim out of work for some time.
These figures don't include days off for non-work-related leg injuries, which can be caused by accidents in a public place or a road traffic accident.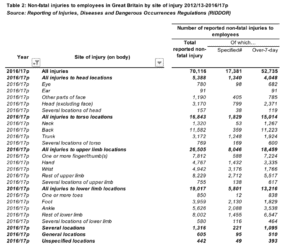 Common accidents where leg injuries are caused
There are many different accidents that can result in a leg injury. This includes:
Workplace accidents
Sports accidents
Injuries due to faulty products
There are also a number of different leg injuries that can be sustained. Some are as follows:
Displaced fracture: This happens when the doctor must manipulate the two parts of the bone back together in order for it to fully heal.
Stress fracture: This is basically a small and minor crack in the bone. It tends to occur over time because of repeated force being placed on the bone, and so these injuries can often happen in the workplace if incorrect procedures are being followed because an individual has not received the correct training. While such fractures are minor, they can still cause a degree of discomfort and pain. They can impact your ability to travel or work, as they make it difficult to move until you are recovered.
Compound fractures of the leg: Out of all leg breaks, this is the most serious. With this type of fracture, a number of bones in the leg can experience a comminute or compound fracture. The bone will essentially be shattered into a number of different pieces, and so a high level of impact is usually required for such an injury to occur. In some cases, the bone can even protrude through the skin.
Not only can you make a broken leg claim, but also you can make a claim for any other type of leg injury, including soft tissue injuries.
The leg injury compensation amount you'd receive would be unique to your claim, but we should mention that the below knee amputation of both legs guideline compensation bracket is £189,110 to £253,480. Less serious injuries could still bring a significant level of compensation.
How do we assess leg injuries?
In order to determine how much compensation you will receive for your leg injury claim, the severity of your leg injury will be assessed to determine the leg injury compensation amount. Some signs of a broken leg are as follows:
Redness, bruising, or swelling
Trouble moving your leg
Trouble bending your foot or knee
You cannot put weight or stand on the injured leg
Leg bends at odd angles
Pain
What will a leg injury compensation claim consist of?
When making a claim for leg injury compensation, you will be able to claim for the pain and suffering you have experienced within your leg injury compensation amount. You can also claim for any psychological damages. After all, coming to terms with the impact of an injury can often be incredibly difficult. This may result in you needing counselling. Aside from this, you can claim for any costs you have incurred because of the injury. This includes loss of earnings.
A lot of people need to take time off work while they recover from their injury. If you do not receive your full wage in sick pay, you can claim for the income you have lost. This is especially beneficial for people that are self-employed or run their own business and will be severely impacted by missing work.
Furthermore, you can claim for travel expenses, medical costs, the cost of accommodation adaption, childcare expenses, and any other costs you have had to fund as a direct consequence of your injury.
What should I do after I've suffered a leg injury
If you have suffered a leg injury, in order to secure the maximum personal injury compensation amounts, you need to make an effort to secure as much evidence as possible. But first, of course, get the medical attention that you need. This is not only critical for your health, but also for your claim, as it serves as an official record of what has happened and the medical report will be used to determine the payout level you will receive. Aside from this, other steps you should take include the following:
Report the accident. If you have been injured at work, report it to your employer. If you have been injured in a road traffic accident, report it to the police. If you have been injured in a shop, report it to the person that owns it.
Take photographs of the scene and your injuries if applicable.
Make a note of everything that happened so you do not forget any details later down the line.
Get the contact details of anyone that witness the accident.
Call Accident Claims to begin the claim process and talk about the leg injury compensation amount you could recieve.
When do leg injuries lead to a leg injury claim
In order to make leg injury claims or knee injury claims, the following needs to be applicable to your case:
The accident must have happened because of the negligence or carelessness of a third-party.
The accident must have happened within the past three years.
You must have seen a doctor or medical professional for your injury.
If the above three statements apply to your case, there is a very high chance that you will be able to make a claim. In terms of the time limit, the sooner you claim, the better. You will find it much easier to do so because the incident will be fresh in your mind and gathering evidence will be a lot more straightforward as well. Not only this, but court proceedings do need to be issued before the three years are over, so waiting until the last moment could be very risky.
You may be wondering whether you can claim if you were to blame for the accident. If you were completely to blame, you will not be able to claim. However, if you were partly to blame, you may be able to make a claim, but the amount you receive will be lower to reflect your involvement. If you are unsure regarding whether you are to blame or even who is to blame, the best thing to do is give us a call and we will be able to shed further light on this.
Workplace leg injury claims
There are a number of different accidents that could happen in the workplace. Here are some examples that could lead to you making a claim for leg injury compensation:
Falling from a height
Injuries due to an object obstructing a pathway
Injuries involving machinery
Road traffic accidents
Injuries due to a lack of PPE
Injuries because of improper training
Workplace assaults
No matter whether the injury you have sustained is featured in the list above or not, you will be able to claim if you can prove your employer is to blame for what happened. By law, all employers have a responsibility to provide a safe and healthy workplace. If they fail to do this, and you have been injured, it is only right that you get the compensation you deserve. You may be worried that this will cause the business to experience financial ruin. Don't fret about this, as all employers are also required to have insurance in place by law to cover such accidents, and so it comes out of their insurance.
Leg injury in car accident claims
We can help you to make a claim for any type of road traffic accident you have been involved in. This not only includes car crashes, but accidents involving cyclists, motorbike riders, and pedestrians too. We also have experienced in public transport claims. We could help you fight for the leg injury compensation amount your case deserves.
Slip, trip and fall leg injuries
It goes without saying that out of all of the claims we make, slip, trip and fall claims are some of the most common. There are lots of examples of this. Some include:
Slipping on wet floor that has not been marked properly in a supermarket
Falling due to potholes or an uneven pavement
Slipping on oil in the workplace
Tripping over an object that was obstructing a pathway
Falling from a height in the workplace
For such incidents, determining the liability will depend on where the accident has happened. If it has happened on a road or pathway, it is likely that the local council is responsible. If it has happened on business premises, the business in question is responsible. The best thing to do is give us a call and we can explain this further so you can work out whom you should be making a claim against.
Leg injury claim compensation payouts – Updated October 2021
Personal injury compensation: how much will I receive if I make a claim? You probably want to know how much compensation you could receive when making a leg injury claim. If you have done a little bit of digging online already, you may have come across an injury compensation calculator. It is important to note that these tools do not provide an accurate figure, and they should only ever be used as a rough estimate. This applies even if you have found a soft tissue injury compensation calculator or a broken leg claim calculator.
Why aren't these tools accurate? Well, it is impossible to give any prospective claimant an exact figure regarding the money they will receive. This is because all claims are handled on an individual basis, as there are many factors that influence the payout amount. This includes the severity of the original injury, the pain the person is experiencing, whether there are any psychological injuries, and so on.
What we can do, though, is present you with the average leg injury compensation payout amounts for different injuries. This should help you to get a good understanding of the sort of figure you are looking at. Please refer to the table below for further insight.

| Leg Injury Compensation | Details | Leg Injury Common Payout Bracket |
| --- | --- | --- |
| Amputation | Loss of both legs | £225,960 to £264,650 |
| | Below-knee amputation of both legs | £189,110 to £253,480 |
| | Above-knee amputation of one leg | £98,380 to £129,010 |
| | Below-knee amputation of one leg | £91,950 to £124,800 |
| Severe leg injuries | Most serious injuries short of amputation. This includes fractures requiring extensive bone grafting as well as incidents causing gross shortening of the leg. | £90,320 to £127,530 |
| | Very serious injuries that result in mobility issues, which are permanent. The individual will probably need mobility aids and crutches for the rest of their life. | £51,460 to £85,600 |
| | Serious leg injuries. Examples include ligament or joint injuries, as well as comminute fractures and serious compound fractures. | £36,790 to £51,460 |
| | Moderate leg injuries. This is for severe crushing injuries, multiple fractures, or complicated fractures. | £26,050 to £36,790 |
| Less serious leg injuries | Serious soft tissue injuries and fractures whereby the individual will make a reasonable recovery. | £16,860 to £26,050 |
| | Simple femur fractures. | £8,550 to £13,210 |
| | Simple fibula or tibia fractures and soft tissue injuries | Up to £11,110 |
Hopefully, you now have a better understanding regarding the typical payout amounts for some of the most common types of leg injuries, including broken leg compensation payouts. If you are unsure regarding what category your injury falls into, or you cannot find the injury you have sustained in the table above, please do not hesitate to give our team a call. They will be able to shed further light on this.
How to begin leg injury claims for compensation
If you want to make a claim because of a leg injury you have sustained, whether a leg amputation or a soft tissue injury, the best thing to do is give us a call and we will be able to assist you. We always begin every communication with a personal injury victim by having a consultation, which is free of charge. This allows us to understand exactly what has happened.
We will ask a number of different questions. This is nothing for you to fret about – we are on your side! It is simply so we can get a clear picture regarding what occurred, enabling us to advise you in the best possible manner. It is also a good opportunity for you to ask us any questions you may have.
We will then provide you with a solicitor that has worked on many leg injury compensation claims before. They will guide you every step of the way, providing you with regular updates. We will aim to secure compensation in the most efficient way, so you can focus on your recovery, yet we are always here should you need us.
Making leg injury claims no win no fee
One of the best things about working with Accident Claims is that we handle all claims on a No Win, No Fee basis. This means that you are only going to pay legal fees if compensation is successfully secured for you. If this is the case, your solicitor will receive a portion of your payout once it is secured. This will be a percentage that both you and your lawyer have agreed on beforehand.
If your case is not a success, although this rarely happens, you will not have to pay anything. This ensures that you will never be out of pocket for making a claim. Not only does this offer financial security for anyone making a claim, but also it means that you can claim irrespective of your current financial situation because you will not need to make a big upfront payment.
Why use Accident Claims for advice and starting leg injury claims
Aside from our No Win, No Fee approach, there are a number of other reasons why you should choose us. This includes the fact that we will provide you with a solicitor that has up to 30 years of experience in the industry. We also have an outstanding reputation, both in terms of how we treat our clients and the payout amounts we secure for them. We aren't just happy with securing a payout – we want it to be the maximum possible amount of compensation that is available.
We will always listen to you with compassion and attention to the details of your case, allowing us to truly understand the impact it has had on you and your life. If that was not enough, our personal injury solicitors also provide free legal advice, and our claims line is open every day of the week, every hour of the day because we know you might have things to do during the day that take precedence over your call to us.
This means you can call at any time of the day or night to start your claim and we will be there to assist. The number you require is 0800 073 8801. There are other ways for us to get in touch, though, if you would prefer. Not only do we have a live chat feature on our website, but you can request a callback and we will ring you as soon as we can. The other option is to send an email to office@accidentclaims.co.uk, and our law firm will respond within three hours if it has been sent on a weekday.
Useful links Relating To A Leg Injury Claim
This link takes you to the NHS page for information on leg fractures / broken legs. This includes details on what to do if you think you have broken your leg, how a broken leg is treated, recovery, potential complications, different types of fractures, and much more.
Sprains and Strains – NHS Information
This page is useful for those who believe they have suffered a leg sprain or strain whether as a sports injury, or due to medical negligence. You will find details regarding the symptoms, how long it lasts, prevention, and much more.
How Much Compensation Can I Claim for a Knee Injury?
Did you suffer a knee injury as well as a leg injury? Read our guide about what you could do next. 
You may have injured your leg at work. To find out more, and for reassurance, about claiming against your employer, read our guide. 
How to Claim Compensation for an Accident in a Public Place
Perhaps you endured your leg injury in a public place, property or premises. If so, read our guide.
Leg Injury Compensation Amount and Leg Injury Claims FAQs
How much compensation do you get for a leg injury claim?
How much compensation you get for a leg injury centres around how severe your injuries are and how it has affected you mentally and financially. 
How do I calculate my personal injury claim?
You can calculate your personal injury claim by adding financial losses you've endured as a result and our team of advisors can advise you on how much your physical injury could be worth.
How do you know if a leg injury is serious?
The major symptoms include significant pain, tenderness, swelling and bruising, as well as deformities in appearance.
Can you break your leg and still walk?
It is extremely difficult to walk while having a broken leg.
What does a fractured leg feel like?
There is significant pain, swelling and bruising, as well as a potential shape change in the leg.
Can a fractured leg heal on its own?
Without treatment, the leg may not correctly heal and it could lead to a deformity in shape.
Can you fracture your leg and not know it?
It is possible for people to not recognise that they have broken their leg for numerous days.
What happens if a fracture is left untreated?
This could lead to the bone not healing and remaining in great pain for a long time.
How common are leg injuries at work?
According to HSE data tables from 2019/20, the body part with the most incidences of injury in reported accidents was the back. However, leg injuries were one of the most commonly encountered injuries too. Below, you can see the statistics that relate to workplace accidents by injury site for this period.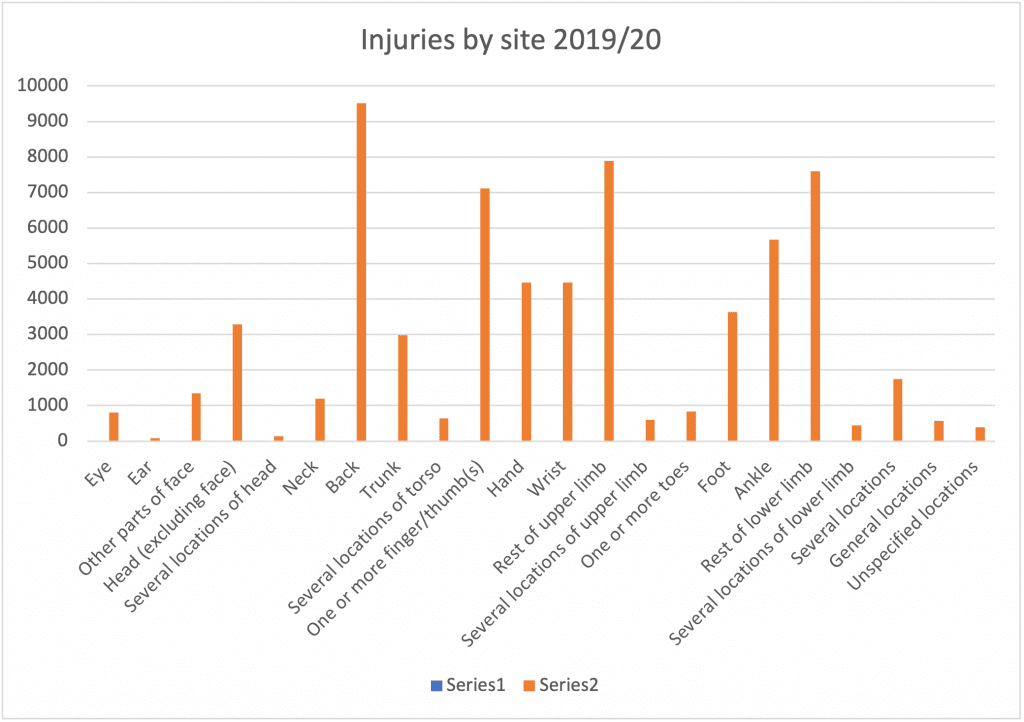 While this doesn't go into detail about the types of leg injury and the accidents that caused such injury, if you've suffered a leg injury at work, you'll see that you're not alone in this.
You can also see the causes of fatal injury at work in 2020/21. While most leg injuries would not be fatal, a fatal leg injury could be possible.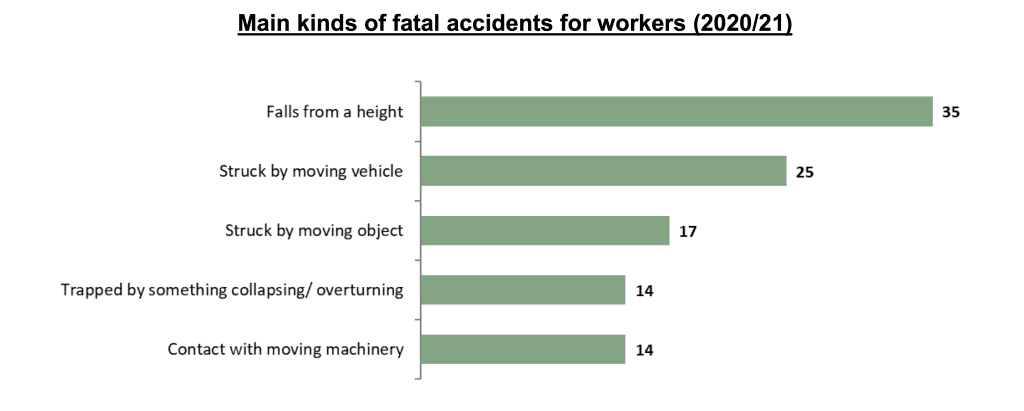 How do I prove my leg injury claim so I can get the leg injury compensation amount I deserve?
There is lots of evidence you may need to gather when making a claim for a leg injury. Some of this could include pictures of the positions of cars for a road traffic accident, or photos of the scene of a workplace accident. You could also take photographs of your injury too. In addition to this, witness statements could provide valuable evidence. If you have gathered the contact details of any witnesses, your lawyer could approach the witnesses for a statement. This could validate your version of events.
What affects the leg injury compensation amount I'd receive?
One piece of evidence that is vital in personal injury claims is the medical evidence. You'd need to go to a medical assessment appointment with an independent medic who would write a report for your claim. This could verify your injuries and give an independent medical professional's opinion on your prognosis. Once the report was submitted, lawyers and courts could use it to arrive at a level of appropriate compensation for the suffering and pain of your injuries. You could also submit evidence proving any costs you've encountered so you could claim for these as special damages.
Do I need a personal injury lawyer to make a leg injury claim?
Whether you have suffered a leg injury in an accident at work that wasn't your fault or in a road traffic accident, or as the result of medical negligence, you could make a claim for compensation without using a lawyer. However, if you are intending on making the claim on your own, you may find putting together the paperwork rather stressful. It would also fall to you to negotiate your own compensation settlement. Many claimants use solicitors to avoid having to do all of the legal legwork on their claim themselves. Using the right solicitor who is authorised and regulated by the Solicitors Regulation Authority could significantly impact the amount of compensation you could receive for a leg injury claim. Solicitors would have the knowledge and experience to fight as hard as possible for the maximum compensation for your leg injury claim. We could help provide you with such a solicitor on a no win no fee basis. Please contact us if you would like us to help you.
Would my solicitor have to be locally based to help me with a leg injury claim?
You may be under the misapprehension that your solicitor would have to have their office based close to you to help you with your claim. However, this isn't the case. You'd be able to use a solicitor who was based elsewhere in the UK, which means you have much more choice when it comes to the solicitor you use.
Thank you for reading our guide to leg injury compensation and leg injury claims. Hopefully, you now have some idea of the leg injury compensation amount you could receive.