By James Vincent. Last Updated 17th December 2020. When you enter your place of work, it is more than understandable to expect a safe and pleasant environment. After all, your employer must adhere to laws such as the Health and Safety at work etc. Act 1974 that promotes safe working practice. Due to the measures and regulations set in place, one of the last things you may suspect is to be injured by negligence at your place of work. However, if you happen to experience a back injury at work due to negligence, you may consider taking legal; action.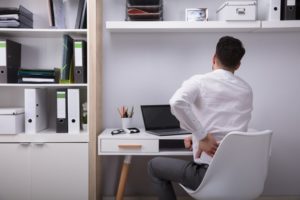 Despite claims for a back injury at work being some of the most common types of compensation claims in the UK, many employers are still not putting adequate safety measures in place to prevent them from occurring. Therefore, if your back injury at work was caused by inadequate safety policy, insufficient or incorrect Personal Protective Equipment, or not being trained properly, you may be able to make a compensation claim against your employer.
Throughout the duration of this guide, we aim to provide you with figures, facts and information to further your understanding of the claims process. More specifically, after reading this guide, you will understand how a personal injury solicitor could offer to handle your case under a No Win No Fee agreement.
Throughout this guide, we will provide a lot of information and address a lot of question. However, if you happen to have any follow-up questions, please do not hesitate from contacting our team. The number to call is 0800 073 8801.
Select a section
A Guide To Back Injury At Work Claims
Across the UK, millions of working hours are lost each year due to back injuries at work or the pain they cause. Back injuries at work are the second most common injury in the workplace (the most common are injuries to the hands). Back injuries are so prevalent as they can the injury can be the cumulative result of years of damage to the back, with back injury symptoms often taking many years to fully manifest.
Throughout the duration of this guide, we shall address critical questions relating to the claims process, such as:
How are back injuries at work caused?
Does my employer ow ea duty of care?
What safety measures should my employer be implementing?
In the event I am injured at work, what steps should I take?
Can a personal injury solicitor offer to handle my claim
Once you have taken the time to read our guide, you will have a greater understanding how back injuries at work could be caused by negligence, what steps you should consider, and most importantly, whether a solicitor could offer to handle your claim.
It is worth noting that the claims process takes into account the unique circumstances at hand. Therefore, if we fail to acknowledge or outline any circumstances you've endured, please do not worry. If you suspect that your injury or pain could have been caused by negligence, then all you have to do is reach out and speak to our team. By picking up the phone and speaking with an adviser, they can discuss your case in greater detail and outline whether you can make a claim. If an adviser believes you have a valid case, they can connect you to a personal injury solicitor with experience handling cases similar to yours.
Workplace Back Injury Statistics
Whilst most people associate back pain and injuries with manual work, this is not always the case. Today most workers will spend a large part of the day sitting. In return, this can cause severe back complications.
According to 2019/2020 statistics provided by the Health and Safety Executive (HSE), mental health and musculoskeletal disorders accounted for a large majority of working days lost. More specifically, 17.9 million for mental health and 8.9 million for musculoskeletal disorders.
On average, a person suffering from one of the previously mentioned disorders took 17.6 days off from work. However, please note that the statistics provided above do not directly apply to injuries caused by negligence. Instead, they are a generalised overview of employee patterns documented by the HSE.
Back Injury Symptoms, Diagnosis, and Treatment
Back injury symptoms can manifest in a variety of different ways and to differing levels of severity. The signs of a severe back injury could display some of the following complications:
Some degree of a loss of movement in the back or surrounding areas.
Loss or changed sensations across the back and extremities, i.e. not feeling the heat, cold or touch in the same way.
Difficulty with controlling your bladder.
Exaggerated reflexes or spasming muscles.
Changes in or loss of sexual function or reduced sensitivity.
Pain or a stinging sensation arising from nerve damage.
Difficult breathing.
Please visit a medical professional if you experience any degree of back pain after a workplace accident. However, if you experience any of the following symptoms, you will require immediate medical attention:
Extreme levels of pressure or pain in the back or radiating to the head and/ or neck.
Weakness, any form of paralysis or loss of coordination in any part of the body.
Tingling and numbness in the extremities, i.e. the hands & fingers or the feet & toes.
Complete loss of bowel or bladder control.
Difficulty in coordinating or balancing whilst walking.
A twisted neck or back.
There are several ways in which a back injury at work may be diagnosed and treated. For many people, the most uncomplicated advice can be useful. For instance, if you suffer a back injury, your GP may suggest a long rest period and avoid strenuous activities for a prescribed period of time. However, severe back injuries will require further investigation and treatment.
Your GP or a doctor at the hospital will first examine you for any potential damage to the spine and test your reflexes, sensory function and ask about the accident itself. If necessary they may carry our imaging tests (such as using an X-ray or even MRI scan to establish the extent of the injury. Treatment will depend on the location, nature, and severity of your injury.
You can find further information on back injury treatment in this NHS guide.
Causes of Back Injuries At Work
Unfortunately, various factors could cause a workplace accident. In some circumstances, an accident can be a blameless and unfortunate turn of events. However, if a workplace accident is caused by negligence, a compensation claim could be a suitable course of action.
Naturally, you may question what factors can cause back injuries in the workplace. Unfortunately, many activities and duties in the workplace could either cause, contribute to, or exacerbate a back injury if they are not done correctly. Some of the most common causes of the workplace back injuries and pain include;
Lifting and carrying heavy objects or loads repeatedly.
Lifting or awkwardly carrying an object or load, i.e. carrying single-handedly or carrying an uneven load.
Back injuries from a fall, such as those caused by simple slips, trips, or falls.
Chairs with inadequate back support or those which are broken or even unsuitable for use.
Heavy and intensive manual labour tasks, or those heavy tasks in industrial workplaces.
Potentially strenuous activities such as manual picking and packing items.
Long-distance driving or driving over uneven road surfaces.
Problems related to your posture include not sitting correctly, poor lumbar support in chairs and bending over at a desk for computer work.
The Health and Safety Executive (HSE) created various guidelines and safety information, such as risk assessments, for employers to abide by. In doing so, these rules provided employers with a step by step path to follow to ensure their workplace is as safe as possible.  However, despite these measures being set in place, workplace accidents can still occur.
If you have suffered a back injury at work and can provide evidence, a personal injury solicitor could offer to take on your claim. By handing your claim, a solicitor can ensure you receive an accurate amount of compensation or the damages you've endured and support through the claims process. Doing so can reduce the stress associated with the claims process, allowing you to focus on your health and recovery.
Can I Make A Back Injury At Work Claim?
You may question whether you can make a back injury claim against your employer for a back injury at work. To make a claim of this nature, you must have suffered a back injury that wasn't your fault. For example, you could have grounds to claim if you have endured a back injury from one of the following:
Lifting and moving objects.
Falling from a height.
Slips, trips, and falls.
Debris falling on a claimant from a height.
Please note: if you received the correct training in how to lift and carry objects or other activities in the workplace, but failed to follow the guidelines, you would not have grounds to make a claim.
By offering training and carrying out safety measures, your employer has met the obligations outlined by the Health and Safety at Work etc. Act 1974. Therefore, they would not be accountable for your accident. However, if you can provide evidence that shows your accident was caused by inadequate practise or negligence, then you could have grounds to make a claim.
How To Make A Back Injury At Work Claim?
If you have suffered a back injury at work due to negligence or bad practice, there are measures you can take to support your claim. Below, we have included some steps you could consider to support your case:
Ensure that your accident and injuries have been recorded in the companies accident report log. This may be a physical book or computer record.
Get medical attention and an assessment to determine the extent on your injuries, as well as a long-term prognosis for them. If you have any visible damages, take a picture of them.
Note down the names and contact details of any witnesses. Ask colleagues who say the incident to make a witness statement. They could write you an email with their statement in it.
If there is a record (such as company training log) which shows that you had not been adequately trained, try to get a copy of this as supporting evidence in your claim.
Even if you do not feel any injury symptoms, you should still report the accident and document it correctly. Back injuries may not present immediately and may flare up at a later date.
The steps noted above are crucial, as they emphasise the importance of evidence. Without evidence to your case,  a personal injury solicitor would not be able to take on your claim.
If you have evidence to support your claim, then you could have substantial grounds to make a claim. Thankfully, we can provide free, expert advice about a comprehensive range of personal injury claims. We can also provide you with a legal assessment and a No Win No Fee solicitor.
Medical Assessment
In the section above, we touched upon the importance of evidence. In addition to the examples we previously gave, another form of evidence you can attain and use to support your case is a medical report.
If you have endured any form of physical or psychological trauma, you will be required to attend a medical assessment with an impartial professional. Upon attending the examination, the professional conducting the session will ask you a range of questions about your injury.
The professional will also examine the severity of your injury and determine whether there are future implications – such as the need for surgery. All of the information collected from the assessment will be documented in a file which can be used to value and support your case.
How Much Compensation Can I Claim For A Back Injury?
Numerous factors will be taken into account when pursuing compensation. After all, every claim involves unique characteristics that can heavily influence the calculation process.
It is challenging to accurately estimate what you could be entitled to without knowing your case's details. For that reason, we have included a table suing information provided by the Judicial College Guidelines.
Injury
Severity
Amount
Notes
Injury to the shoulder
Minor
Up to £2,300
Injuries causing restricted arm movement or short-term pain. Would heal within 3-months
Injury to the shoulder
Moderate
£7,410 to £11,980
Injury which limits movement or function in the arm(s).
Injury to the shoulder
Severe
£18,020 to £45,070
Numbness or impared movement and function.
Injury to the neck
Minor
£2,300 to £4,080
A full recovery takes place between three months and a year. This bracket will also apply to very short-term acceleration and/or exacerbation injuries, usually less than one year.
Injury to the neck
Moderate
£23,460 to £36,120
Long-term pain and/ or restricted movement.
Injury to the neck
Severe
In the region of £139,210
Severe pain, impared movement or paralysis.
Injury to the back
Minor
£2,300 to £7,410
Within this bracket, a full recovery takes place without surgery between three months and two years.
Injury to the back
Moderate
£26,050 to £36,390
Ongoing or long-term pain in the back.
Injury to the back
Severe
£85,470 to £151,070
Injuries to the back including loss of function or even forms of paralysis.
Paralysis
Quadriplegic
£304,630 to £379,100
Full quadriplegia.

The injured person is not in physical pain, has full awareness of their disability, has an expectation of life of 25 years or more, has retained powers of speech, sight, and hearing but needs help with bodily functions.
Paralysis
Paraplegic
£205,580 to £266,740
Full or partial paraplegia.
The table above emphasises how the injury type, severity, and long-term implications can have a profound impact on the amount of compensation awarded.  These back injury compensation examples include settlements for chronic injuries,  shoulders and neck trauma – and are also referred to as general damages. However, it is essential to acknowledge that financial loss could be factored into your case.
Financial losses can be factored into your claim, and they are referred to as special damages. Various types of financial loss can be factored into a claim, such as:
Loss of potential or future earnings.
Travel costs.
Medical expenses.
You will be required to provide documentation to support your case, such a bank statements, receipts, and credit scores. On the grounds, you can provide evidence, a solicitor could offer to handle your case. Solicitors. will always work to get you the maximum amount of compensation possible.
Back Injury At Work Claims FAQ's
There are some questions pertaining to back injury compensation claims which we are often asked. Here are answers to some of these frequently asked questions.
Is my employer liable for my injuries?
Employers owe their employees a duty of care to keep them safe at their place of work. Thankfully, the Health and Safety Executive (HSE) have outlined various safety policies that can be adopted to promote safer work practice.
– Employers must fully train their staff as well as keeping this training up to date.
– Provide any and all personal protective equipment (PPE).
– Conduct risk assessments of the working environment and carry out any recommendations.
– Ensure a high standard of housekeeping is implemented to prevent slips, trips and falls.
If your employer has failed in any of these steps, they could be liable for you to claim them.
Please note; employees also have a duty of care to ensure their own safety in the workplace.
Can I claim if I have a pre-existing condition or previously had a back injury?
There is often a misconception that you can not make a claim for a particular type of injury if you have already suffered a similar injury, or have a pre-existing condition. However, that simply isn't the case.
If you suffer a back injury at work due to your employer's fault, it could aggravate a preexisting condition. In return, it could accelerate the injury or cause new symptoms to occur. If that is the case, then you could have grounds to seek compensation for the accelerated damages endured.
What are the common causes of a back injury at work?
Common causes of back pain at work are often caused by:
– Repetition – reaping specific movements.
– Inactivity.
– Force – exerting too much for on your back due to poor techniques or fall objects.
Am I limited to a solicitor based in my local area to handle my claim?
Thankfully, our solicitors can offer to handle your case, regardless of your location. A solicitor can handle your case and keep you updated by speaking over the phone, sending emails, and by meeting in person. 
Why Use Our Personal Injury Solicitors
At Accident Claims UK, our solicitors have decades of experience helping those affected by negligence. Our highly experienced team marries hard work with their wealth of expertise to ensure you receive the highest compensation settlement possible.
"Our solicitors have up to 30 years of experience helping those affected by neglgience."
Our team has years of experience in helping people successfully pursue compensation claims for personal injuries. Our team are committed to helping you recover and seek the justice you deserve. So if you have suffered from a back injury at work that wasn't your fault, why not reach out and speak to our team? One of our advisers would be more than happy to talk with you and address any issues you may have.
No Win, No Fee Back Injury At Work Claims
Here at Accident Claims, we believe that those affected by negligence should have a right to make a compensation claim and shouldn't sacrifice that right due to expensive upfront legal fees. It is for that reason why our solicitors operate on a No Win No Fee basis.
"No Win No Fee agreements are also referred to as Conditonal Fee Agreements."
So what benefits do No Win No Fee agreements permit? Should a solicitor offer to handle your case under a No Win No Fee agreement, you would have access to the following benefits:
There are zero upfront fees or charges to pay, meaning you can kickstart your claim as soon as possible.
If your case is unsuccessful and you do not win, you won't ever have to pay for our services. This means that nothing should stop you from getting the legal support that you deserve.
If your case is successful and a settlement is granted, your solicitors will retain a small percentage of the settlement to cover their costs. However, please do not worry, as the fee is capped by law. All of the fee structure details will be set out in the agreement, and your solicitor will ensure that you fully understand the contract before signing it.
Contact Accident Claims UK Today
To start your claim and to access free legal advice, why not contact our personal injury claims team? Our friendly and dedicated staff are always on hand to take your calls, answer your queries, and help you start your claim. Once we have the details of your back injury, we can start working hard to get the compensation that you deserve.
You can reach our team by using one of the following methods:
Call us on 0800 073 8801 to speak with an adviser.
You can enquire online by clicking here and using our online form.
Send us an email with the outline of your injury and how it happened to office@accidentclaims.co.uk.
Use our live chat to speak with an adviser in realtime. Click the icon on the right corner of the page.
Useful Links
If you have suffered stress due to a work-related incident, please speak to one of our advisers.
Assaulted at Work Claims Guide
In the event you are assaulted at work, you may consider taking legal action. If that is the case, then our claims team could be of assistance.
Legal Rights After a Workplace Accident
Naturally, you may question what your legal rights are if you have been injured at work. Why not take a look at our guide to learn more?
NHS Back Pain
This guide to back pain from the NHS provide information, advice, and tips on the diagnosis and treatment of back pain.
Health and Safety Executive
Information on back pain in the workplace from the HSE.
Updated: 17th of December, 2020.