Each year as many 1.2 million people suffer from some form of musculoskeletal disorder as a result of their work or working environment. With this, many people suffering from a musculoskeletal problem, it is always important to take any back injury at work very seriously. If an accident does occur, you should always seek medical help and if you have suffered an injury, should seek the compensation you are entitled to.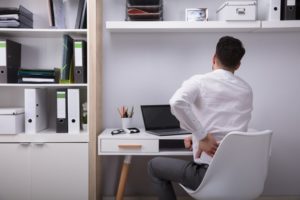 Every employee should be able to expect their employer to protect them from harm (be it injury or illness) whilst carrying out their job. Despite claims for a back injury at work being some of the most common types of compensation claim in the UK, many employers are still not putting adequate safety processes in place to prevent them from occurring. If your back injury at work in the UK happened due to inadequate safety processes, insufficient or incorrect Personal Protective Equipment, or not being trained properly, you may be able to make a compensation claim against your employer.
According to figures compiled by the Health and Safety Executive, more third one-third of all claims reported to the body where an employee had taken three days or more off work was due to injury caused by a manual handling accident. The Manual Handling Operations Regulations 1992 were brought in to protect any employee whose job involves manual handling and lifting. They protect any worker who has to lift, lower, pull or push objects at work.
You can start your claim by calling us on 0800 073 8801.
Select a section
A Guide To Back Injury At Work Claims
As we can see in the figures from the Health and Safety Executive, it is relatively common for people to experience a back injury at work. Across the UK, millions of working hours are lost each year due to back injuries at work or the pain they cause. Back injuries at work are the second most common injury in the workplace (the most common are injuries to the hands). Back injuries are so prevalent as they can the injury can be the cumulative result of years of damage to the back, with back injury symptoms often taking many years to fully manifest. If you have suffered from any form of back injury, even if the current symptoms seem more of a niggle than a full-blown problem, you could be able to make a claim. If you suspect that your injury or pain could have been caused by work we can work with you to assess your injuries and whether or not they were likely to have been caused by your working conditions. If they were, we can then help you to make a claim.
What many people do not consider is that whilst the back might seem a tough part of the body which supports us, it is very complex, prone to injury and can be fragile. Many of the ways in which people commonly work, from the way they sit to incorrect lifting techniques, place too much pressure on parts of the spine, making them susceptible to injury over the long-term.
If you back pain or injury has been caused by a work-related factor, contact Accident Claims UK today.
Workplace Back Injury Statistics
In 2013 the Office for National Statistics (ONS) estimated that the UK lost as many as 31 million work days due to back, neck and shoulder pain. This was discovered through the ONS's Labour Force Survey which found that musculoskeletal conditions accounted for more long-term absences from work than any other single cause.
Whilst most people associate back pain and injuries with manual work this is not always the case. Today most workers will spend a large part of the day sitting and even for office workers musculoskeletal conditions (such as back pain) are still the single largest reason for people taking time off work. The UK also has one of the highest rates for these conditions in the EU. This can be due to the effect on the back from sitting all day. Being very sedentary can be bad for overall health and sitting with poor posture can lead to people developing lower back injury symptoms.
The graph we have included in this section shows how many work days are lost in the UK due to back injuries in the workplace.
Back Injury Symptoms, Diagnosis, and Treatment
Back injury symptoms can present in a variety of different ways and to differing levels of severity. The symptoms of a serious back injury, one where there is damage to the spine or spinal cord itself, may present as follows:
Some degree of a loss of movement in the back or surrounding areas.
Loss or changed sensations across the back and extremities, i.e. not feeling heat, cold or touch in the same way.
Difficulty with controlling your bladder.
Exaggerated reflexes or spasming muscles.
Changes in or loss of sexual function or reduced sensitivity.
Pain or a stinging sensation arising from nerve damage.
Difficult breathing.
Whilst you should see your GP or family doctor as early as possible if you experience any of these upper or lower back injury symptoms, the symptoms listed below require emergency medical attention.
Extreme levels of pressure or pain in the back or radiating to the head and/ or neck.
Weakness, any form of paralysis or loss of coordination in any part of the body.
Tingling and numbness in the extremities, i.e. the hands & fingers or the feet & toes.
Complete loss of bowel or bladder control.
Difficulty in coordinating or balancing whilst walking.
A twisted neck or back.
There are several ways in which a back injury at work may be diagnosed and treated. For many people, the simplest advice of rest and avoiding strenuous activities for a prescribed period of time will be sufficient for them to recover. However, serious back injuries will necessitate further investigation and treatment.
Your GP or a doctor at the hospital will first examine you for any potential damage to the spine and test your reflexes, sensory function and ask about the accident itself. If necessary they may carry our imaging tests (such as using an X-ray or even MRI scan to establish the extent of the injury. Treatment will depend on the location, nature, and severity of your injury. You can find further information on back injury treatment in this NHS guide.
Causes of Back Injuries At Work
The causes of back injuries in the workplace are both numerous and diverse. There many activities and duties in the workplace which could either cause, contribute to, or exacerbate a back injury if they are not done in the right way. This is why the HSE produces a variety of guidelines and safety information, such as risk assessments, for employers to eliminate or reduce these factors. Some of the most common causes of workplace back injuries and pain include;
Lifting and carrying heavy objects or loads repeatedly.
Lifting or carrying an object or load in an awkward way, i.e. carrying single-handedly or carrying an uneven load.
Back injuries from a fall, such as those caused by simple slips, trips, or falls.
Chairs with poor back support or those which are broken or even unsuitable for use.
Heavy and intensive manual labour tasks, or those heavy tasks in industrial workplaces.
Potentially strenuous activities such as manual picking and packing items.
Long distance driving or driving over uneven road surfaces.
Problems related to your posture such as not sitting correctly, poor lumbar support in chairs and bending over at a desk for computer work.
These factors may happen in isolation or together, contributing to your back pain and injuries. According to further statistics on back pain in the workplace, cases of chronic back pain are responsible for 49% of all back injuries. These factors can also create cumulative damage to the back, resulting in chronic and long-term injuries. As such, whilst any back pain you have at the moment may seem mild and bearable, it could become much worse in the future. Similarly, you should also not accept living with the pain or injury and take steps to get both the medical treatment you need and the compensation that you could be entitled.
Can I Make A Back Injury At Work Claim?
If you have suffered an injury to your back, such as lower back injuries, as a result of an accident which was not your fault or other circumstances which were not your fault, it is highly likely that you will be able to make a compensation claim for your injuries. Despite there being numerous different injuries which can happen to the back, there are some causes of back injury claims which we see much more often. These include lifting and moving objects, falling from a height as well as more general slips, trips, and falls on the same level, and things falling on a claimant from a height.
Please note: if you did receive the correct training in how to lift and carry objects or other activities in the workplace, but did not follow the guidelines, or otherwise did not use the correct procedures or equipment, we may not be able to help you. However, if it was due to bad practices in the workplace we can help you.
If you have suffered a back injury at work because of these, or other circumstances, you should contact the specialists at Accident Claims UK. We will be able to provide you with a free assessment of your injury and claim as well as initial legal advice. We may also be able to provide you with an estimate of how much compensation for a back injury at work you may be entitled to.
If you do need to make a claim, what are the main types of back injury claim we can help with? These commonly include prolapsed discs, damage to the ligaments, tendons, or other soft tissues in the back as well as paraplegia.
How To Make A Back Injury At Work Claim?
If you have suffered your injury at work due to negligence or other bad practice on the part of your employer it is important that you follow these steps.
Ensure that your accident and injuries have been recorded in the companies accident report log. This may be a physical book or computer record.
Get medical attention and an assessment to determine the extent on your injuries, as well as a long-term prognosis for them. If you have any visible injuries, take a picture of them.
Note down the names and contact details of any witnesses. Ask colleagues who say the incident to make a witness statement. They could write you an email with their statement in it.
If there is a record (such as company training log) which shows that you had not been properly trained, try to get a copy of this as supporting evidence in your claim.
Even if you do not feel any symptoms of an injury, you should still report the accident and document it correctly. Back injuries may not present immediately and may flare up at a later date.
Depending on your employers' policy, you may need to visit a doctor of their choosing, such as an occupational health doctor. Even if this assessment determines that your are still able to work, you should still talk to your own GP. They may be able to give a more impartial assessment and this will still provide evidence which can be used in your claim later. It is also a good idea to visit your GP and occupational health assessments can often be carried out by a nurse or other practitioner, rather than a doctor.
Following the steps above will help to make the process of making a compensation claim that bit easier to carry out. However, even if you have not followed these steps it is still a good idea to get in contact with our team. We can provide free, expert advice about a comprehensive range of personal injury claims. We can also provide you with a legal assessment and a no win, no fee solicitor.
How Much Compensation Can I Claim For A Back Injury?
Each claimant, their injury and the circumstances which led to it is individual. As such how much compensation for back injury at work you will be entitled to varies from case to case. There are lots of different factors which need to be taken into account when calculating settlements. Factors will include the long-term prognosis of the injury and how it is affecting you now, as well as in the future. Has the injury cost you money in lost income or extra expenses? Has it led to your being unable to work, participate in activities or otherwise have to modify your life? There are lots of factors which your back injury at work settlement will have to account for and as such, it is difficult to estimate accurately what you could be entitled to without knowing the details of your case. However, the back injury compensation calculator below contains examples of the average amount of compensation someone could be entitled to claim. This is based on guidelines from the Judicial College and previous settlements.
| Injury | Severity | Amount | Notes |
| --- | --- | --- | --- |
| Injury to the shoulder | Minor | Up to £6,000 | Injuries causing restricted arm movement or short-term pain. |
| Injury to the shoulder | Moderate | £6,000 to £9,700 | Injury which limits movement or function in the arm(s). |
| Injury to the shoulder | Severe | £14,600 to £36,500 | Numbness or impared movement and function. |
| Injury to the neck | Minor | Up to £6,000 | Whiplash like injuries to the neck. |
| Injury to the neck | Moderate | £6,000 to £29,250 | Long-term pain and/ or restricted movement. |
| Injury to the neck | Severe | £34,575 to £112,750 | Severe pain, impared movement or paralysis. |
| Injury to the back | Minor | Up to £9,500 | Temporary damage to the back or spine, may also include short-term pain. |
| Injury to the back | Moderate | £9,500 to £29,475 | Ongoing or long-term pain in the back. |
| Injury to the back | Severe | £29,475 to £122,350 | Injuries to the back including loss of function or even forms of paralysis. |
| Paralysis | Quadriplegic | £246,750 to £307,000 | Full quadriplegia. |
| Paralysis | Paraplegic | £166,500 to £216,000 | Full or partial paraplegia. |
These back injury compensation examples include settlements for chronic injuries as well as those related to the back, such as injuries to the shoulders and the neck. The solicitors we can provide will always work to get you the maximum amount of compensation possible.
Back Injury At Work Claims FAQ's
There are some questions pertaining to back injury compensation claims which we are often asked. Here are answers to some of these frequently asked questions.
Is my employer liable for my injuries?
All employers owe their employees a duty of care to keep them safe. This duty of care means that they should fully train you as well as keeping this training up to date. They also have a duty to provide any and all personal protective equipment that you need. They should also conduct risk assessments of your working environment and carry out any recommendations. If your employer has failed in any of these steps they could be liable for you to make a claim against them.
Please note; employees also have a duty of care to ensure their own safety in the workplace.
Can I claim if I have a pre-existing condition or previously had a back injury?
There is often a misconception that you can not make a claim for a particular type of injury if you have already suffered a similar injury, or have a pre-existing condition. If a condition has been aggravated or if symptoms which may not have developed until much later have been accelerated due to the newer injury, you may still be able to make a claim.
Why Use Our Personal Injury Solicitors
At Accident Claims UK we work with and can provide you with expert solicitors (some of who have decades of experience) who can help claimants across the UK. Our highly experienced team marries hard work with expertise and a desire to get you the highest compensation settlement possible. Our team has years of experience in helping people successfully pursue compensation claims for personal injuries. As well as being dedicated to getting you the compensation you deserve, we are also committed to helping you recover and reclaim your life.
No Win, No Fee Back Injury At Work Claims
Often employees will overlook things such a milder and moderate back injuries. This can especially be the case when the injury is acute. Whilst people might be tempted to make a compensation claim, they may have been discouraged from doing so due to the costs of this. To combat this, no win, no fee contracts were introduced. This means that you can make a claim for compensation without having to pay a single penny for the solicitor's services unless and until you win your case. If you do not win, you won't ever have to pay for our services. This means that nothing should stop you from getting the legal support that you deserve.
You have a right to make a compensation claim and you should not have to sacrifice that right if you are not able to pay potentially expensive legal fees upfront. If your claim is successful, the solicitor which we can provide you with will charge a set fee for their services. All of the details of the fee structure will be set out in the agreement and your solicitor will ensure that you fully understand the contract before signing it.
Contact Accident Claims UK Today
To start your claim and get the legal representation as well as the compensation that you deserve today, contact Accident Claims UK today. Our friendly and dedicated staff are always on hand to take your calls and queries. Once we have the details of your back injury we can start working hard to get your the compensation that you deserve.
You can reach our team by calling us on 0800 073 8801. You can also fill in the contact form that you can find on this. Alternatively, please send us an email with the the outline of your injury and how it happened to office@accidentclaims.co.uk. Don't delay, start your compensation claim today.
Useful Links
NHS Back Pain
This guide to back pain from the NHS provide information, advice, and tips on the diagnosis and treatment of back pain.
Health and Safety Executive
Information on back pain in the workplace from the HSE.