By Joanne Jeffries. Last Updated 3rd November 2021. Welcome to this case study covering medical negligence claims payouts for surgical negligence.
In this case study, we are going to take a look at a compensation claim made for an extreme case of surgical negligence. The claimant in this case, after listening to the advice of his GP, opted to have a surgical procedure performed; a gastric bypass. This process is used to reduce the size of the stomach dramatically, to something the size of a golf ball. Meaning the victim has to eat far less to feel full, and this would aid with weight loss.
Unfortunately, things did not go well. The surgeon made multiple mistakes during the surgery, and the victim had to have a total of six more operations to repair the damage that had been caused to his stomach.
As a direct result of this, the claimant was eventually forced to go into early retirement. He decided to try and make a clinical negligence claim, and engaged a personal injury solicitor to process his claim for him. His solicitor was finally, after some negotiation, able to secure him personal injury compensation to the value of £345,000.
In this case study, we look at how the surgical process went disastrously wrong, and the effect this had on the claimant's health. We look at how the claim was made, and also what the compensation settlement was paid for. We also offer general advice on how medical negligence solicitors could help a victim of medical negligence make an NHS negligence claim and what amount of compensation could be achievable for general damages and special damages in a negligence payout.
What Is A Gastric Bypass?
In this case, the victim's personal injury lawyer processed a claim for botched weight loss surgery. The victim had decided to have a gastric bypass performed. This kind of surgery is used to help obese people to lose weight. The top of the stomach is connected to the top of the small intestine. This means that the stomach itself, is made very small. It can only hold a tiny amount of food, meaning the patient feels full very quickly when eating. Furthermore, if they continue eating when they are full, the extra food bypasses the stomach and enters the intestine, without being digested.
What Went Wrong With The Claimants Surgery?
Whilst the surgeon was performing the gastric bypass, he made a critical mistake. This was the basis of the surgical negligence compensation claim; the victim decided to sue the surgeon for surgical malpractice. The surgeon stapled the wrong part of the stomach, which cut off the blood supply to that part of the stomach. The victim became sick following the operation. It then took a surgical team six more operations to fix the damage that had been caused, resulting in a PEG tube being fitted. The claimant remained in the hospital for two months, for what should have been a fairly routine operation. At home, he was told not to drink or eat anything for many weeks.
What Did Solicitors Find Out About The Surgical Negligence?
Part of any claim for medical negligence compensation, is proving that the medical professional was indeed negligent. A surgical negligence definition is that whenever a medical professional with a duty of care towards a patient actually harms the patient, then negligence could have occurred.
The claimant's solicitor engaged an expert physician, to evaluate the case. The physician was critical of the surgeon, highlighting the fact he had stapled the wrong part of the stomach, and did not realise he had done this until long after the surgery was completed.
How Was The Case Concluded And What Settlement Was Reached?
When making surgical negligence claims, it must be proven that surgical negligence took place. In this case, an expert physician indicated that the surgeon who performed the surgical bypass had been grossly negligent, making a very serious mistake.
However, the health trust that the surgeon worked for, refuted this claim and denied liability, even though the victim had six further operations to fix the problem. To further complicate the claim, the trust provided several accounts of the events, all of which were contradictory, and proven to be inaccurate by an independent medical professional.
A long process of negotiation ensued, and eventually, the claimant was offered an out of court settlement of £345,000, which he accepted. The claimant received compensation for the pain and suffering of his medical condition, but by far the largest portion of the compensation was for loss of earnings, and the long-term effect his medical condition had on his life.
After spending two months in the hospital, the victim returned to work on a part-time basis. However, he developed several hernias that were directly attributed to his botched surgery. A further string of operations was needed to fix these health problems, and the victim was unable to work during this time. Eventually, a year later, the claimant was forced into early retirement, as his health now prevented him from working. This meant that the claimant had suffered a number of financial losses due to the case of surgical negligence. This included loss of earnings while he could not work, and also the fact he would lose future earnings, as he had had to go into early retirement, for which he was not financially prepared.
This case study is a good example of how in many claims for serious injuries, the compensation received for loss of earnings and loss of life quality, can often far outweigh the provision for pains and suffering. It is clear that the seven operations the victim had to go through, had a dire effect on his future health, and the compensation settlement reflects the serious nature of this situation.
No Win No Fee Surgical Negligence Claims
Here at Accident Claims UK, we can offer anyone who is a resident of the UK, a risk-free way to make hospital negligence claims. We can act as your No Win No Fee solicitors, and process a claim on your behalf. Our national claims service, which operates under a No Win No Fee agreement, is very easy to understand.
When we first take on your claim, there is no charge at all. While we are processing your claim, trying to reach a settlement, there is still no charge. This stage can take many months, or in some extreme cases years. If for some reason, we fail to win you any compensation at all, then we don't charge a thing. When we do win a compensation settlement though, at this stage, we will take our fee out of the compensation payment we received on your behalf as a success fee, and then give you the remainder.
As you can see, because you never pay anything until you have been awarded compensation, you really have nothing to lose from a financial viewpoint. If you would like to know more about the Accident Claims UK national claims service, call us on the number below.
Surgical Negligence And Malpractice Claims Leading To Medical Negligence Claims Payouts for Surgical Negligence
If you need to find a solicitor to process a no win no fee personal injury claim for you, then Accident Claims UK has plenty of experience in surgical negligence cases. We have the knowledge and expertise required to pursue large organisations, such as the National Health Service for compensation successfully. We will always try to get you the most compensation possible, and will do everything that we can to ensure that your claim is successful.
If you are ready to make your claim today, call us on 0800 073 8801. When you do, one of our professional team will be ready to answer any questions you have, and walk you through our processes for starting new claims. Don't worry, this is a simple process, and our team member will explain everything in simple English, without any legal jargon. Call us today, so we can start working towards getting you're the compensation that you are eligible for.
Could I receive medical negligence claims payouts for surgical negligence that affected my child?
If your child became injured because of surgical negligence, they would not have the capacity to claim for themselves until they reach 18 years of age. According to the law, minors do not have capacity to make decisions on legal matters such as compensation claims. Therefore, they would need to have a litigation friend. You could apply to be their litigation friend and make decisions about their claim for them. However, any compensation settlements achieved would be held in trust for your child until they came of age. However, if your child suffered serious injuries and needed some funds released from their compensation settlement for medical treatment, you could apply to the courts to have some funds released. If you choose not to claim for your child's surgical negligence, they could apply for their own compensation payouts themselves by making a claim once they turn 18 years of age. However, there may be some complexities associated with this. For example, as people change jobs and move away it may be harder to obtain witness statements as time progresses. If you would like to some assistance in making a decision on whether to claim for your child or whether to wait for them to reach adulthood, please do not hesitate to give us a call.
How can I maximise medical negligence claims payouts for surgical negligence?
Whether you are claiming for yourself, on behalf of a loved one or because somebody has died as the result of surgical negligence, there are certain ways in which you can maximise your chances of success. The first one could be to find personal injury solicitors with experience in making medical negligence claims. Such a solicitor, authorised and regulated by the Solicitors Regulation Authority could provide you with guidance and support throughout the claims process. They could take on all the legal legwork, building a strong case on your behalf. They could also argue for the maximum compensation possible for your claim.
As well as this, the evidence you provide to support your claim could significantly impact compensation settlement amounts in the UK. During your claim, you would need to attend a medical examination appointment with an independent medical specialist. They could review any relevant past medical notes, as well as examining any injuries you've received and talking to you about what happened. Once they had all the information they needed, they could put together a medical report that not only evidences your injuries but your prognosis as well. This could significantly impact compensation payout amounts.
How long do I have to claim for medical negligence claims payouts?
You would  usually have three years from the date of knowledge or the date of medical negligence to make a claim for compensation. However, as we mentioned, if you are claiming for a child you would have until their 18th birthday. However, there are some exceptions to time limits for medical negligence claims. These could relate to claiming on behalf of a loved one who was lost their life, or they could relate to somebody who did not have the mental capacity to make a claim. If you would like to speak to his in further detail about the time limits for claiming please do not hesitate to get in touch.
How common is clinical negligence?
When it comes to how many claims for compensation the NHS receives, this could vary year on year. We can, however, bring you figures from NHS Resolution pertaining to the amount paid out in clinical negligence in 2020- 2021. You will see that this is quite a shocking figure.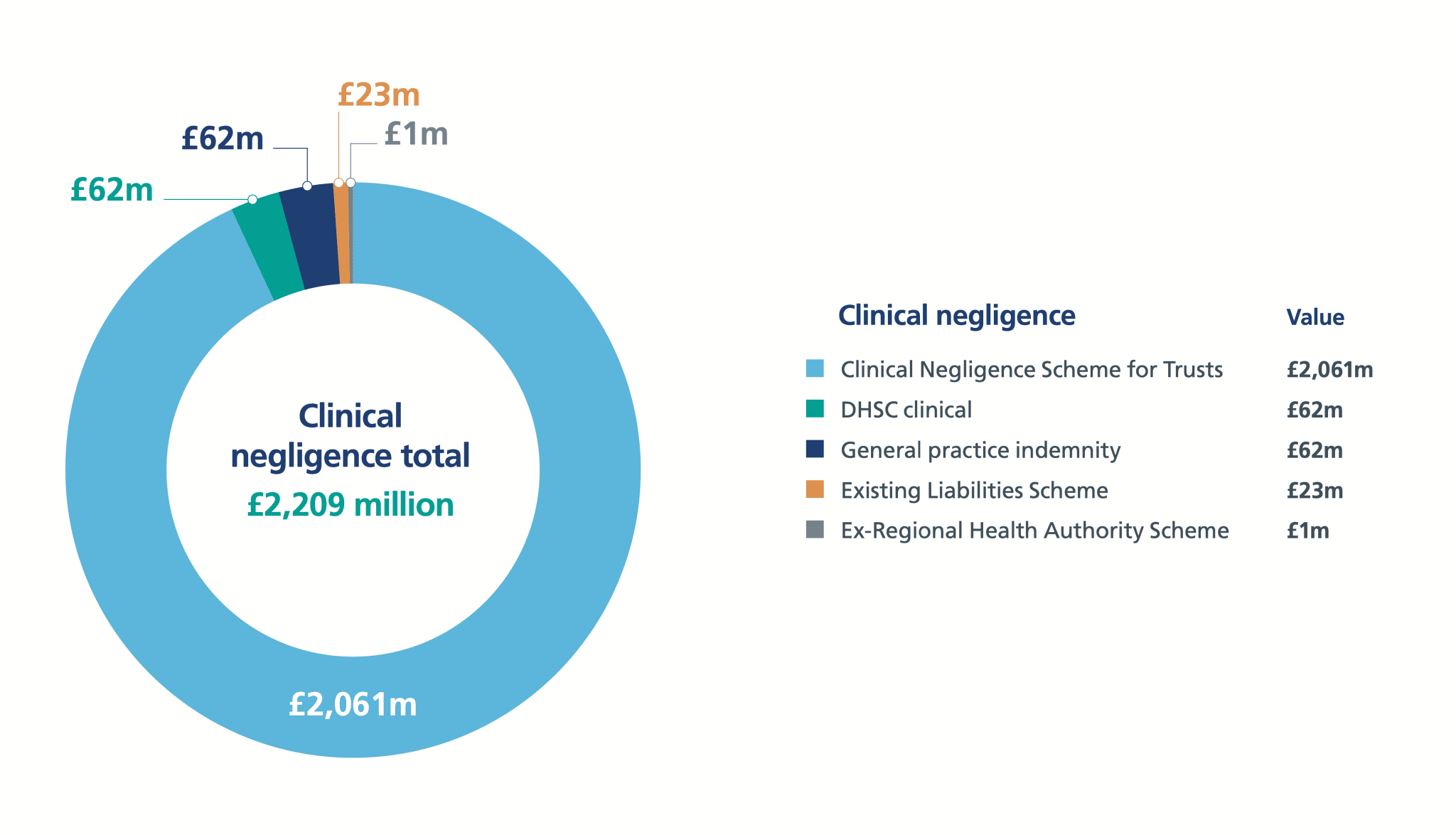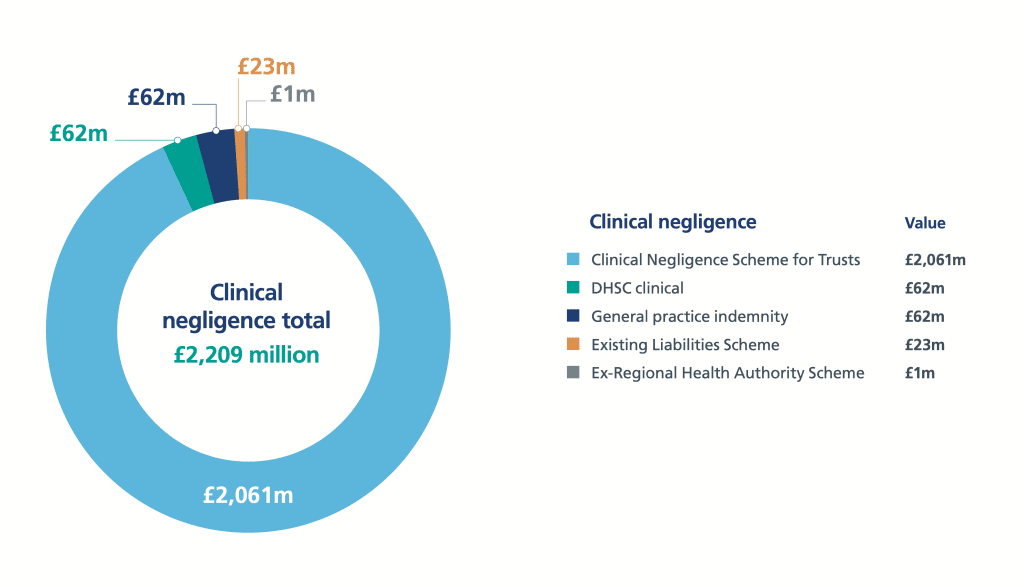 Helpful Resources Relating To Medical Negligence Claims Payouts for Surgical Negligence
At the link below, you will find a guide to claiming compensation for a medical condition that has been caused or made worse by medical negligence:
A guide to claiming for medical negligence
At the link below, you will find a guide to claiming compensation for a medical condition that has been caused or made worse by medical negligence involving misdiagnosis:
A guide to claiming for medical negligence and misdiagnosis
The National Health Service has published comprehensive information about weight loss surgery at this link:
NHS information about weight loss surgery
The UK Government has published some in-depth information about medical malpractice liability and the law at the link below:
Thank you for reading this case study covering medical negligence claims payouts for surgical negligence. If you've received negligent medical claim and what to make claims against the NHS for negligent surgery, we could help you start your claim