By Joanne Jeffries. Last Updated 5th May 2022. Welcome to this case study surrounding personal injury claims payouts for a dog bite. In it, we look at the average dog bite settlement for UK claims. We also answer questions such as 'can a dog bite claim calculator help me?', explaining how a dog bite payout could be calculated, and describing why a dog bite compensation calculator for UK claims could only give rough guidance on compensation amounts.
Dog Bite Compensation Case Study
We all know that dog are man's best friend. However, we have also all got into arguments with our best friends before, right? While most dogs are well behaved and well trained, there are some that aren't this way inclined. If an owner has failed to look after his or her dog, and someone has been injured as a consequence, the victim will be entitled to claim compensation for a
dog attack
. This is what happened in one incident that we have come across while researching whereby an out-of-court settlement of £28,000 was reached after a dog attacked a young lady in 2002.
In this incident, the woman was walking down a narrow footpath with her own pet when another dog attacked her, biting her left elbow and arm.
Explaining How To Claim Dog Bite Compensation
In this guide, we will explain more about this specific claim, taking a look at the injuries the woman sustained, the strict liability criteria to get a dog bite settlement and the compensation she was awarded due to the dog owners negligence. We will also explain how we can help a dog bite victim to get the compensation they deserve if they have been involved in any sort of dog attack. Our contact details are at the end of the guide if you have any queries about the average dog bite settlement for UK claims or you would like to start the no win no fee claims process. We could offer you a free consultation with a dog bite lawyer to help you claim for medical bills, lost wages and even care costs in dog bite cases, as well as other medical expenses and pain and suffering damages.
UK Dog Bite Statistics And Dangerous Breeds
Statista have provided an insight into the number of people per age group that were admitted to hospital between the period of December 2016 and April 2016 for dog bites in England. Their research shows 373 people between the age of birth and nine-years-old were admitted, 243 between the age of 10 and 19-years-old, 350 between the age of 20 and 29-years-old, 301 between the age of 30 and 39-years-old, 439 between the age of 40 and 49-years-old, 489 between the age of 50 and 59-years-old, 307 between the age of 60 and 69-years-old, 217 between the age of 70 and 79-years-old, and 129 people over the age of 80-years-old.
Furthermore, pet insurers, Animal Friends, conducted research to determine the dog breed that is most likely to attack, and it is the family favourite Labrador that has resulted in the highest number of dog bite claims.
Why Do Dogs Attack People?
Why do dogs attack people? Unfortunately, there is no clear answer to this question. However, experts have stated that there are a number of different reasons why a dog may lash out. A lot of the time they do this because they are experiencing stress and/or fear. There are then some dogs that lash out because they are territorial and they feel like their space is being invaded or they are defending something. Of course, when a dog is in pain or distress, this is another reason why they may attack. If a dog is usually pleasant yet has become aggressive, this could be because it is suffering in other ways. Brain tumours and liver disease, which impact the brain, can cause animals to behave in an unpredictable manner.
What Injuries Did The Claimant Sustain?
In this case, the dog that attacked the young woman had gone for her left arm and elbow. After the incident, the woman was admitted to hospital immediately. She was taken to the operating theatre because she needed plastic surgery treatment. This resulted in psychological distress and disability, as well as short, medium, and long-term pain of a considerable level. It is important to note that when you are making any sort of claim, you are able to secure personal injury compensation for both the physical and psychological injuries you have sustained.
About The Case And Dog Bite Attack Compensation Settlement
Dog bite compensation is split into two parts, known as general damages and special damages. You are probably familiar with general damages, as this criminal injuries compensation dog bite amount is designed to compensate you for your injuries and suffering. It is calculated based on the extent of your injury and the impact it is going to have on your life. The doctor's medical report will be used to determine how much you will receive.
Special damages are designed to compensate you for any costs you have encountered because of your injuries. This includes the likes of travel costs, treatment expenses, childcare expenses, counselling costs, prescription costs and loss of earnings. You simply need to prove that you suffered these costs as a direct result of your injuries, and you will need receipts and such like to back it up.
What was the dog bite payout?
In this case, the woman was awarded £28,000. This was agreed in an out-of-court settlement form the insurance company, which is always the aim for solicitors working on any claim. Not only will the money help the woman to get the treatment she requires but it will also assist with any out-of-pocket expenses she may have incurred too because of what happened, for example, loss of income.
What is the average dog bite settlement for UK claims?
Are you wondering what the average dog bite settlement is for UK claims?
If so, you should be aware that the settlement you receive will vary depending on different factors unique to your case. Should you put your details into a dog bite compensation calculator on a UK website, you'd only receive an estimate.
If you would like more information on how much dog bite compensation you could receive, our team would be glad to help.
What would the average dog bite settlement for UK claims include?
Your dog bite settlement may be based on the injuries you suffered and the costs or losses you've incurred.
If, for example, you suffered psychological and physical injuries, you could claim for both of these.
You could also recover any costs you could evidence which were caused by the injuries you sustained following a dog bite incident.
Could you help me fight for the maximum dog bite payout for my injuries?
We would be happy to assist you in helping you get the maximum dog bite compensation you deserve following your claim.
Should I use a dog bite compensation calculator for UK claims advice?
A dog bite compensation calculator for UK claims could only give you an estimate of the settlement you might receive. The reason being, there is no average dog bite settlement for UK claims. Instead, specific factors unique to your case are taken into consideration when valuing claims.
For that reason, you may find it beneficial to seek legal advice when it comes to pursuing a claim for dog bite compensation.
Do I need a local lawyer to help me get my dog bite payout?
No, you could use a solicitor based elsewhere in England and Wales.
No Win No Fee Dog Attack Compensation Claims
There is a lot to consider when looking for the best personal injury lawyers. It can be a difficult process. After all, you need to make sure you choose the best lawyer for you. There are no second chances when it comes to making a claim.
One of the most important decisions you need to make is whether to hire a No Win, No Fee personal injury solicitor or someone that charges by the hour. There really is only one winner. No Win, No Fee accident lawyers offer the much better solution and here are the reasons why…
One of the main advantages associated with No Win, No Fee solicitors over traditional solicitors is that you will minimise financial risk. If you go for a lawyer that charges by the hour there is always the worry that you are going to spend an extortionate sum of money only for your case to be unsuccessful. Is this something you can really afford to risk? Well, you don't have to. If you go for a No Win, No Fee solicitor you will not pay any legal fees if your case is not triumphant. Not only this, but also you don't have to pay an upfront sum in order to start the claim process.
The benefits of No Win No Fee dog bite compensation claims
The way this payment structure works leads to other benefits. You can be sure you will benefit from the highest level of quality if you go for a No Win, No Fee solicitor. After all, they are more impacted by the outcome of your case. So, they are going to do everything in their power to ensure it is a success. Can you really be sure that a traditional solicitor is going to do this? Especially when they have already received their money no matter what. Also, a No Win, No Fee solicitor won't waste your time. If they don't think you have a very strong claim, they will tell you.
Here at Accident Claims UK, all of the experienced solicitors we can connect you with work on a No Win, No Fee basis. We are one of the leading claim firms in the UK and have an exceptional reputation. There is no one better to handle your case and help you to claim compensation for a dog bite.
Contact us About Personal Injury Claims Payouts for a Dog Bite
When you use our services, you can be confident that you are in safe hands. We have the experience to provide an impeccable service. This is because we have been helping personal injury victims for many years now. All you need to do is read our customer reviews to see that they have been more than happy with the service we provide.
You can ring our helpline and there is no obligation for you to go forward with our service. Perhaps you are wondering whether you have the basis for a no win no fee personal injury claim? Maybe you want to know more about our service, and the claim process? Whatever you require, one of our experienced and friendly advisors will be more than happy to assist you and you won't have to pay a penny for our advice.
Our helpline number is 0800 073 8801. This line is open 24/7, and it is the number to call if you want to begin the dog bite claim process too. You can find additional contact information via our website.
Could I claim medical negligence personal injury claims payouts for a dog bite?
If you have visited your doctor, GP or a walk-in centre, for example, with a dog bite, you should expect to receive a safe standard of treatment and care. If, however, this does not happen and you receive negligent advice or treatment that causes your injury to become worse, you could make a claim for clinical negligence compensation. You would need to be able to prove that but for the negligent treatment or advice you received, your injury would not be as it is.
If your injury becomes harder to treat or worsens due to medical negligence our specialist solicitors, who are authorised and regulated by the Solicitors Regulation Authority could assist you in making a claim. Just like in personal injury claims, a medical negligence claim could include general damages for your pain and suffering, as well as special damages for loss of earnings, care costs or medical and travel expenses, for example. If you would like to consider making such a claim, please call our team. We could also help with a variety of other personal injury claims.
How common could a clinical negligence claim be?
While we don't have insight into the number of dog bite negligence claims made against the NHS, we can provide you with the following figures. This is the amount of money lost by the NHS in clinical negligence claims in 2020-2021. It would include legal fees and costs.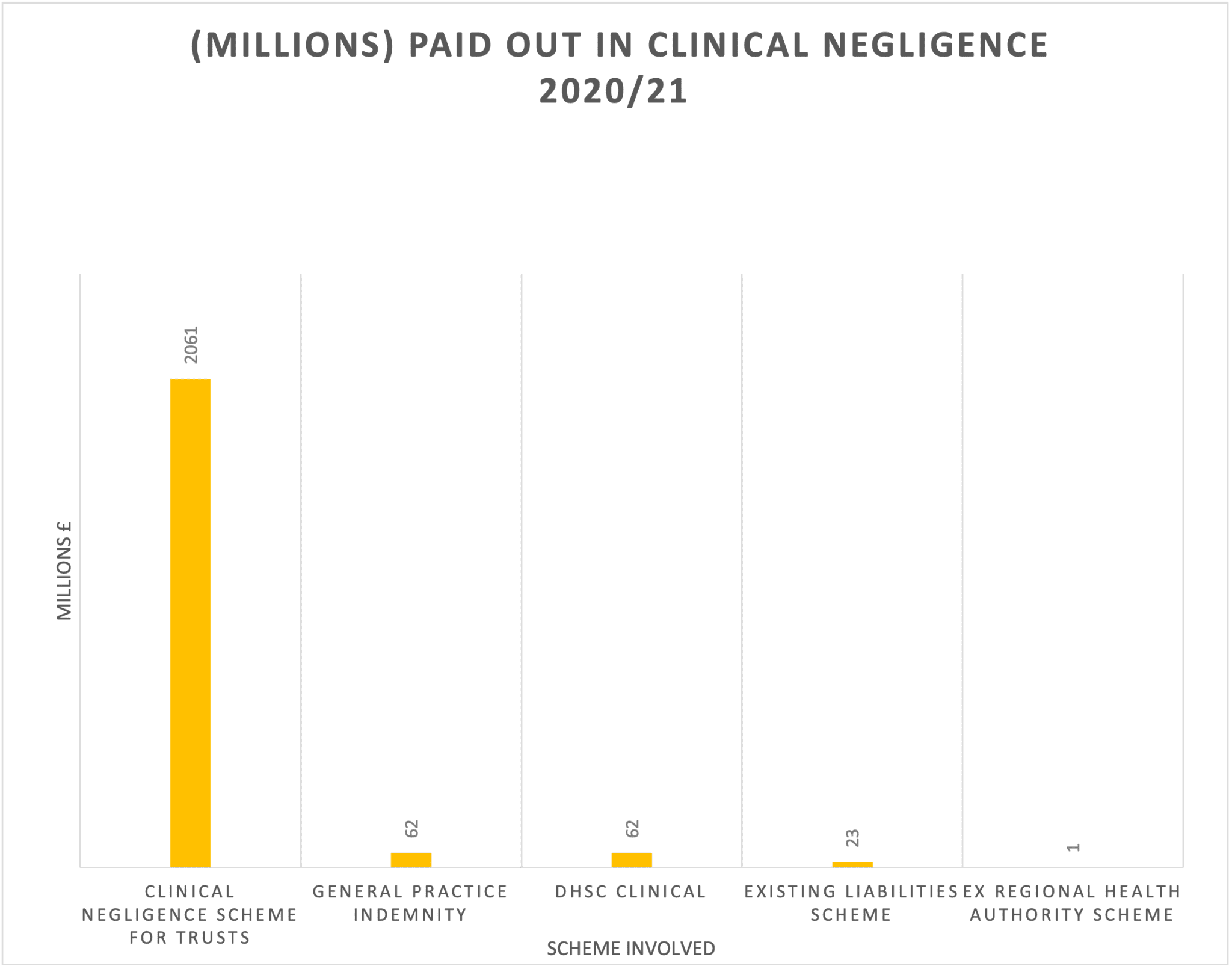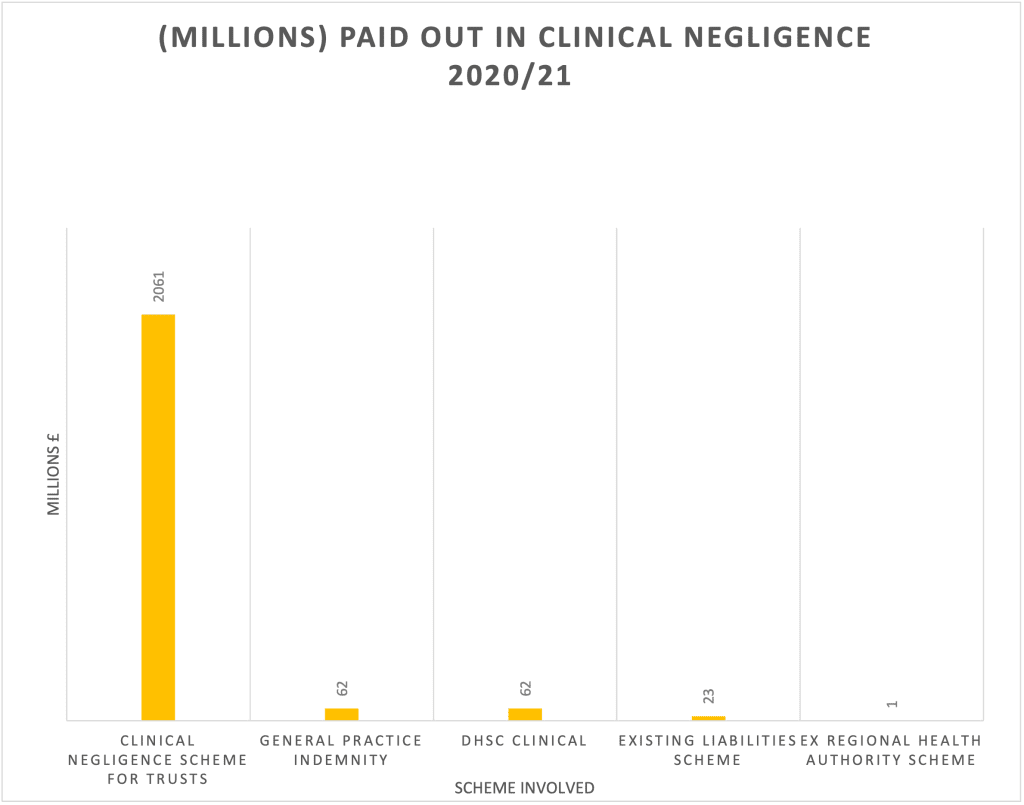 Should I use a dog bite compensation calculator for UK claims to get insight on personal injury claims payouts for a dog bite?
We would not advise you to rely heavily on the compensation amounts such an online tool could provide you with. When you make a personal injury claim for compensation, all of the specific unique facts and circumstances need to be taken into account when determining compensation. For example, an online tool such as a compensation calculator could never fully assess the level of severity of your injuries. They could not also determine any other psychological injuries that you could claim for. If you would like some insight on how much compensation could be appropriate, we would be happy to help you. Please do not hesitate to call our team for the advice and support you are looking for.
Could my choice of solicitor affect personal injury claims payouts for a dog bite?
Your choice of solicitor could significantly affect compensation settlement amounts for a dog bite injury. Choosing an experienced solicitor who has handled claims like yours before could be highly beneficial for your claim. They could take all of the legal legwork from you, allowing you to concentrate on recovery from your injury. They could also negotiate for the maximum settlement possible for your claim. Would you like to receive information on the personal injury solicitors we could provide you with? If so, we would be happy to talk to you about this. Remember, all of our solicitors work on a no win no fee basis, and we could provide you with a solicitor with up to 30 years of experience.
Can a dog bite claim calculator help me decide whether to make a claim?
If you're wondering 'can a dog bite calculator help me decide whether to make a claim?' we would urge you to call our team instead of using a calculator to make a  decision. Without charging you any money, we'll speak to you about your potential claim for dog bite compensation. We could advise you whether your claim could have a favourable chance of succeeding.
If we determine that it could, we could provide you with a No Win No Fee solicitor to assist you. Get in touch for more information.
Would the average dog bite settlement in the UK give me an indication of how much I would receive?
There isn't a definitive average dog bite settlement in the UK. When claiming dog bite compensation, there are lots of factors unique to your case that could impact your compensation. These could include:
The severity of the bite

Whether it left you with scarring

How much pain and suffering you endured

Whether it affected you psychologically

If you were unable to work because of the injury and lost income

Whether you incurred any costs and losses because of the injury
To get insight into how much dog bite compensation you could look to receive, why not call our team? We could give you free legal advice over the phone about your case. 
Helpful Resources Relating To Personal Injury Claims Payouts for a Dog Bite
We hope this guide has been of assistance. We hope it assisted if you have been looking for more information on securing compensation for dog bite victim UK. If you would like some more details, you can use the links below. Alternatively, you can always ring us with a query, and we will answer any questions you might have.
The first link takes you to a thorough and comprehensive guide that we have put together. It focuses on dog bite attacks and injuries. We provide complete details on how to launch a claim. The guide explains what is involved, and how much major or minor dog bite compensation you may receive. The second link takes you to the NHS website. You will find information on dog and human bites. This includes details on how to care for the bite, as well as signs that it may be infected.
Dog bite Compensation – Your Guide to Claiming – A definitive guide to claiming.
NHS – What to do about bites – See here for more advice on treatment etc.
Final words on dog bite compensation
Thank you for reading this case study on personal injury claims payouts for a dog bite. Hopefully, we've explained what  the average dog bite settlement in the UK is. Whether you'd like us to assess your case to see if you could claim, or you'd like our help getting a dog bite payout, we'd be glad to help you.