By Daniel Sisko. Last Updated 29th June 2022. Welcome to our criminal injury compensation calculator guide where we shall discuss how to use a CICA calculator in detail. Throughout this guide, we are going to tackle key questions, such as " how to make a criminal injury claim", "can you claim criminal injuries with a criminal record?' and "can a solicitor help me make a CICA claim." We also look at the CICA tariff table in the 2020 proposals for changes to criminal damage compensation and criminal injury compensation. Where relevant, we look at examples of CICA payouts people could receive, as well as whether a CICA compensation calculator could give you accurate examples of assault compensation payouts. We also offer advice over the phone should you be unsure as to whether to use a CICA claim calculator.
Could I make a criminal compensation claim?
Did you know that if you're the blameless victim of a violent crime, you could be entitled to claim compensation through a government department called the Criminal Injuries Compensation Authority (CICA)? Unlike other personal injury claims, CICA claims have their own set of eligibility criteria and compensation payment amounts. In this guide, we'll look at what types of criminal injuries could be compensated for, how you make a CICA calculator claim and how much compensation you could be entitled to receive through the scheme.
Guidance on the CICA tariff table 2020 and examples of CICA payouts
Our team of specialist advisers can help you by offering free advice and compassionately working with you at your own speed. We could answer your questions about using a CICA calculator such as 'does criminal injuries compensation affect benefits?' If you decide that you'd like to make a CICA calculator claim, they'll offer a no-obligation assessment to help decide whether your CICA calculator claim through the CICA could be successful. If there's a chance that you could be compensated, they could introduce you to one of our CICA claims solicitors who work on a No Win No Fee basis for each claim they take on.
To discuss whether you could make a CICA calculator claim today, please call 0800 073 8801. Alternatively, to find the types of claim criminal injury compensation solicitors could help with, please continue reading.
Select A Section
A Guide To Making A Criminal Injury Or CICA Claim
The Criminal Injuries Compensation Authority (CICA) was designed to recognise blameless victims of crime. It aims to compensate those who've suffered physical and mental injuries due to violent crimes having been committed against them. This could include recent criminal activity as well as paying personal injury compensation for some historical cases too.
Because the scheme has its own rules, we recommend using a personal injury lawyer to help you file a CICA calculator claim. This would mean that your claim would be submitted correctly, with the right evidence so that the authority accepts your case, and that you are compensated correctly and fully. We'll provide more information on the rules that apply to the scheme, the CICA calculator claim process, the CICA calculator claim time limit, and CICA compensation amounts throughout this guide.
As well as physical and psychological injuries, criminal injury compensation claims are possible in a case involving abuse (physical or sexual), and can include payments for lost income, special expenses, bereavement payments, funeral expenses and payments for loss of parental services.

What Are Criminal Injuries?
If you wanted to make a personal injury claim in normal accidents, you'd claim against the individual or business that was negligent towards you, which resulted in you suffering some injury. When it comes to claiming compensation through the CICA scheme, the authority pays the compensation you are awarded in a successful CICA calculator claim.
The CICA scheme covers injuries that include both physical and psychological injuries caused by crimes of violence. That could be for a physical assault, sexual assault as well as recent or historical physical or sexual abuse.
Why amounts from a CICA claim calculator could differ from personal injury claims
CICA claim awards are decided by the schemes own criteria, and differ from the amounts you may have seen in personal injury claims calculators. We'll provide some examples of the CICA compensation bands later in this guide. We'll also explain other eligibility criteria in further detail too.
When making a criminal injury claim through CICA, one thing to bear in mind is that only three injuries will be considered. Therefore, if you've suffered multiple injuries, only the most serious will be compensated when you make a successful CICA calculator claim. Also, the first injury will receive 100% of the compensation associated with it, the second will receive 30%, and the third will receive 15%.

What Is The Criminal Injuries Compensation Authority – CICA?
CICA is an executive agency linked with the Ministry of Justice. They handle compensation claims from those who were the victim of a violent crime. Their offices are based in Scotland, and they employ over 200 staff who manage more than 30,000 claims each year. According to their website, they pay out over £130 million in compensation to crime victims every year.
The government controls the criteria for how much compensation is paid out. CICA's main role is to handle and consider claims made through the scheme and to decide who is eligible for a compensation payment.
Who could be eligible for CICA payouts
As well as handling claims where you've been personally injured, the CICA also deals with claims where:
A relative, close friend or loved one died.
You witnessed a crime happen to a loved one.
Or you paid funeral costs of a person who died following a violent crime.
According to the CICA website, their priorities for 2019 to 2020 include:
Providing an accessible, sensitive, compassionate and fair service
To operate efficiently and accurately.
What Type of Criminal Injuries And Assaults Are Handled By The CICA?
Many types of crime could lead to CICA claim awards. For instance, you could claim CICA compensation for a broken jaw. However, rather than list each individual injury, here are some categories of claim which could be made through the CICA scheme:
Criminal assaults
Physical or sexual abuse
Care home abuse and neglect
Hospital abuse
Abuse in a school
Abuse by a sports coach
There are too many different types of assault or abuse cases that could be eligible for a claim to list here. In general, if you have suffered, due to a violent criminal act against you, you could be entitled to claim compensation through the CICA scheme. The best advice is to call and explain your situation to one of our experts. If you're not comfortable speaking on the phone initially, you can send details of your enquiry by email.
Getting help with CICA payouts
You'll find all of our contact details at the end of this guide. Once we know more about how you've suffered, we'll be able to let you know whether we believe you'll be eligible to file a claim for compensation through the CICA scheme or not.

Am I Eligible To Make A Criminal Injury Claim?
Before contacting a personal injury solicitor to make a criminal injury claim, it's worth checking CICA claims' eligibility. Some of the most important criteria include:
Your injury needs to have been caused by a violent act against you.
That you did not contribute to the criminal act that was committed against you
The crime needs to have happened in England, Wales or Scotland, or another relevant location.
You must have reported the crime to the police
The claim must be made within 2-years of the crime happening (the normal personal injury claims time limits is 3-years)
The 2-year time limit could start from the date you reported the crime to police when considering cases of sexual assault. In extreme cases, where you can show that circumstances prevented you from claiming earlier, the time limit could be waived altogether. This might be the case if you were physically or mentally incapable of lodging a claim.
When might I not be eligible for CICA payouts?
Claims could be disregarded if:
The crime was not reported to the police as soon as possible. This is usually within 48 hours if exceptional circumstances didn't prevent you from doing so.
You've already applied for the same injury through the CICA scheme.
Your injury happened before the scheme was introduced (1st August 1964)
The claim could be rejected if you fail to co-operate with the authorities or your own behaviour contributed to the assault.
Making a CICA claim with a criminal record could also mean that it is rejected and the same is true if you have outstanding offences which have not been resolved – this includes driving offences like drink driving.
Could I Make A Criminal Injury Claim If No One Has Been Caught Or Convicted?
So long as the criteria for claiming have been made, you could still claim compensation from CICA if a criminal was never identified. You could also claim that you identified the criminal in cases, but they haven't yet been convicted of the crime.
To find out more about claiming prior to a conviction taking place, please speak with a specialist adviser today.

Criminal Injury Claim Time Limits
As mentioned earlier, to make a claim for criminal injuries compensation, you'll need to ensure you claim within the scheme's time limits. Whereas a personal injury claim usually allows a 3-year time limit, criminal injury compensation claims through the CICA scheme must be made within 2-years of the crime, or 2-years from the date the incident was reported to the police.
For adults, the only exceptions to the 2-year rule are:
Where exceptional circumstances prevented you from claiming sooner, and
Where you can provide evidence to support your application (or there is already enough police evidence) which means a claims officer doesn't need to conduct an extensive enquiry
In cases that involve children, a parent could claim on their behalf before they turn 18. At this point, if no claim has happened, the victim has 2-years from their 18th birthday to make their own claim.

What Steps Should I Take After Being Victim To A Criminal Injury?
If you are injured during any form of criminal action against you, there are a number of steps we recommend you take to help with a future criminal injury claim. These include:
Reporting the crime to police at the earliest opportunity. As we've already mentioned, failure to do this step could jeopardise your chances of claiming successfully because the CICA would turn down an application straight away if you cannot provide a police reference number.
Take photographs of any visible injuries. Also, it might be useful if you're able to photograph the scene of the crime.
Ask any witnesses for their details. Furthermore, ask them for a statement of what they saw happen to you.
If possible, see if there's any CCTV footage covering the area where your crime happened. If there is, try to obtain copies as soon as possible because it won't be retained for long.
Seek medical treatment as soon as possible. This will achieve two things: firstly, you'll receive the treatment you'll need for your injuries. It will also provide medical records that can be submitted with the CICA calculator claim application to help support your claim.
Keep hold of any receipts or documentation that's linked to your injuries. We'll explain about expenses that could be included in a CICA calculator claim later on.
Finally, we recommend you take the time to write down what you remember happening. It is straightforward to remember the details of a crime after a few weeks. Therefore, try to record where the crime happened, what time it was, what you remember prior to the crime happening and any other relevant information.

Criminal Injury And CICA Compensation Calculator
Should your claim for the CICA be successful, they have a tariff of injuries in the Criminal Injuries Compensation Scheme 2012 that dictates how much compensation you could receive.
After reporting the incident to the police, the CICA will coordinate with them to work on your compensation claim. They would need a police crime reference number to process your claim which is one of the reasons it's important to report the crime to the police.
You could use a CICA compensation calculator or use the table in the section below to better understand what your claim may be worth.
Examples of CICA Payouts for 2022
The below table can give you further insight into what your potential compensation amount could be. It supplies information on compensation figures for some injuries through the CICA. Please remember that you could only claim through the CICA if the crime took place in Scotland, England or Wales.
Type of Injury
Notes
Compensation Amount
Ankle
One dislocated or fractured ankle and continuing significant disability.
£11,000
Back
Fracture of one vertebra and continuing significant disability.
£3,500
Chest
Injury necessitating thoracotomy with extensive repair/removal of one or more organs.
£16,500
Genitalia
Loss of fertility
£55,000
Burns
Severe
£11,000
Physical abuse of adults, including domestic abuse
Severe: a pattern of repeating violence causing minor disfigurement.
£5,500
Physical abuse of children, including domestic abuse
Serious: intermittent physical assaults causing an
accumulation scalds, burns or healed wounds but
with no appreciable disfigurement.
£2,000
Sexual offence where victim is any age (if not already compensated as a child)
Sexual assault causing severe, permanent mental illness confirmed by psychiatric prognosis.
£27,000
Sexual offence where victim is a child (under age of 18 at time of or commencement
of offence) or an adult who lacks the mental capacity to give consent.
One or more instances of sexual assault. Non-penile penetrative or oral genital act(s). Two or more isolated incidents.
£4,400
Other payments
Sexually transmitted infection (not including HIV, Hepatitis B or Hepatitis C) causing permanent disability.
£11,000
The figures above also don't consider other financial losses you may be able to claim for, including special expenses. This is explained in more detail below.
To get a compensation quote that is relevant to your specific injury, please contact us at a time that's convenient for you. Our advisors can tell you quickly and easily about your eligibility to claim and connect you with a solicitor from our panel who specialises in criminal injury compensation claims.

What Other Damages Or Costs Could I Claim?
When your solicitor begins to fill in the criminal injuries compensation claim form, there are a number of different elements that can be used. The elements they'll use in your case will depend on how you suffered and may include:
Injury Payments
These could be paid if your injury is listed in the CICA tariff of injuries. Any injury which is deemed to be worth less than £1000 won't be paid. The scheme also allows injury payments to be made where an existing injury is made worse because of the criminal act against you.
Any mental injury caused by sexual assault will either receive payment for the mental injury or the type of assault, not both. In successful cases, the higher payment will be awarded. Finally, injury payments do not include payments for scarring caused by surgery performed during treatment that is required.
Special Expenses
These are reasonable expenses caused as a direct result of your criminal injuries. Examples of special expenses that could be:
Lost Earnings – If your injuries mean your earning capacity is affected, or you have lost income, then you could include these losses in your claim
Property Damage – You could include the cost of damage to equipment you owned that you rely on as an aid that was damaged during the criminal act against you. This could include spectacles, a walking stick or dentures.
Specialist Equipment – Following the crime, if you require any specialist equipment to support you because of your injuries, then the cost could be claimed back. This could include wheelchairs, walking sticks and frames or implements used around the house where your grip has been weakened. This category of special expenses is only considered where the equipment is required rather than desirable.
Home Adaptations – When you return home following treatment, your criminal injury claim could include adaptations to your home. These might include entrance ramps or stairlifts. You'll usually be asked to prove that these cannot be obtained from another source before CICA will consider them as part of the claim.
Because CICA is a government body, they have to ensure 'double payments' don't occur. Therefore, they will reduce special expenses where you might receive a social security benefit, which will cover the same expenses.
The raft of different elements of a CICA claim can be quite confusing. Therefore, please let us help you make your claim. Speak with an adviser today. If your claim is eligible, one of our solicitors could help to try and ensure you receive the full amount of compensation you're entitled to.

No Win No Fee Criminal Injuries Compensation Claims
Even though a criminal injury claim is not the same as a traditional personal injury claim, our solicitors could help you claim on a No Win No Fee basis. Before doing so, they'll assess your claim and check that you have a chance of being accepted by the authority and compensated through the CICA scheme.
If they agree to handle your claim, you'll both sign a Conditional Fee Agreement (CFA). This is your contract which is really important because it explains that:
There are no solicitor's fees to pay unless you receive compensation through the CICA scheme.
When a claim is won, the success fee you'll pay
You don't need to worry about having the funds to pay the success fee, however. That's because the success fee is deducted from the money you are awarded through the CICA scheme with the remainder being paid to you.
We truly believe that more people are able to claim when we offer them No Win No Fee terms when filing a criminal injury claim through the CICA scheme. That's because the financial risks of claiming are reduced greatly, leading to a lot less stress and worry during your claim.

How Our Criminal Injury Claim Specialists Could Help You
Here some reasons we believe you should consider when deciding to work with one of our personal injury solicitors:
We have specialist advisers available 24-hours a day, 7 days a week.
They offer free claims advice as well as a no-obligation assessment of your claim.
Our solicitors offer a No Win No Fee service for all claims they take on.
We have received great feedback from previous clients.
Our team of solicitors have up to 30 years' experience of dealing with all sorts of claims.
Please feel free to contact us if you have any further questions about how we could help you make your claim.
How to make a criminal injury claim and why use a personal injury solicitor?
You might wonder why you would need a personal injury solicitor to help with a criminal injuries claim. Well, as with other types of compensation claims, their experience should make the claims process a lot easier. Additionally, having legal representation could mean you'll receive a higher amount of compensation.
When you contact us, our team will review your case to see if it has a reasonable chance of success. If they believe it does, you'll have a solicitor appointed to your case. The first thing they'll do is go over everything with you so that they fully understand how you have suffered. This is an important step that is used to try and ensure nothing is missed out of your claim. They'll then start collating evidence and other information that a CICA claim will require.
When everything is ready, your claim will be filed. Your solicitor will be the named contact so they will deal with any queries raised by the CICA officers. This means you won't need to worry about complex or technical questions being fired at you. If any additional evidence is required, your solicitor will provide it. They'll provide updates regularly and be there to answer any questions you might have.
If a settlement is offered, your solicitor will review it and fight to increase it if they believe it doesn't represent your suffering fairly. To find out more about how to make a criminal injury claim with us, please call today.

Contact A Criminal Injury Claim Solicitor To Find Out More About The CICA Tariff Table 2020 Or Start Your Claim
If you're ready to begin a criminal injury claim with Accident Claims UK, then there a few ways in which you can contact us:
Give our advisers a call on 0800 073 8801 and discuss your claim right away.
Send details of your claim via email to office@accidentclaims.co.uk.
Ask us to call you back at a convenient time by filling in our online claims form.
Finally, you can chat online with an adviser using the live chat feature on any page of this website.
Our advisers understand that you might not be comfortable discussing personal issues. They'll therefore deal with your enquiry sensitively and at your own pace. If you find it easier to write down what happened initially, please send details of your claim in an email, and we'll get back to you. When you do get in touch, we'll never put any pressure on you, and you're under no obligation to continue while we're assessing your claim.

Criminal Injury Claim Resources Including Information On The CICA Tariff Table 2020
Now that you've come to the end of this guide about making a criminal injury claim, we've decided to provide some more useful information for you. Below you'll find links, guides and external resources that we hope you'll find helpful.
The Criminal Injuries Compensation Authority – The government website providing further details about the CICA claims process.
Victim Support: Reporting A Crime – Advice from the Victim Support charity in different ways that you can report a crime.
Police UK – Information relating to all police forces in the UK including local news, advice and information.
Internal Guides Relating To The CICA Tariff Table 2020
Assault Compensation Claims – This guide provides information on what types of injuries can result from an assault. It also explains how much compensation you could be awarded.
Sexual Abuse Claims – A guide that explains in more detail when it might be possible to claim sexual assault. It also covers claims for historical sexual abuse.
Care Home Neglect Claims – A guide that provides guidance on how to claim for negligence in care homes. In general, this will cover medical negligence but could be relevant in care home abuse scenarios too.
Assaulted at Work – take a look at our guide on workplace assault claims.
Psychological injuries compensation guide – why not take a look at our guide to learn more about psychological injury cases.
Post-traumatic stress disorder guide – many people suffer from PTSD after an accident, so take a look at our guide to learn how we could assist you.
CICA Calculator And CICA Tariff Table 2020 FAQ
How do I claim CICA payouts?
In order to make a CICA claim, there are several factors to take into consideration. For instance, you must be able to provide:
The date and location of the crime.
You must have reported the incident to the police.
Have a crime reference number.
Reporting the incident to the police is critical, as you would not be able to make a CICA claim having not reported the incident. However, please note that you could still be awarded compensation even if the perpetrator hasn't been identified or persecuted.
How long does a CICA claim take?
When making a CICA claim, it is worth noting that there is no specified timeframe. However, the CICA aim to make a decision in most cases within 12-18 months. You can see how they have performed over 2019/20 and 2020/21 here. Figures are from the Criminal Injuries Compensation Authority's own statistics.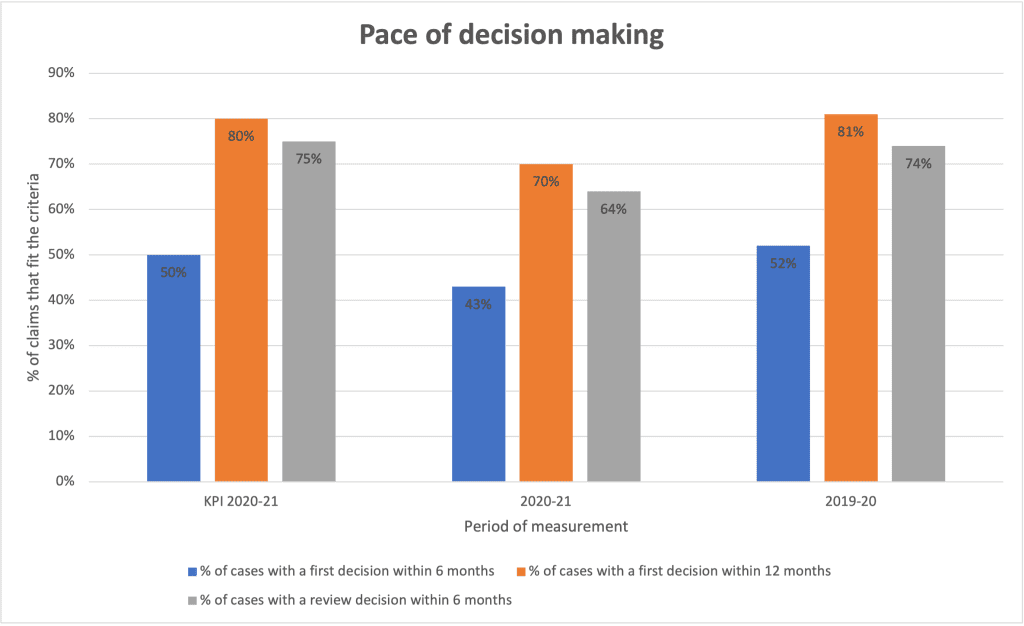 Must I begin my claim with a specific timeframe?
Every compensation claim must be made within a certain timeframe in order for it to be successful. For instance, in order to make a successful CICA calculator claim, you should begin your claim with 2-years from the date of the accident. Failing to meet this timeframe could ultimately affect the validity of your case.
What is the CICA tariff table 2020?
If you've seen related queries when searching the web that mention the CICA tariff table 2020, the below information might interest you.
In 2020, the Criminal Injuries Compensation Scheme was reviewed. The CICA tariff table for the 2020 review included dividing lines for disabling mental injuries, as well as changes to the tariff of injuries. It suggested reducing the number of bands and grouping some injuries together.
What else did the CICA tariff table 2020 review cover?
The review also suggested some changes to criminal injuries compensation eligibility. It also proposed changing some of the language to make it clearer and easier to understand.
What are some examples of CICA payouts victims could receive?
CICA compensation could include awards for both the physical and psychological injuries you suffer as well as some costs, such as loss of income after 28 weeks.
Should I use a CICA calculator if I have more than one injury?
If you have more than one injury, you could receive a reduced rate of CICA compensation for each injury after the first. Please call us for guidance on multiple injuries. We could explain how CICA compensation is calculated for those with multiple injuries.
Does criminal injuries compensation affect benefits?
A successful CICA compensation claim could affect your ability to meet the criteria for means tested benefits. However, you could potentially set up a trust which could protect your entitlement. Please speak to us if you're worried that criminal injuries compensation would affect your benefits. We'd be happy to advise you.
Can you claim criminal injuries with a criminal record?
In some cases, you can claim for criminal injuries with a criminal record. However, the compensation you receive may be reduced accordingly. For more information, call our team.
What examples of CICA payouts could a criminal injury compensation calculator provide me with?
The CICA tariff of injuries sets out compensation figures for different injuries which will be used to help when valuing your claim. The injuries vary in severity and include both physical and psychological injuries. 
You may wish to use a criminal injury compensation calculator to get a rough estimate of what you could claim and how much your settlement may be worth. However, for a more accurate estimate, please get in touch with our team. An advisor can provide a free valuation of your case.
What could be confusing about using a CICA claim calculator?
A CICA claim calculator may not assess certain factors associated with your claim accurately, including the full extent and severity of your injuries. Therefore, you should only use the information on CICA payouts from a criminal injury compensation calculator as a very rough guide. It would be wise to speak to a legal professional to help assess how much your claim could be worth.
Could A CICA Calculator Help Me?
When making a claim through the CICA, a calculator that you find online may be helpful for a general estimate of your claim. However, online calculators may not take all aspect of your claim into account, such as special expenses. This amount has the potential to affect how much your claim could be worth overall.
Additionally, an online criminal injuries compensation calculator may not address the fact that there are certain instances where some payouts are not reduced if claiming for multiple injuries. For example, if you lose a foetus due to sexual assault, the amount assigned to this secondary injury is not subject to a reduction.
Getting in touch with our advisors and speaking with us directly is the most effective way to gain a better understanding of the potential value of your claim. Reach out today.
Thank you for taking the time to read our guide on how to make a criminal injury claim. Hopefully now, you've learnt about the CICA tariff table for 2020, as well as examples of CICA payouts you could receive.